90+ Popular Wedding Songs To Walk Down The Aisle To 2023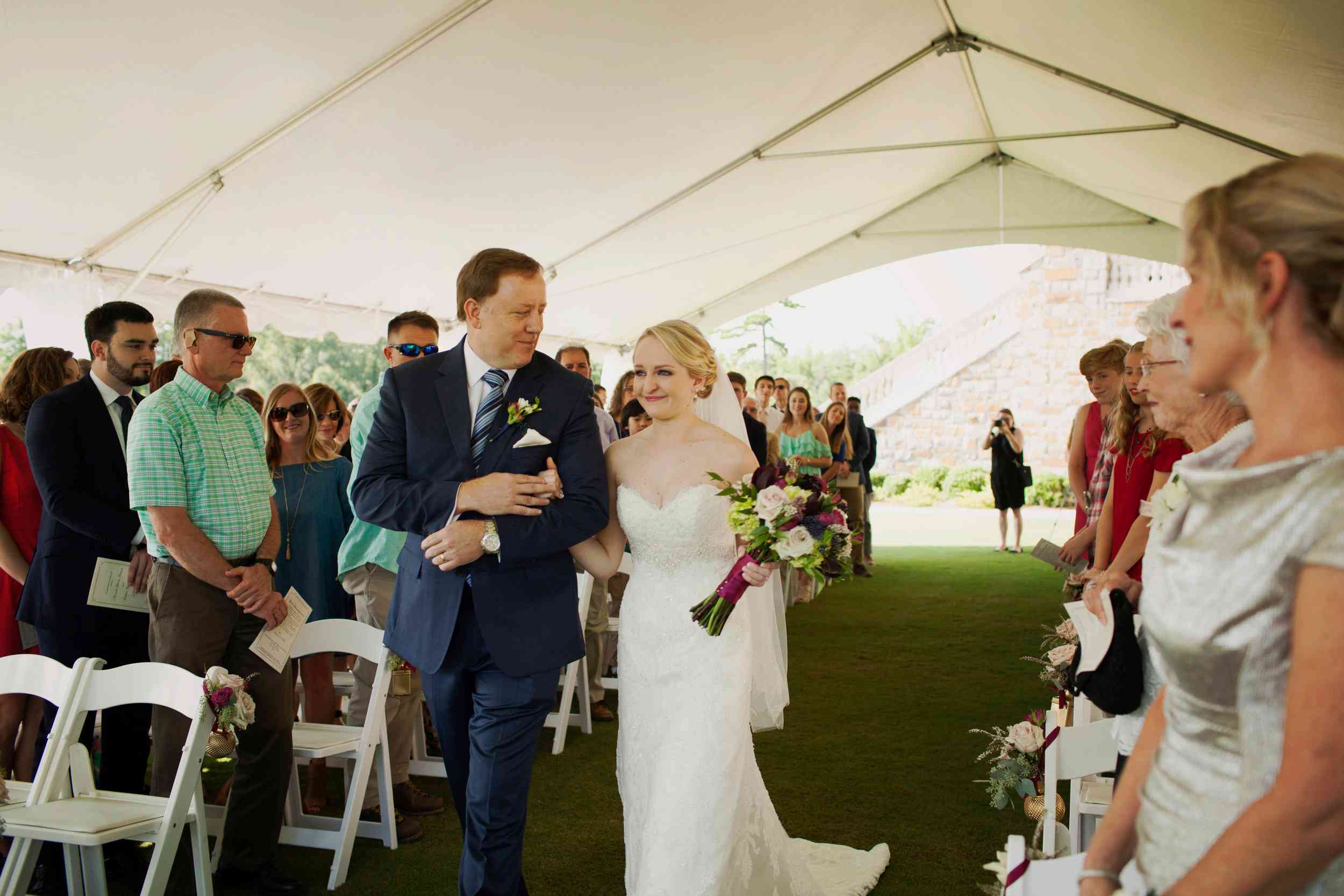 If you ask any married couple about their wedding day soundtrack, chances are they'd be able to recall at least a few of the songs that starred in their day: from the jams that hyped them up while they were getting ready to their memorable first dance tune to their touching parent dance songs. Brides and grooms also get to choose their own entrance song for the ceremony. This song will play in the background as you're walking down the aisle, so if you want to consider it your theme song, you absolutely can—we encourage it!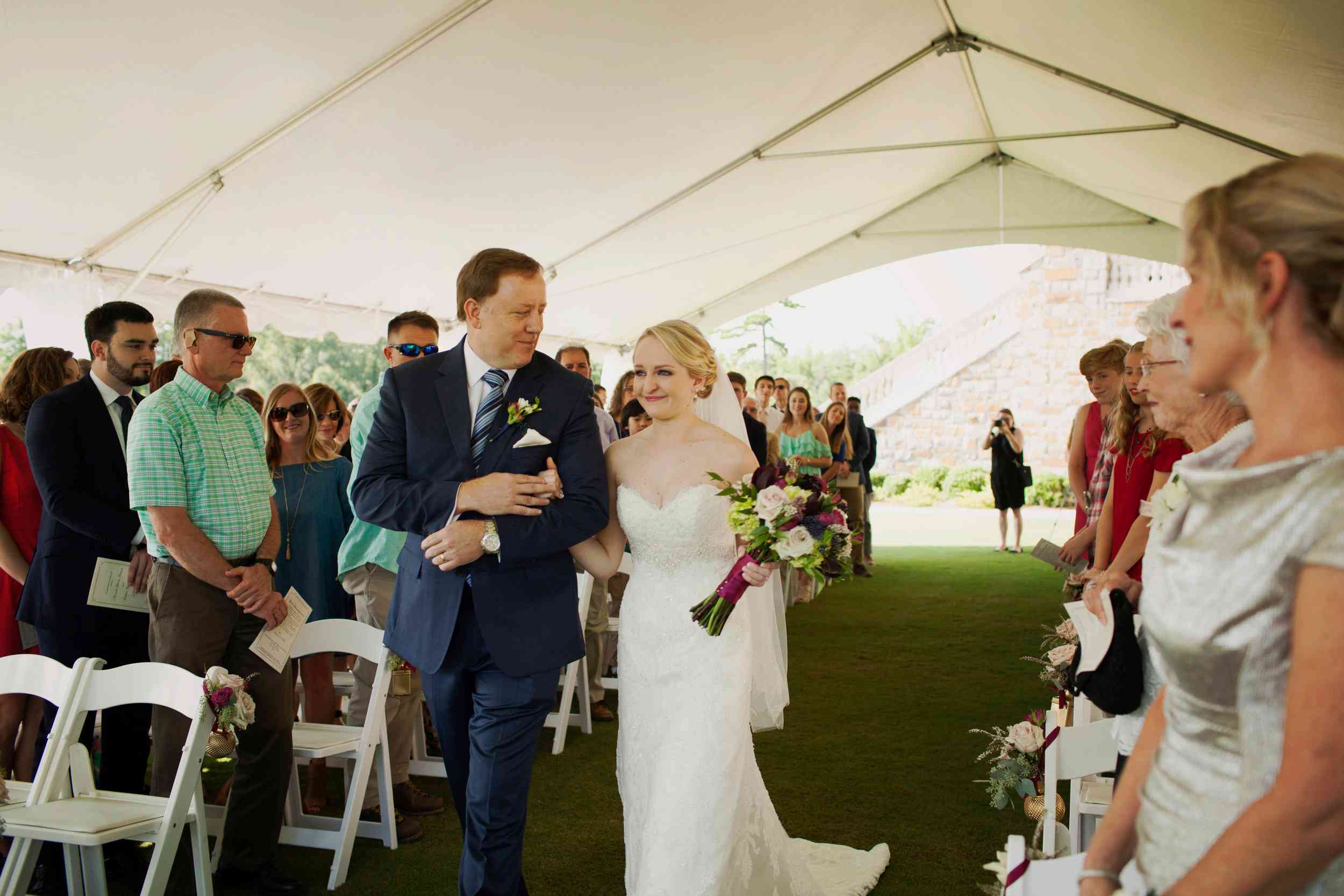 When choosing the song you'll walk down the aisle to, you can go about it in a number of ways beyond simply opting for an instrumental or acoustic prelude or a classic wedding march. We'd venture to say that almost any song could be remixed into one with a slower, more walkable cadence—especially if you'll be enlisting live musicians for your ceremony. You can sort of tease your vows to come with a song that celebrates the love and admiration you have for the person at the other end of the aisle. You can collaborate with your S.O. on a track that speaks to your unique love story and everything you envision for your future together, a la Dan + Shay's "From the Ground Up." Or you can ask your partner what they've dreamed about for your entrance: What song would they sing to you in a perfect world?
Ahead, check out 95 of the best songs to walk you down the aisle and right on into forever.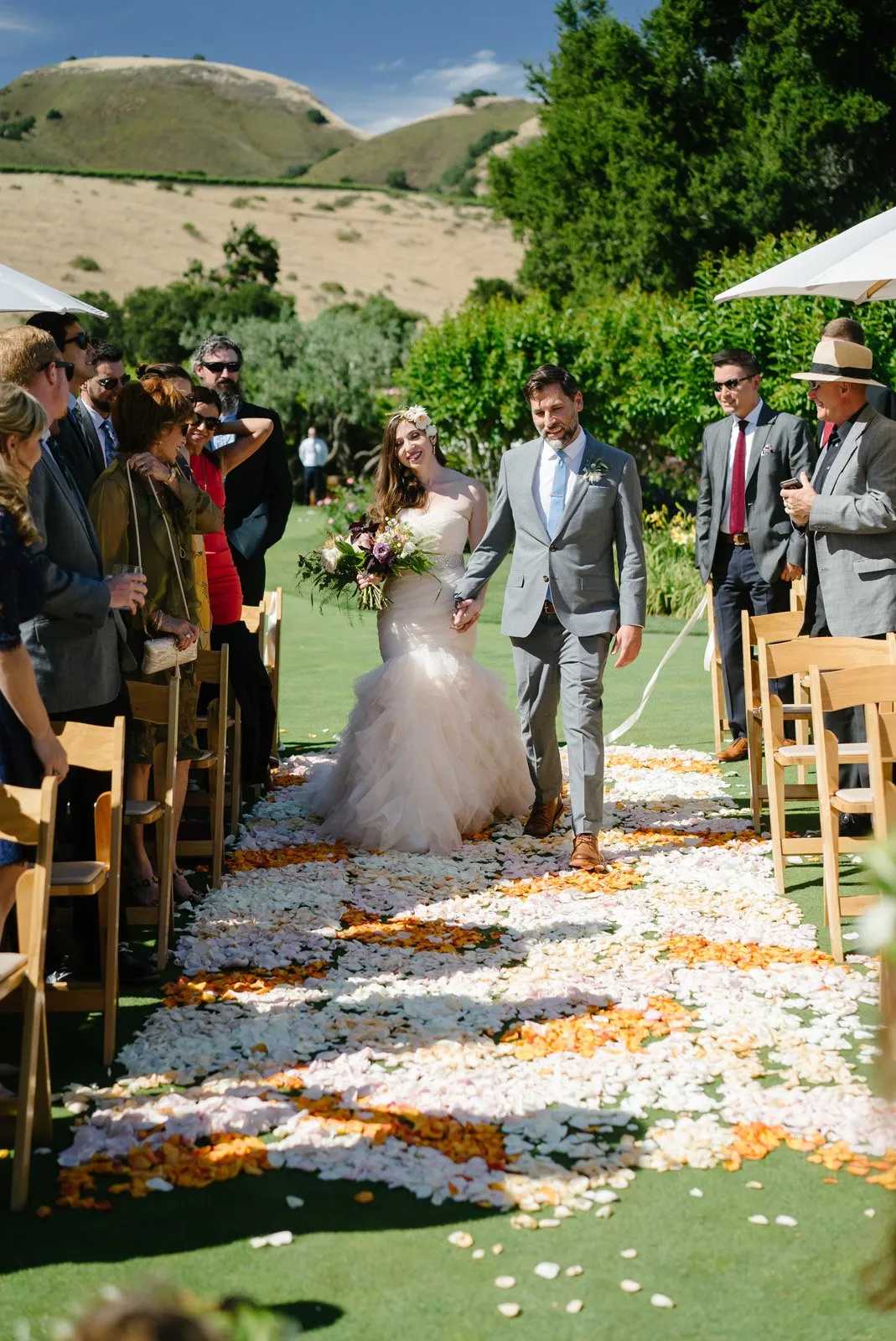 The Best Songs to Walk Down the Aisle To
Some charts toppers come and go, but nothing changes… like the best songs to walk down the aisle to. The wedding processional is filled with emotion, excitement, and a little bit of magic, so you need a romantic ballad that matches your energy. We've listened to countless wedding songs, so we know a thing or two about the best of the best-and we've put them here. These sweet love songs are perfect for walking down the aisle to and walking down to.
"What a Wonderful World," by Louis Armstrong
"At Last," by Etta James
"Somewhere Over the Rainbow," by Israel Kamakawiwo'Ole
"Can't Help Falling in Love," by Elvis Presley
"Beyond," by Leon Bridges
"Turning Page," by Sleeping at Last
"You Are the Best Thing," by Ray LaMontagne
"Lover," by Taylor Swift
"A Thousand Years," by Christina Perri
"Hallelujah," by Pentatonix
"Thinking Out Loud," by Ed Sheeran
"Marry Me," by Train
"Better Together," by Jack Johnson
"Your Song," by Elton John
"I'm Yours," by Jason Mraz
"How Sweet It Is," by James Taylor
"Isn't She Lovely," by Stevie Wonder
"Come Away with Me," by Norah Jones
"Lucky," by Jason Mraz feat. Colbie Caillat
"Somewhere Only We Know," by Lily Allen
"All of Me," by John Legend
"Everything," by Michael Bublé
"I Love You, Baby," by Frank Sinatra
"Here Comes the Sun," by The Beatles
"La Vie en Rose," by Édith Piaf
Country Songs to Walk Down the Aisle To
There is no doubt that country music is responsible for some of the most heartfelt love songs in the world. Whether you're having a full-on rustic affair on a ranch or just want to incorporate your favorite hitmaker into your grand entrance, here are our favorite country songs to walk down the aisle to during your wedding ceremony.
"Background Music," by Maren Morris
"From the Ground Up," by Dan + Shay
"Butterflies," by Kacey Musgraves
"Forever After All," by Luke Combs
"Always Gonna Love You," by Florida Georgia Line
"10,000 Hours," by Justin Bieber and Dan + Shay
"In Case You Didn't Know," by Brett Young
"Good as You," by Kane Brown
"God Gave Me You," by Blake Shelton
"Love of My Life," by Sammy Kershaw
"My Best Friend," by Tim McGraw
"Speechless," by Dan + Shay
"Cowboy Take Me Away," by The Chicks
"Me and You," by Kenny Chesney
"Grow Old with Me," by Mary Chapin Carpenter
"From This Moment On," by Shania Twain feat. Bryan White
"Bless the Broken Road," by Rascal Flatts
"Love Like Crazy," by Lee Brice
"You're Still the One," by Shania Twain
"Amazed," by Lone Star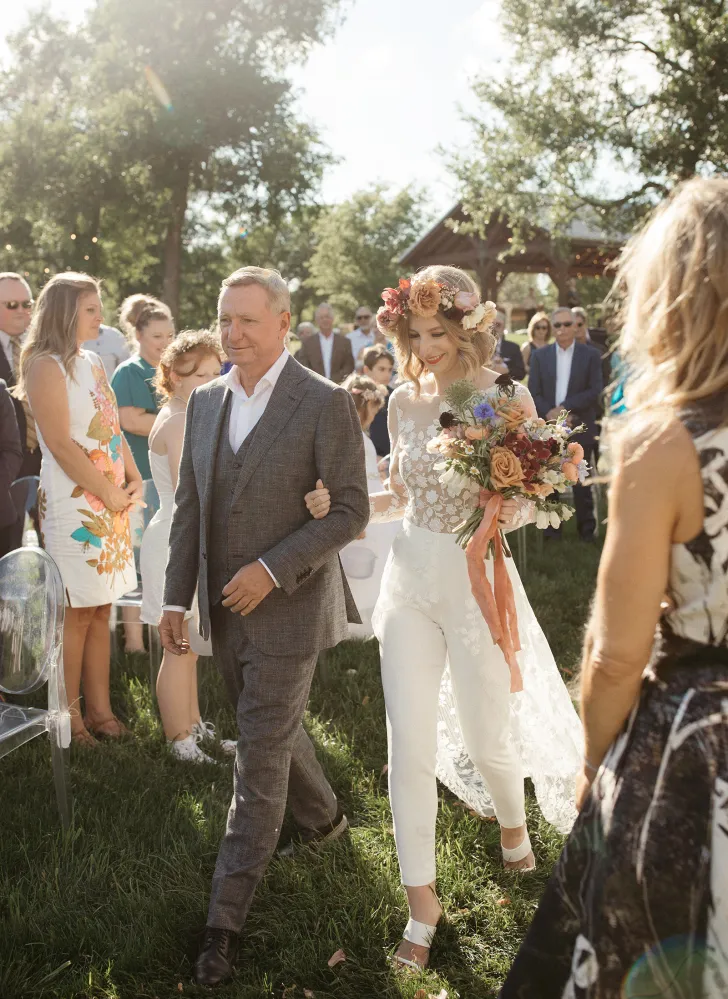 Unique Songs to Walk Down the Aisle To
If you're a frequent guest, there are probably some songs you've heard at each event—and while there's no denying that popular wedding love songs are great, you might want something a little more unique for your walk down the aisle. Enter, these non-traditional songs to walk down the aisle to. From Fleetwood Mac to One Direction, these tunes might not be your first thought when you think of wedding songs to walk down the aisle, but that's exactly why we love them. (Psst: For an even cooler twist, consider swapping any of these for an instrumental version.)
"Songbird," by Fleetwood Mac
"Invisible String," by Taylor Swift
"If I Could Fly," by One Direction
"Fallin' All in You," by Shawn Mendes
"Wildest Dreams," by Duomo
"I Am Yours," by Andy Grammar
"Firefly," by Ed Sheeran
"XO," by Beyoncé
"Kiss Me," by Vitamin String Quartet
"Something Just Like This," by Coldplay and The Chainsmokers
"Just the Way You Are," by Bruno Mars
"Feel So Close," by Calvin Harris
"How Long Will I Love You," by Ellie Goulding
"Love You For a Long Time," by Maggie Rogers
"All My Love," by George Ezra
"Sweet Disposition," by The Temper Trap
"A Sky Full of Stars," by Coldplay
"I Like Me Better," by Lauv
"Sweetest Devotion," by Adele
"Into You," by Ariana Grande
"Home," by Edward Sharpe and the Magnetic Zeros
Traditional Songs to Walk Down the Aisle To
When you think of songs to walk down the aisle to, you probably envision classical wedding entrance tunes (like the "Here Comes the Bride" chorus). If you want an ultra-traditional bride entrance, classical music is the way to go. Here are our favorite classic songs to walk down the aisle to.
"Bridal Chorus (Here Comes the Bride)," by Richard Wagner
"Canon in D Major," by Johann Pachelbel
"Ave Maria," by Franz Schubert
"Clair De Lune," by Debussy
"Ave Verum Corpus," by Wolfgang Amadeus Mozart
"The Four Seasons: Spring," by Antonio Vivaldi
"Nella Fantasia," by Il Divo
"Flower Duet" from Lakmé, by Léo Delibes
"Allegro Maestoso" from Water Music, by G.F. Handel
"Air on the G String," by Johann Sebastian Bach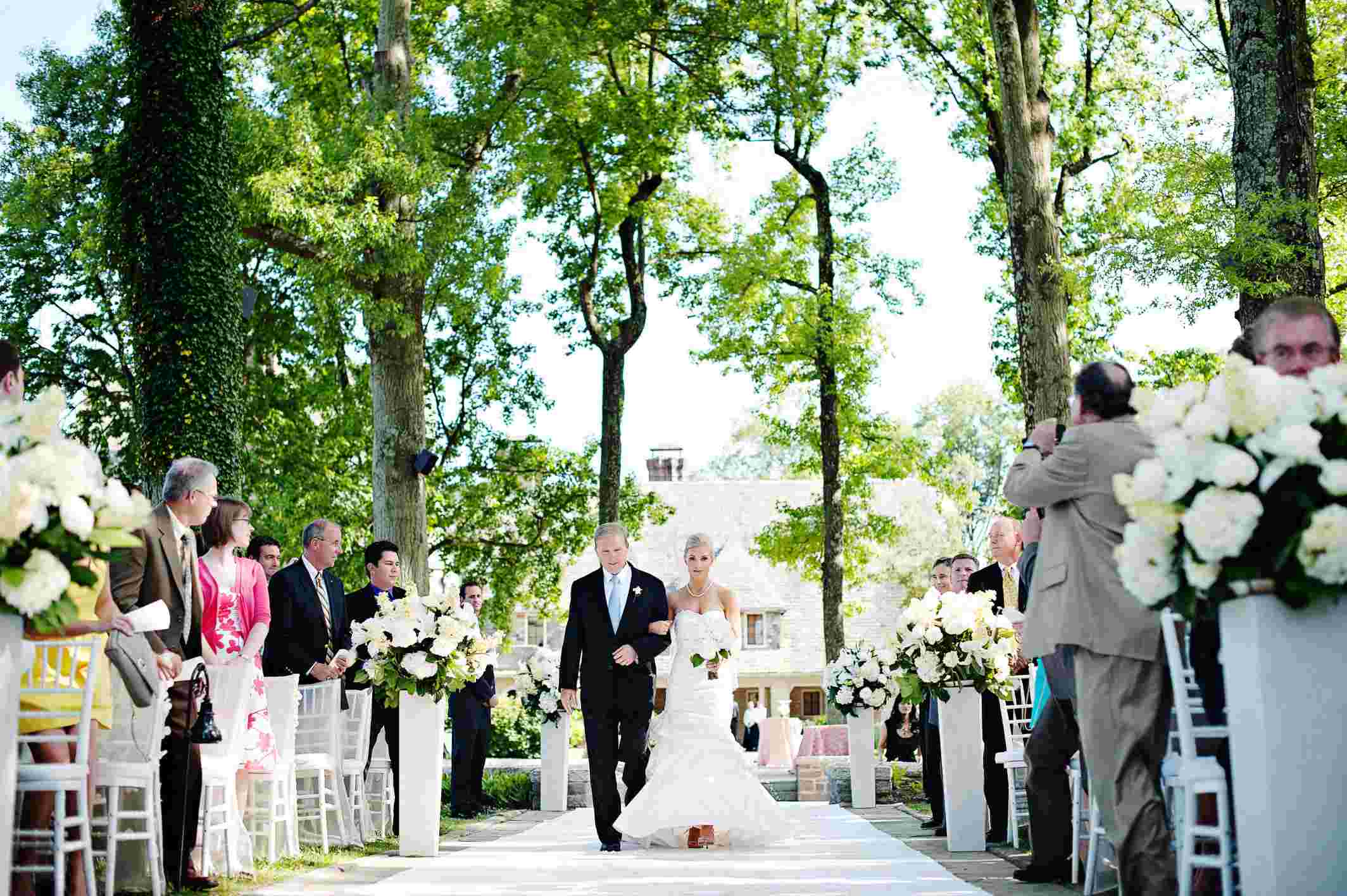 R&B Songs to Walk Down the Aisle To
Soulful R&B love songs certainly deserve a spot on your wedding playlist, especially for your walk down the aisle. Here are some of our favorite tunes to make your entrance simply unforgettable.
"Stand by Me," by Ben E. King
"Water Music (Air)," by George Frideric Handel
"At Your Best (You Are Love)," by Aaliyah
"Let's Stay Together," by Al Green
"Have You Ever," by Brandy
"If I Ain't Got You," by Alicia Keys
"Halo," by Beyoncé
"Thinkin Bout You," by Frank Ocean
"Ordinary People," by John Legend
Christian/Gospel Songs to Walk Down the Aisle To
Religious wedding music may be what you're looking for, especially if your ceremony will take place in a church or a house of worship. Below, find the best Christian and gospel songs to walk down the aisle to.
"Bread and Wine," by Josh Garrels
"The Wedding Song (There Is Love)," by Noel Paul Stookey
"This Song," by BeBe Winans
"In a Moment," by Rebecca St. James
"Order My Steps," by Brooklyn Tabernacle Choir
"Ave Maria," by Céline Dion
"Like Jesus Does," by Eric Church
"Oceans," by Hillsong United
"Heaven's Knife," by Josh Garrels
"I Found You," by BeBe and CeCe Winans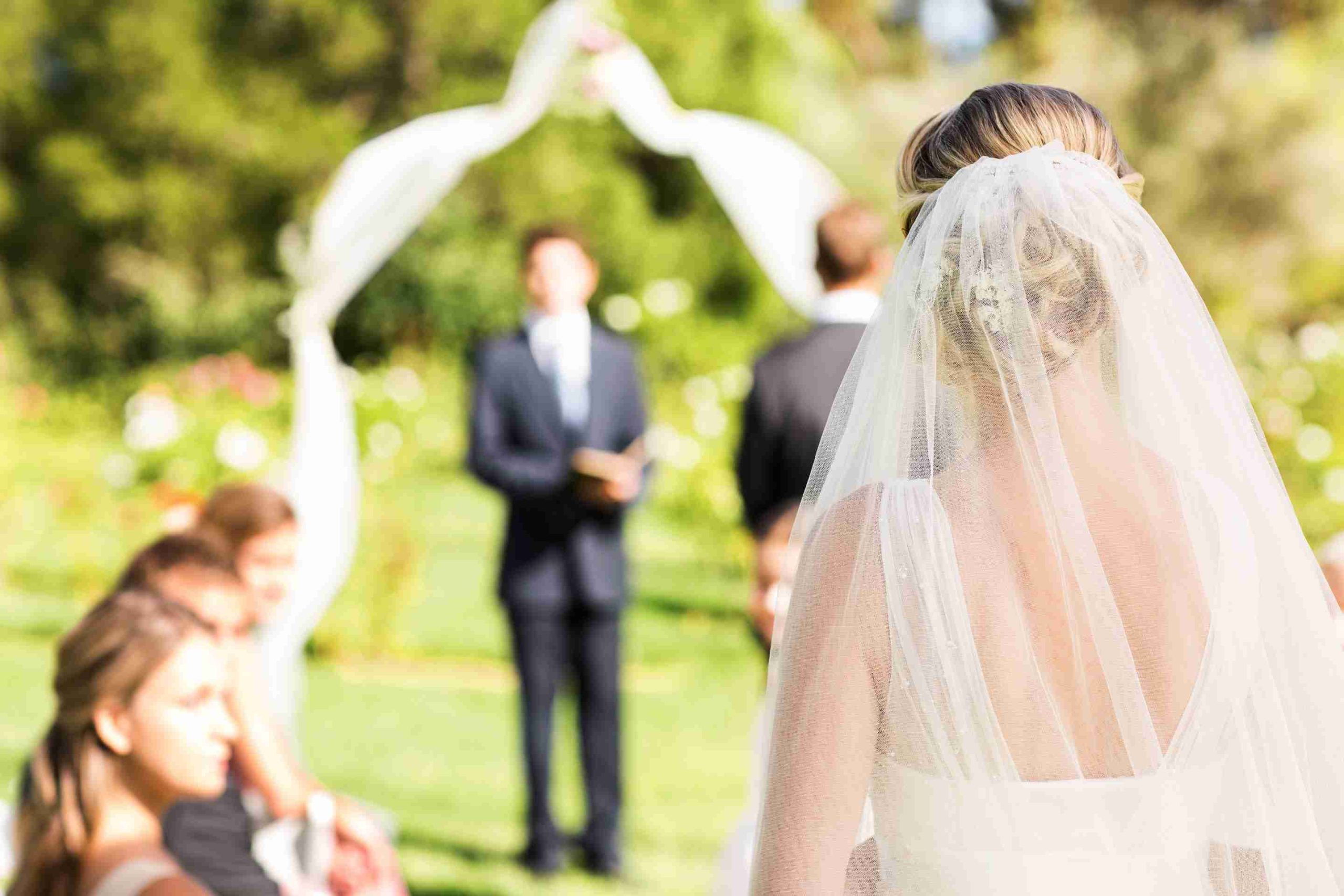 How T0 Choose The Right Song
There's a lot to think about with all song choices, but the bridal entrance and songs to walk down the aisle to have their own requirements. Here are three insider tips to know about when selecting the chosen song.
Medium
The first step is to get clear on the medium you'll be using for the songs. Will there be instruments, a pianist, a singer, a friend or playlist that you have your heart set on? The medium that you decide on will help make a number of other choices more easily, so it's important to decide on this upfront.
Meaning
You'll remember the music and songs to walk down the aisle to for years to come, so your wedding songs should reflect your personalities as a couple and have meaning for both of you. Meaning can come in a few ways. Your bridal entrance song could express your feelings toward your partner: for example, do you feel like you are marrying your high school sweetheart, or has it taken a long and winding road to finally find true love? Your song could also reflect your life as a couple and even the blending of families, especially if you'll be walking down the aisle with your father by your side which plays up the emotion. Or do you want to walk down the aisle to "your song"? Discuss the choice together to find the song that really speaks to you.
Pace
The actual pace of the wedding songs you select when walking down the aisle is a highly important component. You'll need something with a slightly slower than normal pace so that you and your bridesmaids can walk comfortably down the aisle. If you have your heart set on a song that has a quick tempo, see if there's a slower acoustic version available. It's also worth working out when you want the song to fade so you can time your music to finish as you arrive in front of your partner.