120+ Wedding Reception Songs: A Soundtrack to Remember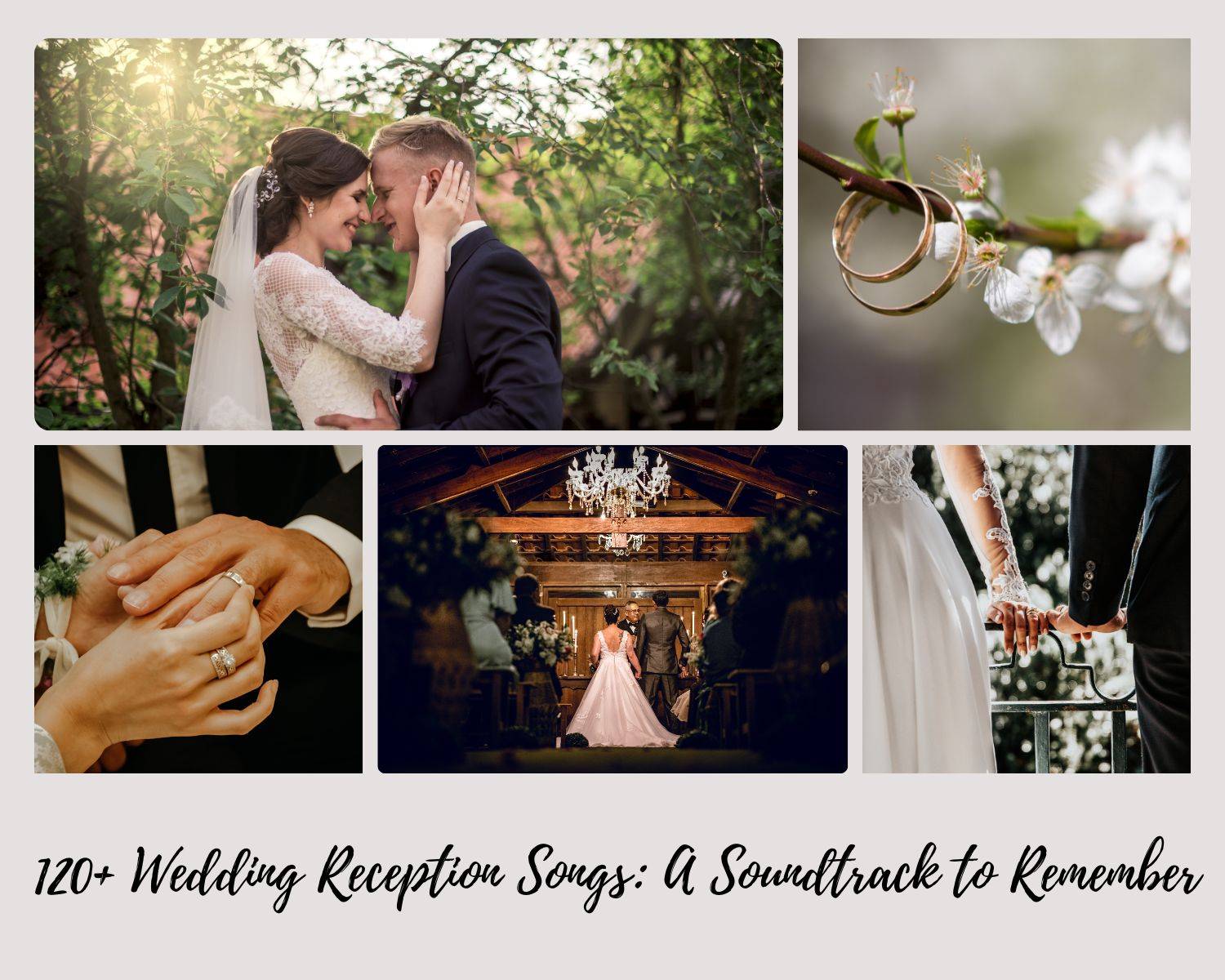 A wedding reception is a joyous celebration that brings together friends and family to commemorate the union of two souls. Creating the right ambiance and setting the mood for your reception is crucial, and one of the most important elements in achieving this is the selection of the perfect wedding reception songs. From romantic ballads to catchy tunes that get everyone on their feet, this article will guide you through an array of song choices, including love songs, classic hits, popular pop tracks, fun-filled numbers, and even some surprising options like K-pop songs. Get ready to create a wedding playlist that will make your special day even more memorable.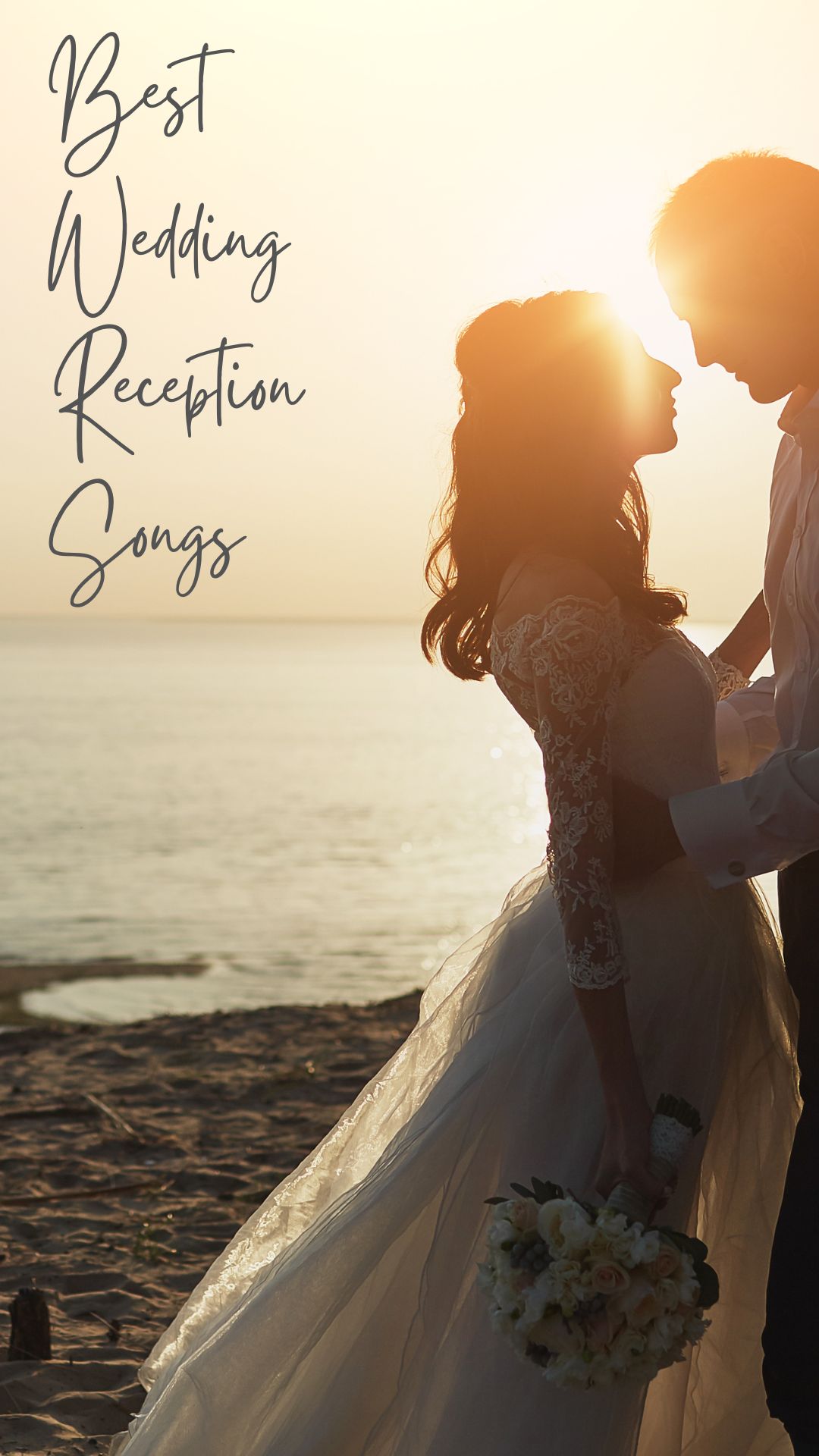 Love Songs For Wedding Reception
Love songs have always held a special place in wedding celebrations. They evoke emotions of love, romance, and commitment, setting the perfect tone for a memorable evening. Here are some timeless love songs that will create a magical atmosphere during your wedding reception:
I Will Follow You Into The Dark – Death Cab for Cutie
Magic – Coldplay
I Found Love (Cindy's Song) – BeBe Winans
I Do (Cherish You) – 98º
Tonight I Celebrate My Love – Peabo Bryson & Roberta Flack
Just The Way You Are – Bruno Mars
Fly Me To The Moon (live in Paris) – Diana Krall
Somewhere Over the Rainbow – Katharine McPhee
A Whole New World – Peabo Bryson and Regina Belle
Before I Fall in Love – CoCo Lee
Have I Told You Lately That I Love You – Rod Stewart
L.O.V.E. – Michael Buble
The Power Of Love – Celine Dion
This I Promise You – NSYNC
Truly Madly Deeply – Savage Garden
The Moment – Kenny G
The Wedding Song – Kenny G
Autumn Leaves – Paula Cole
Let Me Love You – Mario
Dilemma – Nelly ft. Kelly Rowland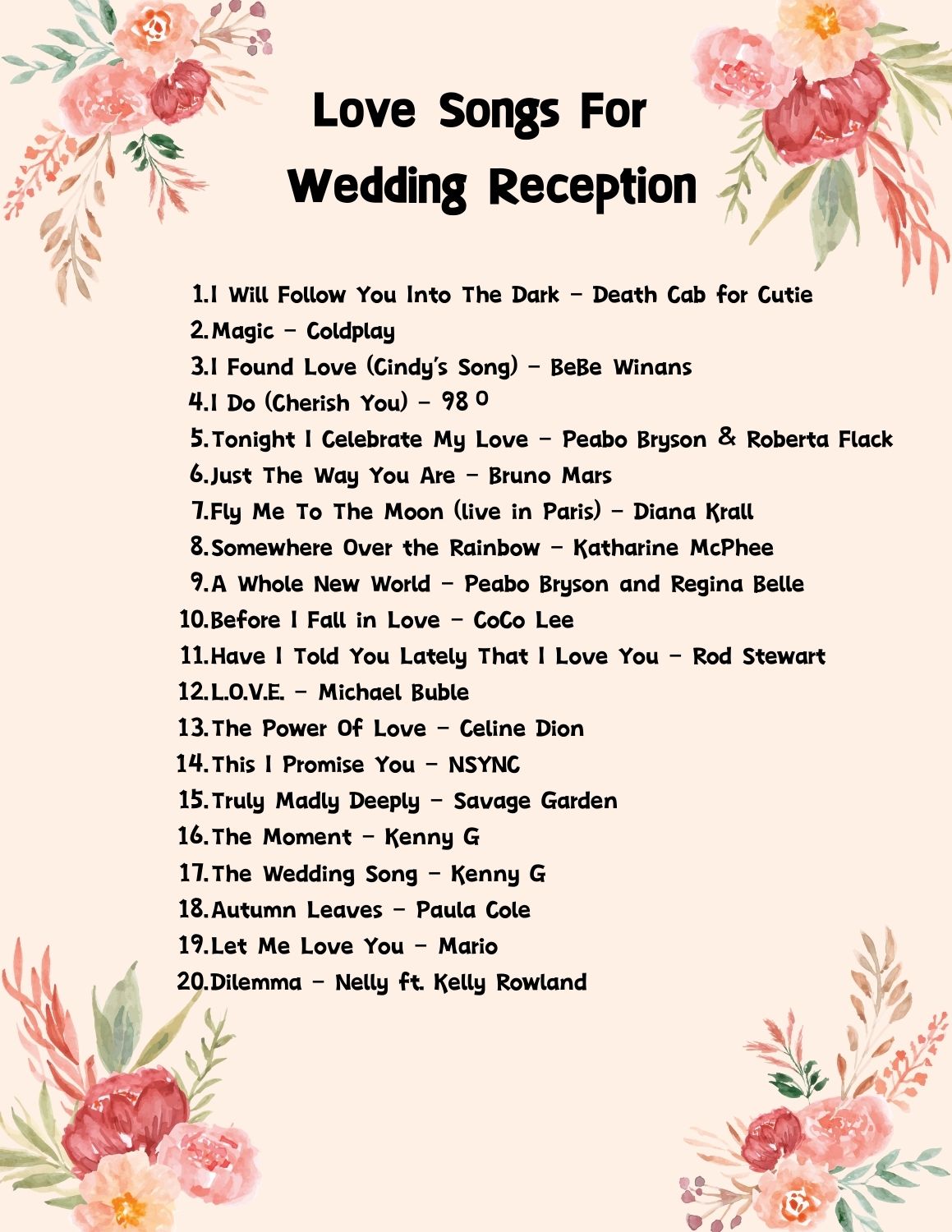 Classic Wedding Reception Songs
Classic wedding reception songs have stood the test of time and continue to create an enchanting atmosphere. These timeless tunes are beloved by guests of all ages, ensuring a dance floor filled with joy and nostalgia. Consider including these classic hits in your wedding playlist:
Here and Now – Luther Vandross
As Time Goes By – Dooley Wilson
Crazy Love – Van Morrison
Grow Old With Me – Mary Chapin Carpenter
Never Too Much – Luther Vandross
La Vie en Rose – Edith Piaf
Stand by Me – Ben E. King
The Best Is Yet to Come – Frank Sinatra
Up Where We Belong – Joe Cocker and Jennifer Warnes
You Are the Best Thing – Ray LaMontagne
You're My Best Friend – Queen
My Girl – The Temptations
Respect – Aretha Franklin
Last Dance – 1978
Superstition – Stevie Wonder
Crazy – Gnarls Barkley
California Dreaming – The Mamas and the Papas
Ain't No Stopping Us Now – McFadden & Whitehead
Great Balls Of Fire – Jerry Lee Lewis
What'd I Say – Ray Charles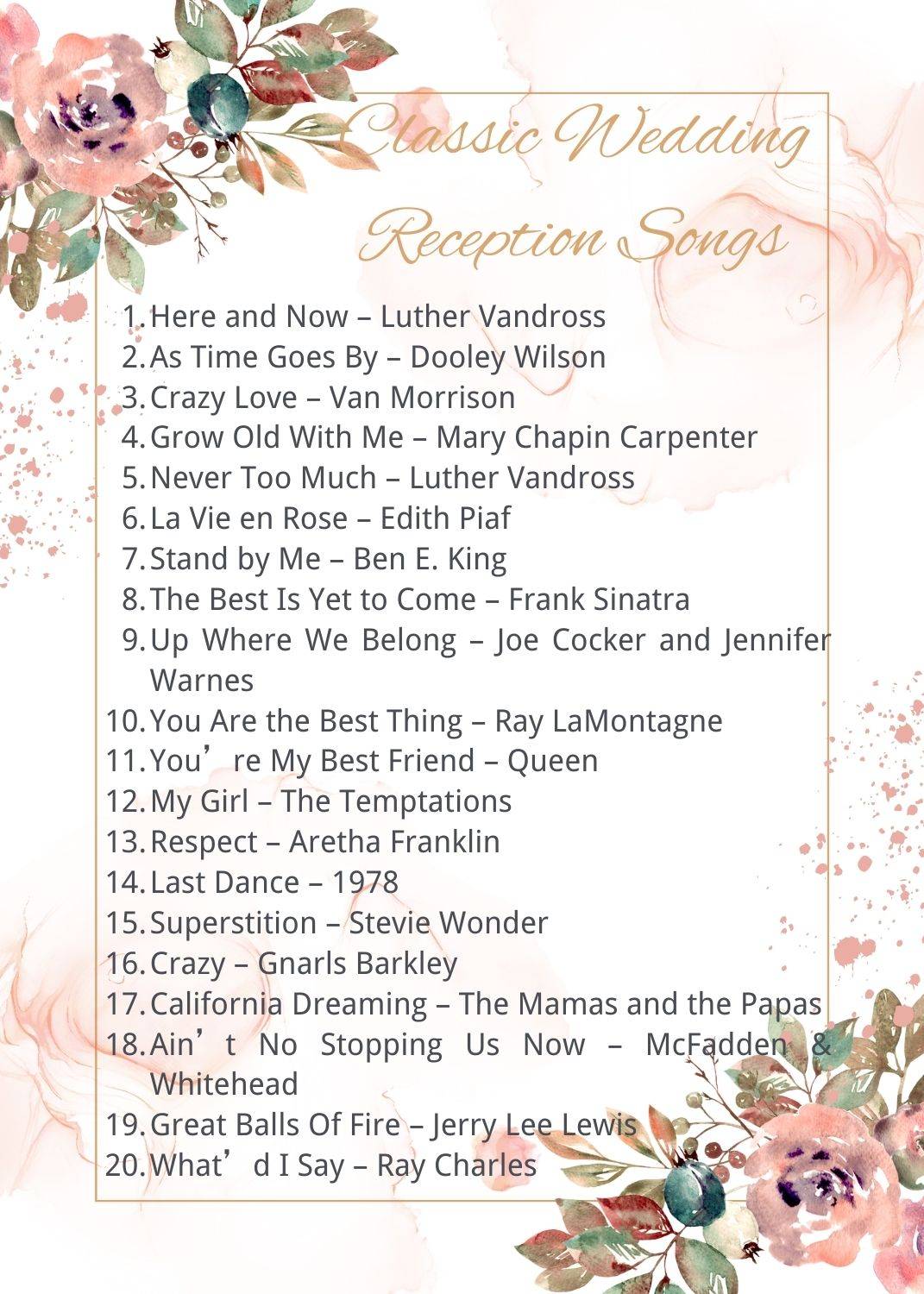 Popular Pop Wedding Reception Songs
If you're looking to infuse your wedding reception with contemporary flair, popular pop songs are a fantastic choice. These catchy tunes dominate the charts and will keep your guests entertained and dancing throughout the night. Consider adding these popular pop wedding reception songs to your playlist:
I Gotta Feeling – The Black Eyed Peas
Can't Stop the Feeling! – Justin Timberlake
Ice Cream – Mika
Somebody That I Used To Know – Gotye
We Are Young – Fun
Paradise – Coldplay
A Sky Full Of Stars – Coldplay
Marry You – Bruno Mars
Safe And Sound – Capital Cities
This Is What You Came For – Calvin Harris ft. Rihanna
Get Lucky – Daft Punk ft. Pharrell Williams
Let's Shut Up & Dance – Jason Derulo, LAY, NCT 127
Sugar – Maroon 5
Last Friday Night – Katy Perry
Shake It Off – Taylor Swift
Can't Feel My Face – Weeknd
This is How We Do It – Montell Jordan
Better Together – Jack Johnson
Mi Gente – J Balvin, Willy William
Taki Taki – DJ Snake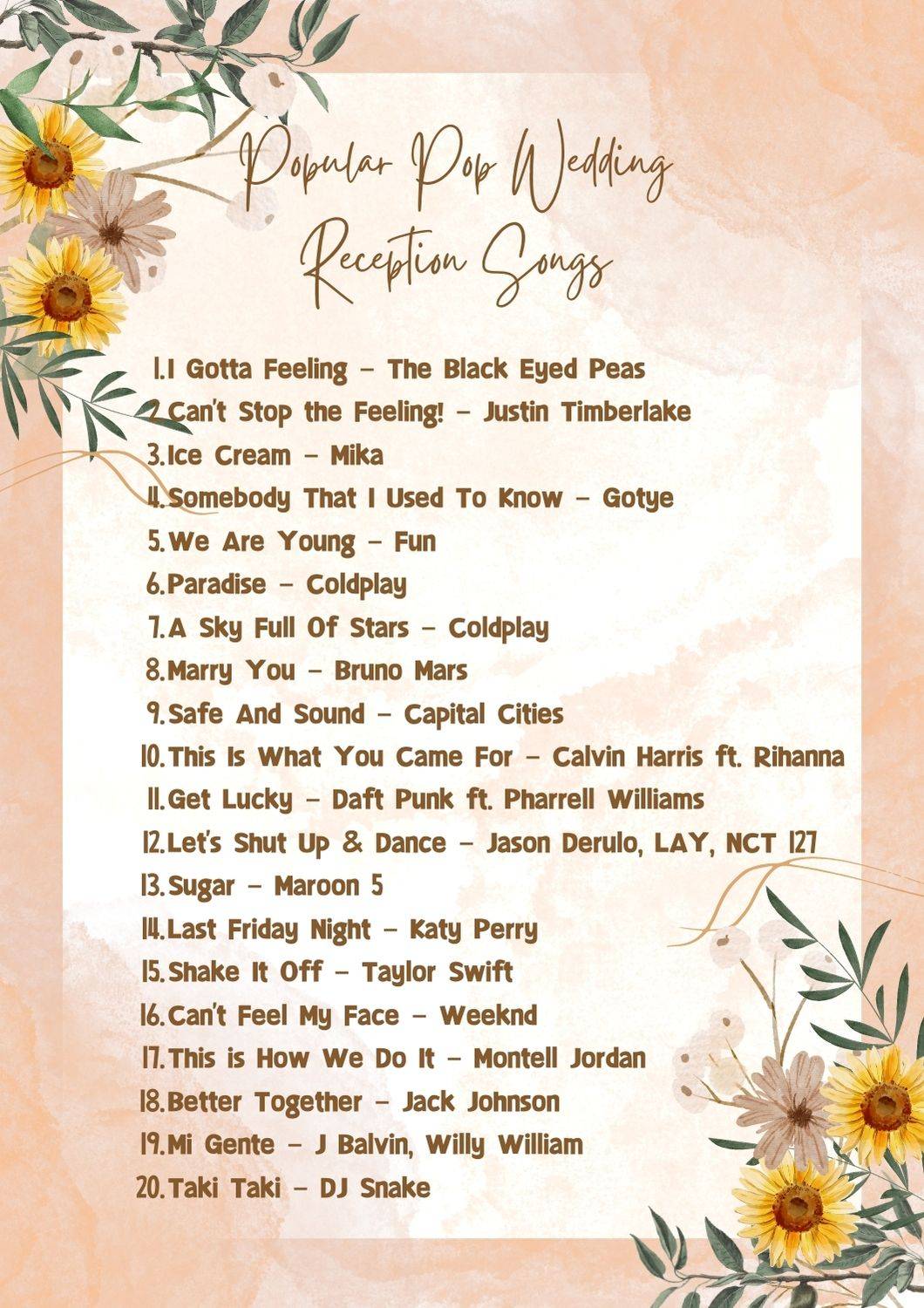 Fun Wedding Songs For Wedding Reception
Every wedding reception needs a dose of fun and lightheartedness. Incorporating upbeat and lively songs will keep the energy high and create an atmosphere of celebration. Here are some fun-filled wedding songs that are sure to get your guests smiling and dancing:
Somebody Like You – Keith Urban
Party Rock Anthem – LMFAO ft. Lauren Bennett, GoonRock
Celebration – Kool & The Gang
Feel So Close – Calvin Harris
Best Day Of My Life – American Authors
Dance With Me Tonight – Olly Murs
She Looks So Perfect – 5 Seconds of Summer
Moves Like Jagger – Maroon 5 ft. Christina Aguilera
This Is What It Feels Like – Armin van Buuren ft. Trevor Guthrie
Get The Party Started – Pink
Good Feeling – Flo Rida
Rock Your Body – Justin Timberlake
I'm Gonna Be – The Proclaimers
Super Bass – Nicki Minaj
All About That Bass – Meghan Trainor
Me Too – Meghan Trainor
Chained To The Rhythm – Katy Perry
Popular Song – MIKA ft. Ariana Grande
This Is How We Do – Katy Perry
Call Me Maybe – Carly Rae Jepsen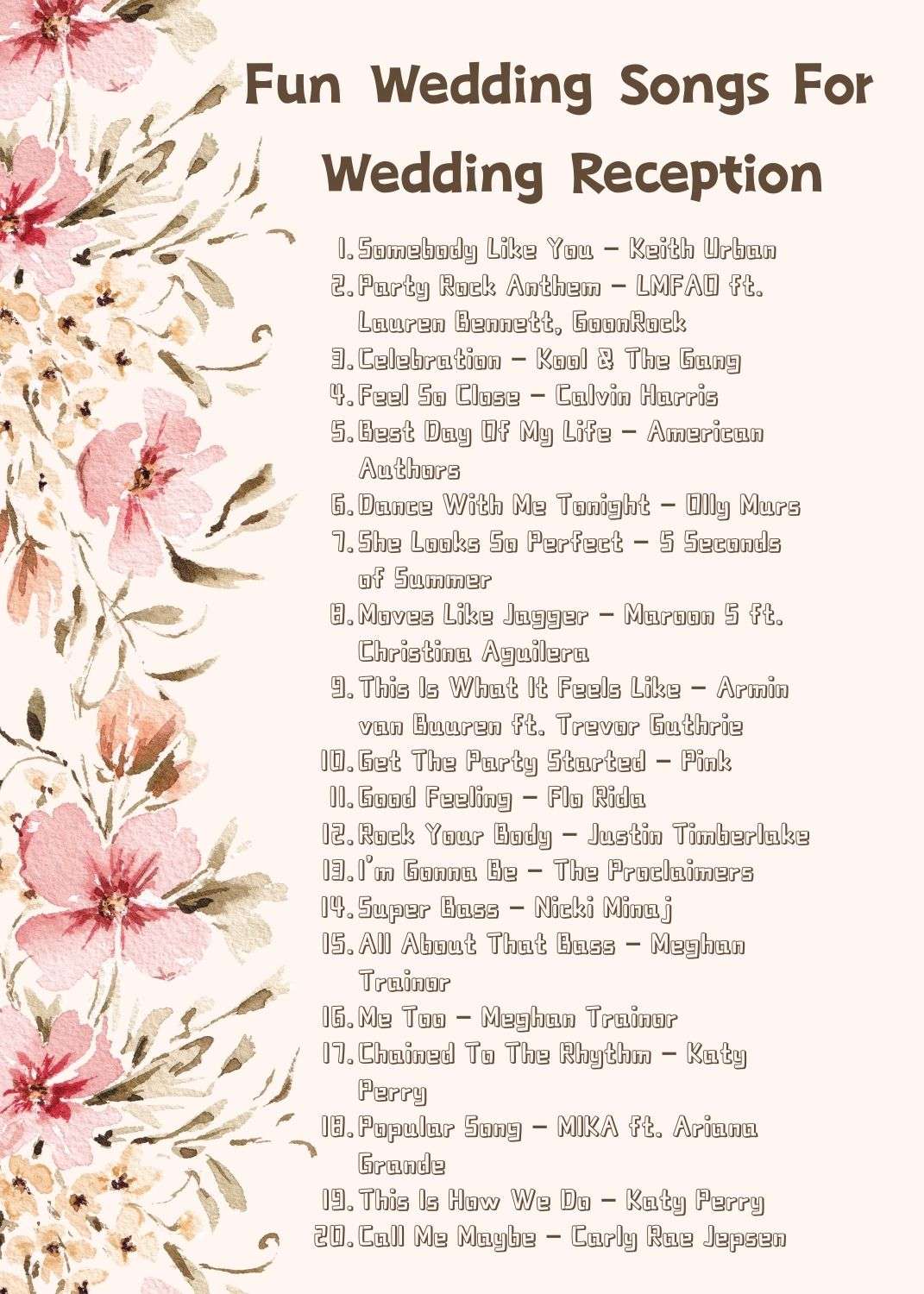 Top Country Wedding Reception Songs
Country music has a special place in the hearts of many, and incorporating country wedding reception songs can add a touch of rustic charm and southern hospitality to your celebration. These songs often tell beautiful love stories and evoke emotions that resonate with couples and their guests. Some top country wedding reception songs include "I Cross My Heart" by George Strait, "Bless the Broken Road" by Rascal Flatts, and "Die a Happy Man" by Thomas Rhett. These heartfelt tunes will create an enchanting atmosphere and leave a lasting impression on everyone present.
Keeper of the Stars – Tracy Byrd
Amazed – Lonestar
Bless the Broken Road – Rascal Flatts
Hey Pretty Girl – Kip Moore
Meanwhile Back At Mama's – Tim McGraw
Speak to a Girl – Tim McGraw ft. Faith Hill
Forever and For Always – Shania Twain
When You Kiss Me – Shania Twain
Copperhead Road – Steve Earle
I Need You – LeAnn Rimes
She's Everything – Brad Paisley
I Hope You Dance – Leann Womack
My little girl – Tim McGraw
Daddy's Angel – Anthony Carter
I Loved Her First – Heartland
Through the Years – Kenny Rogers
My Wish – Rascal Flatts
Boot Scootin' Boogie – Brooks & Dunn
Wagon Wheel – Darius Rucker
Country Girl (Shake It For Me) – Luke Bryan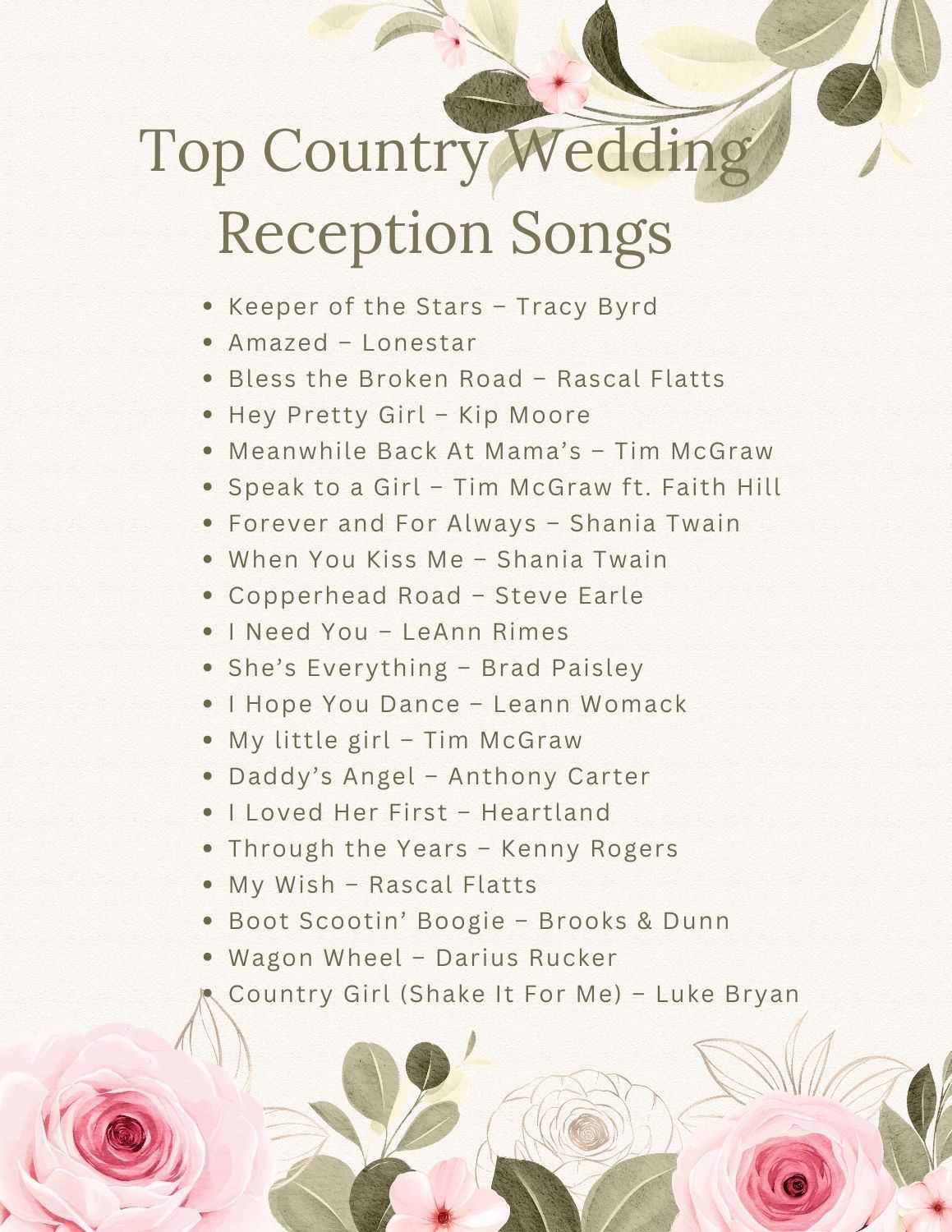 Best Oldies For A Wedding Reception
Oldies but goodies never go out of style, especially at wedding receptions. These timeless hits evoke nostalgia and create a sense of familiarity, making them an excellent addition to any playlist. Consider including these best oldies in your wedding reception songs:
Fly Me to the Moon – Frank Sinatra
You'll Be In My Heart – Phil Collins
No Matter What – Calum Scott
Mama's Hand – Queen Naija
You Are Loved – Josh Groban
A Thousand Years – Christina Perri
Can I Have This Dance – Anne Murray
Ain't That a Kick in the Head – Dean Martin
You Make Me Feel Like a Natural Woman – Aretha Franklin
Dancing Queen – ABBA
Gimme, Gimme, Gimme! – ABBA
Uptown Girl – Billy Joel
Don't Stop Believin' – Journey
Can't Take My Eyes Off You – Frankie Valli
September – Earth, Wind & Fire
Forever Young – Rod Stewart
Signed, Sealed, Delivered (I'm Yours) – Stevie Wonder
Bust a Move – Young MC
Stayin' Alive – Bee Gees
I've Got You Under My Skin – Frank Sinatra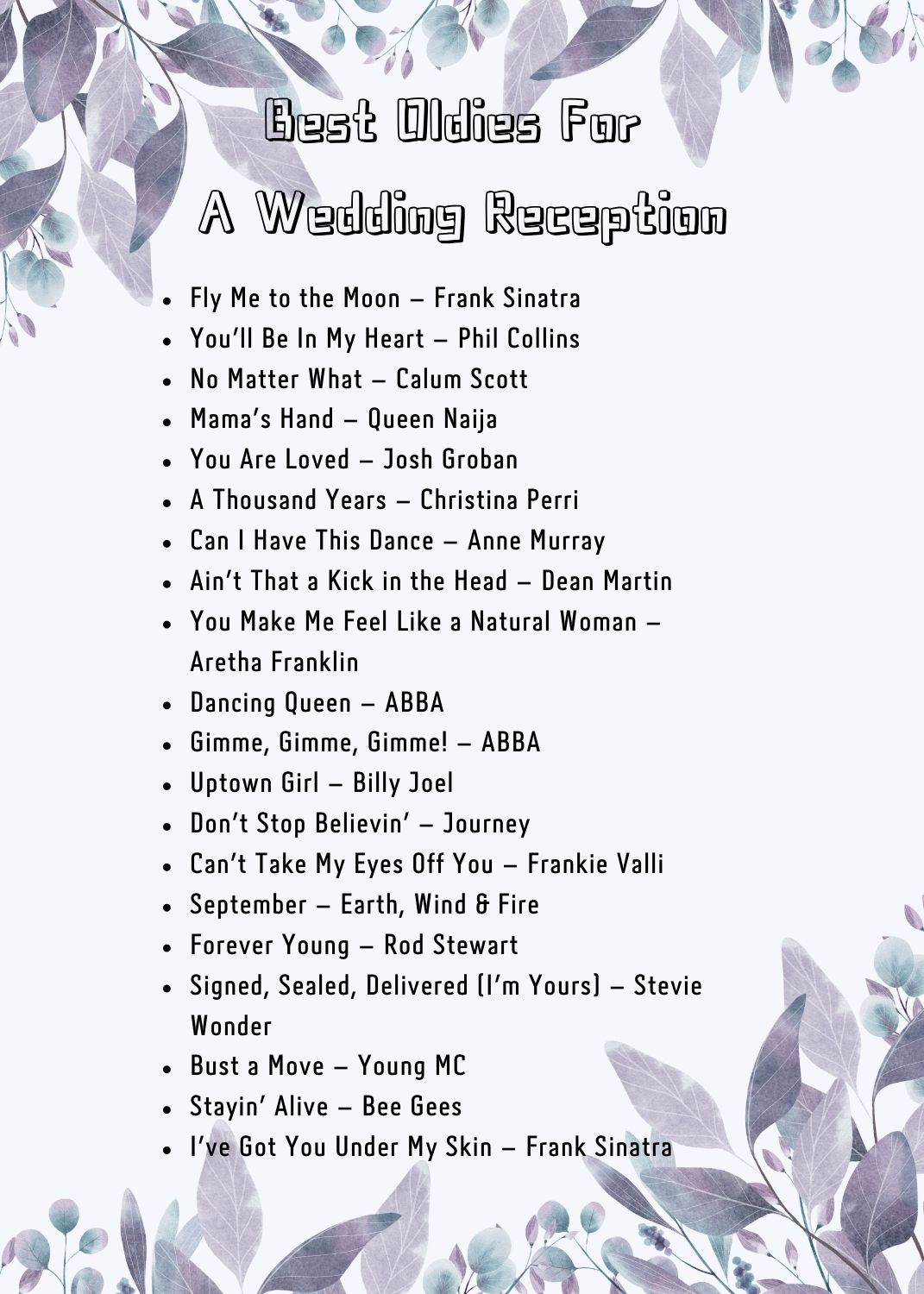 K-Pop Wedding Reception Songs
For couples who want to add a touch of uniqueness and surprise to their wedding reception, considering K-pop songs can be a delightful choice. K-pop has gained worldwide popularity, and its catchy melodies and energetic performances will surely leave a lasting impression. Here are some K-pop wedding reception songs to consider:
You're My Best Friend – BTS
Fiance – Mino
Love Scenario – iKON
Spring Day – BTS
Sweet Night – V (BTS)
Starry Night – Mamamoo
Wedding Dress – Taeyan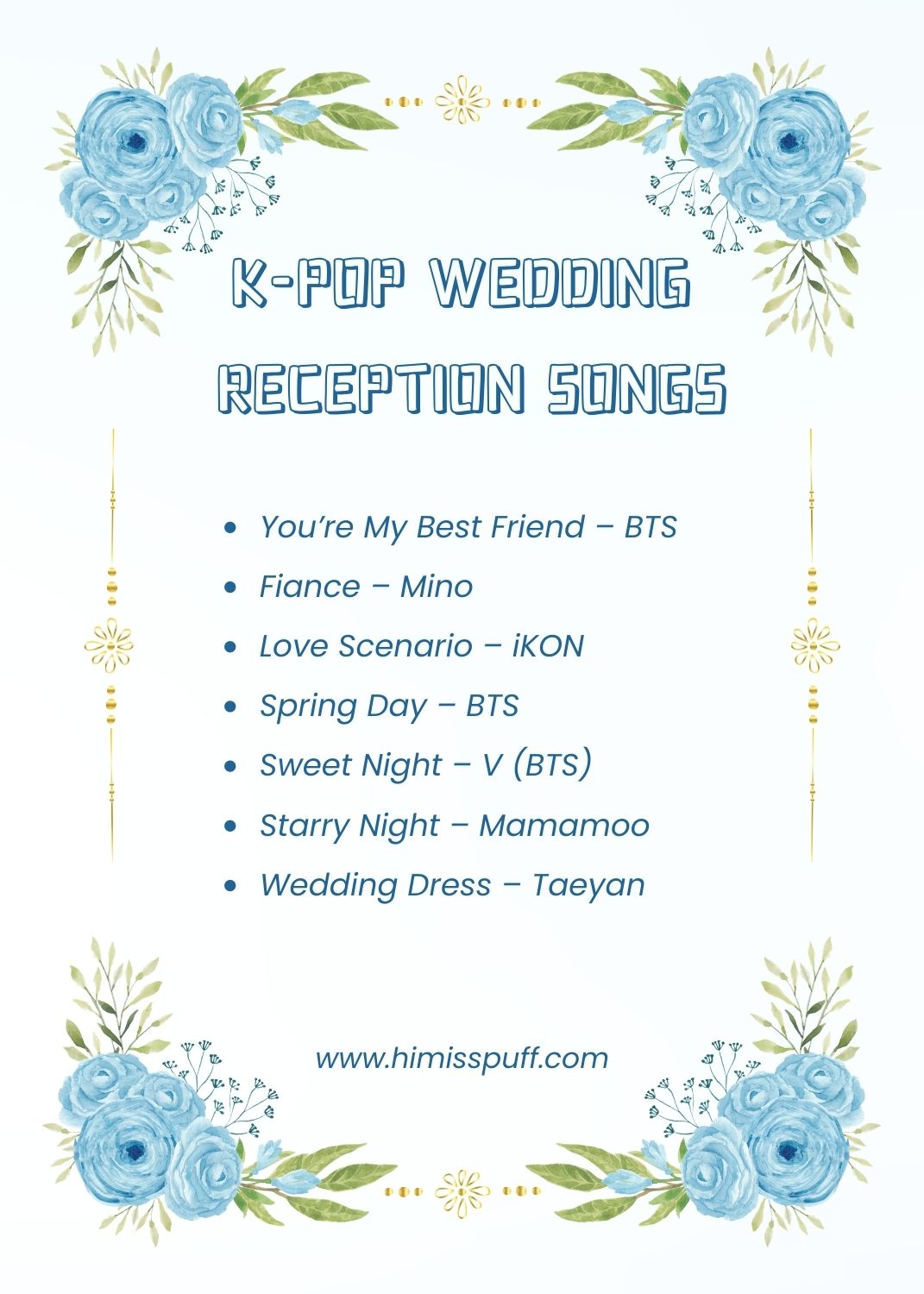 FAQs:
How many songs should I include in my wedding reception playlist?
The number of songs in your playlist will depend on the duration of your reception. As a general guideline, aim for around 60-80 songs to cover a four to five-hour reception.
Can I mix different genres of music in my wedding reception playlist?
Absolutely! Mixing different genres adds variety and keeps guests engaged. Consider blending love songs, classics, pop hits, and even some unexpected choices like K-pop to cater to different musical tastes.
Should I hire a DJ or create a playlist myself?
It depends on your preferences and budget. Hiring a professional DJ ensures a seamless flow of music and expertise in reading the crowd. However, creating your playlist allows you to have full control over the song choices and personalization.
How do I choose the perfect song for the couple's first dance?
The perfect song for the couple's first dance should reflect their unique love story and personal taste in music. Consider songs that hold special meaning for the couple or ones that evoke emotions of love and joy.
Conclusion:
Selecting the right wedding reception songs is a crucial element in creating a memorable and magical celebration. From timeless love songs to classic hits, popular pop tracks, fun-filled numbers, and even surprising choices like K-pop songs, there's a wide range of options to suit every couple's taste. With a carefully curated playlist, you can ensure that your wedding reception is filled with love, joy, and unforgettable moments on the dance floor.