Top 45 Classic Wedding Songs 2023 & Tips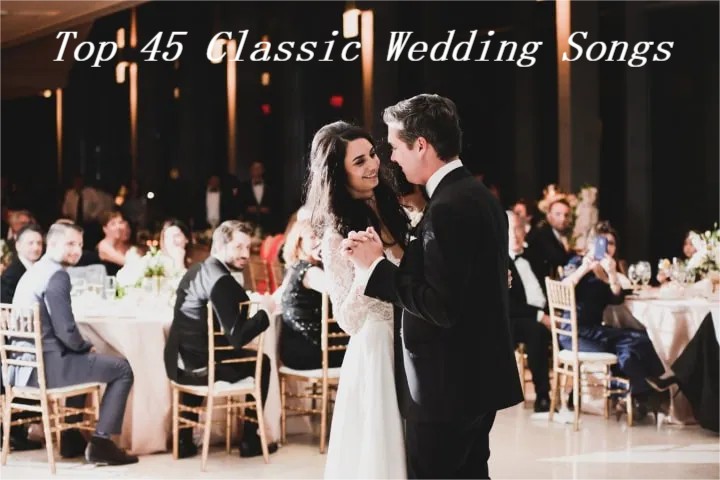 Whether you're going formal and chic or bohemian and whimsical, you'll need something that will definitely get your affair going: a generous helping of lovey-dovey wedding songs. The best wedding songs bring out all the feelings and make the reception feel like a giant love fest.
Naturally, all of these tunes can be played as a first-dance song, but they can also make the setlist for your wedding band or the must-play list for your DJ. Who wouldn't want to include some epic slow-dance songs in the mix, like the classic "At Last" by Etta James? But they aren't all oldies—some of the most romantic songs come from recent memory, like "All of Me" by John Legend. Love songs aren't always slow either. There are plenty of up-tempo hits on the list that will be sure to get your guests movin' and groovin', including jams by Beyoncé and Michael Jackson.
From slow to fast, R&B to country, and everything in between, these love songs are some of the best wedding songs of all time.
Best Classic Wedding Songs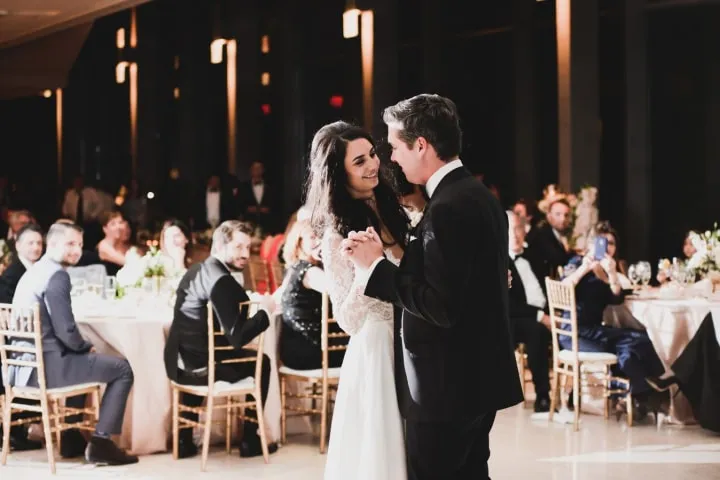 Your wedding day is one of the most important days of your life. The music you choose for your ceremony and reception should be carefully selected to reflect your personal style and the overall tone of your wedding. You want your guests to remember your wedding day as a beautiful and joyous occasion.
There are many classic wedding songs that are perfect for any type of wedding. These timeless songs will help to create an atmosphere of love and happiness on your special day.
Frank Sinatra — The way you look tonight
This piece has been a wedding regular since 1942's "once upon a honeymoon" making it one of the top classic wedding songs.
Stevie Wonder — Isn't she lovely
Originally sang to celebrate the birth of his baby girl Aisha, this song is perfect for the bride's reception entrance.
Seal — Kiss from a rose
This is one of the best classic ceremony wedding songs. She's his power, pleasure, and pain which is love's reality.
Peter, Paul, and Mary — Wedding songs
First performed in 1969 at the wedding of Peter Yarrow to his wife. This song remains evergreen immersed in charming romance.
Noel Paul Stookey — There is love
Ever listened to the wonders of love? This song adds an edge of reality and touch of intensity to love.
Wedding March
When guests hear the "Wedding March" playing, they know the bride is about to make her grand entrance. This classical piece has been used in weddings for centuries and is sure to give your ceremony a traditional and regal feel.
Felix Mendelssohn — Wedding march
J.J. Mouret — Rondeau 
This is a piece of solemn yet dramatic music brought together in symphonies. This French legend gives the bride a grand entrance.
Wagner — Bridal Chorus from Lohengrin
This is the standard for every other traditional wedding processional songs. It charges the atmosphere as the bride makes her entrance.
Johann Pachelbel — Canon in D
If you fancy some seasoned traditional jazz music for that walk of faith, Canon in D is the perfect song.
Wagner — Bridal Chorus (pipe organ solo)
We love this wedding march song because it brings the opera to the bride, serenading her down to the aisle.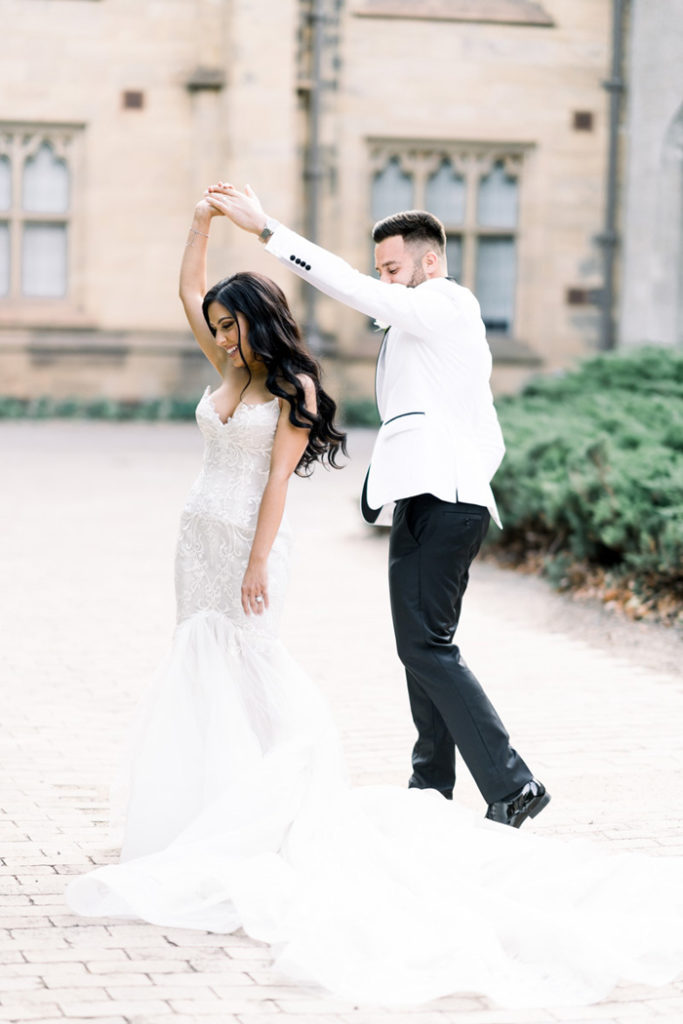 Classic Wedding Ceremony Songs
There are many songs to choose from when planning your wedding ceremony. Classic songs can be used for the entrance of the bride, groom, and bridal party, during the vows, and for the recessional. Whether you're getting married in a church or outside, these classic wedding ceremony songs will set the tone for your nuptials and get everyone in the mood to celebrate your love.
Hall and Oates — You make my dreams
The evergreen song from Hall and Oates is beautiful for the cake-cutting moment. Keep the song soft in the background.
Train — Marry me
For the vow saying moment, Marry Me is just perfect. It lends power to the promises you're making at that moment.
Jason Mraz — I'm yours
This is a classic piece that any bride will love to walk down the aisle to. It says she's his!
Shania Twain — From this moment on
This country goodness from Shania Twain fits perfectly with the first kiss. Forever begins then. It's also great for the procession.
The Beatles — All You Need Is Love
This is a piece of pre-wedding music before the guests settle in. A soft number for the background as guests mingle within themselves.
First Dance Wedding Songs
First dance wedding songs are an important part of any wedding reception. They set the tone for the evening and can be a moment to remember for a lifetime. There are many different songs to choose from, so it is important to pick the right one. Here are a few of our favourites.
Etta James — At last
You now have your beloved to hold forever. At last, it was a long time coming so waltz to music.
Shania Twain — In your eyes
A song of promise, love, hope, and a future together. This is what grand first dances are quite made of.
Righteous Brothers — Unchained Melody
It's a happy moment, there are no restrictions or inhibition. Dance to your heart's fill with this classic dance piece.
Ed Sheeran — Perfect
You're both perfect today as you will be forever. A love so true and without condition is what this song says.
Dooley Wilson Casablanca — As time goes by
The love you feel for each other will become stronger as the year goes by. A first dance absolute perfection.
Classic Father Daughter Wedding Songs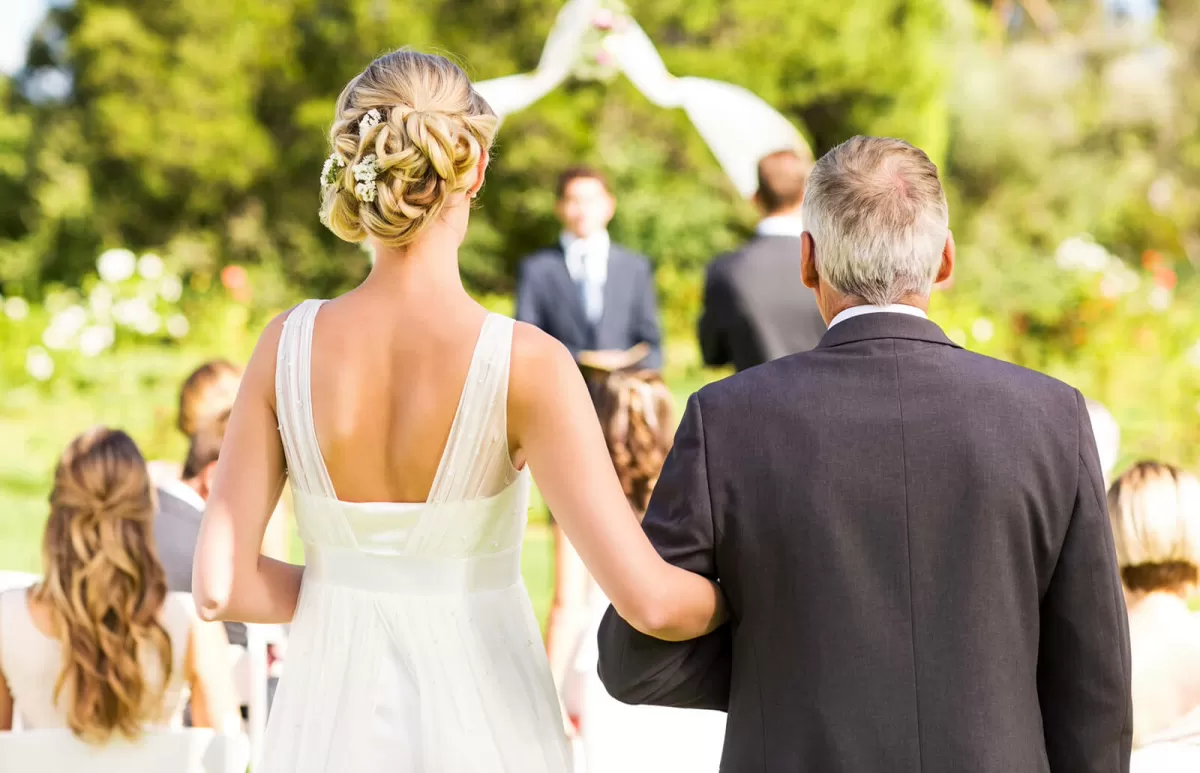 Any father of a daughter knows how special the bond is. And on her wedding day, he wants to do everything he can to make her feel loved and cherished. One way to do that is to pick the perfect father-daughter dance song. Here are some our favorites.
Al Martino — Daddy's little girl
Always daddy's little girl, his arms will always be your safety. Show him your love by enjoying this song with him.
The Temptations — My girl
Share a moment with your daddy on the dance floor. It remains one of the best father-daughter wedding pieces.
John Mayer — Daughters
Daughters are precious and the best friends to their daddies. Join him on the dancefloor and waltz to this number.
Heartland — I loved her first
He held you first and he loved you first. Always your hero and first man, take steps in his arms.
Van Morrison — Brown-eyed girl
The brown-eyed girl is beautiful and daddy's jewel. This is an emotional heartfelt song for a father-daughter wedding dance.
Best Classic Wedding Songs For The Sweetest Moment
There are so many beautiful classic wedding songs to choose from! Whether you're looking for something sentimental or something upbeat, we've got you covered with the best classic wedding songs for the sweetest moment.
Celine Dion — Because you loved me
For saying the vows, this song charges up the ambiance with romantic emotions. Everyone is mushy, bright-eyed but happy.
Dixie Cups — Going to the chapel of love
This song is perfect for the wedding procession of a modern and wanderlust bride. You can seat elegantly to the rhythm.
Diana Ross and Lionel Richie — Endless love 
A duet by two legends, this number is the best starter for the first dance. It's romantic, loaded, and sensual.
Archie's — Sugar Sugar
A beautiful piece for the dancefloor. Your wedding party will show you who's crazy about this one. It's fun, upbeat, and romantic.
Frank Sinatra — Love and marriage
A don of romantic ballads, he gives us the facts and sweetness about love and marriage at the couple's first dance.
Bouquet Toss And Garter Toss
When it comes to weddings, there are certain traditions that are just a must. One of those traditions is the bouquet toss and garter toss. These two activities are not only fun, but they also add a bit of excitement to the reception. If you're looking for the best classic wedding songs to play during these two special moments, look no further. We've compiled a list of the all-time greatest hits that are sure to get your guests up and dancing.
Alannah Myles — Black velvet
Not really a wedding song per se, this piece is a fun song that suits the wedding garter throwing moment.
Nelly — Hot in here
With this song coming on, all the ladies present will get their sexy on. A time to catch the garter.
James Bond — Theme song
Like the James Bond series is synonymous with action. This theme song is energetic enough to bring some stage action.
Beyoncé — All the single ladies
Call the attention of everyone with this song. Let them brother put a ring on it if they like it.
Queen — Another one bites the dust
This is an upbeat song that celebrates your exit from the bachelorette gang. The perfect wedding music for a garter toss.
Last Dance Music
When it comes to wedding dances, the last dance is always one of the most memorable. It's a time for the bride and groom to share one last dance together before they move on to the next phase of their lives. If you're looking for the perfect song to end your wedding night, look no further than this list of the best last dance wedding songs. From timeless classics to modern hits, we've got you covered.
Donna Summer – Last dance
This is a sensual beat to wrap up all dances. It's a beautiful day that must come to an end.
The Ronettes – Be my baby
This song simply recounts how beautiful the wedding day was. With hope of a future even more fun and beautiful.
Dirty Dancing – Time of my life (final dance)
Give the guests an unforgettable show by doing the dirty dance. This is how to close a wedding in style.
Eric Clapton – Wonderful tonight
No song says it any better this interesting piece. Hold hands and dance this one last song before the exit.
Natalie Cole — This will be an everlasting love
And a promise blended with a declaration to end the day is this wonderful classic by Natalie. Together forever going forward.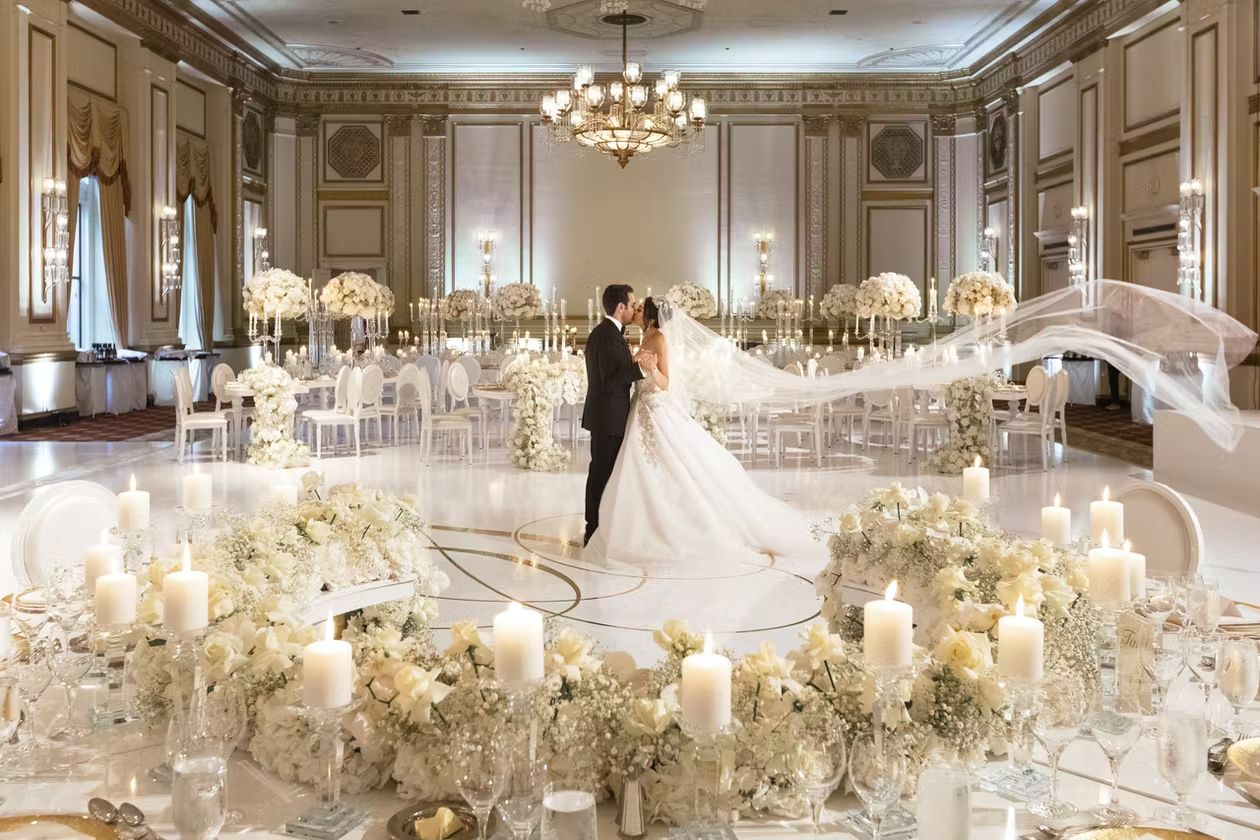 Classic Last Songs
The best wedding songs are the ones that make you feel like the luckiest person in the world. The ones that make you want to dance with joy, and the ones that make you feel like you can conquer the world with your new spouse. But what about the last song of the night? The one that sends you off into the night, hand-in-hand? We've rounded up the best classic last songs to help you end your wedding night on a high note.
Frank Sinatra — An affair to remember
From the wedding planning, tears and smiles, and a successful wedding. It will always be a beautiful affair to remember.
Heatwave — Always and forever
Even as the wedding draws to a close, leave with a reminder that what you share is always and forever.
Beatles – Hello goodbye
Time to leave, step off with this upbeat and danceable number from the Beatles. Oldie but a goodie.
Arthur Fields and Walter Donovan – Abba dabba honeymoon
If you'd be having a honeymoon immediately after your wedding, this is your ideal getting away song.
John Travolta And Olivia Newton John – You're the one that I want
This song serves as a continuous reminder to the couple that they belong to each other forever.
If you're looking for some classic wedding songs to get your party started, we've got you covered. From the 1950s all the way up to today, these 45 songs will have your guests on their feet and dancing the night away. From Frank Sinatra to Beyonce, there's something here for everyone. So what are you waiting for?Shake it up with one of these classic wedding songs and see how it goes over with guests of all ages!
FAQ
Ed Sheeran's "Thinking Out Loud" is the greatest wedding song ever -or- is it Etta James' "At Last"? Even though it was released in 2014, many couples relate to the emotion of "Thinking Out Loud" and will have everyone dancing to this great love ballad. The song stayed on the Billboard Hot 100 chart for 118 weeks (more than 2 years!). That's tough to beat.  "At Last" is a timeless classic of finding your forever love.
It must be the epitome of love. The song must express love for another as that is what a wedding is all about. Getting married was a popular theme recently with Marry Me by Train, Marry You by Bruno Mars, and also not on the list Marry Me by Jason Derulo.
Movies also played a big role in the list of best wedding songs ever. Movies feature mega-hits like Armageddon with I Don't Want To Miss A Thing and Swing Time with The Way You Look Tonight.
The most popular song to play during a wedding ceremony is the processional song – the song played as the wedding party, including the bride, walks down the aisle. The most popular wedding reception song is the first dance song.