110 First Dance Wedding Songs 2023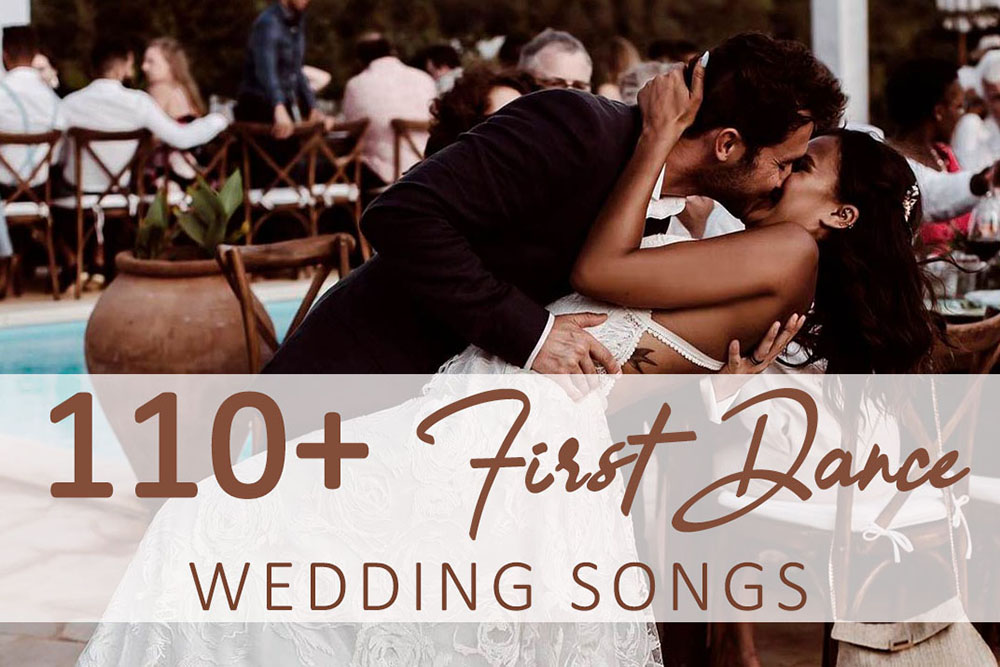 Choosing the perfect first dance song is no simple matter. You want it to be romantic. You want your guests to love it. And you want it to embody your relationship leading up to this point.
If you're reading this, obviously you haven't found The One yet and you need a little help. Read on for first dance songs ideas that are sure to inspire.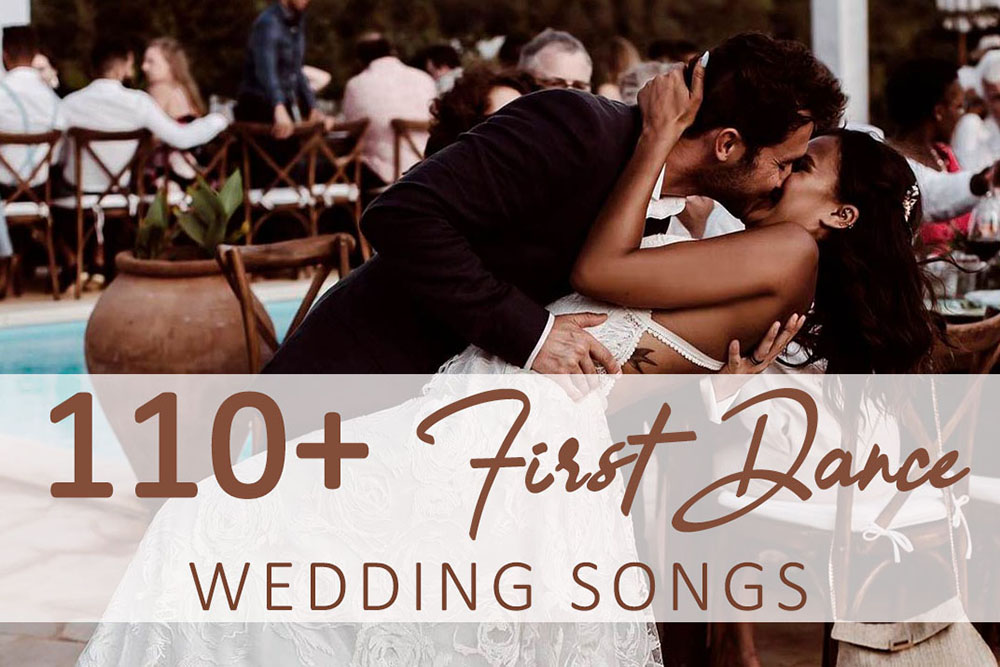 Great Oldies Songs For First Dance
You should make your first dance wedding song inspiration by breaking down your options into genres. Find the style you are most comfortable with in each section. Once you've chosen a style, consider all of the lyrics and rhythm formats you need to narrow down.
You aren't dancing alone. Make the most of the moment by sitting down as a couple and talking about what you want, what you don't want, and what you're willing to compromise on.
Many of the songs from this list hold a special place in your heart, but perhaps they aren't quite perfect for your first dance as a husband and wife. Keep them in mind when you are planning a father-daughter or mother-son dance. The first time you heard any of these songs probably happened in your parents' car back seat. The memory of that is certainly worth remembering.
Some examples of these songs are as follows:
Popular First Dance Song Ideas
Try to start with a popular first dance song or two. Many pop songs are found on Top 40s lists, but there are plenty of other pop song sources these days, and hidden gems are what you'll find at your wedding first dance.
It's harder to choose the best wedding first dance songs today due to the huge variety of sources and subcultures of music. There are YouTube stars, Top 40s, Indie stars, Spotify stars, and so much more. Each of these categories can be accurately called "pop songs", but if they are not within your musical bubble, you (or your audience) will have difficulty connecting to them. Use songs that are extremely personal, but make sure that your guests are familiar with them.
A few examples of this specific genre of songs are:
Best Country First Dance Songs
The criteria you need to choose the perfect first dance song don't stop there. You should also consider your wedding theme. Country music may seem out of place at a traditional wedding, however, a country wedding song first dance would feel right at home in a barn.
A few years ago, country music was strictly for specific tastes. However, as Lil Nas (mashups and crossovers are great country first dance tracks), country has expanded into all genres. Country music is defined by a passion for love and for living, so it's a very practical genre to choose from.
Some examples of great country wedding songs are: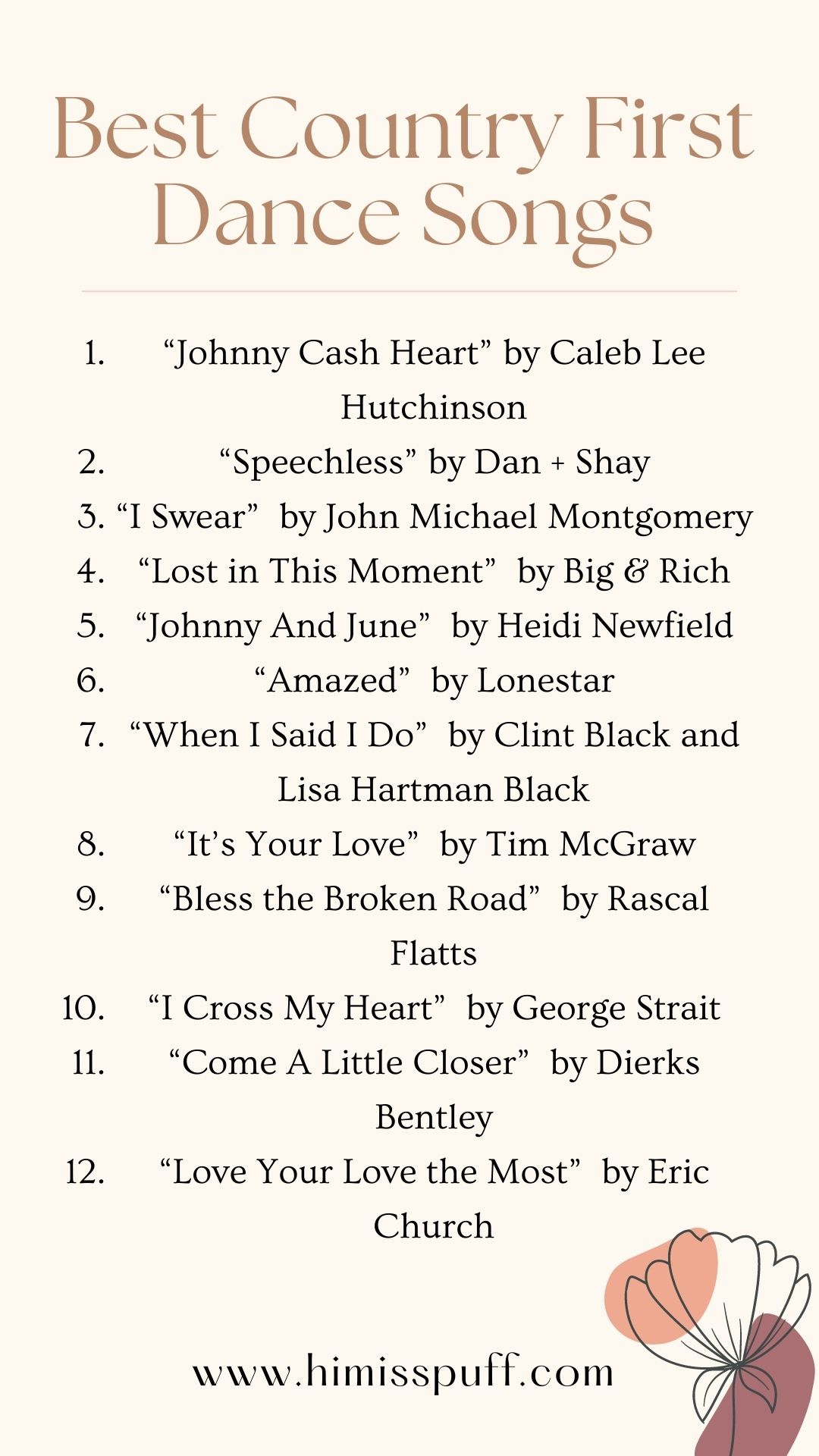 Top First Dance Songs
If you're really stuck, why not choose from a list of proven songs? A few of the best first dance songs by generous gone by have stood the test of time and are uniquely able to resonate with the entire audience.
They've been done before, but people love these good first dance songs! As much as you're compromising on originality, you'll make it in depth and meaning, just like a wedding ring. Yes, you can wear the most modern custom engagement ring on your finger. However, if you were to accept a simple gold ring with a solitaire diamond that has been passed down the family tree since the time of Cleopatra, you would probably jump when it came.
Modern First Dance Songs
Since tastes and trends come and go so quickly, it is sometimes risky to choose modern first dance songs. But, choose the right one and you will have the entire guest list tapping their toes. If you choose a song that is centered around Love, your audience will hold back tears.
It's also important to consider physical dance abilities, as well as musical styling. Pop songs tend to be more upbeat. You will have to be comfortable on your dance floor to enjoy a song from this category, which is often accompanied by choreographed moves. You should choose a song that you can keep up with.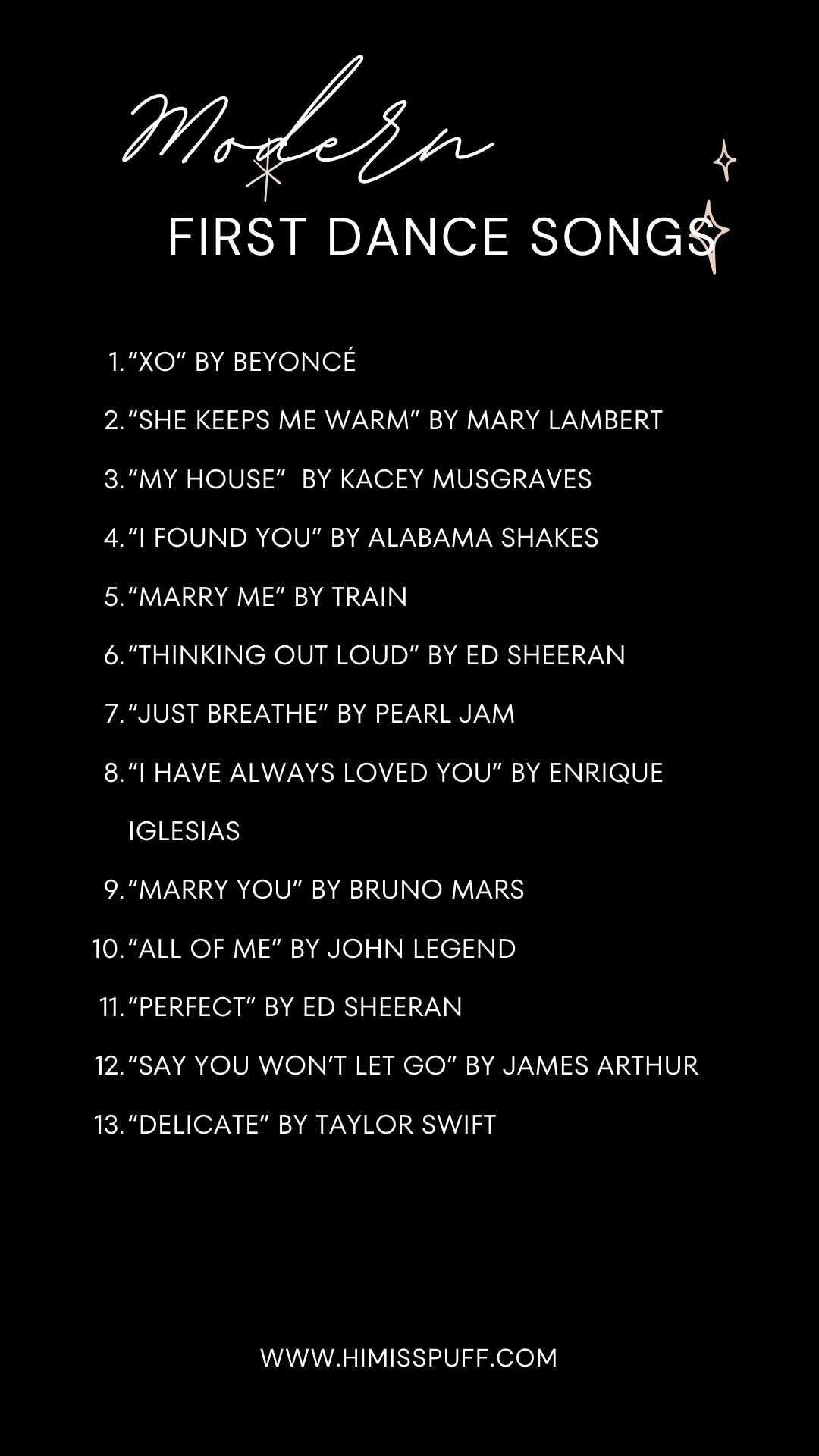 Unique First Dance Wedding Songs
The first dance at your wedding will be the most important and memorable one you will remember forever. You'll want to enjoy your time with your partner and savor it, but you'll also want your guests to enjoy it. Choosing your first dance song is not a simple task.
Some couples want the classics of popular music, which we all know and recognize, but others prefer unique first dance songs. We have everything you're looking for, whether it's a first dance wedding song or a song that speaks to your relationship.
Try to decide on the genre you want, country, pop, rock, classical, or R&B. The type of dance you have in mind can help you decide this too.
Once you've determined the style of song and dance, you can then consider the lyrics of the songs in this genre and find which best fits your situation. We offer you our list of unique wedding songs to help make this easier.
Best First Dance Wedding Songs
hinking Out Loud – Ed Sheeran
You Are The Best Thing – Ray Montagne
At Last – Etta James
All of Me – John Legend
A Thousand Years – Christina Perri
Make You Feel My Love – Adele
I Won't Give Up – Jason Mraz
Everything – Michael Buble
Better Together – Jack Johnson
Amazed – Lonestar
Come Away With Me – Norah Jones
First Day of My Life – Bright Eyes
Let's Stay Together – Al Green
Lucky – Jason Mraz, Colbie Caillat
Can't Help Falling in Love – Elvis Presley
Marry Me – Train
Wonderful Tonight – Eric Clapton
What a Wonderful World – Louis Armstrong
Crazy Love – Van Morrison
I'm Yours – Jason Mraz
The Luckiest – Ben Folds
How Long Will I Love You – Ellie Goulding
Your Song – Elton John
Marry You – Bruno Mars
The Way You Look Tonight – Tony Bennett
Tenerife Sea – Ed Sheeran
Then – Brad Paisley
Stand By Me – Ben E. King
Unchained Melody – The Righteous Brothers
Ho Hey – The Lumineers
You Are So Beautiful – Joe Cocker
Iris – The Goo Goo Dolls
My Girl – The Temptations
L-O-V-E – Nat King Cole
Truly Madly Deeply – Savage Garden
(Everything I Do) I Do It For You – Bryan Adams
I Don't Want to Miss a Thing – Aerosmith
Kiss Me – Ed Sheeran
You and Me – Lifehouse
Chasing Cars – Snow Patrol
My Best Friend – Tim McGraw
Can't Take My Eyes Off You – Andy Williams
When a Man Loves a Woman – Percy Sledge
Your Song – Ellie Goulding
The Way You Look Tonight – Frank Sinatra
Baby I'm Yours – Arctic Monkeys
Stay With You – John Legend
I Loved Her First – Heartland
That's How Strong My Love Is – Otis Redding
You & Me Song – The Wannadies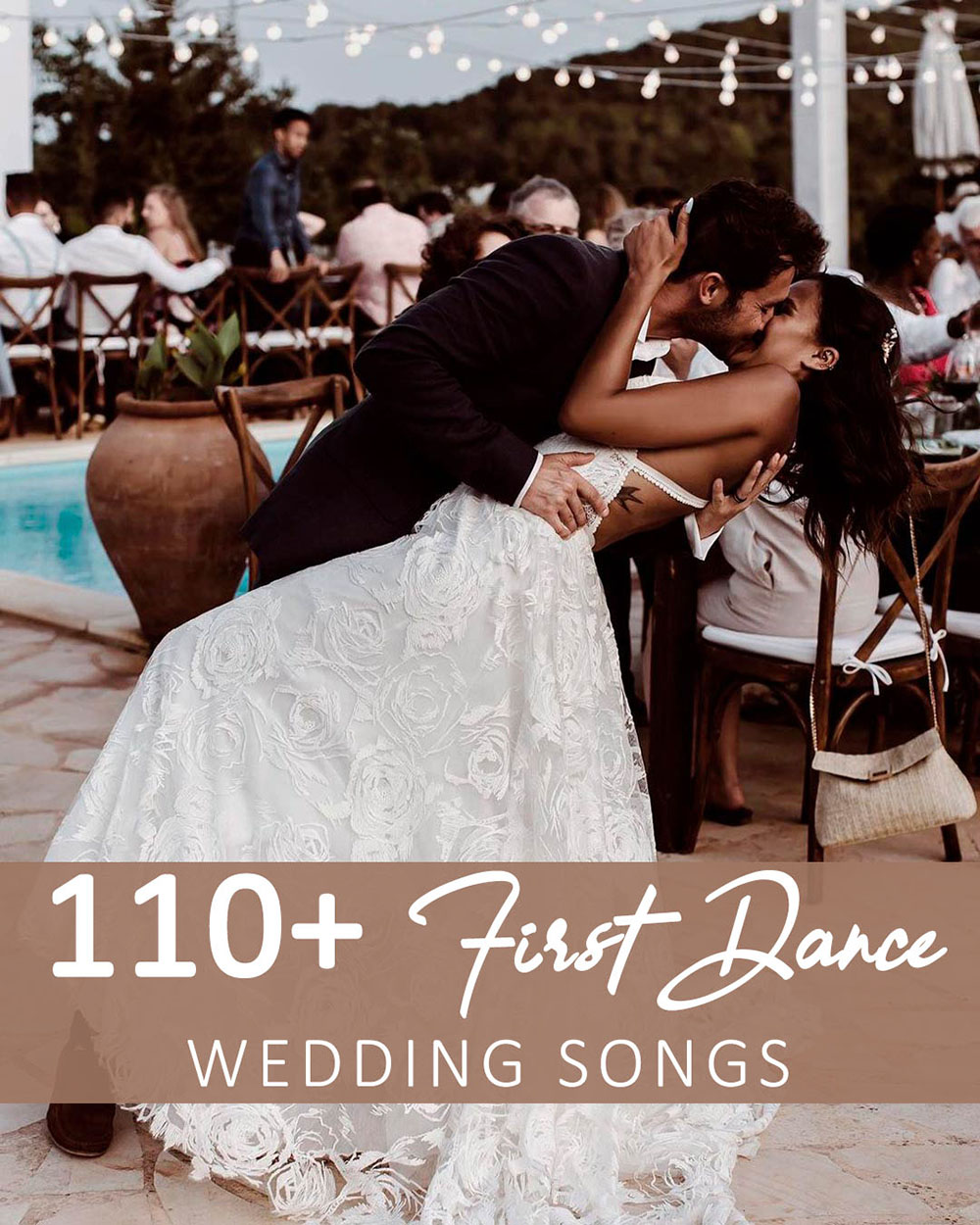 Typically the bride and groom, bride and bride, or groom and groom do their first dance as soon as they get announced into the their wedding reception.
This is the best time to do the dance because all guests are already seated to watch the reception entrances. All eyes are already on the couple as they enter.
Try not to chat through the entire dance – It makes it very difficult for the photographer to get amazing photos that look natural if the couple is talking the entire time (this goes for the mother-son and father-dances too)
Don't cut the dance too short – Some couples don't like being the center of attention, and that's ok. Give your photographer at least 2 minutes to get some awesome photos. And let them know ahead of time if you are cutting the song short. This way they can prepare.
Tell your photographer about any choreographed dances or surprises during the first dance – By telling your photographer about your dance plans, they can be in the right position for any lifts, dips, surprises, etc.