58 Best Father Daughter Dance Songs 2022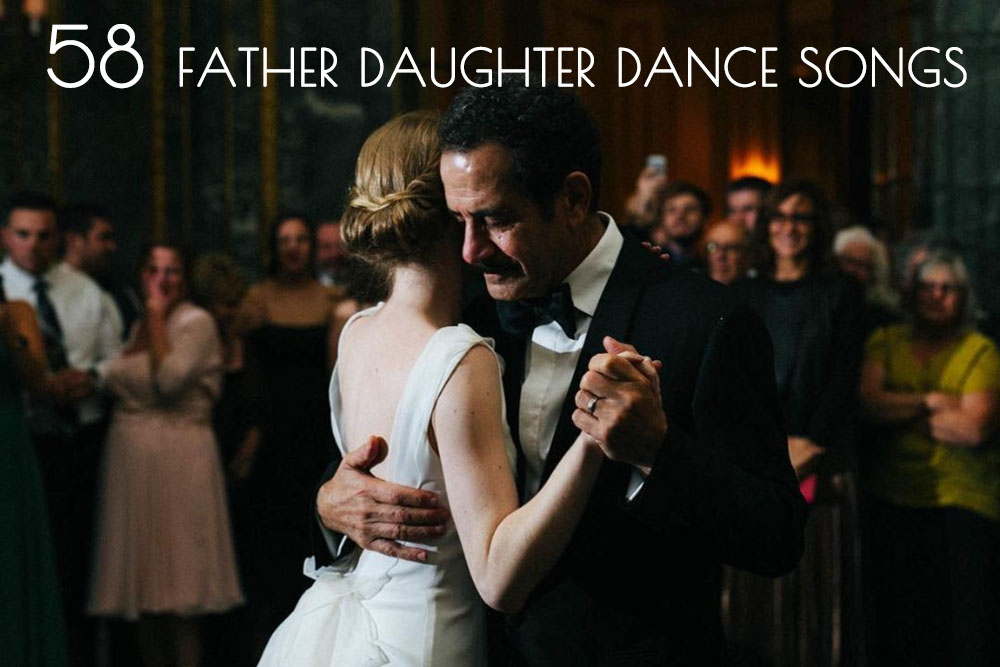 The father-daughter dance is a touching tribute to your relationship with your dad and can also be a fun expression of your personality. Depending on your wedding-day timeline, the father-daughter dance often takes place in between meal courses or following the wedding couple's first dance; it can also be combined with the mother-son dance. After the parent dances, have your DJ or bandleader invite guests to join in to kick off the dance party.
Here's a list of fun, classic, and sweet father-daughter dance songs to help inspire your song choice for your wedding dance with Dad.
Slow Father-Daughter Dance Songs
"A Song for My Daughter" by Ray Allaire
"Always Be Your Baby" by Natalie Grant
"Daddy" by Beyoncé
"Daddy's Little Girl" by Michael Bublé
"Daughters" by John Mayer
"Dream" by Priscilla Ahn
"Forever" by The Beach Boys
"God Only Knows" by The Beach Boys
"Lullaby" by Billy Joel
"One in a Million" by Larry Graham
"She's Leaving Home" by The Beatles
"To Sir With Love" by Lulu
"Unforgettable" by Nat King Cole and Natalie Cole
"Wind Beneath My Wings" by Bette Midler
"What a Wonderful World" by Louis Armstrong
"It Had to Be You" by Ray Charles
"You Are So Beautiful" by Joe Crocker
"Your Song" by Elton John
"Gracie" by Ben Folds
"You'll Be in My Heart" by Phil Collins
"You've Got a Friend" by James Taylor
"Daughter" by Loudon Wainwright III
"Landslide" by Fleetwood Mac
Upbeat Father-Daughter Dance Songs
"Father and Daughter" by Paul Simon
"My Girl" by The Temptations
"She's a Rainbow" by The Rolling Stones
"Wildflowers" by Tom Petty
"How Sweet It Is" by James Taylor
"Come Fly With Me" by Frank Sinatra
"The Way You Look Tonight" by Frank Sinatra
"Sweet Child O' Mine" by Guns N' Roses
"Sweet Pea" by Amos Lee
"Brown Eyed Girl" by Van Morrison
Country Father-Daughter Dance Songs
"Don't Blink" by Kenny Chesney
"Daddy Dance With Me" by Krystal Keith
"Daddy's Hands" by Holly Dunn
"God Gave Me You" by Blake Shelton
"I Loved Her First" by Heartland
"It Won't Be Like This for Long" by Darius Rucker
"My Little Girl" by Tim McGraw
"Stealing Cinderella" by Chuck Wicks
"Today I Give My Daughter Away" by Dale Watson & His Lone Stars
"Wide Open Spaces" by the Dixie Chicks
"You Are My Sunshine" by Johnny Cash
"I'll Be There" by Josh Turner
"Just Fishin'" by Trace Adkins
"I'll Be Your Man" by Zac Brown Band
"Daddy's Little Girl" by The Shires
Modern Father-Daughter Dance Songs
"One Call Away" by Charlie Puth
"Never Grow Up" by Taylor Swift
"Like My Father" by Jax
"EmmyLou" by Vance Joy
"I Lived" by OneRepublic
"Ready Set Go" by Billy Ray Cyrus
"Dance Like Yo Daddy" by Meghan Trainor
"Moon River" by Frank Ocean
"Glory" by Jay-Z ft. Blue Ivy
"How Long Will I Love You" by Ellie Goulding