How to Write A Father Of The Groom Speech [Examples & Tips]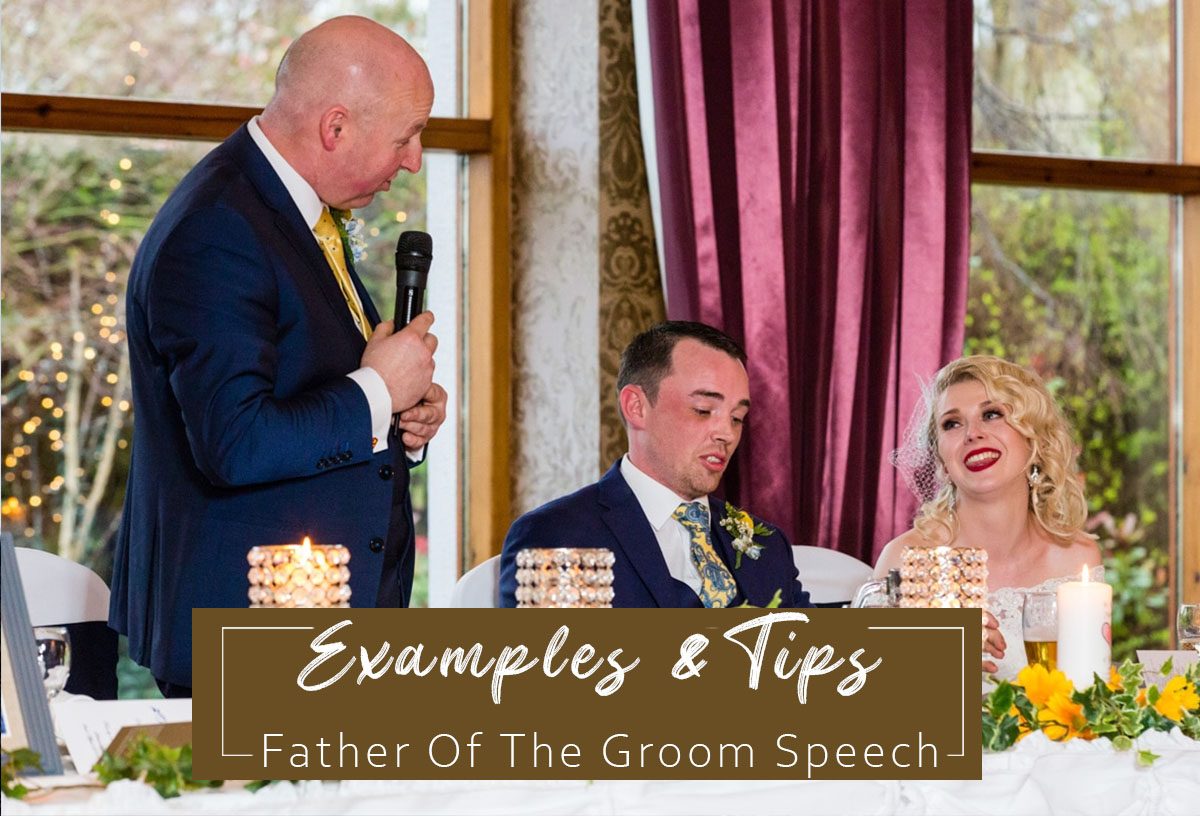 A father of the groom speech is a heartfelt and memorable way for a father to express his love and pride for his son on his special day. However, it can be nerve-wracking to write and deliver a speech in front of a large crowd. With the right outline and preparation, anyone can create a touching father of the groom speech that will be remembered for years to come.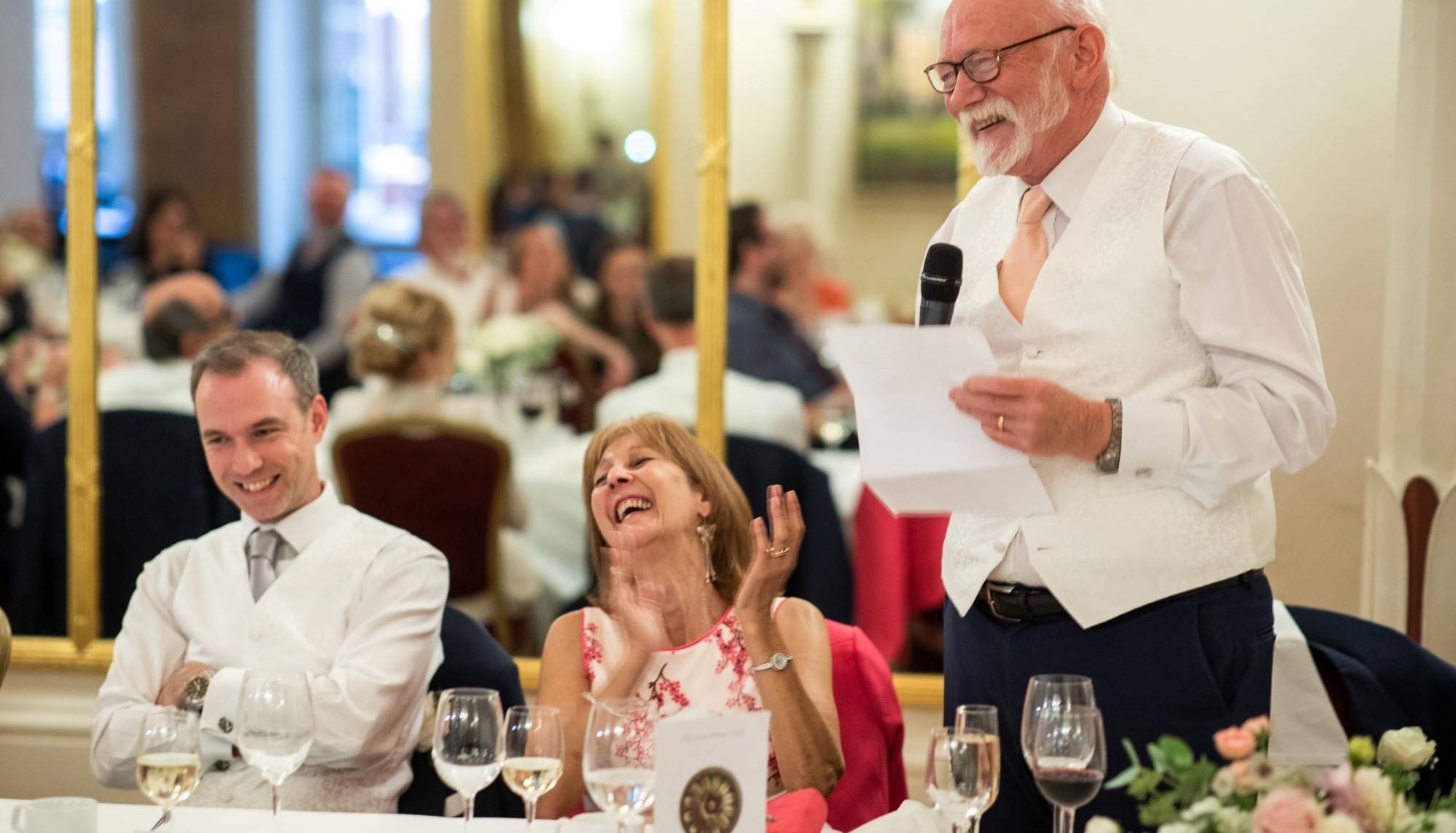 Father Of The Groom Speech Outline
The father of the groom's speech usually involves welcoming guests and family members, toasting the happy couple, and telling a few anecdotes about the groom.
We have detailed below a basic outline for a father of the groom speech:
Introduction
The introduction of your speech should be warm and welcoming. Begin by thanking everyone for coming and expressing your gratitude for being a part of your son's special day. You can also share a brief anecdote or story about your son to engage the audience.
Talk about your son
The second part of your speech should focus on your son. Share some personal stories, memories, and achievements of your son that you are proud of. You can also talk about his relationship with his bride and how he has grown over the years.
Talk about your new daughter-in-law
It is important to make your daughter-in-law feel welcomed and loved on her special day. Share some positive qualities and characteristics about her, as well as any personal stories or anecdotes that demonstrate why she is a perfect match for your son.
Express your gratitude
Thank everyone who helped to make the wedding a success. This can include the wedding planner, caterers, and anyone else who played a role in the wedding. It is also a good opportunity to thank your family and friends for their support over the years.
Give advice and blessings
As a father, you have a lot of wisdom and experience to share. Take a moment to offer some words of advice and encouragement to your son and his new bride. This can include tips for a happy marriage, or simply expressing your love and support.
End with a toast
Finally, end your speech with a heartfelt toast to the happy couple. Raise your glass and wish them a lifetime of love and happiness together.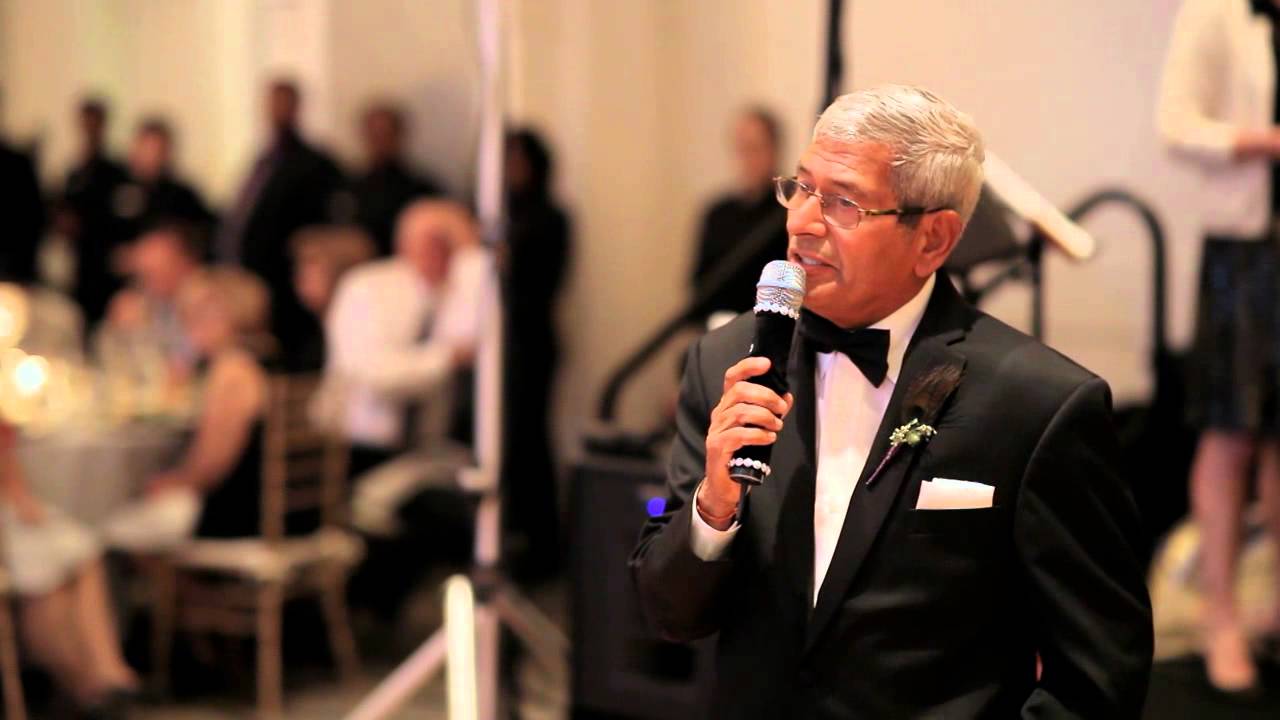 Ideas For Your Father Of The Groom Speech
Writing a speech is not always easy. So it's great to have ideas to guide you when writing any wedding speeches. Below are a few ideas to keep in mind:
Practice makes perfect
Practice your speech in front of a mirror or with a friend to become more comfortable with the delivery. You can also record yourself to see where you need to improve.
Keep it concise
While it may be tempting to share every memory and anecdote you have, it's important to keep your speech concise and to the point. Aim for a length of about five minutes.
Use humor
Humor is a great way to break the ice and engage your audience. However, make sure your jokes are appropriate and won't offend anyone.
Be yourself
Your speech should reflect your personality and style. Don't try to imitate someone else's speech or style, as it may come across as inauthentic.
Speak from the heart
The most important part of your speech is to speak from the heart. Your son and his bride will appreciate the sincerity of your words.
Father Of The Groom Wedding Speech Examples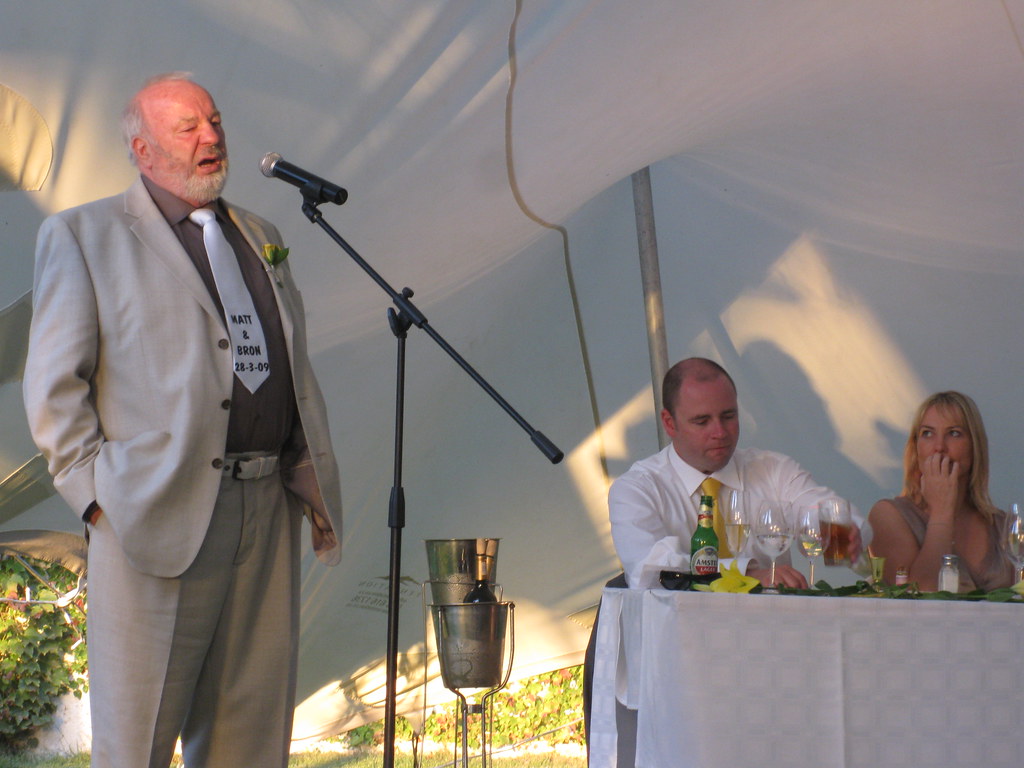 Writing a speech from scratch is totally admirable and acceptable. However, at such a demanding time as a sons wedding ceremony, it can be quite helpful to get some inspiration along the way. Below is a few Father of the groom wedding speech examples that can help with that.
It can be very hard to find a love like the one [groom] and [bride] share. It is a rare thing to have and if you are lucky enough to find it, you better not be foolish enough to let it go.

I am so happy and full of joy to see the love that [bride] and [groom] have for each other. And I am grateful that I was able to witness my son fall in love and get married to the woman of his dreams. I cannot wait to see what lies ahead in the rest of their future together.
As someone who raised my son to be a perfect gentleman, I have to tell you [bride,] that you have landed quite the catch! But you know who is even luckier? My son, for having found you. You are an exceptional person who means the world to [groom] and you hold a special place in my heart to because you are the woman who makes my son truly happy.
My hope for my son and his new bride are that they find the same comfort in each other that my wife and I find in each other every day. If you ever feel lost, look to each other for support and guidance. When you are happy and have achieved a dream, celebrate with each other. This is only the beginning of a great journey for the two of you and I wish you the best of luck on this amazing adventure together.
[Bride] and [groom,] you know that I have been married for a long time. And while I can joke about the downsides of marriage and the little disagreements that inevitably happen, it is much more worthwhile to talk about the benefits of marriage. Because when you are with the right person, the positives will always overwhelmingly outweigh the negatives.
Some people have no idea when they meet "the one." Sometimes it takes some time and a few pushes before the sparks begin to fly. Slowly but surely, what is meant to happen and two people form an indescribable and inseparable bond that can stand the test of time.

If you have ever experienced this phenomenon before, then you know exactly what I am talking about. And I know that [bride] and [groom] know exactly what I am talking about. When I look at them, I see a love that is pure and strong. I know that they will build a happy life together as a married couple.
Marriage is a fun adventure that is full of surprises, twists, and turns. As someone who has been married for a long time, I am still on this exciting journey. And I have to say that it never gets old, being married to the person that you love. Love one another, pay attention to each other, and learn to put the other first.
[Groom,] my wish for you is that you and [bride] have the same good fortune and love that has gotten your mother and I through all of these years. May you always love each other and be full of patience and understanding. Be honest and loyal and good to each other. And I sure do hope that you make each other laugh until you cry. Never let each other go.
[Bride,] [groom,] congratulations to you both. I wish the two of you all the happiness in the world. While I know that you two are already a blessing to each other, I know that you will continue to live a blessed life together as man and wife.
When I think of [bride] and [groom], I am hard-pressed to think of two people who are better suited for each other. They both make each other wiser, more patient, and strong. Anyone who knows them knows that they care about each other deeply. There is true love there that can withstand the test of time.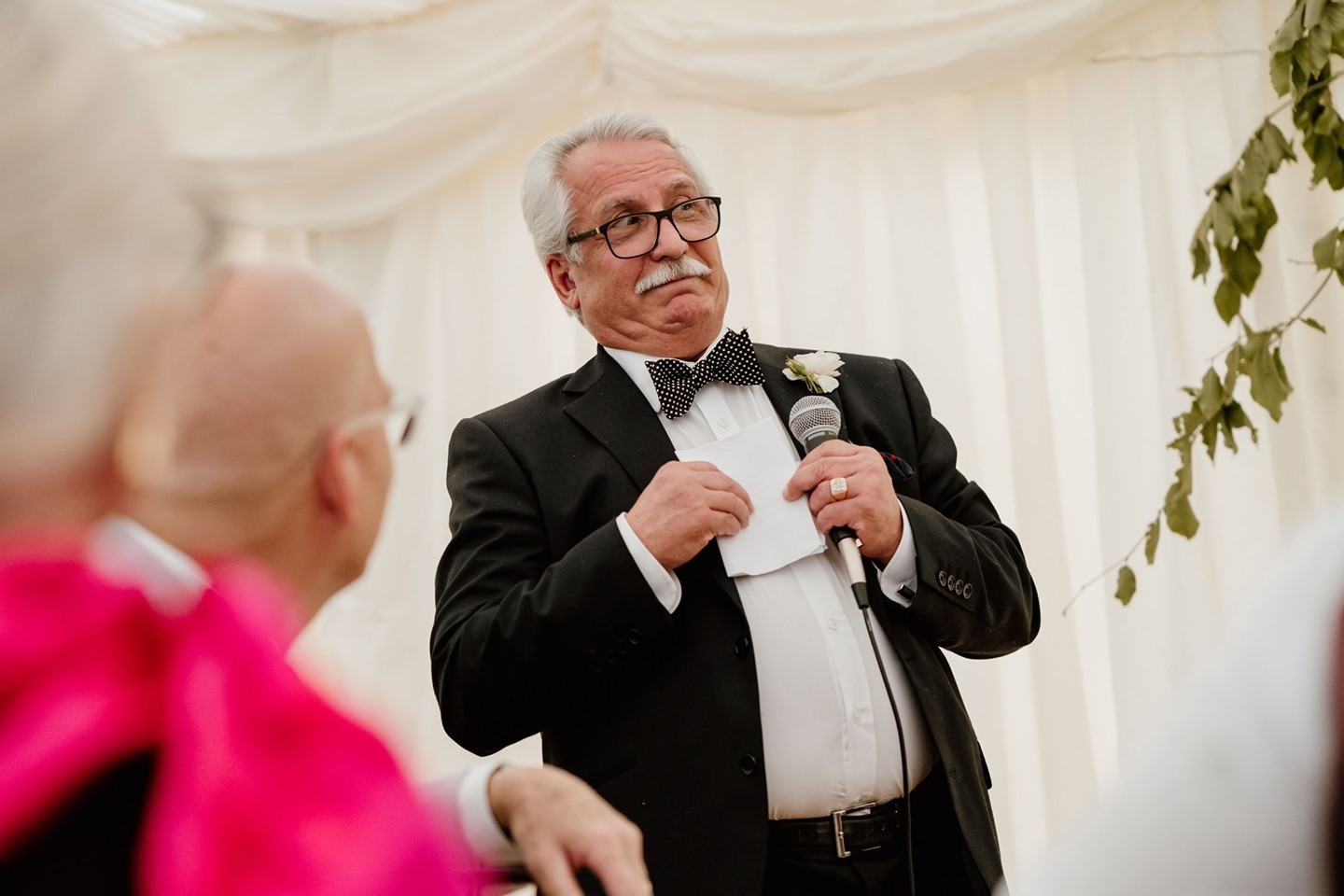 I have always been a firm believer that God always has a plan for all of us. It is what led me to finding my wife, which has led to us having our son [groom.] And I believe that God also led [bride] and [groom] to each other. Some call it fate, but I call it God's plan.
When my son found [bride], I was so thrilled with him along with the rest of the family. We were so excited to get to meet the woman who makes [groom] so complete.
[Bride,] we have never seen [groom] as happy as he is than when he is by your side. There are no words for me to express how thankful I am to you. Now that I know you, I love you like my own daughter. Welcome to our family.
A child is the biggest blessing that I could have ever had in my life. Even though I am grateful for all of my family and friends, my children are the ones who are closest to my heart. After all, they are a part of me. This is how I feel about my son [groom.]

Because of this, I have always wanted to see him happy. I always hoped that he would be successful in life, whether it was winning a sports game as a kid or getting his dream job. No matter what, I always had his back and did whatever I could to root for him. And so I root for him now as he begins a new journey with my daughter in law, as we can all attest to the fact that she makes him very happy.
As [groom's] dad, I always tried to have his back on everything. I wanted him to know that I would always be there for him through the good times and the bad ones as well. [Groom's] blessings and trials are ones that I also experience myself. What he goes through, I go through too. And I always have hoped for the best for him from day one. Even now that he is older, he is always still in my thoughts and prayers each and every day.

And I have to say that one of my biggest prayers for [groom] was answered. That he would find someone who would love and appreciate him. That this special person would be a great partner to him for the rest of his life. Thank you, [bride] for being a blessing in [groom's] life. Because of this, you are a blessing in all of our lives as well.
Having a son has been my greatest blessing in life. In many ways, [groom] is like my mini-me and my twin. But over the years, he has grown and he has become his own person. While I have tried to teach him many things over the things, he has taught me caught a few important things as well. [Groom] is someone who really cares about people and he will always go the extra mile for the people in his life.

I know that my son will make an amazing husband and God-willing, a spectacular father one day. Let us all raise a glass to [groom] and his lovely bride, [bride.]
As [groom's] father, I would like to take this opportunity to thank [bride's] parents for raising such a wonderful young woman who love my son so dearly. Nobody in this world can love him quite like you do. You seem to have brought out the best in [groom,] you make him so happy, and for that, I am eternally grateful. Congratulations to you both on your wedding day.
True love is a treasure that you can never put a price on. Treasure what you have always, take care of it, and guard it well. Knowing the two of you, I am confident that you will both treasure each other always. I know that your marriage will be based on a foundation of respect. Treasure each other and you will never want for anything else. Let us all give a wedding toast to my son [groom] and his bride, [bride.]
Here are some hopes and dreams from a devoted father to his loving son on his wedding day. I hope that the two of you live a life together that is long. I hope that this shared of life of yours is full of joy, laughter, abundance, love, and many other good things. May you always have each other to lean on.
[Groom,] as your father I am very proud to know you. I have had the rare pleasure of watching you grow from a little baby into a wonderful young man. You cannot possibly know how proud I am of you and how much I love you. Congratulations to you and your lovely wife on your wedding day.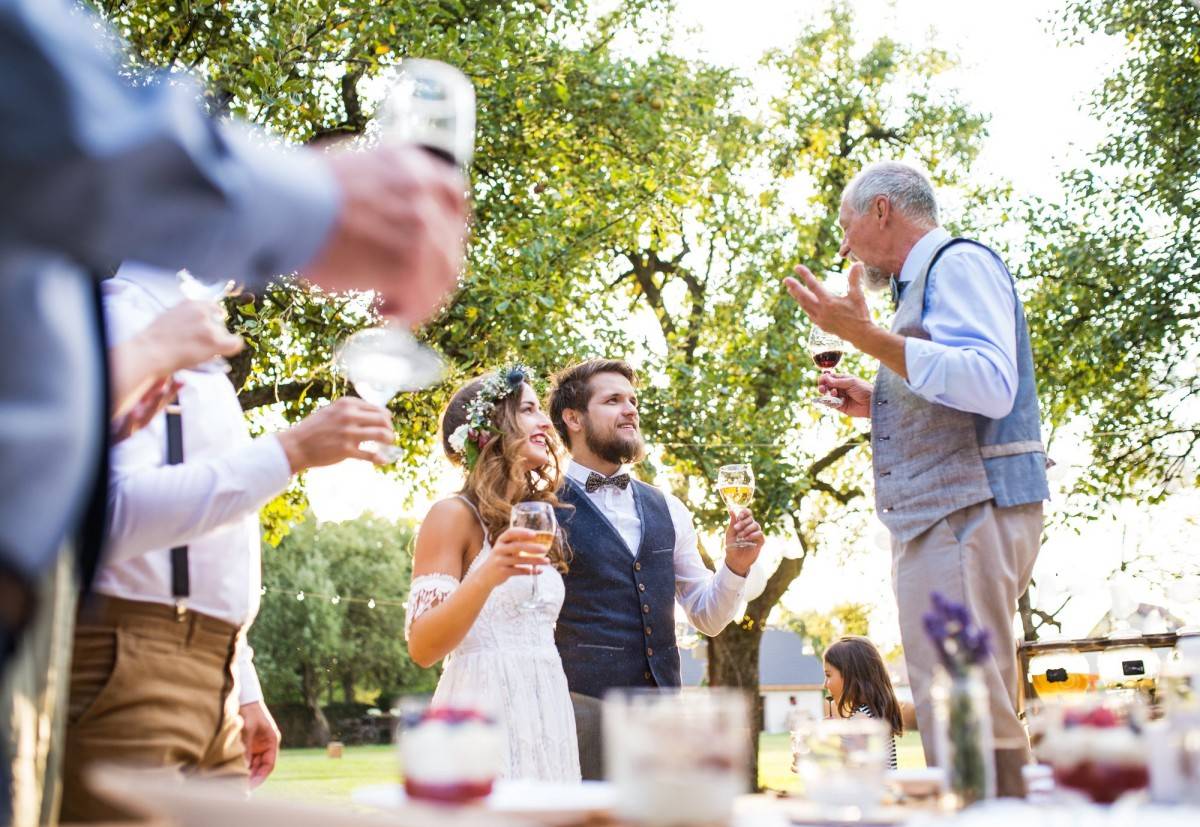 As someone who has been in love before and stayed in love up until this very day, I know what it is like to get caught up in romance. From the day the two of you decided to take a chance on each other to the moment you popped the question and she said yes, you have probably been taken through a whirlwind of events throughout your romantic journey together.

After the engagement, naturally, comes the wedding planning. It can be an exciting time and a stressful one as well. There are so many things to think about and now the has finally arrived. You can both rest easily knowing that your wedding day was a success, full of happiness and love and the people that are near and dear to both of your hearts.

Next of course, comes your honeymoon, a fun and relaxing time for any married couple. A chance to enjoy the first days of being husband and wife, a real opportunity to get away from the noise, chaos, and responsibility of life.
Savor this time together and enjoy those peaceful days of your honeymoon. When you come home, reality will begin to sink in. You will really get to work on building your home and new life together. From now on, all of the decisions that you make will be together as husband and wife. This does not mean that the fun times are over. In fact, this is only just the beginning of many more lovely experiences together.
[Bride,] you look absolutely beautiful today. It is like watching your own daughter get married and as of today, you are officially my daughter because you married my wonderful son.
As [groom's] father, I have always made it a point to let him know how loved and appreciated he is. He knows how much he means to me and how important he is in my life. So I thought that I would take this opportunity to sing my praises instead for [bride,] [groom's] wife and my newly-coined daughter-in-law.
It is official, [bride] and [groom] are now newlyweds. What does this mean, exactly? Well for starters, you are family now. You have your parents, siblings, and friends, but at the end of the day, you must come first now. From this point forward, you will be inseparable. You are not just living side by side, now you will be living as one team, a unit that will make important decisions and meaningful memories together.

Remember to be kind to each other. Be patient and understanding. Don't forget to communicate, to laugh, and to love each other. Do these things and you will have a great recipe for a happy, long, and successful marriage. Let us all take a moment and raise a toast to the new couple.
[Bride] and [groom,] separately you are two wonderful people but together, you are even better. You finish each other's sentences and can communicate without even saying a word. You know how to make each other laugh and smile and you know how to comfort each other as well.

You are two peas in a pod, there is no question at all that you were always meant to be together. I have so much love and respect for the two of you, for the lengths that you would go to for each other to make each other happy. Never lose what you two have, because it is a priceless thing that you are lucky to be able to enjoy. Let us all raise a glass to the wonderful couple, my son [groom] and his wife, [bride.]
[Groom] and [bride], while you have loved and cared for one another for a long time, today makes it official: you are now a married couple! I give you all of my congratulations and I hope that you feel the outpouring of love and support for the both of you that is in this room today.

The two of you are surrounded by people who are all so happy and thankful to be able to be a part of your special day. I think I speak for everyone here when I say thank you, and I hope that we have all helped in one way or another to make your wedding a day to remember.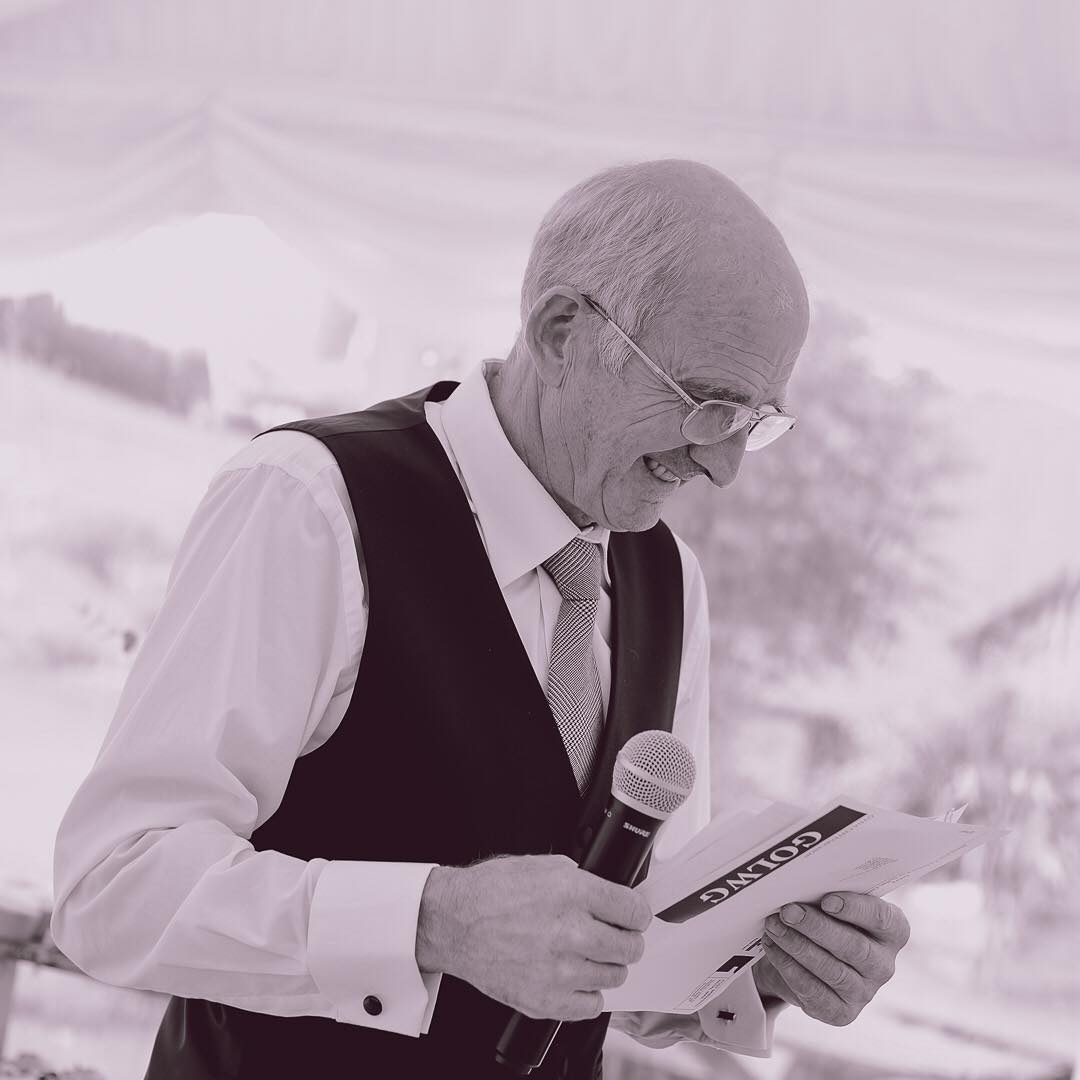 Frequently Asked Questions
How long should a father of the groom speech be?
Aim for a length of about five minutes.
What should I include in my father of the groom speech?
Your speech should include an introduction, stories and memories about your son, positive qualities of your daughter-in-law, gratitude for those who helped with the wedding, advice and blessings, and a toast to the happy couple.
What if I get nervous during my speech?
Take a deep breath and remember that everyone is there to support you. If you need to, you can also bring a note card with a few bullet points to keep you on track.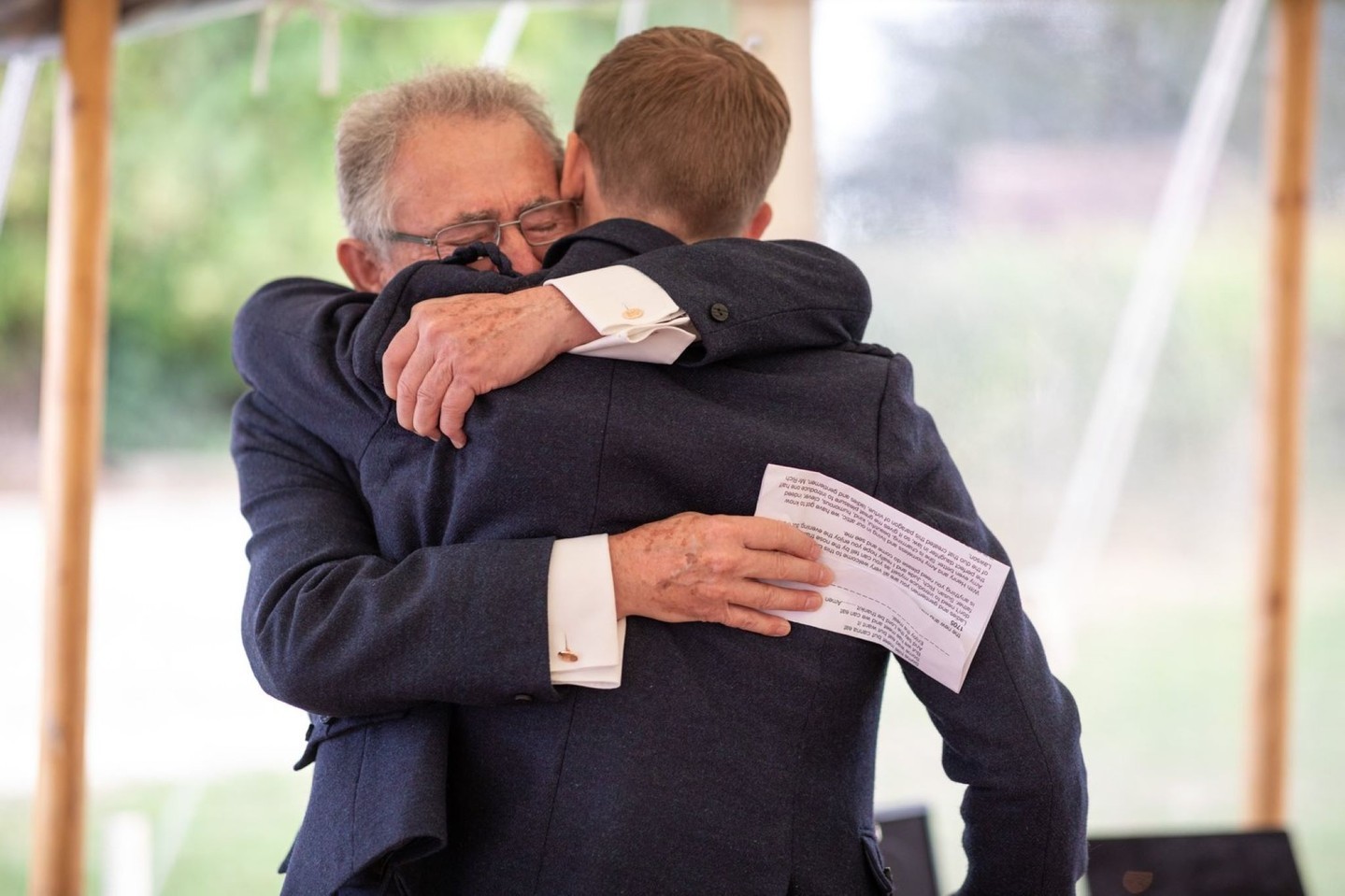 Conclusion
Writing a father of the groom speech can be nerve-wracking, but with the right outline and preparation, anyone can create a heartfelt and memorable speech. Remember to speak from the heart, keep it concise, and use humor when appropriate. With these tips and examples, you can create a beautiful speech that will be remembered for years to come.