How To Write a Wedding Speech 2023 [Examples & Tips]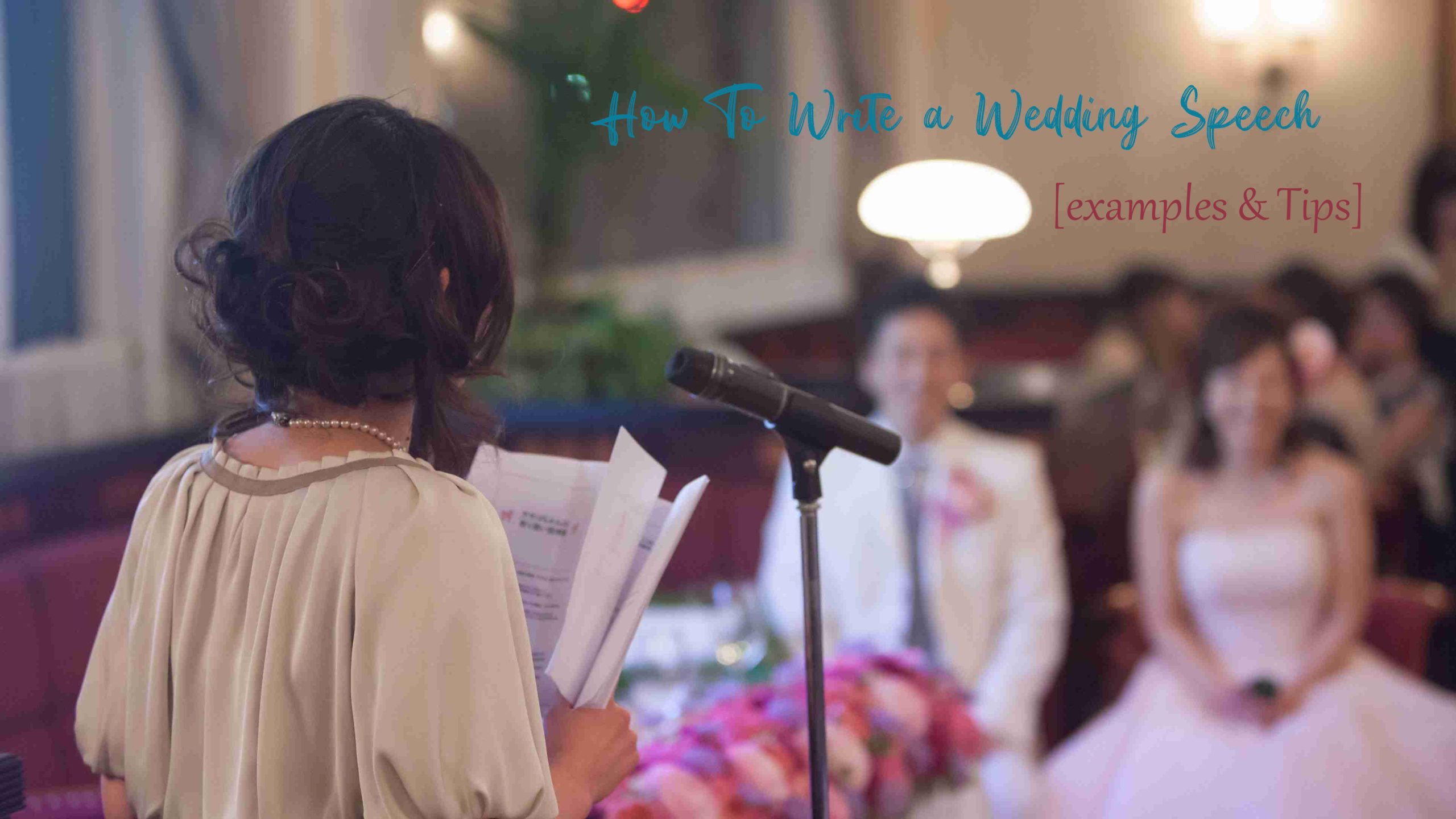 Wedding speeches can add a special touch to the big day, but can be stressful for those giving them. Whether you're the bride, groom, best man, maid of honor or father of the bride, it's normal to feel nervous. But don't worry, we're here to help. We have a variety of ideas and sample speeches that will help you to deliver a heartfelt speech that everyone will remember. From tips on what to include, to how to structure your speech, we have everything you need to make your wedding speech one to remember. So take a deep breath, relax and let us help you to create the perfect wedding speech.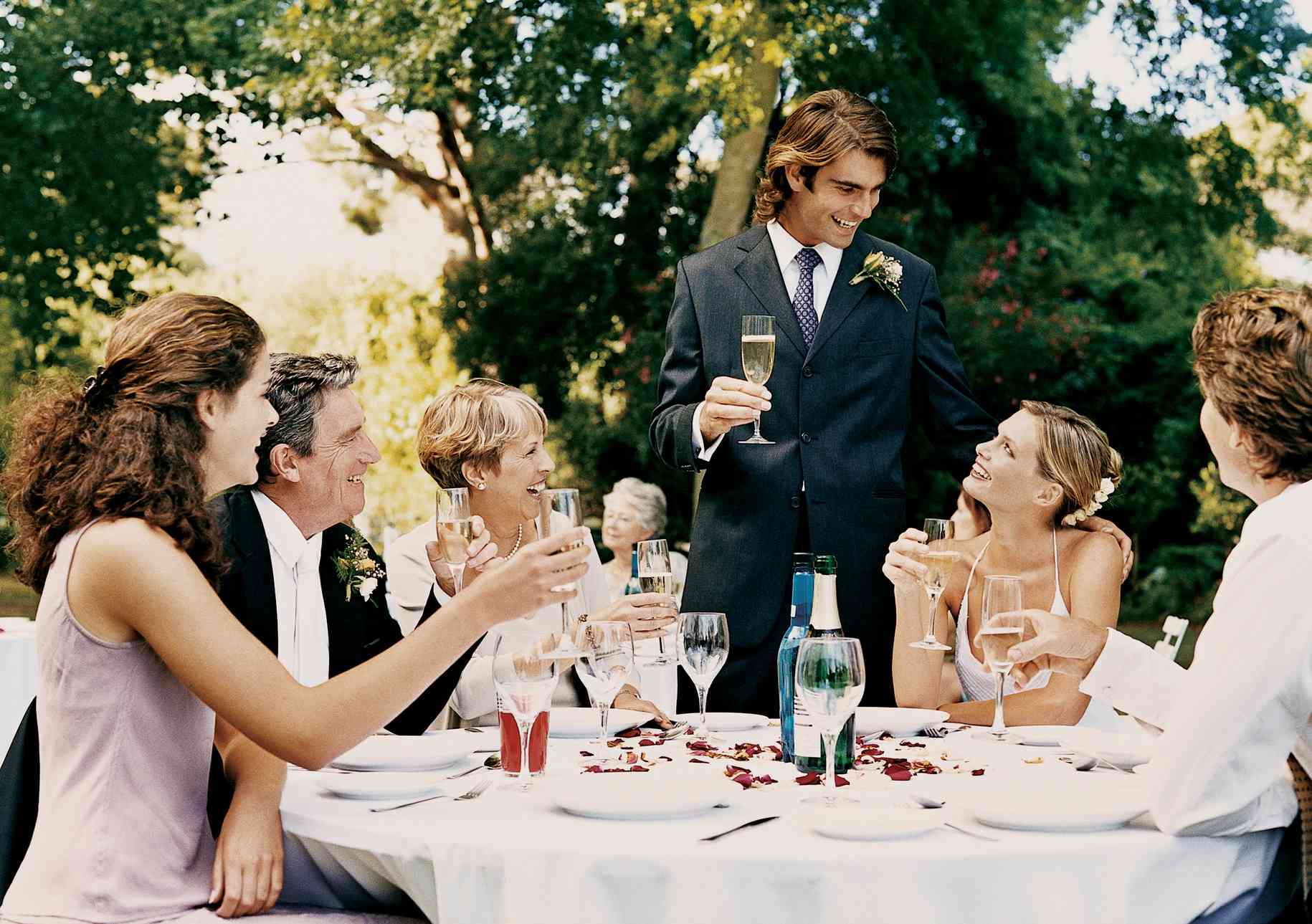 So what makes a great wedding speech?
Anecdotes and stories are essential components of a quality speech – just make sure you string them together with a common theme. Make sure your speech celebrates and includes both newlyweds, and not just the person you are closest to.
Wedding Speeches Schedule + Examples
It's important to keep in mind that wedding speeches have a specific order. Typically, the groom's speech starts the reception, followed by the father of the bride. The best man's speech is usually next and the maid of honor concludes the speeches. However, an alternate order can also be the best man, maid of honor, father of the bride, parents of the groom, groom, bride, and any other honored guests.
Groom Wedding Speech
The groom's speech usually kick starts the reception. He speaks on behalf of himself and his spouse, expressing appreciation to all those who helped make the wedding possible. He raises a toast to his parents, bridesmaids and groomsmen, acknowledging their assistance and support. The speech tends to be emotional as he recounts personal memories, and reflects on how his life has been transformed since meeting his partner.
Groom Wedding Speech Example:
"I would like to thank my parents for all the help they have given me over the years, if it wasn't for them I wouldn't be here now.

I would also like to thank (my wife's) parents for making me feel like the son they never wanted, sorry the son they never had, right from day 2. Day 1 was a bit rough, but hey, they're over it now.
I would also like to thank them for having such a beautiful, intelligent, kind, and caring daughter. I hope to do you both proud and thank you both for everything you have done today and to make today happen."
Wedding Speeches For Parents
When their children find love, parents are often filled with joy. As such, it falls to them to give speeches at the wedding reception in honor of their kids. The style of the speech should align with the overall theme of the wedding. A humorous speech is often a great choice, as it can be well-received at any wedding. Below are examples of speeches for different types of parents.
Wedding Speeches For Mother Of The Groom
As the mother of the groom, giving a speech at your son's wedding will be an emotional experience. You may talk about his upbringing, the special relationship you share, and how you have seen him grow into the person he is today. You can also mention your first impressions of the bride and express how proud you are of your son and his partner. You may include one or two romantic quotes to conclude your speech. Below is a sample of what a mother of the groom's speech may include.
"The first time I saw you, it was love. My little baby grew into a wobbly toddler, and then a smart child. The pre-teen and teen years and the next thing I knew, you've become a man.
I am so proud of you. You've made us proud of everything you've done. And on your wedding today, we wish you only the best."
Wedding Speeches For Mother Of The Bride
It is not traditional for the mother of the bride to give a speech at a wedding, but it is becoming more common, particularly if the father is not present. As a mother of the bride, you can tell your daughter how beautiful and strong she is. Share fond memories of her growing up, and if her father is no longer with you, speak of him with love and affection.
"It's no news that we love our kids so much, and seeing them grow up is hard. Everything they do fills you with pride. But you also miss the little girl who cuddles into you. And cried to you when she scraped her knee. Now my daughter is older and I'm grateful and proud that she found love in the groom. May your lives be long, happy, and peaceful together."

Wedding Speeches For Father Of The Groom
The marriage of your son brings excitement as he continues the family legacy. As the father of the groom, he will look to you for guidance and advice on marriage. A good speech from a father of the groom should include quotes and wisdom on the subject of marriage. You can also draw inspiration from your own marriage, the relationship you have with your son, and why you believe he will make a great husband.
"My greatest blessing is having a son, one that mirrors me in many ways. But like his dream, he's grown into his own person. He has taught me as much as I've taught him and I'm proud. My son is someone who goes the extra mile for people and I know he'll make an amazing husband. I wish you every best, as we raise our glass to the groom and his amazing bride."
Wedding Speeches For Father Of The Bride
As the father of the bride, you have a special role to play in your daughter's wedding, from walking her down the aisle to sharing a dance. A heartfelt speech is a perfect addition to these responsibilities. Express your love for your daughter and share memories of her growing up. Remember to also acknowledge the groom, offer words of advice, and extend your best wishes. Below is a template that can serve as inspiration for your speech.
"Looking at both of you in your beautiful dress and dapper suit, my wedding day comes to mind. We were quite excited, filled with love, merriment, and of course nervousness. From me to you, I'll tell you for free that a successful marriage requires falling in love many times. And doing it with the same person always."
Best Man Wedding Speech
The speeches given by the best man at a wedding are often known for their humor. Expressing gratitude to the bridesmaids and groomsmen is also appropriate. Anecdotes about the groom are also commonly included in best man speeches. The audience typically anticipates a memorable, funny, and well-wishing speech from the best man. Humor is considered a key component of a best man's speech.
Take a look at this great example of a witty speech, presented by the best man.
"There comes a time in everyone's life when they meet their one true love, their soul mate, the person that's going to know and love them for the rest of their life. That moment came for the groom…3 years ago when he met me.
Good afternoon ladies and gentlemen, for those of you that don't know me my name, is Dan, What-would-you-like-to-drink. I hope you'll come and say hello at the bar later, but please…call me by my full name.
On behalf of the bride and groom, I'd like to thank you all for coming. And I want to give special thanks to the parents of the bride and groom… it's amazing how far some people are willing to travel, just for some free food and drink.
And finally, I'd like to thank my best friend (the groom), for giving me the first EVER opportunity…. to be able to speak for five minutes without him interrupting!"
"They say, in a good marriage the husband is the head, and the wife is the heart. So let us drink to the fact that our young people did not know in life either headaches or heartaches!"
"Love is not a fire, it will catch fire, you will not put out. In the hearts of our young people, the fire of love burns. This is a sacred fire. So, fill our glasses and amicably drink to ensure that it never goes out in their hearts!"
"I drink to ensure that our newly married and in 10 years and 20 years of family life, looking at his charming wife, lost his head, but not reason."
"Friends! I offer a drink for a kiss! After all, he came up with a man, because he did not find any other way to close a mouth to a woman."
All speeches given by the maid of honor at a wedding share a common goal: to celebrate and uplift the bride. While it can include elements of humor, the most important aspect of a maid of honor's speech is to express love and sentimentality. Share memorable stories of the couple and don't forget to offer well wishes for their future together.
If you are looking for some maid of honor speech ideas, here is an example you could get inspired by.
"Before I go any further, I just want to say, Bride, you look absolutely beautiful and Groom, you've never looked more handsome.
For those of you who don't know me and for those who can't tell, I'm Bride's sister. Thank you Bride for the honor of being your bridesmaid.
Obviously, I've known Bride all of my life and we know more about each other than we would probably care to. We've laughed together, cried together, and laughed until we've cried. We've also had the odd fight! We also have so many inside jokes that only we find funny."
"A real woman can make a man who surrendered to her, always think that he is the winner. Look at our groom. He looks like a winner. Therefore, let us drink to his beautiful victory and the woman who allowed herself to be defeated, the bride."
"What is the difference between the fairy tale and the reality? A fairy tale is when he married a snake, and she became a princess. A reality when it on the contrary. Let the life of our newlyweds be like a fairy tale!"

Wedding Speeches For Best Friends
Even though you are close friends, it's important to consider the nature of your relationship when preparing your speech. This will help you determine the appropriate content and tone. Additionally, it's important to understand your audience and avoid any jokes or comments that may make them uncomfortable.
"I'm here to talk about two very special people, John and Eve. I've been friends with Eve since kindergarten. On our first day at school, we met and formed a friendship that has lived two decades and some.
We got into trouble a lot and got grounded many times by the parents. My bestie is free-spirited and has a strong will to date. James, I hope you're prepared for marriage with a woman who is full of life and spirit. With her, you'll never live the same day twice.
I wish you heaven's best all your life. A toast…"
Wedding Welcoming Speeches
The wedding welcome speech typically occurs at the start of the reception and is traditionally given by the father of the bride. However, anyone can be designated to give it. The speech should include a warm welcome to the guests and a reminder of the couple getting married. Express sentiments about love and the special moments that will take place during the wedding. Be sure to introduce yourself and include some inspirational quotes for a toast. A sample speech is provided below for reference.
"Welcome to the celebration of James and Eve's wedding. A tale of love that promises to last forever. Today promises to be one of beauty, friendships formed, and bonds lasting forever. For you all who have come from far and near to celebrate, we hope you take joy home with you.
The happiness of marriage is the highest happiness on earth. And this is what we've witnessed today. Sit back, relax, have the time of your lives, and thank you for choosing to share in our joy.
Short Wedding Speeches
When giving a wedding speech, whether you are the bride, best man, or brother, it's best to keep it short in order to avoid losing the audience's attention. Short speeches can still be impactful and memorable. Be sure to introduce yourself, add some humor, and express gratitude. See the example below for inspiration.
"Groom, thank you for being an anchor, a friend, and brother. And I can't be more proud that you married an amazing bride. Man! You've won a lottery!
We celebrate both of you tonight, and all of the good things you are. You care for everyone and I'm sure you'll care for her. We wish you success, laughter, and love. May your humor in bad times and appreciation in good times never leave you. May you get answers to prayers. May the friendship you share keep growing till death parts you. Cheers to you!"
Wedding Thank You Speeches
Wedding thank-you speeches provide a chance to express gratitude to the guests and those who helped make the day a success. If you plan to mention specific names, make sure to have a list to ensure that no one is overlooked. The speech can be given by the bride, groom, or both. However, it's advisable to avoid mentioning specific names and include some humor to make it more engaging.
"We (couple) worked really hard to make this day perfect. But we remembered that being bound to the one you love in the presence of your loved ones — is what makes the day perfect.
I'm overjoyed that we had beautiful weather. The food and drinks were great and everyone is happy.
Thank you all, especially my beloved, because today I'm bound to him to start a beautiful journey together. And after all my fears and jitters, today turned out to be much more memorable than we planned.
Thank you."
Wedding Officiant Speeches
An effective wedding officiant speech should be concise, heartfelt, and of appropriate length to maintain the audience's attention. The officiant should emphasize their personal relationship with the couple and tailor the speech to match the wedding theme.
"Shall we all sit?
Today, we gather to witness and celebrate the matrimony of Eve and James. What they have is an existing bond, and we've come together to strengthen it. As family and friends, it's our honor to witness today.
Marriage is a lifetime commitment where two people work tirelessly to bring out the best in each other. You get an opportunity to share your joys, success, failures, and burdens with an ally for life. You get an opportunity to share and grow. One relationship which no other can equal. You are in for a physical and emotional binding that has the promise of a lifetime."
Wedding Anniversary Speeches
A heartfelt and sweet speech is essential for a wedding anniversary. The speaker should focus on reminiscing about the couple's marriage, adding some humor, and offering well wishes. If the couple is giving the speech, offering some advice can be beneficial. Keep the speech short for maximum impact.
"Anniversaries are beautiful recollections of the past years and reflections for the years to come.
The years past were happy and successful ones in many ways. They're shrouded in a kaleidoscope of great relationships, supportive families, and happy memories. I'm not saying it's smooth, but with your support, the journey became easier.
We can only be grateful, even as we look forward to better years. As we celebrate our 50th year, I want to thank you for walking with us. It's not a question of where you, it's who goes with you.
Thank you, everyone."

Wedding Quotes For Speeches
Incorporating quotes into your wedding speech can elevate it to new heights and even make it a focal point. Select a quote that reflects the couple's love and theme of the wedding, or use your creativity to come up with your own. Look to literature, films, poets, and our suggestions for inspiration.
"I've seen nothing more satisfying than two people coming together to become one. They share in each other's pleasure, and bear each other's pain. They crush their enemies together and make home with their friends."

"The pain and weight of life vanish from our lives by one word. It sets us free and we live again. It's called LOVE."

"If you want to keep your marriage cup filled and running over, always admit your wrongs. And, if you're right, be kind to shut up."
Wedding Speeches Guide
Essential Wedding Speeches Tips You Need To Know
If you feel out of ideas on how to write a wedding speech, here's a great idea for a start: talk to the couple's nearest and dearest first. It might give you some ideas for the speech. You are going to need several positive qualities and one or two funny stories.
Start your speech with your relationship with the couple. Don't forget to thank all the guests for being here. Praise the couple, and share several stories, that show their best qualities. Ask guests to raise the glasses. Voila!
Make your speech as personal, as possible – after all, this event is all about relationships and emotions
Add some humor (but not too much)!
Practice your speech! It will help you to deliver the speech more smoothly.
Things You'd Better Exclude From Any Wedding Speech
At the same time, there are things great wedding speeches avoid.
Do not include any embarrassing information.
Do not mention previous boyfriends or girlfriends of the newlyweds.
Do not say rude things like 'We thought that day would never come'.
Do not include any crude language, there are all sorts of guests around, and what is totally appropriate in a group of friends is inappropriate at the celebration.
Adding humor, don't make fun of the bride or groom. This is your best friend's wedding, do not spoil it! If in doubt – use examples above, but by no means copy them. It is only a piece of speech to boost your imagination.
Wedding Speeches can be tricky to write, but we hope that now you have everything you need to deliver a perfect speech. A couple of jokes, a sentimental story, and letting your love for the couple shine is all it takes.