Wedding Hairstyles For Curly Hair 2023 [Guide & Tips]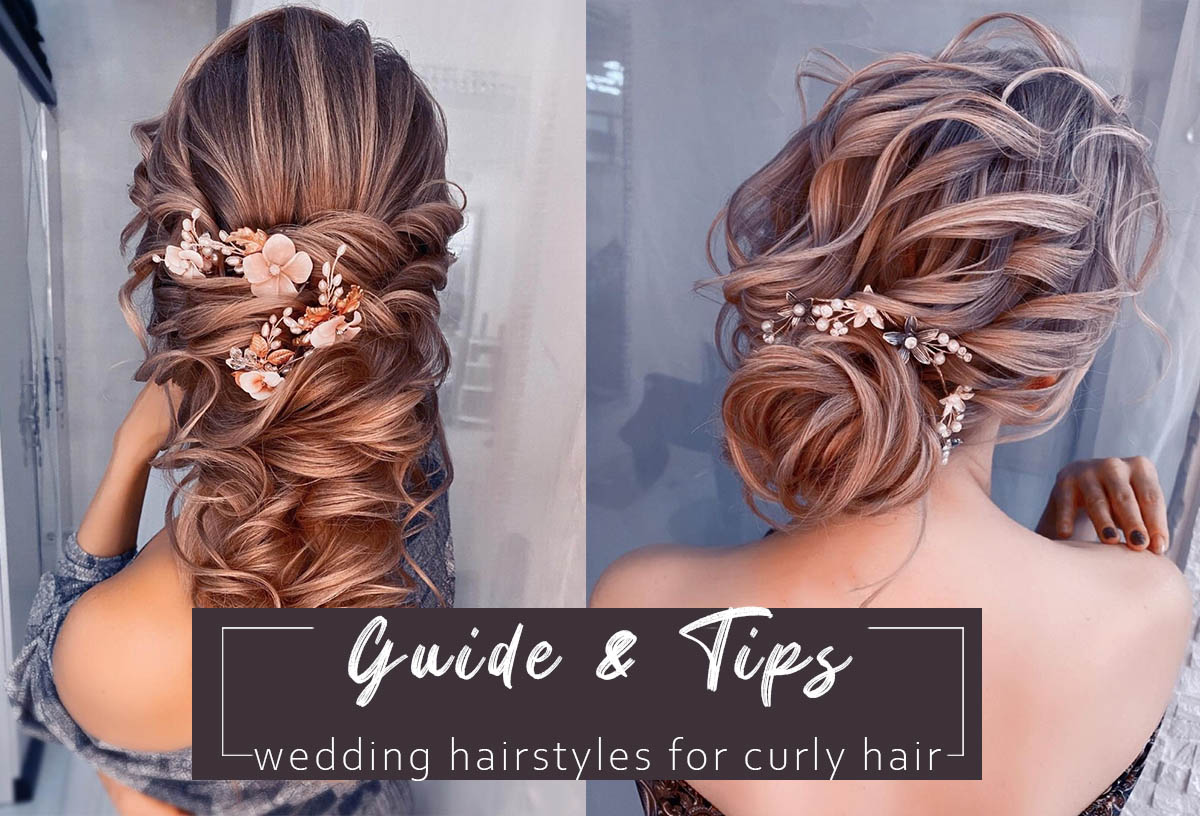 If you're looking for wedding hairstyles for curly hair, we've got you covered. From classic updos to modern twists, we've got the perfect styles for you and your big day. Don't forget about accessories either – we have plenty of options so you can complete your look with elegance. So what are you waiting for?Check out our collection of wedding hairstyles for curly hair and start planning your perfect wedding day today!
FAQ
Naturally curly-haired clients should enhance their curl! Choose a textured hairstyle, whether it's up or down. Work with the natural curl!
Use a curl fining cream and fragrance-freestyler to activate and style your curls. Then feed in some hair serum and curl moisturizer for some glossy touch. If your hair is kinky, use a curling custard and follow through with a lightweight curl-defining gel. Finish with a curl-boosting mousse and you're good to go.
Your curls can last all day if you use a small curling barrel to curl your hair in small portions. Larger and thicker curls would fall even before the day goes halfway. Make sure your curling iron is hot and don't wash your hair before curling. The dirtier the hair, the more curls hold. If you can't deal with dirty hair, opt for dry shampoo. After you've curled your hair, follow with a spray styling gel to keep your hair in place.
Naturally Curly Hair Wedding Updos
With curly hair and a veil, updos can make you look amazing at your wedding. The right accessory can make a curly style simply stunning. Adding an intricately patterned lace veil to your hairstyle will make it really regal.
The trend this season is very clear: the messier, the better! Don't be afraid to tie braids and curls together and put them on! Having this stunning hairstyle is going to make you look great. An open back and a deep plunging neckline will look great with this updo.
A flower crown-less updo with a flower crown is both fragile and ethereal. Let's get messy with a messy updo. Don't be afraid of loose strands. They make your style more natural. A flower headband can create a more feminine look.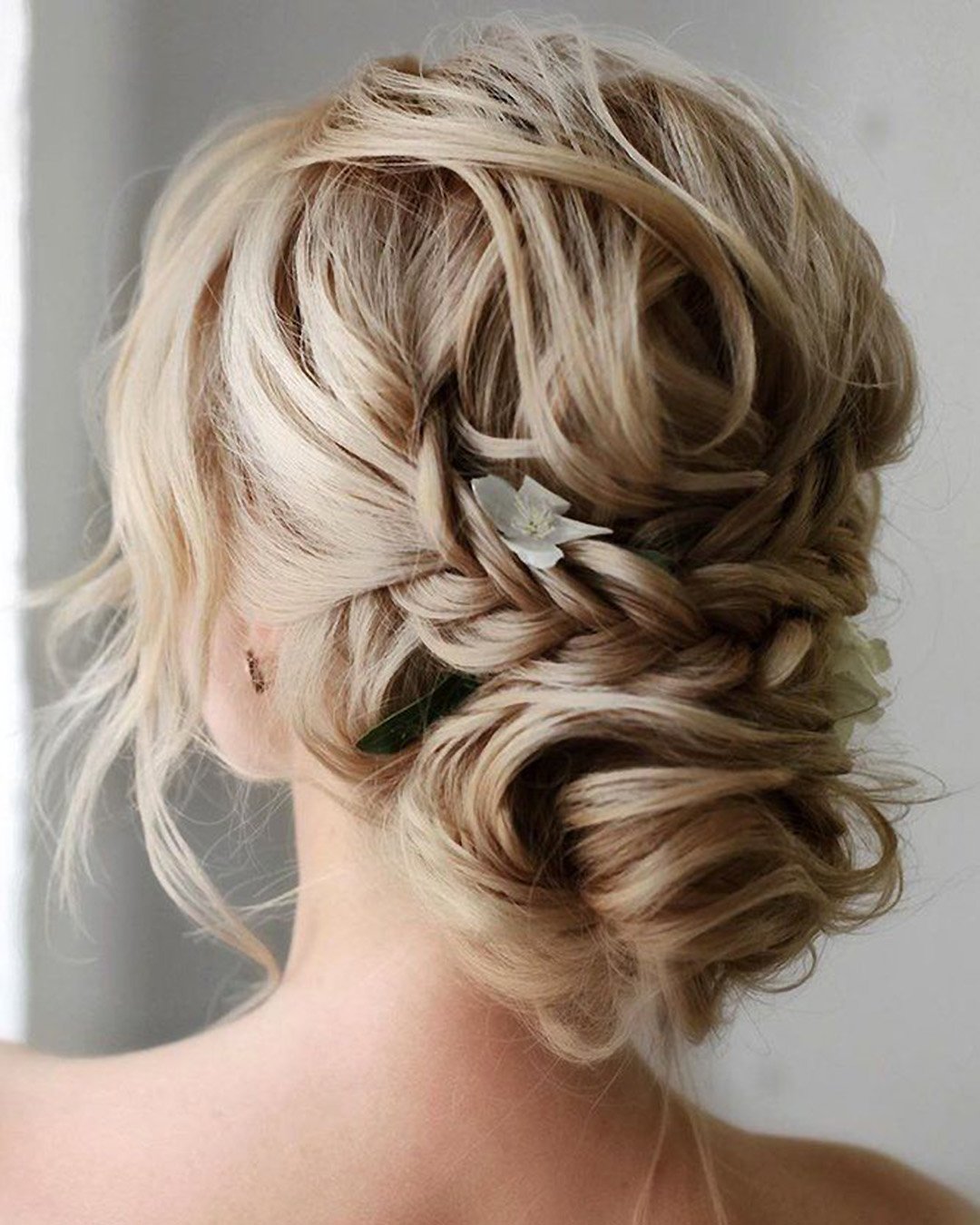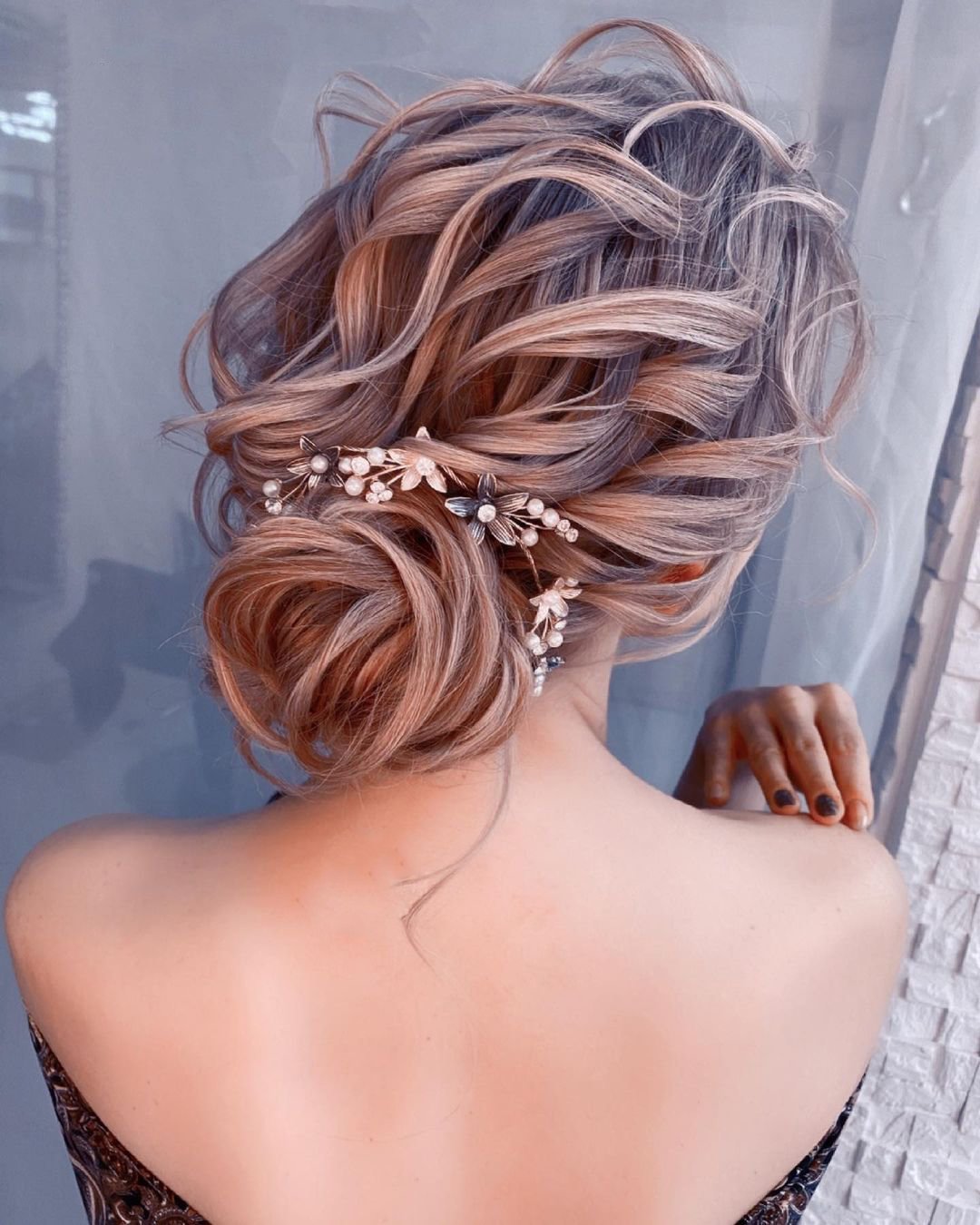 What hairstyle fits brides with naturally curly hair?

It's always great when curly girls want to rock their natural hair texture on their big day! There are so many up-and-down styles that can be customized for curly hair. If you want a smoother look on your wedding day, I would personally recommend protecting your natural hair by braiding & pinning, and covering it with clip-in extensions. This reduces the need for excessive heat on their natural curls, while the extensions allow them to choose length and thickness according to their desired look.
Easy Curls Wedding Upstyles
Put your hair down if it's long enough for a ponytail. Leave out the curly ends of natural hair. This simple hairstyle is utterly laconic. With a veil, you can complete your bridal look. A trumpet or mermaid wedding gown will look best with this style.
A classic hairstyle is an example of timeless elegance. It's one of the best summer wedding hairstyles. Show off your satiny shoulders and delicate frame with your hair. Just add a jeweled hairpin or barrette to show off your sophisticated side.
Updos are great for showing off your wedding highlights. Let your blonde curls shine! Simple updos with a single flower can make a difference to a complicated hairstyle. For a more delicate look, you can frame your face with several side curls.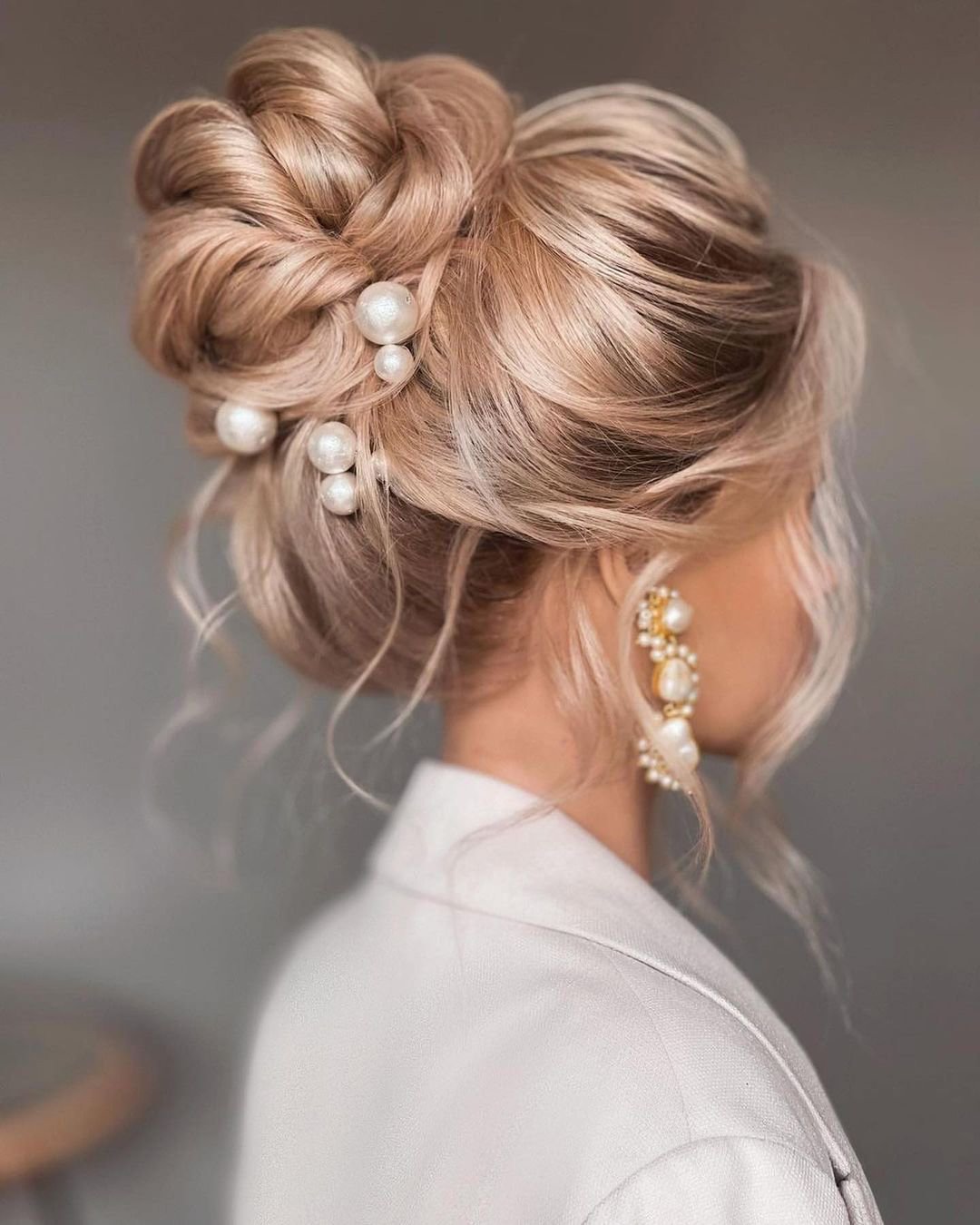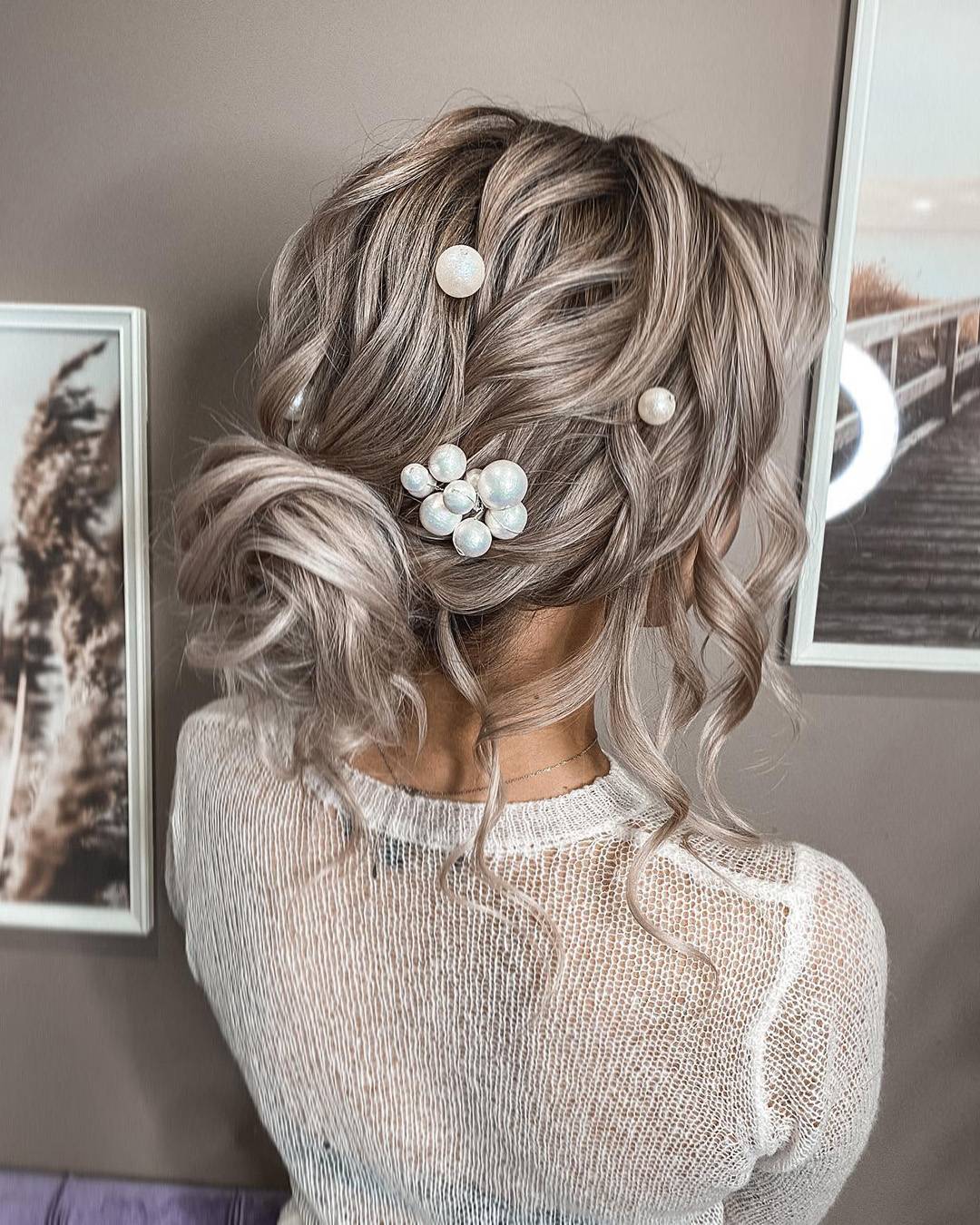 Curly Wedding Half Updos For Long Hair
You may also consider some of the curly country wedding hairstyles if you plan an outdoor wedding. A pair of your braids and curls is really chic! It looks so pretty with an airy messy french braid! Take some flowers with you to create a more organic look!
How else can you dress your wedding hair more natural than a curly rustic style? Keep it simple and organic with polished wedding hairstyles. Let your slow locks down and they'll work for you! Make sure you don't have too many flyaways with some hair mousse and hairspray.
Sometimes, it is not the style, but the color that strikes the eye! Don't overdo your hair if you are a blonde redhead. Wedding hairstyles for medium-length hair look great with flowers. Show off your natural beauty – curly wedding hairstyles work best when they are simple and sweet.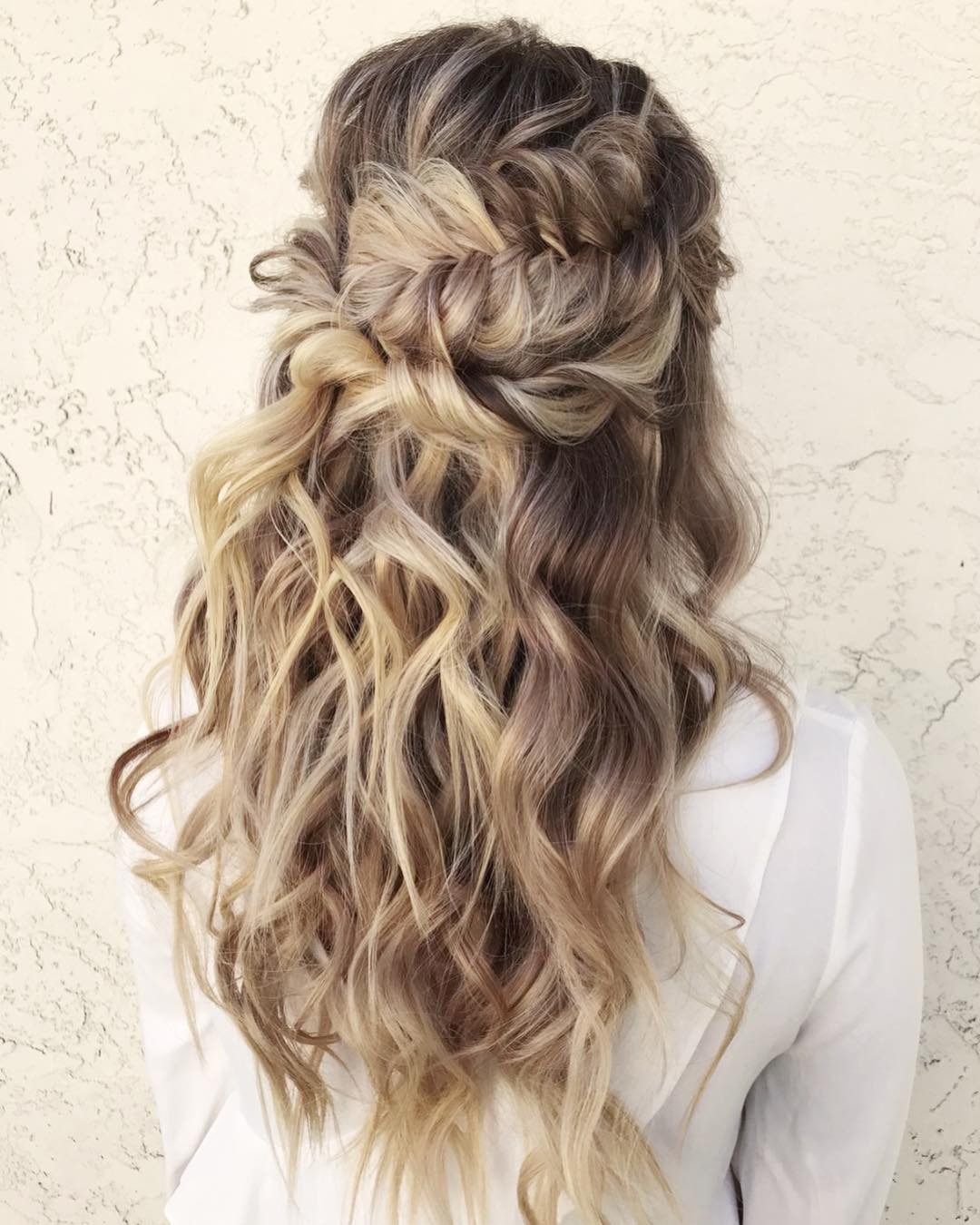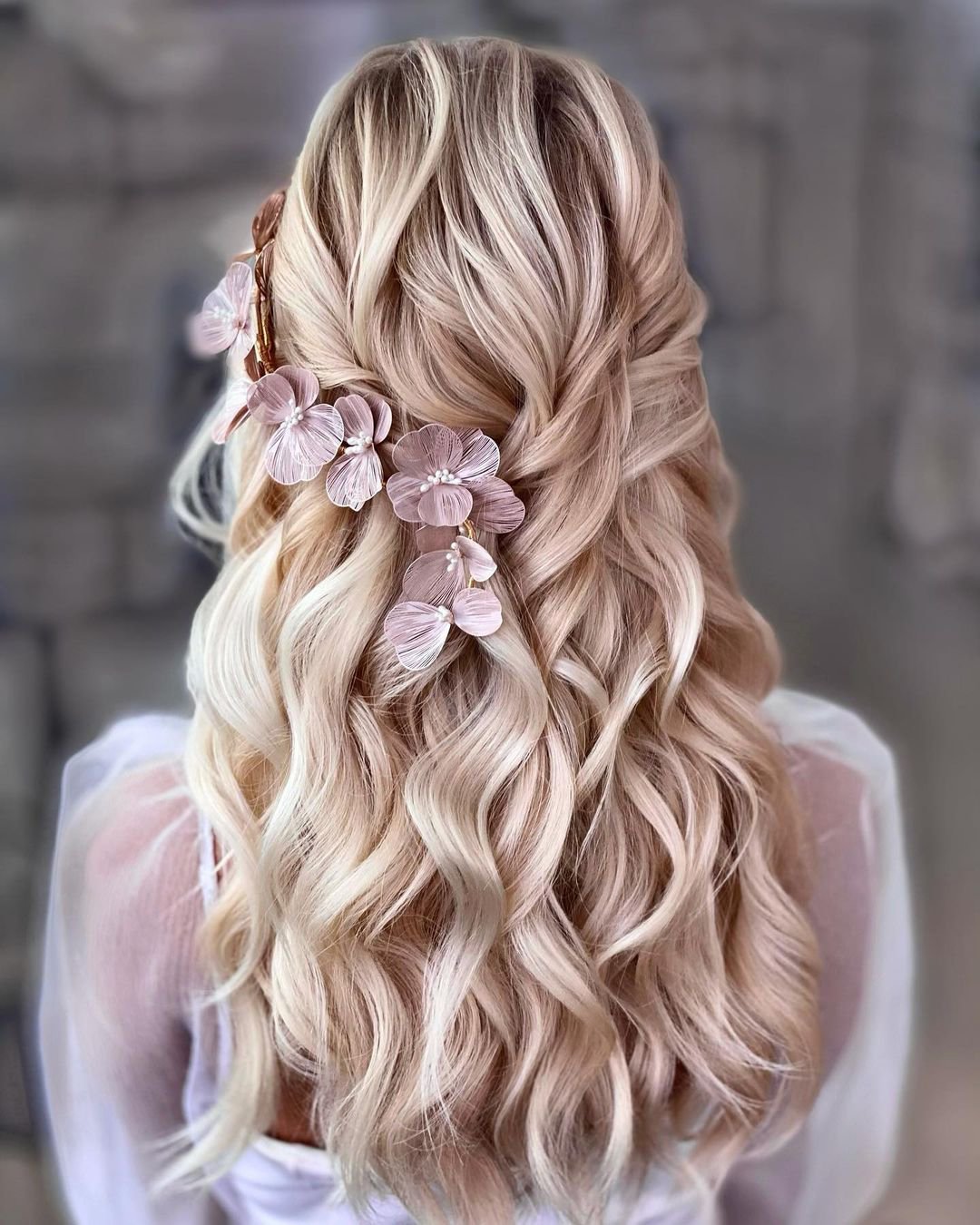 What Can You Do To Keep Your Curls Voluminous During Your Wedding Day?
The most important point is preparation. Before creating a hairstyle, it is very critical to wash your hair properly. If this happens in the salon, then the master will do everything himself.
If the bride washes her hair at home, then there are rules:
wash your hair twice with shampoo, and use conditioner once (without going to the roots).
It is essential not to weigh down the hair. Keep it light and clean.
Also, the durability of the curl is affected by weather conditions. When humidity is high outside, or it is raining, then it is better to abandon the creation of curls. But if you still really want this hairstyle, then ask the master to put the hair in a half up half down hairstyle.
If the hair is very thin, you can use additional strands, false hair. This will give the hairstyle durability.
It is very important not to touch the hair. When the laying is ready, it is undesirable to throw them, touch them, and constantly correct them.
The created hairstyle should be treated like a crystal vase!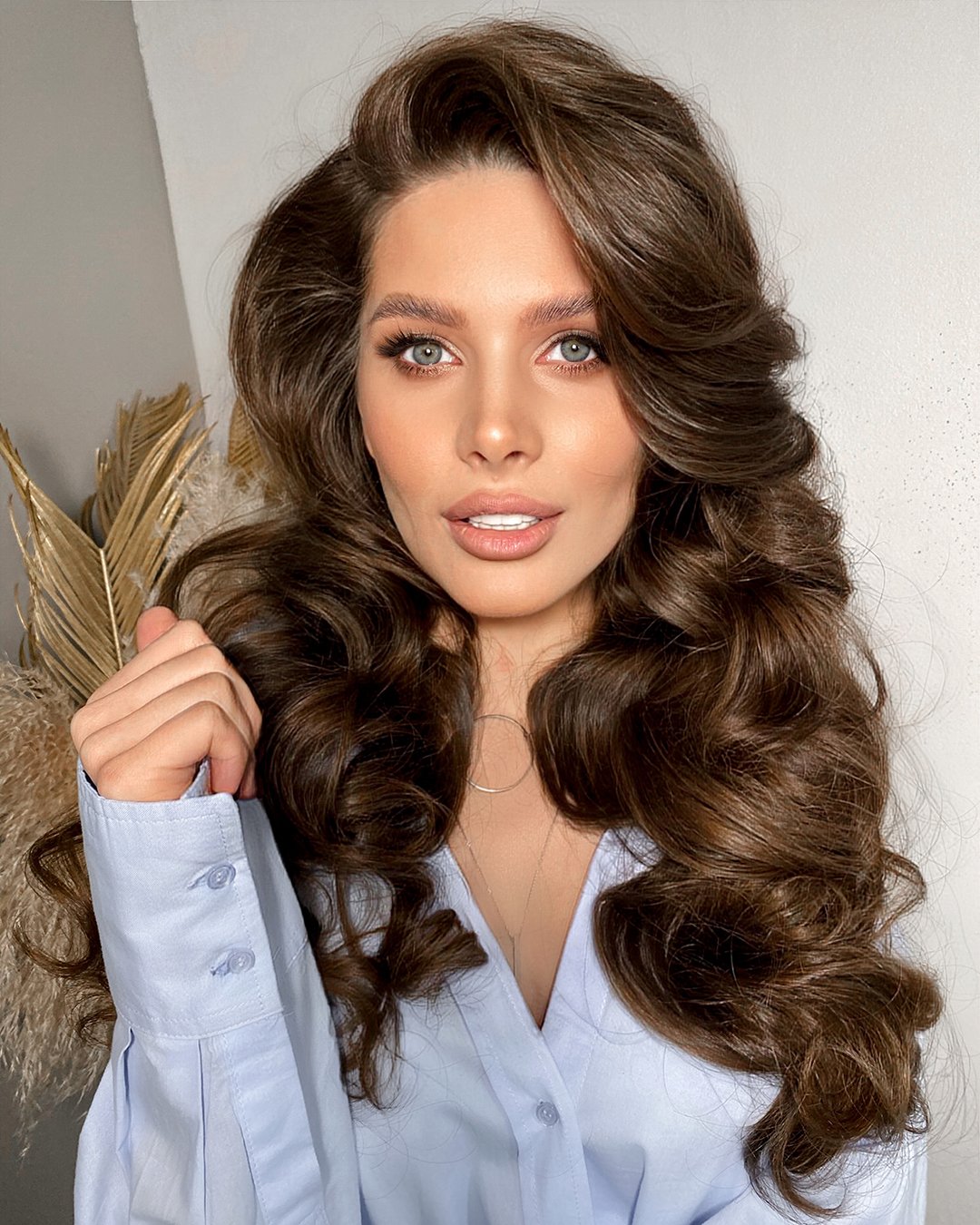 Half Up Half Down
Try curly wedding hairstyles half up half down to keep your wedding day looking effortlessly beautiful. Almost any bride would love this hairstyle. You can take a side strand off either side of your face, twist them, and pin them together with a hairpin.
Do you want to make a simple half-up more trendy? There will be braids this season. Braided hairdos are one of the best wedding hairstyles for naturally curly hair. Your curly locks will be tame with just a simple French braid. You just need a little hairspray and you're ready to celebrate this lifetime!
Natural curly wedding hairstyles are sometimes referred to as "messy.". But messy is popular right now! Try this half up, half down style for naturally curly hair – it is sure to look great on any boho bride! Let your hair flow!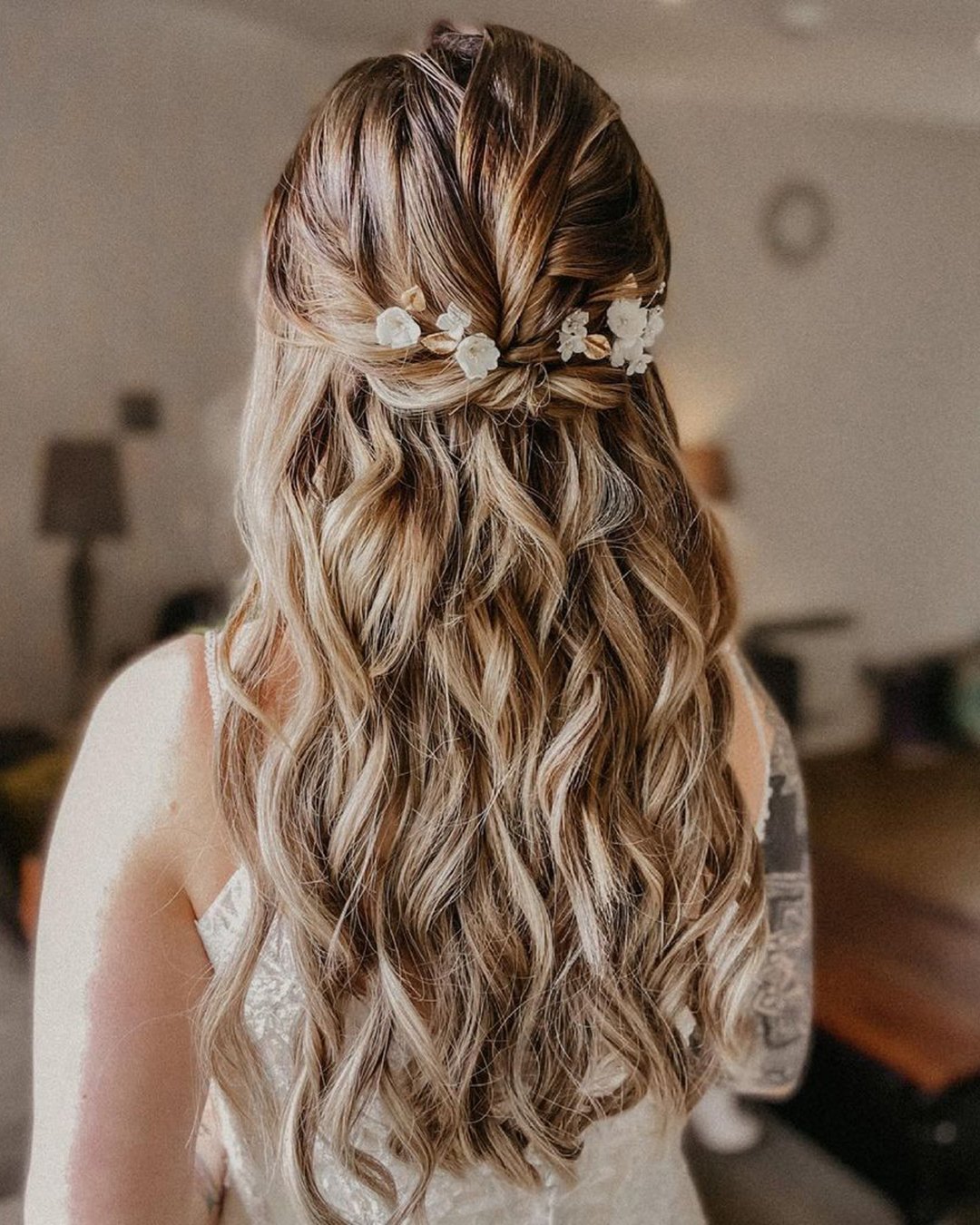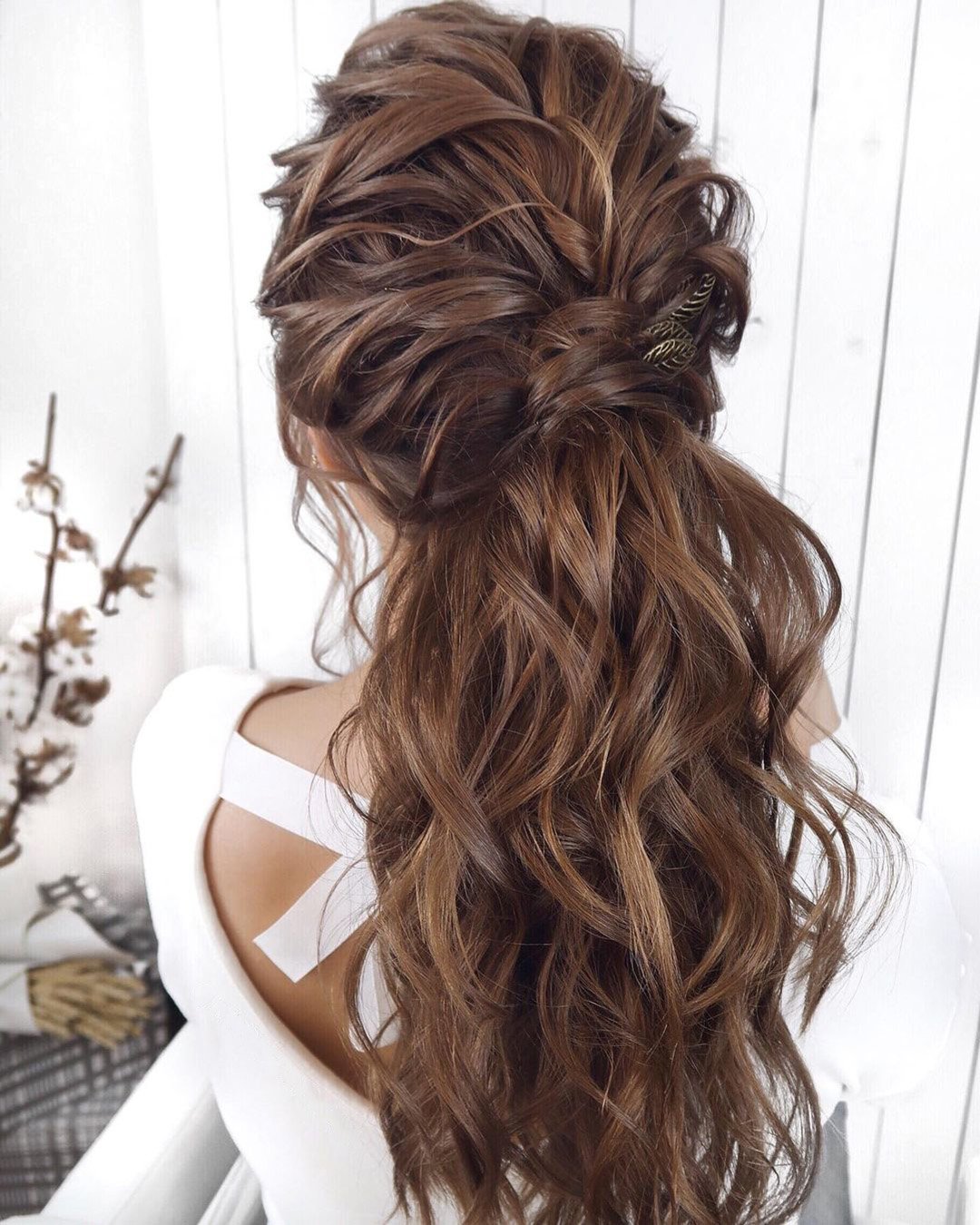 Simple Curly Down Hairstyles
For long curly hair, extensions are likely to be required for voluminous wedding hairstyles. Just look at this beautiful hairdo! The beautiful curly strands are so pretty! This hairstyle is a fantastic representation of glamour, luxury, and style.
The boho chic hairdos seem to be one of the best hairstyles for weddings since they are long curly and straight. In these simple, yet charming curly wedding hairstyles, you will feel like you are breathing in their free spirit. The perfect way to crown your forest wedding is to wear a cascading wavy hairdo with a bit of baby breath.
Do you want something really special and eye-catching? Why don't you try some creative coloring? A curly ombre looks great with long hair. Take a look at this hairstyle! Simple, feminine, and festive all at once!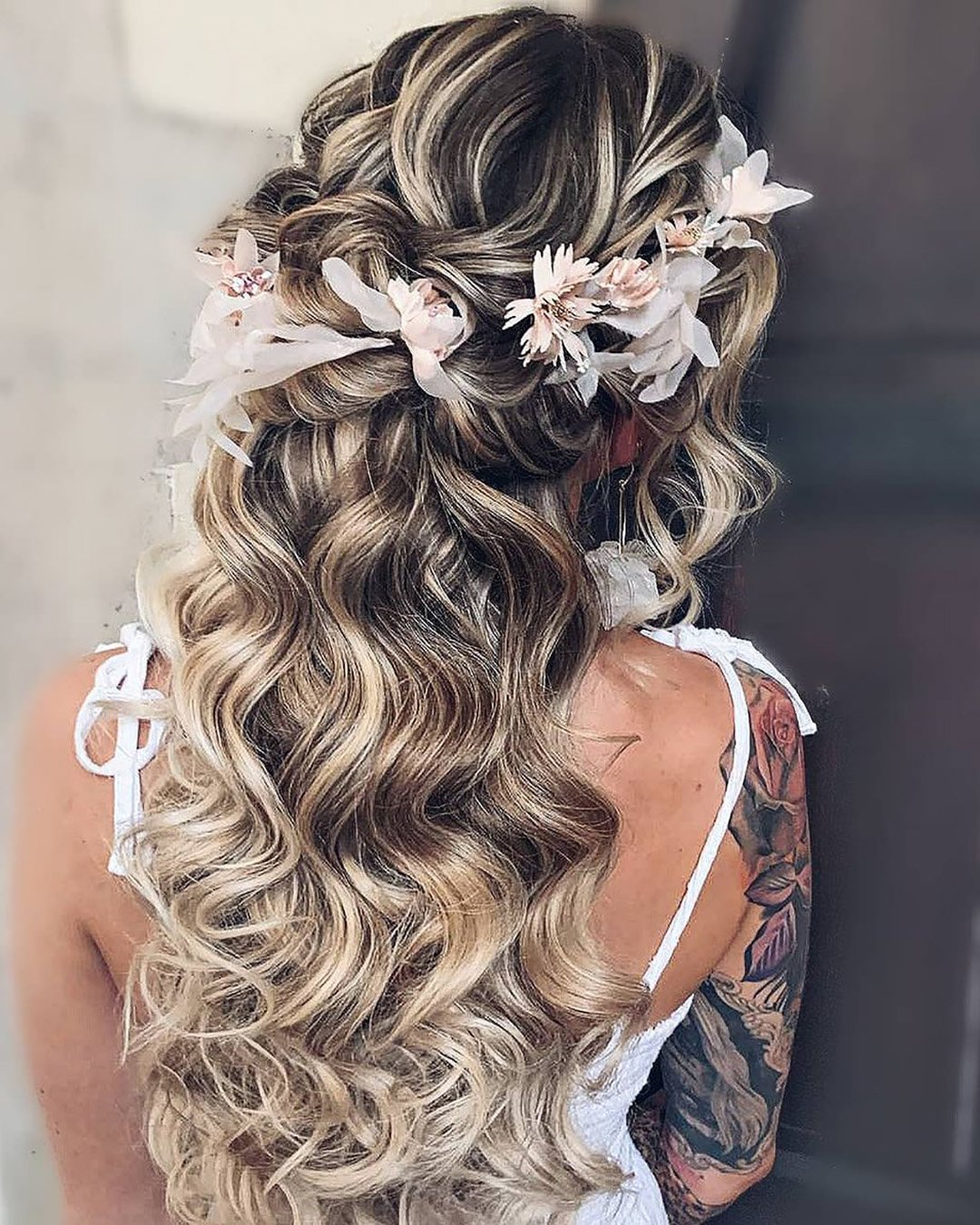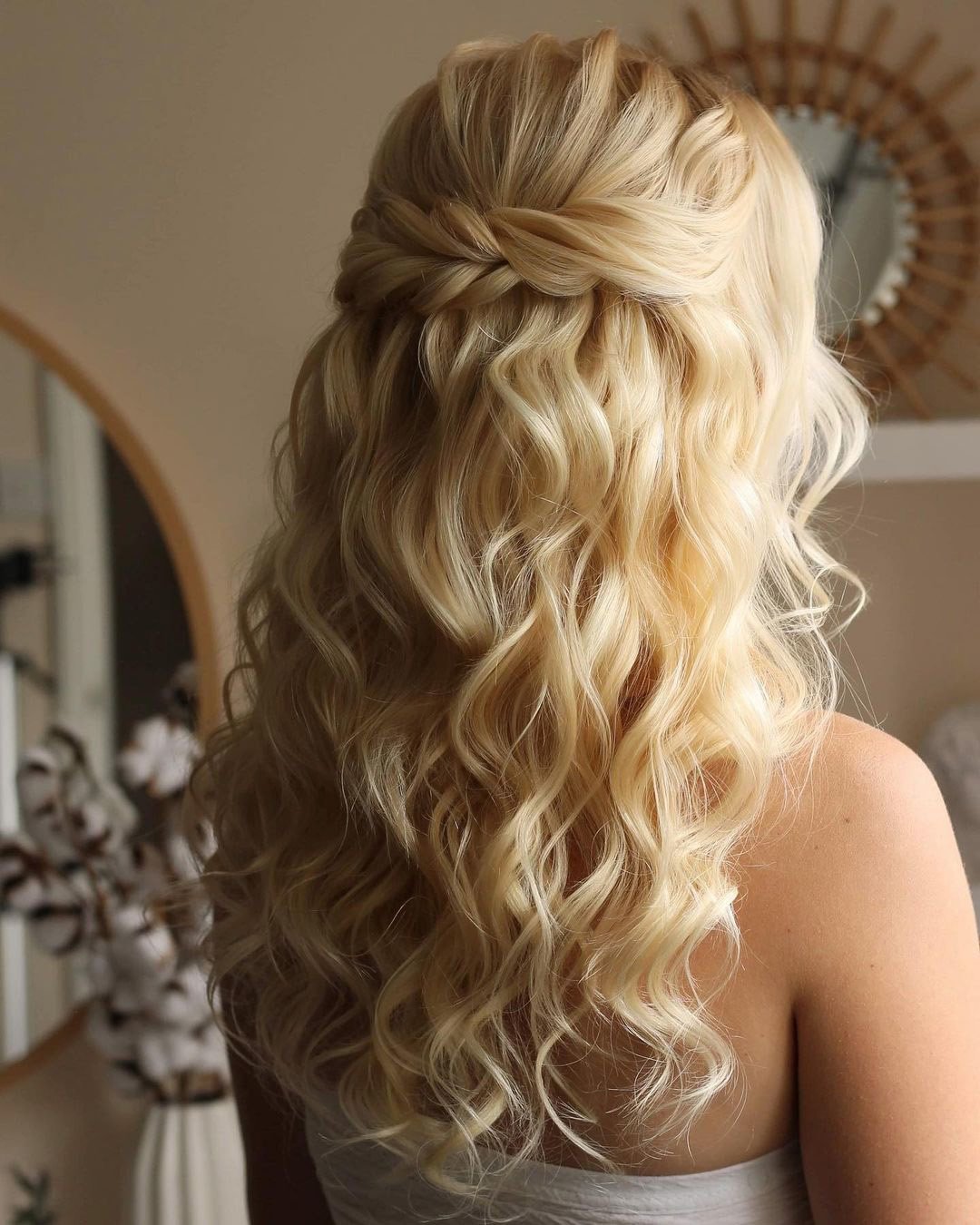 Natural Curls Loose Wedding Hairstyles
If you have naturally curly healthy hair, you have everything you need to look great. Keep your side locks at bay with a delicate hairpin or large flower. You will look amazing at a destination beach wedding – just right!
If you wear thick messy waves with a thin golden hairband, you will look like a Greek goddess. An empire wedding dress is especially suitable for this classic look. Is there anything better than this combination of white and gold?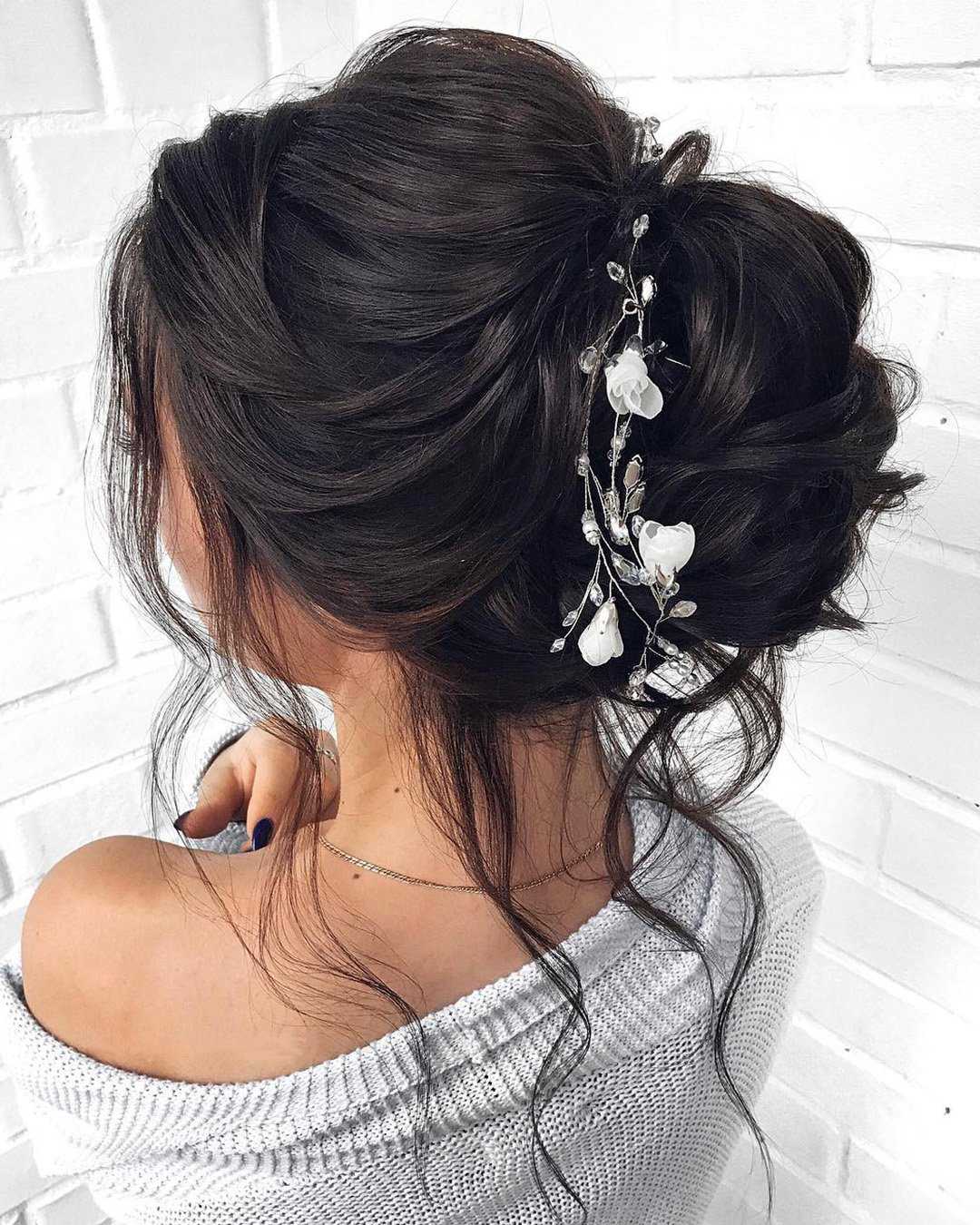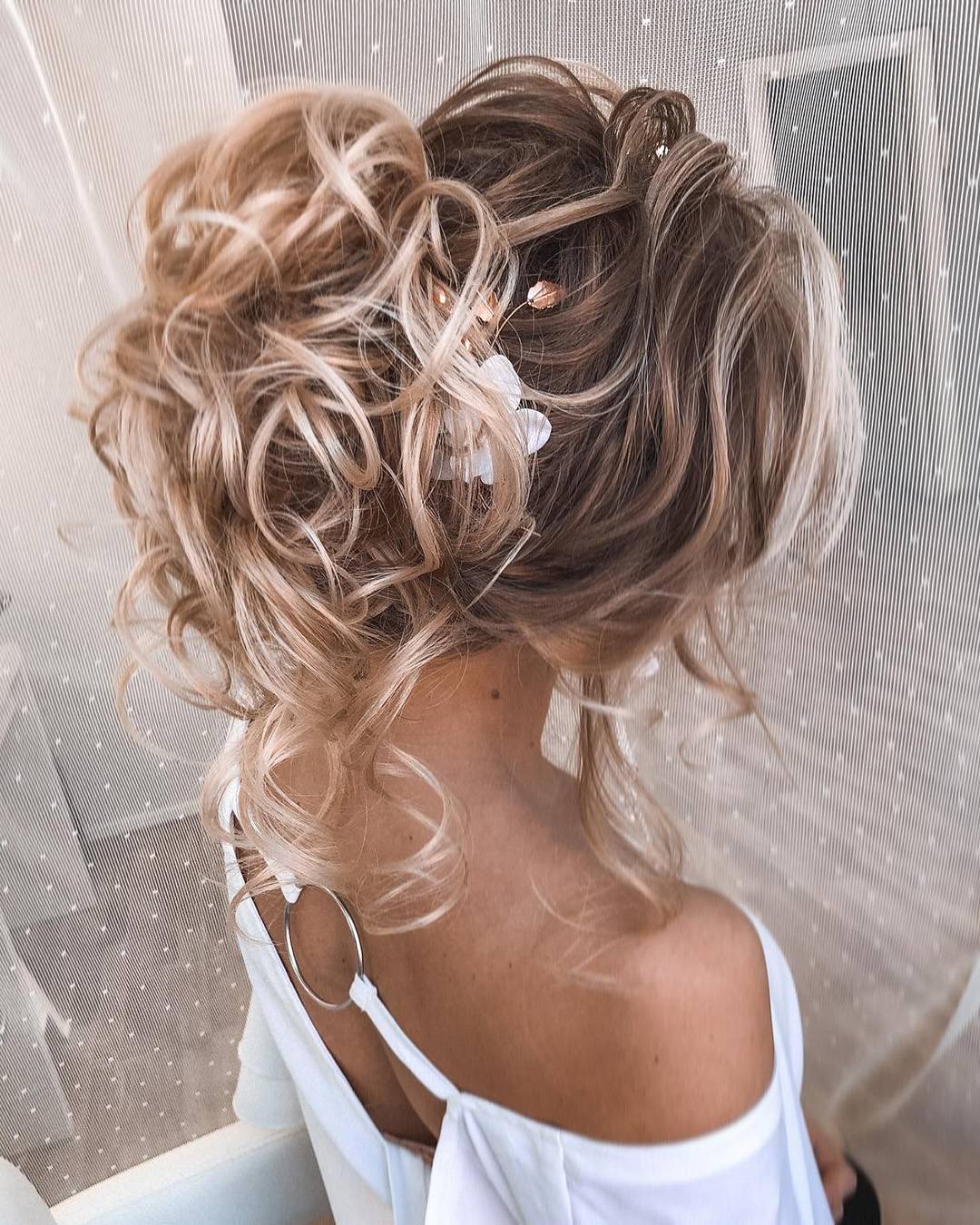 Curly Wedding Updos For Short Hair
How about some special wedding hairstyles for short curly hair for your special occasion? You don't have to have long hair for this roll-up. Roll up your locks with a hairband. Adding that flower crown effect by adding a halo of small, intricate flowers.
Are you a bride who likes curly modern wedding hairstyles? Make a voluminous updo with short sides. If you want to add romance, you can add a simple large flower. The curly wedding hairstyles are perfect for any length of hair!
Looking for a wedding inspired by Great Gatsby? It's definitely for you! Using an extra-stretch hairspray, you will polish your locks and fix them. Those with blonde hair look great! That '20s look will be complete with a stunning hairband!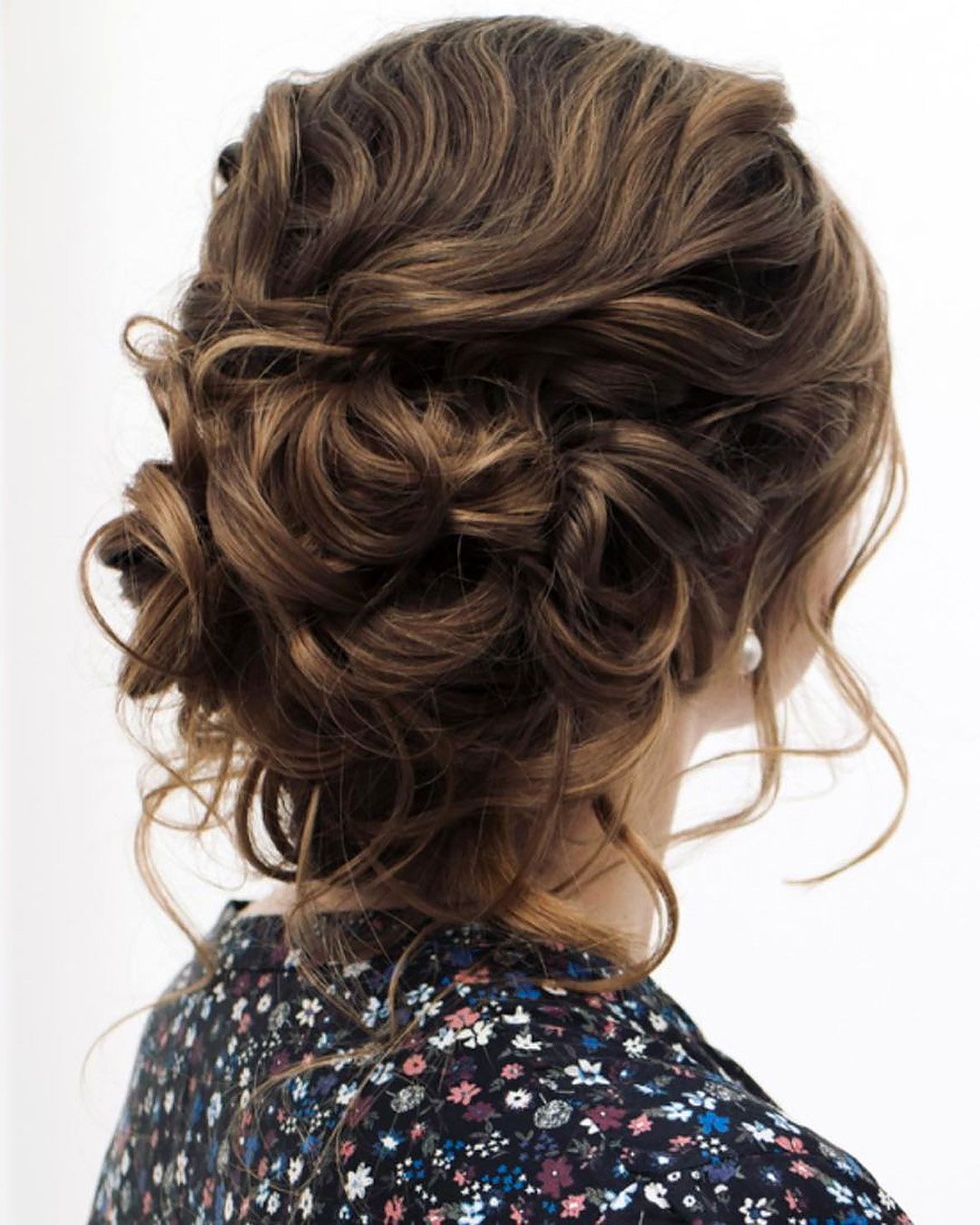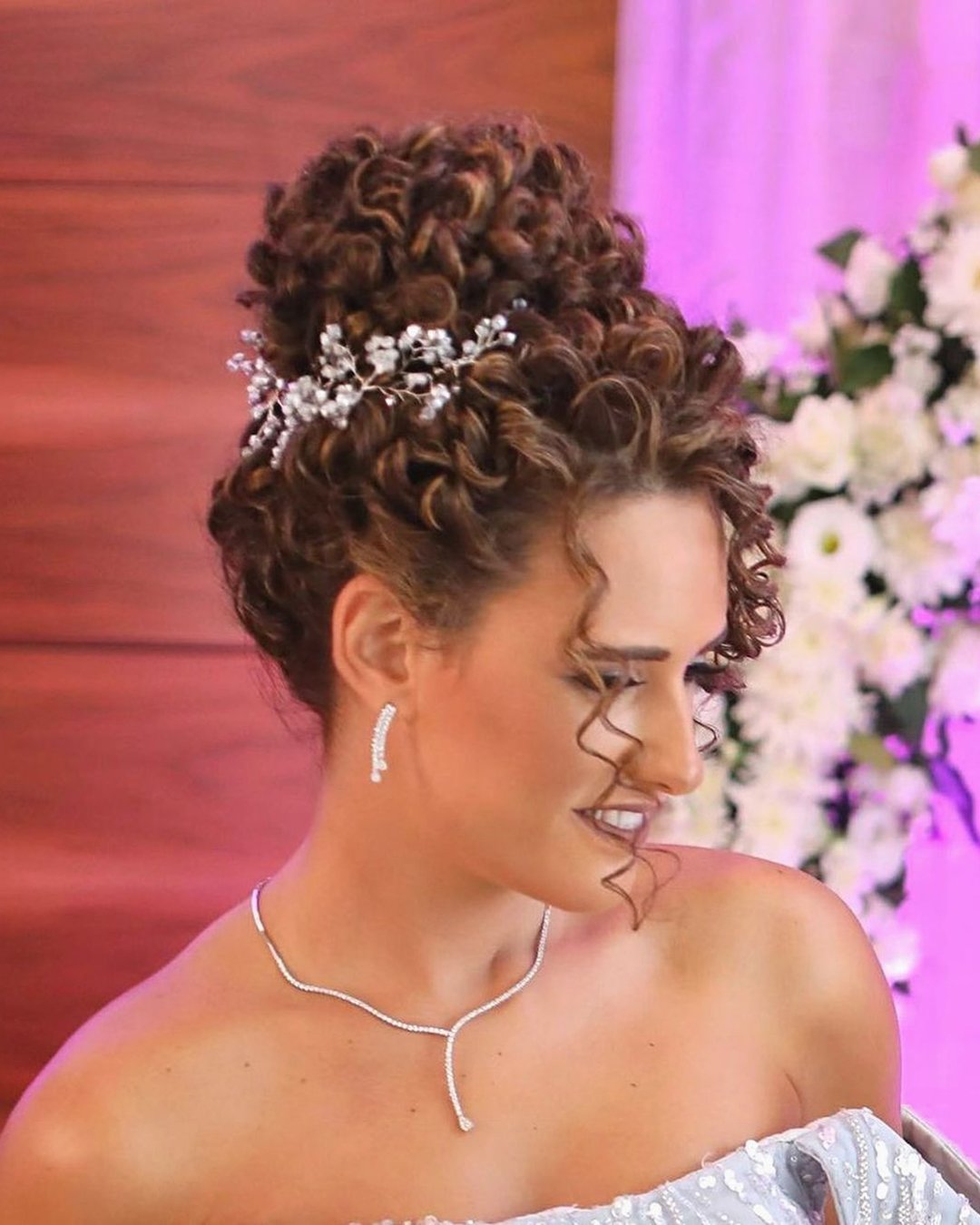 Short Curly Wedding Hair Down
This hairstyle doesn't need long curls. You just need a professional hairstylist! Choose your good side and arrange your curls in a side part. You can create a relaxed laid-back vibe for your wedding or beach wedding.
Short curly wedding hairstyles are especially popular among naturally curly brides. Keep it simple – your bridal hairstyle doesn't have to be complicated! An asymmetric shortcut and a sparkling hairpiece are all you need to shine! Make sure you are true to yourself on your big day!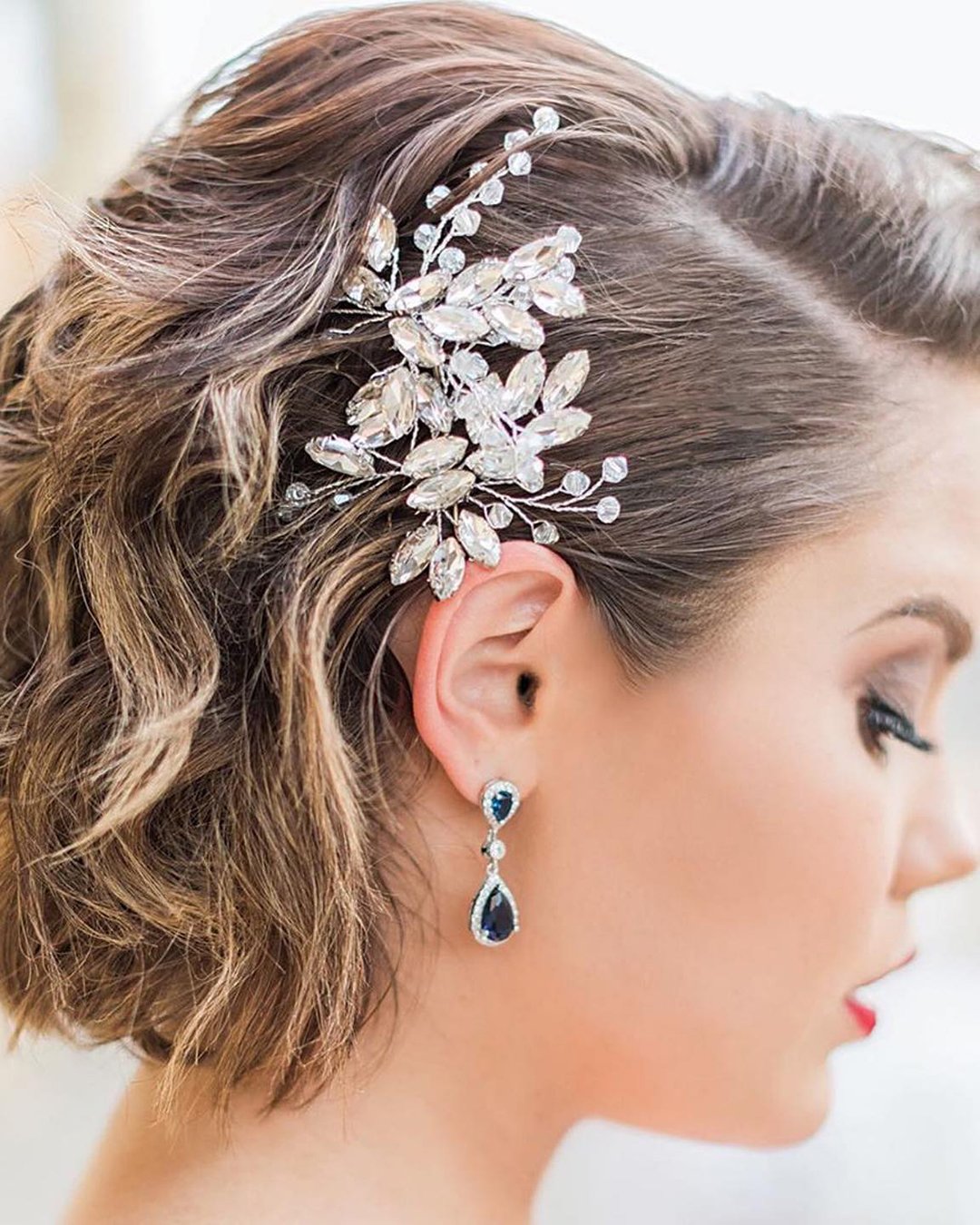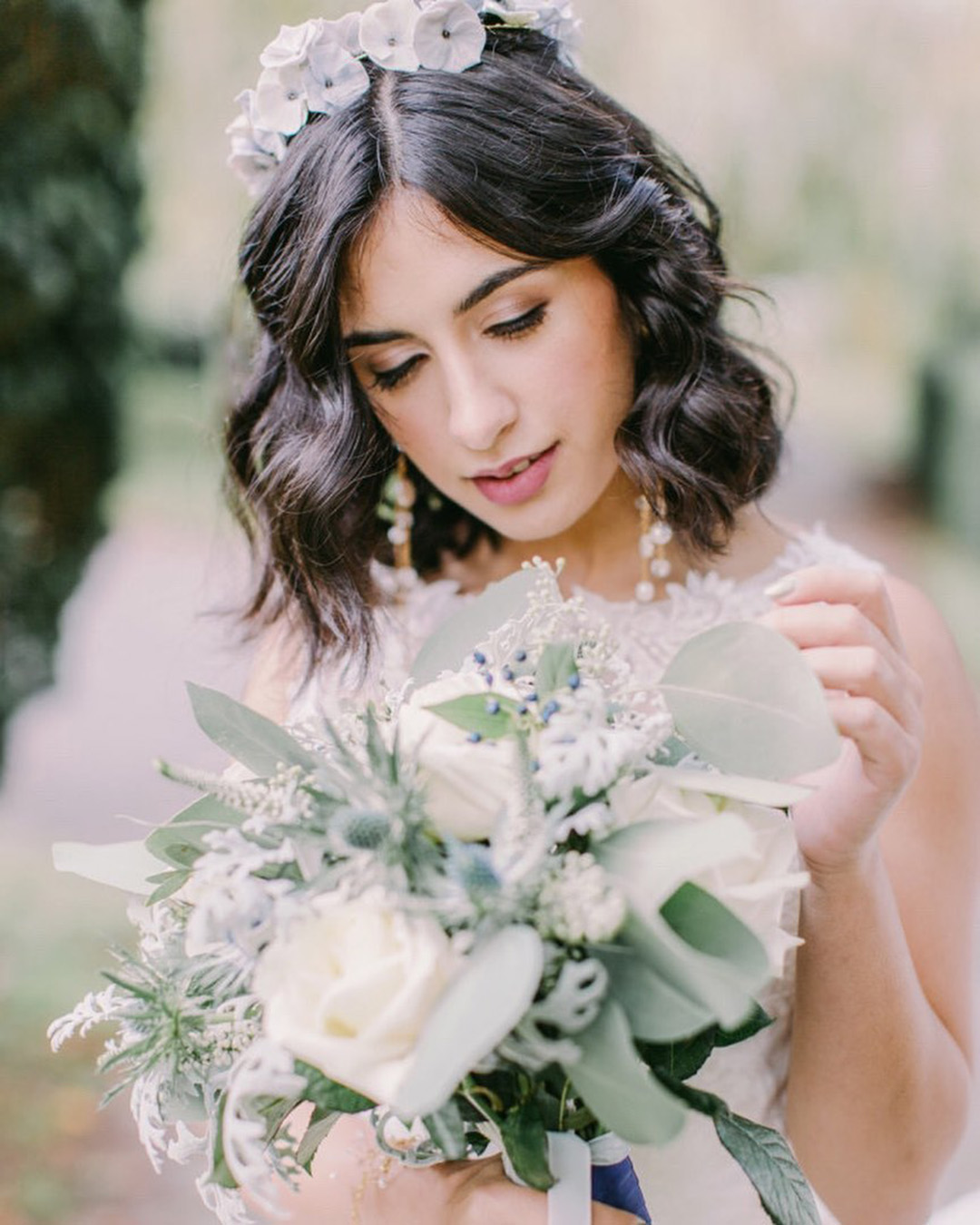 Cascading Hairstyles With Curls
Cascades of wavy hair always look very charming and romantic. Twists and curls work well together, creating a fresh look. You should let the locks flow freely. Add some baby breath to make this hairstyle even more stunning. Makes a difference!
Want to play Rapunzel-style? Easy to make – braids and flowers. Rapunzel has an airy fishtail braid on her wedding day. Add a small white or pink flower to the table.
The trend of mermaid hair has become very popular this season. You can choose this hairstyle for a trendy beach wedding. Any girl will look like a fairy tale princess with mermaid hair. It looks twice as special with flowers.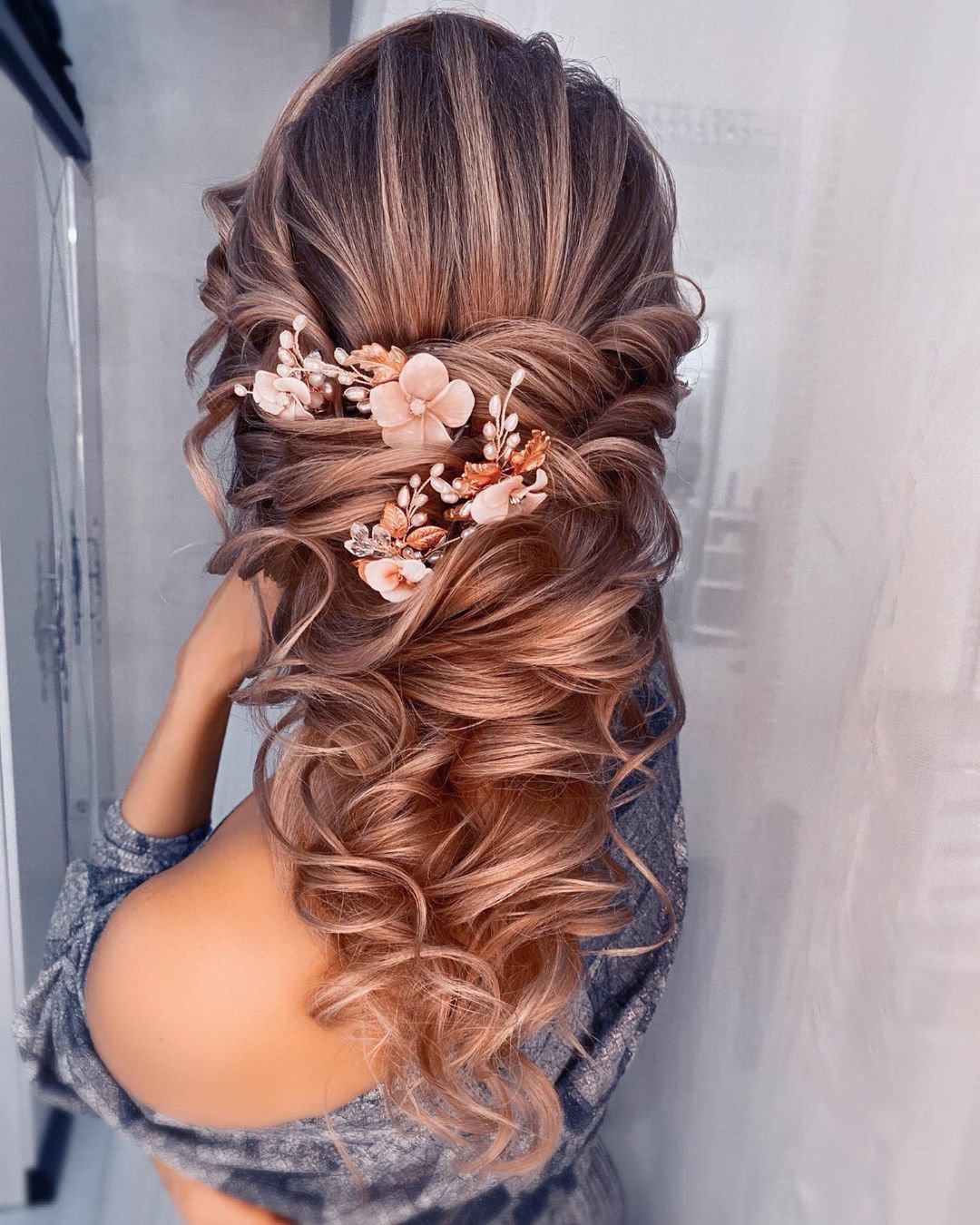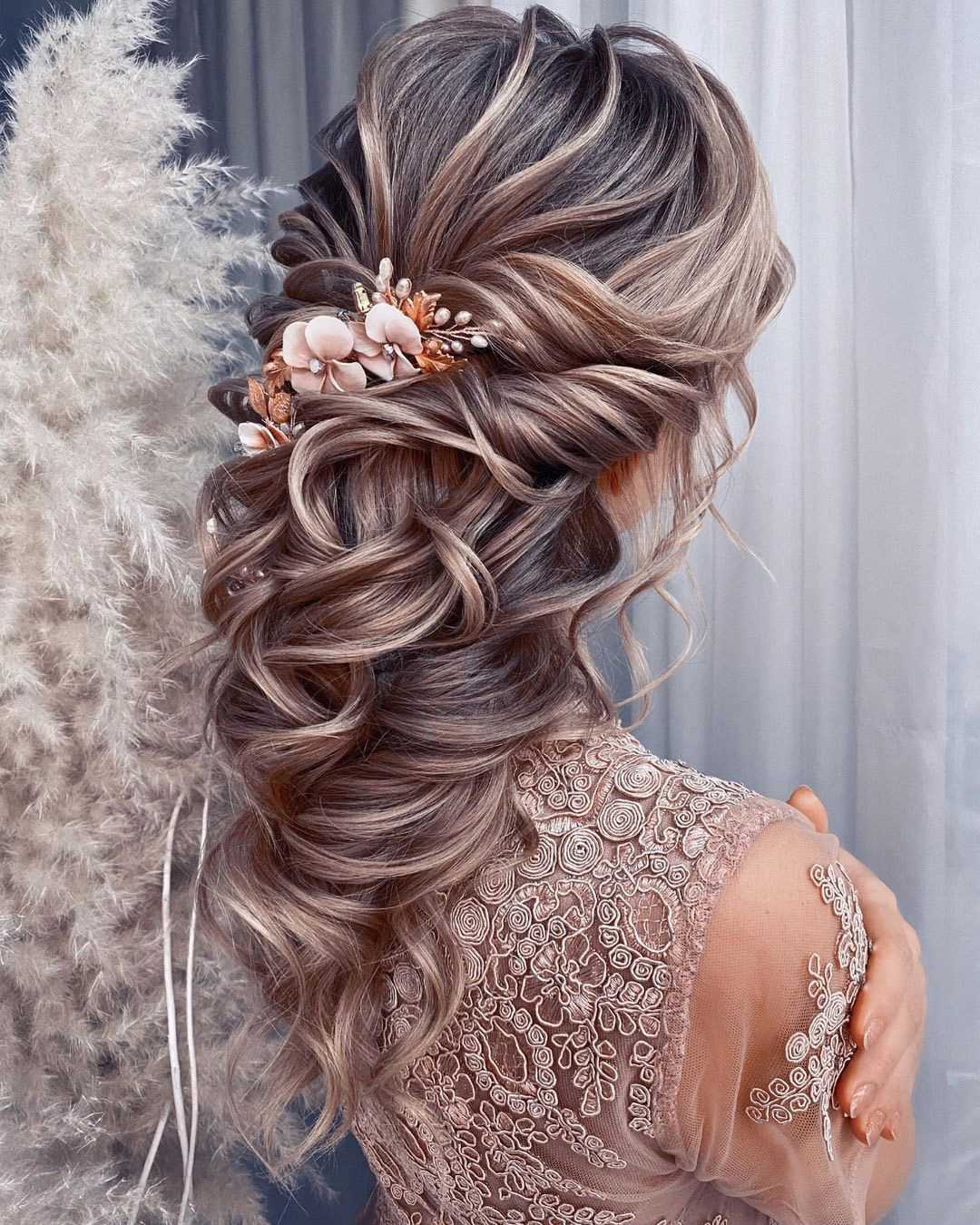 Wedding Updos With Flowers
It is rare to find anything more romantic than curly updos with flowers. With boho weddings rising, this feminine style gains popularity. The bride is given a more ethereal look thanks to this curly boho wedding hairstyle. Simple flowing dresses and open shoulders are ideal.
Add a flower crown to your pixie cut to make it look romantic. A flower crown is probably the easiest wedding hairstyle. They look great on everyone and go perfectly with any length of hair.
Generally we're talking of a pop of color when we talk about flowers. What about a more modern minimalistic style flower crown? You'll look beautiful with a green flower crown with lace or white pants. I love this original, modern, sweet and simple!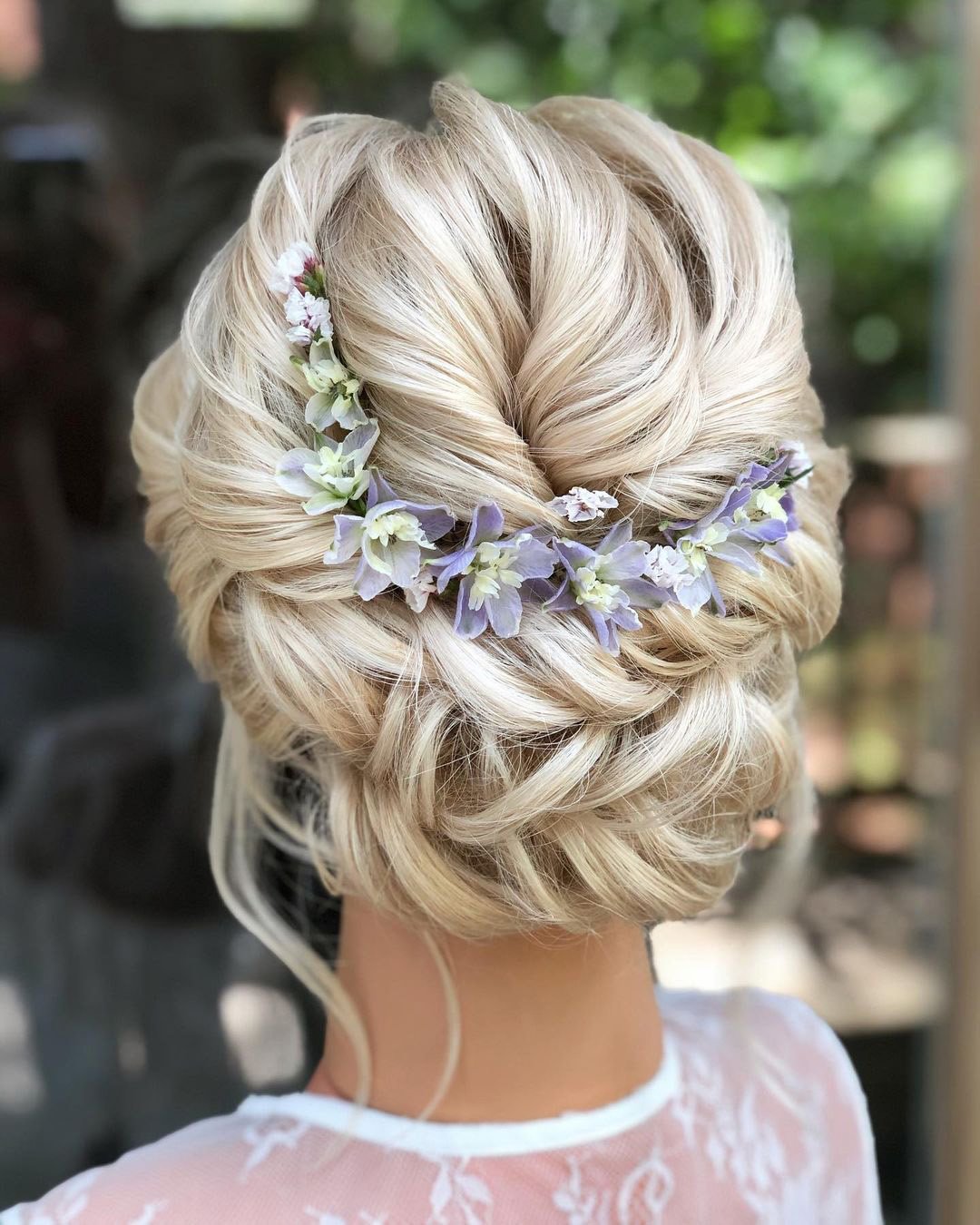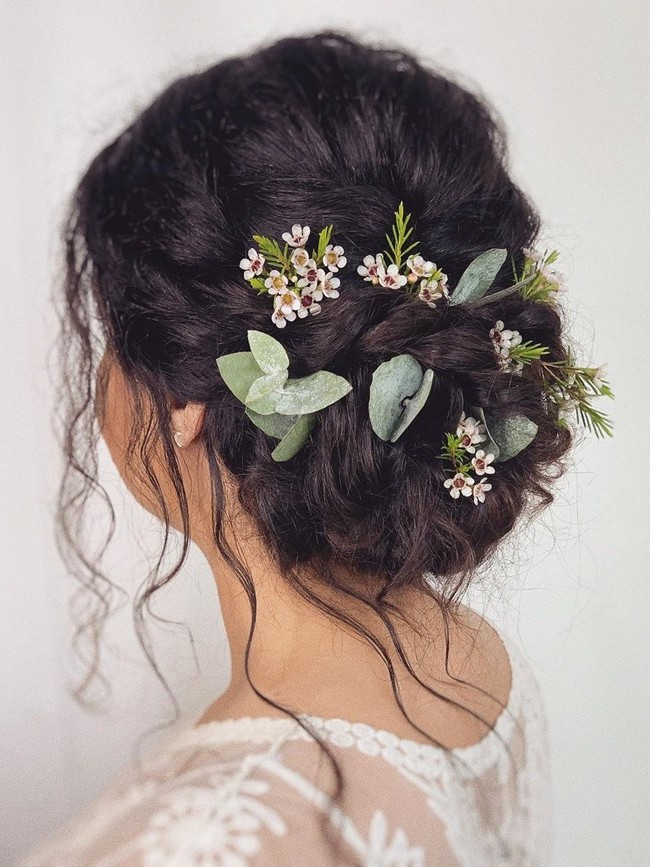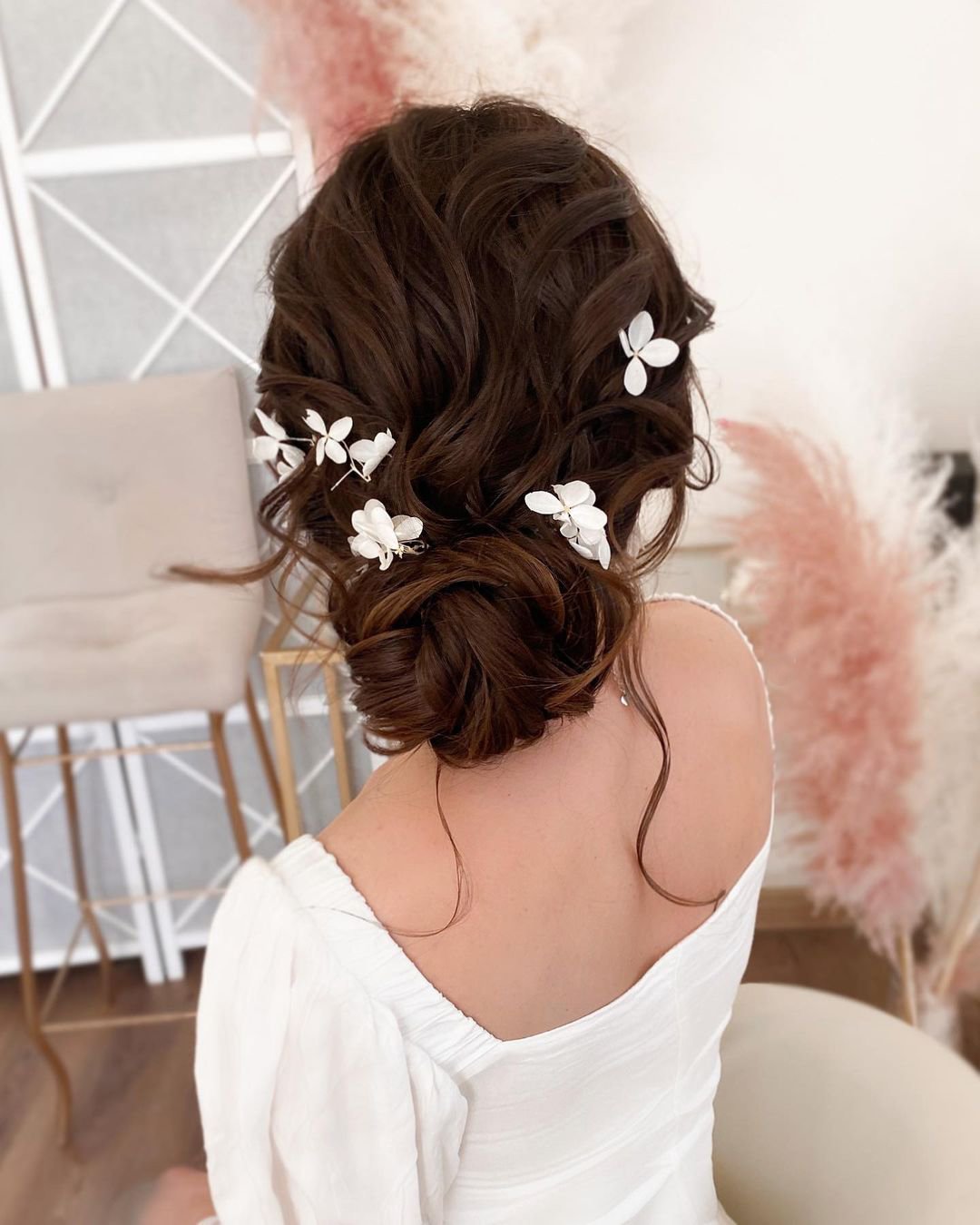 Curly Hairstyles For Wedding Guests
What kind of hair do you want to wear for your wedding guests? Remember, you shouldn't outshine the bride. Keep it simple and festive with this curly hair side twist. The look is great for people with medium-length hair. The only thing you need to do is twist your hair around your head.
Brides and guests alike use braids for wedding hairstyles that are curled up. Get that effortless look with your fishtail braid. If you're a boho bride's maid, add a single flower to match the braid's flower crown.
You can wear a low bun any time of day. You'll love it when you have a casual wedding. This simple hairstyle is so romantic – and don't be afraid to curl your hair naturally. Your curls can bring that laid-back vibe to life.