80+ Wedding Wishes: What To Write In A Wedding Card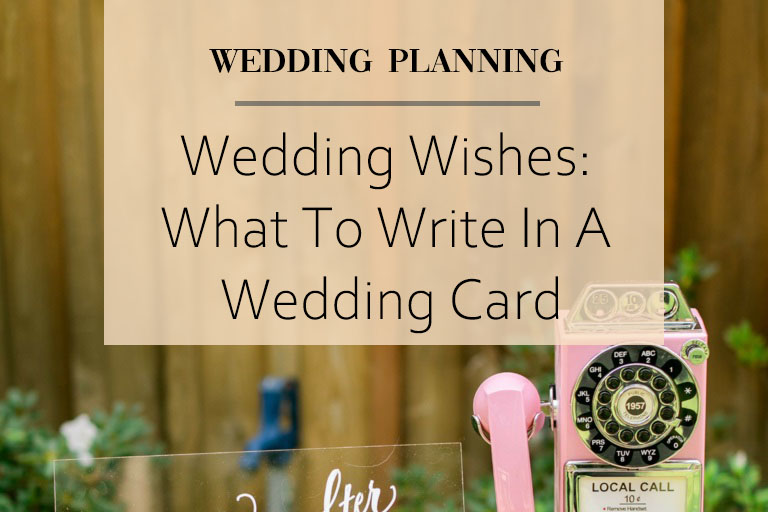 We've been there: You shop long and hard to find the perfect wedding card for the soon-to-be married couple and then you get home and have a pretty rough time figuring out what to write in it. The good news is, there are no hard-and-fast rules about what to write in a wedding card. As long as your wedding congratulations message is heartfelt and offers the couple a positive wish for their marriage, you're good to go.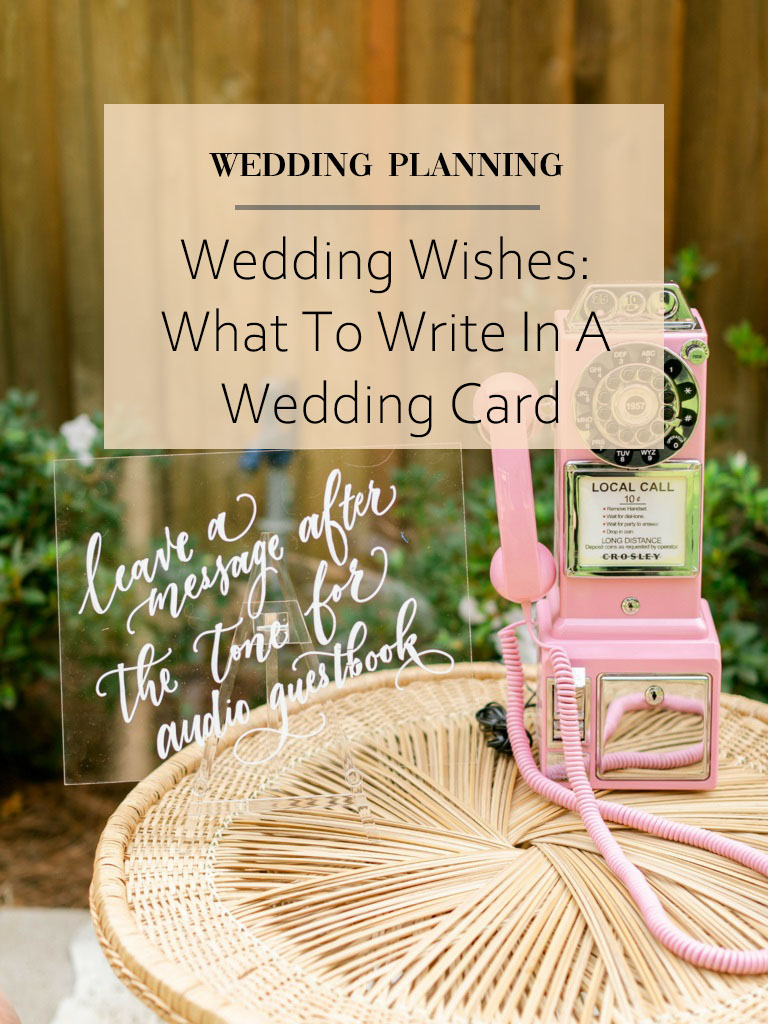 What To Write In A Wedding Card
A congratulation is in order. No matter what your personal writing style, this common expression is a great way to warm up your wedding greeting.
Add a wedding wish tailored to the couple. Use the next few lines of the card to create a personalized wedding wish for the couple. Before you begin to fill the blank space, think about your relationship with the couple. What will the bride and groom enjoy reading after their big day?
Thank the couple.  Save a line in your greeting to express your gratitude to the bride and groom for inviting you to be a part of one of the biggest days of their lives.
Sign off with a warm closing. Before you sign your name leave the newlyweds with a warm closing.
Wedding Congratulations Messages
Congratulations on your Wedding Day! Wishing you a blissful marriage filled with happiness and lots of romance.
May everyday together be as memorable as your Wedding Day. Congratulations on the wonderful union.
May the two of you lead a happy life together. Congratulations on your marriage and here's to a lifetime of happiness!
Your marriage is such a touching story. Wishing you nothing but the best.
Congratulations on your special day! May your two lives intertwine and be as one.
Formal Wedding Wishes
"May the years ahead be filled with love and joy."
"May your love grow stronger each and every passing year."
"Thank you for letting us share in your special day. We wish you all the happiness in the world."
"Here's to a lifetime full of happiness and love."
"Wishing you well as you embark on this next chapter of life. Cheers!"
"May today mark the first of the rest of your life, filled with love and fellowship."
"Here's to a long, happy life with the one you love. Wishing you the best."
"Wishing you happiness, love, and joy on your wedding day."
"Today is the beginning of your next chapter. Here's to you!"
Casual Wedding Wishes
"Here's to a long and happy marriage!"
"Wishing you all of the love and happiness!"
"We're so happy for you!"
"I'm seeing a fun-filled life in your future. Congratulations!"
"So honored to spend this happy occasion with you and your family."
"Wishing you the best today and beyond."
"Start your next chapter in style—with this little something!" (Attached to a gift.)
"Well wishes!"
"Congratulations!" (Don't be scared.)
"Congratulations to the wonderful two of you!"
"This calls for congratulations! (And probably champagne!)"
"Congrats, [Ethan and Erica]! It's so great to see two awesome people like you getting married. Love and best wishes always!"
"So happy for you!"
"I predict cute babies."
"It makes us so happy to see the two of you so happy. Congratulations!"
"Congratulations! Love you both!"
"You guys are great together! So happy for you!"
"You'll always remember this day. Hope it's even more beautiful and perfect than you've been dreaming, and hope it's just the start of a lifetime that just gets better and better."
"Prayers and blessings on your wedding and on your marriage."
"'Two become one'—what a beautiful thing. Congratulations!"
"You two make this 'love and marriage' thing almost seem worth trying. Just kidding—you look so happy, and I'm so happy for you!"
"Hope you'll always find yourselves as much in love as you are today. (We suggest date nights and lots of them!)"
"I hope through the years you become even better friends and share every possible kind of happiness life can bring."
Wedding Wishes to Welcome a New Family Member
"So blessed to have gained another sister/cousin/aunt."
"Thank you for letting us share in the celebration. Welcome to the family!"
"We're so happy that [name] found 'The One," and that it is you!"
"Today we add another family member to the tree, and we couldn't be happier."
"Sending love and hugs always, from your new family in [place]."
"Wishing you two all the happiness and love. Here's to you!"
"We couldn't be happier to call you family. Thanks for allowing us to join in the Big Day."
"Our family has gained quite the amazing man/lady. Lucky us!"
"Congratulations, and welcome to the family!"
Religious
Wedding Wishes
May God bless you on your union.
God bless your love for one another.
May God's Love guide you through this next chapter.
May the one who brought you together bless this marriage.
'Love is patient. Love is kind…Love never fails.' 1 Corinthians 13:4-8
Funny Wedding Wishes
Being married is like any other job; it helps if you like your boss. Congratulations!
Let the fighting commence! Congratulations married couple.
Thanks for inviting us to eat and drink while you get married! Congratulations!
Getting married is like going to drama school. May there be more comedy than melodrama.
Finally! (By which I mean congratulations.)
It's time to knock back the prosecco and pretend like this hasn't been the most stressful day of your life.
Well done on finding that one person who is going to annoy you for the rest of your life.
Thanks for reminding me how much money I'm going to save by not having a wedding 😉
In the circus of life, you may have lived like a lion so far. But your wife, the new Circus Master will tame you into a domesticated cat in no time. Good luck with your tight rope act.
Stay in Love, stay married, stay hopeful, most of all, stay together – divorce is too expensive.
Our marriage advice: Love, honour and… scrub the toilet
I now pronounce you husband and wife… you may now update your Facebook status.
Congratulations on your marriage! (you fools)… I wish you the very, very best! (just run)… to many years of happiness! (go now, I won't tell anyone)
Marriage. An endless sleepover with your favourite weirdo… congratulations!
Heartfelt
Wedding Wishes
Congratulations on the beginning of your fairytale
Cheers to love, laughter and happily ever after
And so the adventure begins…
Your wedding day will come and go, but may your love forever grow.
You are going to write the next chapters of your life stories together and I cannot wait to read it. Happy wedding day to you both!
Today you start this new journey in your life. Let it be fantastic, crazy, wonderful, unbelievable and unforgettable.
Congratulations to the newlyweds! You two couldn't be more perfect for one another.
May your married life be filled with the right ingredients: faith, trust, passion, romance, understanding and timeless love.
Wedding Wishes
When You Can't Attend
With you in spirit as you celebrate your love. Congratulations!
Wishing you all the happiness in the world as you start your married life together. Sorry we can't be there to share your special day, but please know we are toasting you from afar.
So sad to miss your special day. Sending all our love and best wishes
I can only imagine how beautiful you looked and I honestly wish I would have been there to see you smile.
Your wedding is important. Don't let our absence tell you otherwise. We would have loved to have been a part of your special day. Congratulations!
We are glad we have the rest of your lives to congratulate you on your nuptials. Best of wishes!
We still wish you two the best despite your wedding being over already. We hope the beginning of the rest of your lives has been wonderful.