130 Holiday Puns to Brighten Your Celebrations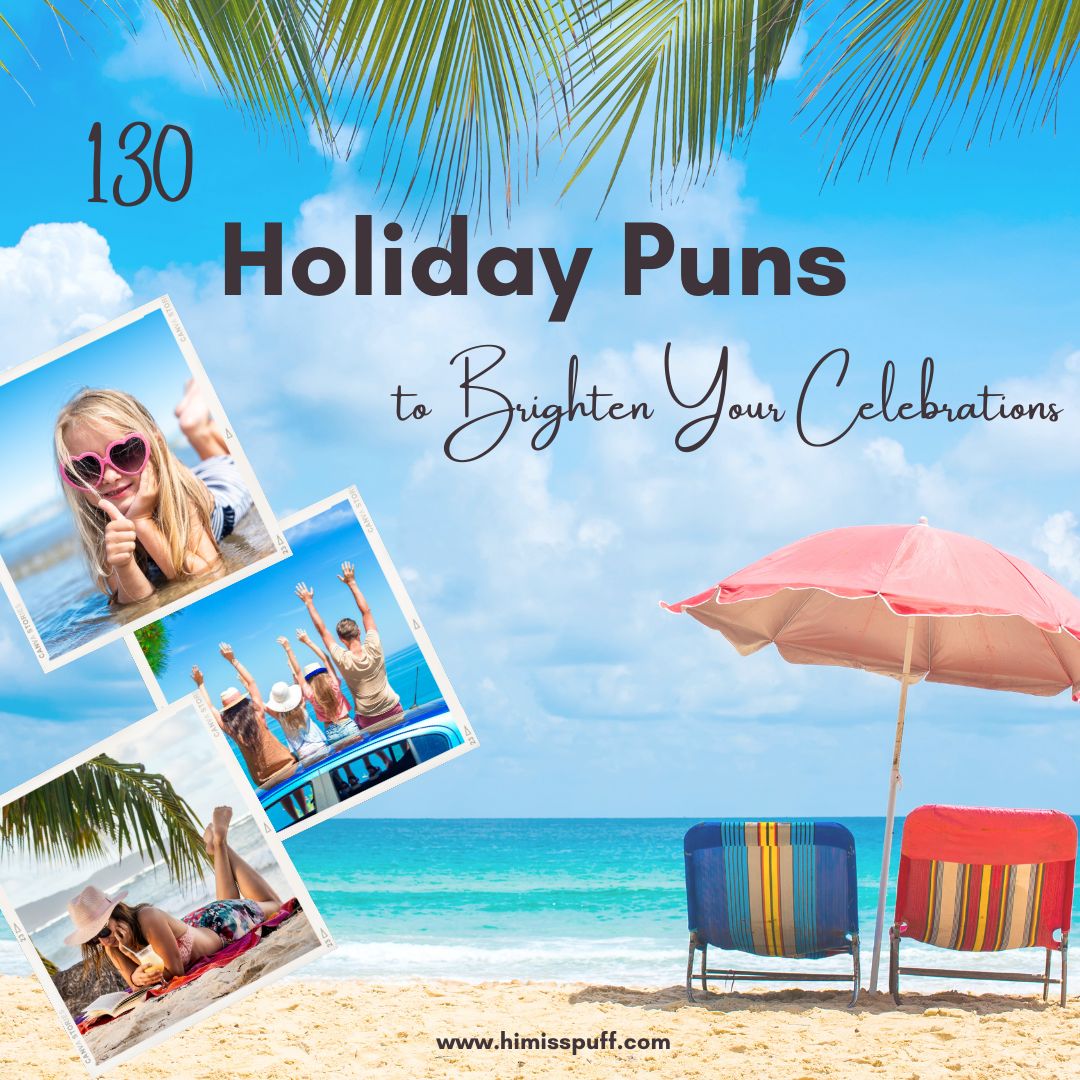 The holiday season is a time for joy, laughter, and creating lasting memories with loved ones. One way to add an extra dose of merriment to your celebrations is through the clever use of holiday puns. These witty wordplays are not only delightful but can also serve as excellent conversation starters, icebreakers, or simply bring a smile to everyone's face. In this post, we'll explore a collection of holiday puns that are sure to tickle your funny bone and make your festivities even more memorable. So get ready to unleash the cheer as we dive into the world of holiday humor!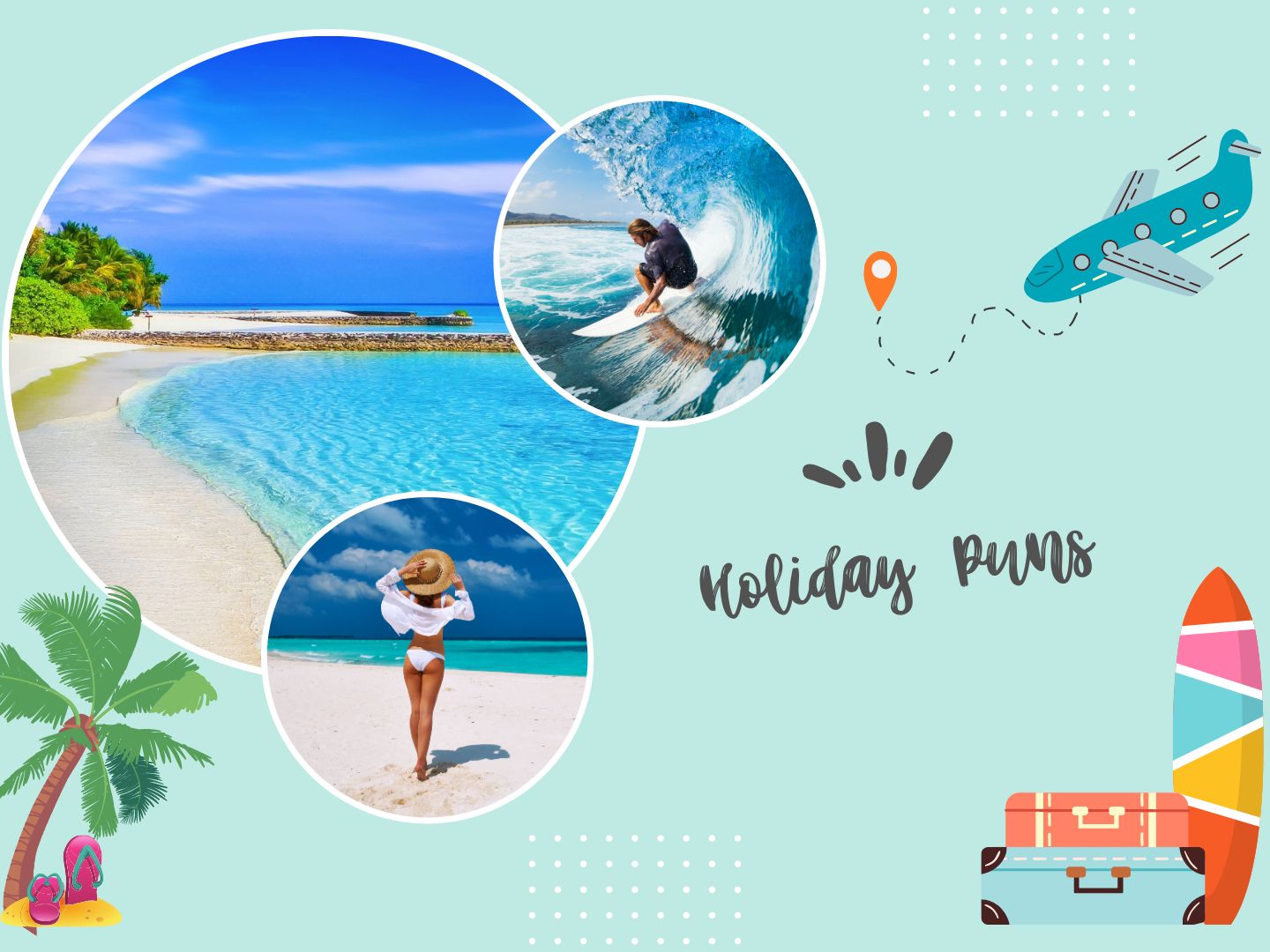 The Spirit of Wordplay
Puns have a magical way of capturing the essence of a holiday and infusing it with a clever twist. Whether it's Christmas, Halloween, Thanksgiving, or any other festive occasion, there's a pun for every celebration. Let's delve into some holiday puns that are bound to spread cheer among your family and friends:
Holiday Puns
All spruced up.
Believe in your'elf.
Claus I said so!
Do yule miss me?
Dont' be elfish.
Eat, drink, and be merry.
Fa la la la la, la la llama.
Have your'elf a merry little Christmas.
I am snow hungry.
I candy cane't wait!
Icy what you did there.
If you're lucky, I'll grace you with my presents.
I'm the best Christmas wrapper who ever lived.
Just keep eating. Just keep eating.
Let's take an elfie.
Meowy Christmas and a Happy Fur Year.
Never forget these gourd times.
OK fam, let's get this bread.
Pass the rein-beers.
Say it ain't snow.
Snow day!
Snowball till I fall.
Stop, drop, and pass the rolls!
Stressing during the holidays? Ain't nobody got thyme for that!
The holidays make me really Santa-mental.
There's snow place like home.
There's no doubt that we have chemistree.
We're all rebels without a Claus.
You are the apple pie of my eye.
You better sleigh those Christmas pictures.
You Christmas light up my life.
Yule never forget this Christmas
Christmas Puns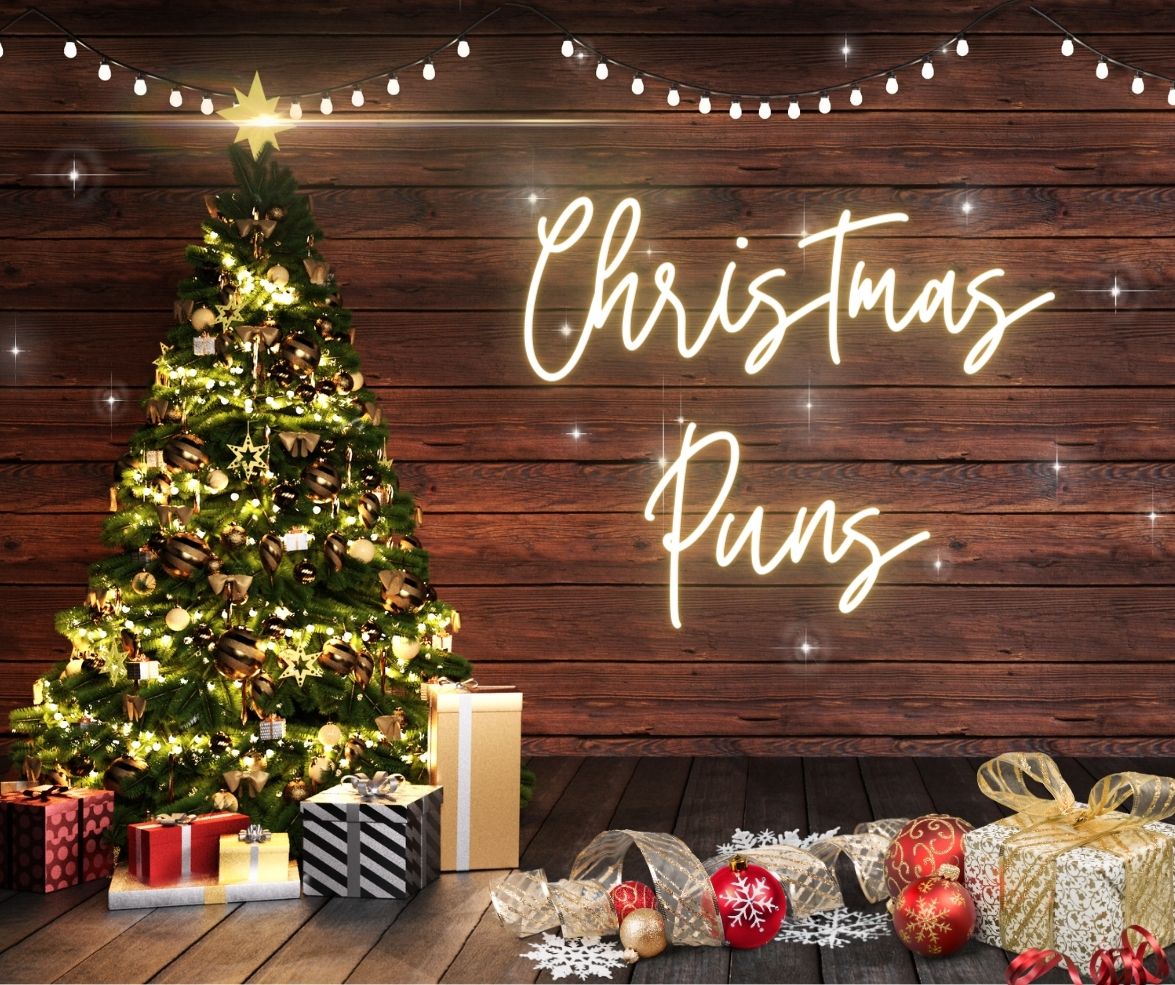 "Happy holly-days," said the wreath to the garland.
A mistle-toast to the holiday season.
All the jingle ladies, all the jingle ladies.
But wait—there's myrrh.
Hold on for deer life.
How rude-olf of you.
I have the final sleigh.
I love you from head to mistletoe.
I'm hooked on the mistletoe-larity of Christmas!
I'm pine-ing for you.
It's the most wine-derful time of the year.
It's the most wonderful time for a beer.
Love at frost sight!
Make it rein.
Merry Christ-masquerade! Have a ball!
Oh, deer.
Peppermint, or-na-ment?" she asked when contemplating hanging
candy canes on tree.
Prancer's motto: "Prance like nobody's is watching."
Resting Grinch face.
Santa Claws: The purrfect gift giver!
Santa's sleigh is snow problem for him!
Season's greetings," said the rosemary to the sage.
Shake it like a pole-oriod picture.
Sleigh my name, sleigh my name.
Sleigh queen, sleigh.
Sleigh, what?!
The Christmas alphabet has noel.
The Ghost of Christmas Presents is my favorite Christmas ghost.
The snuggle is real.
You're sleigh-in' it.
Your presents is requested.
Yule be fit to be tide when you find out you aren't getting any presents.
Yule be sorry if you don't have a jolly good time!
Halloween Puns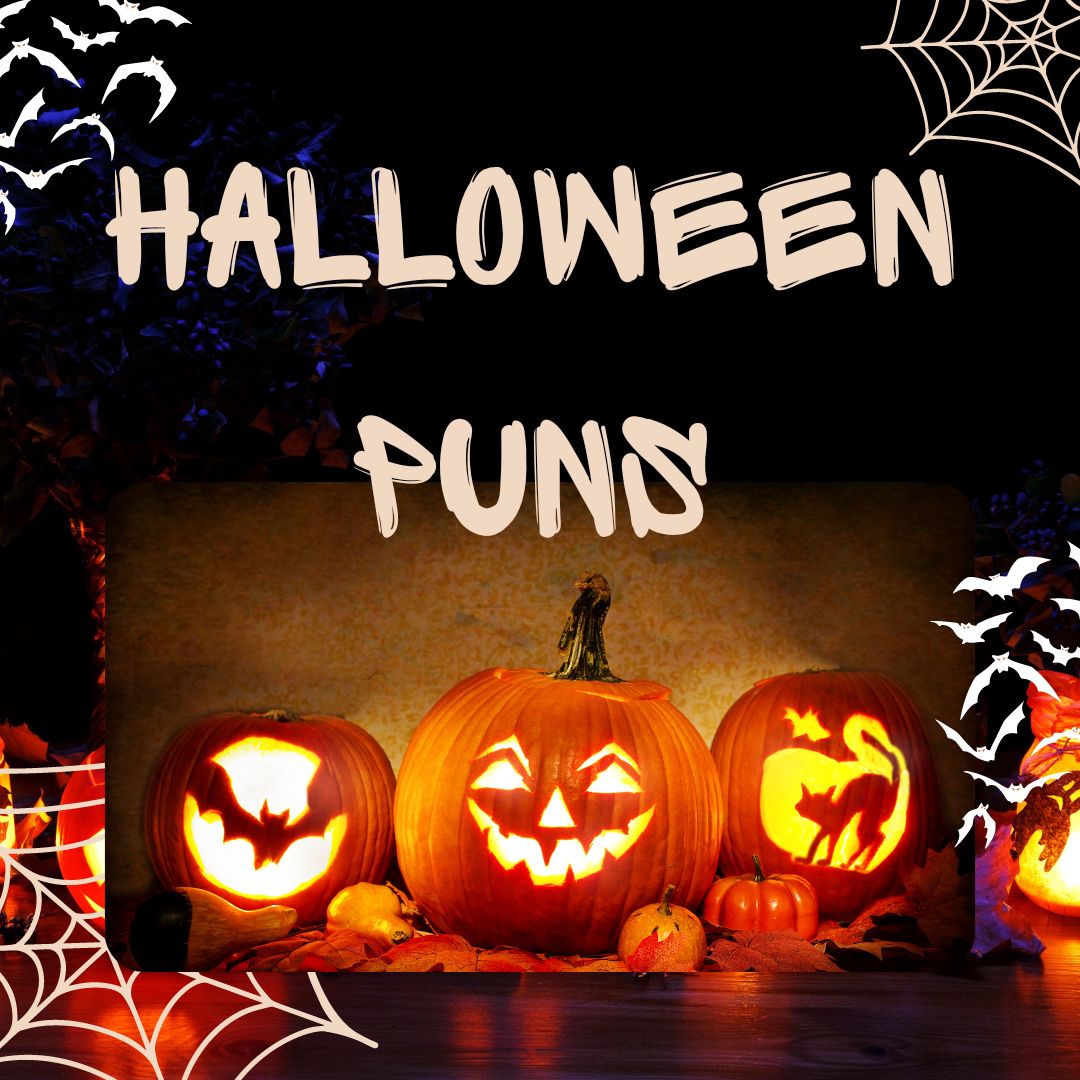 A scare is born.
Beware of were-chihuahuas: they're a real howl!
Come as you aren't.
Creep it real.
Don't be a jerk-o-lantern.
Eat, drink, and be scary.
Feeling gourd, like I should.
Frankly, I don't think I'm that scary.
Give 'em pumpkin to talk about.
Goblin candy all night.
Gourd-geous pumpkins, squash-ing the competition!
Hallow-queen.
Happy Howl-oween.
Hello, gourd-geous.
Howl you doin'?
I don't trust pumpkins. They're seedy.
If you've got it, haunt it!
I'm just here for the boos! Happy Halloween!
Life is gourd.
Lift your spirits!
Looking for a bunny costume because it's hoppy hour.
Mummy of the year.
My costume is eerie-sistible.
Oh my gourd!
Orange you excited for Halloween?
The zombie thinks this is the best thing since sliced head.
Too cute to spook.
Trick or treat yo' self.
Witchful thinking: The broom makes all the difference!
You're the pick of the patch.
Thanksgiving Puns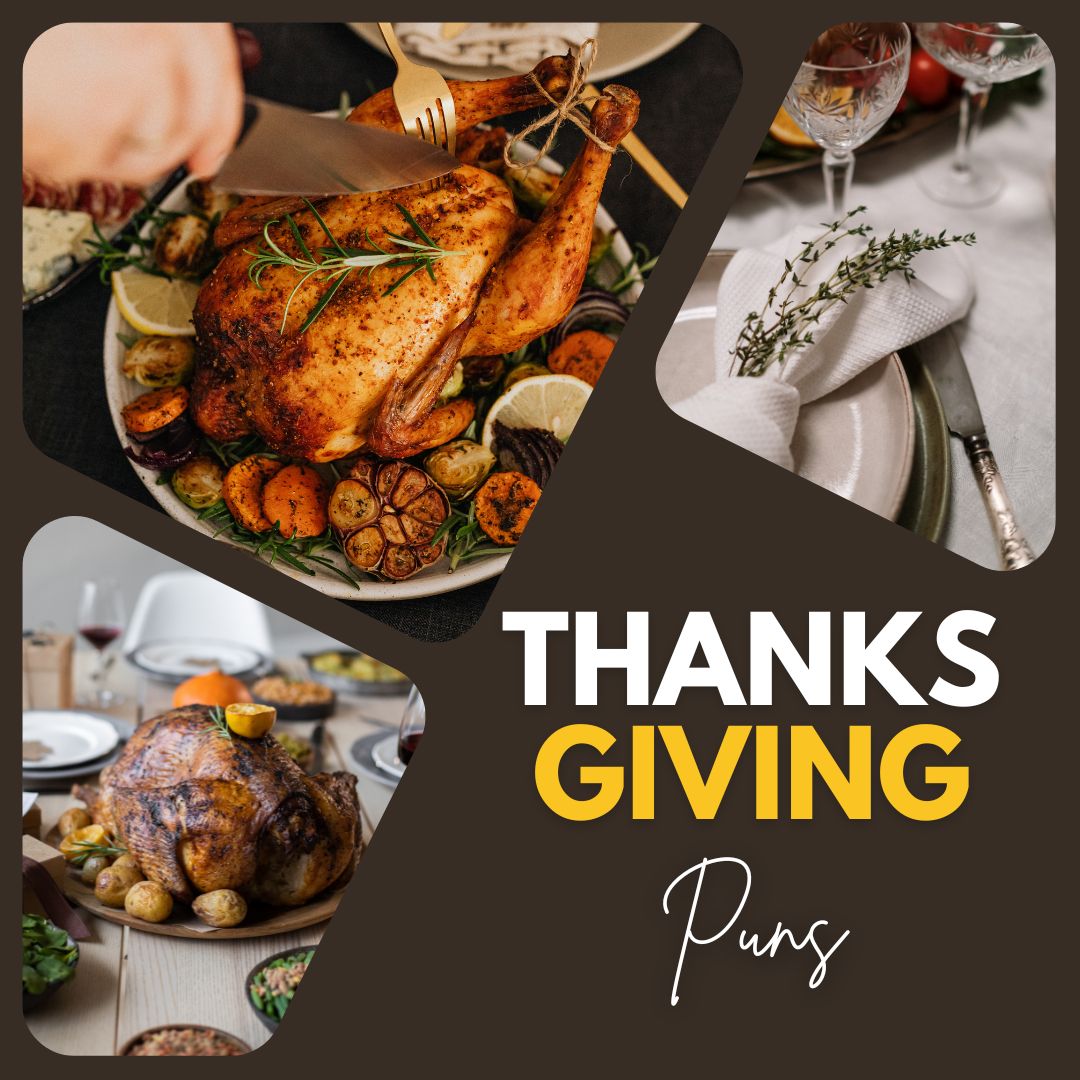 A real-life beauty and the feast!
And last but not feast…
Can you turn on some Plymouth Rock in the background while we do dishes?
Family Thanksgiving is totally my jam.
Feast your eyes on this meal!
Feast your eyes on this turkey-licious spread!
Hand me the gobble-lets so I can pour the wine.
Hey, I just met you, and this is gravy. But here's my stuffing, so carve me maybe.
I'm all about that baste.
I'm cran-tastic for Thanksgiving!
I'm so grateful for my butter-half.
Is something burning? It smells fowl!
Let's give 'em pumpkin' to talk about.
More rolls? You butter believe it!
No fowl language is allowed at dinner.
Put on some Plymouth Rock and roll!
Say hello to this gourd-geous spread!
Sorry my Thanksgiving puns are so corny.
Stuffing yourself with laughter and pumpkin pie!
Talk turkey to me: Let's gobble up some gratitude!
Thanksgiving dinner spread always smells fowl.
Thanksgiving has the tur-key to my heart
Thanksgiving leftovers? It's no problem, I'm gravy!
That joke was cornier than cornbread!
The poul-tree comes before the Christmas tree.
There's no more gravy left, and I'm suspecting fowl play.
Time to get Plymouth rockin' and rolling!
When it comes to baking the dinner rolls, I take the path of yeast
resistance.
Where'd you find this recipe? Google, Google?
Who's ready to get sauced?
Y'all bready for this?
Yes we pecan.
You gotta keep track of the thyme on Thanksgiving!
You know how to win the tur-key to my heart? Do the dishes.
You think Thanksgiving dinner is done? You ain't seen stuffing yet.
Making Every Occasion Puntastic
Holiday puns can be incorporated into various aspects of your celebrations to add a touch of wit and lightheartedness. Here are a few ideas to get you started:
Greeting Cards and Invitations:
Whether it's for Christmas, New Year's, or any other holiday, consider adding puns to your greeting cards or party invitations. For example, "Wishing you a ho-ho-holy jolly Christmas!" or "Join us for a spook-tacular Halloween bash!"
Table Decorations and Menus:
Create punny table signs or menus that playfully incorporate holiday-themed wordplays. "Eggs-quisite Easter Brunch" or "Have a slice of pumpkin 'pi' this Thanksgiving!"
Social Media Captions:
Share the holiday spirit on social media with punny captions for your festive photos. For instance, "Pumpkin spice and everything nice! #FallVibes" or "Sleighing it with the family! #ChristmasCheer"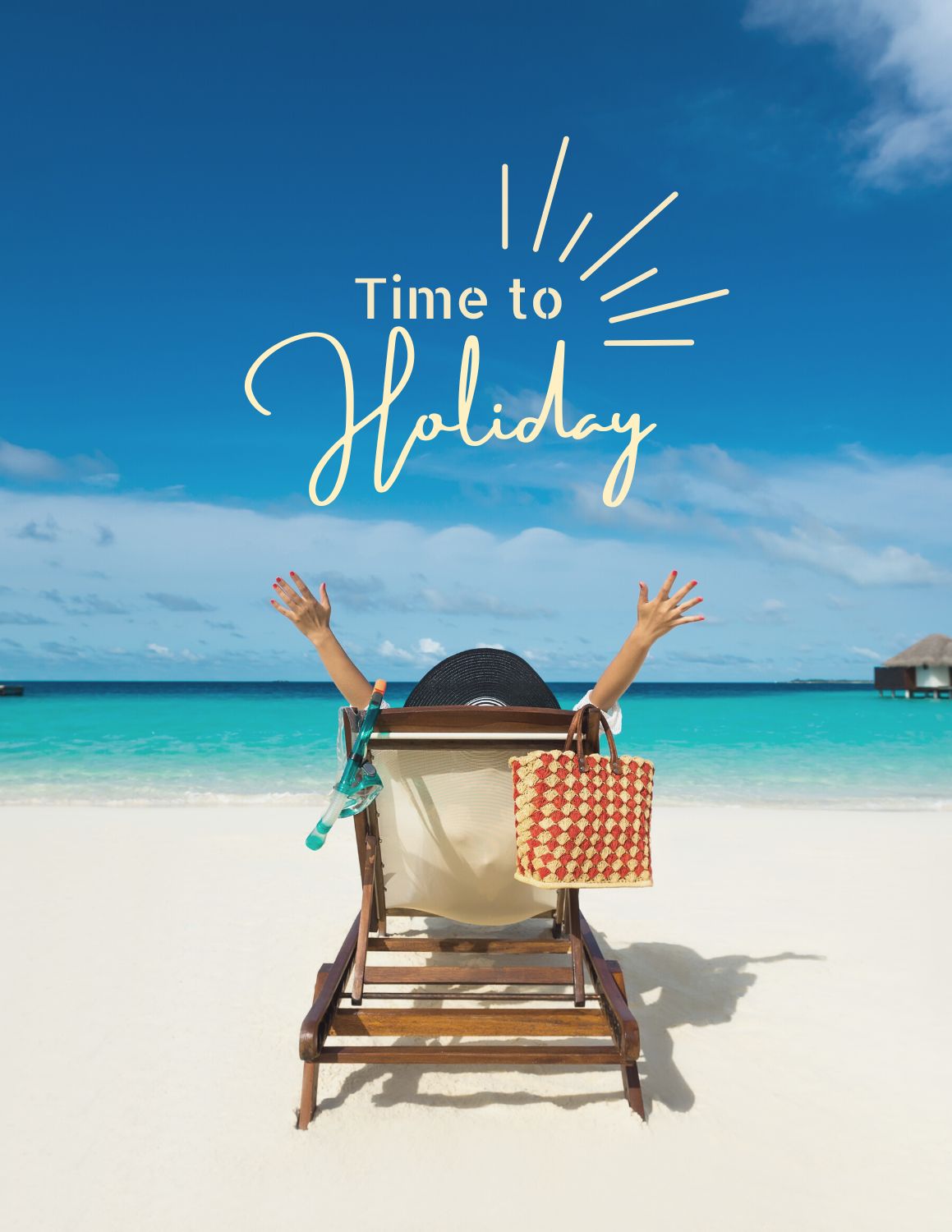 FAQs
How can I come up with my own holiday puns?
Start by brainstorming holiday-related words and phrases, then look for opportunities to create clever wordplays or incorporate puns into familiar expressions.
Are holiday puns suitable for all age groups?
Yes! Holiday puns can be enjoyed by both children and adults. Just keep the audience in mind when choosing the level of complexity or playfulness of the puns.
Where can I find more holiday puns?
Online resources, joke books, and even social media platforms dedicated to humor are great sources for discovering new puns. You can also create your own by putting a unique twist on traditional holiday phrases.
Conclusion
Holiday puns offer a delightful way to infuse humor and lightheartedness into your festive celebrations. From Christmas to Halloween and Thanksgiving, there's a pun for every occasion that is sure to bring a smile to everyone's face. Incorporating these puns into greeting cards, decorations, or social media captions adds an extra layer of merriment to your festivities. So, embrace the power of wordplay and spread the cheer with these holiday puns that are bound to make your celebrations unforgettable. Remember, laughter is the best gift you can give during the holiday season!