100 Spookiest Halloween Wedding Ideas We've Ever Seen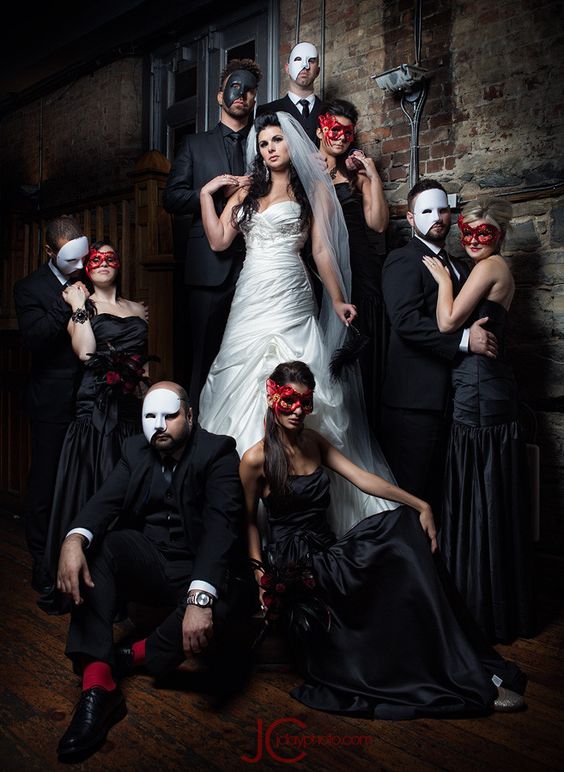 If you are planning a wedding that falls near Halloween, you have the opportunity to create a unique and memorable celebration that embraces the fun and spooky spirit of the holiday. While you don't have to go overboard with a Halloween theme, there are many ways to incorporate elements of the holiday into your celebration in a stylish and tasteful way.
You can focus on details that are special to you, such as your gown, table centerpieces, or other decor, and put a subtle spin on them by using inky hues, creative cocktails, and fall-themed florals.
By taking inspiration from the season and incorporating elements that reflect your personal style, you can create a Halloween-inspired wedding that is both festive and elegant.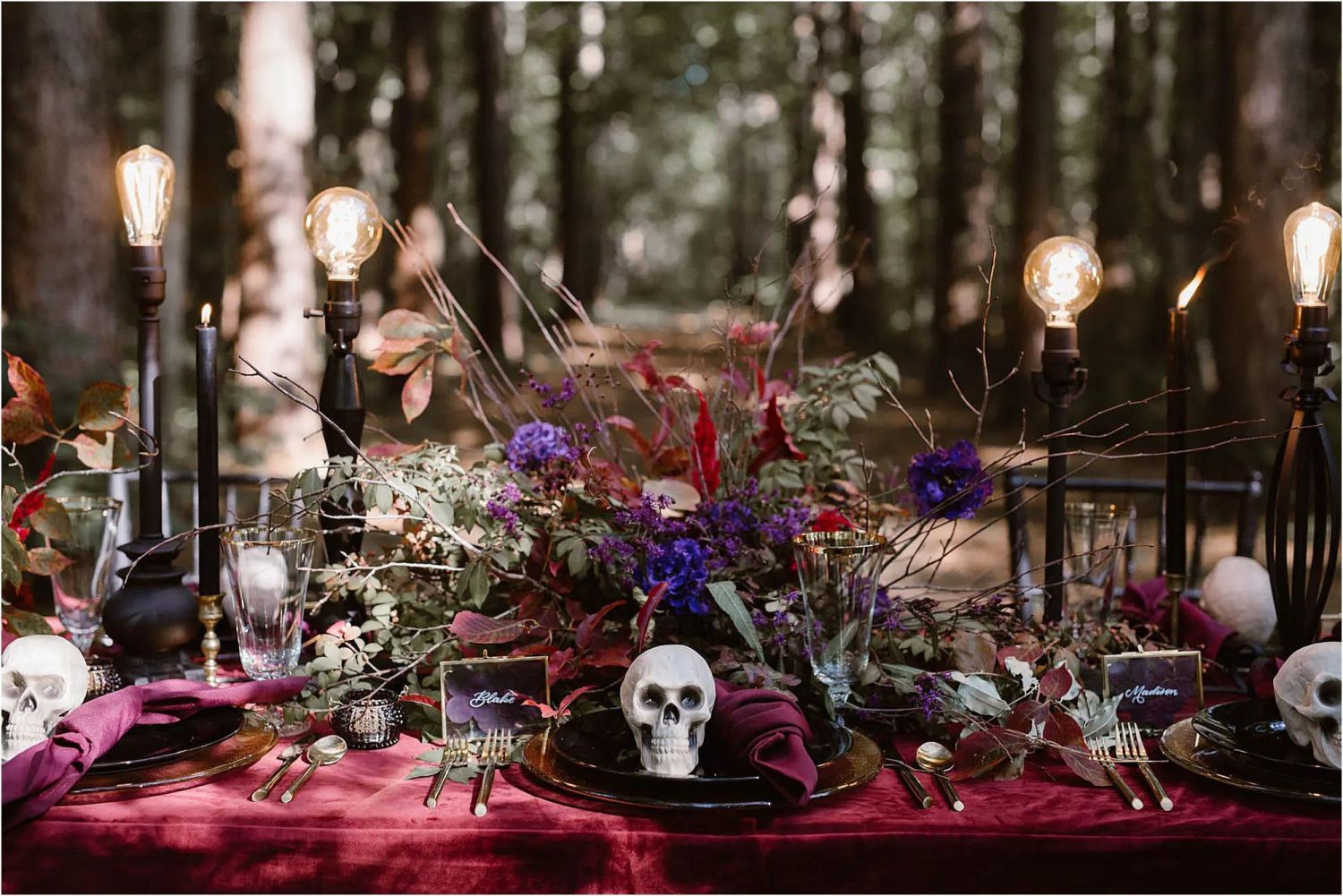 Halloween Wedding Decoration
Black and burnt orange are the go-to colors for Halloween, and there are many ways to incorporate them into your wedding celebration. One classic way to do this is by using pumpkins and jack-o'-lanterns as part of your decor. Instead of the traditional orange versions, you could try painting them black for a unique twist. These elements can be placed throughout your reception venue, serving as both decorative accents and as props for your wedding photos.
Skeletons and skulls are another popular Halloween element that can be used as centerpieces or holders for escort cards or table numbers. For a more sophisticated look, you could pair these with floral arrangements in deep green, merlot, and black, which will help create a festive atmosphere that is fitting for the season.
To complete the spooky scene, you could add neon signs with phrases like "till death do us part," which will add a playful touch to your Halloween-themed wedding.By using these decor elements, you can create a celebration that is both spooky and chic, leaving your guests feeling like they are in the perfect ambiance for the Halloween season.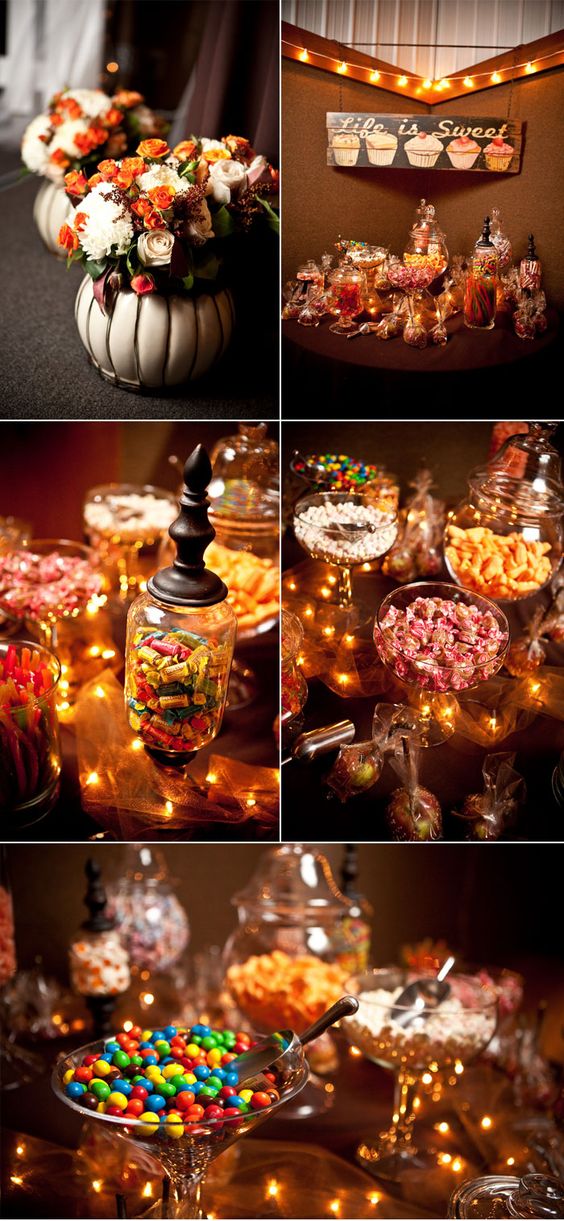 Dresses For Halloween Wedding
If you're looking for the perfect dress for a Halloween wedding, there are many options to choose from. Here are a few ideas:
A gothic black gown: A black gown with intricate detailing, lace, or flowing layers can give a dramatic and elegant vibe to your Halloween celebration.
A dark and moody dress: If you want to embrace the spooky atmosphere of Halloween, you could go for a dress in deep shades of purple, red, or green. These colors can add a touch of mystery to your look.
A dress with Halloween-themed details: For a more subtle Halloween touch, you could opt for a dress with subtle nods to the holiday, such as a bat-shaped lace pattern or a pumpkin-colored sash.
A Halloween-inspired dress: If you want to go all out with your Halloween theme, you could choose a dress that is inspired by a specific Halloween character, such as a witch, vampire, or zombie.
No matter what style you choose, it's important to find a dress that makes you feel confident and comfortable on your big day.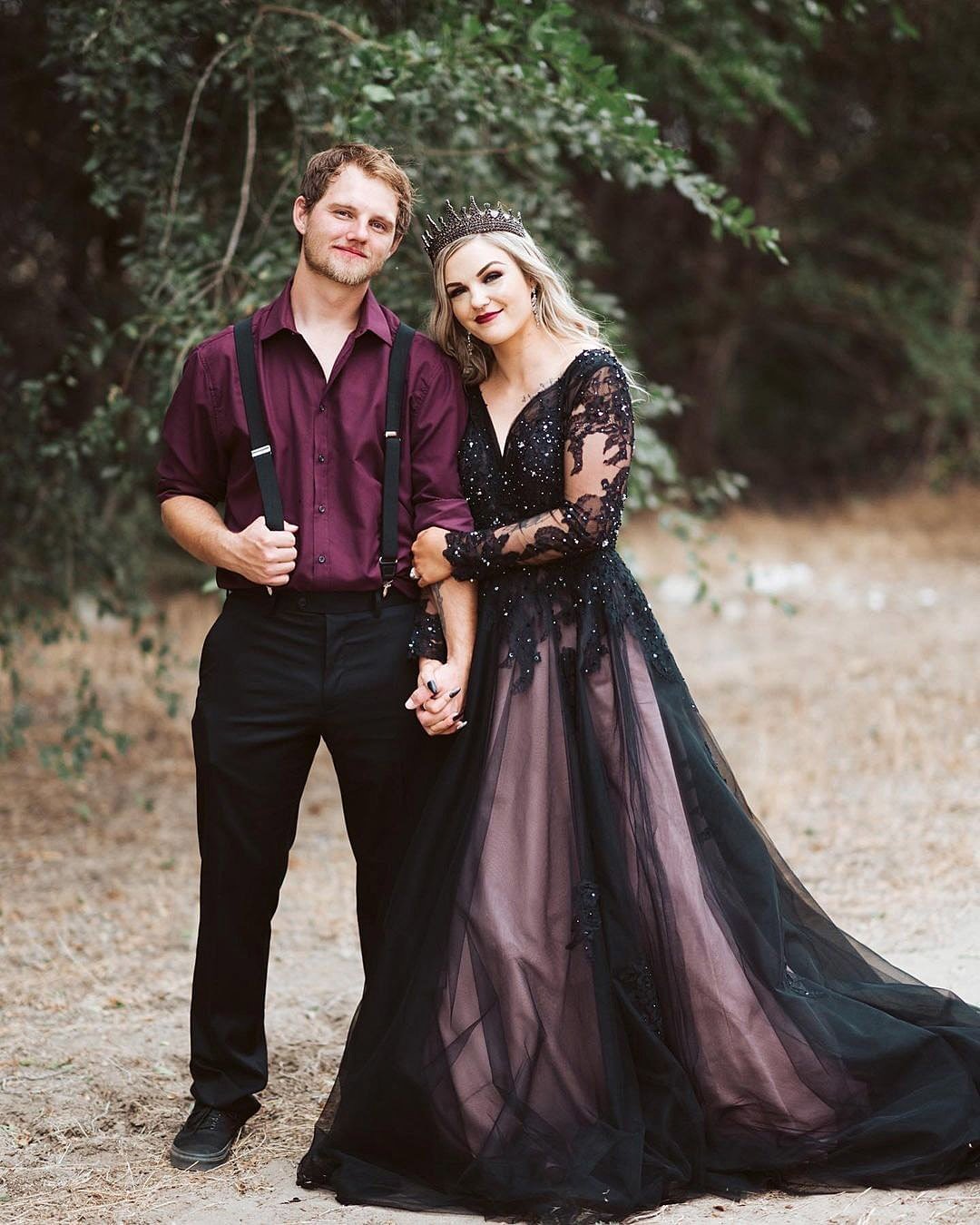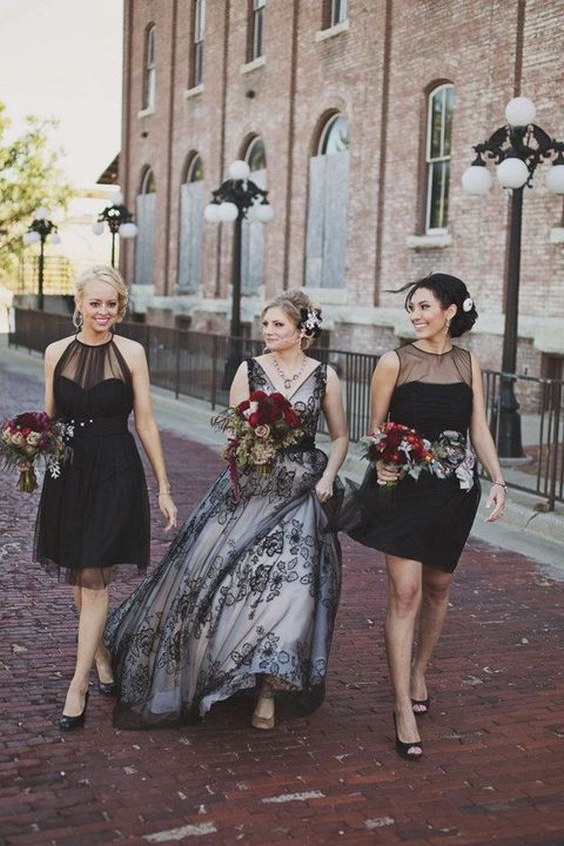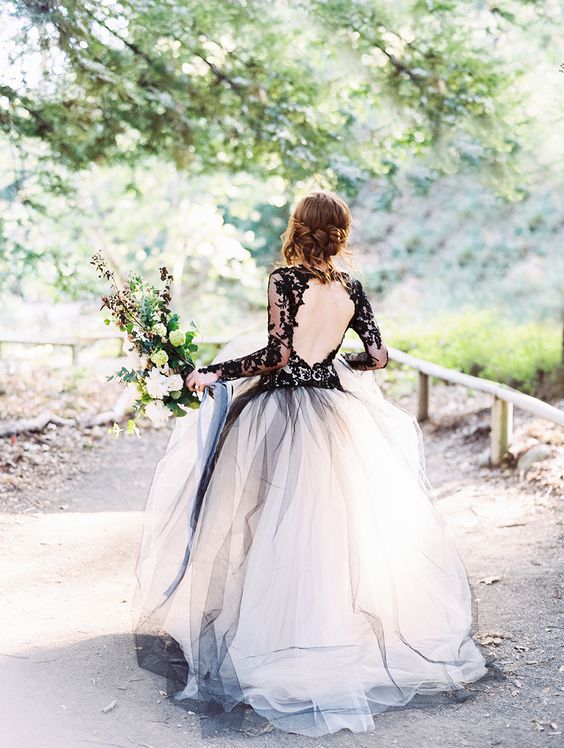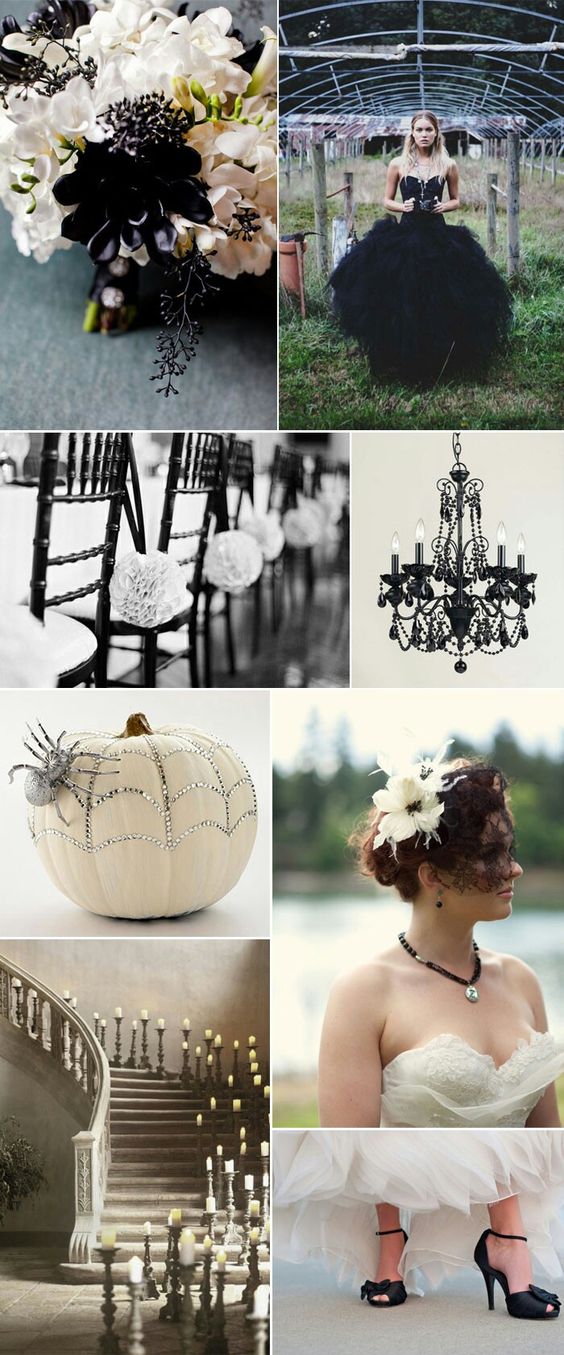 Halloween Wedding Favors
Party favors are a great way to add a personal touch to your Halloween-themed wedding and thank your guests for attending. There are many options to choose from, depending on your style and the theme of your celebration. Some ideas might include:
Halloween-themed treats: You can fill miniature plastic pumpkins or paper trick-or-treat bags with Halloween-themed sweets, such as chocolate bars or cookies iced with spooky designs.
Mini pumpkins: Small pumpkins make for cute and practical favors that your guests can use as decorations in their own homes.
Skeleton keychains: These fun and unique favors can serve as a reminder of your Halloween-themed wedding.
Halloween-themed drinkware: Mugs, glasses, or flasks with Halloween-themed designs or slogans can be practical and memorable favors for your guests.
Spooky candles: Candles in autumnal scents like apple cider or pumpkin spice can add a cozy touch to your favors. You can also go for more spooky scents like black cherry or dragon's blood.
When choosing party favors for your wedding, it's important to choose items that are meaningful and reflect your personal style and the theme of your celebration. This will help make your favors feel more special and appreciated by your guests.
Halloween Themed Bouquets
Florals can play a big role in tying together a Halloween-themed wedding. To create a tasteful and elegant look, you could consider using harvest-inspired blooms like orange roses and burgundy hydrangeas, as well as autumnal elements like maple tree branches and thistles. You can tie these together with dark silk ribbons to add a touch of sophistication to your bouquet.
For a cascading bouquet with a spooky twist, you could also add miniature skulls and pumpkins to your floral arrangement. By incorporating these Halloween-themed elements, you can create a bouquet that is both on-theme and elegant, making it a perfect addition to your Halloween wedding ideas.
Halloween Cakes And Dessert Table
For a truly Halloween-themed wedding reception, consider ditching the traditional white cake in favor of something more spooky. A black cake can add a gothic touch to your celebration, or you can go for a white cake with a Halloween-themed topper like a skull or skeleton.
You can also decorate your cake with black, pink, or red wedding flowers and other spooky details, such as tiny pumpkins or spider webs. Alternatively, you could go all out and create a cake that is shaped and decorated like a haunted mansion, complete with scary elements and a pumpkin spice flavor. No matter what style you choose, a Halloween-themed cake can be a fun and festive way to celebrate your special day.