The Best 70 Mother Son Dance Songs For Wedding 2022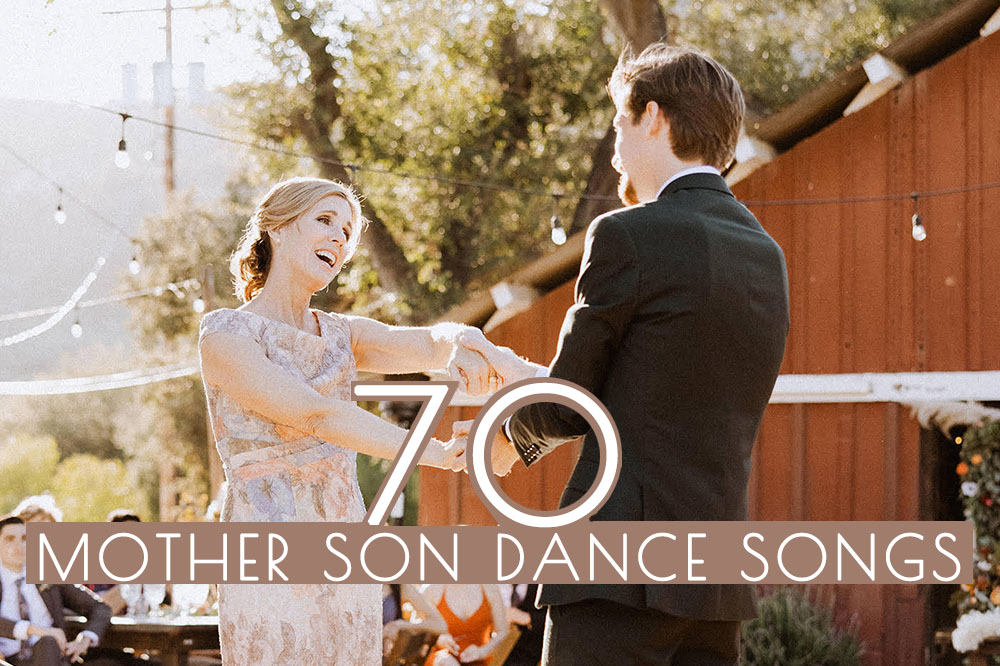 Picking out the best mother-son wedding dance songs from the millions of songs on iTunes or Spotify can be a bit overwhelming.
We are here to help you find the best song for you and your mom.
We talked to over 100 couples and DJs and asked them for their favorite mother-son wedding songs for 2022.
Ready for the Best Mother-Son Dance Songs?
Slow Mother-Son Dance Songs
Looking for a slow song to dance to? You can't go wrong with any of these beautiful songs…
"Wonderful Tonight" by Eric Clapton
"What a Wonderful World" by Louis Armstrong
"Summer Wind" by Frank Sinatra
"Unforgettable" by Nat King Cole and Natalie Cole
"You've Got a Friend" by James Taylor
"Somewhere Over The Rainbow" by Israel "IZ" Kamakawiwo'ole
"Do I make you proud" by Taylor Hicks
"You Raise Me Up" by Josh Groban
"Hey, Ma" by Bon Iver
"Time After Time" by Iron and Wine
"A Mother's Song" by Daniel Kirkley
"Here Comes the Sun Again" by M. Ward
"All My Tomorrows" by Frank Sinatra
Upbeat + Fun Mother-Son Dance Songs
"You're My Best Friend" by Queen
"God Only Knows" by The Beach Boys
"How Sweet It Is (To Be Loved By You)" by Marvin Gaye
"Home" by Phillip Phillips
"I Say a Little Prayer" by Aretha Franklin
"One Love / People Get Ready" by Bob Marley
"Rainbow Connection" by The Muppets
"I'll Always Love My Mama" by The Intruders
"Count on Me" by Bruno Mars
"We are Family" by Sister Sledge
Pop/Modern Mother-Son Dance Songs
"Sweetest Devotion" by Adele
"Mom" by Meghan Trainor
"Hey Mama" by Kanye West
"I'll Be There" by Mac Miller ft. Phonte
"Letter to My Mother" by Edwin McCain
"Time After Time" by Cyndi Lauper
"Beautiful Boy" by Ben Harper
"Have I Told You Lately" by Rod Stewart
"Just the Way You Are" by Billy Joel
"Love Of My Life" by Carly Simon
"Love is a Verb" by John Mayer
"The One Thing" by Shakira
"Thank You Mom" by Good Charlotte
"93 Million Miles" by Jason Mraz
"Everything" by Matthew John
"Go On" by Jack Johnson
"She's Got a Way" by Billy Joel
"House of Gold" by 21 Pilots
Rock Mother-Son Dance Songs
"Landslide" by Fleetwood Mac
"Have I Told You Lately" by Van Morrison
"All You Need Is Love" by The Beatles
"Thank You For Loving Me" by Bon Jovi
"Sweet Child O' Mine" by Guns N' Roses
"Mother" by Pink Floyd
"Wildflowers" by Tom Petty
R&B Mother-Son Dance Songs
"You are the Sunshine of My Life" by Stevie Wonder
"A Song for Mama" by Boyz II Men
"Mama Hold My Hand" by Aloe Blacc
"Stand by Me" by Ben E. King
"Hero" by Mariah Carey
"I Got You" by Ciara
"River," by Leon Bridges
"I'll Be There" by Mac Miller ft. Phonte
Country Mother-Son Dance Songs
"Mother Like Mine" by The Band Perry
"Like My Mother Does" by Lauren Alaina
"My Wish" by Rascal Flatts
"Mama Said" by Lukas Graham
"I Hope You Dance" by Lee Ann Womack
"Mama's Song" by Carrie Underwood
"Simple Man" by Lynyrd Skynyrd
"Sweet Child of Mine" by Sheryl Crow
"Humble and Kind" by Tim McGraw
"He Gets That From Me" by Reba McEntire
"Mother" by Sugarland
"Landslide" by The Chicks
"Don't Blink" by Kenny Chesney
"Never Alone" by Lady and Jim Brickman
Mother Of The Groom Dresses