45 White Dresses For Bridal Shower You Can Wear Again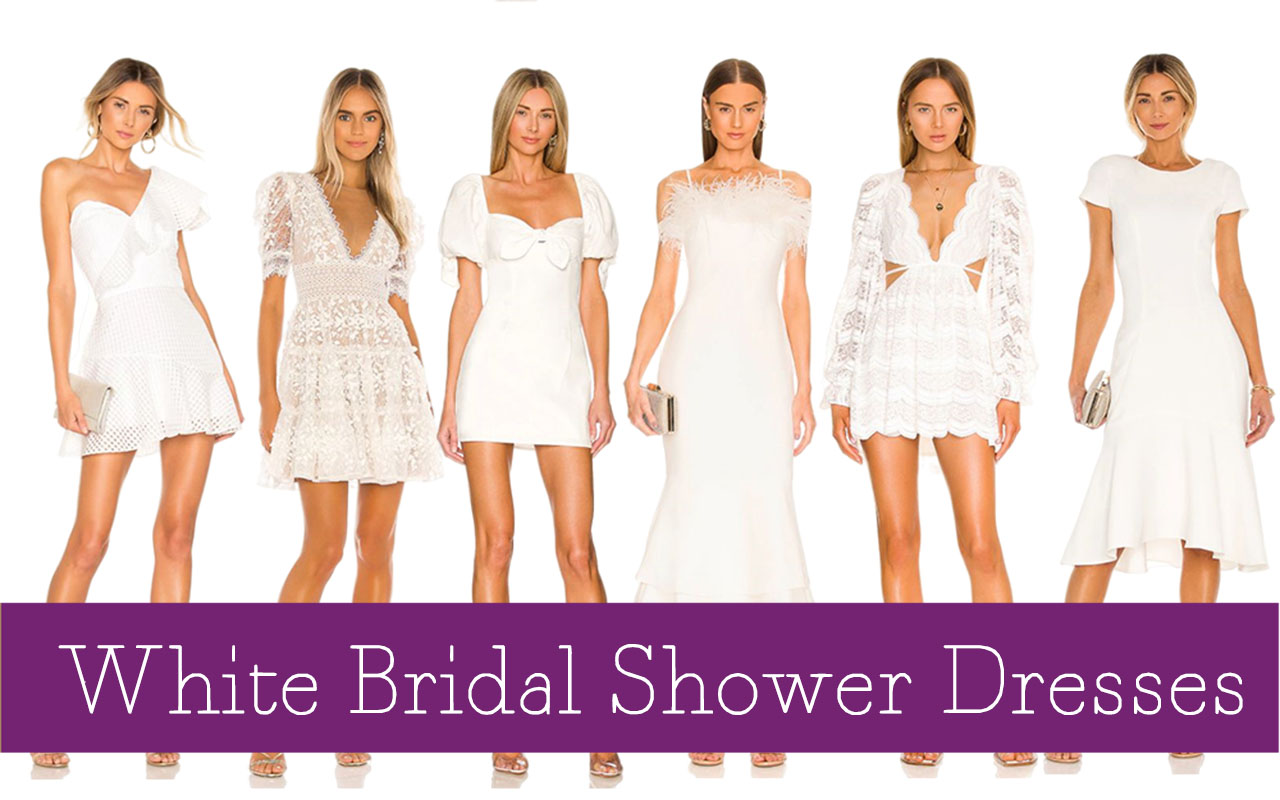 Deciding on the perfect outfit for your bridal shower can be a daunting task for any bride-to-be. As you plan your wedding, you may be wondering what is appropriate attire for a bridal shower. The good news is that there are many options to choose from.
When it comes to dressing for a bridal shower, it's important to keep in mind that the event is typically held during the daytime. With that in mind, a pretty day dress, romper, or jumpsuit are all great options. You'll want to aim for a look that is conservative, elegant, and classy all at the same time.
As you search for the perfect bridal shower outfit, consider browsing through your favorite shopping websites for inspiration. There are countless options available, from classic and timeless styles to trendy and contemporary looks. So, take your time, consider your personal style and the theme of the shower, and choose an outfit that makes you feel confident and beautiful.
Short White Bridal Shower Dresses
When it comes to bridal shower attire, a short dress can be a great option. If you're attending an afternoon event and prefer something less formal than a long dress, a knee-length or shorter dress is perfect. Not only will it keep you cool and comfortable, but it also allows you to showcase your personal style.
You can choose from a variety of styles, from classic and elegant to trendy and contemporary. Consider a dress with a playful print or a feminine silhouette. Opt for a dress that makes you feel confident, beautiful and on-trend. Remember that this is a pre-wedding event and you want to look and feel your best
White One-Shoulder Dress $62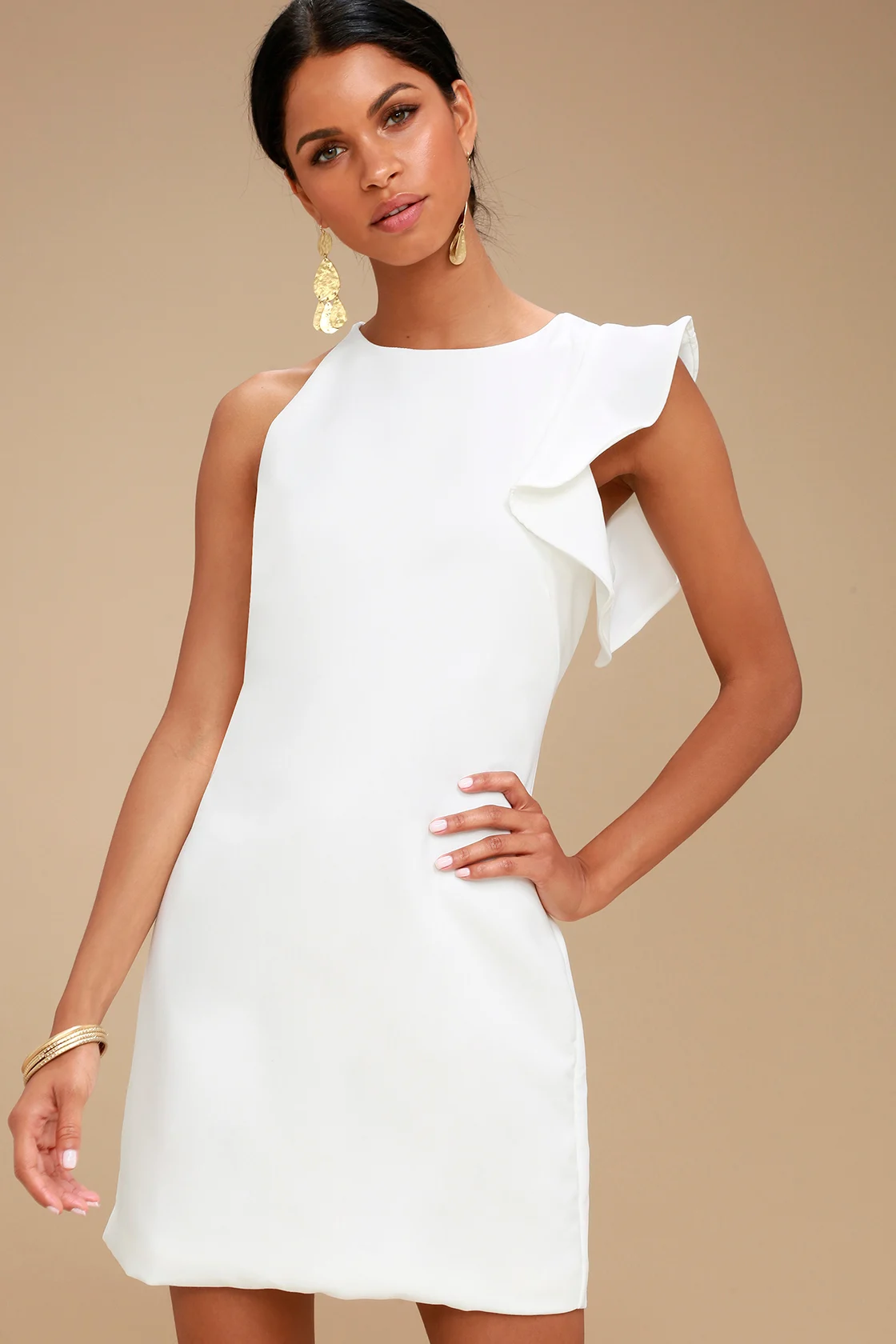 Medium-weight, woven fabric creates a one-shoulder, rounded neckline, and a chic, ruffled short sleeve. Darted bodice and mini sheath skirt.
Lovely Dress $260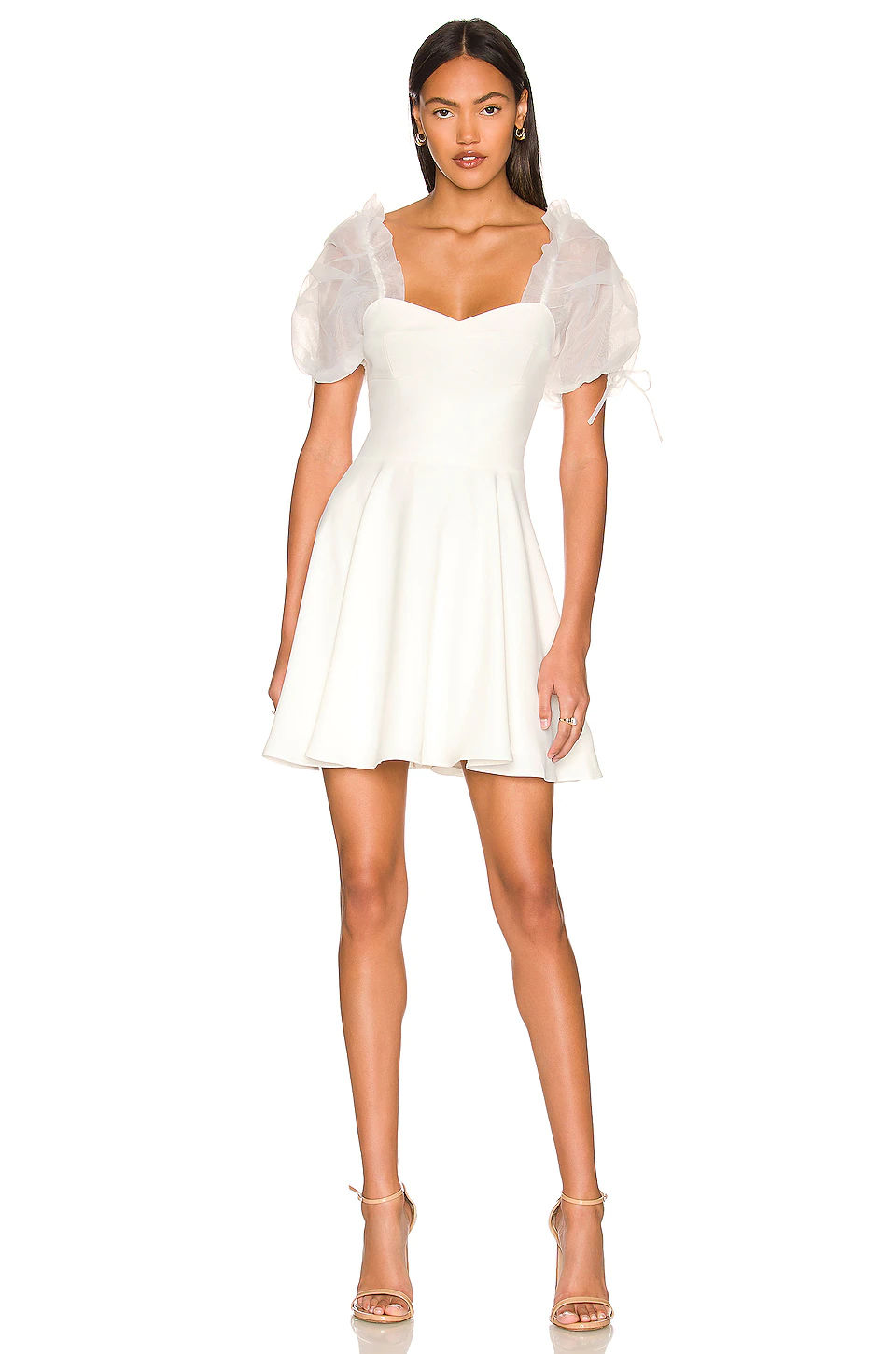 Midi White Dresses For Bridal Shower
A midi length dress is a great choice for a bridal shower. These versatile dresses come in classic white, making them suitable for a variety of events and perfect for keeping cool in warm weather. They can be paired with both sandals and heels, and are flattering on most body types. The midi length falls just above the knee, providing coverage for any areas you may be self-conscious about while still showing off your legs and creating an hourglass silhouette.
Evalina Dress $198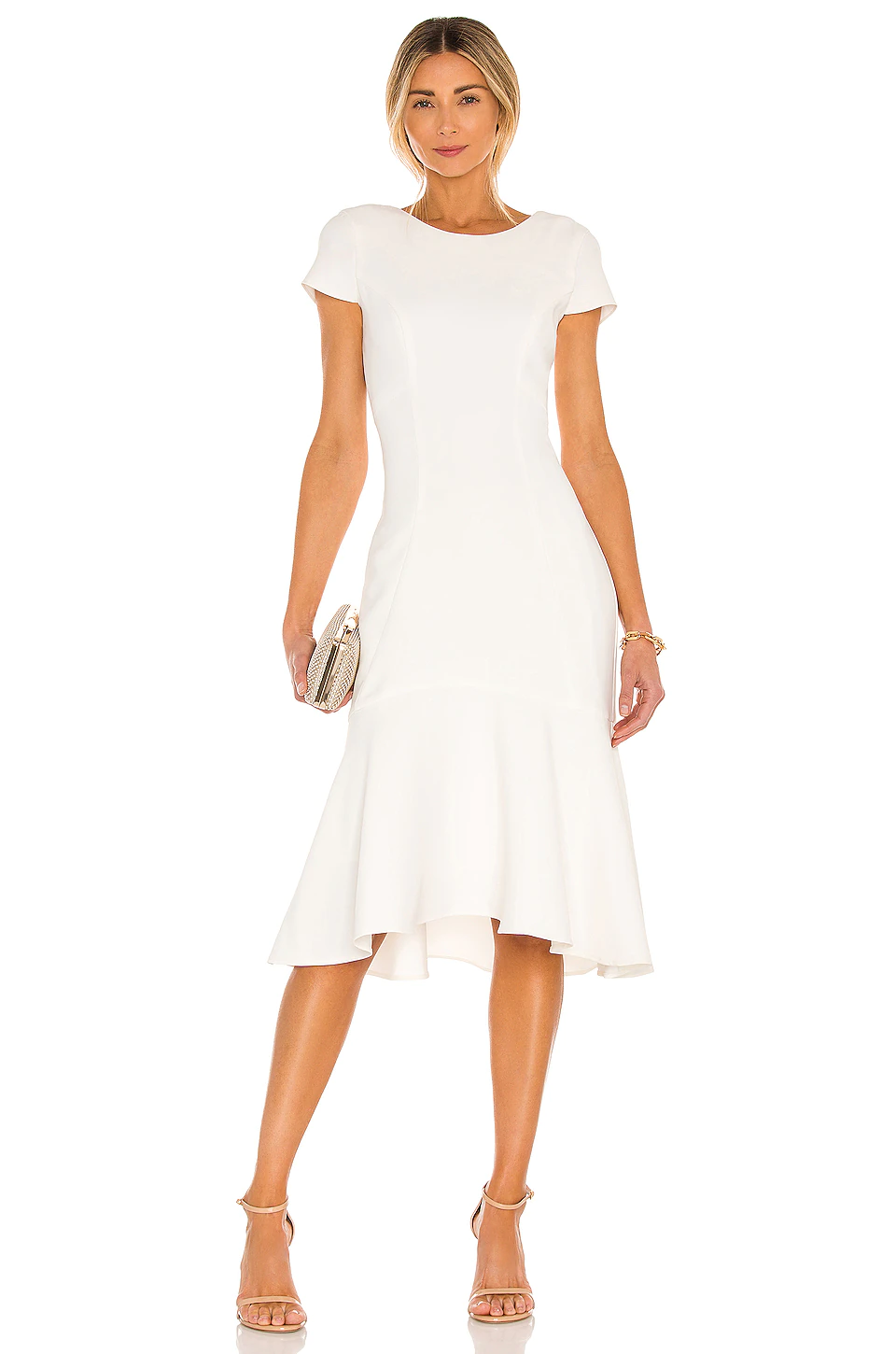 Show The F Up Dress $275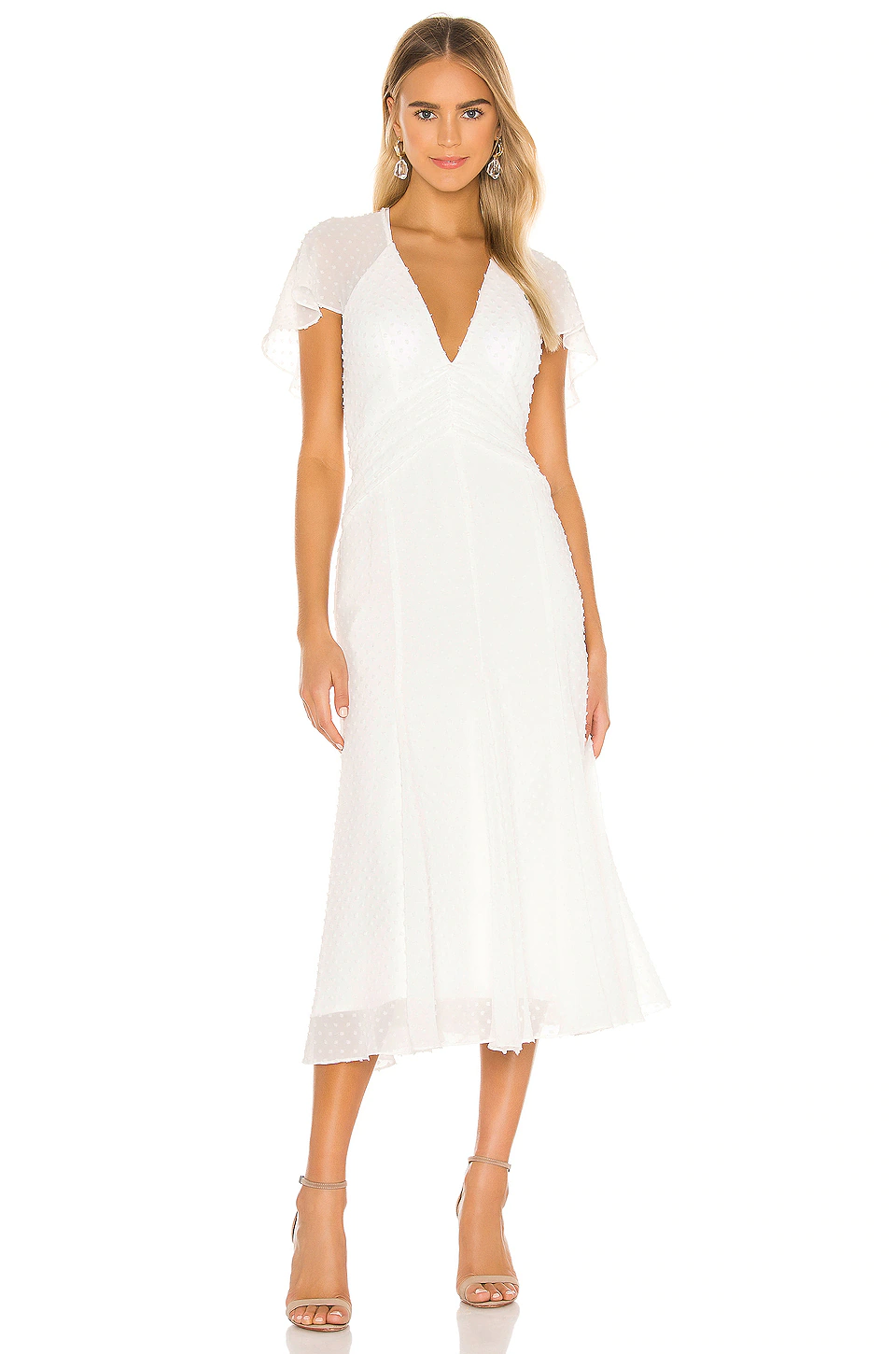 Lace White Bridal Shower Dresses
Lace is a versatile and elegant fabric that can be used to create a variety of dress styles. Often associated with romance and femininity, lace can come in different designs and patterns. This makes it an ideal choice for both bridal showers and weddings.
Lace dresses are both stylish and comfortable, making them perfect for the bridal shower. Additionally, lace dresses are versatile and can be worn again for different occasions after the wedding. They can be dressed up or down, making them suitable for both formal and casual events, making it a great investment piece. So if you want to look great and feel comfortable at your bridal shower, a lace dress is a great option to consider.
White Lace Midi Dress $70 XXS~3XL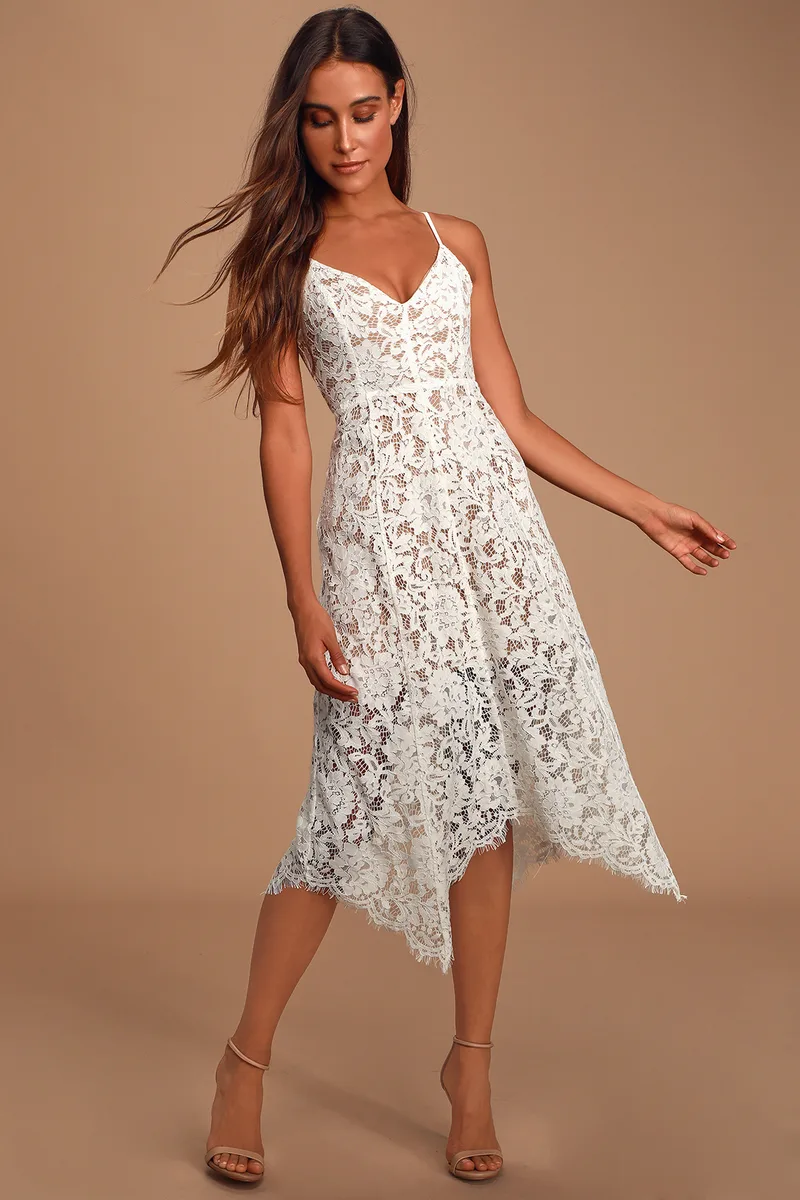 Floral eyelash lace overlay tops a nude stretch knit liner across a triangle bodice with princess seams, and hidden boning.
Brianna Open Back Dress $78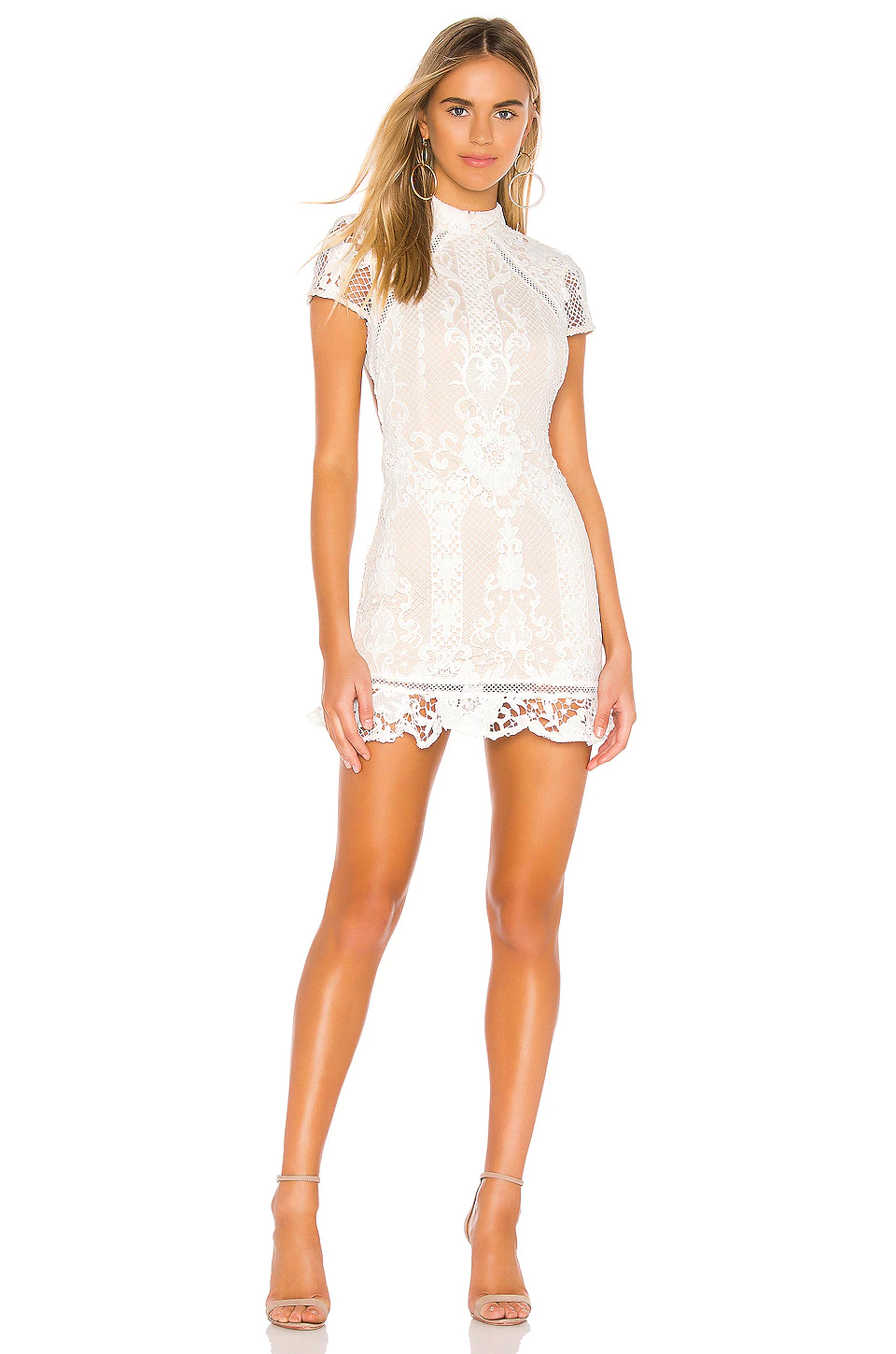 White Lace Short Sleeve Mini Dress $70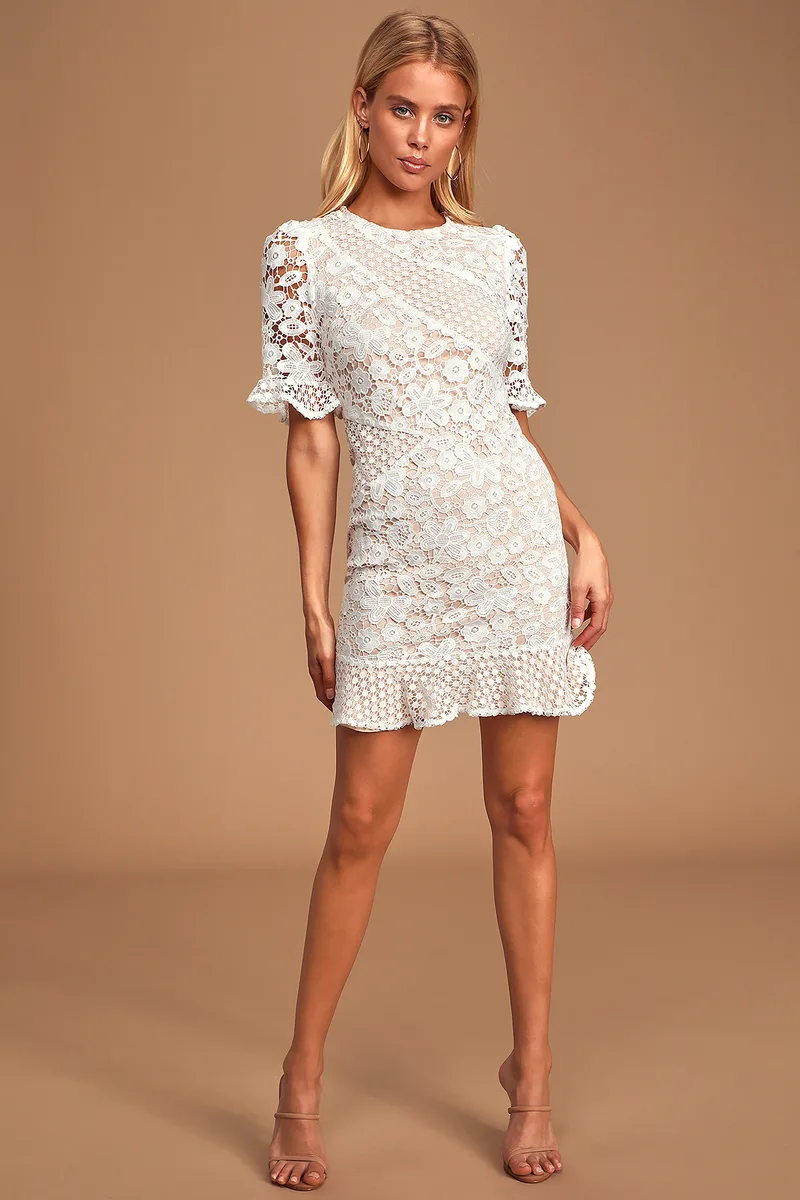 An elegant mixed crochet lace overlay creates a rounded neckline, short flounce sleeves, and a darted bodice, all over a nude knit lining.
Long Sleeves White Dresses For Bridal Shower
Long sleeved dresses are a great way to cover up, especially in the summer months when you don't want to be showing off your arms. Long sleeves can also be worn in any season. If a dress is too short for your liking, long-sleeved shirts or jackets are an easy way to add more coverage without having to worry about stifling heat or cold temperatures.
Bao Dress $218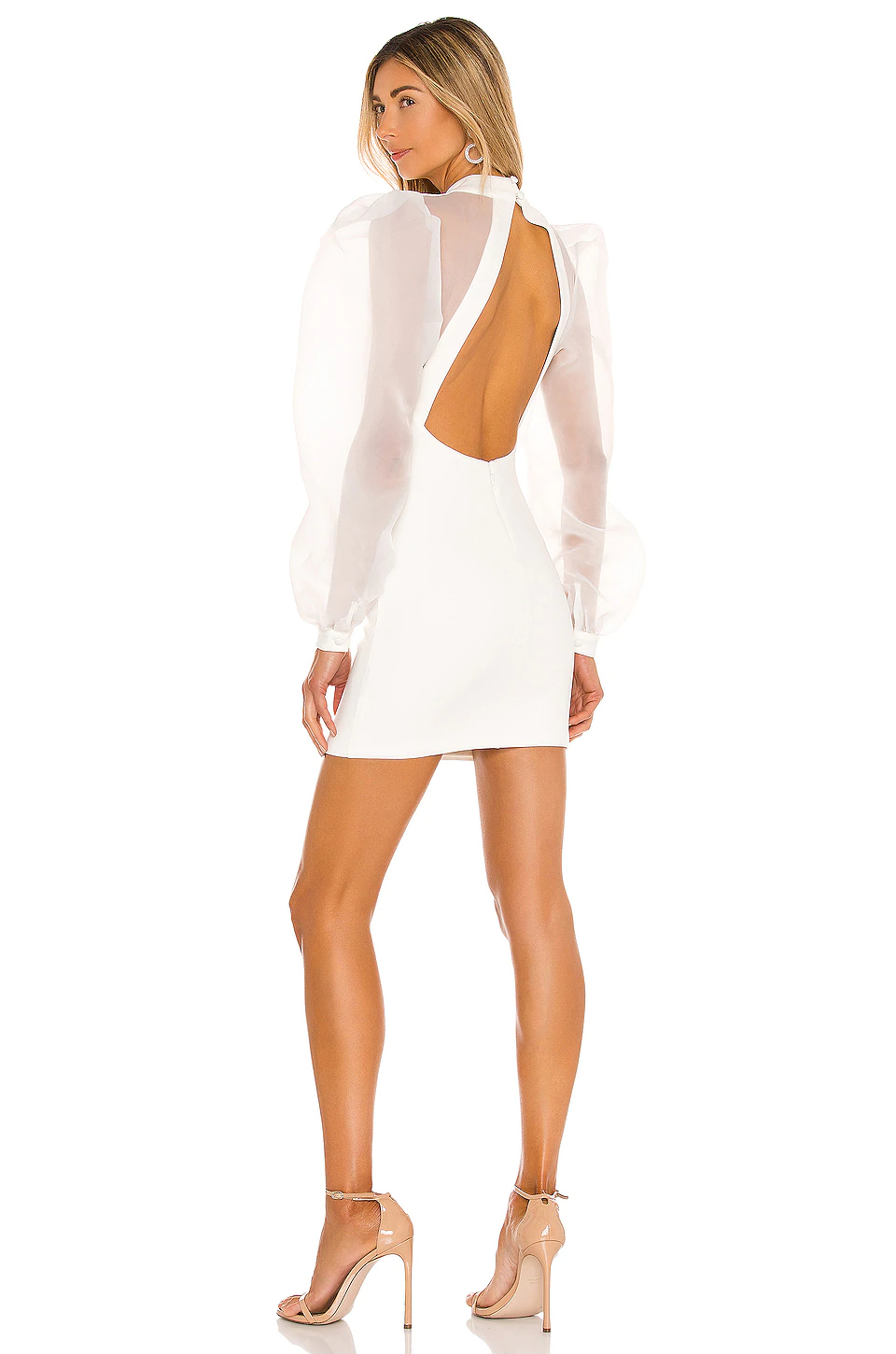 Megan Bridal Midi Dress $595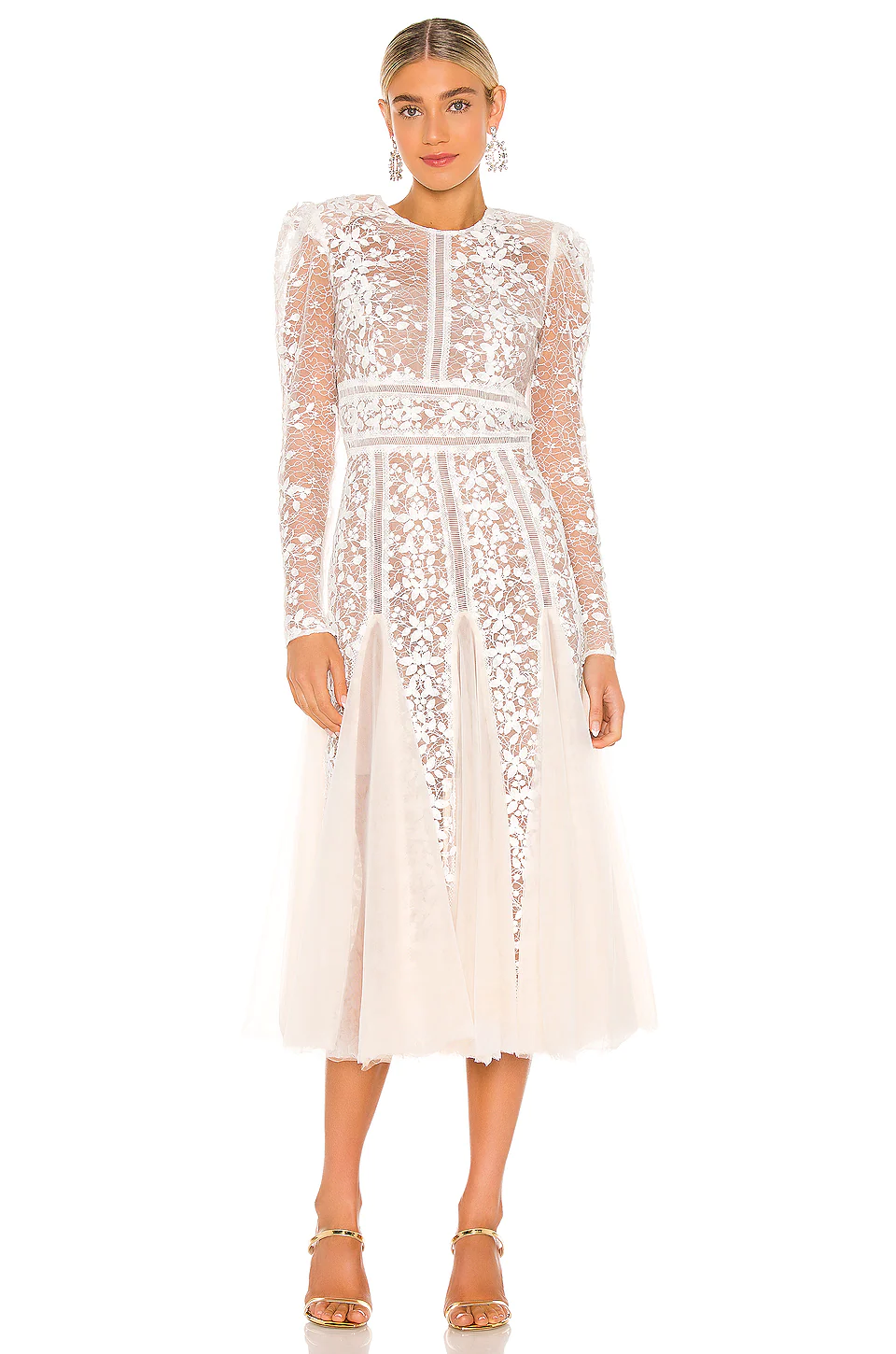 99+ Stunning Bridal Shower and Kitchen Tea Dresses for You: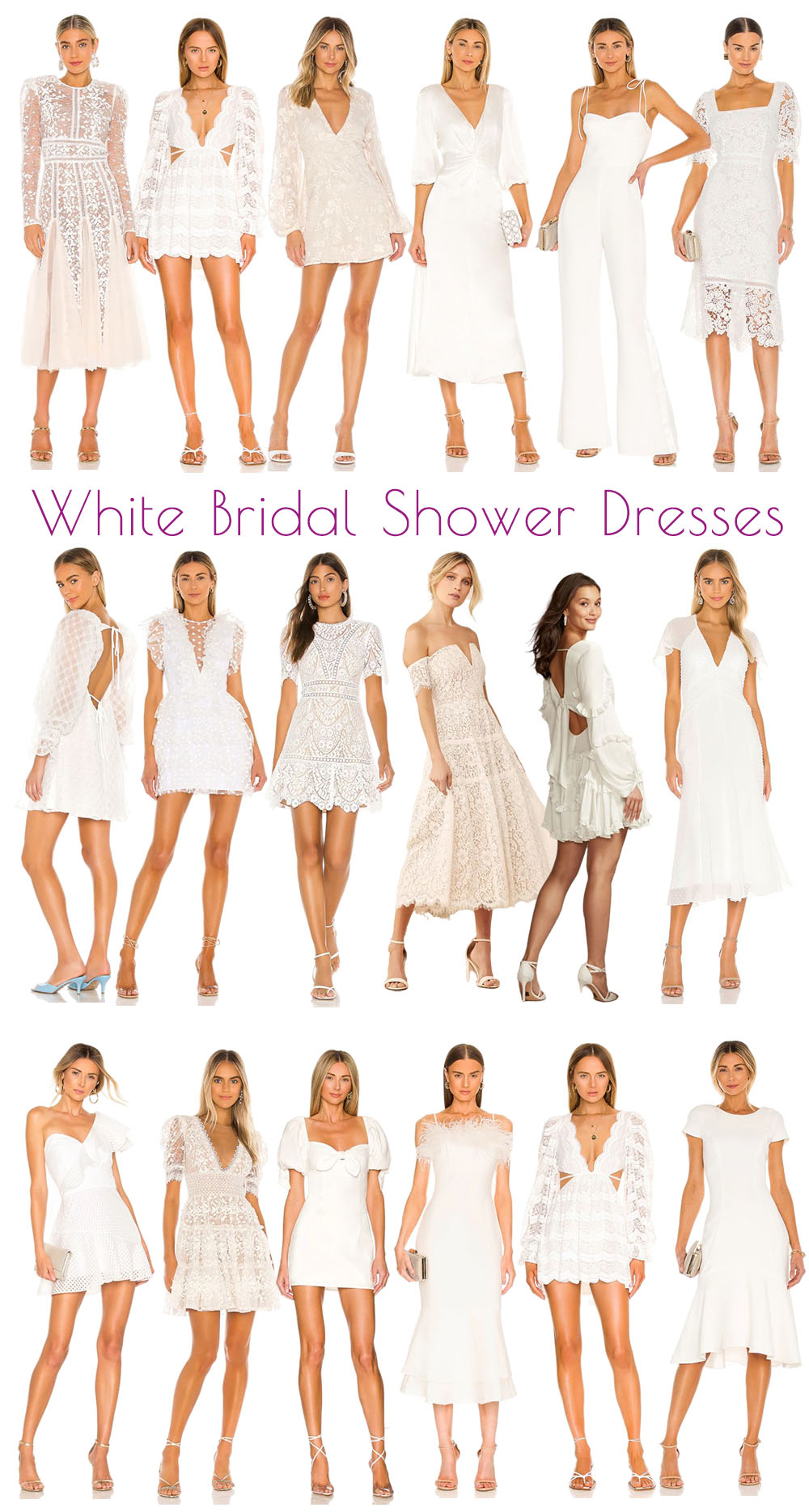 I hope that we were able to provide you with some ideas for dresses at your bridal shower. The best thing about white dresses is that they go with anything! You can wear them on their own or layer them up with other colors to create your own unique style. If you're looking for more inspiration, be sure to check out our other articles on wedding attire and wedding trends.