Top 15 Vintage Rose Gold Engagement Rings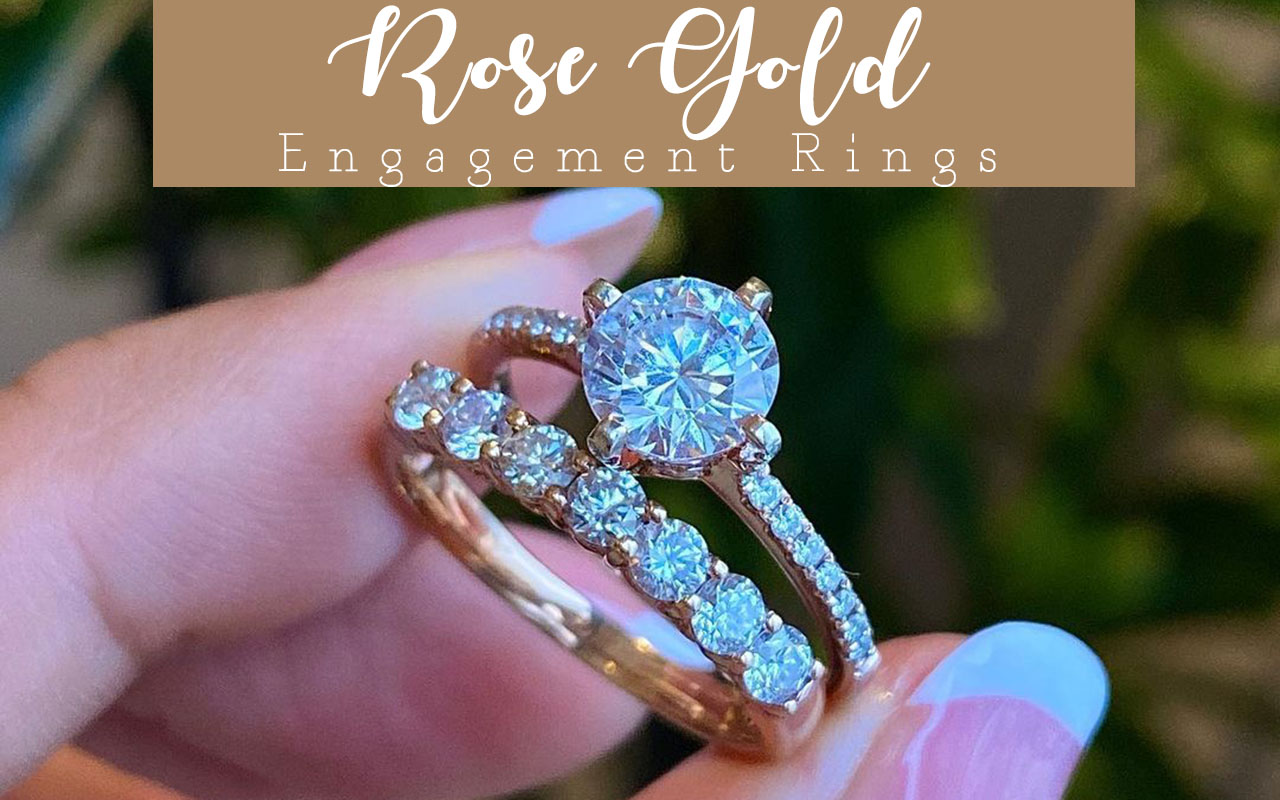 Rose gold is extra special as it is a romantic warm color that shines up any skin tone. And it looks perfect even if you add white or yellow gold for extra spice into your timeless piece collection. The "tri-color" of white, yellow, and rose gold is the best combination on the fashion scene until nowadays
Rose gold gets its color when you mix pure gold, copper alloys, and a small amount of silver. The more copper, the redder the piece; and the less copper, the pinker. Rose gold became popular during the Victorian age and the 1920s. which is full of highly artistic, lavish lifestyles. In the 1920s particularly, the stylish women enjoy dazzling jewels, it is inspired to add more color, jewelers of that time were more creative and added warmth and femininity by using rose gold.
Another reason we love rose gold is how it looks in a vintage style. Rose gold doesn't tarnish, but it can appear darker after many years due to the copper part of the rose gold darkening. Many people seek this out for a more vintage look for their jewelry! So we say go with a vintage style to amplify this effect on your jewelry!
Rose gold doesn't tarnish, and after years it appears darker, equal to the more vintage look it is for the jewelry. It's why many people love rose gold when they choose to go with vintage style! Check out our Vintage and Accented Rose Gold Engagement Rings for your very own elegant piece of fine jewelry.
1.02 Carat K-SI2 Pear Shaped Diamond 1.5mm Comfort Fit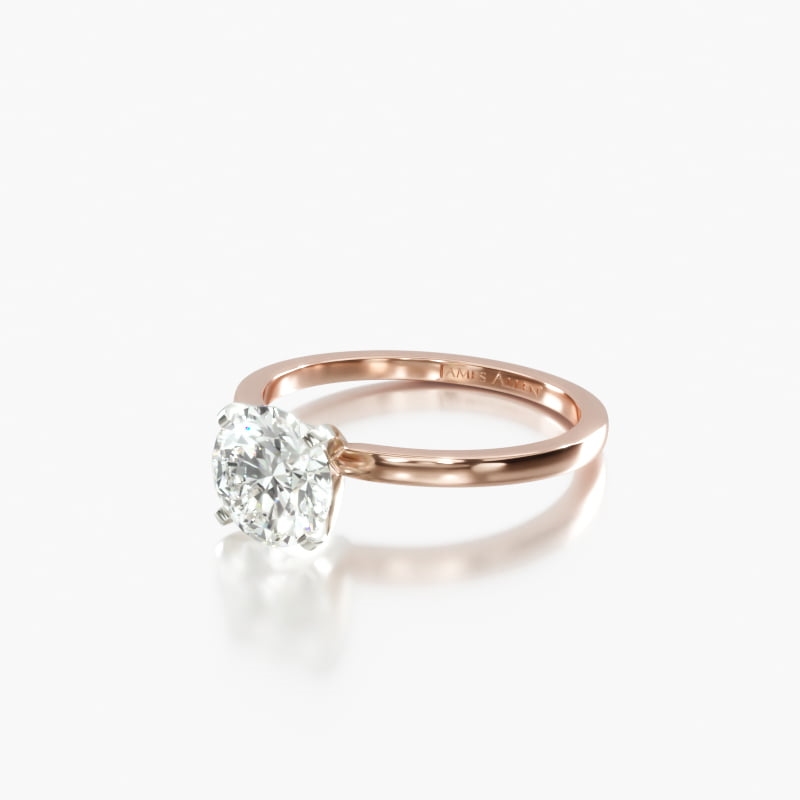 2. Rose Gold Engagement Ring with Aquamarine and Diamond Twisted Vine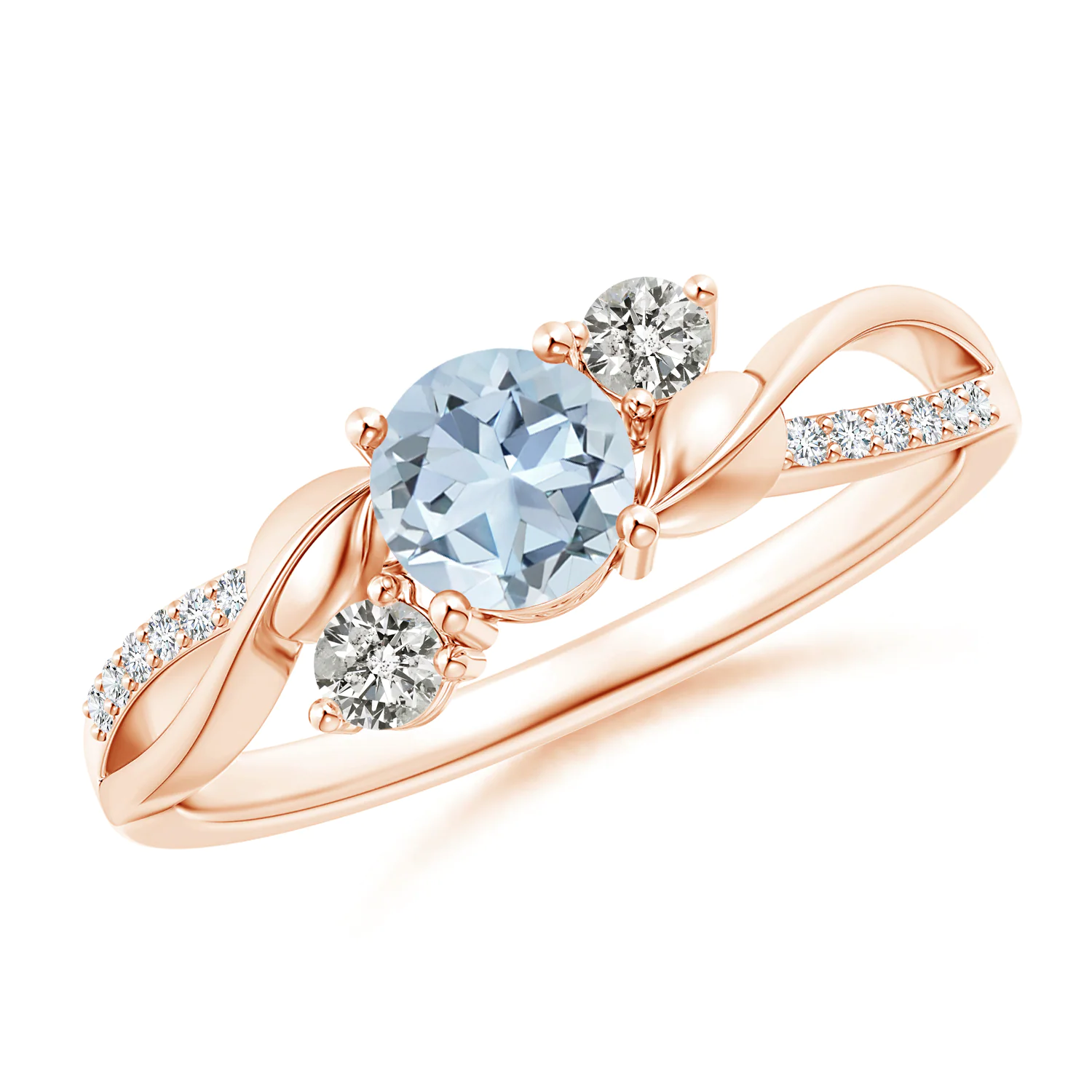 3. Petite Twisted Vine Diamond Engagement Ring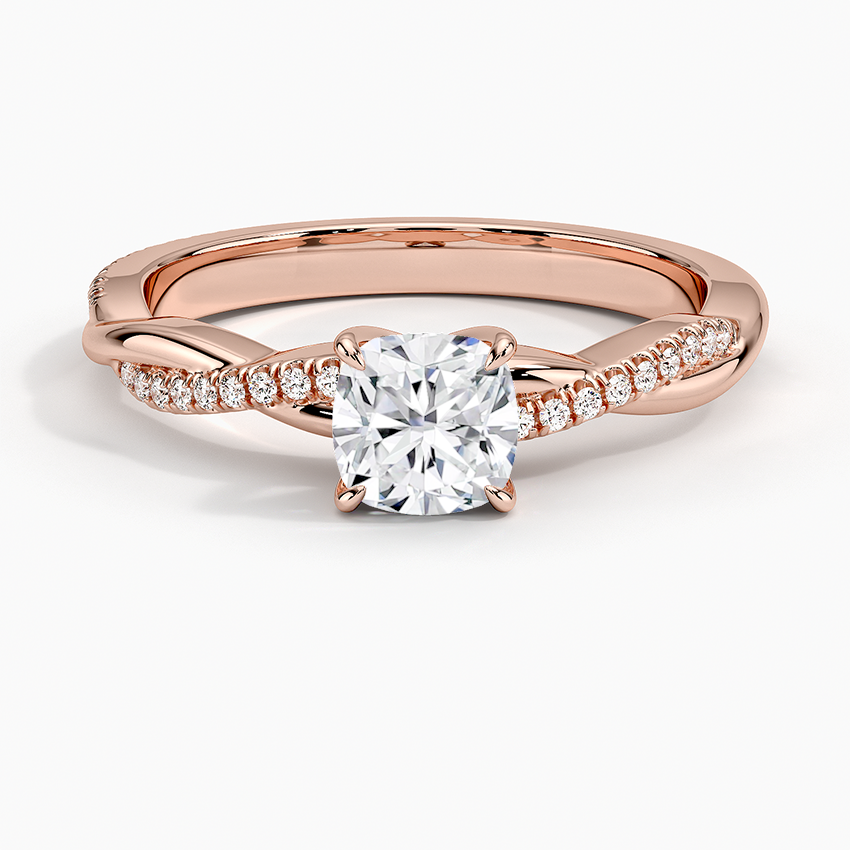 4. Rose gold Victorian 2.4ct diamond Engagement ring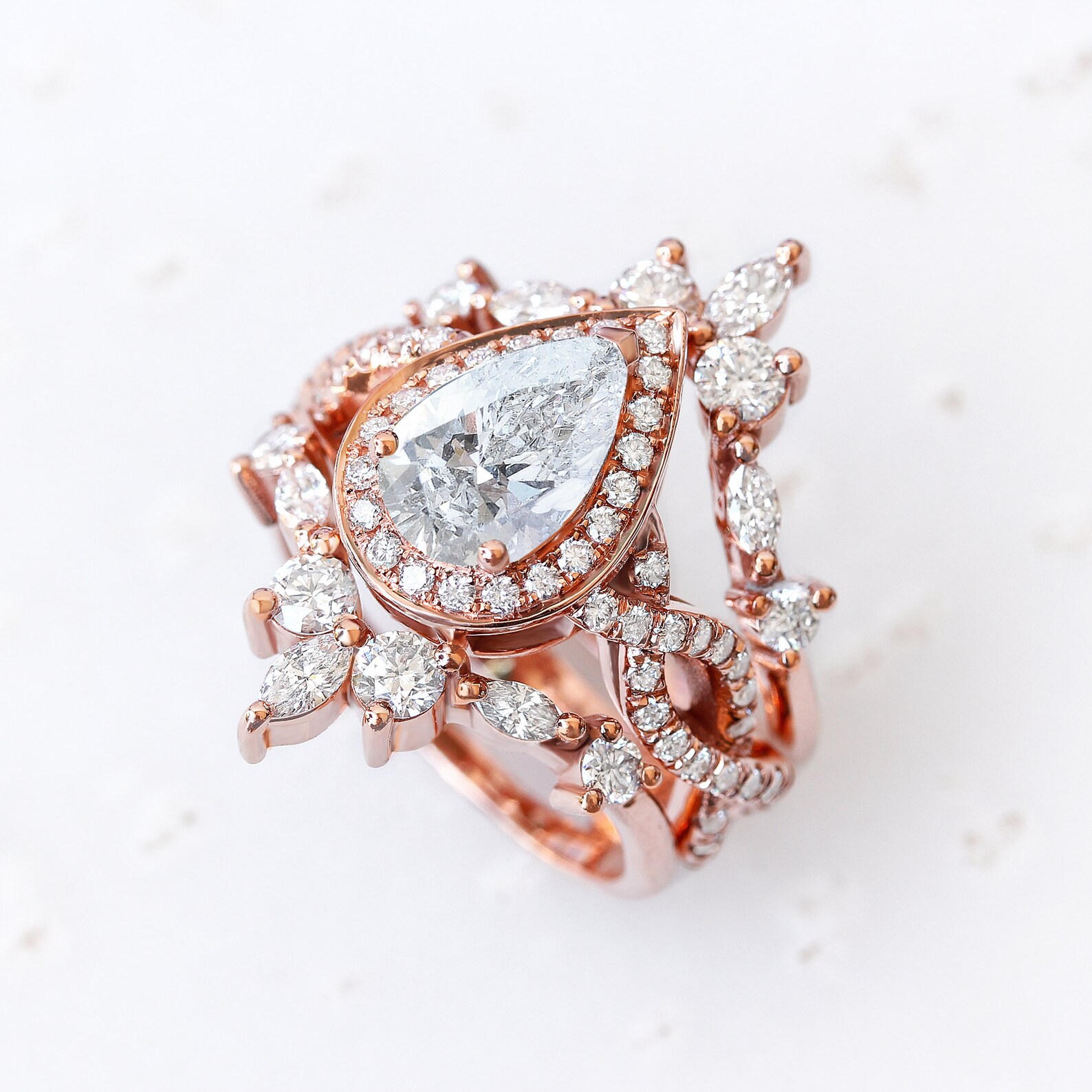 5. Pear Morganite 3 carat Diamond Halo & flowers Engagement Ring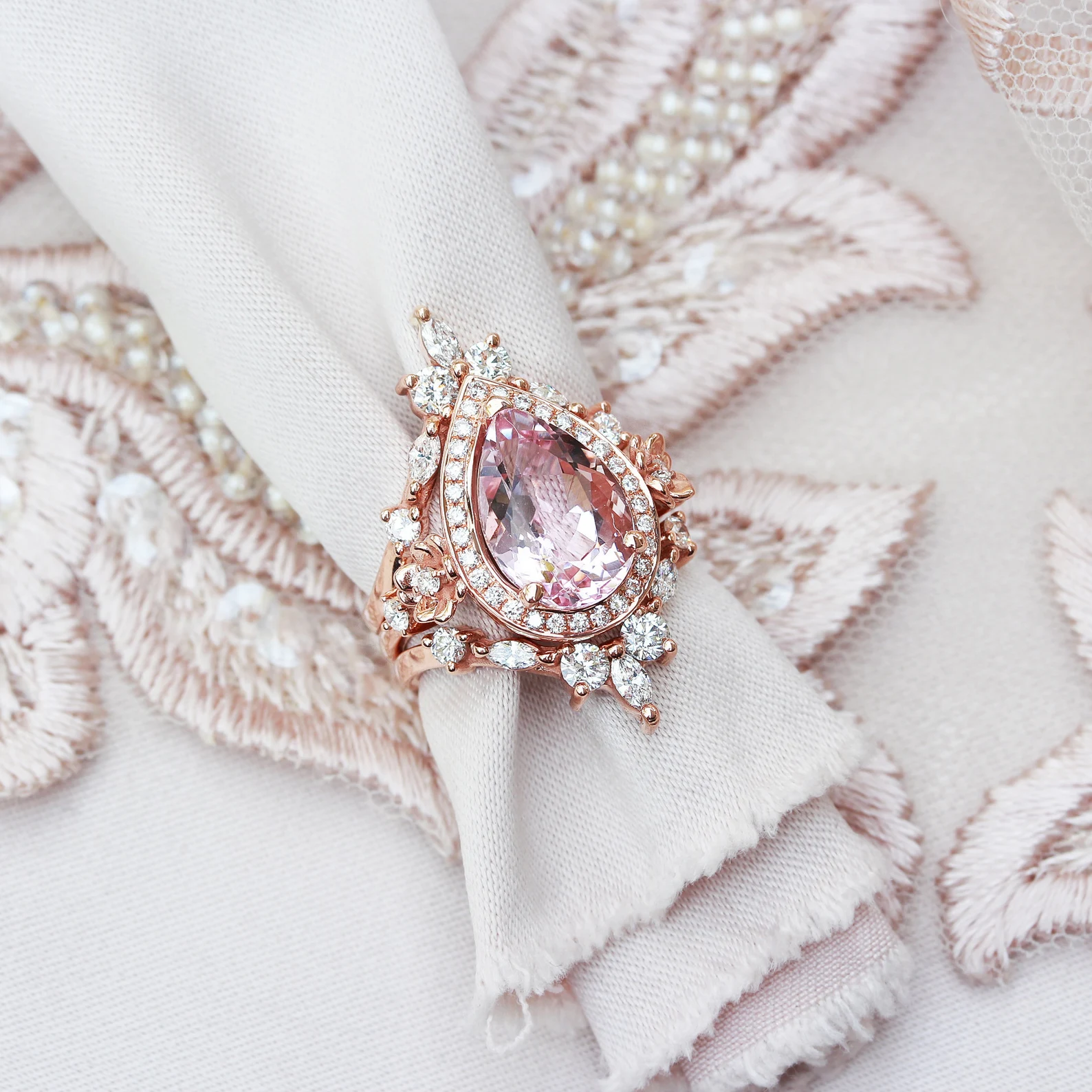 6. Oval Diamond Frame Twist Engagement Ring in 14K Rose Gold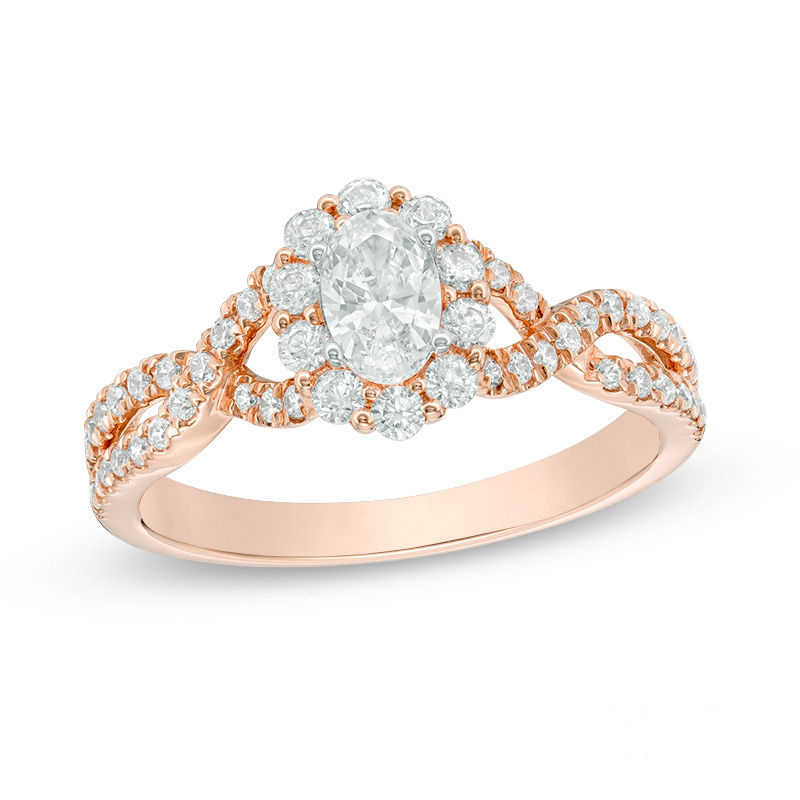 7. Rose Gold Engagement Ring Hexagon Cut Morganite Ring Set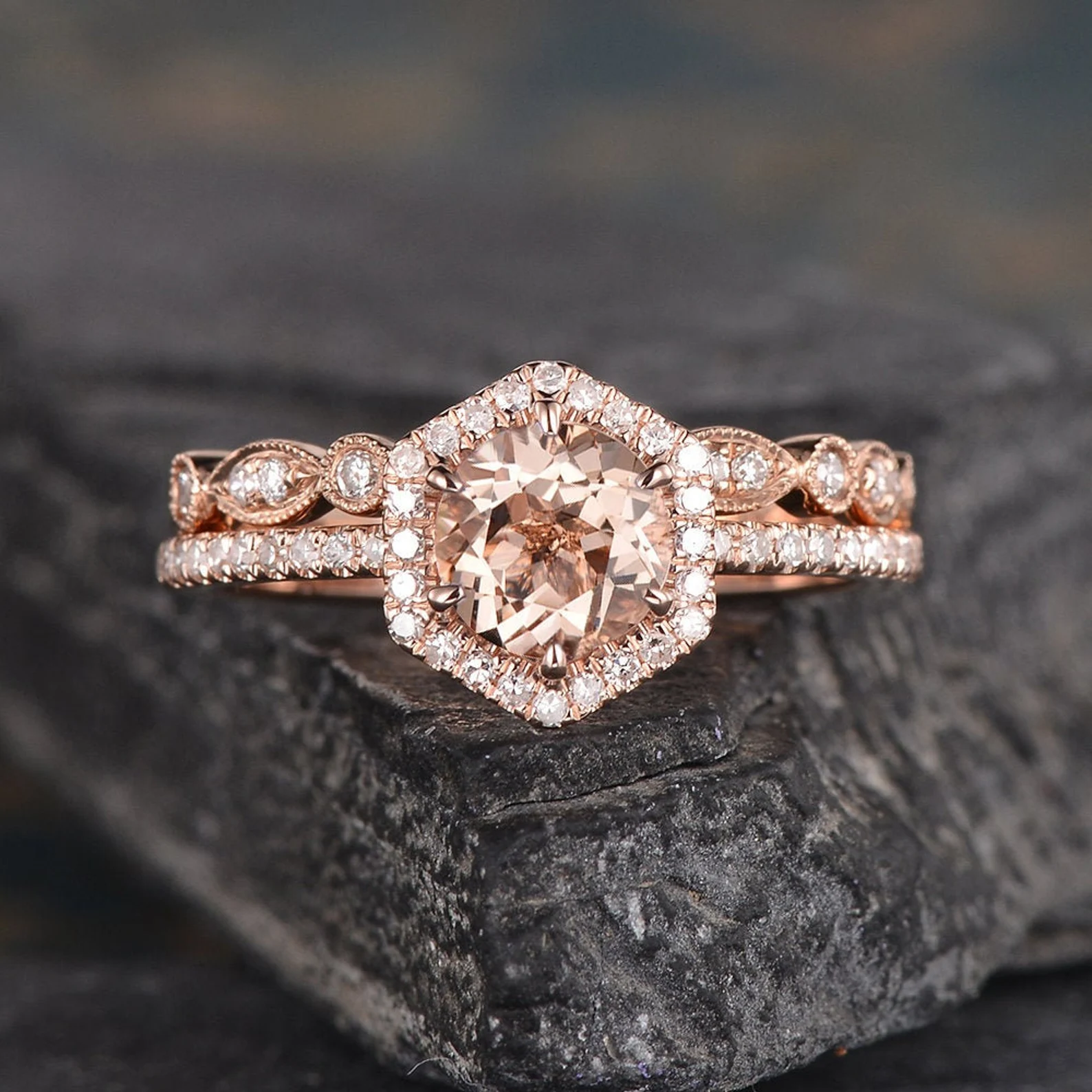 8. Hidden Halo Bridal Set Rose Gold Engagement Ring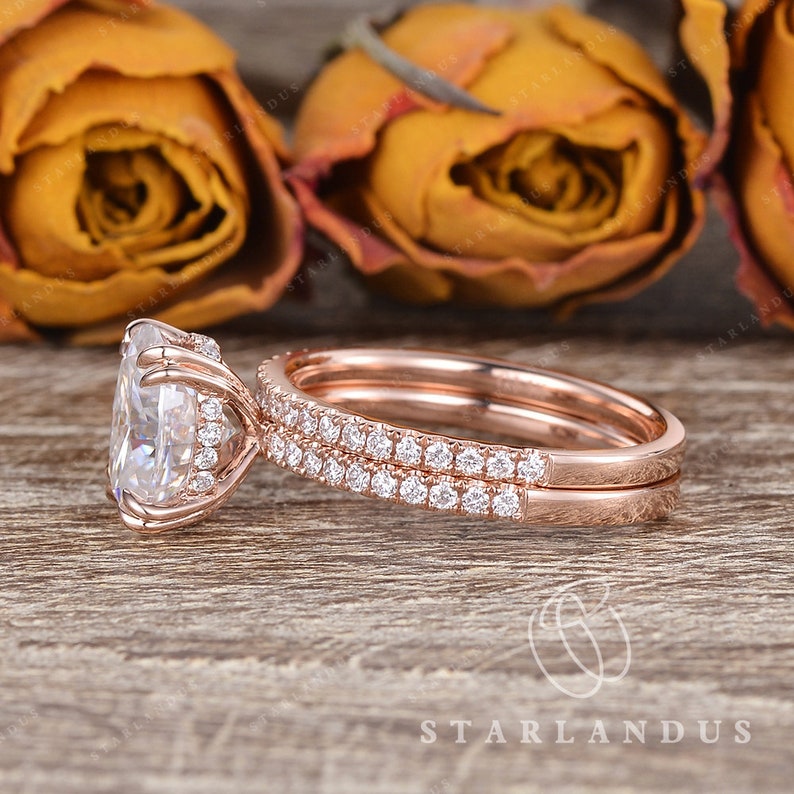 9. Pear morganite diamond cluster engagement ring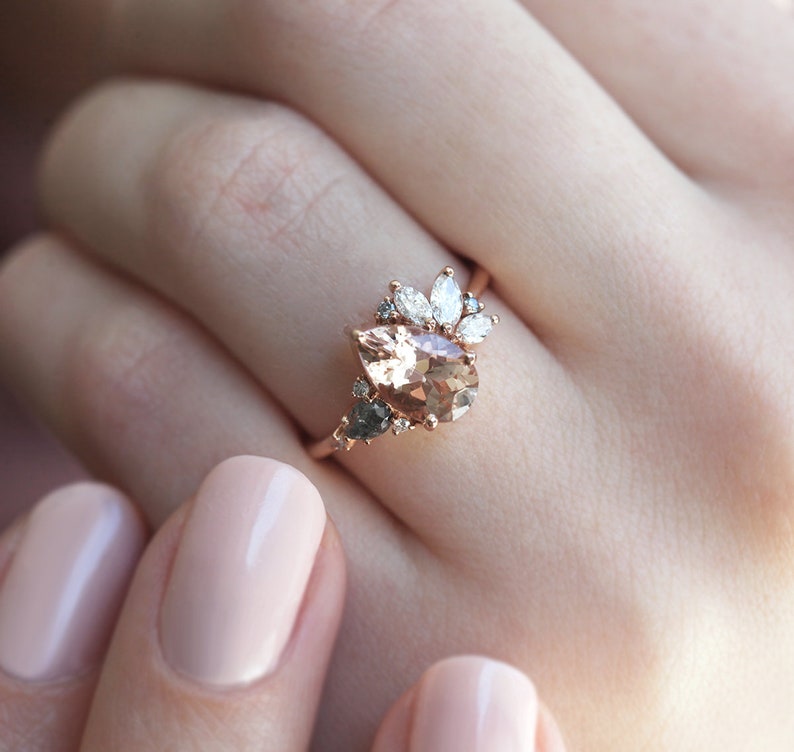 10. Champagne Peach Sapphire & Diamond Engagement Ring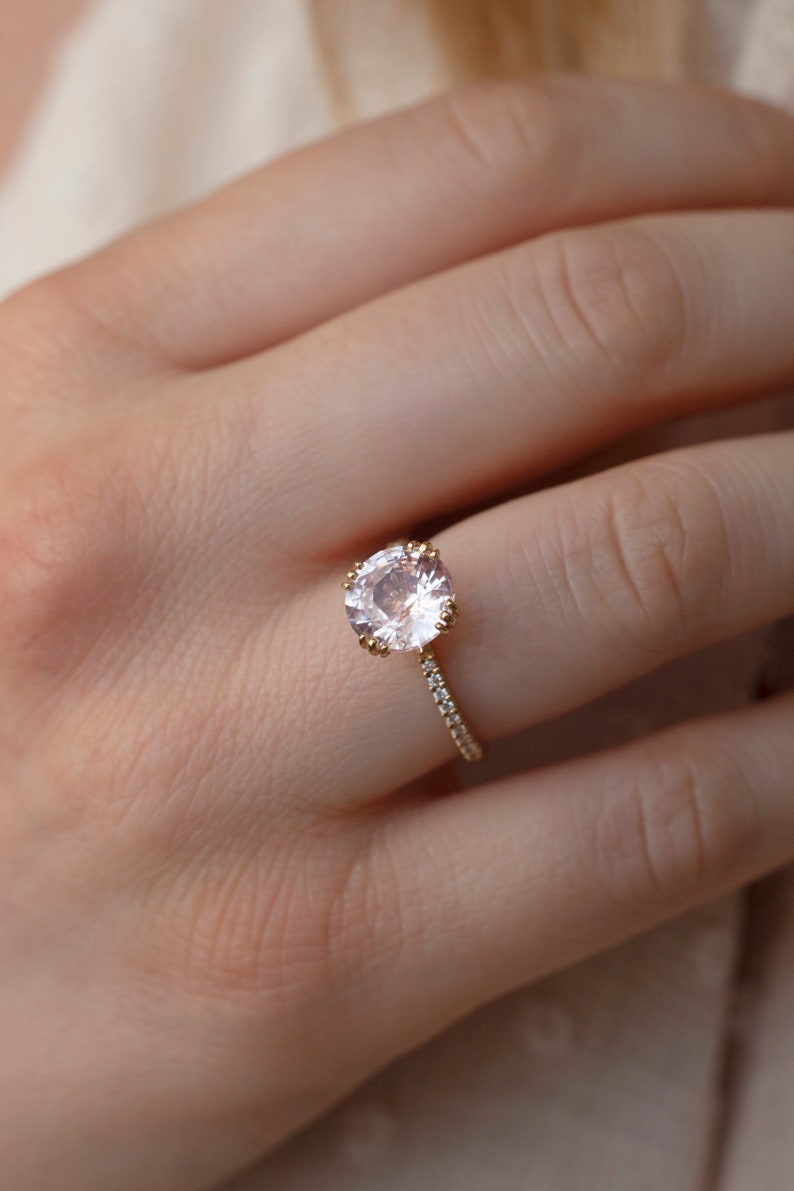 11. Rose Gold Victorian Engagement Ring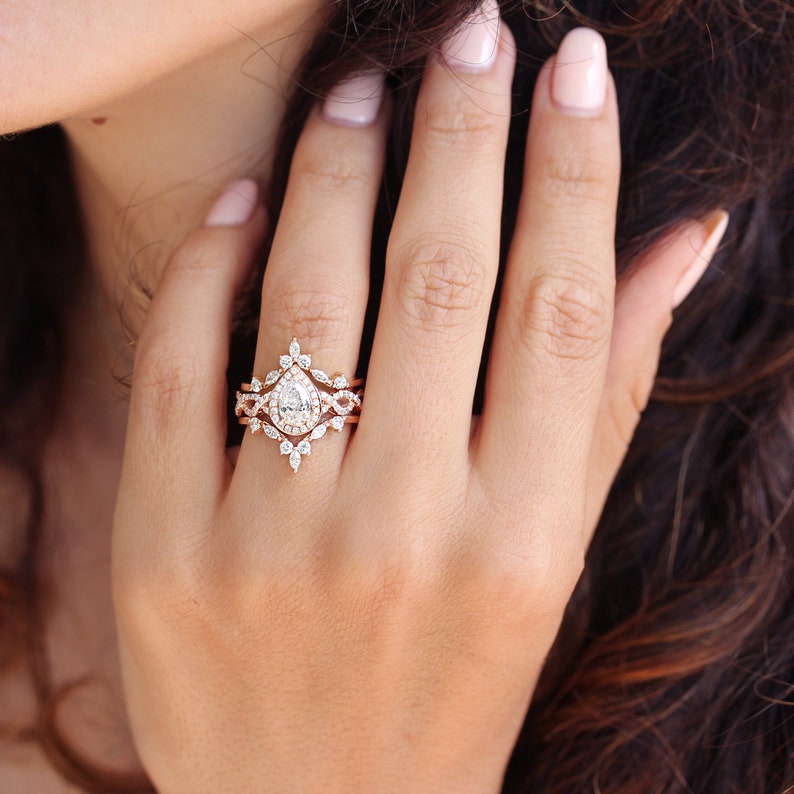 12. Rose Gold Engagement Ring 0.80CT Champagne Diamond And Two Drop Diamonds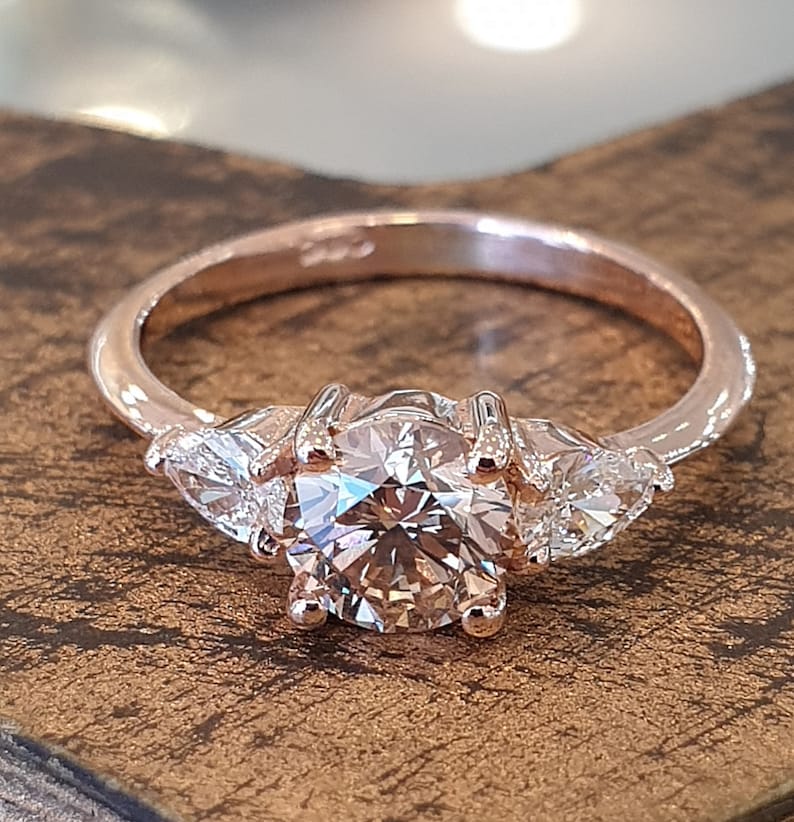 13. 14k Rose Gold 2 Carat Pink Diamonds Morganite Engagement Ring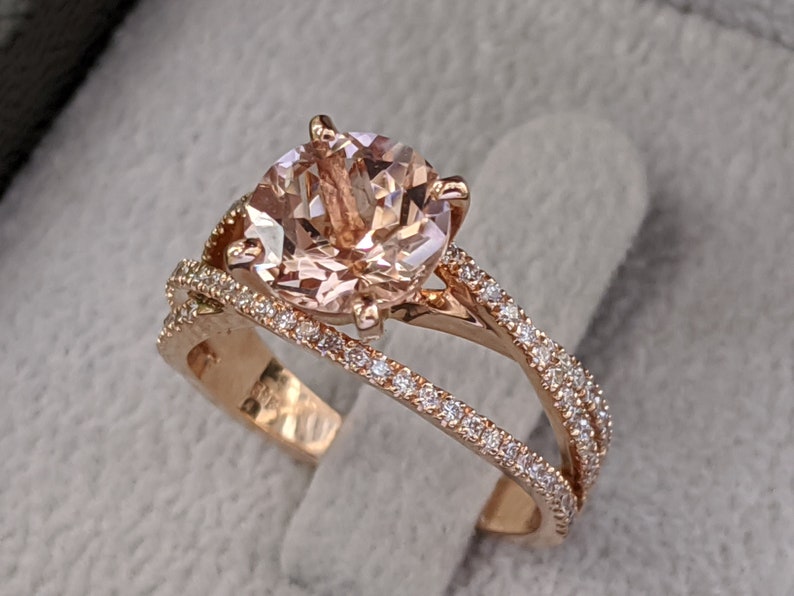 15. 3 Carat Cushion Rose Gold Morganite Engagement Ring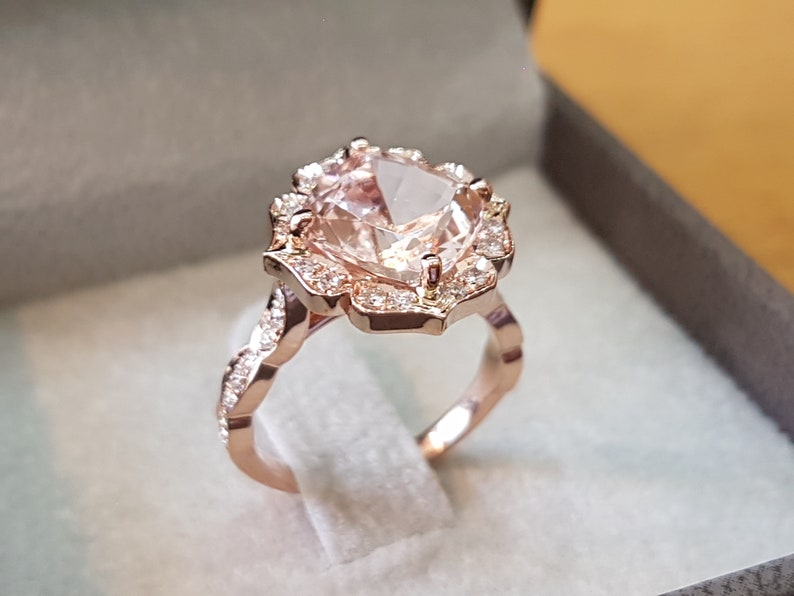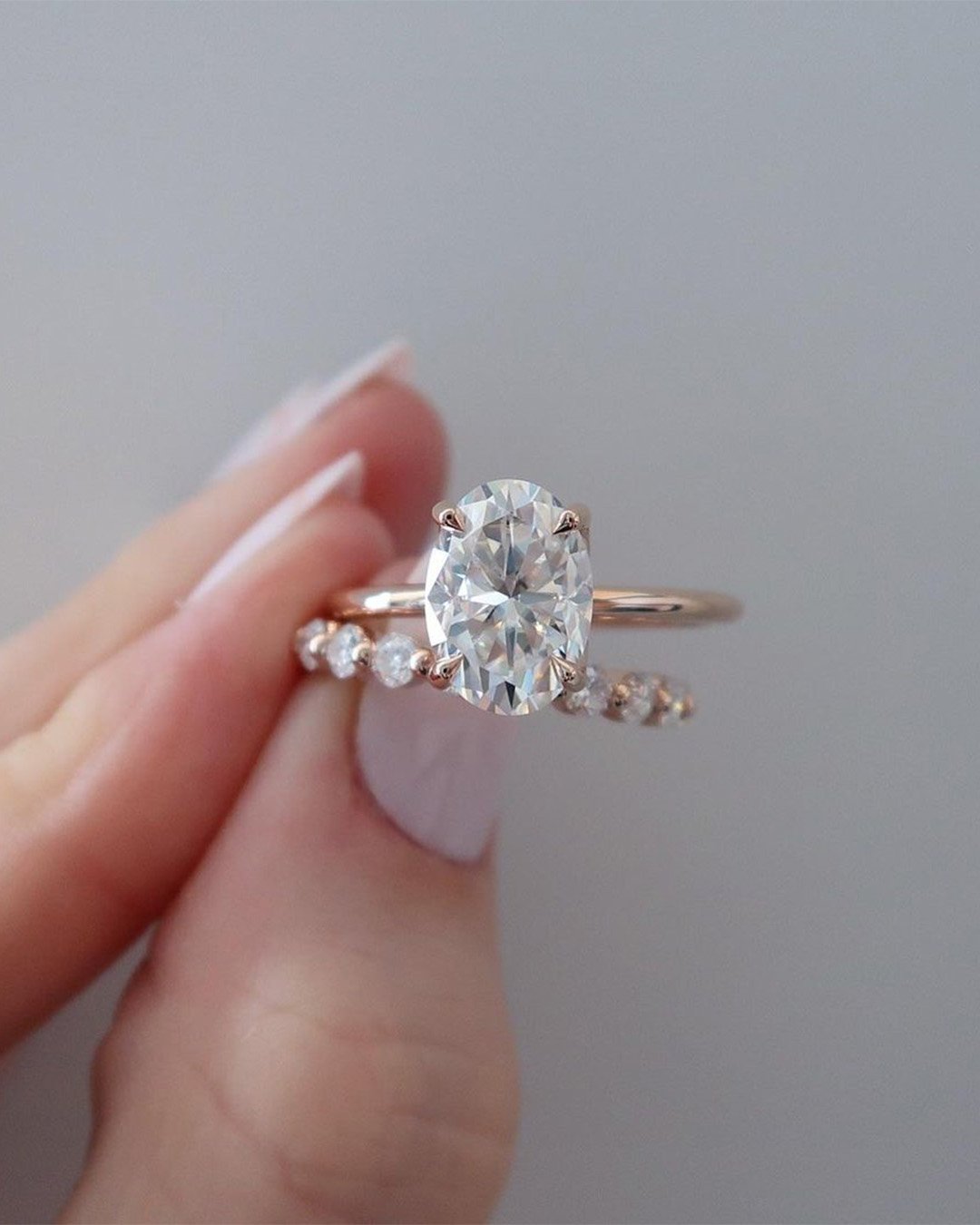 Frequently Asked Questions
Is rose gold a good choice for an engagement ring?
Yes, rose gold is a great choice for an engagement ring. It is a timeless and romantic metal that complements all skin tones, and it is also hypoallergenic and durable.
How do I care for my rose gold engagement ring?
To care for your rose gold engagement ring, you should clean it regularly with a mild soap and warm water, and then dry it thoroughly with a soft cloth. You should also polish it regularly using a polishing cloth specifically designed for gold jewelry. Additionally, it is important to avoid exposing your ring to harsh chemicals, such as chlorine, which can discolor and damage the metal.
Can I have other stones set in my rose gold engagement ring?
Yes, you can have other stones set in your rose gold engagement ring. Popular choices