14 Dark Green Emerald Wedding Colors & Palettes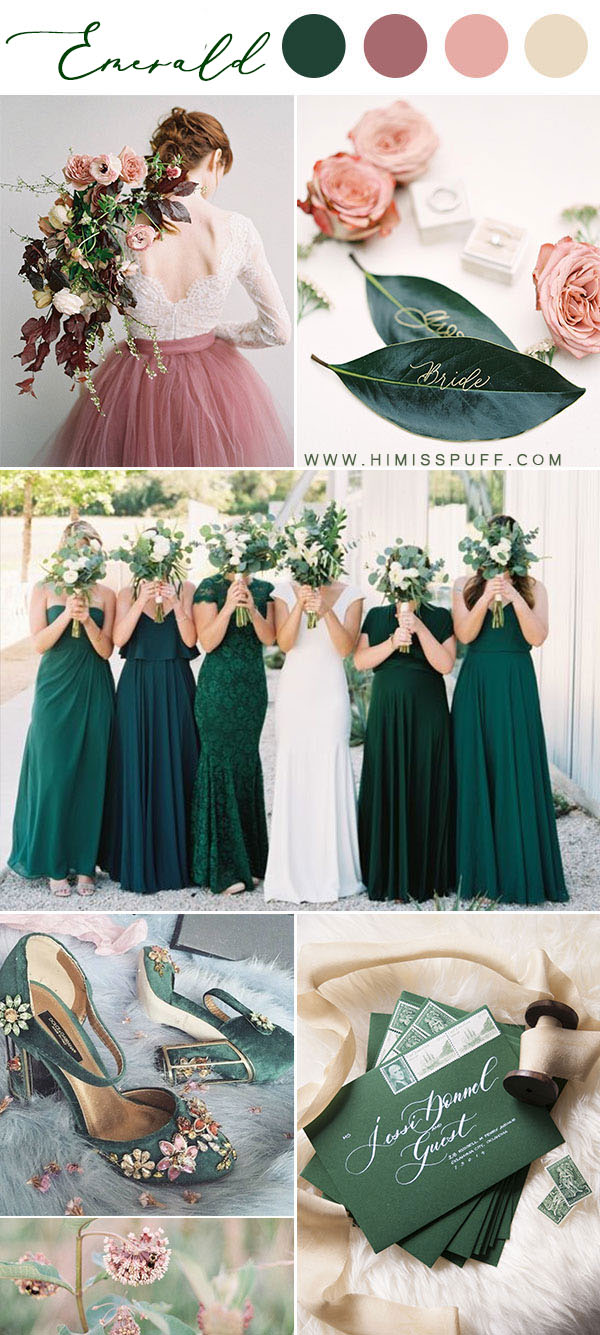 Like aquamarine, emerald is a variety of beryl, a mineral that grows with six sides and up to a foot in length. Emerald color can range from light green (though there is some argument whether these very light beryls are truly emeralds) to a deep, rich green. Emeralds are also like aquamarine in that the way the color is presents itself in jewelry depends on a good cut by a skilled gemologist.
Most emeralds end up being heat treated to deepen or enhance the color. The deeper or more green an emerald, the more valuable it is. The rarest emeralds will appear to be an intense green-blue.
Emerald Green + Ivory
When you're planning your wedding, one of the most important aspects to consider is the color scheme. The color of your table linens and flowers can make or break a room's overall feel, so it's important that you choose colors that are in sync with what you want to achieve.
When it comes to Emerald Green and Ivory, this color combination is perfect for a romantic setting that can be enjoyed year round! If you're planning an outdoor summer wedding, our Emerald Green Tableware will add the perfect amount of elegance without overpowering other floral arrangements or decorations on site. For winter weddings, our Ivory Linens set off by candlelight will give guests an unforgettable experience as they enjoy dinner and dancing under the stars at nightfall.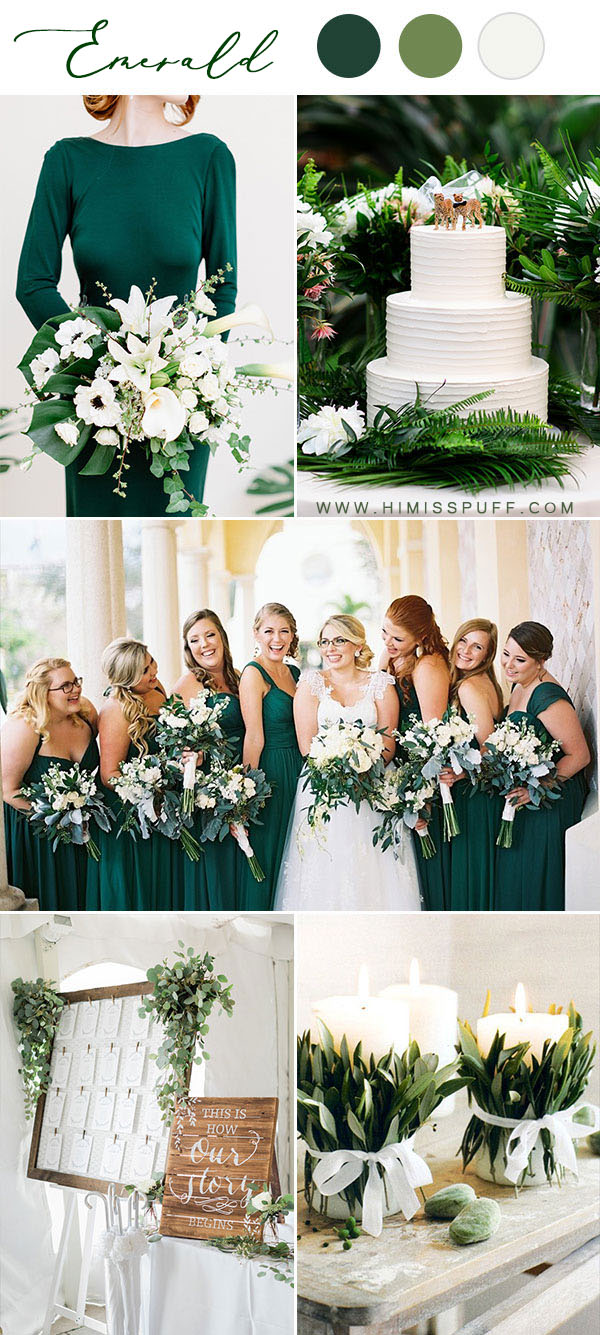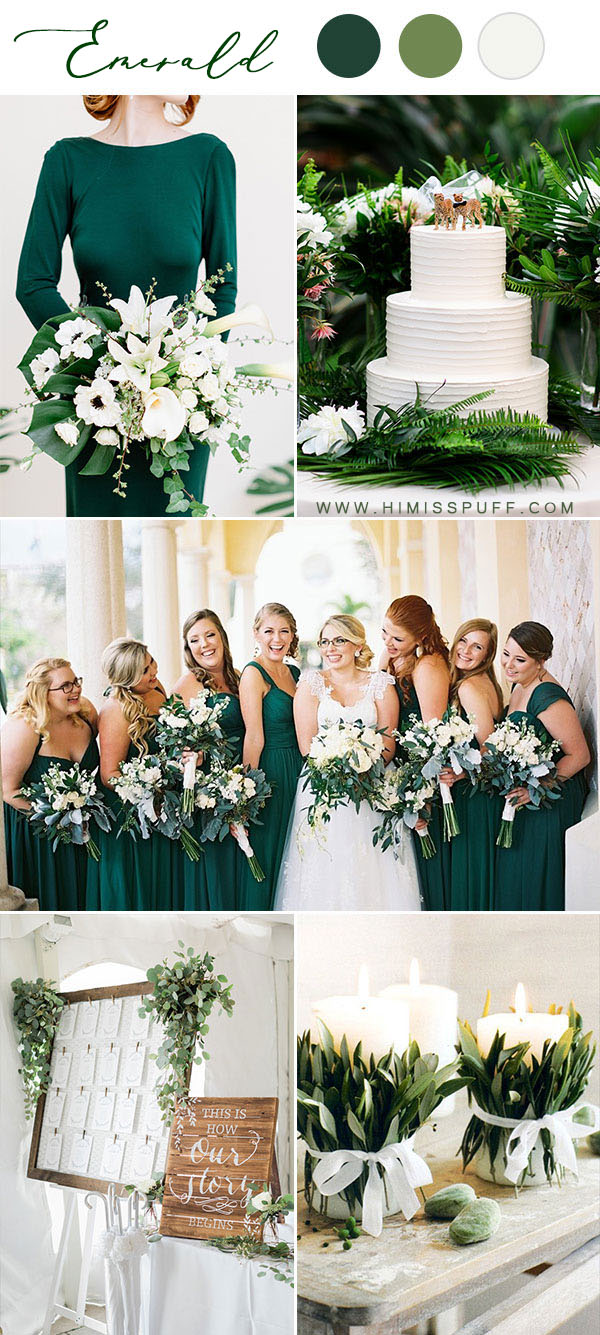 Emerald Green + Burgundy
Emerald green and burgundy are a great color combination to ponder at your wedding. The two look amazing together, and the contrast between these two colors looks elegant and stylish. This combination can be used for bridesmaid dresses or for table cloths, napkins or other decorations. If you want to add some more drama to this color combination then you could use black as an accent color on top of emerald green and burgundy. This will give more elegance to the overall look of both colors since black is usually considered a formal color in weddings.
For example: You can have an emerald green dress with a burgundy belt around it which makes it even more glamorous looking than before!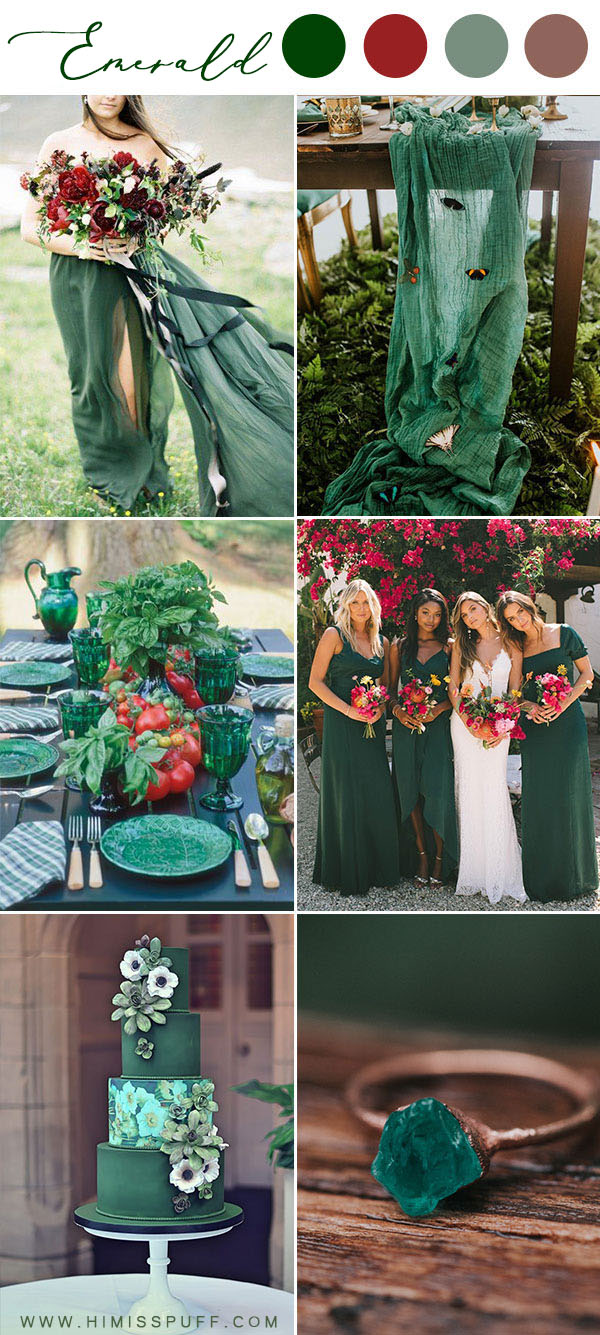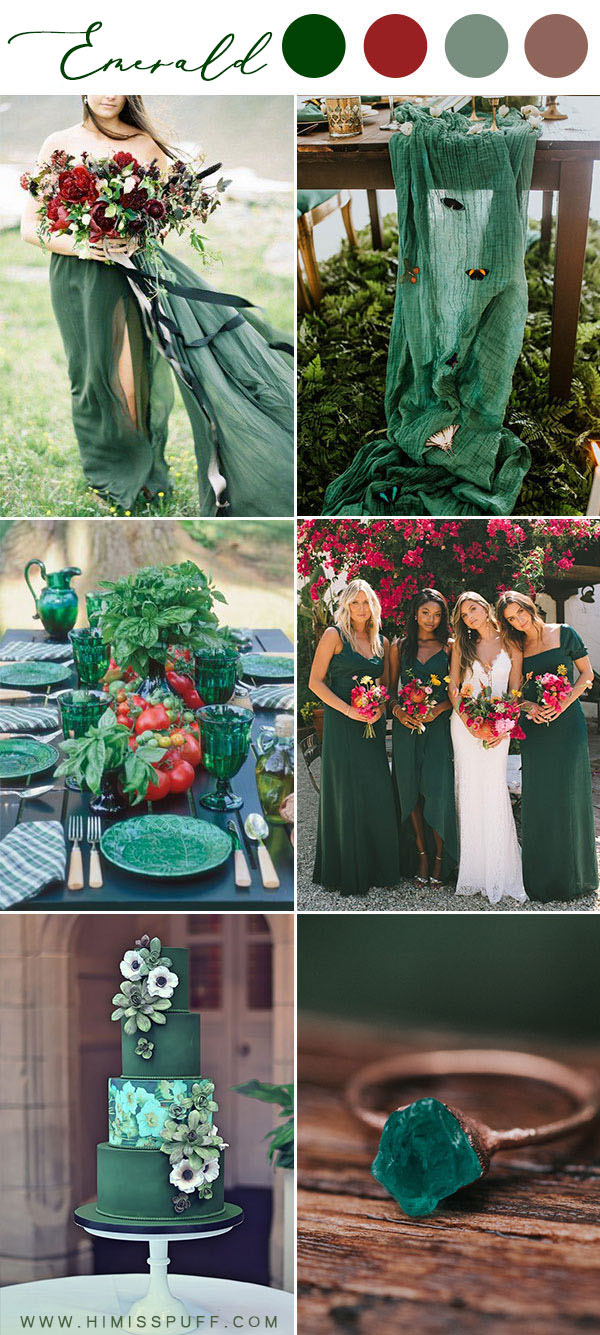 Emerald Green + Pink
If you're looking for the perfect complement to your emerald green wedding palette, pink is a great choice. The combination of pink and green is one that has been done before, but it's always a timeless classic. You can make this color combination truly your own by choosing darker pinks for the flowers and accents in order to keep the palette from getting too bright or overwhelming.
A lighter shade of pink would work well as an accent color on table linens or decor elements in place of white, while a darker shade would be better suited for bridesmaid dresses and groomsmen tuxedo pants (if they are wearing them).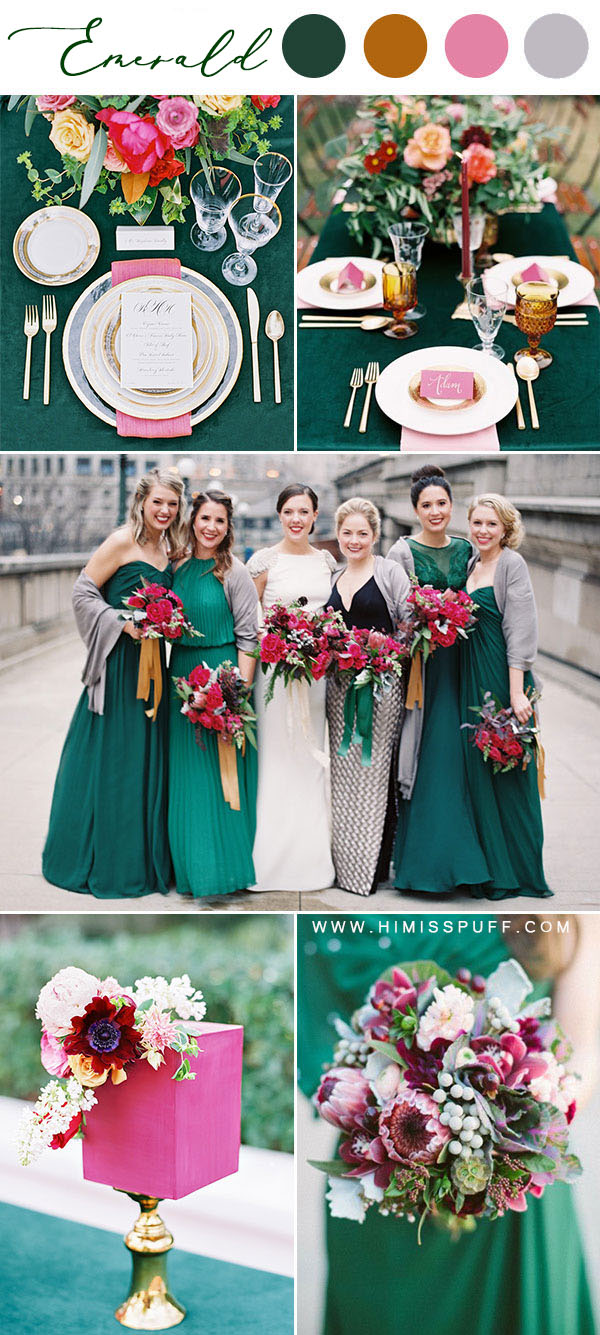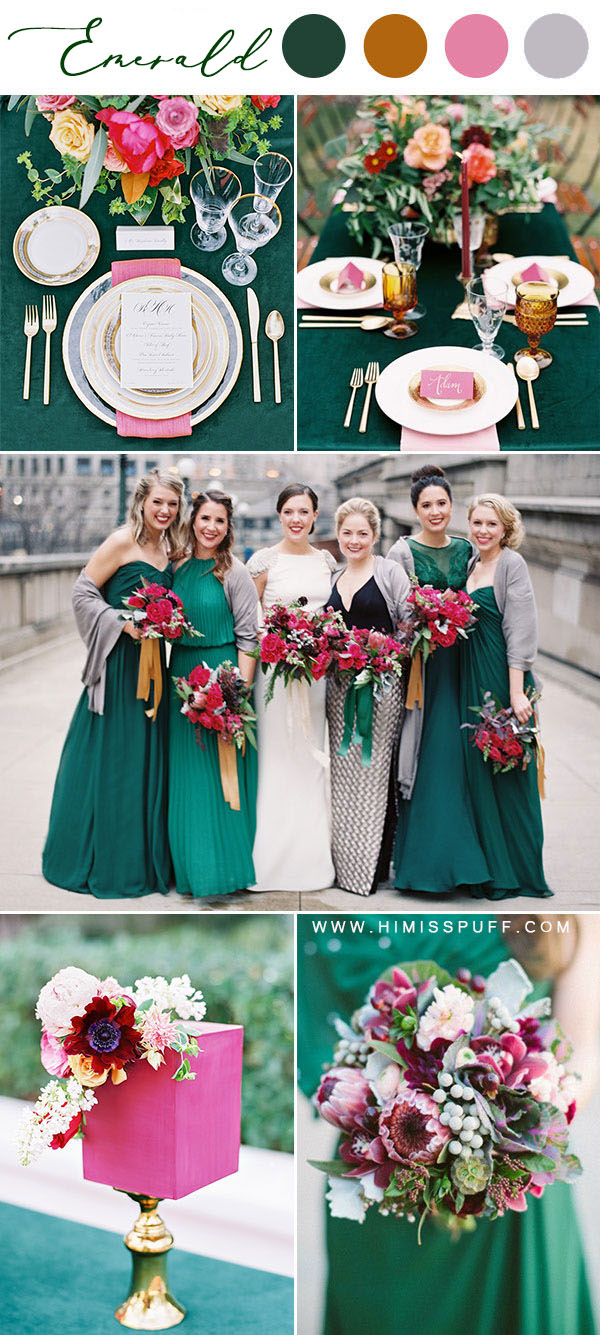 Emerald Green + Rust
For a rustic-inspired wedding, consider using an emerald green and rust color palette. This pairing can be achieved by choosing an emerald green dress for the bride and coordinating it with rust dresses for her bridesmaids (either letting them wear the same color or choosing different shades of orange). For the groomsmen, try khaki pants with a matching colored shirt or tie. If you're hosting a fall wedding, this could also look great in late September or early October when temperatures are still warm but leaves are changing color.
Rustic elements like wood tables and chairs will also add to your rustic theme at your reception venue. You can also incorporate some touches of gold into your décor if that suits your style better than silver would (think metallic tablecloths).
Finally, don't forget about flowers! Rustic bouquets would look amazing against a deep green backdrop—try incorporating red berries from wildflowers during springtime months as well as berries from maples later in fall!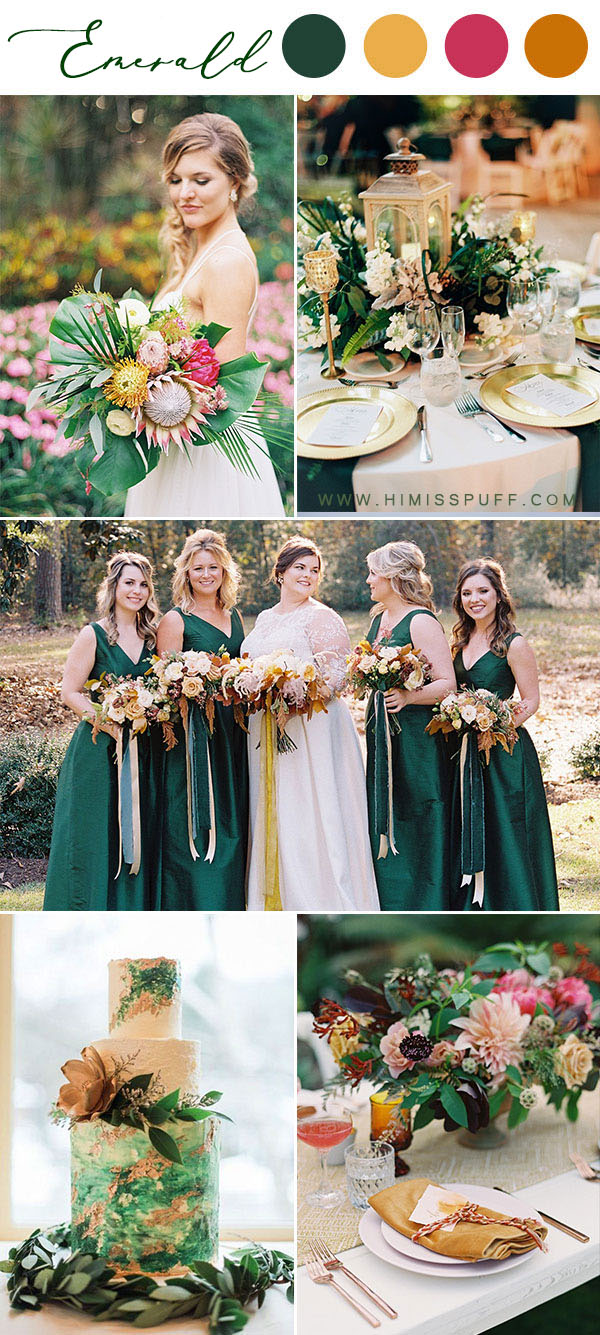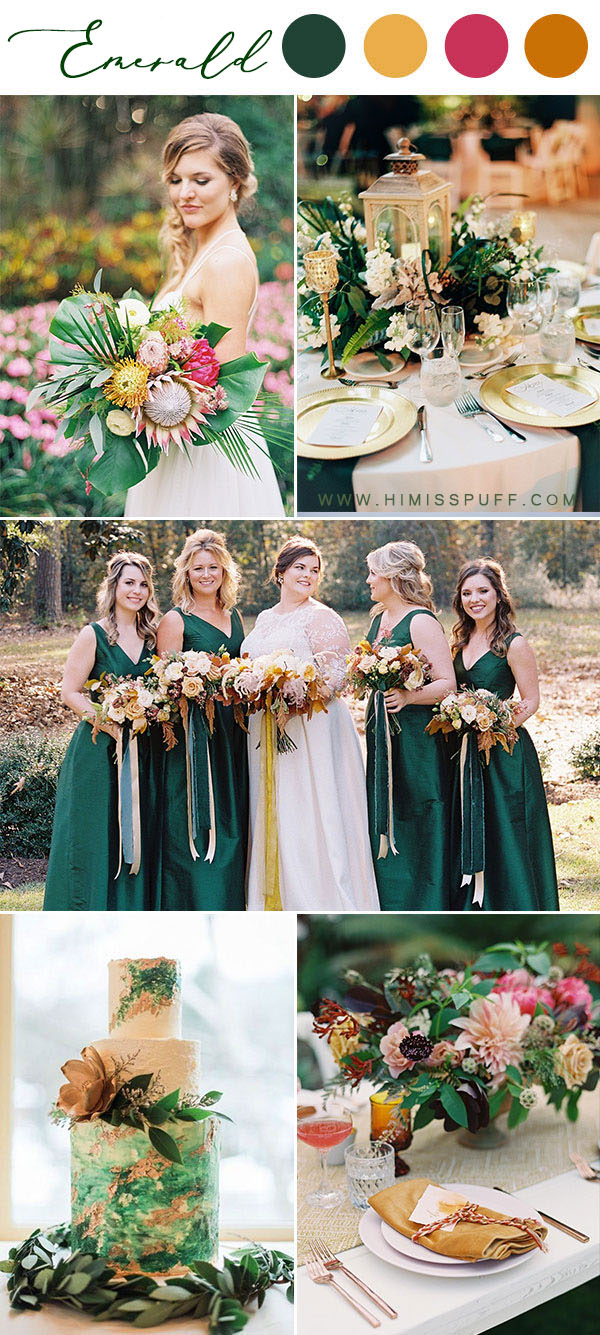 Emerald Green + Ivory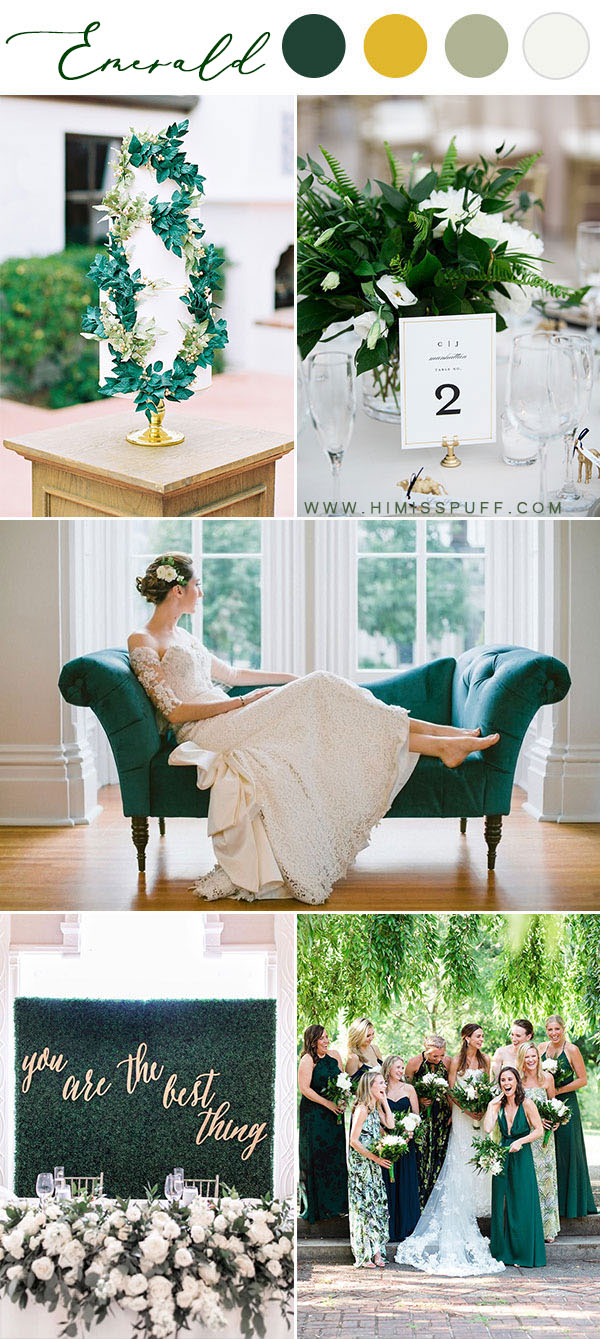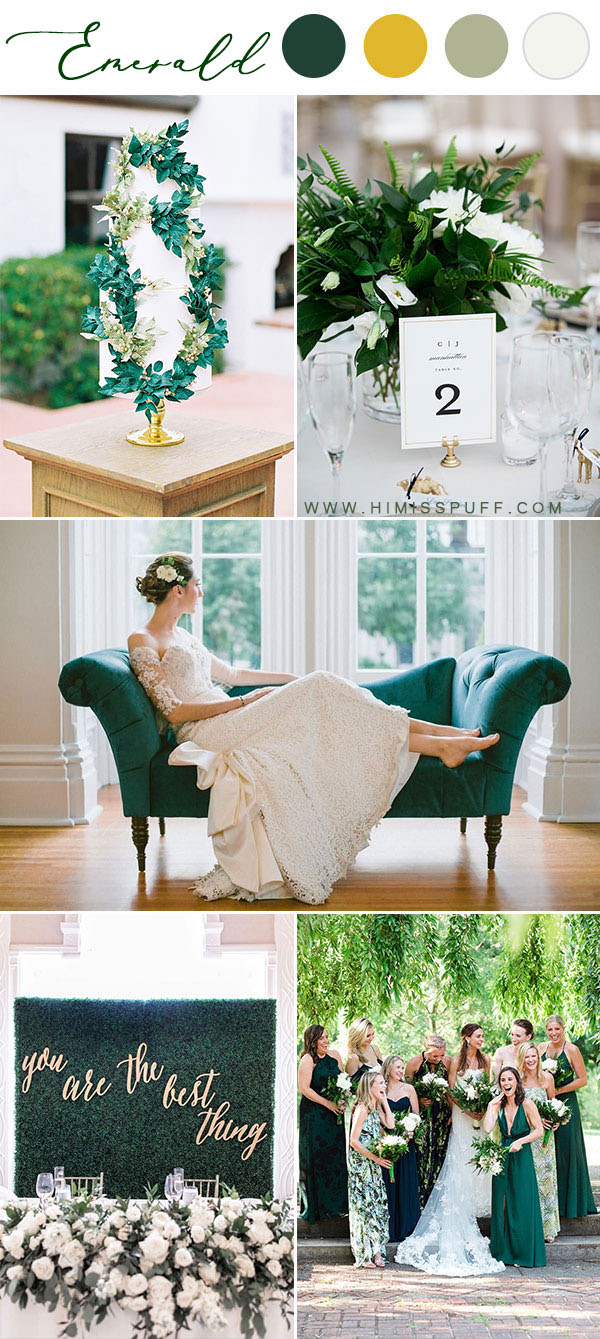 Emerald Green + Gold
Emerald green and gold are a great combination for the modern bride. The color scheme is a modern take on traditional wedding colors, which makes them perfect for brides who want something that's both classic and contemporary. These two bright hues are also bold, making them ideal for spring or summer weddings during which you can show off your bold personality by wearing a statement dress with plenty of bling.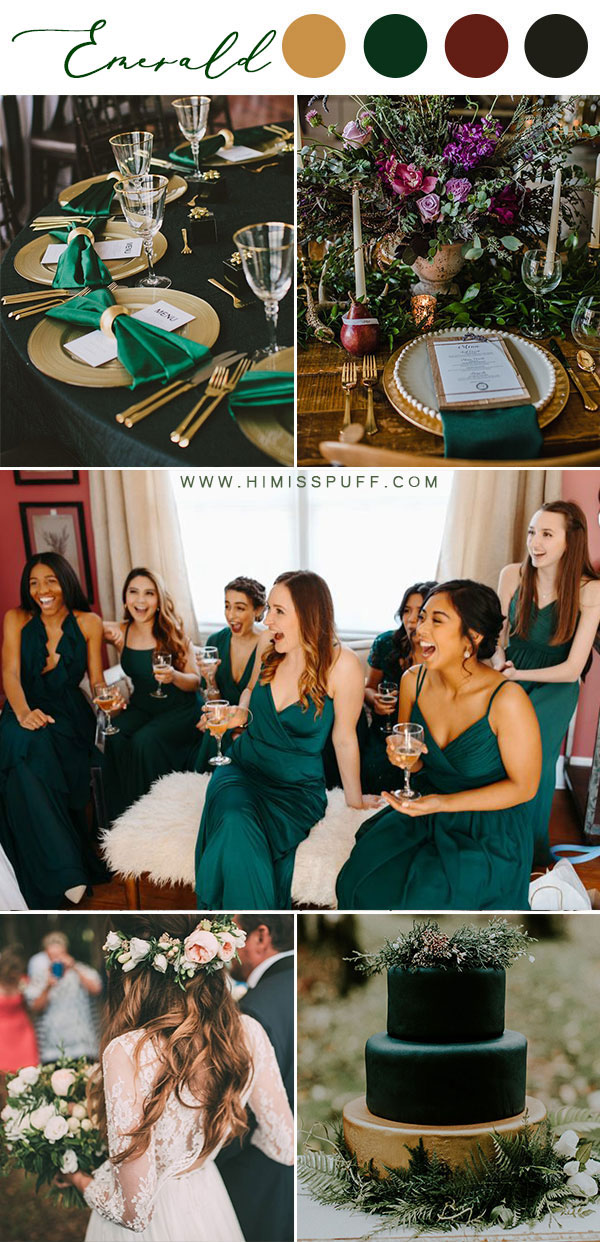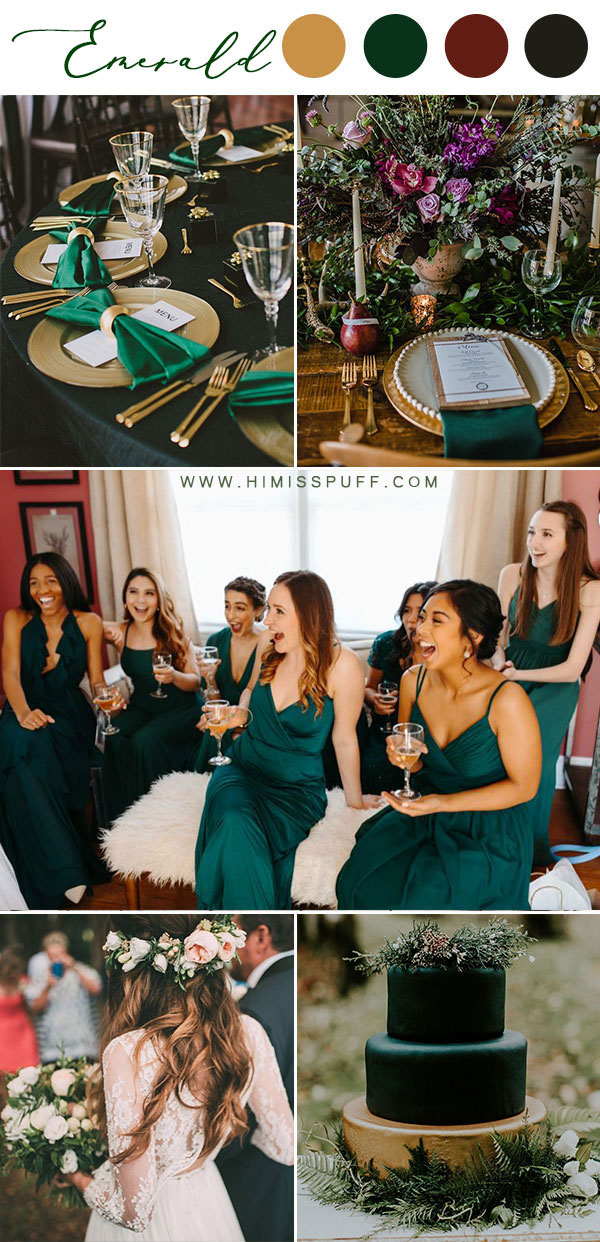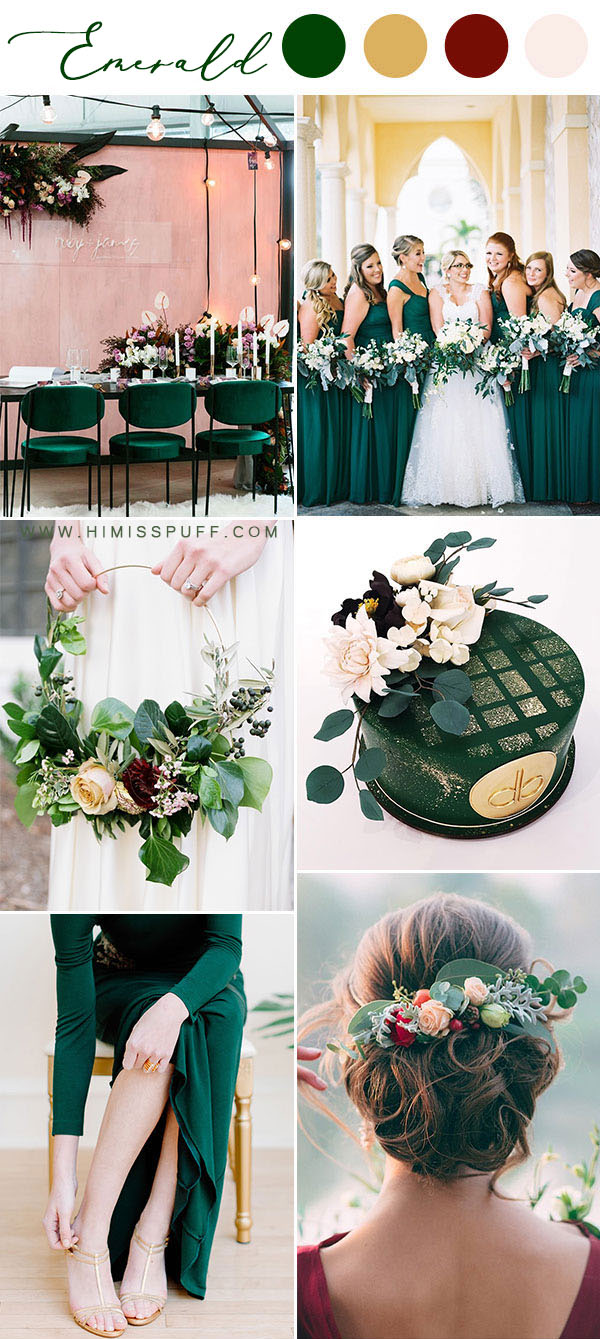 Emerald Green + Dusty Rose
If you're planning a wedding that features the color emerald, which is a deep green hue with hints of blue and yellow, then you'll want to consider these other complementary hues. Here are a few suggestions:
Dusty rose. A dusty rose dress would look stunning at any wedding, but it's especially perfect for an emerald-themed affair. The muted pink tones will add just the right amount of softness to your bridal look while still complementing the boldness of your main color scheme.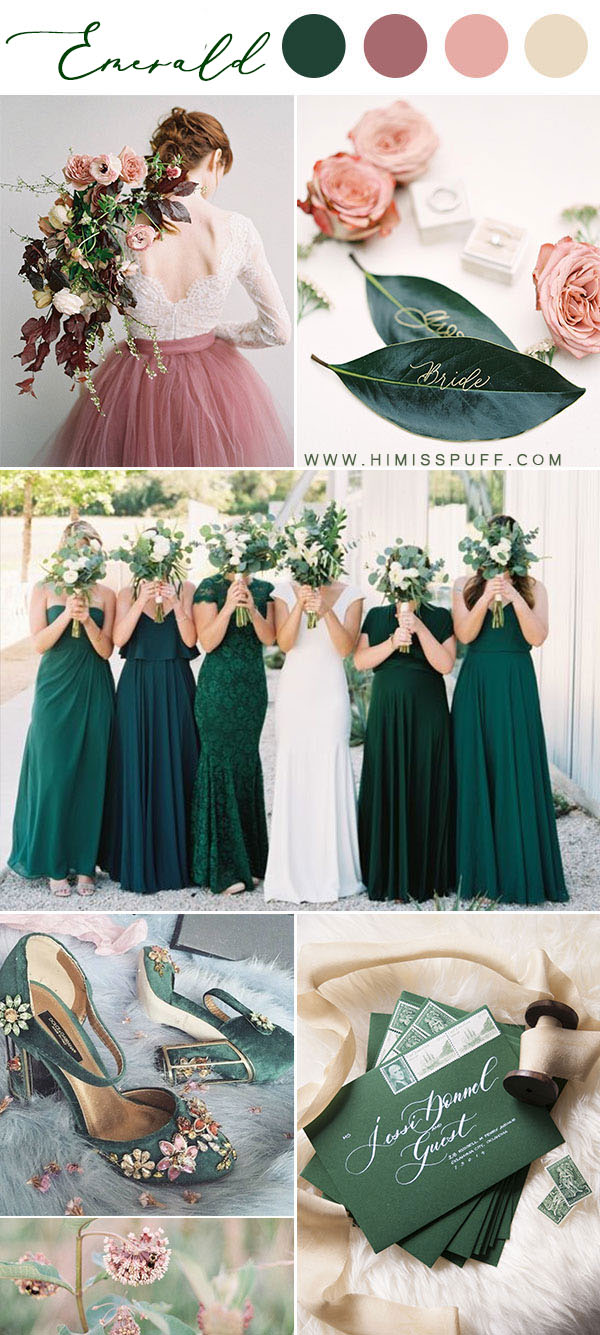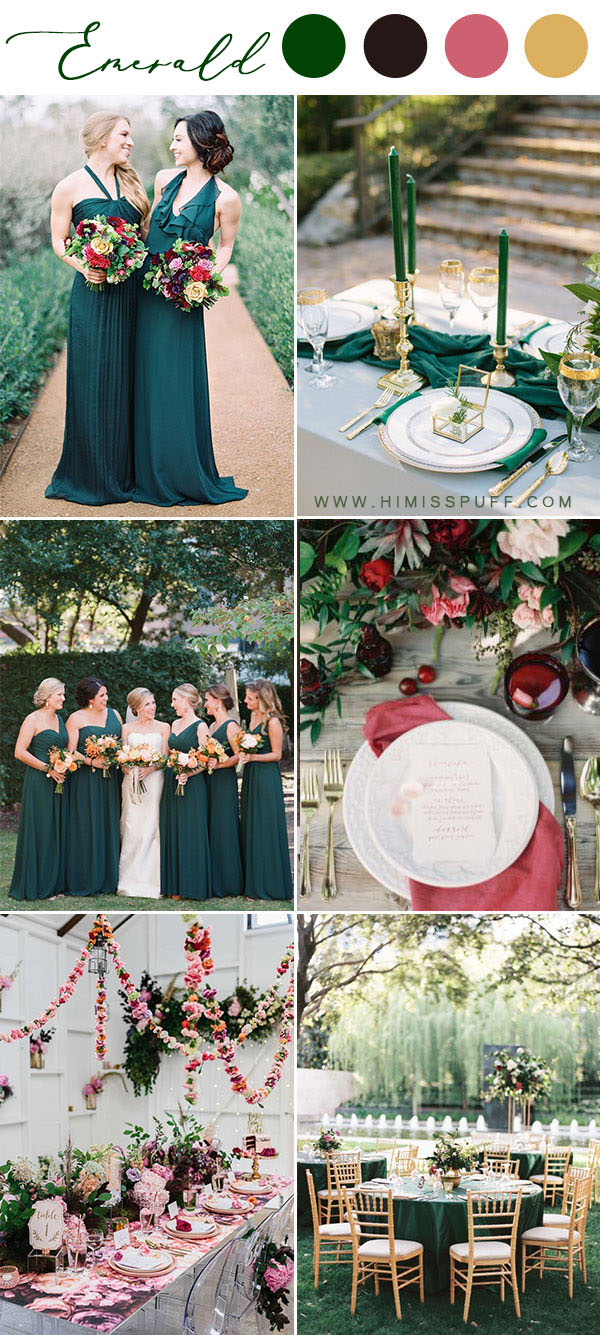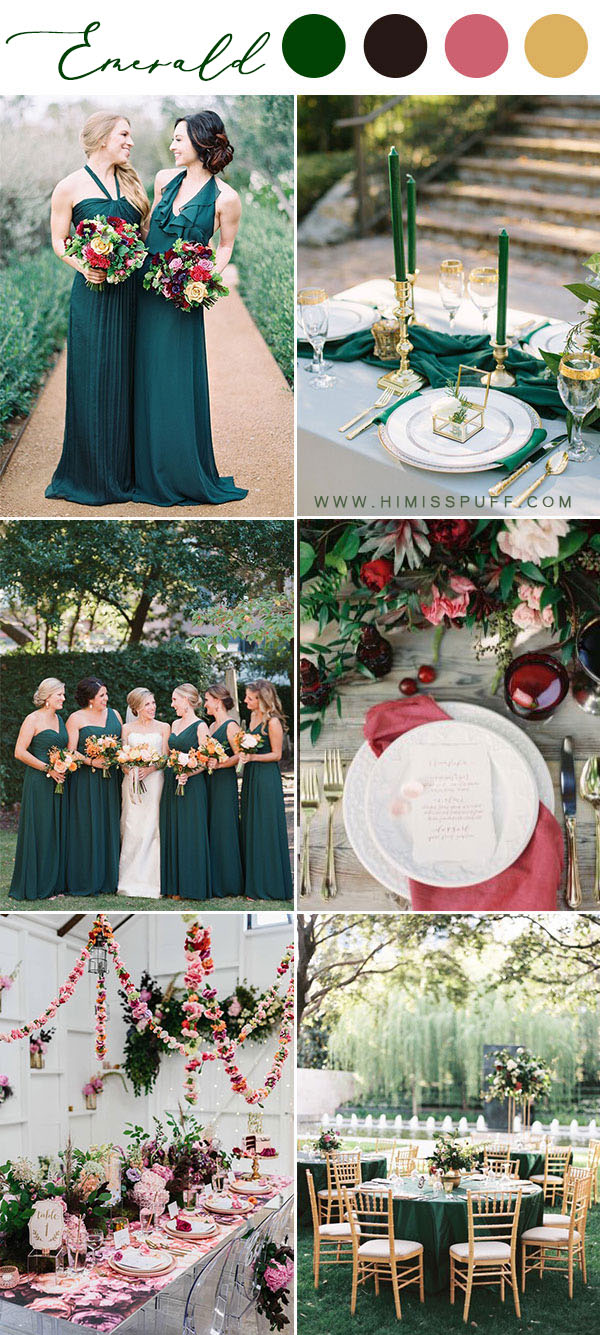 Emerald Green Bridesmaid Dresses


Shop The Emerald Dresses

Emerald Green Shades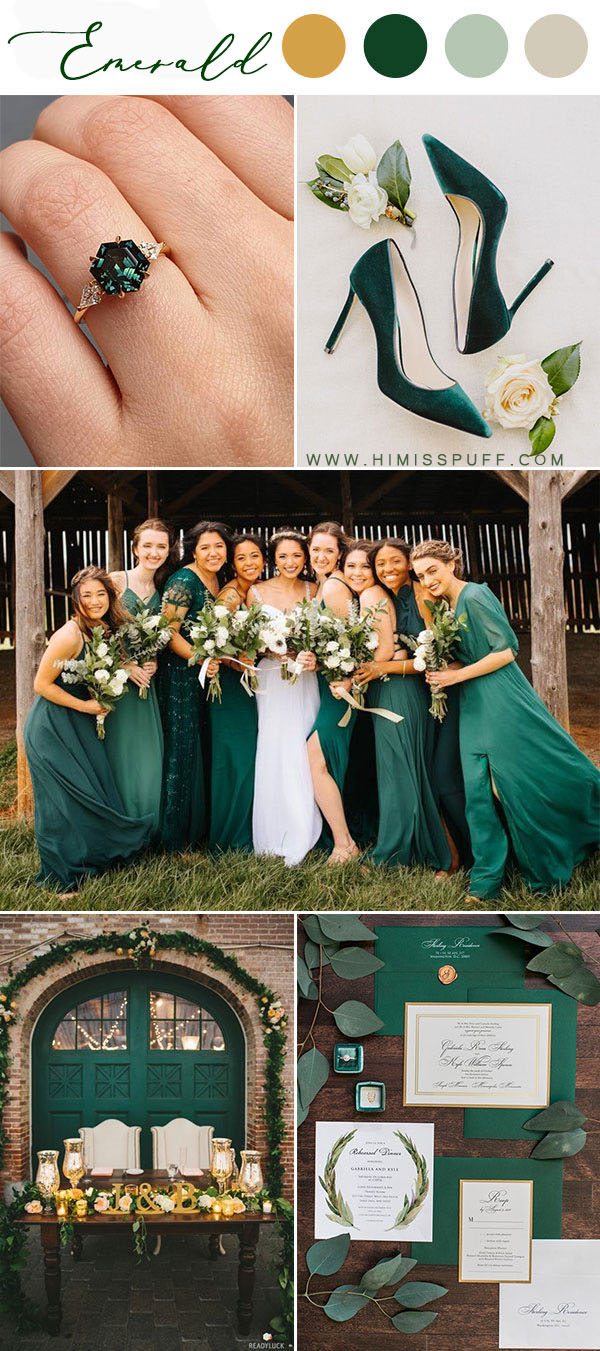 Emerald Green + Ivory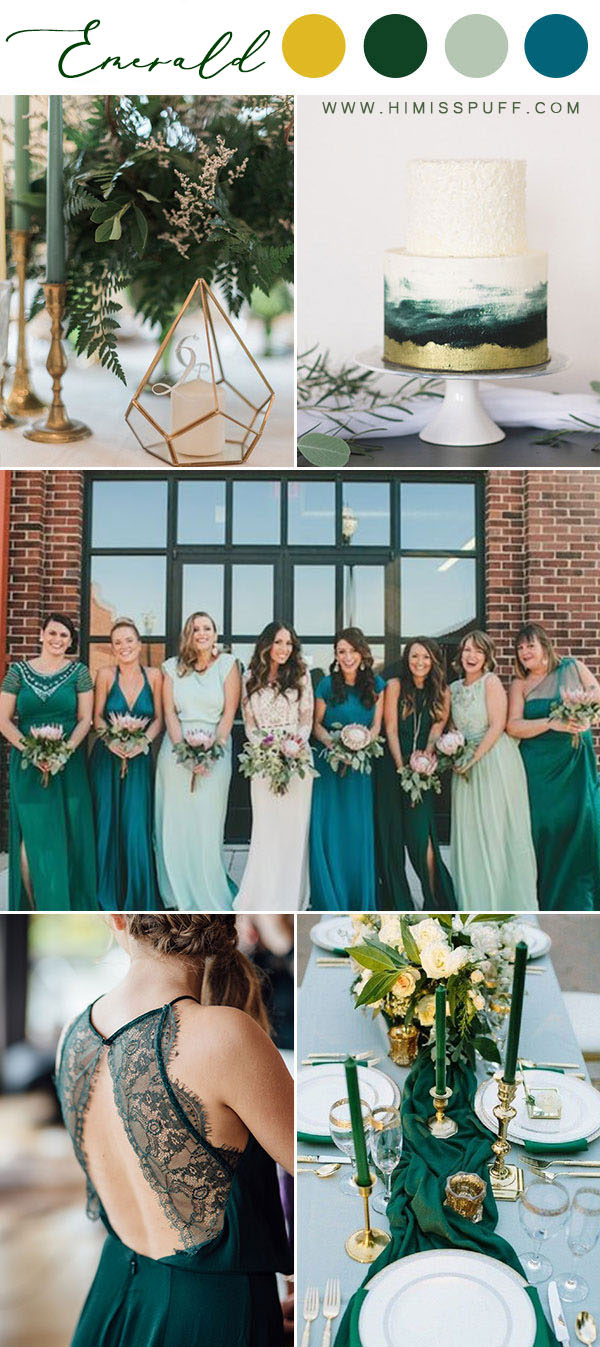 Glitter Emerald Green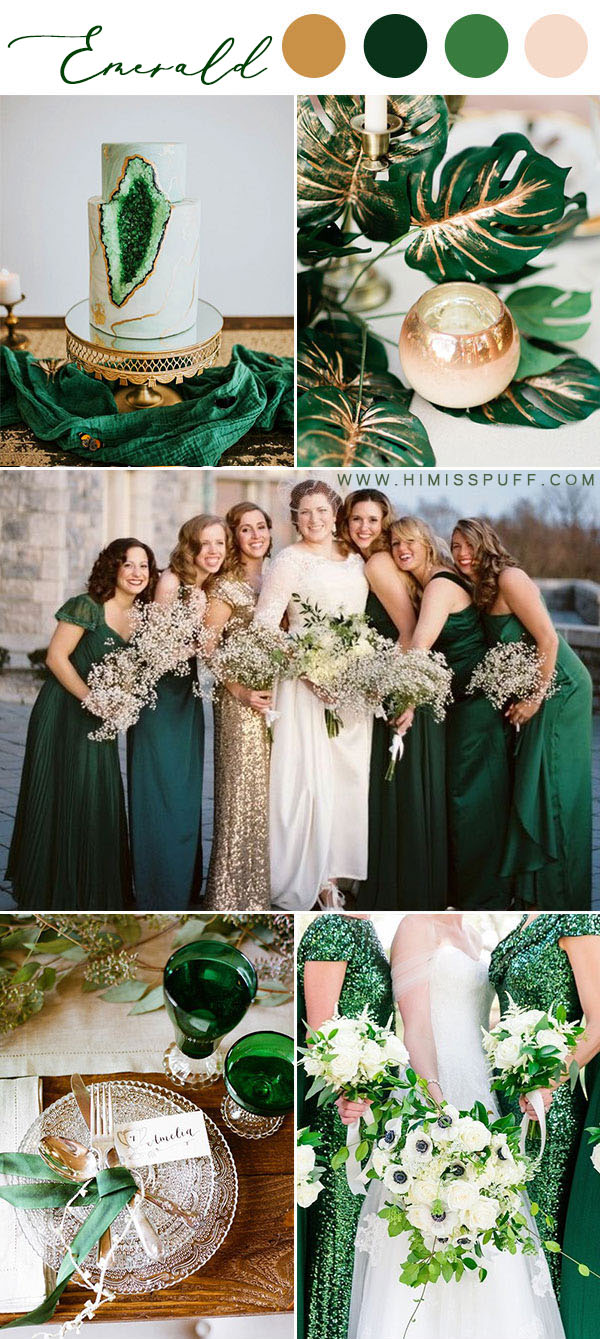 Emerald Green + Black
Black and green are a classic color combination that has been used since the dawn of time.
Black is associated with the earth, so it makes sense that it's often associated with wealth and prosperity. Green is also connected to nature and growth, so when you put them together you get a color that's associated with both wealth and nature.
It may sound like an odd choice for your wedding palette, but there are many benefits to this combination: it can be stunningly beautiful if done right; it's not too bold if you want something more subtle; and because black and green complement each other well in terms of warmth vs. coolness (black has more warmth while green has more coolness), they won't clash visually or make your wedding look unbalanced if one element dominates over another (like when wearing black pants).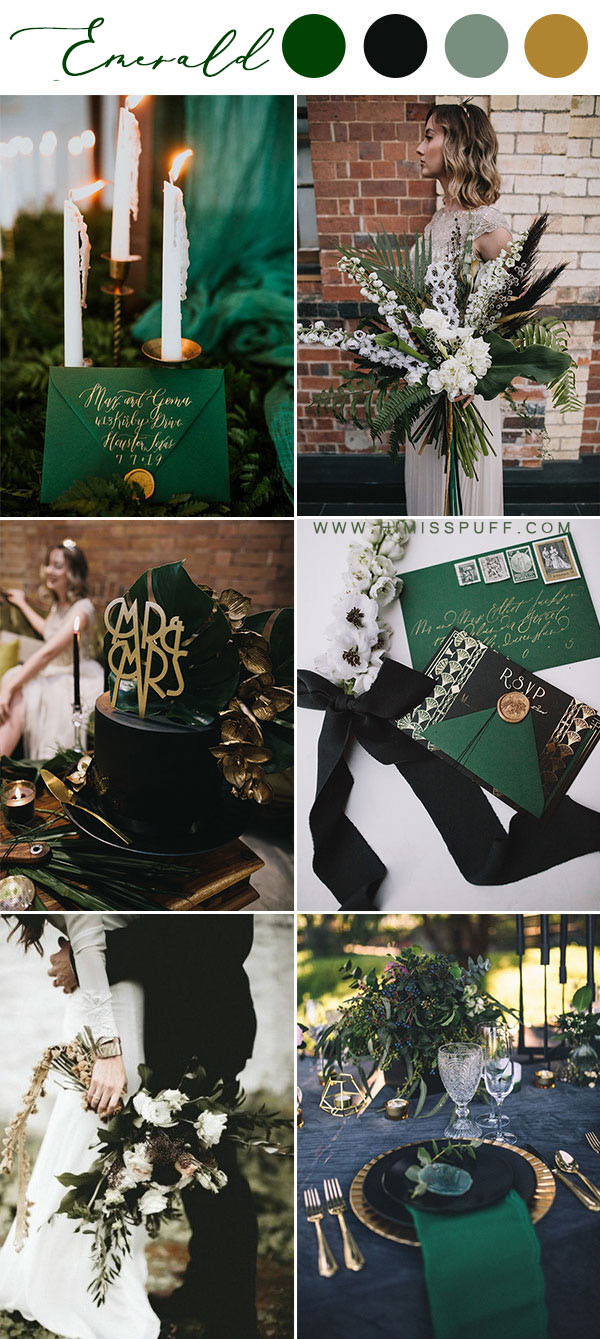 Emerald Green + Blue
Emerald green is a beautiful color for a wedding. It's also one of the most popular colors, which means you'll have plenty of options to choose from if you'd like to incorporate it into your big day. Here are just a few ways that emerald green can be incorporated into your wedding:
Emerald green + blue: A classic combination, these two colors complement each other beautifully while giving off an airy feeling.
Emerald green/emerald blue dress: This will go with either white or ivory shoes (depending on what shade of blue you use), and any red accessories will look great against it as well.
Emerald green invitations: Have them printed on cardstock in bright white lettering so they stand out from all the other plain-looking invites!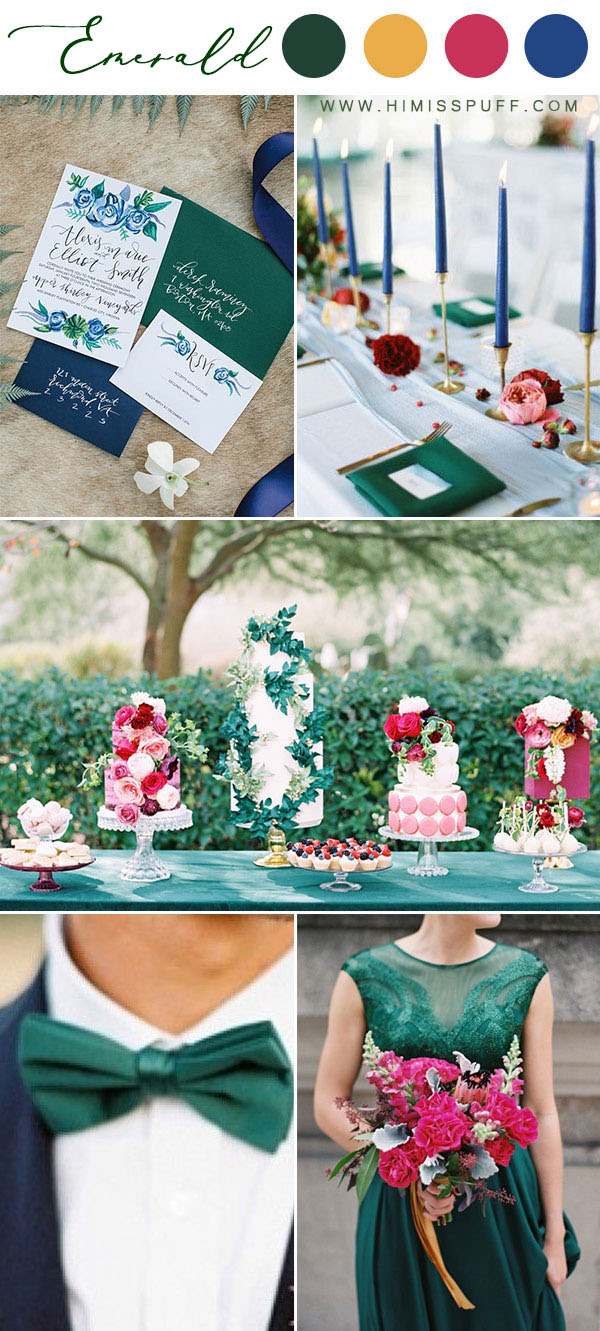 Conclusion
Emerald green is a color that evokes nature and wealth, so it's perfect for your wedding. When worn with ivory or gold, it gives a vibrant hue that will accentuate your wedding gown as well as your venue décor. If you want something more muted and elegant, try pairing emerald green with pink or burgundy.