100 Stylish Wedding Guest Dresses That Are Sure To Impress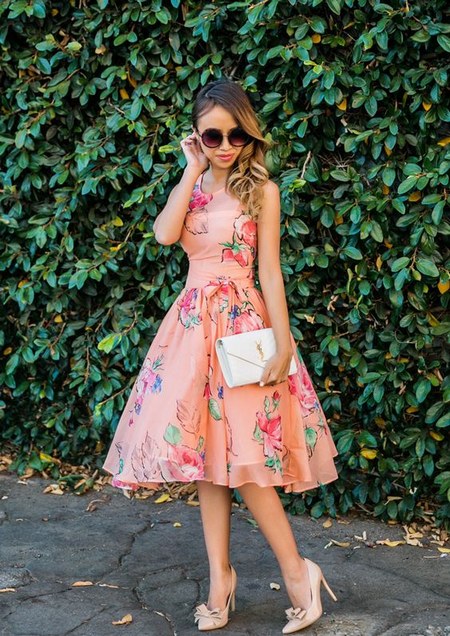 Receiving a wedding invitation makes you feel incredibly exciting while the dress code give you feel stressed. The difference between cocktail, semi-formal, formal, and black tie can leave you with confusion. That's why we're here to make that stress go away from you. Make sure you're dressed inappropriately and stylishly for all events and provide you with this handy guide about wedding attire.
Casual Wedding Attire for Guests
Casual attire for many relaxed, outdoor ceremonies and receptions. The most informal dress code allows you to wear something comfortable but still looks chic. Remember to avoid jeans and tank tops if they aren't stated as acceptable) Choose a sundress in a casual fabric or smart pants and a cute top if the weather is cold. When it comes to your feet, sandals or low wedges are the ideal options.
Smart Casual Wedding Attire for Guests
Don't panic when you have to attend a smart casual wedding. You have a lot of outfit options for this kind of weddiweddingp your ensemble is elegant and easygoing with a stylish midi dress or in trend with a midi skirt or cropped pants. While sandals, wedges, or block heels are good options for selecting the right shoes.
Semi Formal Wedding Attire for Guests
When it comes to semi-formal weddings, you need to take the time and place into consideration your outfit choice. If it is the anning wedding, choose dark, formal colors and more structured silhouettes. If it is during the daytime, light tones and breezy fabrics are an ideal option. This dress code is between cocktail and formal attire, A smart cocktail dress, jumpsuit, or long, dressy skirt and top are welcomed.
Formal Wedding Attire for Guests
Formal wedding attire is between semi-formal and black tie, the dress code prefers to see an elegant appearance. A short or long formal dress, pantsuit, or dressy separates are a great option. A floor-length gown without appearing overdressed can be the answer for you as well.
Black Tie Wedding Attire for Guests
Black tie is a highly formal wedding dress code for evening weddings. For female guests, go well with a formal, floor-length gown. Or you can choose a sophisticated cocktail dress as well, but make sure with the bride or someone in the bridal party is it accepted or not.
Beach Wedding Attire for Guests
A lovely dress or jumpsuit is welcomed for a beach wedding in summer with a gorgeous setting. Choose the one with relaxed cuts, light flowing fabrics, and summery colors and prints rather than short dresses, and choose the shoes that can easywalkg on the sand which means stilettos aren't the right answer for beach weddings
Country Wedding Attire for Guests
Country weddings are held at a farm, vineyard, or garden with a rustic theme. Dressed with laidback and a little playful outfit by swaswappingur usual fitted dress for something you can move in. Also, playoff the location of the event with soft tones, florals, and lace. If you want to inject a country touch, adding boots and a hat is also the best idea.