Top 30 Beach Wedding Guest Dresses 2023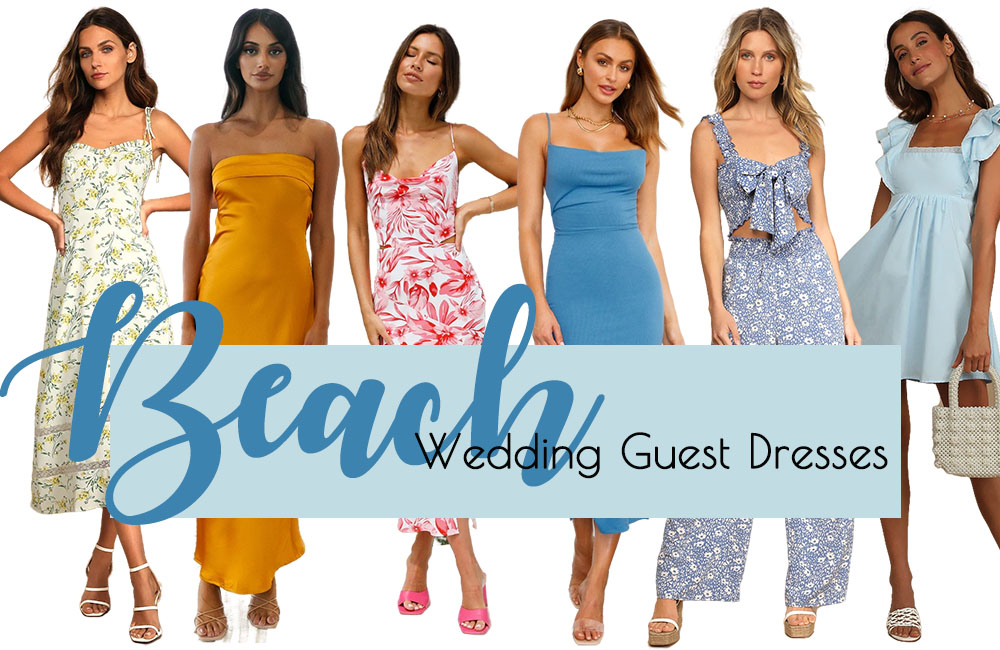 Emotional stages that may come with landing a beach wedding invite:
1) Slight frustration when receiving an invitation and you realize you may have to sacrifice vacation days for an event that isn't yours;
2) Be a little less selfish and realize this is an excuse to take a vacation;
3) Excitement about an open bar on a freaking beach; and last but not least,
4) Panic because now you have to find the perfect dress. Don't worry! Find the middle ground between bikinis and taffeta with these 10 breezy options.
What Do You Wear To A Beach Wedding As A Guest?
All styles are acceptable at beach weddings. Short skirts, long dresses, and even jumpsuits are all welcomed. solid colors are popular, and light and breathable fabrics are also suited. Due to the changes in the weather throughout the day, the guests should dress in layers.
What Should An Older Woman Wear To A Beach Wedding?
For older guests, it's better to have a list of examples or a short description of the theme, as well as what they have to avoid. Give them the freedom to make decisions to choose gorgeous and comfortable dresses, while it is still in your ideals.
What Should You Not Wear To A Beach Wedding?
Guests do not wear white or light hues to avoid snatching the scene of the wedding gown, including black and dark, to avoid absorbing too many rays, and although it is a casual event, there is still a latent formality, so avoid jean shorts and ripped clothes as well.
Light Blue Ruffled Mini Dress $59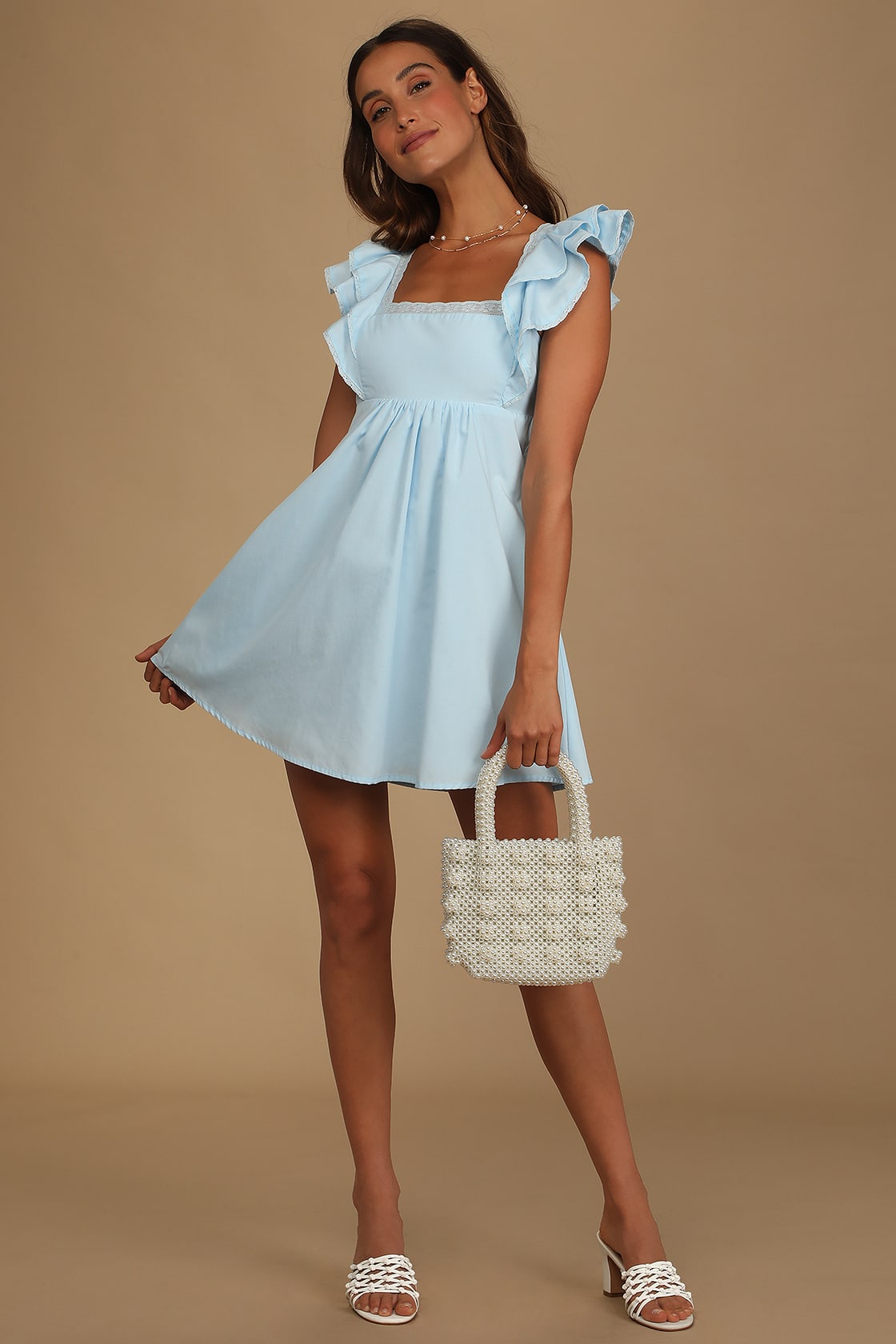 Lightweight, cotton-blend woven fabric shapes this dreamy dress that has a square neckline and ruffled straps that flows into the fitted bodice. A high empire waist tops a lightly gathered A-line mini skirt. The open back has a single tying closure.
White Floral Print Tie-Strap Midi Dress $68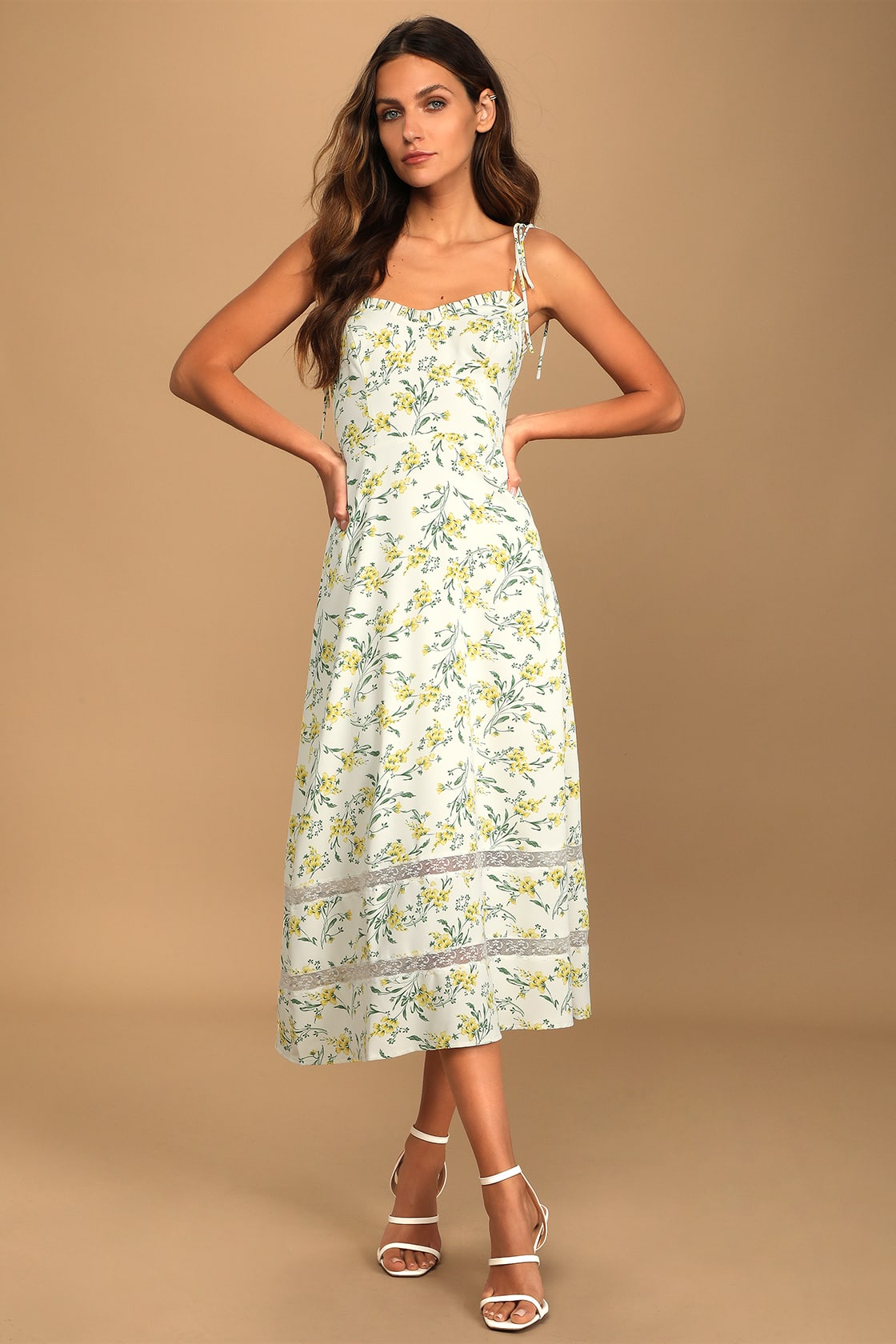 Woven fabric, with a green and yellow floral print, shapes this dress that has tying straps and a ruffle-adorned sweetheart neckline. A princess-seamed bodice tops an A-line midi skirt with two panels of sheer lace at the hem.
Cream Floral Print Ruffled Mini Dress $59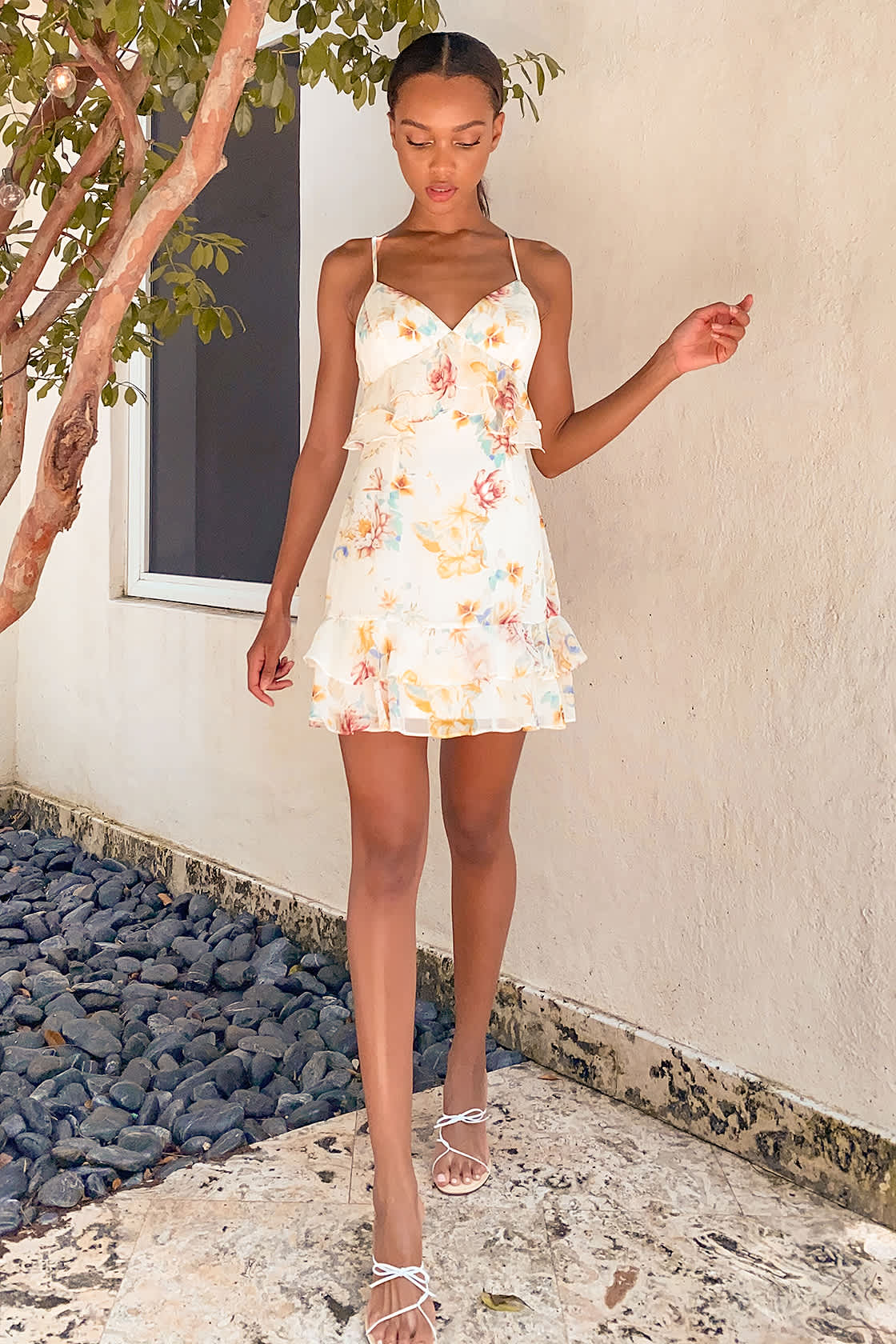 Gauzy woven chiffon, in a pink, blue, and yellow floral print, creates this darling mini dress with a V-neckline, adjustable spaghetti straps, and a princess-seamed bodice with a pair of tiered flounces below the bust. A-line skirt flares slightly before ending at a double-ruffled mini hem.
Lilja Cream Floral Print Maxi Dress $89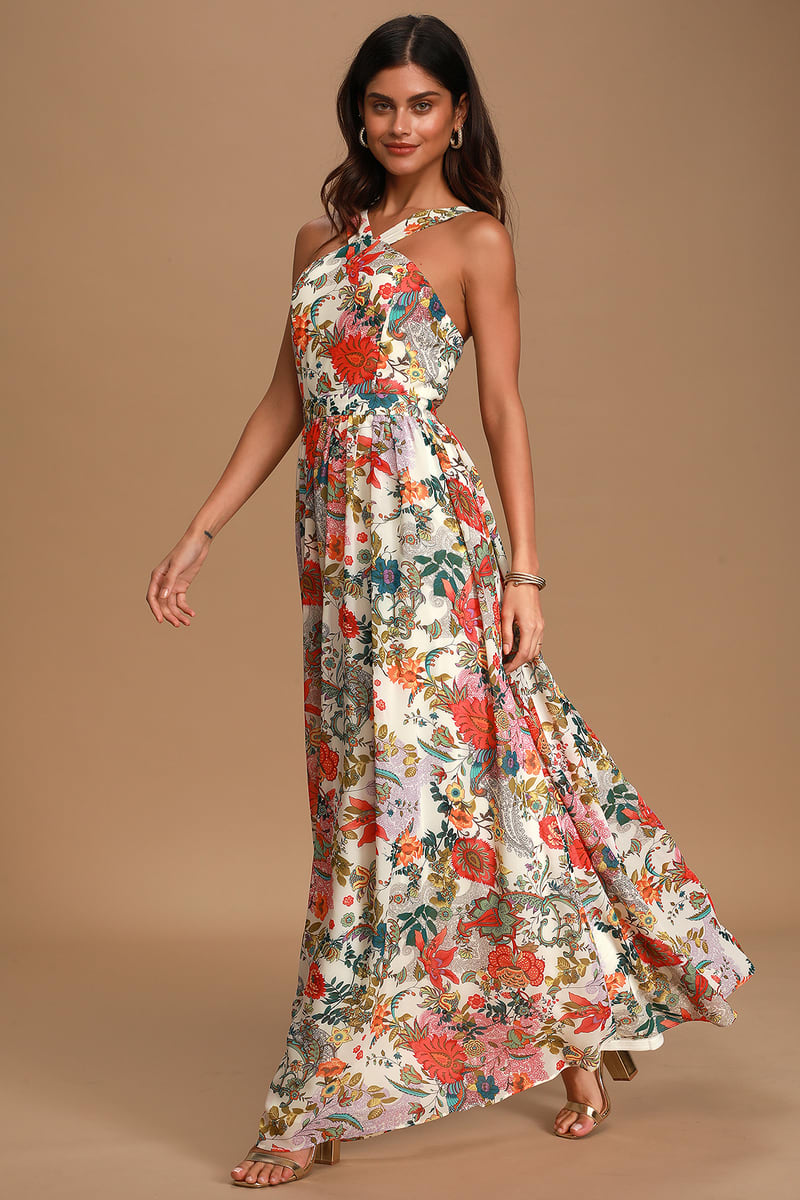 A whimsical orange, coral red, and green floral print flows from a modified halter neckline into a princess seamed bodice. Fitted waist, full maxi skirt, and elastic at back for fit.
Ivory Floral Print Tulip Skirt Midi Dress $66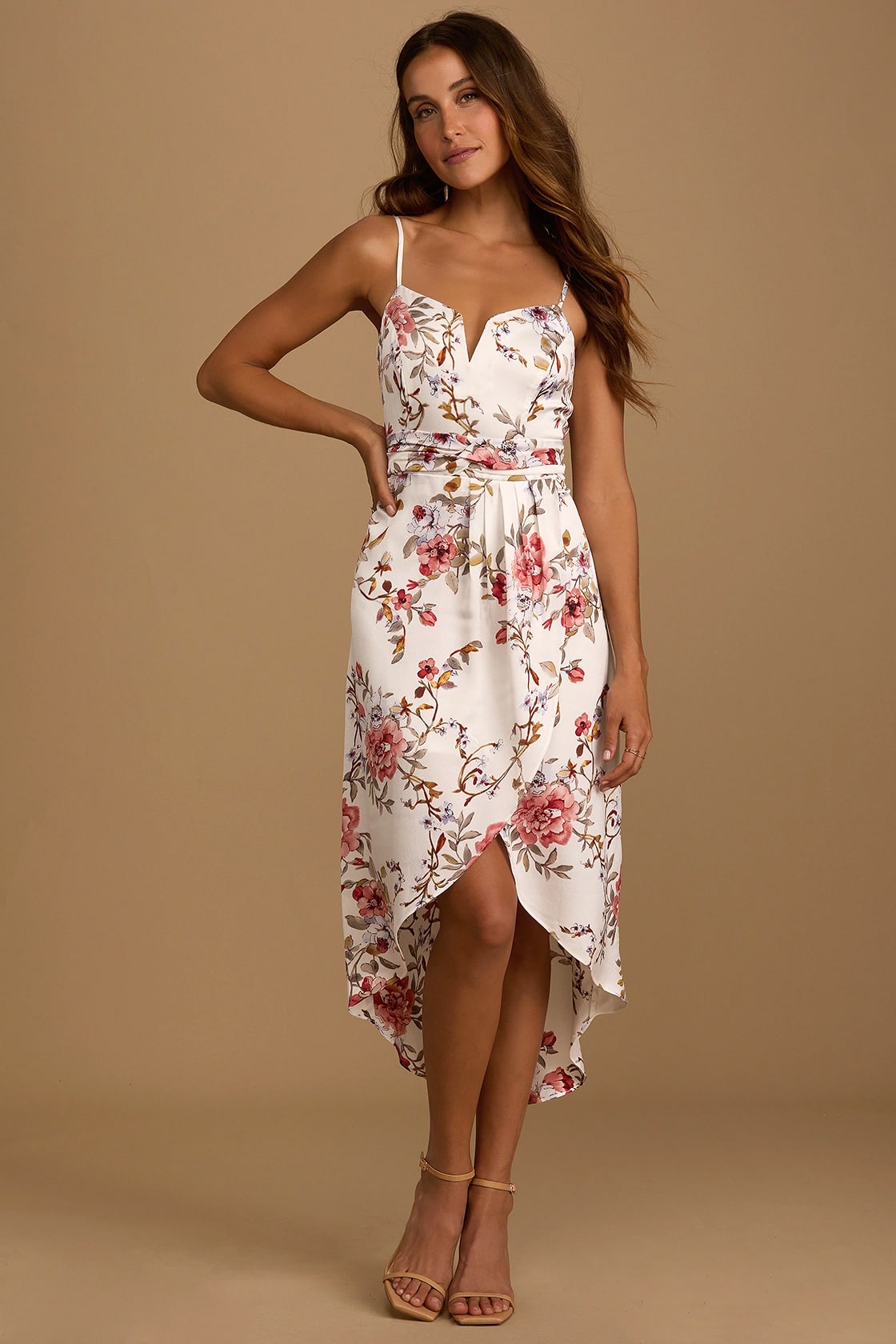 This lightweight and textured woven dress has an allover pink, green, and purple floral print that dances across its princess-seamed bodice with a dipping V-neckline (and a hidden V-bar for support), adjustable spaghetti straps, and gathered waist. The overlapping tulip skirt creates a flattering faux-wrap effect with a bit of gathering at the front.
Cream Floral Print Off-the-Shoulder Maxi Dress $59
Adorable red, yellow, green, and cream floral print woven rayon shapes an off-the shoulder neckline with no slip strips and fluttery straps.
Red Multi Floral Drawstring Halter Midi Dress $78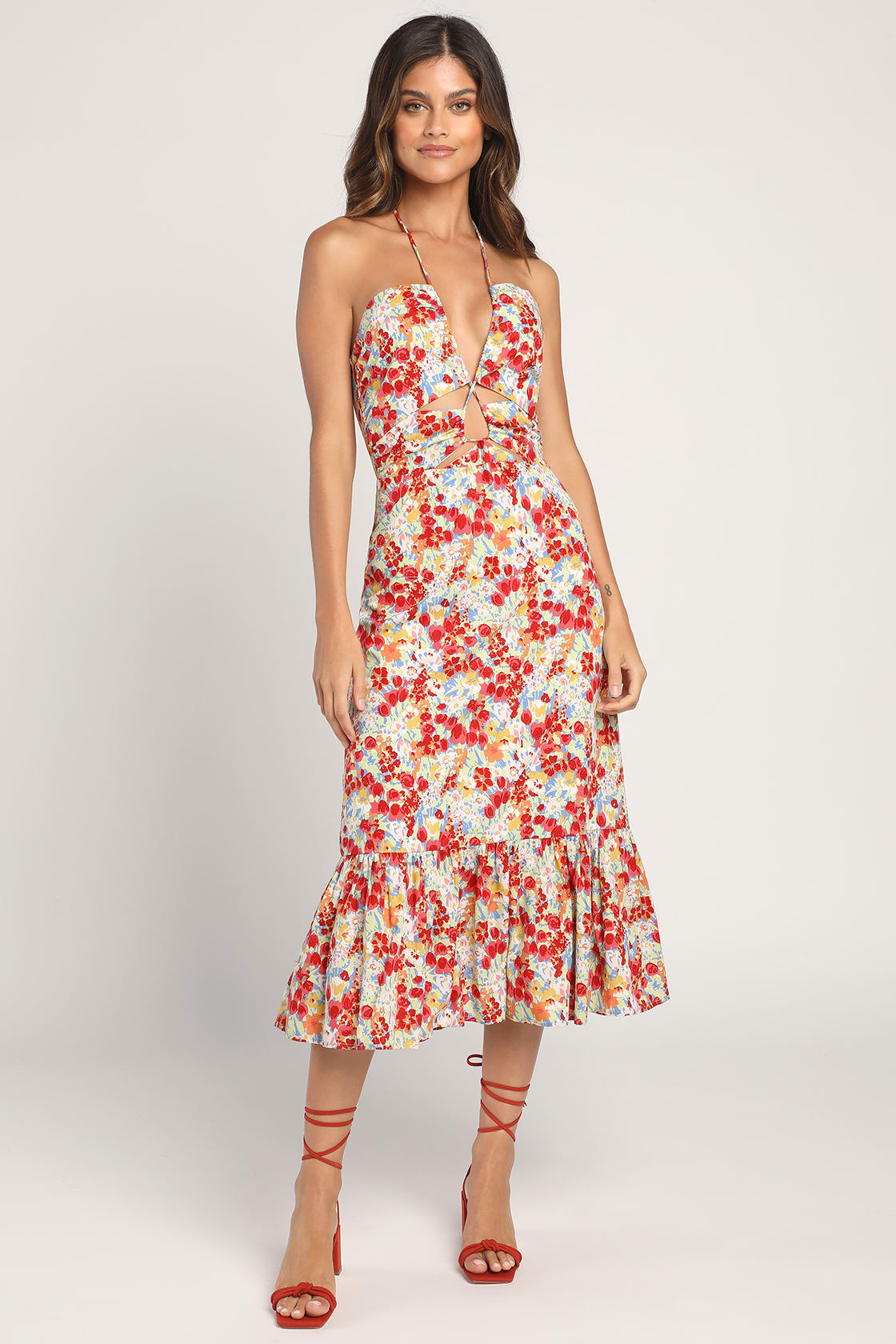 Lightweight woven fabric, with a sweet floral print throughout, shapes this flirty dress. Slender drawstring ties form a halter neckline and continue down the overlapping bodice panels to create plunging cutout details.
Blue Floral Print Two-Piece Wide-Leg Jumpsuit $79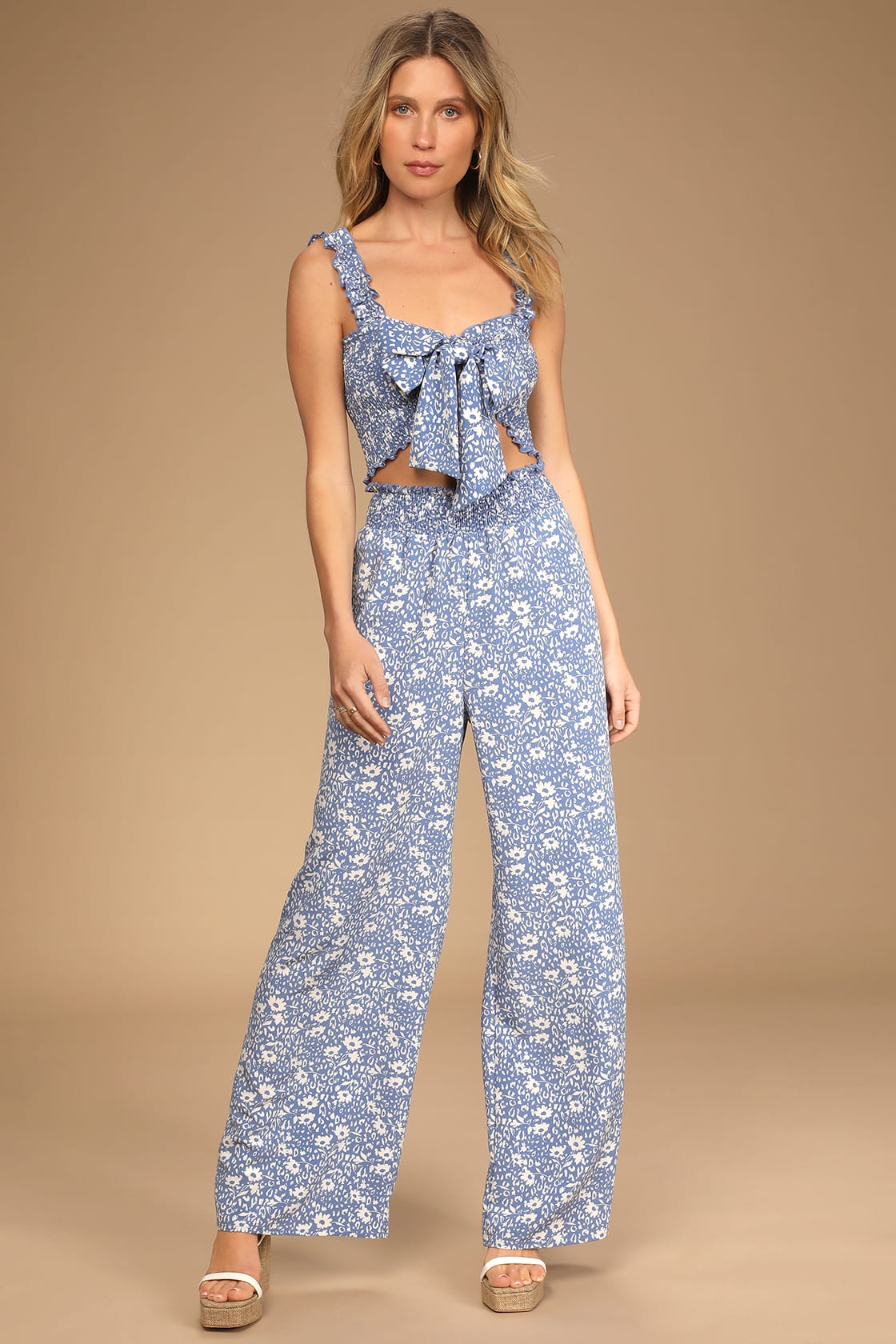 This casual two-piece jumpsuit is composed of lightweight woven fabric (with ivory floral print) that shapes an elasticized ruffled straight neckline with matching tank straps. A smocked, cropped bodice features a removable tying sash that ties at the front to create a trendy cinched look!
Cottagecore Midi Dress $53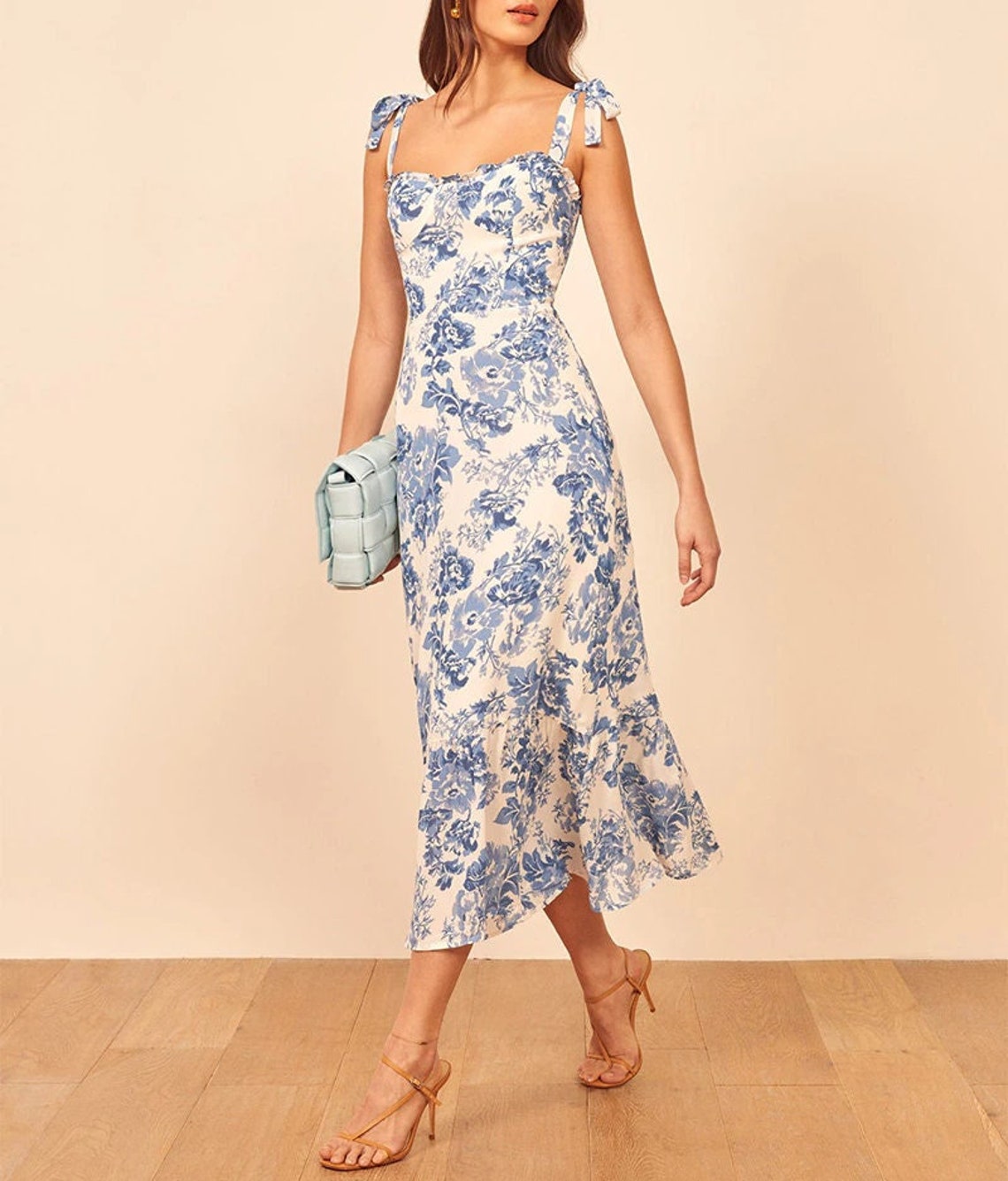 Blanca Boho maxi dress $88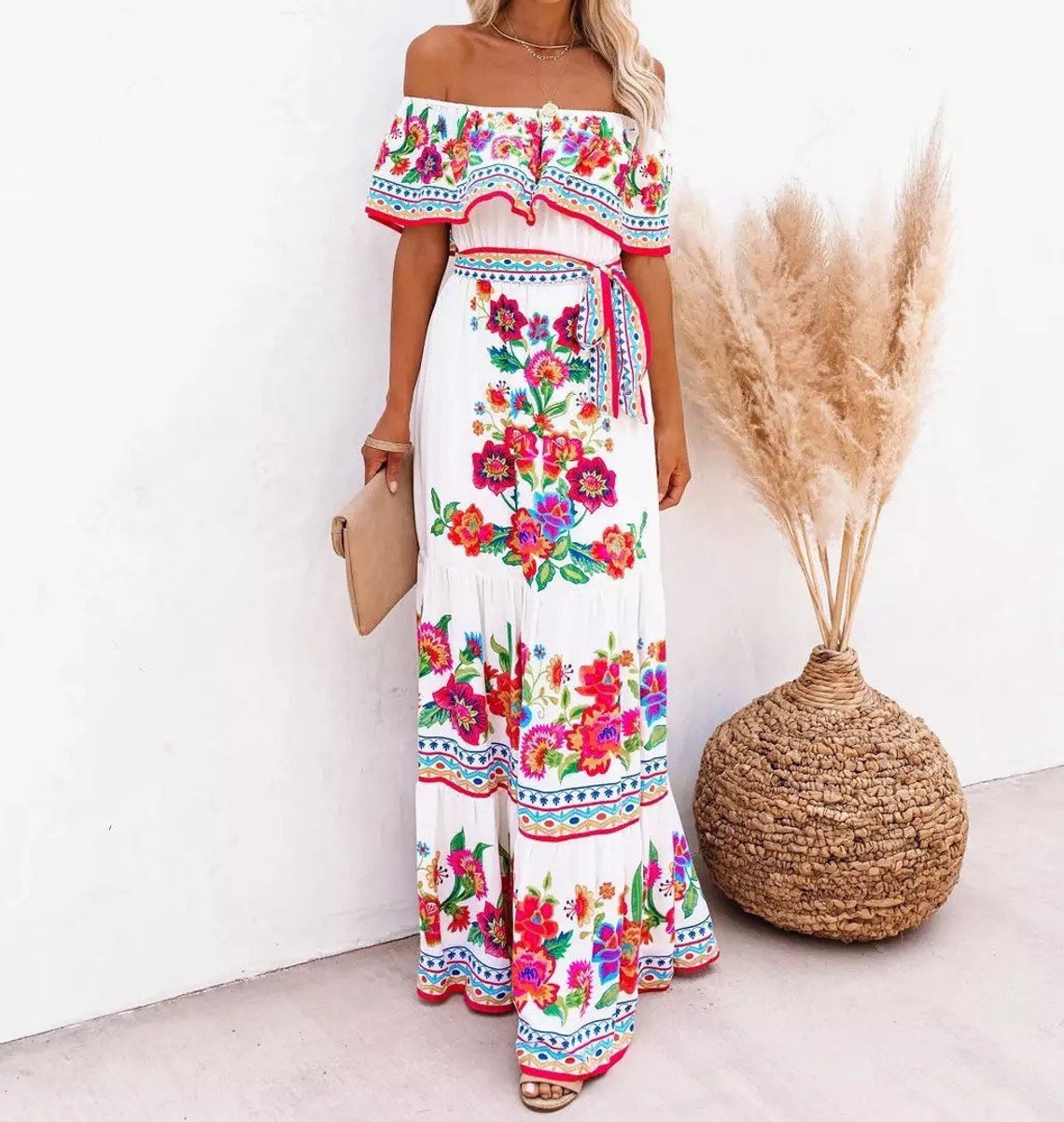 Khaleesi dress Emerald Green $102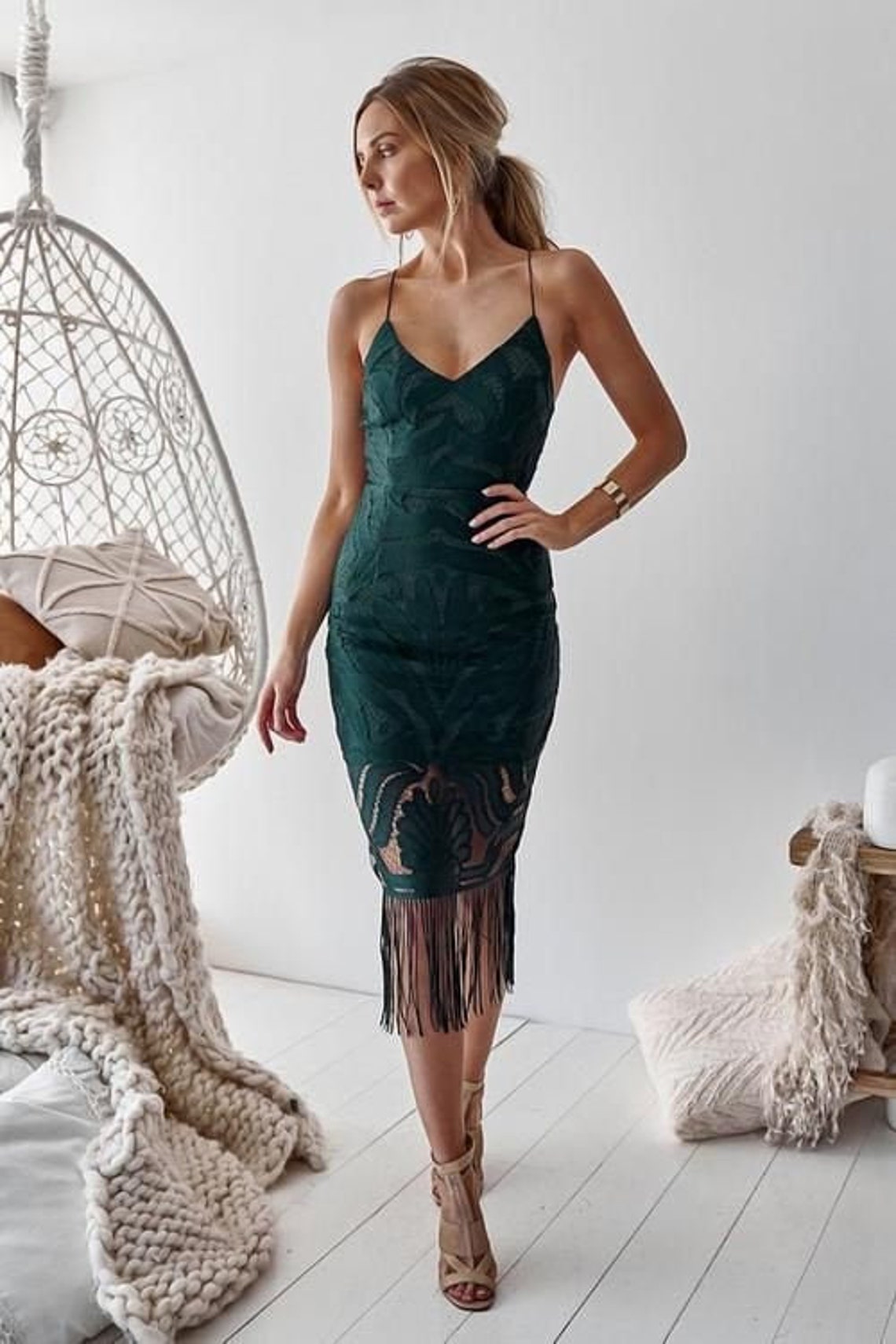 Cherry Tasting Maxi Dress Pink $69
GRACE DRESS – EMERALD $68