Top 30 Wedding Hairstyles For Medium Hair 2023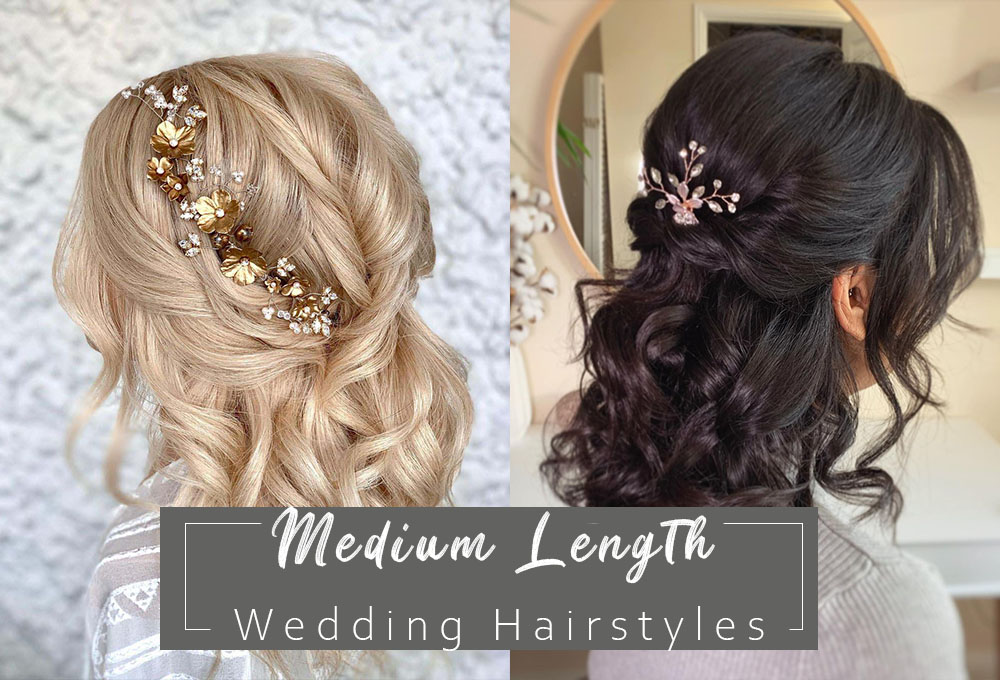 When it comes to finding the perfect wedding hairstyle for medium-length hair, the options can seem overwhelming. To help simplify your search, we've gathered a list of the top 30 hairstyles that are perfect for your length. From timeless curls to intricately braided updos, you're sure to find something that suits your personal style. To complete the look, don't overlook the power of hair accessories such as a veil or floral crown. These little touches can add that extra special something to your bridal look. So, whether you're going for a classic or a more modern vibe, these hairstyles will have you looking stunning on your big day.
High Updos For Medium Hair
One awesome way to create volume on medium-length hair is by asking your hairstylist to fashion a beautifully upswept wedding updo. This style is traditionally rich, elegant and sophisticated, and the result is a fantastic hair style when paired with a natural-looking makeup. Simply gather your hair at the back of your head, part it to one side, and let the hair fall loosely and beautifully before securing it with a sparkling jeweled clip.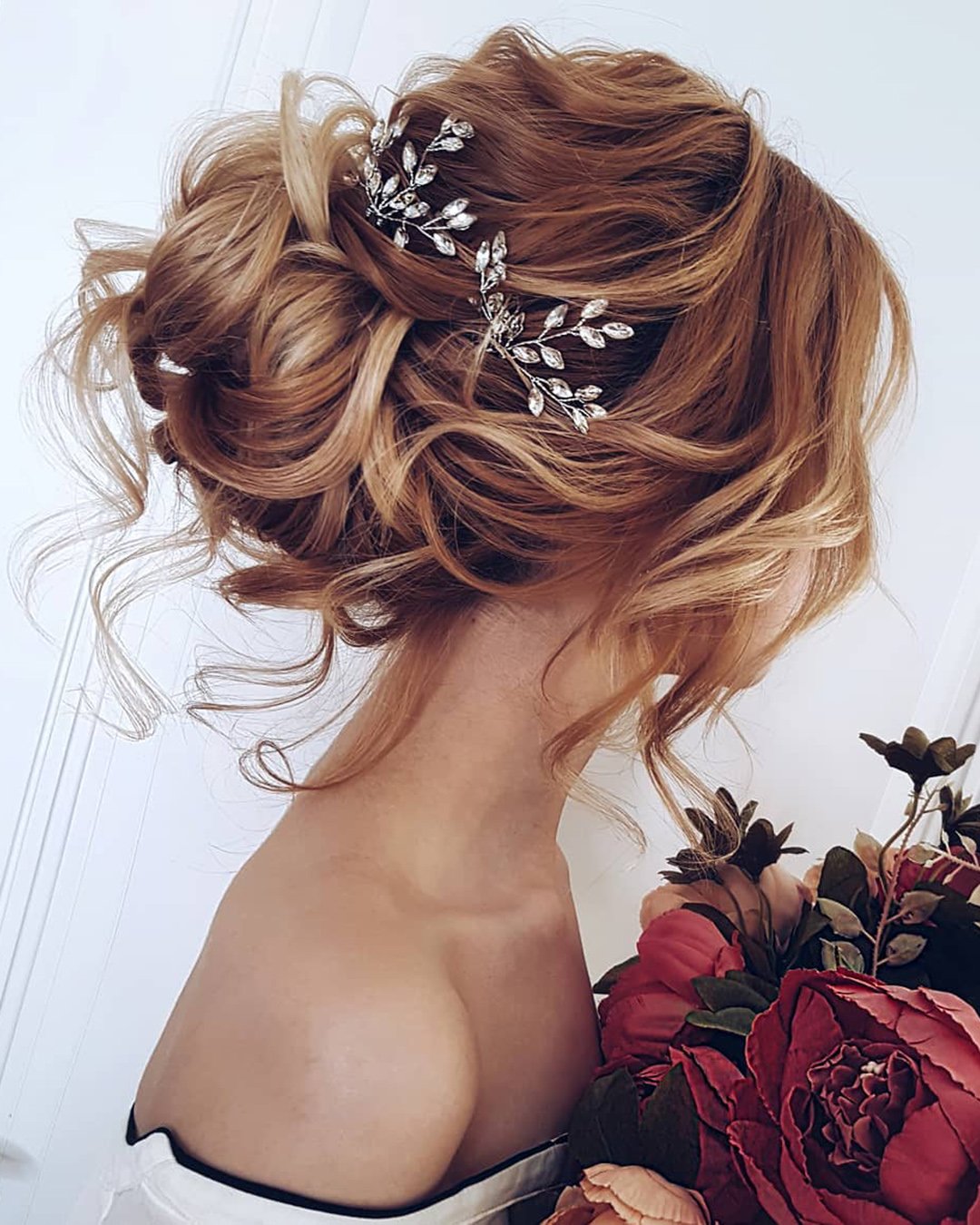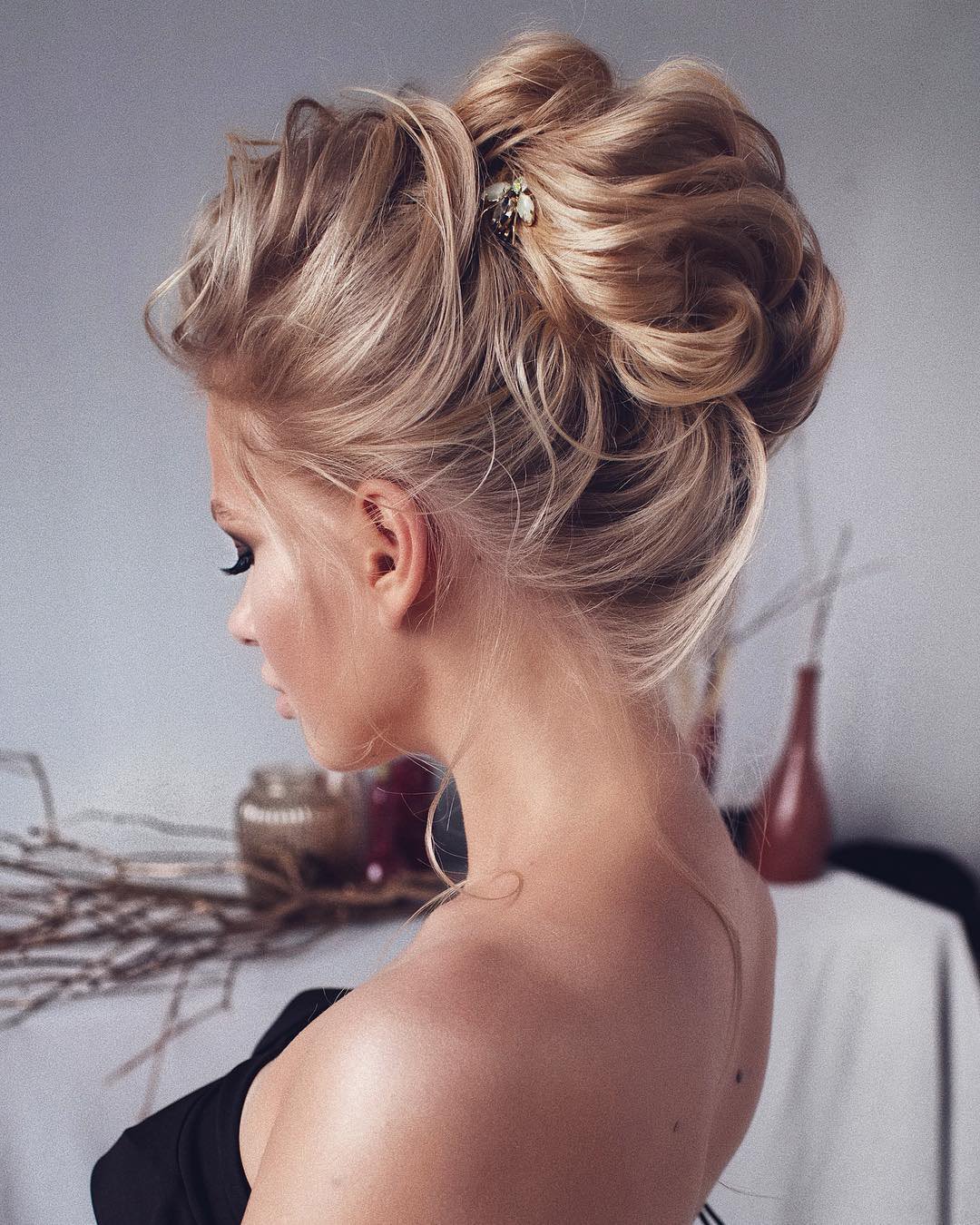 Low Updo For Brides With Medium Hair
Medium-length hair can sometimes be difficult to style, particularly when the bride wants to keep her hair looking individual while still looking elegant. For medium-length hair, this low updo is very simple to achieve. Braiding the hair on either side of the face using a paddle brush creates a look as elegant as a traditional updo, but only takes a few minutes to do!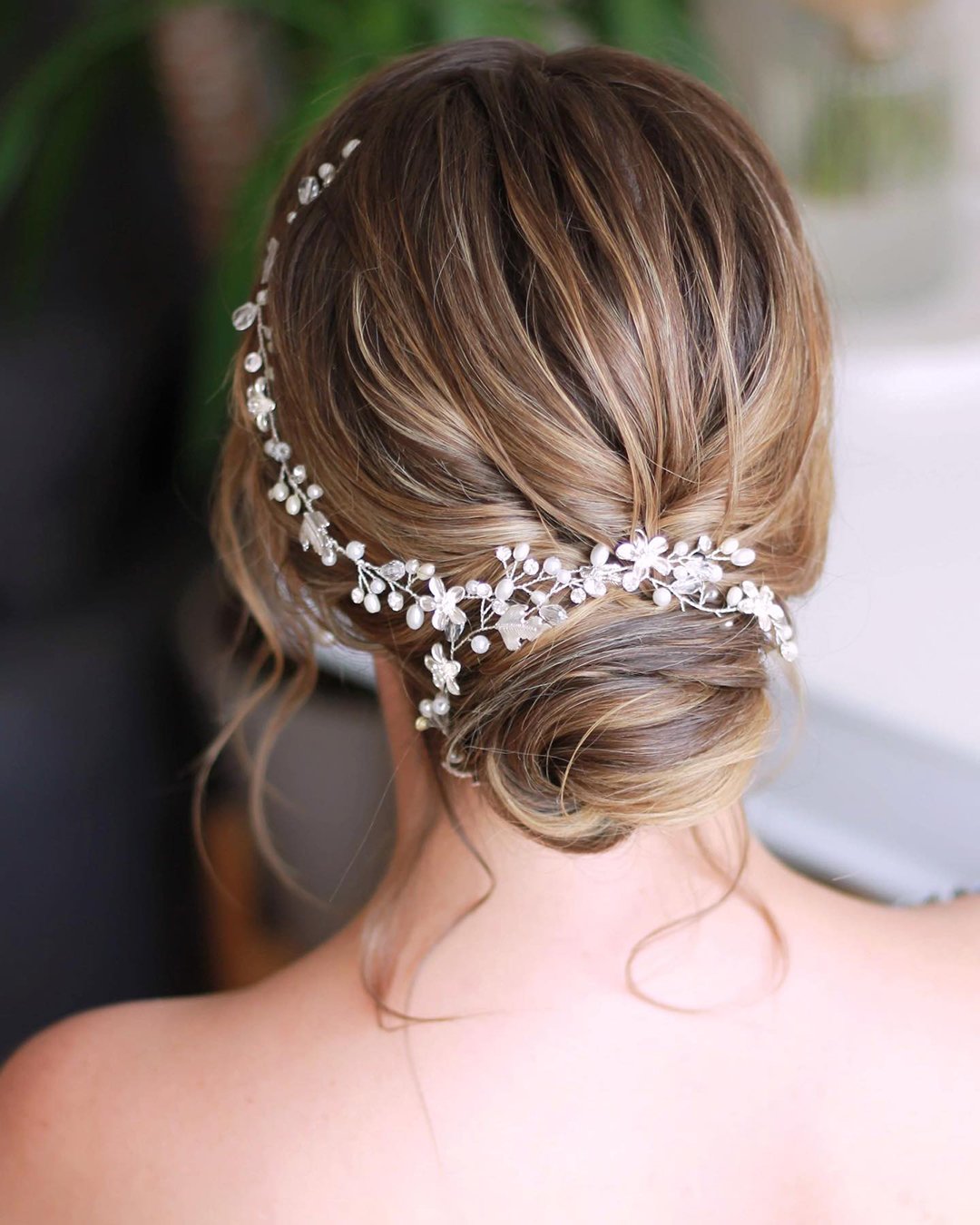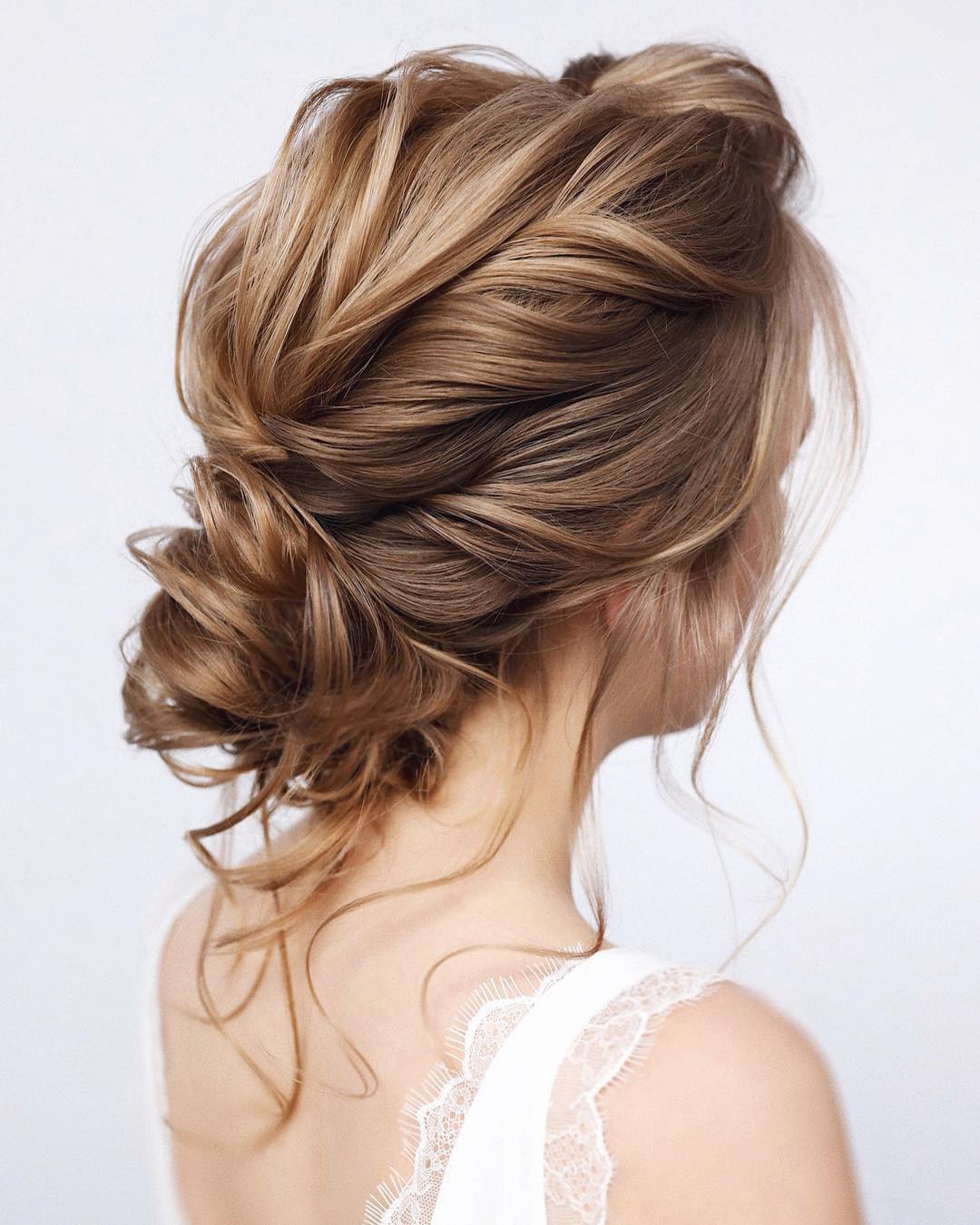 Wedding Buns Hairstyles
Medium hair wedding hairstyles are in style, but don't forget you're going to have hair all throughout your reception as well. Keep it simple, try a stylish wedding bun with a multitude of different curls or a super chic top knot, with your hair pinned up at the back of your head.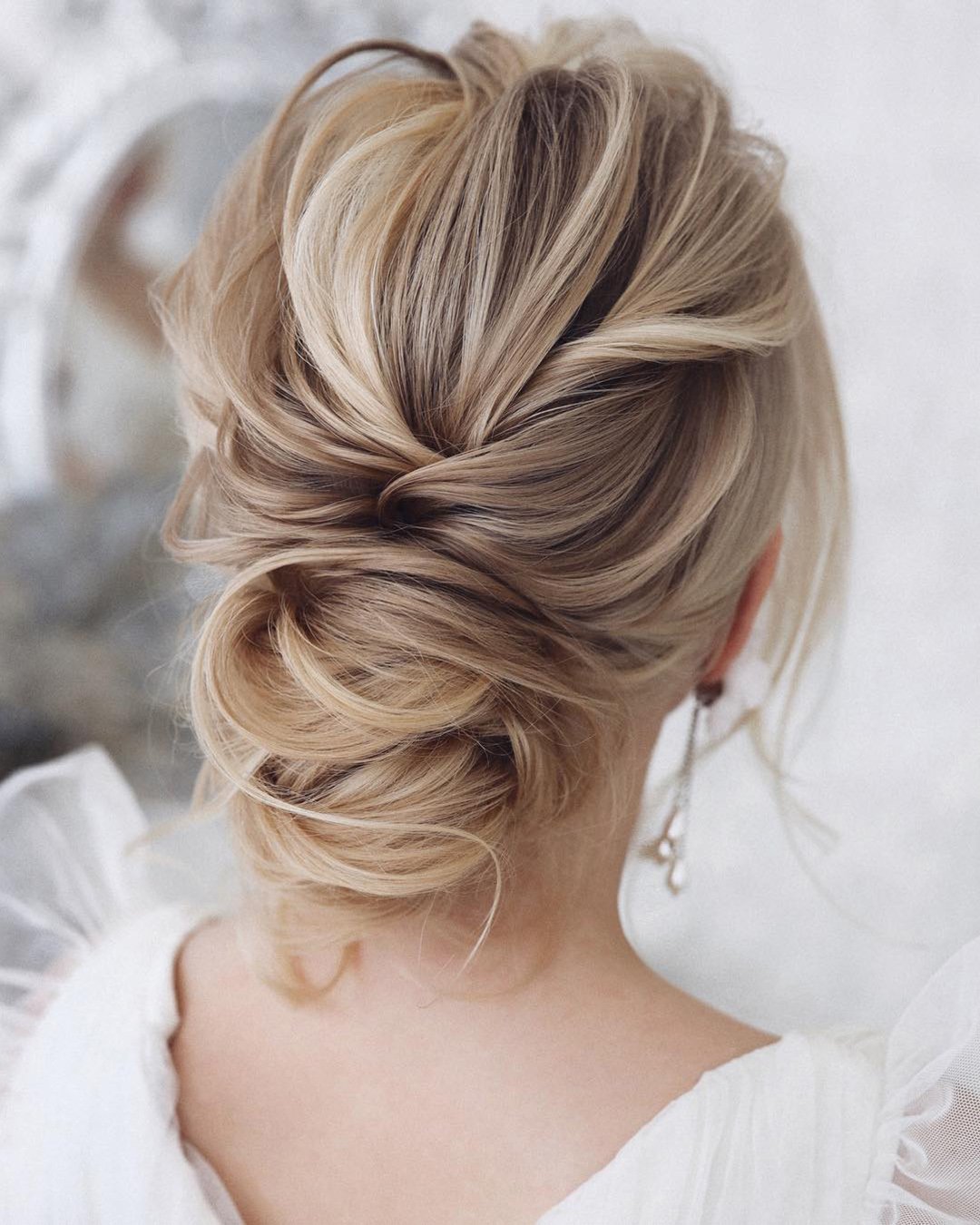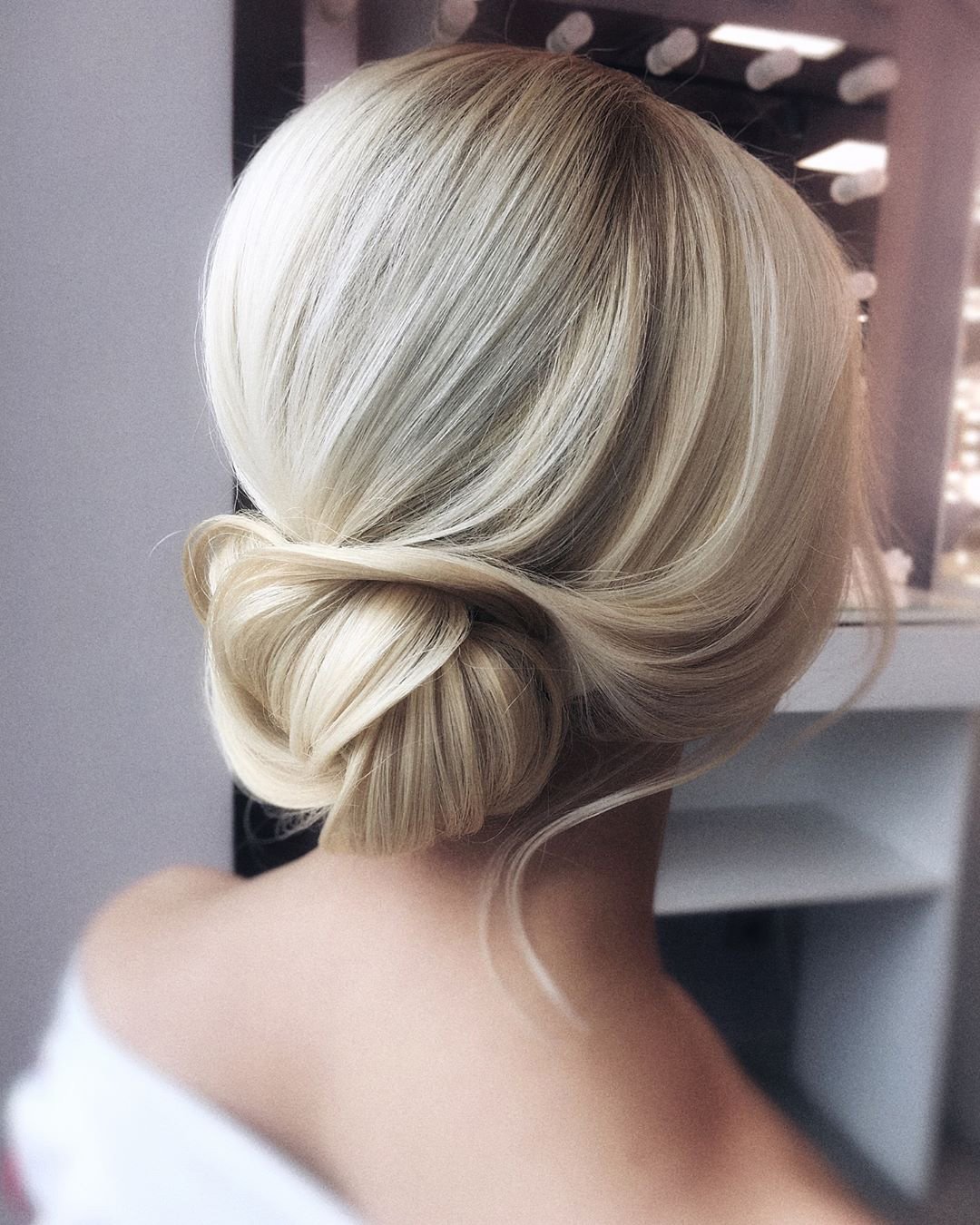 Classy Chignon Ideas
This style is a variation of a chignon that combines wisps to create soft, airy waves over the forehead. It requires a lot of pinning and tucking, as per the French word for this bun. These pins are secured with a bridal headband to keep the hair in place throughout the day. This does not take effort and can be achieved by anyone, from a beginner to high fashion professional.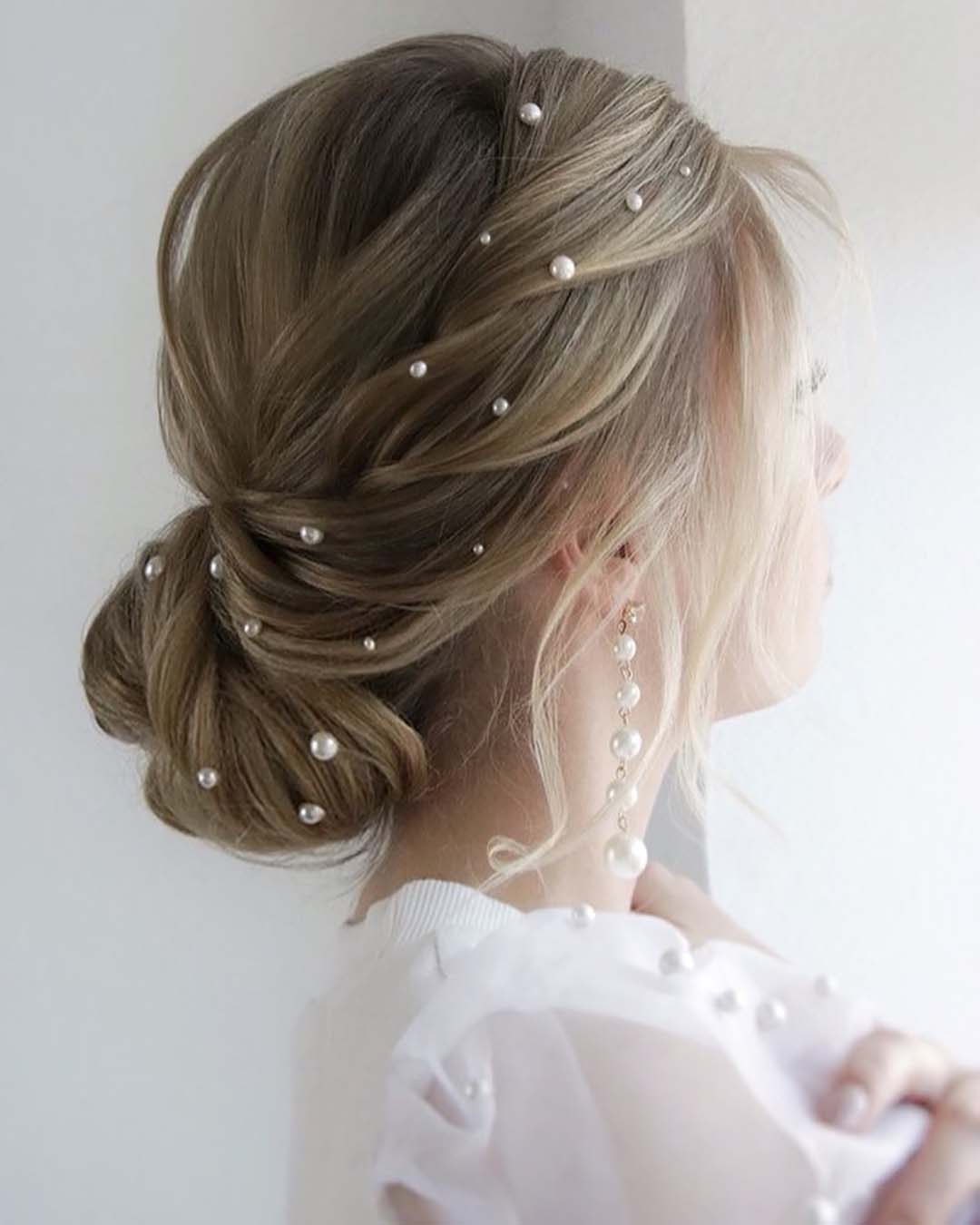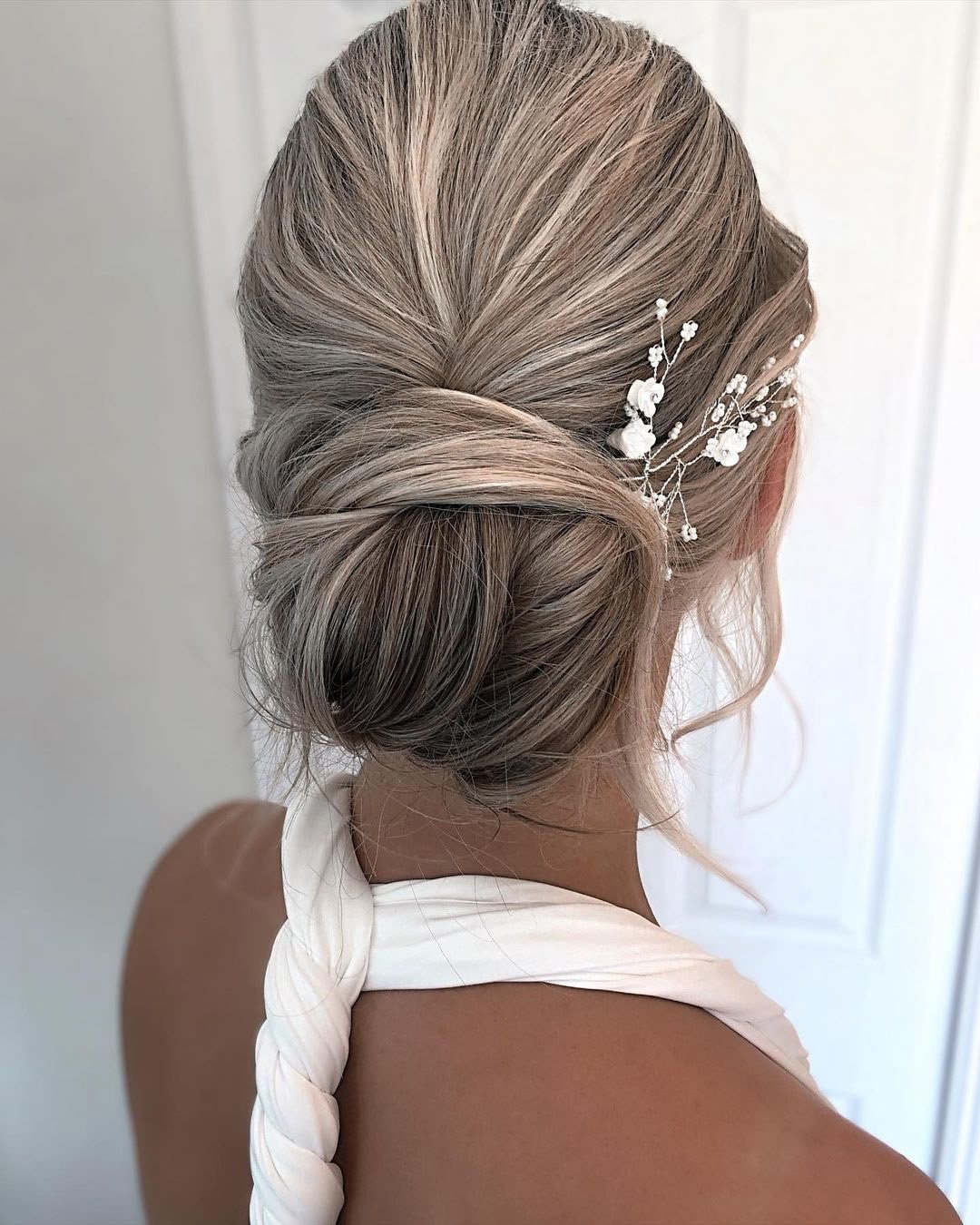 Bridal French Twist
This bridal hairstyle is an excellent option for medium hair. The French twist is created with a few smooth, soft braids, which are then gathered and twisted together to create an elegant and chic look. The hair can be styled in any way and will last for a long duration of time. Flattering on all face shapes and figure types, this is one of the best short hairstyles for medium hair.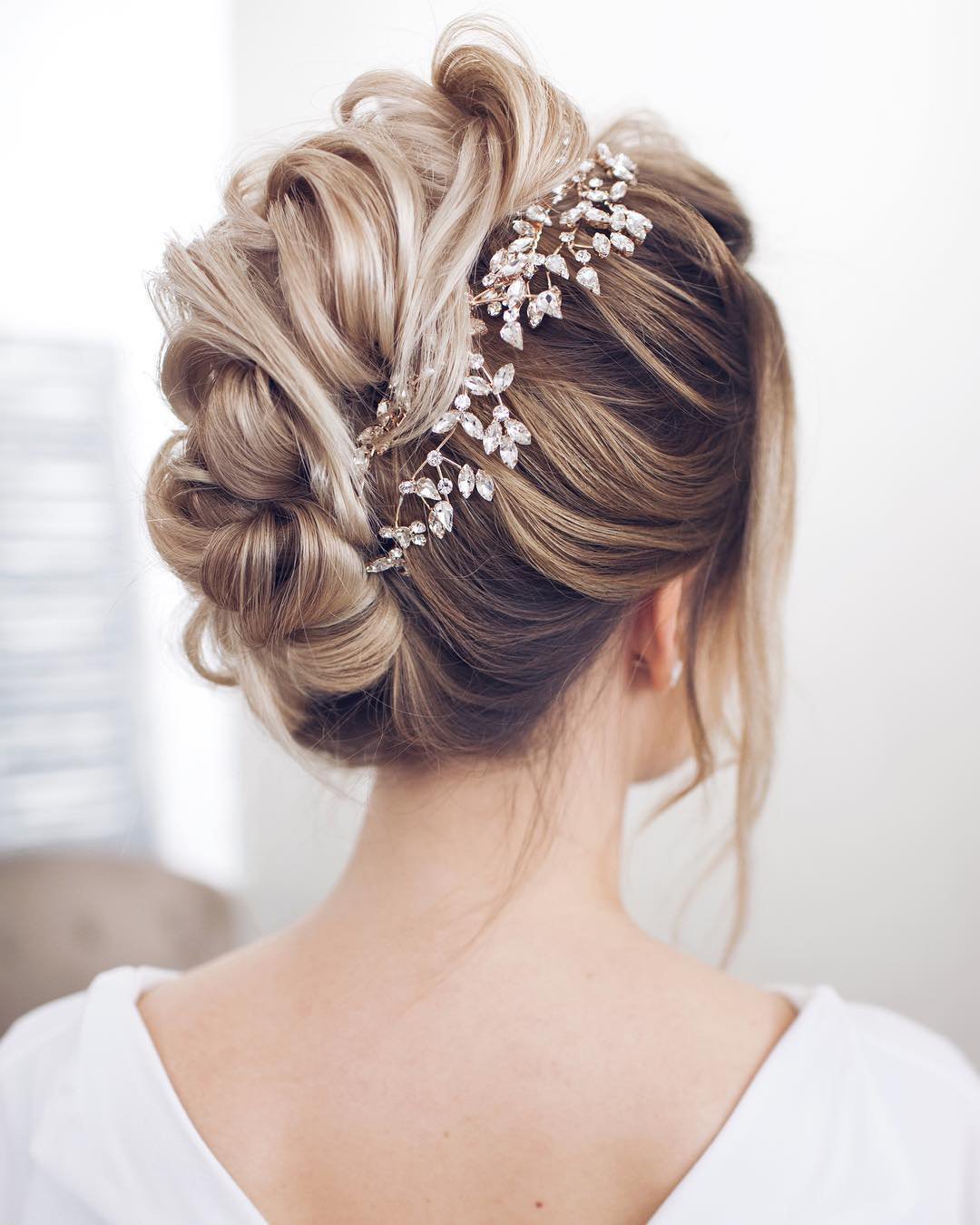 Wedding Hairstyles For Medium Hair With Braids
When it comes to wedding themes (or other nature-oriented themes) braids are a great choice for a medium-haired bride. In addition, you will need to be strategic regarding your braid selection. Your wedding hairstyle braid is meant to compliment your dress, your face, and your hair's volume as well.
Make sure to look to the braided crown/halo for more volume. A braid of a three-strand length forms a perfect circle across the top of the forehead to the back of the head when hair is pulled back tightly.
A signature thick braid can also be performed across the part of your back-flowing hair, or a braid from both sides could be wrapped into a texture bun.
Whatever you choose, you can choose how tight and clean or loose-stranded your hair is to contribute to the formal appearance of your overall look.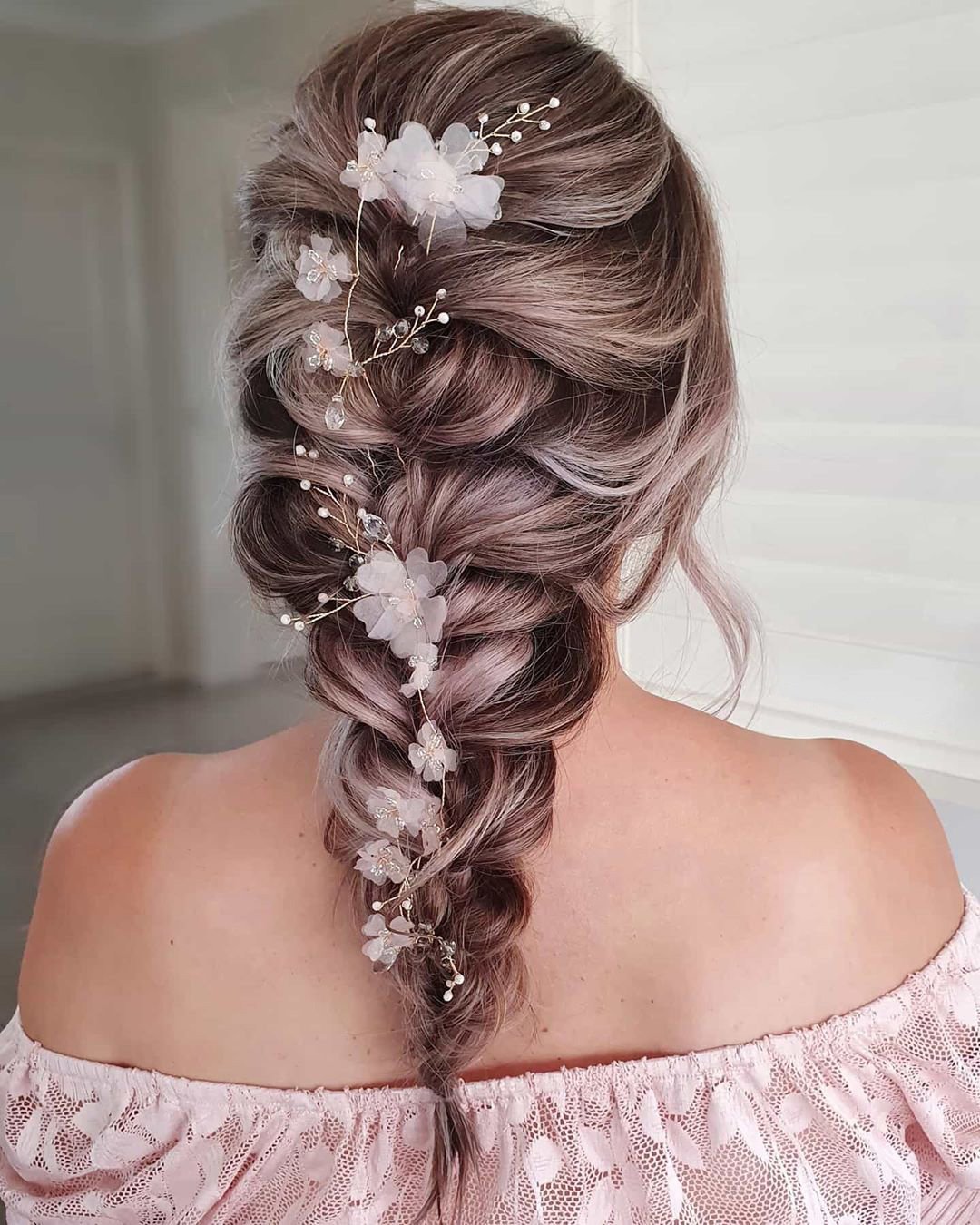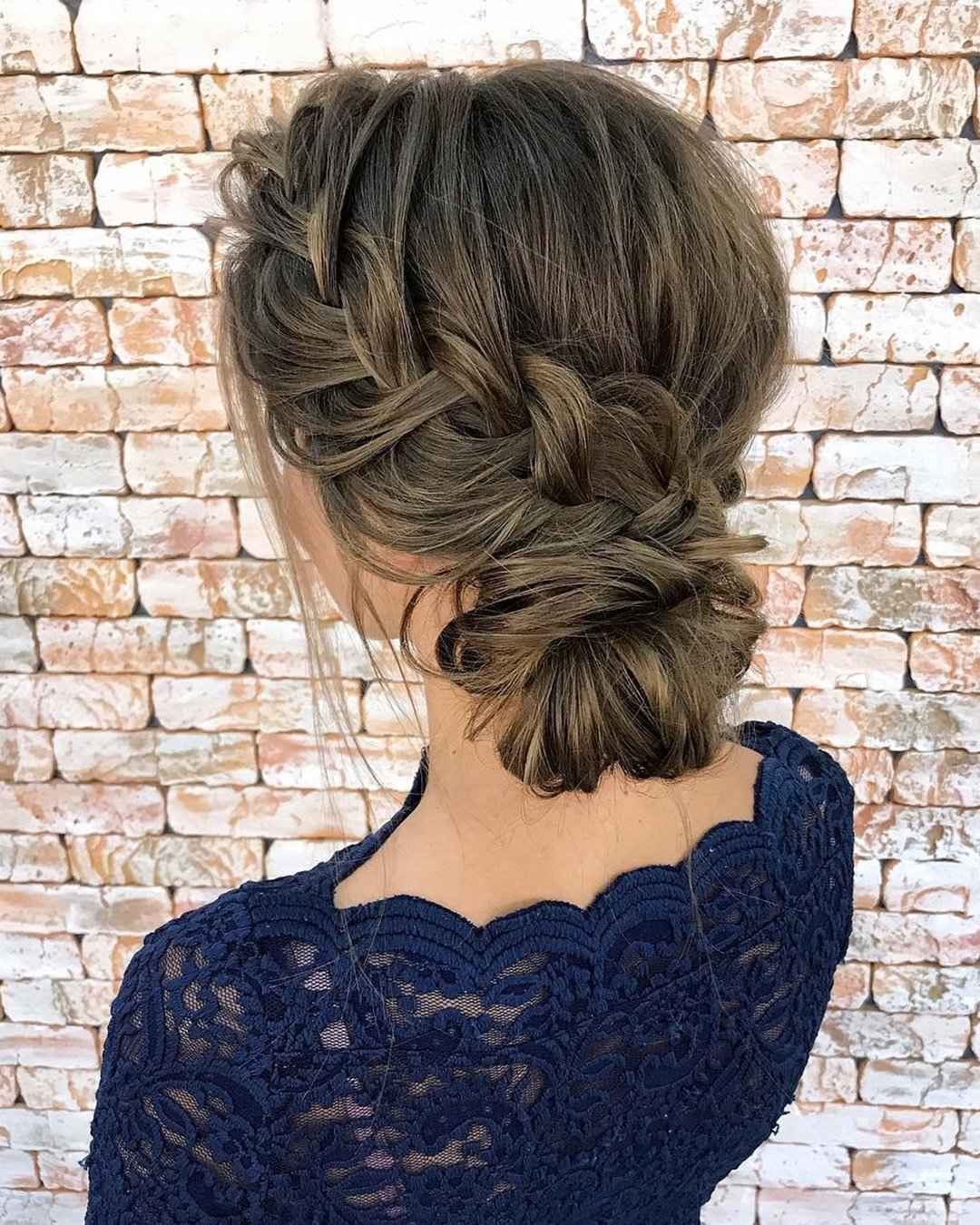 Half Up Half Down
This style of hair hair is easy to upkeep and quick to put together, much like the bride. It is best for any woman with medium to thick hair. The half up / half down updo is typically simple to style, giving the bride and guests a fun yet romantic look for the special day by giving off a soft, romantic vibe with this simple up do. It makes a second-day look more sophisticated for the more mature bride.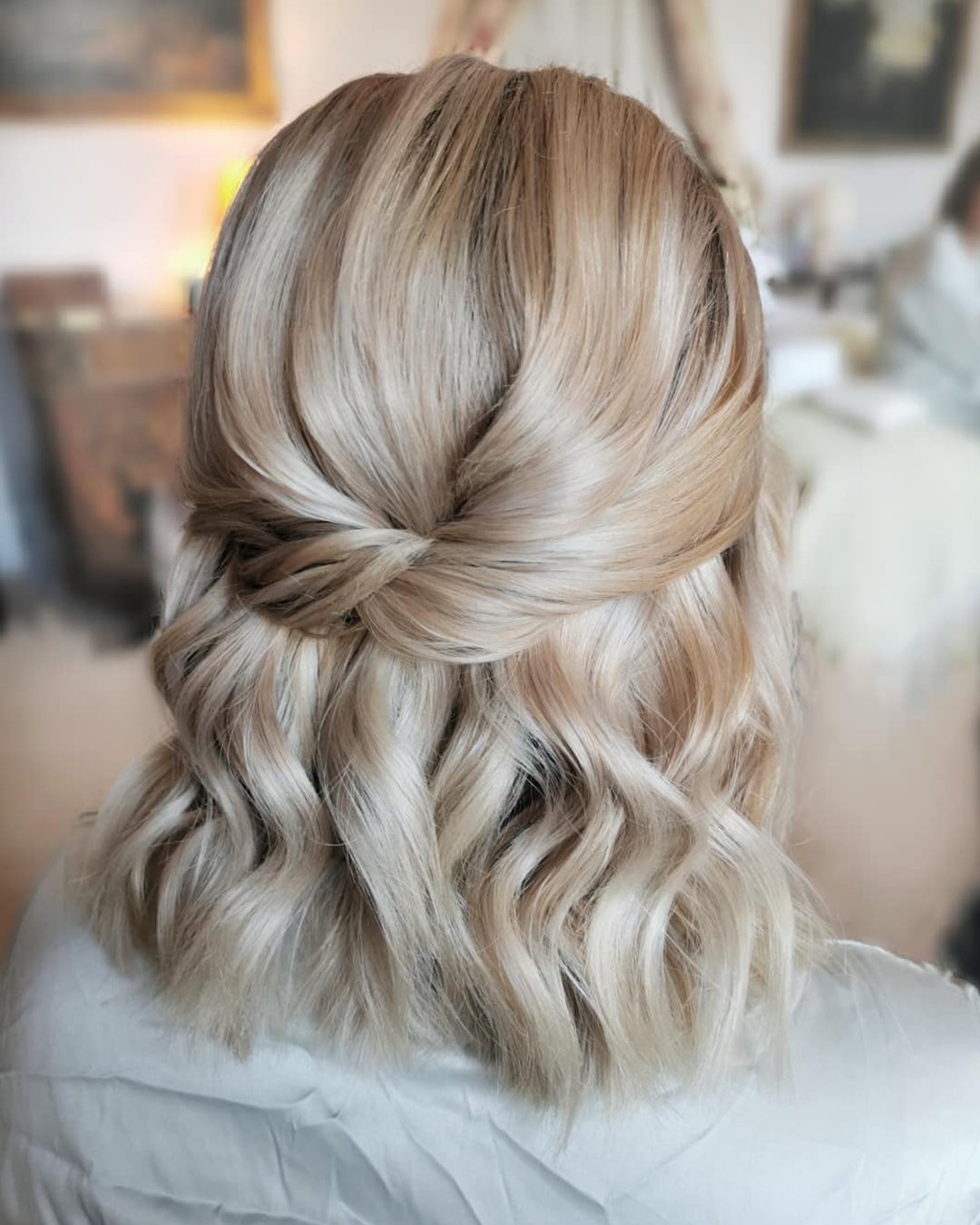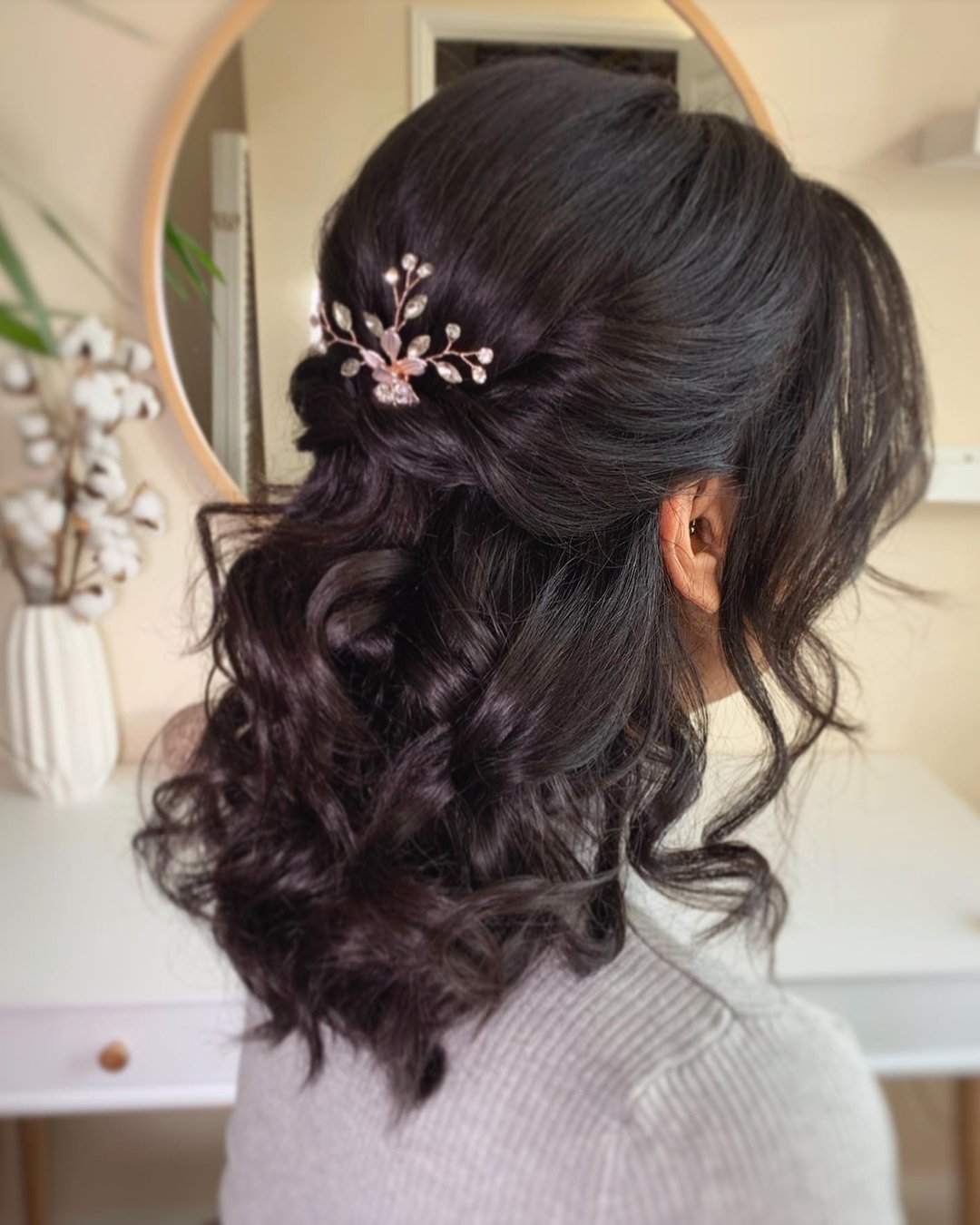 Chic Medium Hair Down
Wear your medium-length hair down, swept back and off your face. This bob-style hairstyle is easy to control and versatile, making it a leave-it-long-or-short option for any occasion. The chic medium hair down cut is an updated take on the trendiest braided upswept inverted twist hairstyle, giving a modern and trendy look that incorporates natural elements of your hair.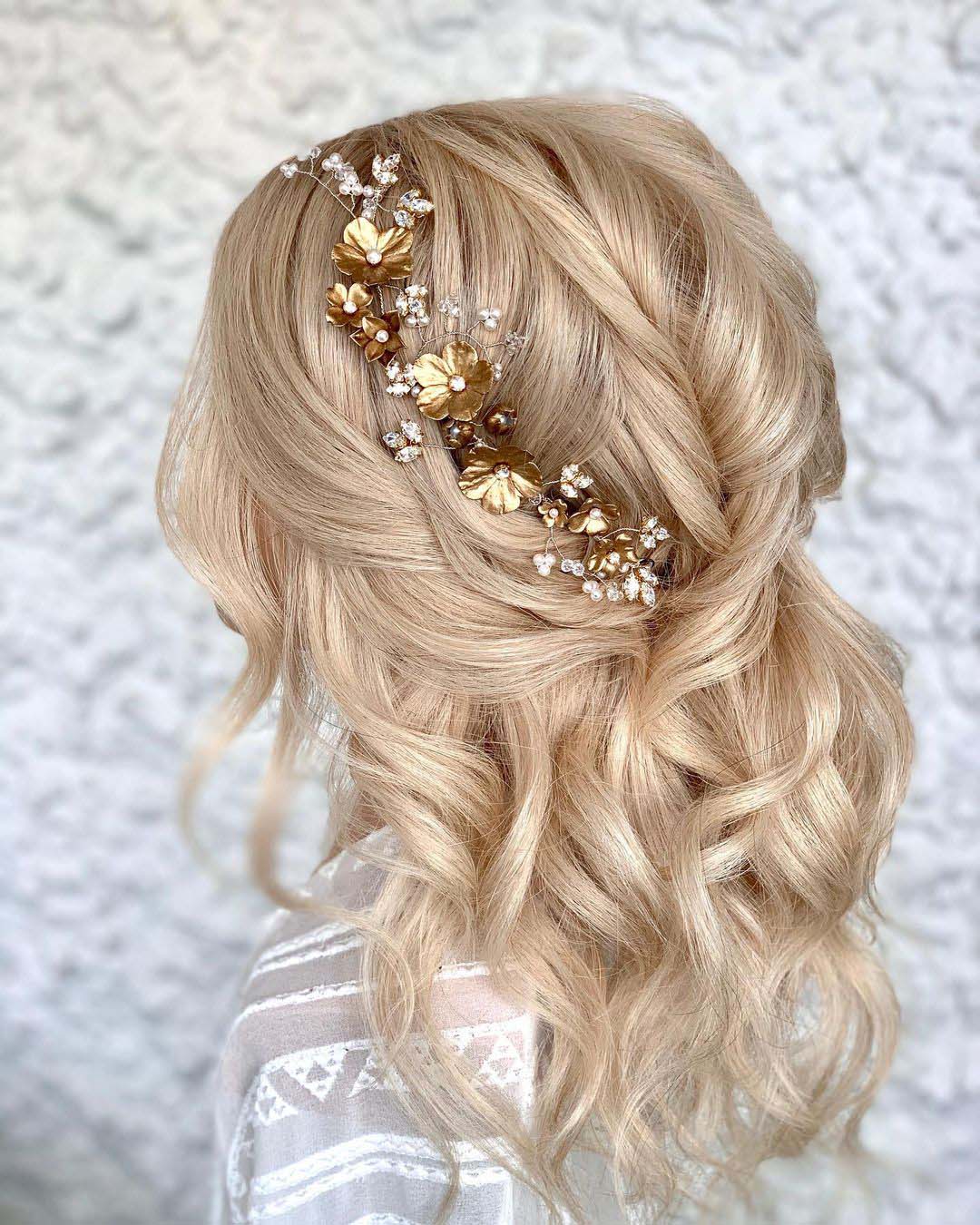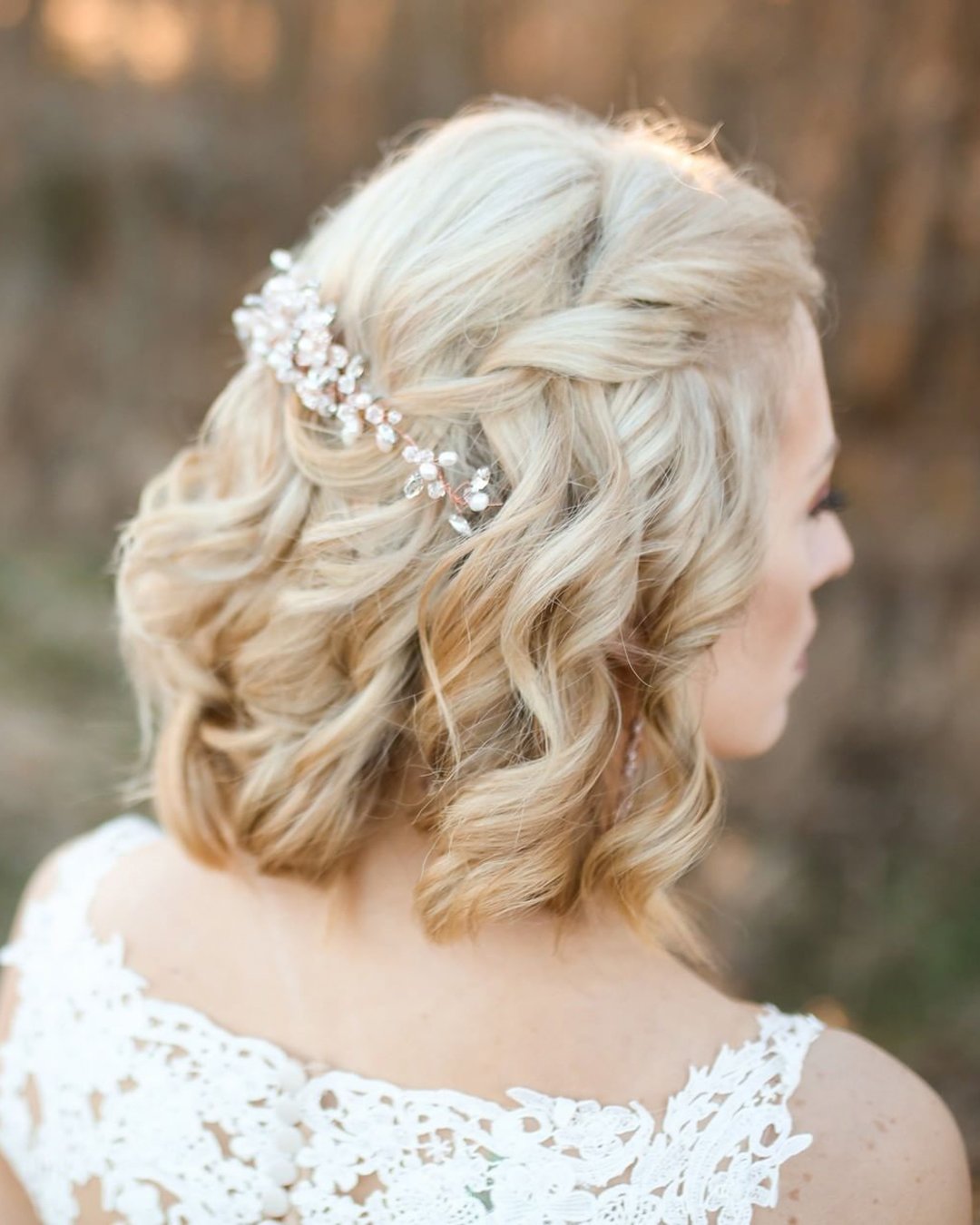 Loose Wavy Lob For Wedding
For a boho-celebrity appeal, choose loose, wavy bridal hair. Brides who would like the bob look but aren't ready to commit to shorter hair can use this style.
Everyone looks good. As you can see, the lobe of the head land above and below the shoulders. You can create this look quickly with or without layers, and without bangs.
Brides with thick hair will be able to wear this style easily. The opposite is true of naturally curly brides. There are many curls on the curly bob after some long use of a curling iron and flat iron. Start with curls doesn't always work out how you plan.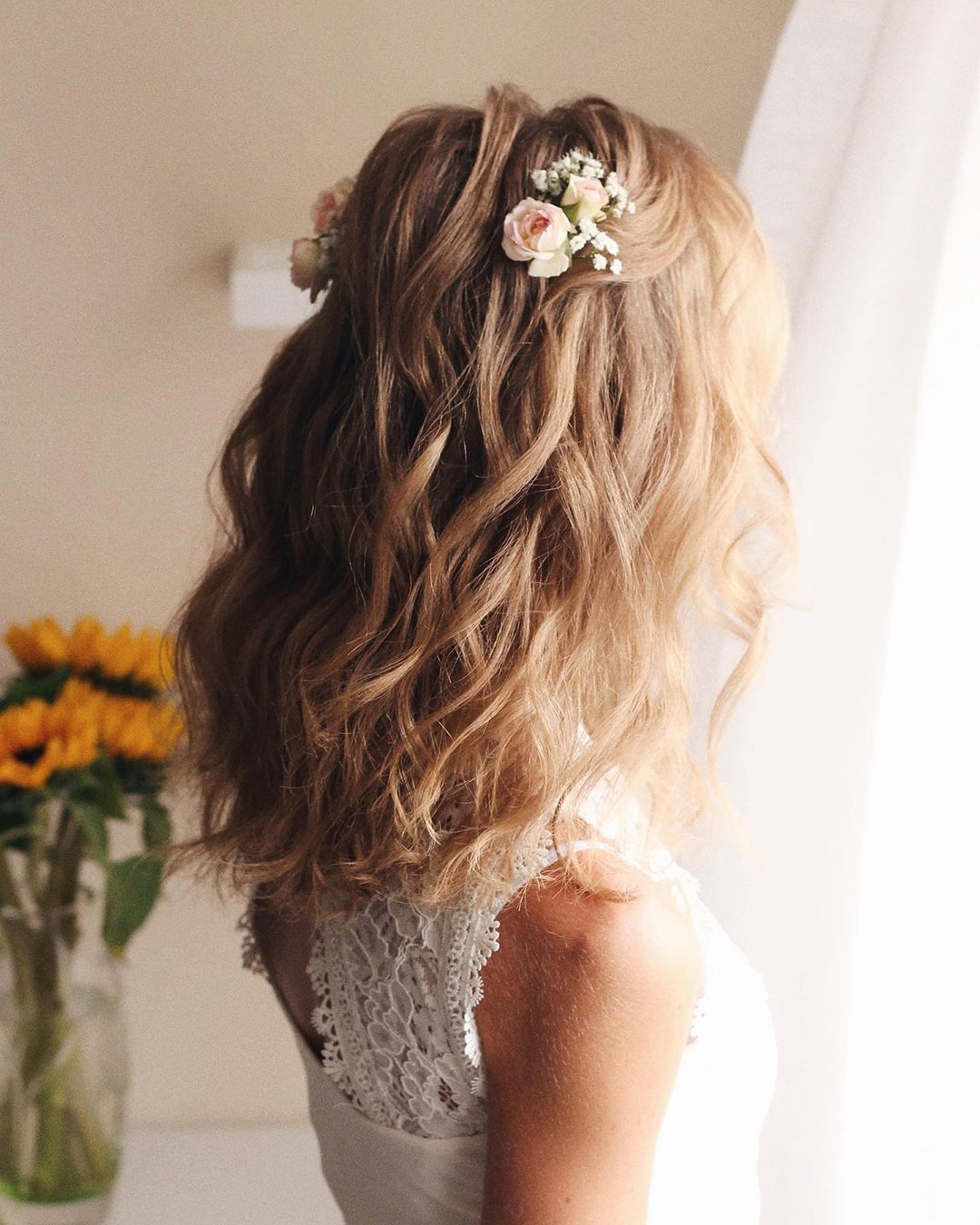 Messy Wedding Hairstyles
To get an unforgettable hairstyle that is perfect for your wedding day, consider sniping a few of these messy wedding hair ideas.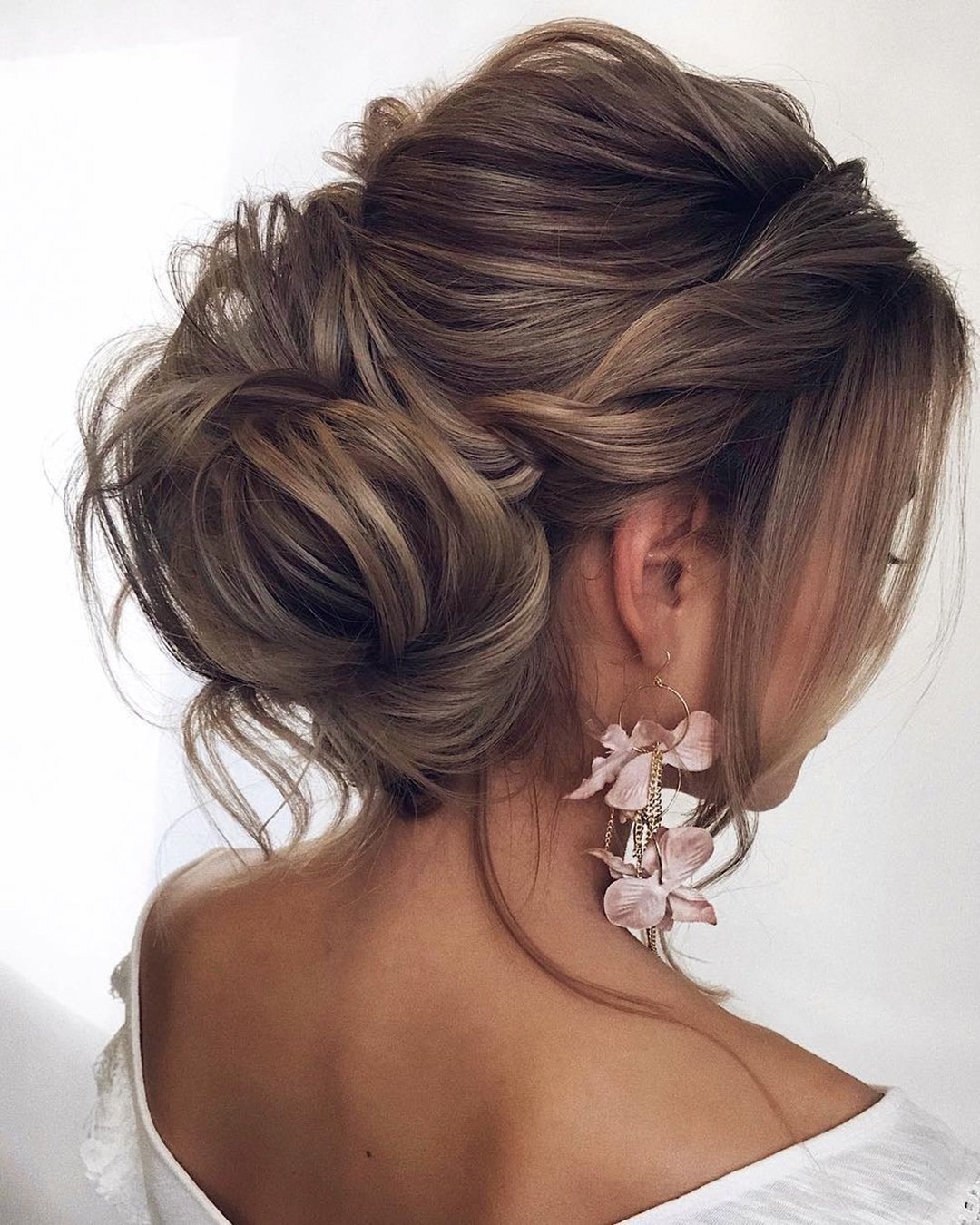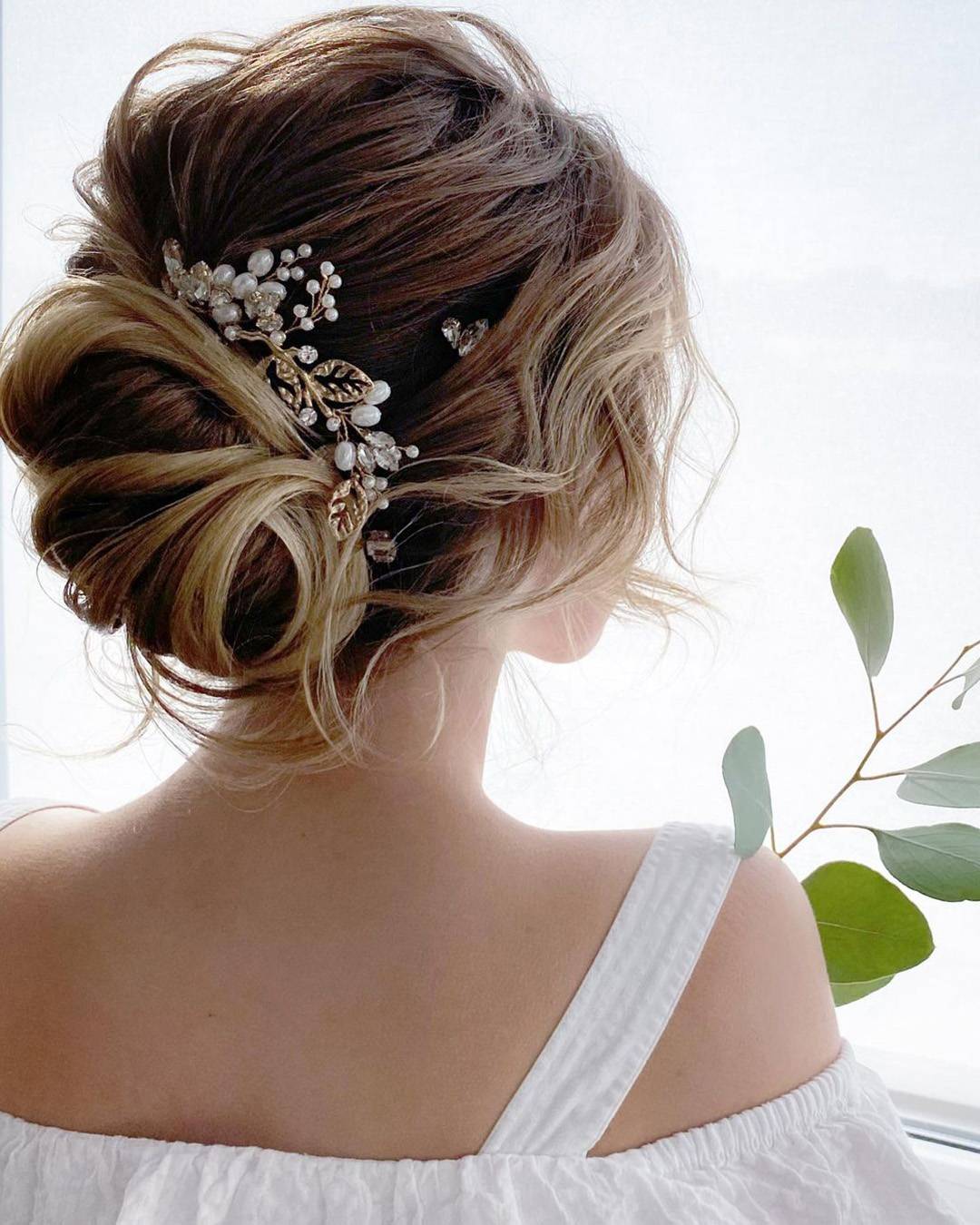 Hairstyles With Wedding Veil
Each time the veil moves it makes the hair seem thicker and fuller. Add a clip or hairpin on the veil to make it thicker. Just like the traditional bridal veil, you can use a clip or hairpin on a headband for the veil as well to really accentuate your hairstyle.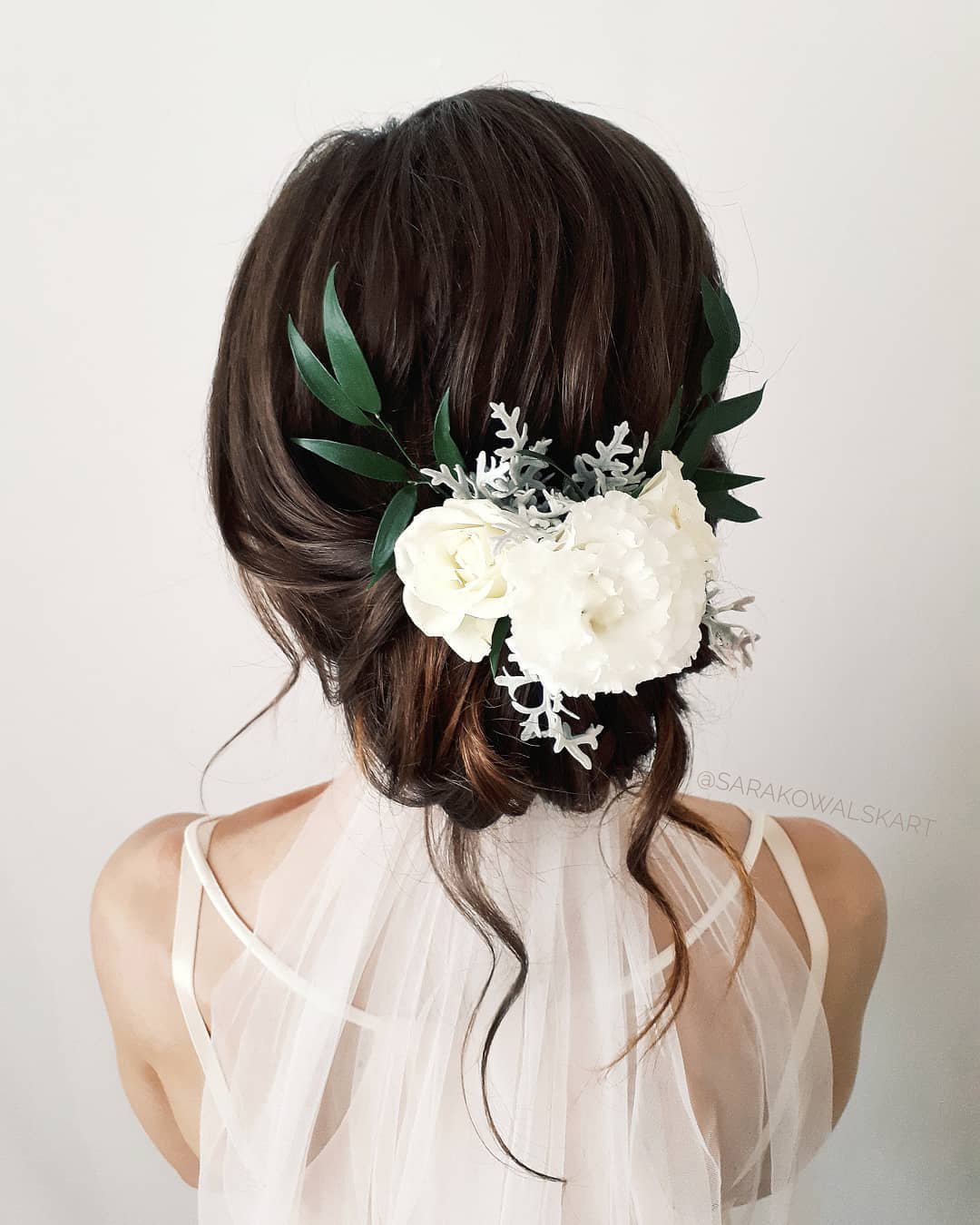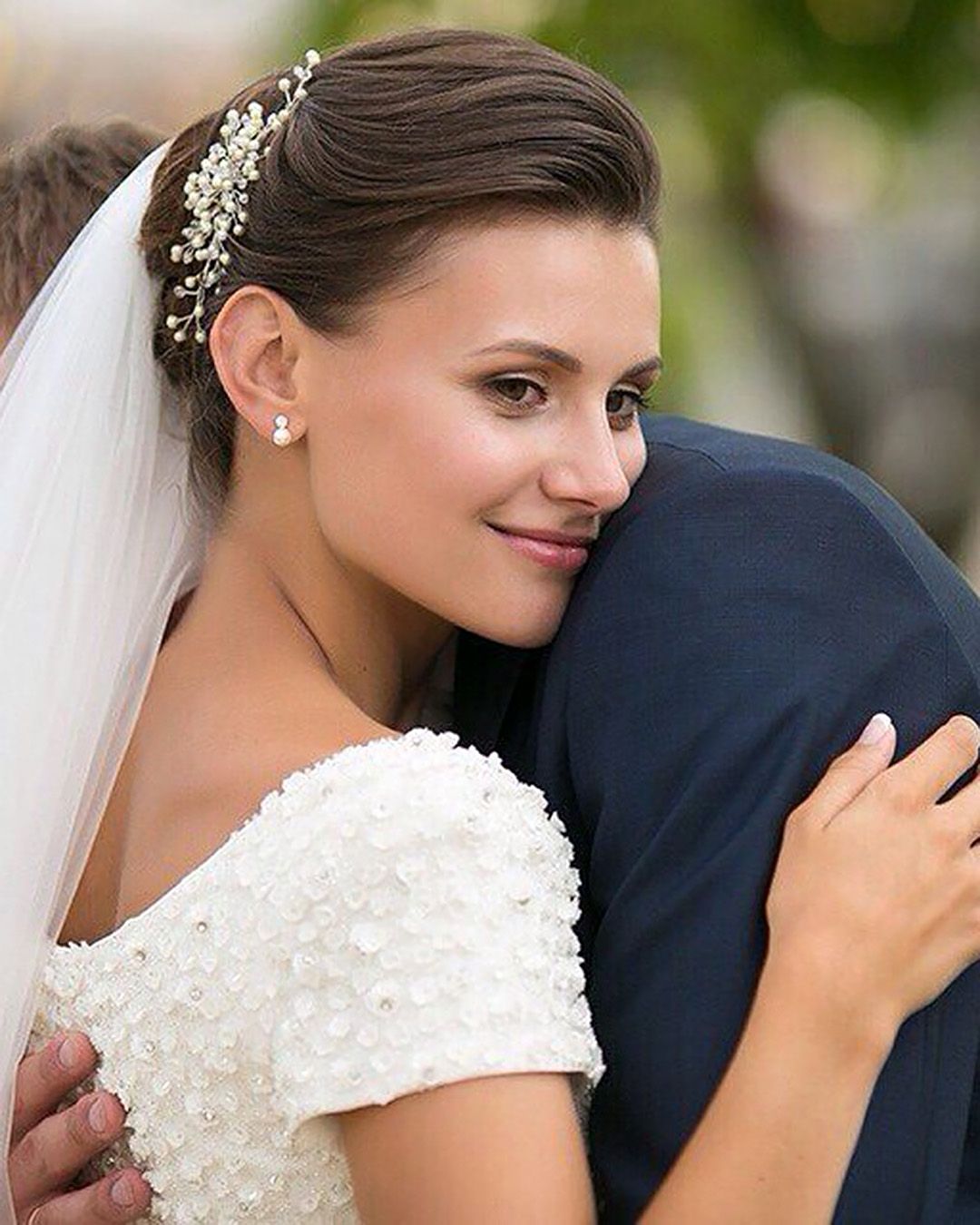 With Sparkling Accessories
A short hairstyle with a sparkling accessory is often an easy way to create a stunning look. The most popular wedding hairstyle is the sleek half-up bun. Let's proceed to the list of wedding hairstyles with a sparkly accessory!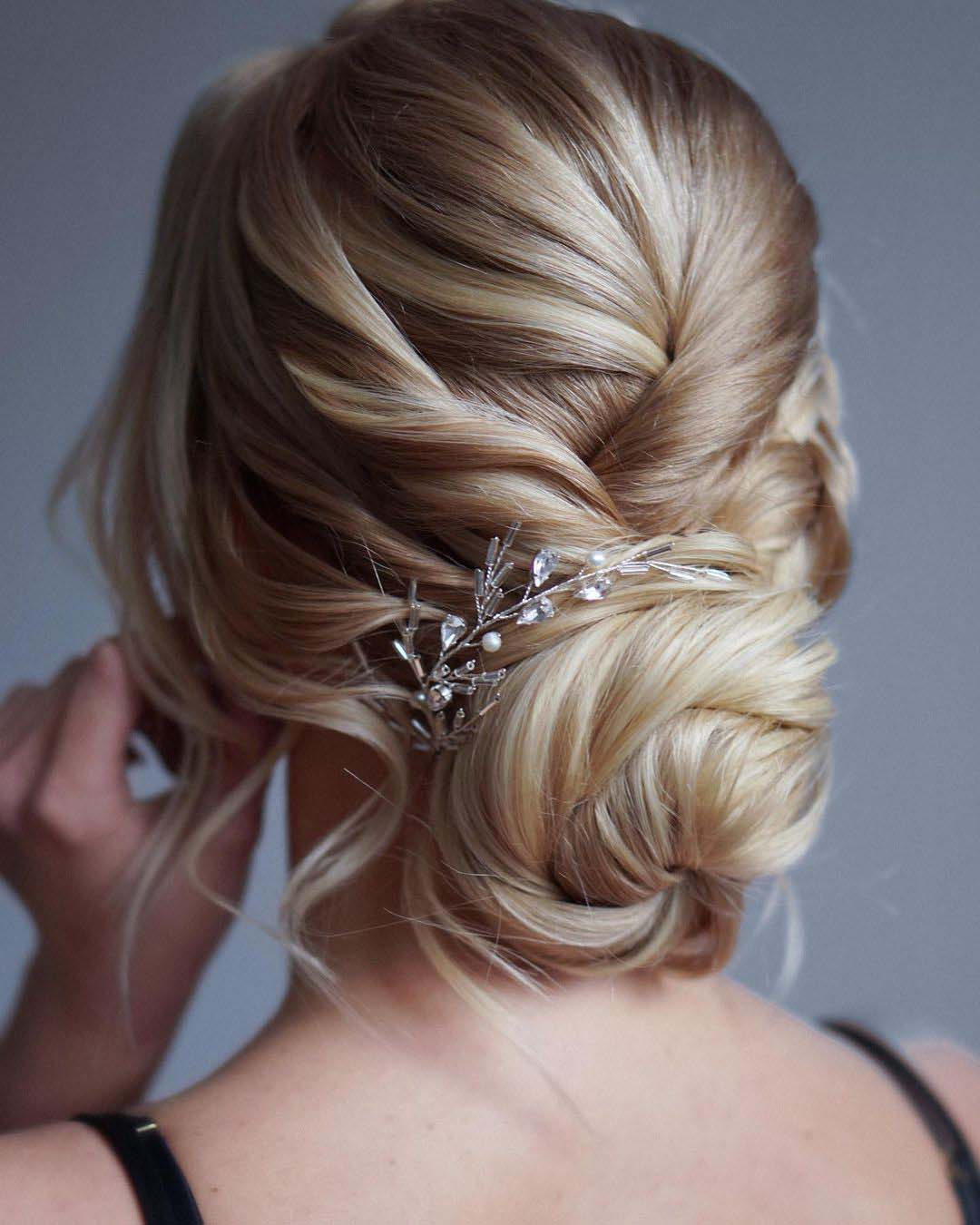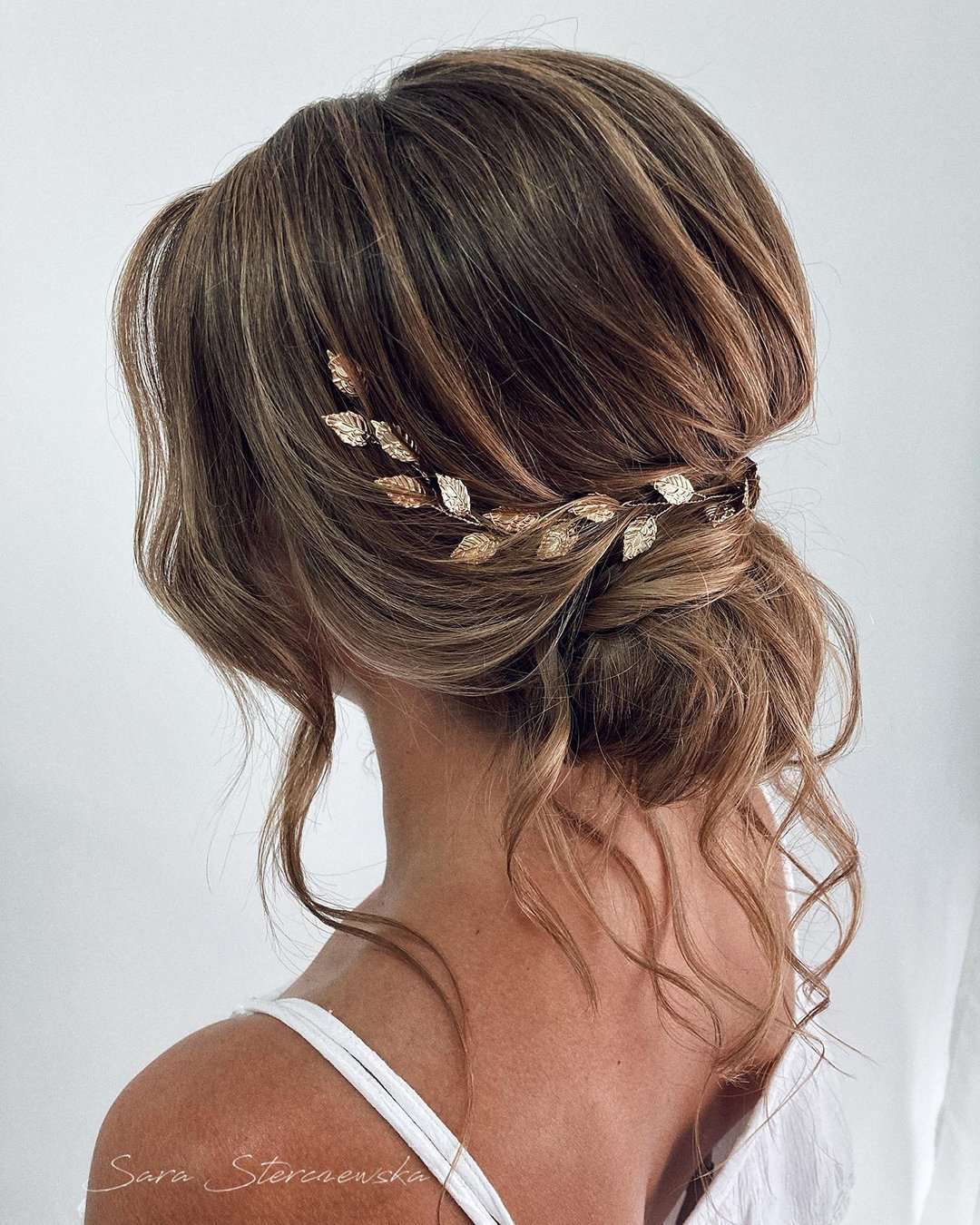 Hairstyles Ideas With Headband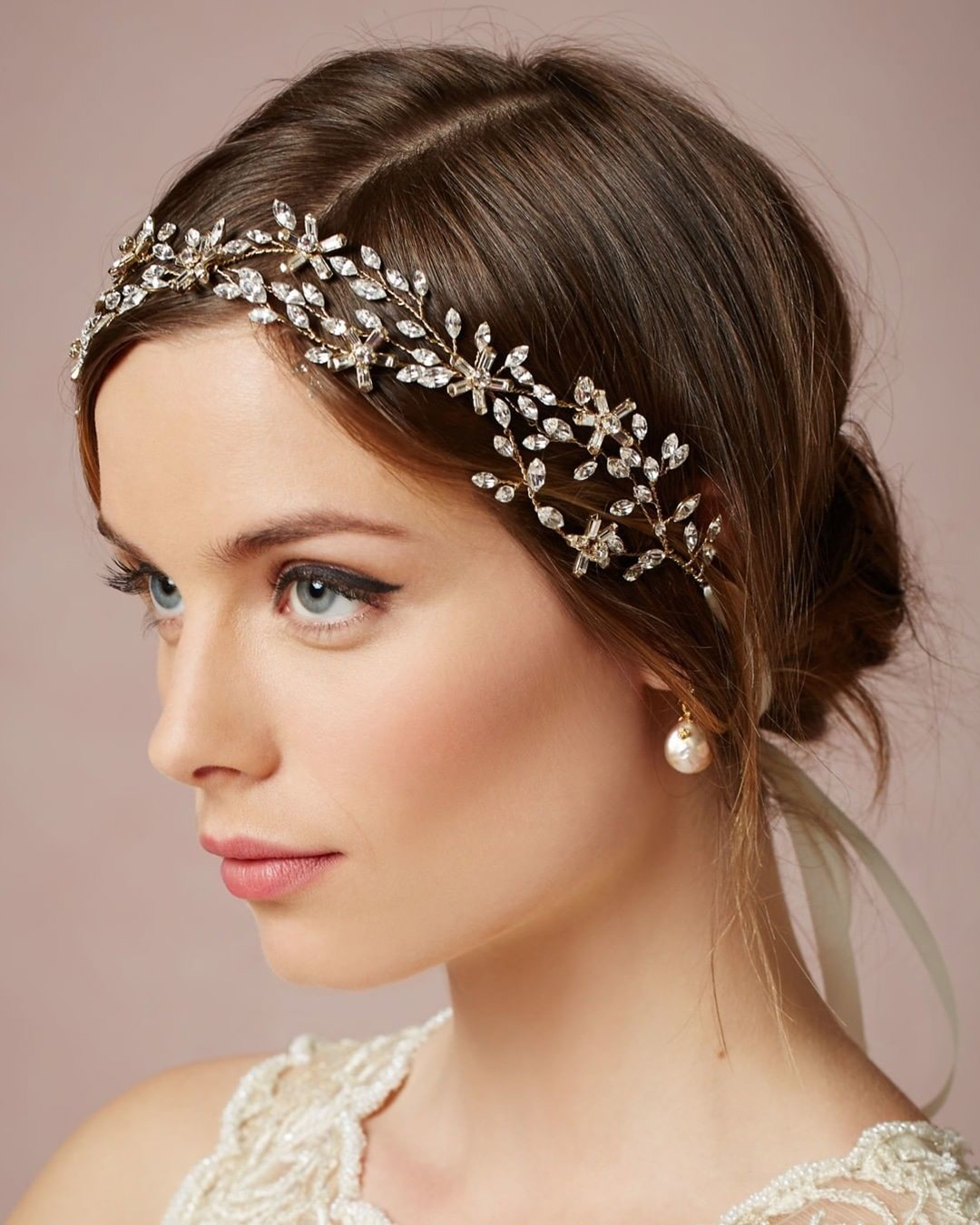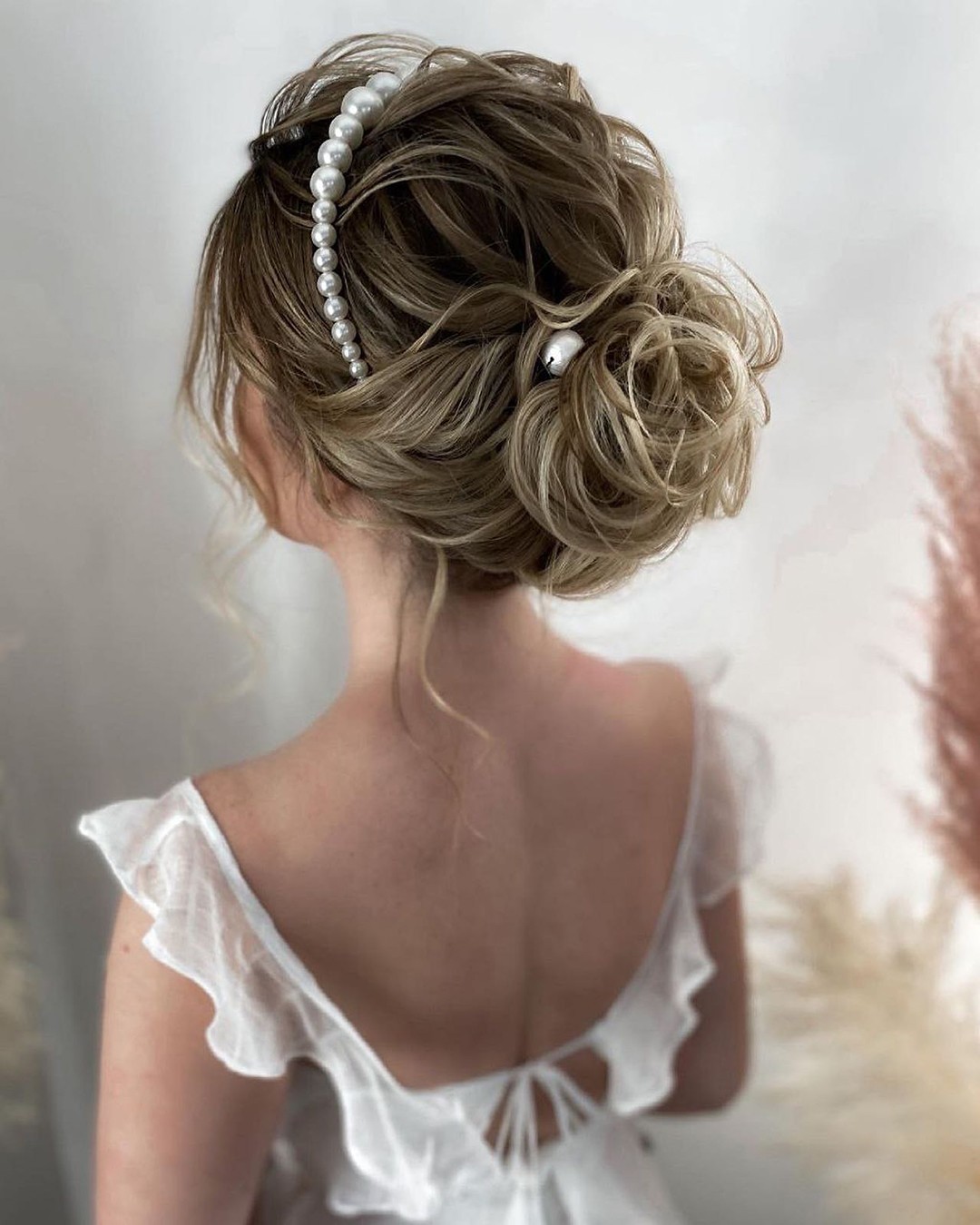 Wedding Hairstyles With Flowers
One of the most distinctive features of medium-length hairstyles is the choice that you can make for flowers. Rustic looks for medium hair are great for soft and natural-looking stems of flowers like those seen on the wedding hairstyle above. Chain of flowers can also add the perfect decoration to hairstyles. In terms of hair colour, light-coloured flowers like primrose, orchids, and daisies look amazing for medium tresses.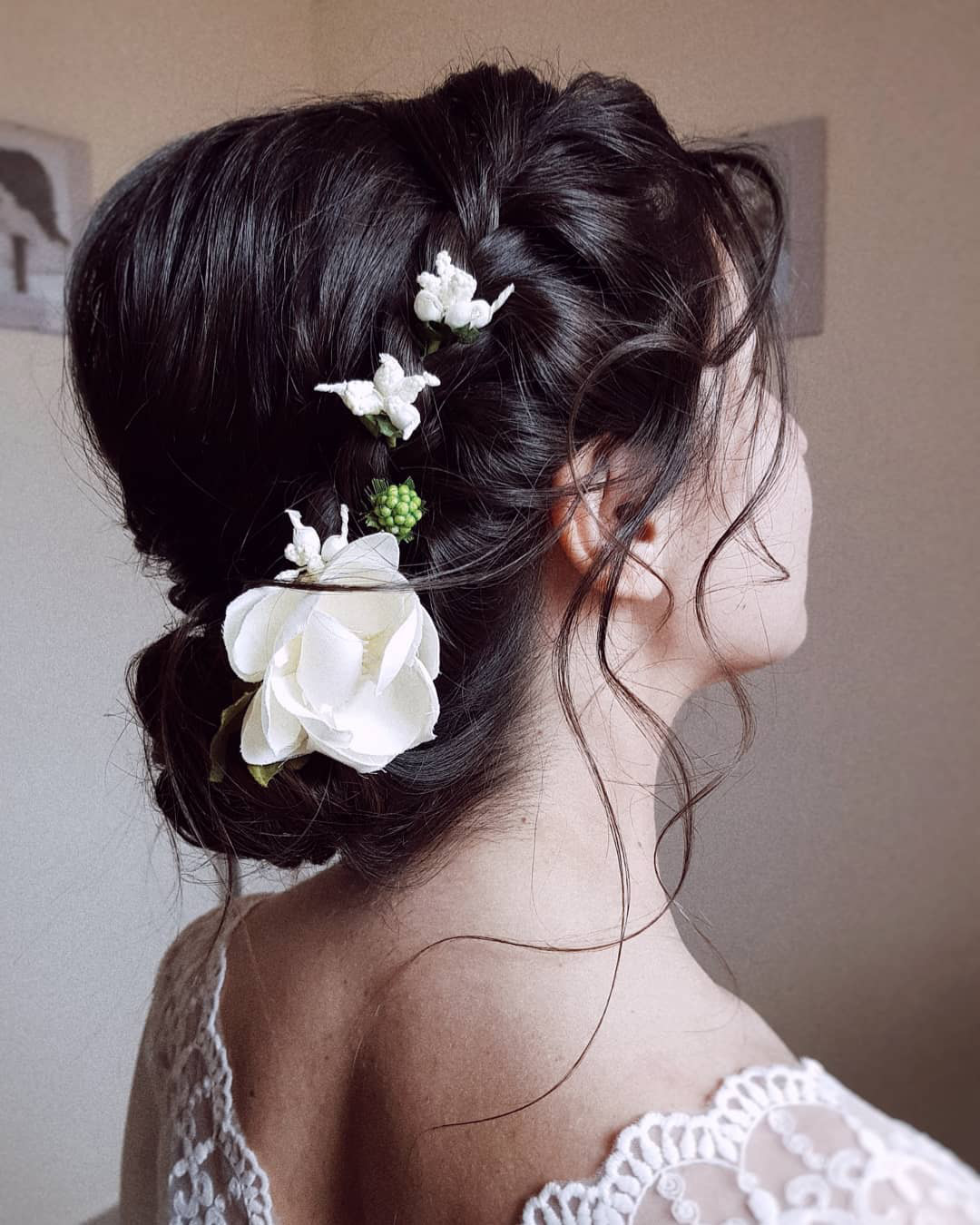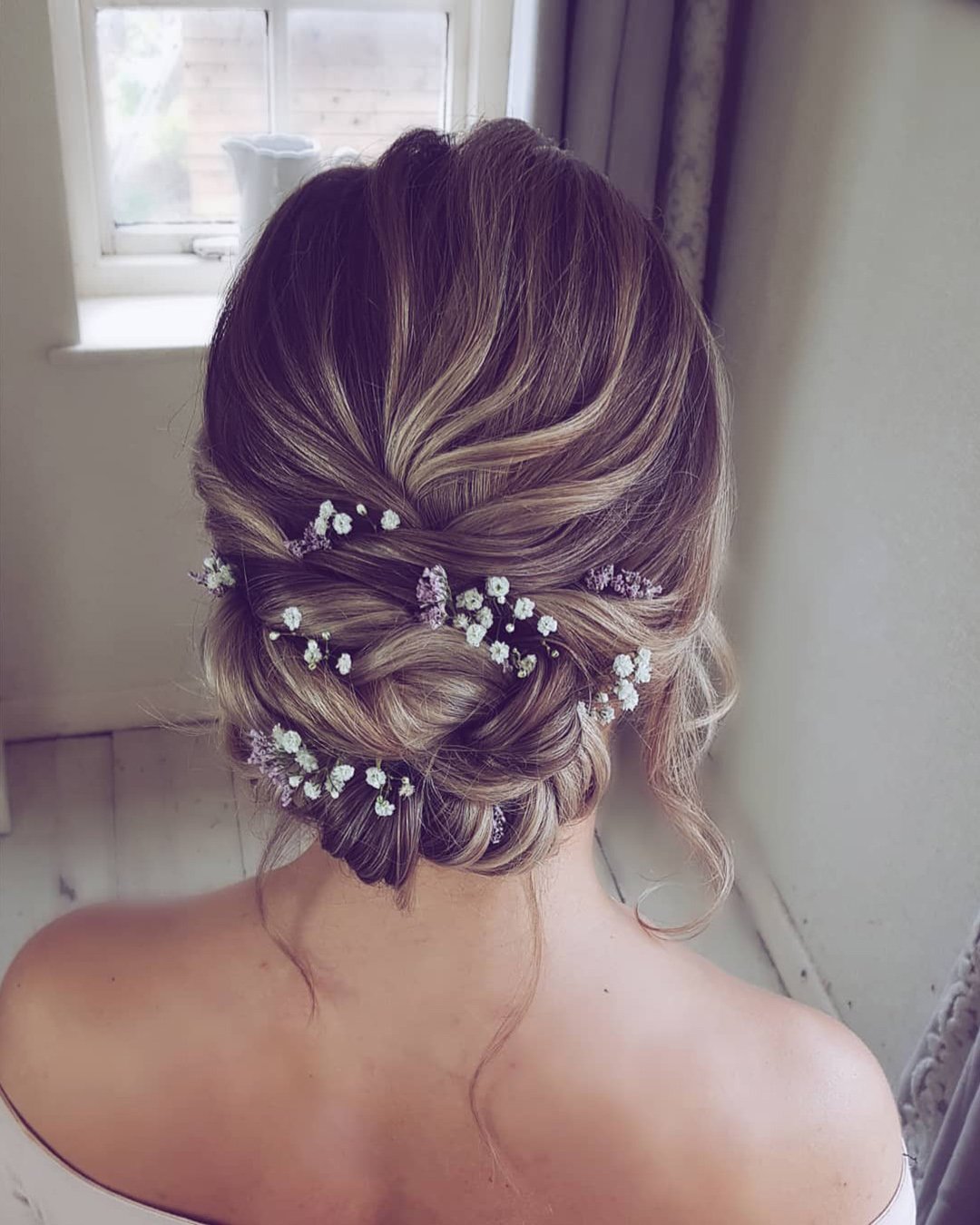 FAQS
The hairstyle you choose for your medium-length hair on your wedding day can be either an updo or a down-do, depending on the style of your dress and your personal comfort level. If you are wearing a dress with a strapless neckline, letting your hair hang down or partially up is a great way to showcase a feminine look and highlight your neckline. On the other hand, if your dress has a higher neckline, an updo might be the better option. In the winter, you may want to keep your hair down to conserve body heat, but in the summer, pulling your hair up into an updo will prevent it from becoming flat. To add extra impact, you can incorporate soft waves or curls.
For a medium-length, curly hairstyle on your wedding day, consider using leave-in rollers instead of hot tongs. These rollers can be worn overnight for longer-lasting curls and can result in a more natural look. If you prefer smaller curls, you can also try pin curling. To complete the style, use a volumizing spray and a holding spray to keep any unruly hair in place.
There are various options for styling medium-length, fine hair to create the appearance of fullness. Some styles to consider include twist-downs with loose waves, mid-length ponytails with curled ends, low buns, and half up half down. You could also try pinned-up curls, volumized braids, braided buns, low braided ponytails, volumized buns, waves, and side-swept styles. The hairstyle you choose should take into account the theme of the wedding, the season, and your attire, while also prioritizing volume and longevity.