30 Best Acrylic Wedding Invitation Ideas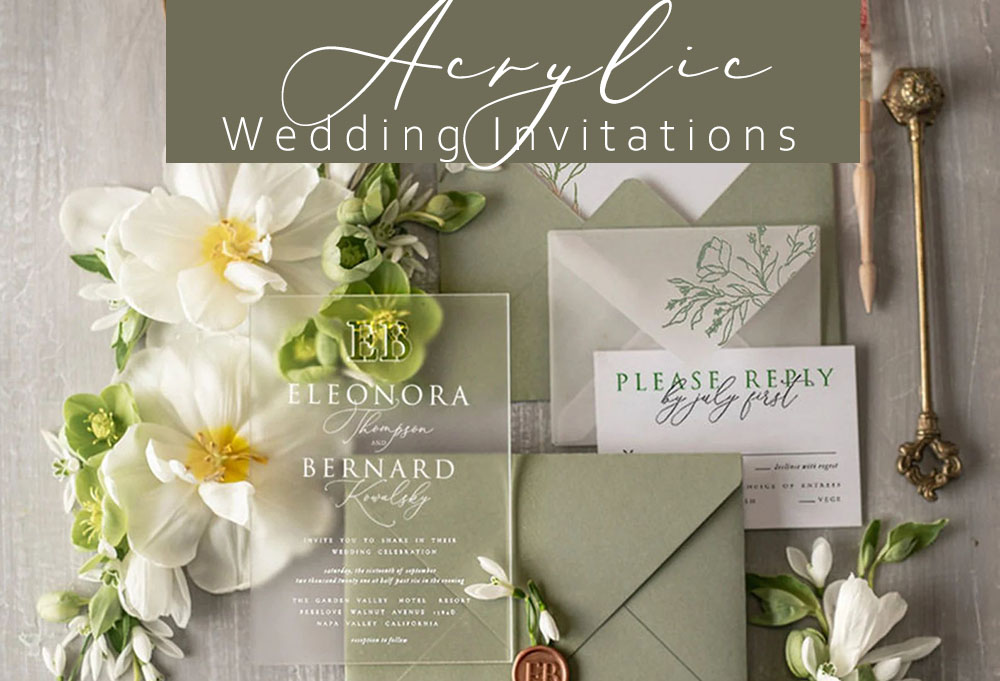 Having secured the ideal venue, top vendors, and a gorgeous cake, it's time to invite your guests to the big day. Your wedding invitation should showcase the style of the event and provide essential details in an elegant design.If you're seeking a chic and minimalistic approach, acrylic wedding invitation could be the answer. Just keep in mind that there are a few factors to consider before choosing this option.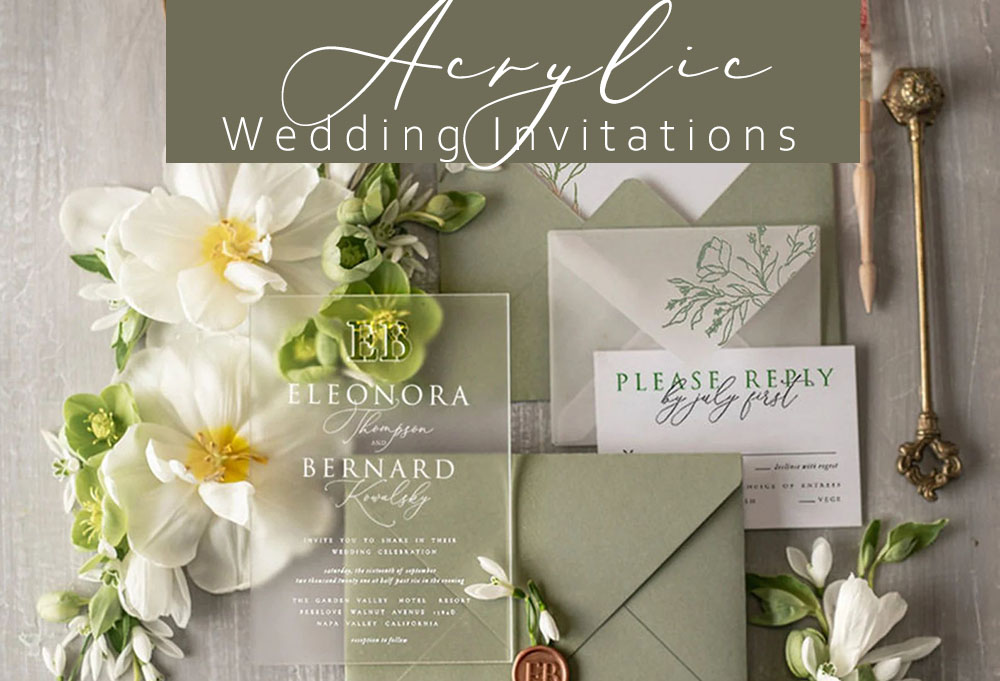 What are Acrylic Wedding Invitations?
Acrylic Wedding Invitations are a great way to make your wedding invitation stand out from the rest.
They're made of plastic, and they're often clear or translucent. They can be printed in any color you want, and they can be cut into shapes—the sky's the limit!
Acrylic wedding invitations are a great way to show off your creativity: if you've got an artistic flair, you'll love the way these invitations let you express yourself.
They're also durable and waterproof, so they won't get ruined by rain or spilled drinks at the reception.
If you're looking for something that will make an impact on your guests, these are a great option!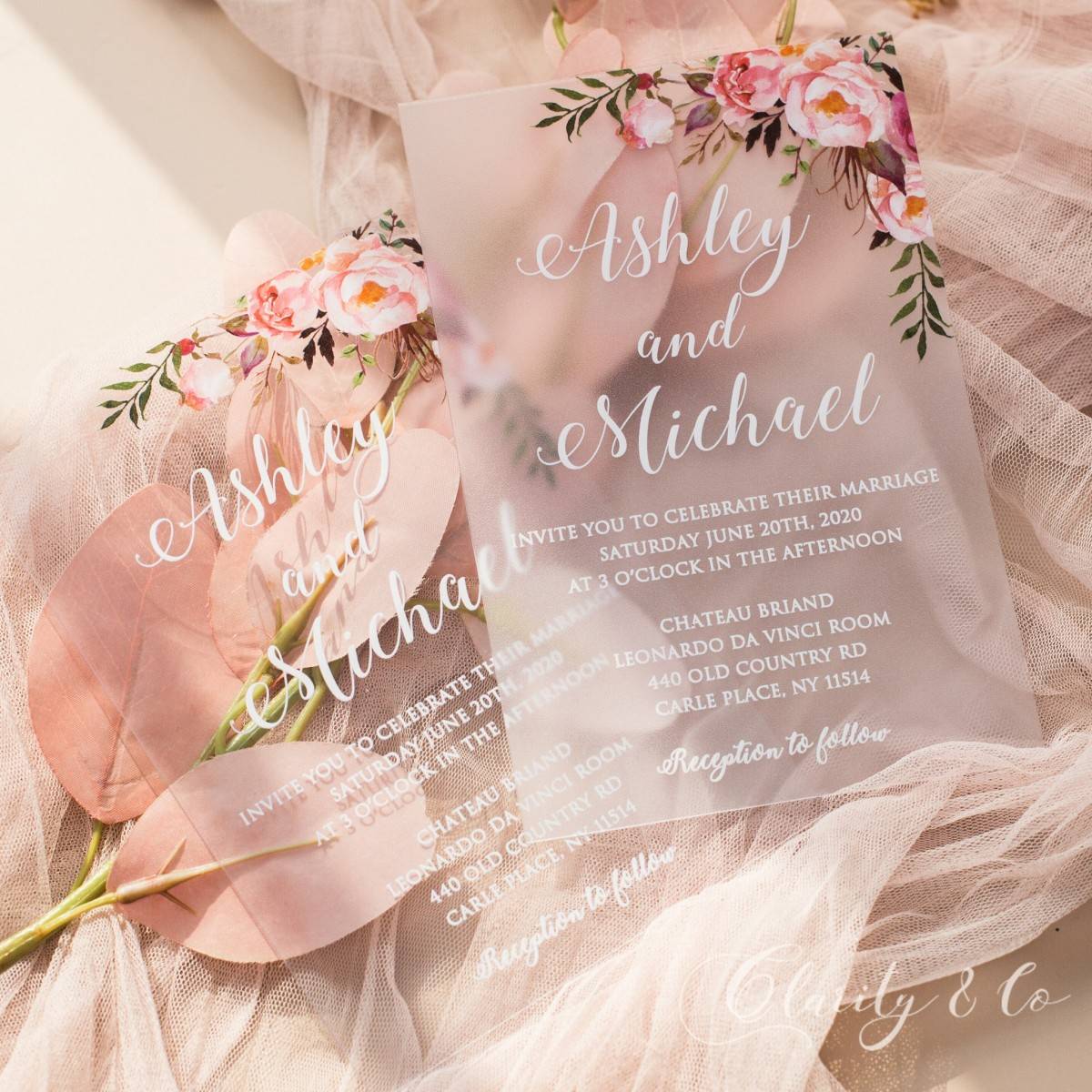 Where to Buy Acrylic Wedding Invitations?
The first thing to consider when deciding where to buy your acrylic wedding invitations is how much you want to spend. There are several different options for buying acrylic wedding invitations, and each one will be more or less expensive than the others.
If you're looking for a lower-cost option, you can look at local craft fairs and swap meets in your area. These types of events tend to have a lot of vendors who sell handmade or homemade items like acrylic wedding invitations, so they tend to have lower prices than other places that sell the same items.
Another option is Etsy. This website has a huge selection of different kinds of acrylic wedding invitations that have been made by artists all over the world. The cost of these items will vary depending on what kind of design you choose and how many people you need invitations for, but they tend to be much less expensive than those sold in stores or by other retailers online or offline.
Floral Acrylic Wedding Invites
If you're looking for something truly unique and special for your big day, these floral acrylic wedding invites are the perfect choice. The combination of soft pinks, blues, purples, and greenery on a flower graphic background will set your wedding apart from the rest. Not only are they incredibly stylish and modern, but they also have a classic and timeless feel to them. Be sure to make a statement on your special day with these stunning acrylic invites!
Luxury Pink Acrylic Wedding Invites With Flower Graphic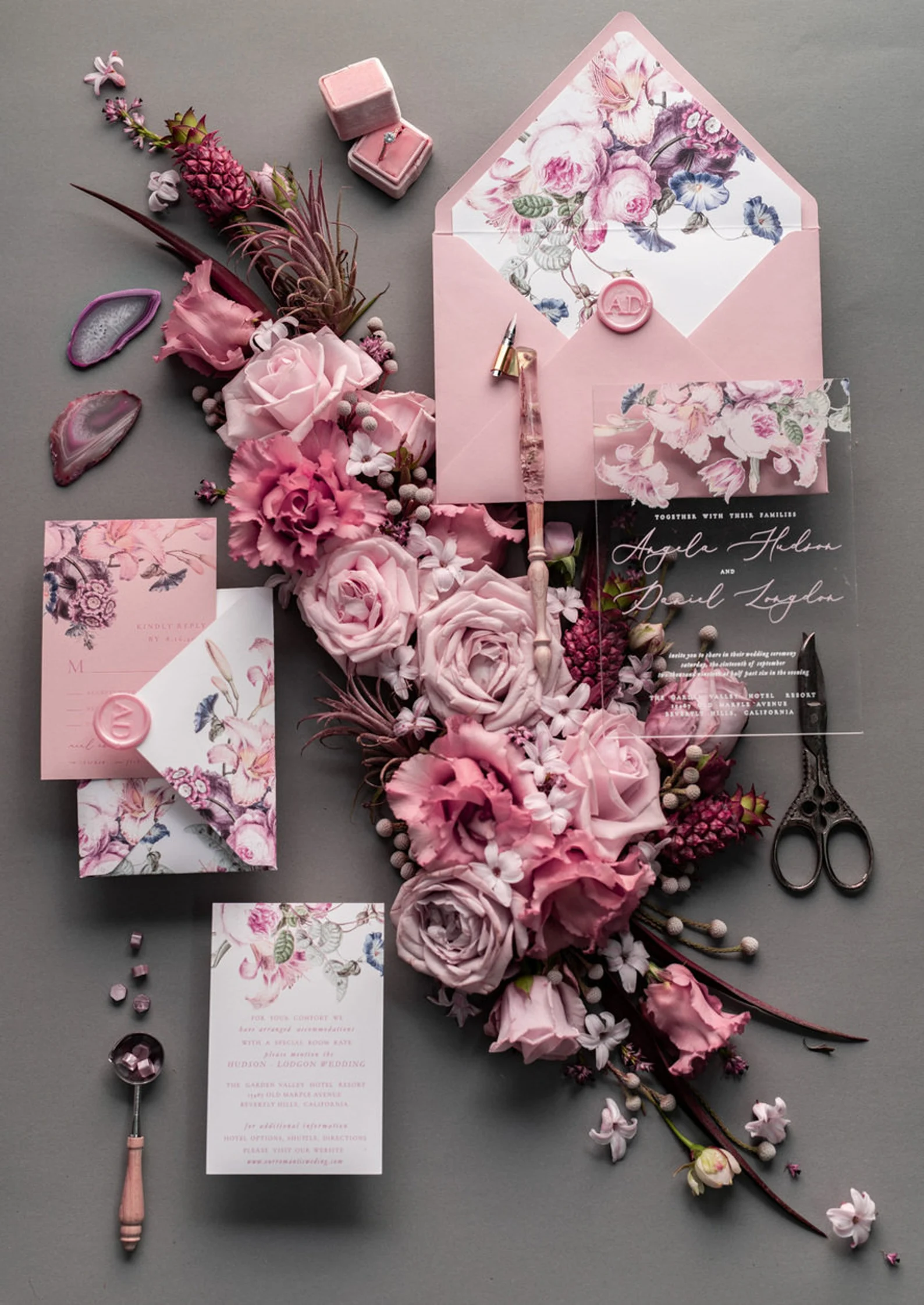 Clear Wedding Invitations with Ivory White Roses and green leaves Vintage Flowers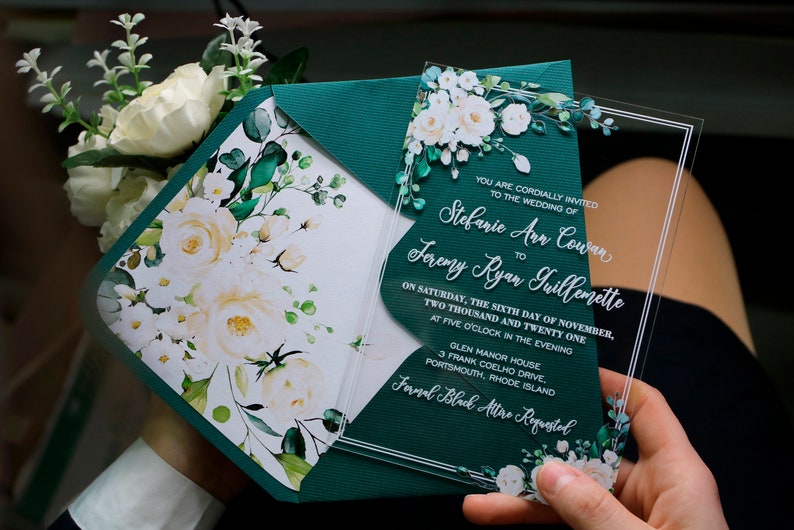 Square Blue and White Roses Peonies Acrylic Wedding Invitations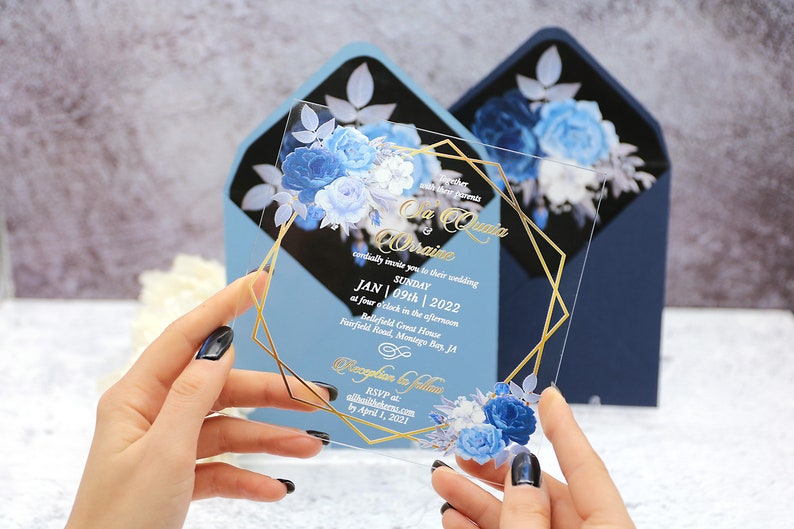 Blush Purple Rozes Blue Anemone Acrylic Wedding Invitations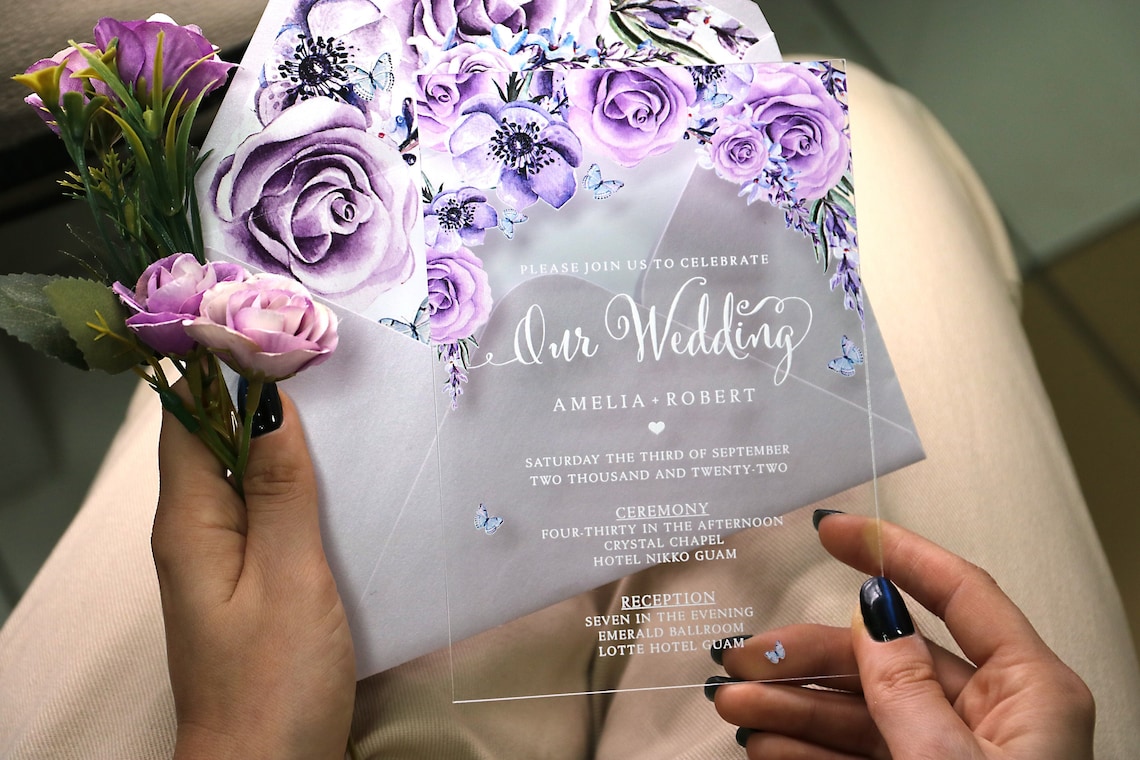 Black Acrylic Wedding Invites
Do you want to make a bold statement with your wedding invites? Look no further than black acrylic wedding invites! With their modern, trendy and popular design, these invites will be sure to stand out and make a lasting impression. Plus, the black envelope that comes with the invite adds an extra unique touch.
Black Acrylic printed calligraphy gold foil wedding invitation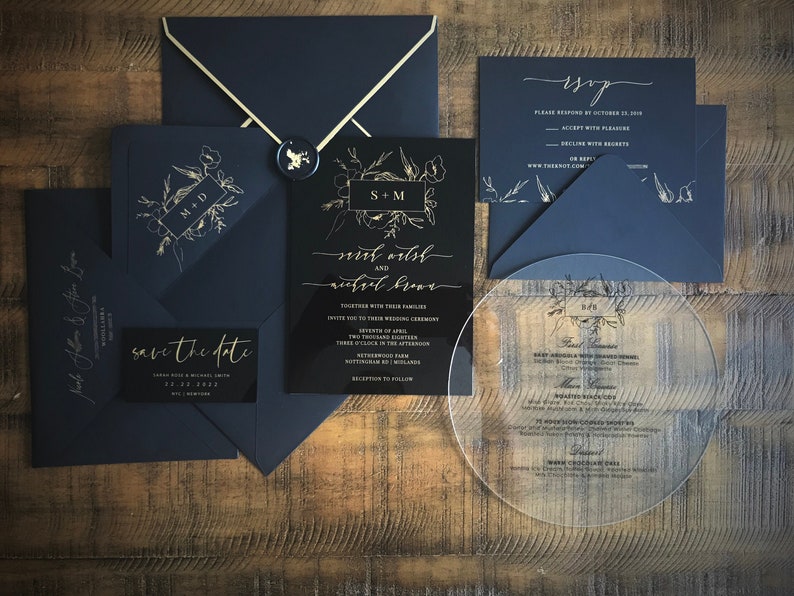 Real Gold Foil Acrylic Wedding Invitation Card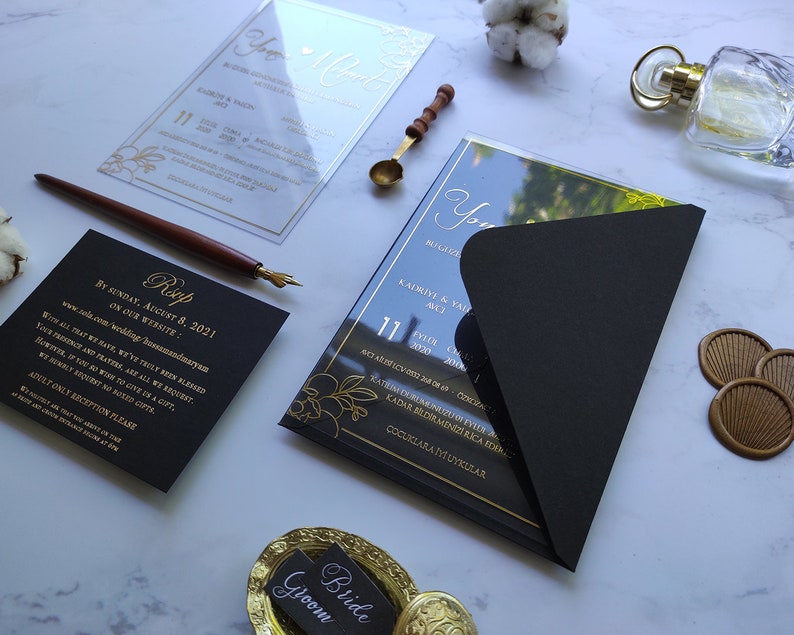 Minimalist Gold Acrylic Wedding Invitations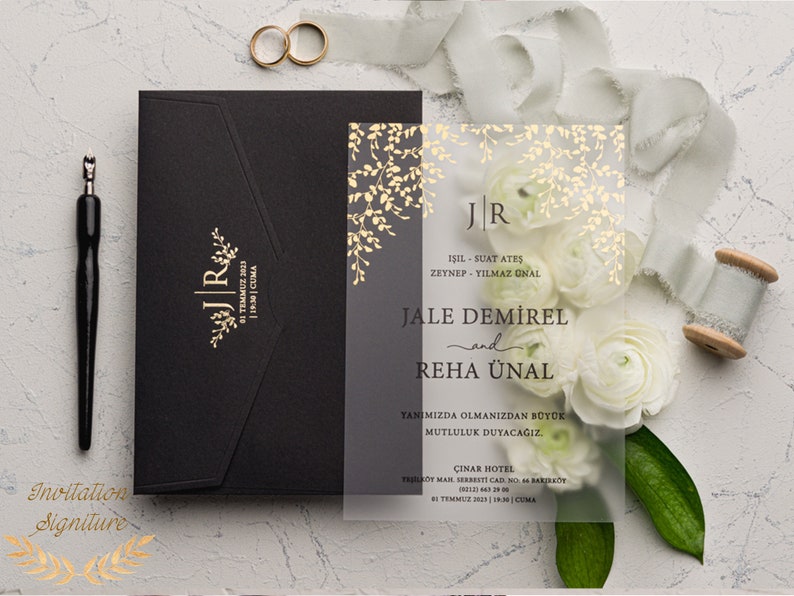 Frosted Acrylic Wedding Invitations
These frosted acrylic wedding invitations are the perfect way to add a touch of luxury and romance to any special occasion. With beautiful gold foil, delicate greenery, and a hint of blush, these frosted acrylic invitations exude the perfect combination of elegance and sophistication. Let your guests know your special day is on its way with these exquisite frosted acrylic wedding invitations!
Acrylic Wedding Invitation with Gold Foil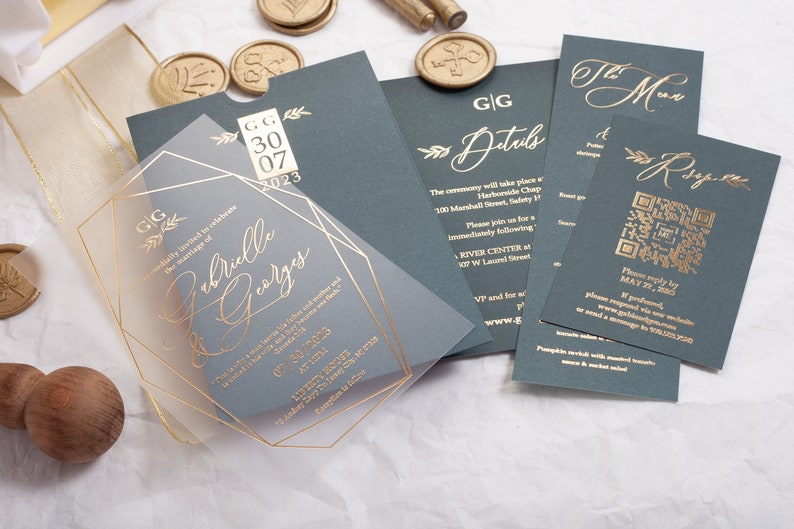 Frosted acrylic greenery wedding invite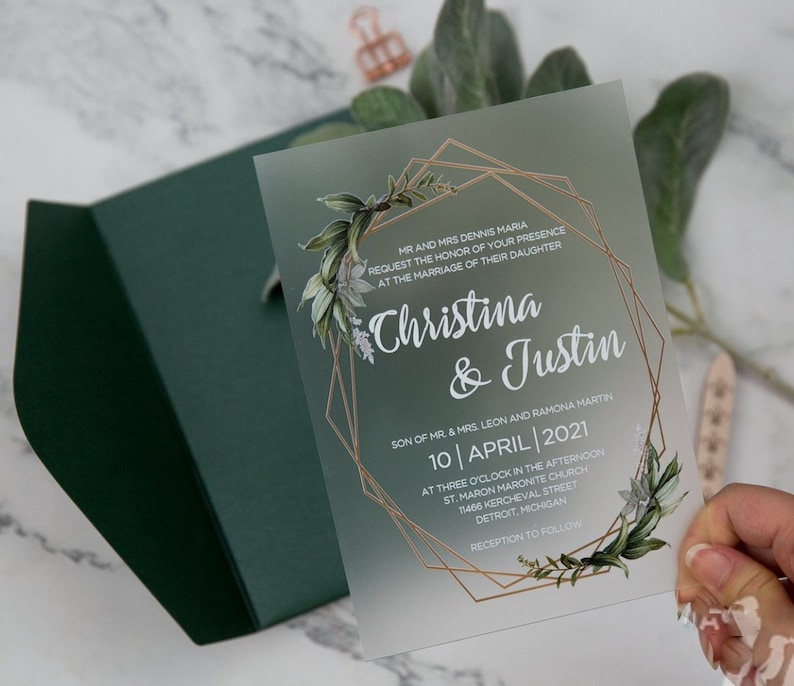 White Foil Clear Acrylic Invitation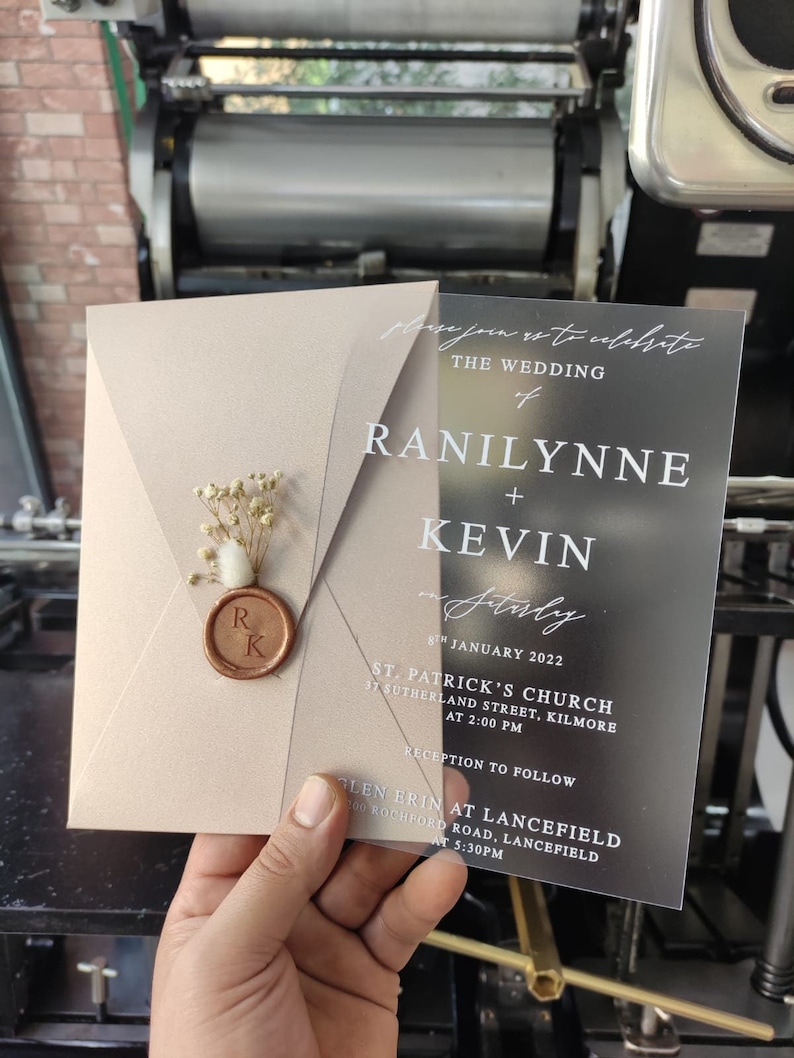 Acrylic Foil Wedding Invites
Are you looking to add a touch of luxury to your wedding? Consider Acrylic Foil Wedding Invites with the perfect blend of gold foil and modern design! Your guests won't believe the glamorous look of these timeless invites that will become a lasting keepsake!
Embossed 3D Gold Bride Groom Names Geometric Wedding Invitation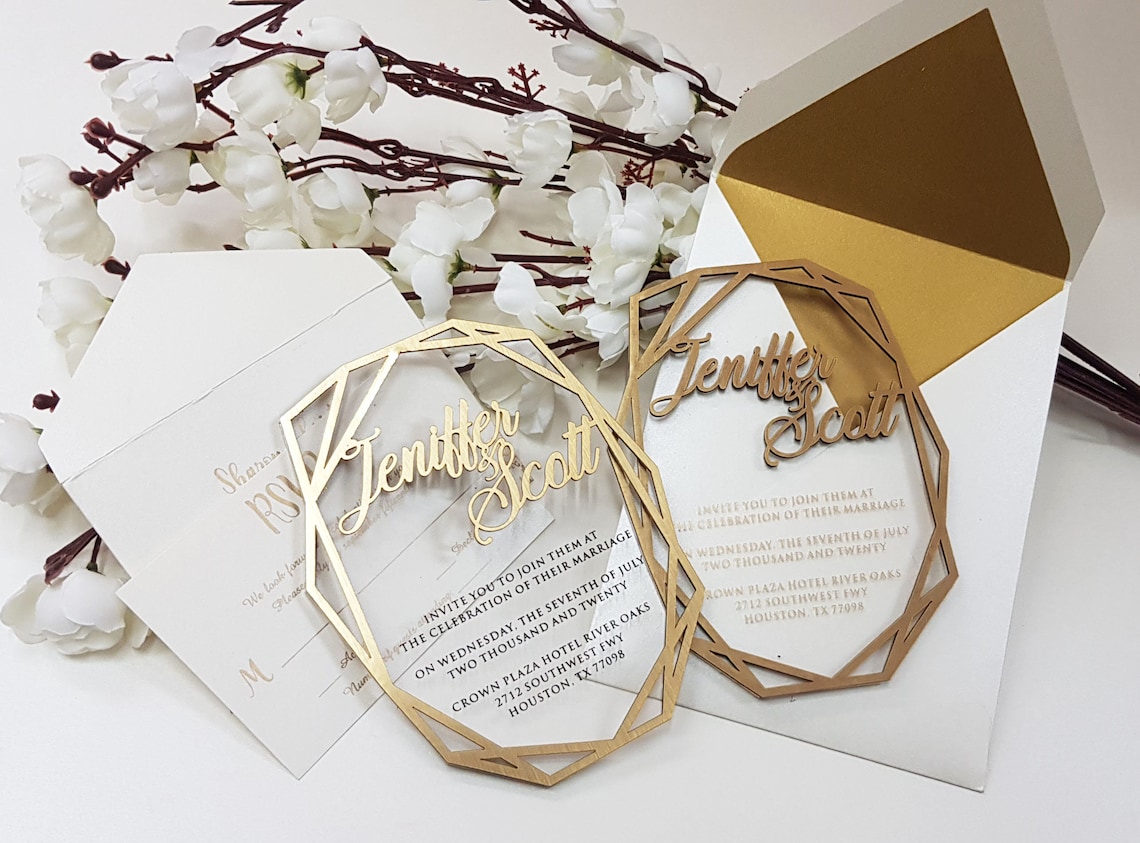 Floral Design and White Vellum Envelopes Acrylic Invitation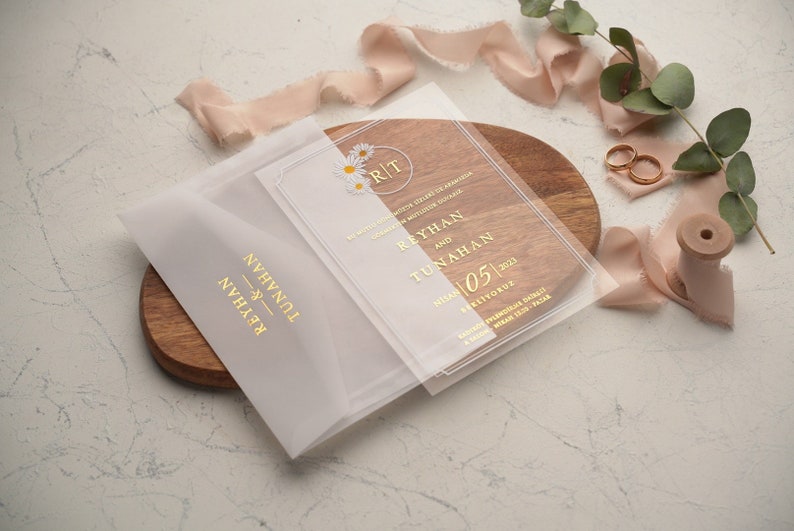 Clear Acrylic Wedding Invitations
Introducing the perfect way to set the tone for your elegant wedding celebration: Clear Acrylic Wedding Invitations! These one-of-a-kind invitations are crafted from luxurious acrylic and come in a stylish envelope with an emerald, blush, and ivory design that will add a lush vibrant touch to your special day.
Minimalistic Modern Blush Pink Acrylic Wedding Invitation Suite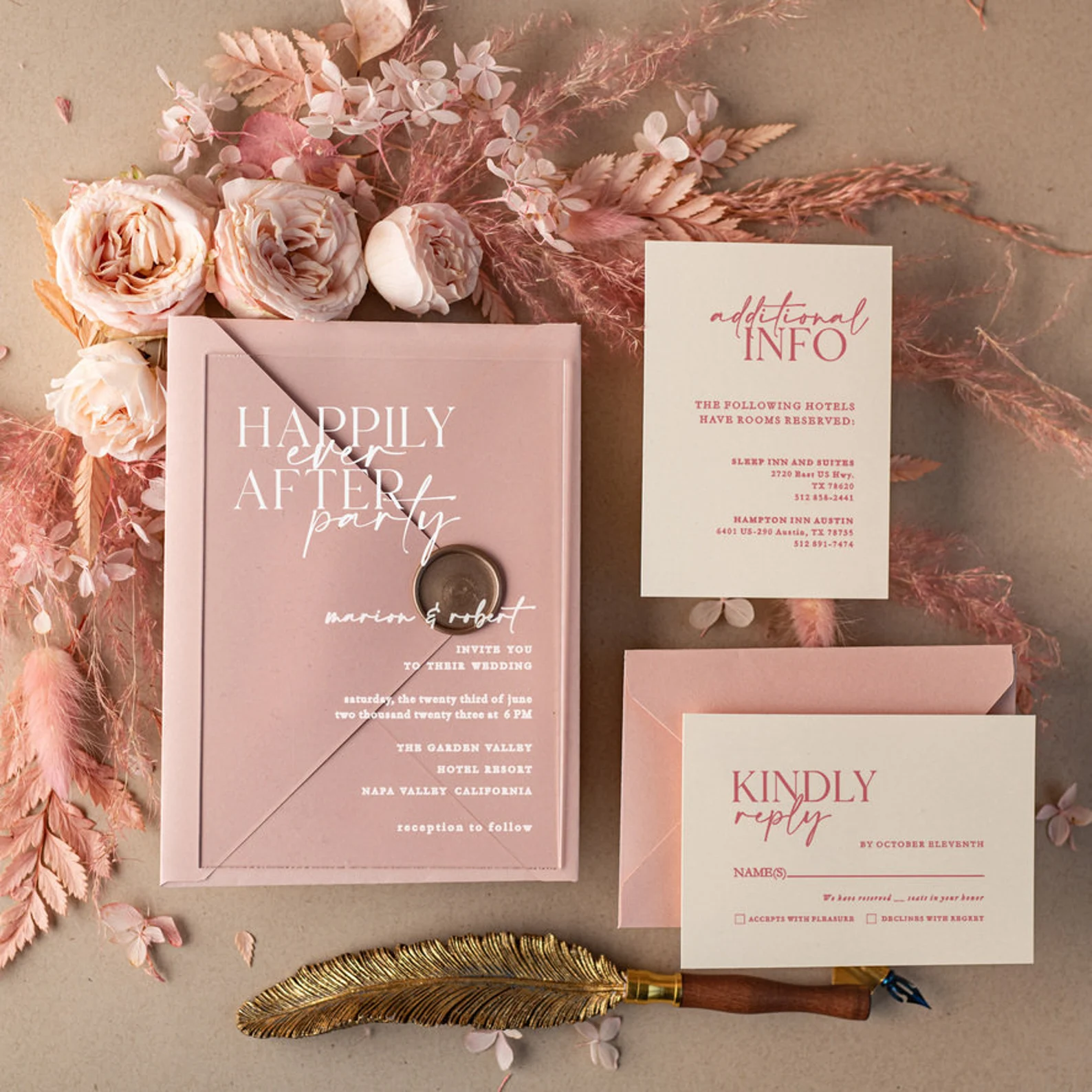 Clear Acrylic Wedding Invitation with Emerald (45+ colors) Velvet Envelope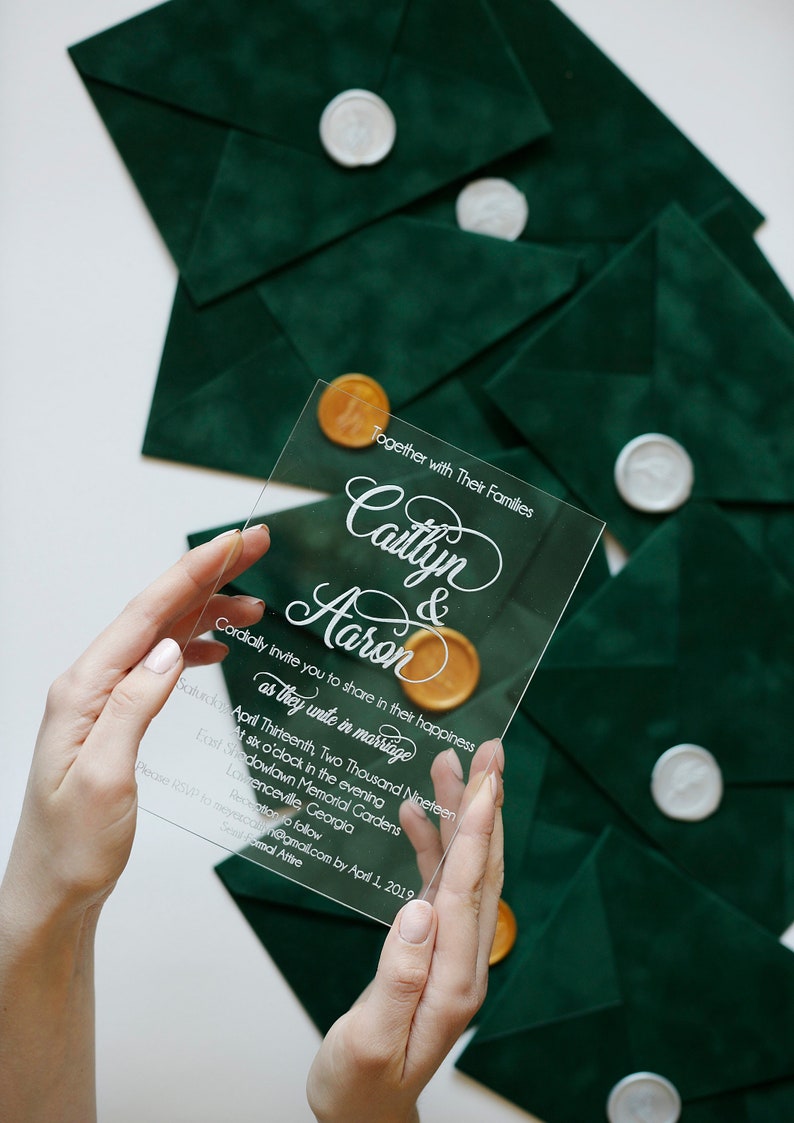 Acrylic wedding invitation with rsvp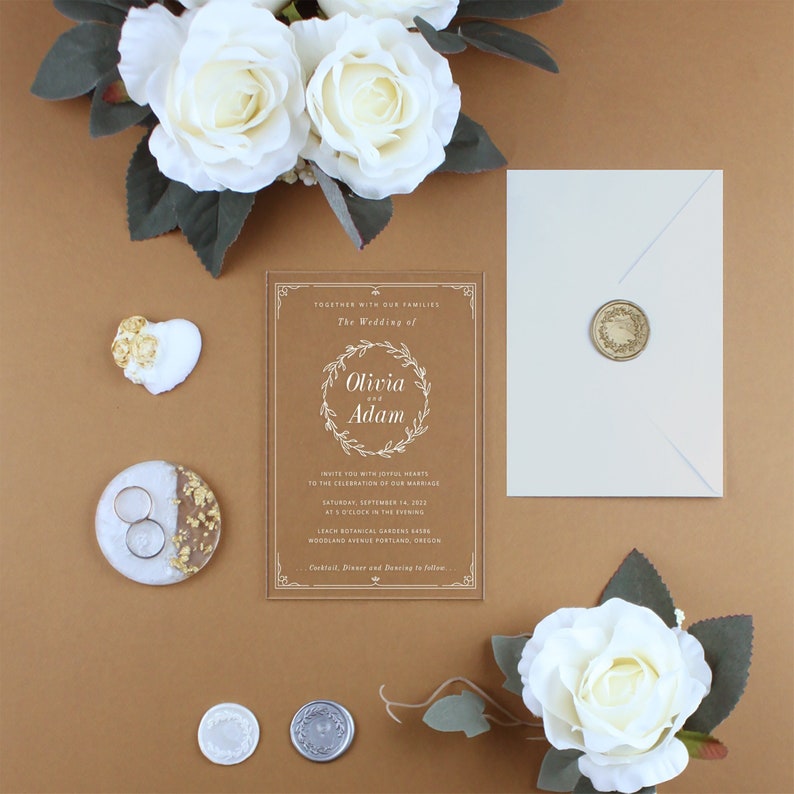 Luxury Acrylic Wedding Invitations
Welcome to the world of luxury, where your dreams become reality! These luxury acrylic wedding invitations feature stunning envelopes in terracotta, olive green, and a number of other exquisite colors. Crafted with the highest quality of materials and an eye for detail, this stationary will make a lasting impression on your guests. Don't compromise on style and quality – these invitations are designed to make a statement everyone will remember!
Luxury Terracotta Arch Acrylic Wedding Invitations with Velvet Pocket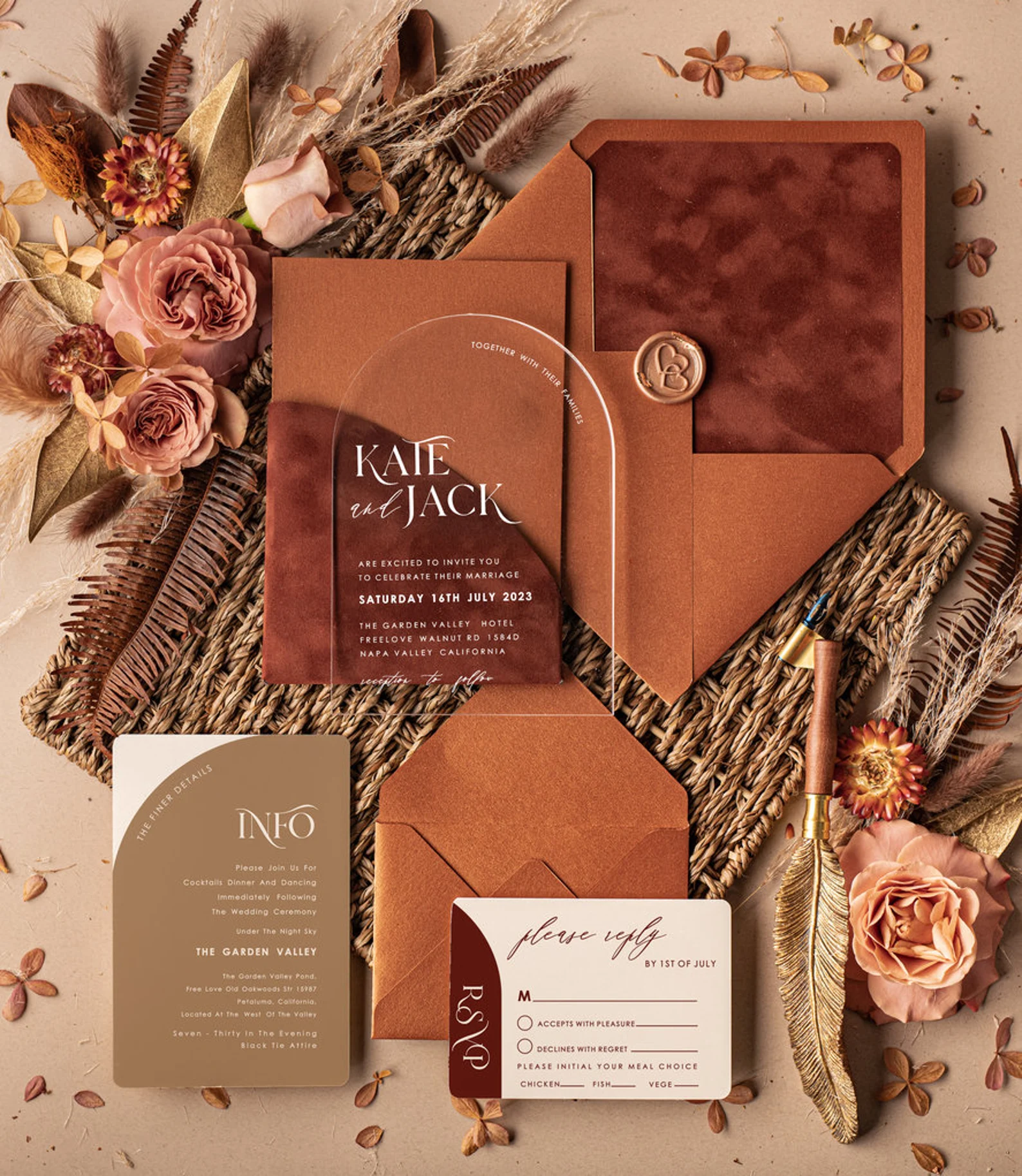 Greece Olive Arch Acrylic Gold Wedding Invitations with Velvet Pocket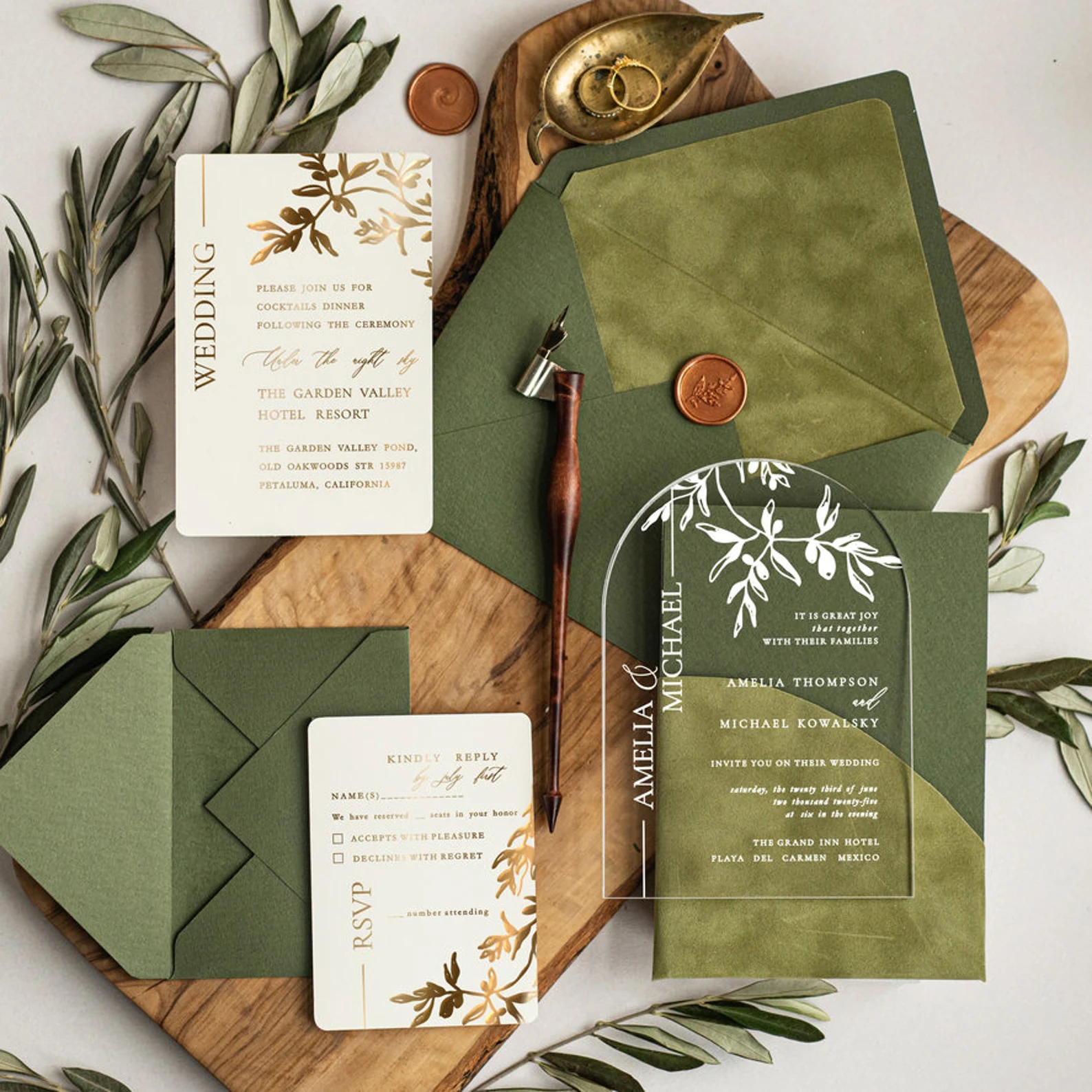 Rose Gold Acrylic Wedding Invitation Cards
Give your guests an unforgettable experience with Rose Gold Acrylic Wedding Invitation Cards! These luxurious invitations are perfect for adding a touch of sophistication to your special day. With intricate rose gold details and an elegant acrylic finish, these exquisite cards speak to the beauty of your union. Plus, you can customize the cards to fit your exact style and wedding theme. Impress your guests with the perfect invitation for your truly unique day.
Shiny Rose Gold Wedding Invitations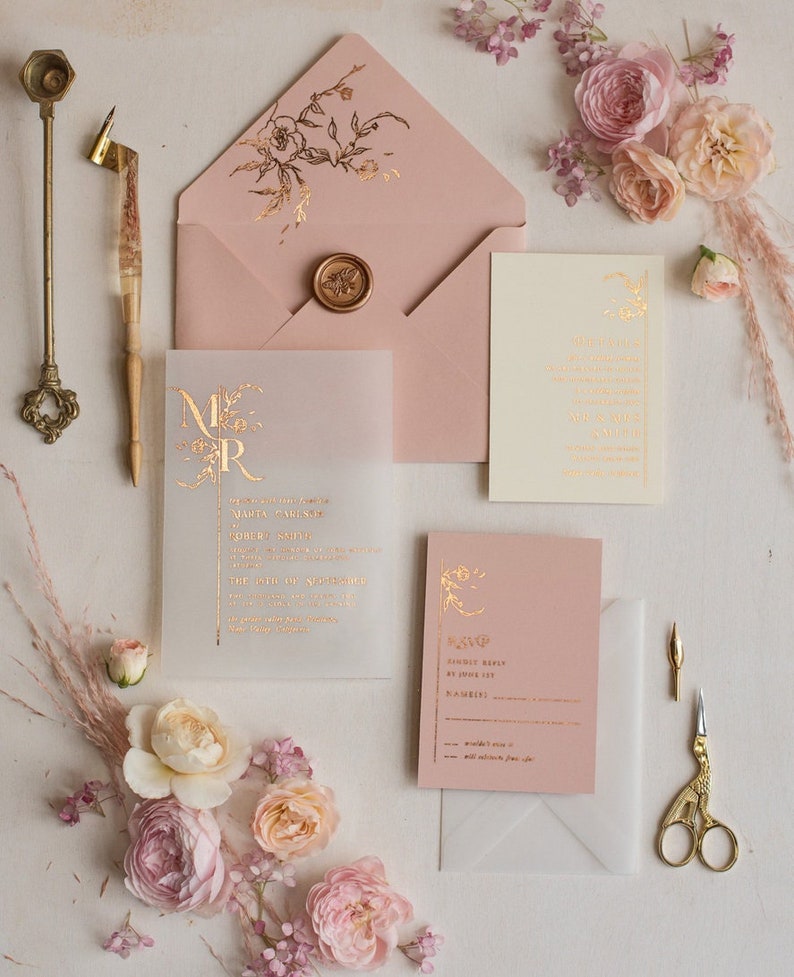 Rose Gold Mirror Acrylic with White Ink Print Trendy Wedding Invitation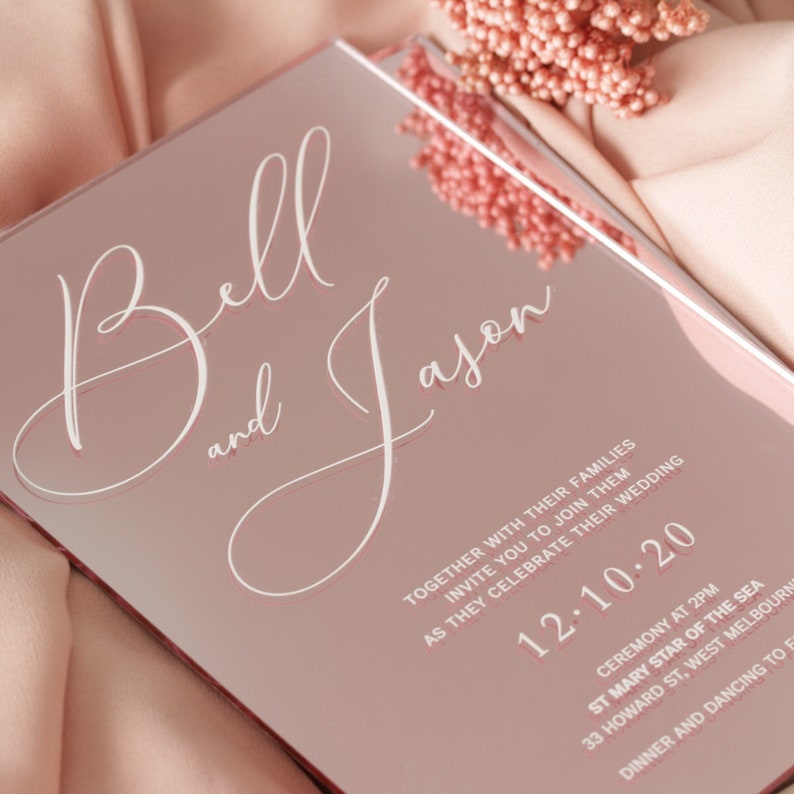 Acrylic Wedding Invitations With Box
Imagine making a lasting impression on your wedding guests with an exquisite acrylic wedding invitation box and the perfect set of personalized invitation cards. This selection of acrylic wedding invitations with box offers a timeless design and a dazzling display that reinforces the importance of your big day. From gorgeous acrylic boxes to engraving customization and pristine details, this collection of wedding invitations is sure to make your special day even more memorable.
Clear acrylic invitation with luxury card stock box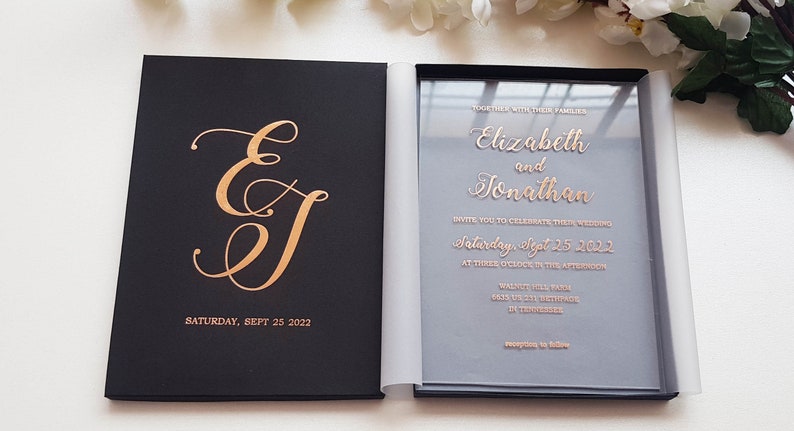 Acrylic invitation with box wax seal and dried flowers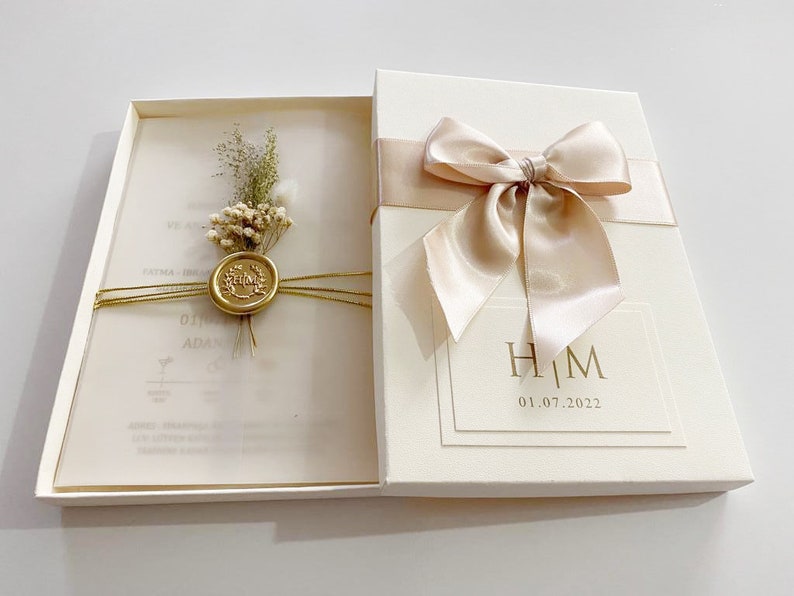 Clear Invitation With Metalic Paper Box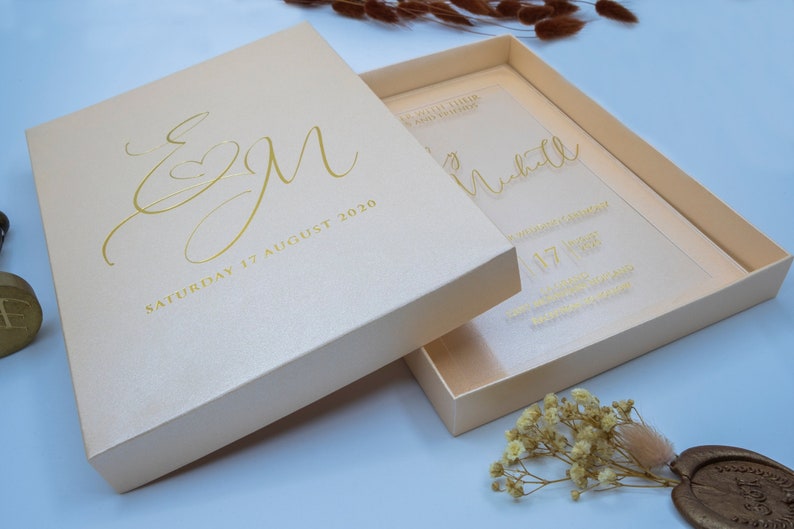 Finally, if you want something more traditional but still want something unique then there are plenty of options available through online stores like Amazon Prime where these same items can often be found at discounted prices thanks to their low overhead costs compared with brick-and-mortar stores.