15 Rustic Country Wedding Dresses 2023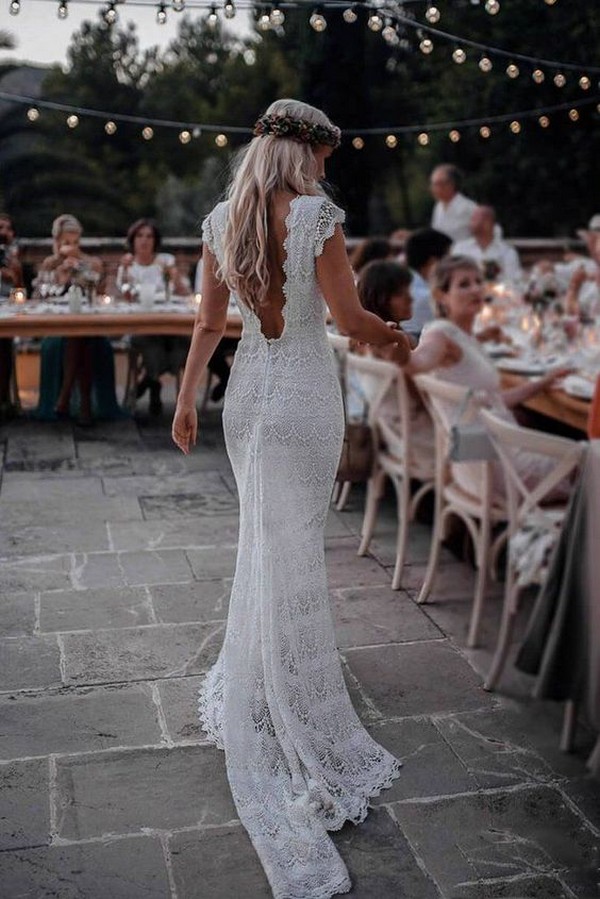 When it comes to romantic wedding venues, few can compare to the natural beauty of the countryside. From the vast open fields to the starry nights and twinkle lights, the country landscape provides an enchanting setting for a celebration. Whether you're planning an outdoor wedding in an open field or an indoor ceremony in a rustic barn, a country-inspired wedding dress is the perfect choice.
Luckily, there are many options to choose from, whether you prefer a sundress or an elaborate lace gown. For the bohemian bride-to-be, consider a dress with layers of cascading lace, delicate flutter sleeves, and an off-the-shoulder neckline. Tulle is also a great option for a soft, laid-back vibe that still exudes a bridal feel. Minimalist brides will appreciate dresses cut from light-weight fabrics such as cotton and linen, while crepe is a great choice for country nuptials celebrated in the spring or fall months.
To complement the natural surroundings, accessories like a floral trimmed veil, flower crown, or a pair of your favorite boots can help complete your look. Whether you're looking for a diaphanous gown or a simple lace silhouette, there are country wedding dresses available for every style and budget. It's the perfect way to match the free-spirited nature of the countryside with your own personal style.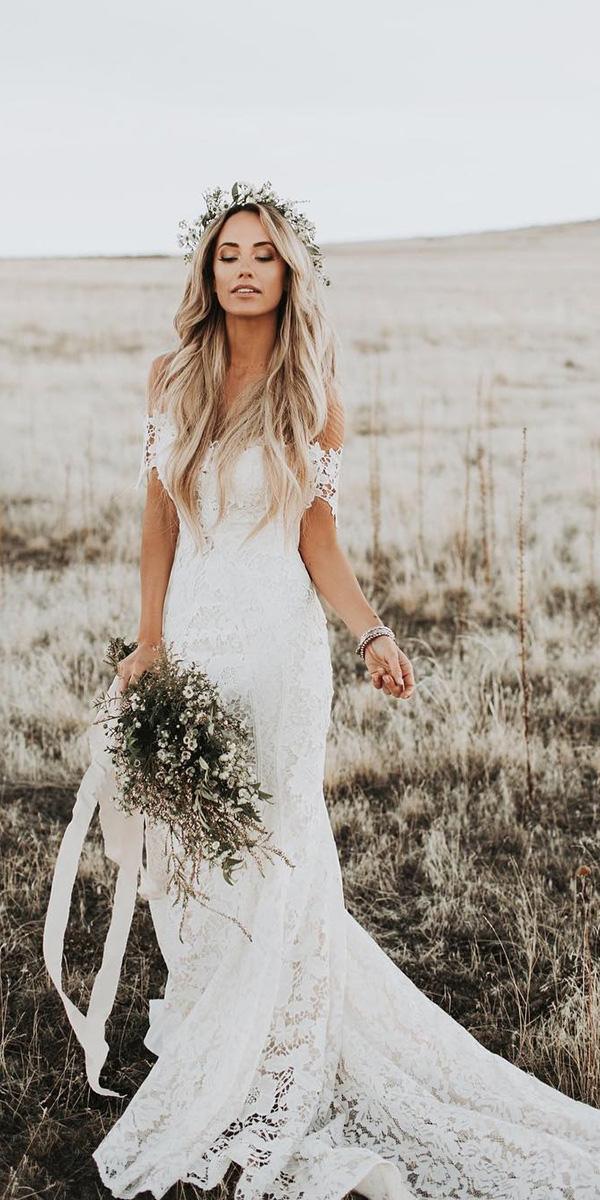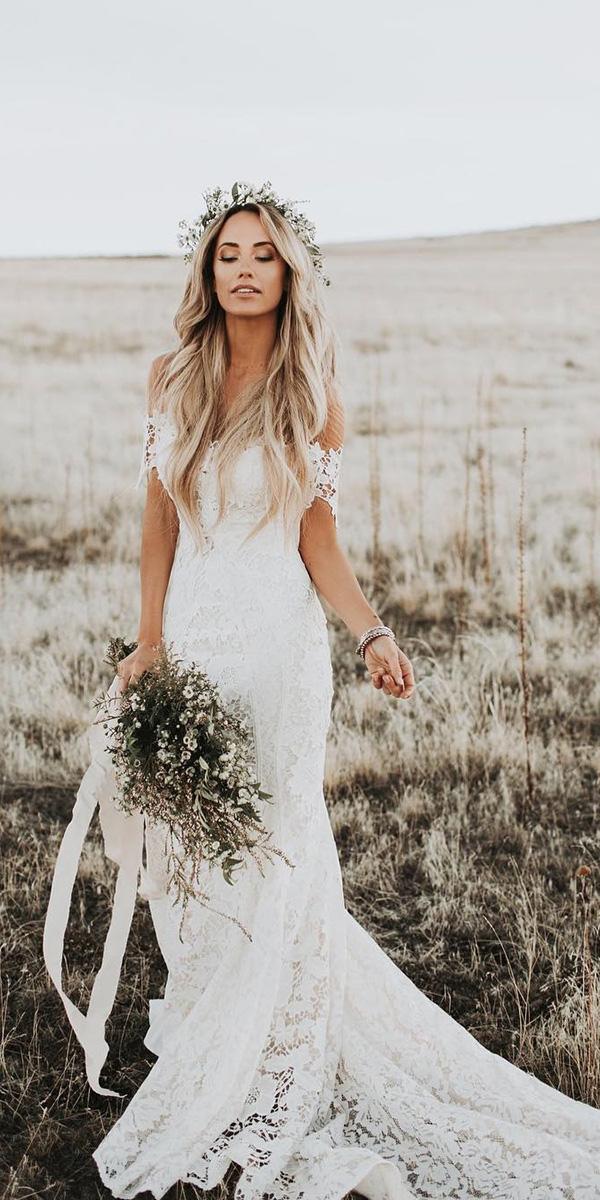 Frequently Asked Questions
Rustic weddings are characterized by wooden elements, lace accents, and hessian fabric. Country flowers, grasses, and foliage add to the natural, earthy aesthetic. Ideal for barn or outdoor venues, rustic themes are charming and romantic. Decor may include bare wood tables, linen napkins, greenery, and subdued hues to create an authentic and rustic ambiance.
1.Champagne: This neutral color is particularly popular for rustic weddings.
2.Dusty Blue: A highly sought-after wedding color, it can be used in any season and any setting.
3.Dusty Rose: An ideal choice for brides who want a fairytale-inspired wedding.
4.Grey + Yellow: A complementary color combination that creates a unique aesthetic.
5.Lavender: A soft and romantic color that can add a touch of elegance to your rustic wedding.
6.Peach: A warm and inviting color that creates a cozy and inviting atmosphere.
7.Sage Green: A fresh and natural color that can help to bring the outdoors in.
Rustic Country Wedding Dresses
A country wedding often incorporates a minimalist style in the bride's gown. The theme commonly features flowing accents such as lace, ruches, or fringes. It's important that the dress is functional and able to withstand the various activities of the day while still looking elegant. The country wedding style is versatile enough to accommodate all the expected events.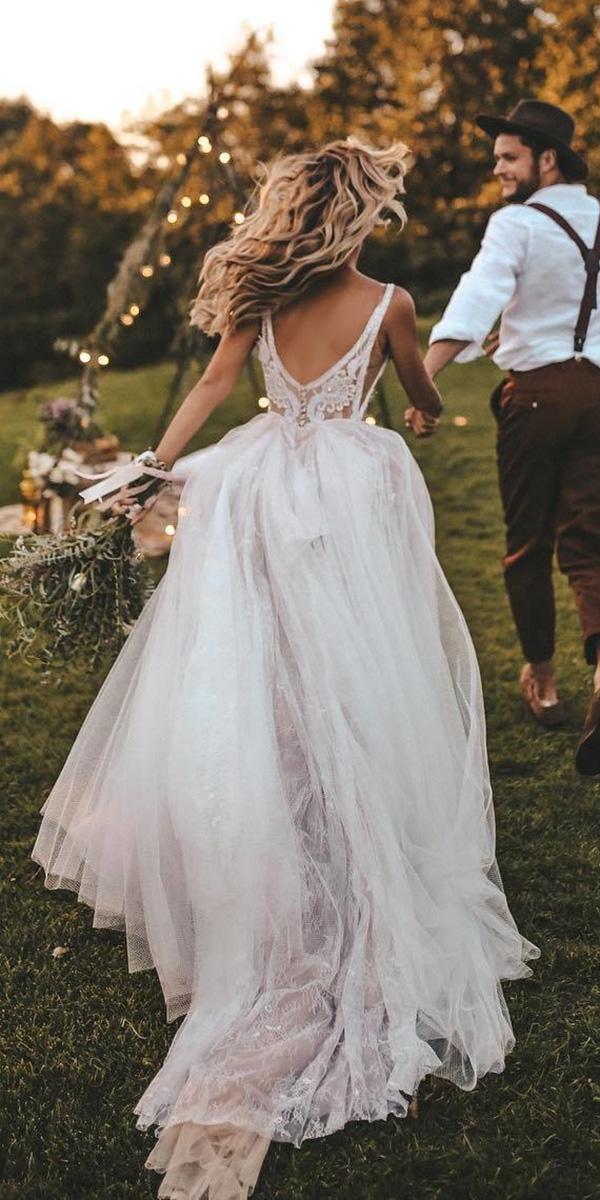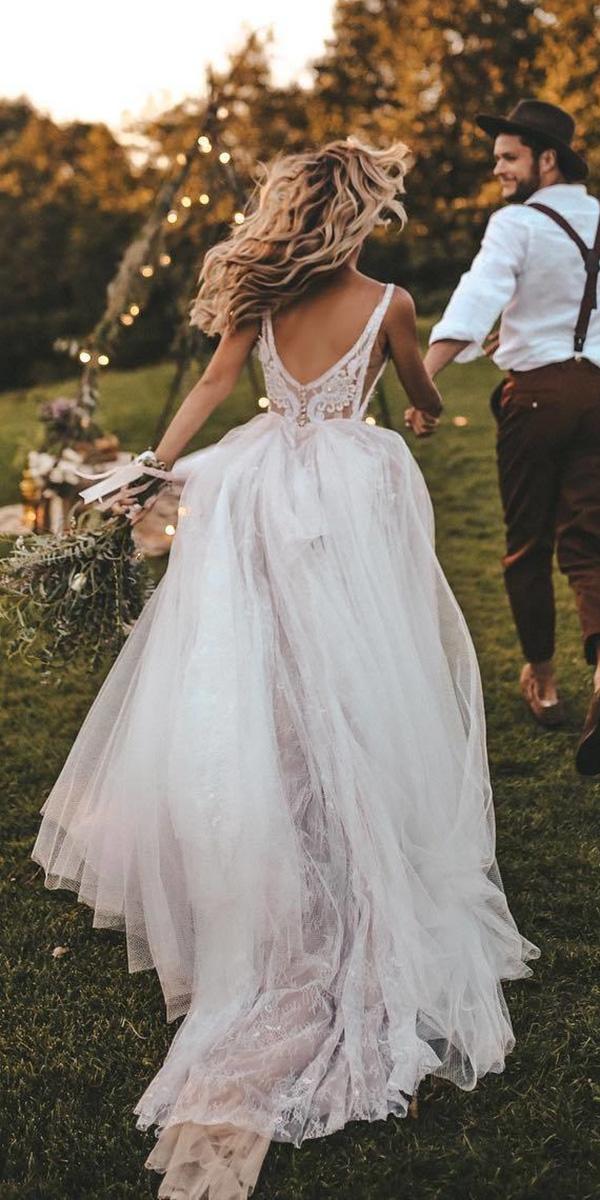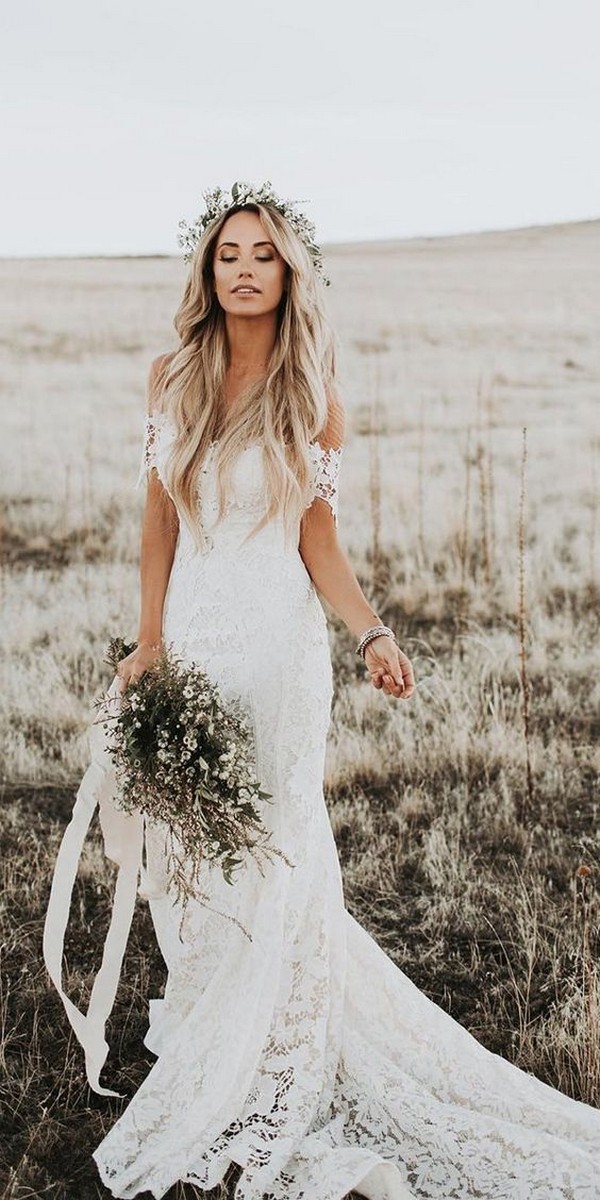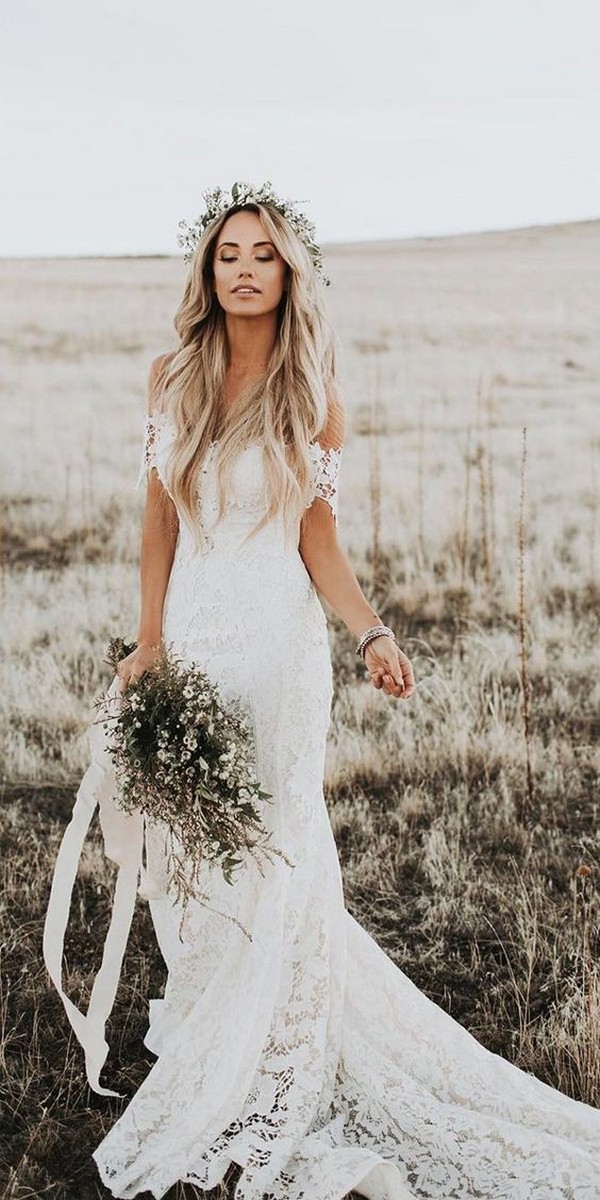 Boho Rustic Wedding Dresses
Boho rustic wedding dresses blend elements of femininity and strength. The combination of rustic and bohemian styles creates a relaxed, free-spirited, natural and self-assured look. You can expect an effortless appearance that seamlessly interacts with the outdoor setting, giving the impression of being in harmony with nature and with oneself.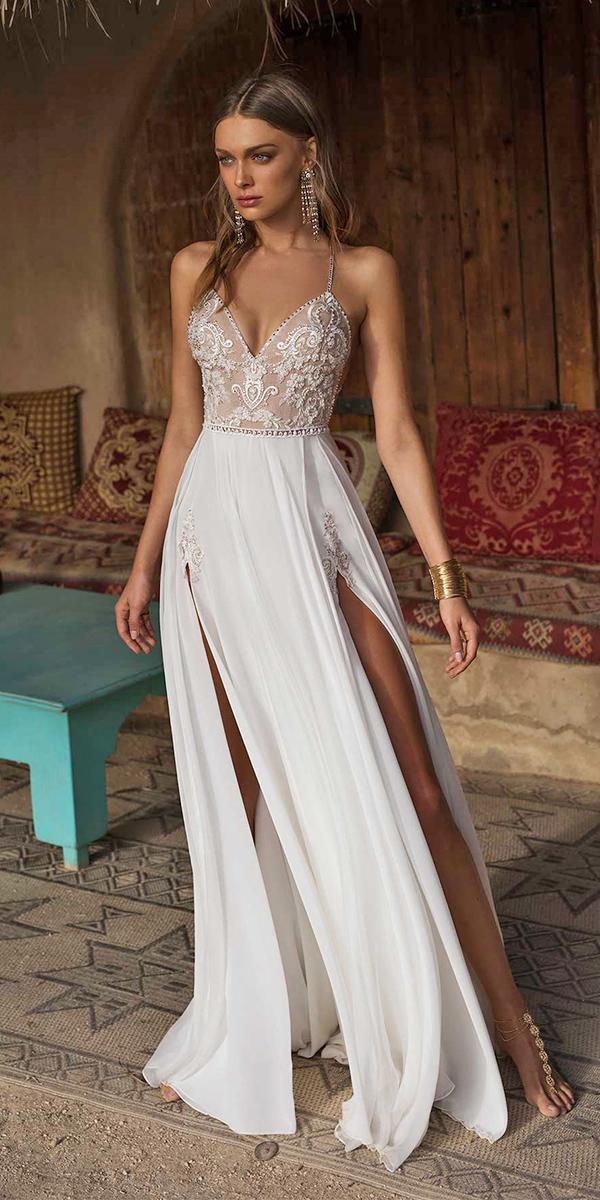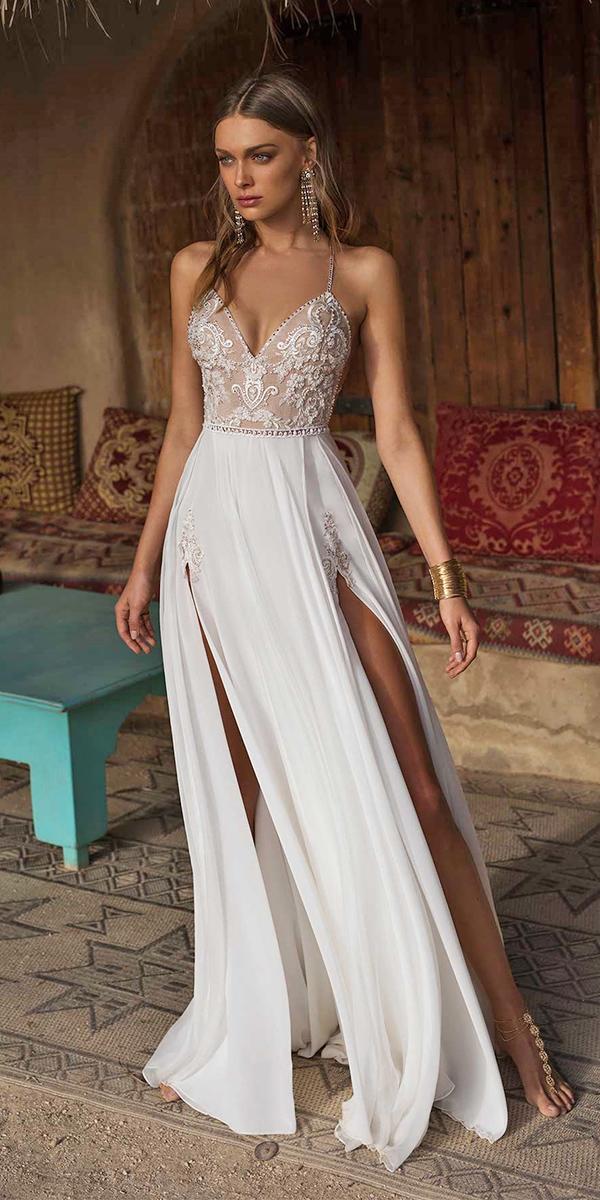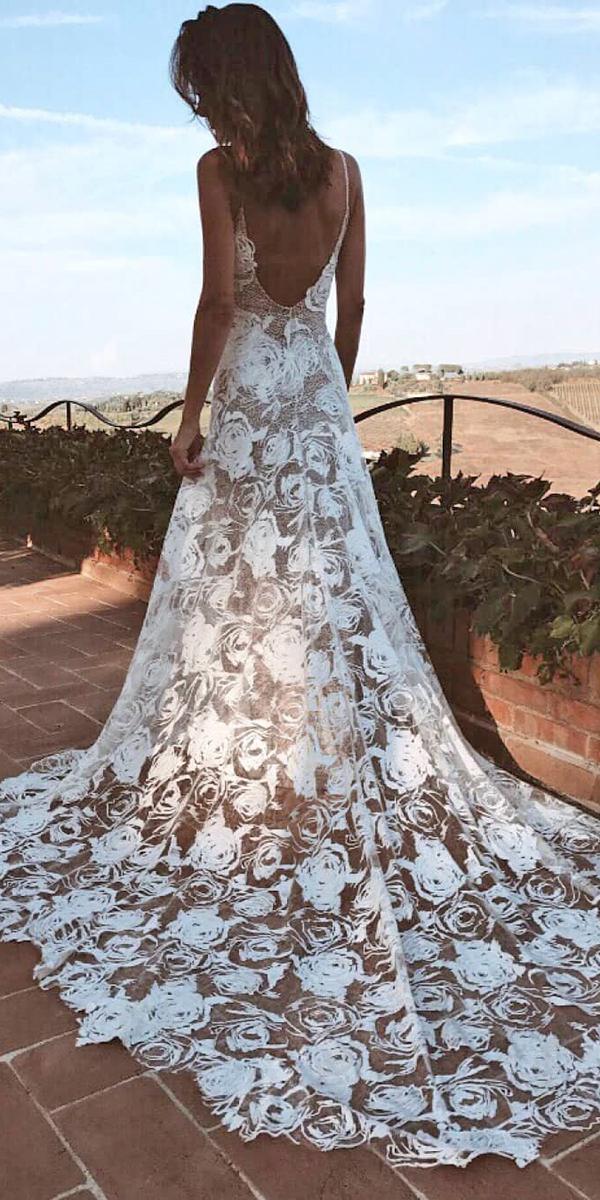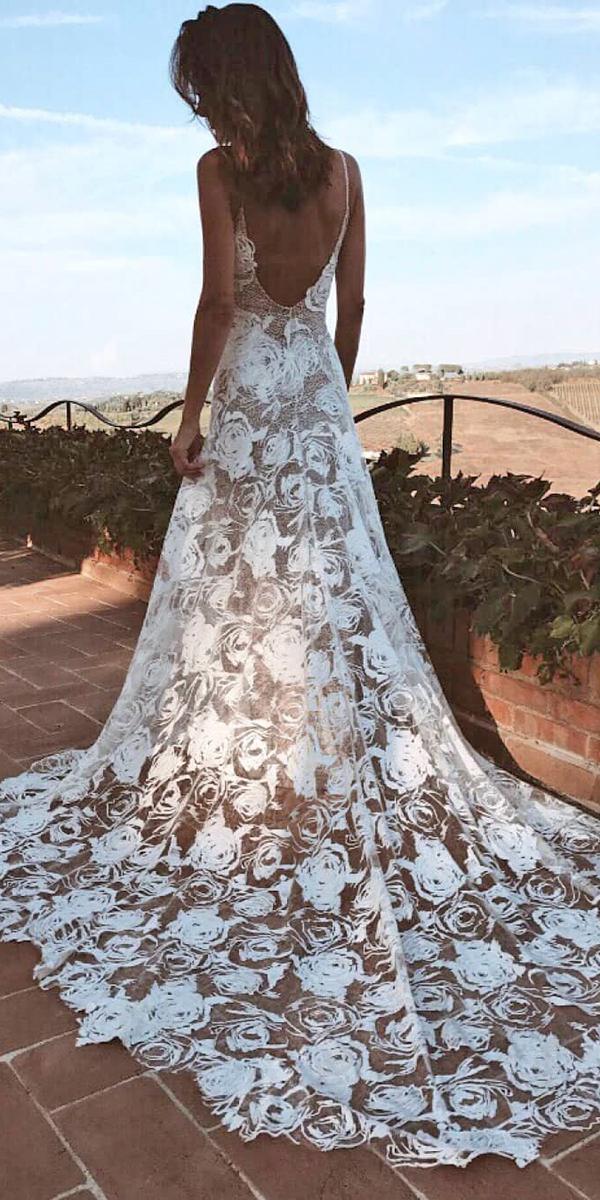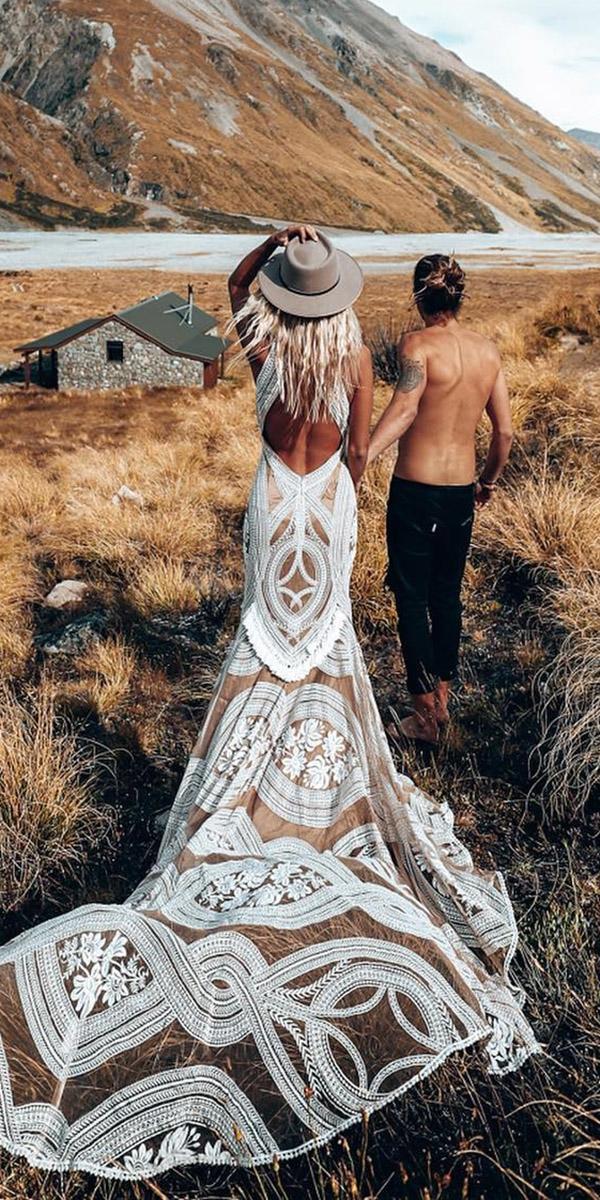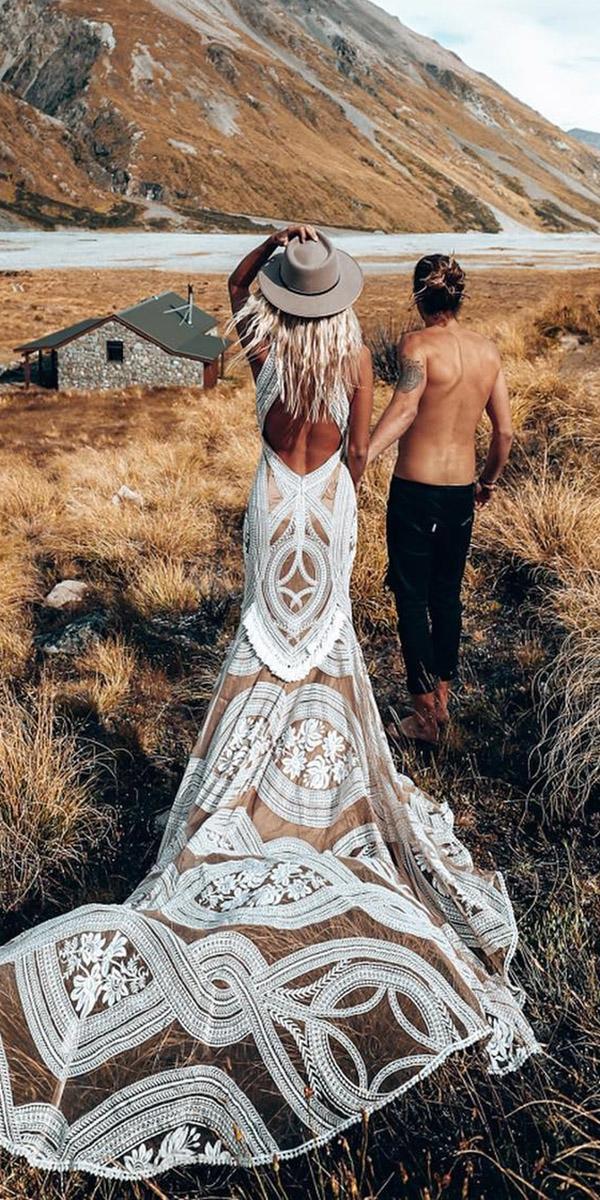 Lace Rustic Wedding Dresses
Rustic weddings are often associated with a natural, earthy aesthetic that is complemented by the use of lace. It's a versatile fabric that can be incorporated in different ways, from delicate accents to more prominent detailing. When considering a rustic wedding dress, it's important to familiarize yourself with the different types of lace available. Knit, guipure, embroidered, chantilly, brocade, and eyelet are all examples of lace with their own distinct look, process of creation, and history.
When choosing your dress, take into consideration the details such as the sleeve type, cut, and accessories, And think of the lace as a key part of your overall look. Pairing a lace dress with boots can help to create a cohesive rustic look. This combination can create an effortless, natural look that embodies the carefree spirit of a rustic wedding.
If you prefer a more subdued country-inspired look, a dress paired with boots alone can capture the rustic charm without the need for other traditional accessories. It's a way to incorporate rustic elements while still maintaining a sense of elegance and femininity.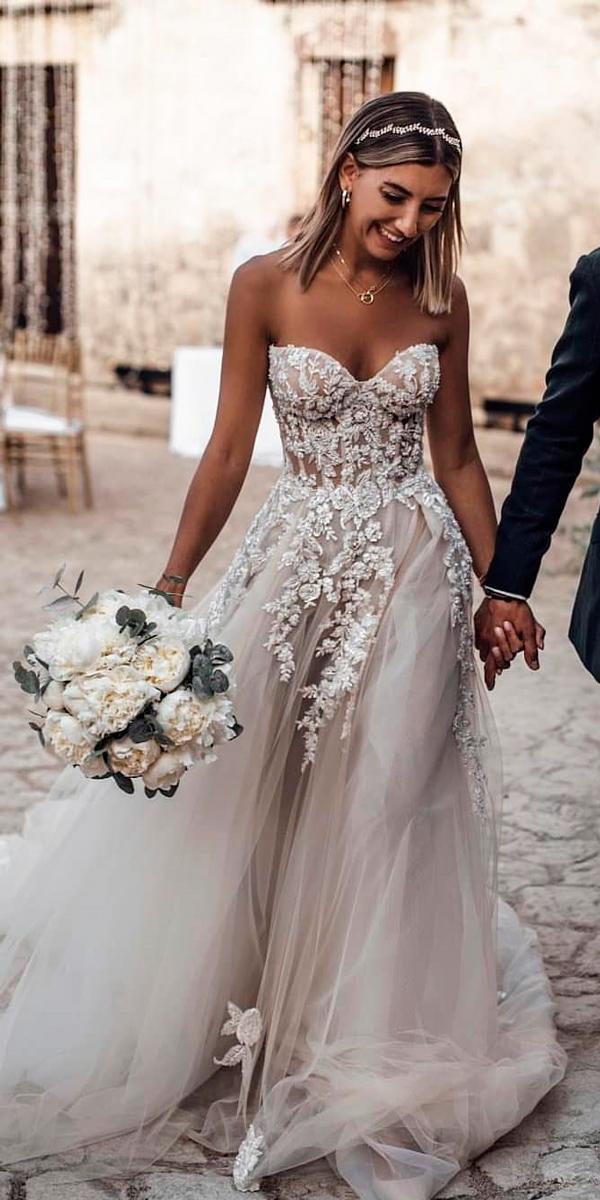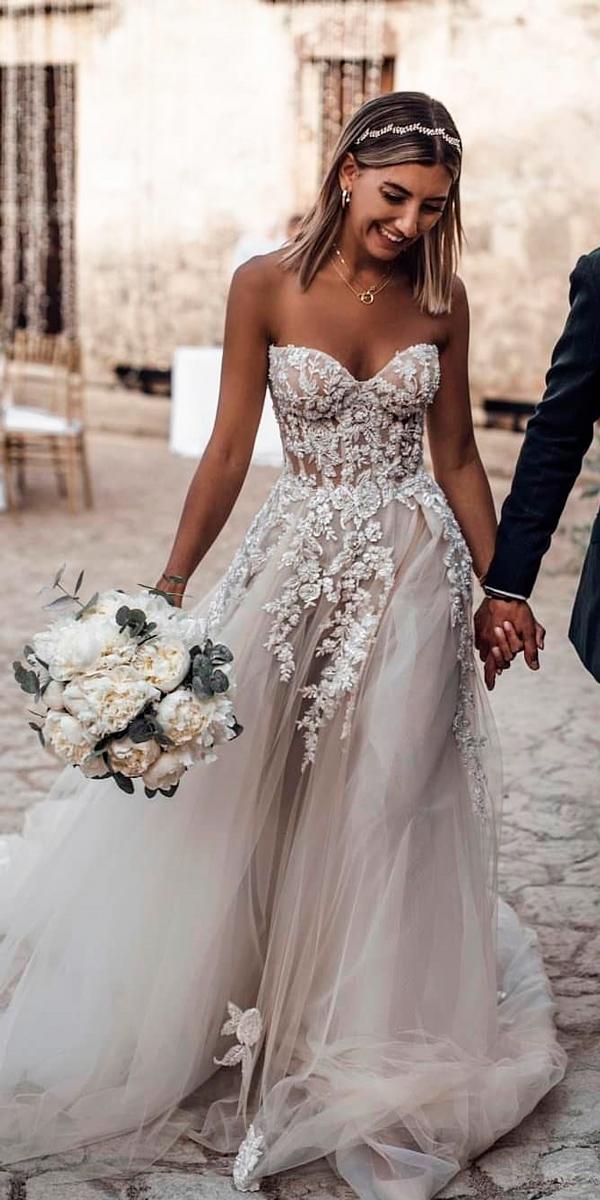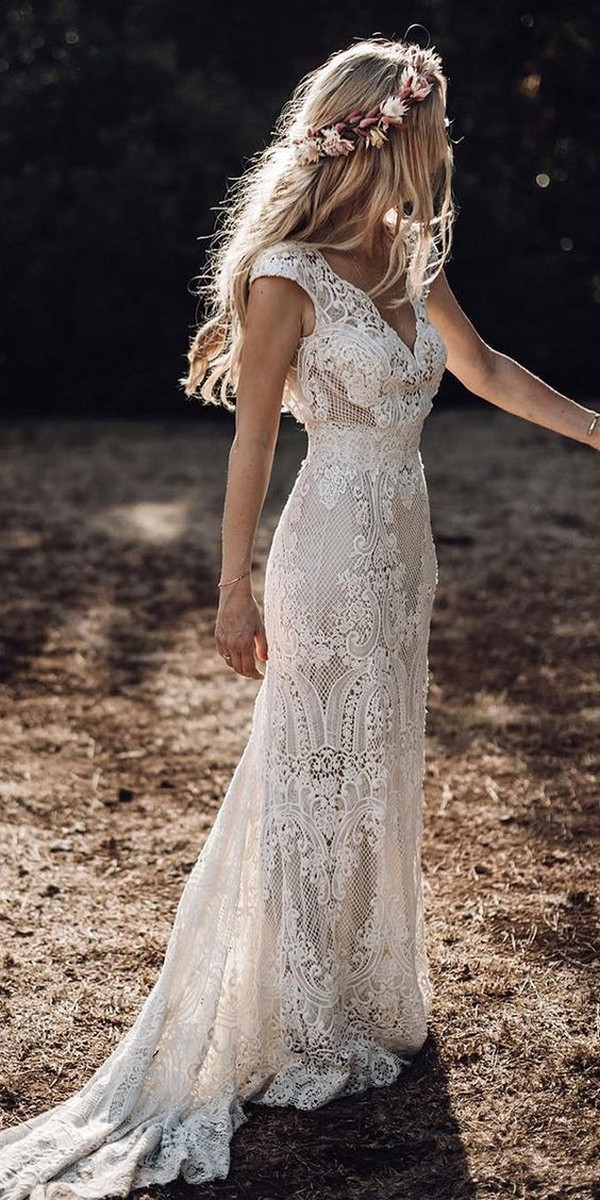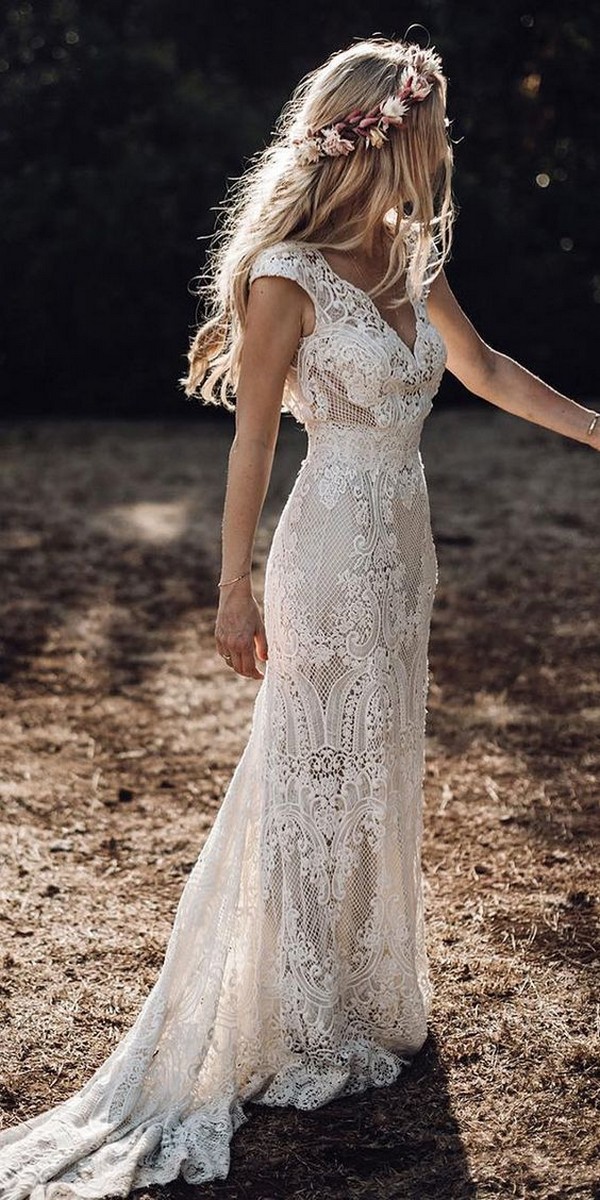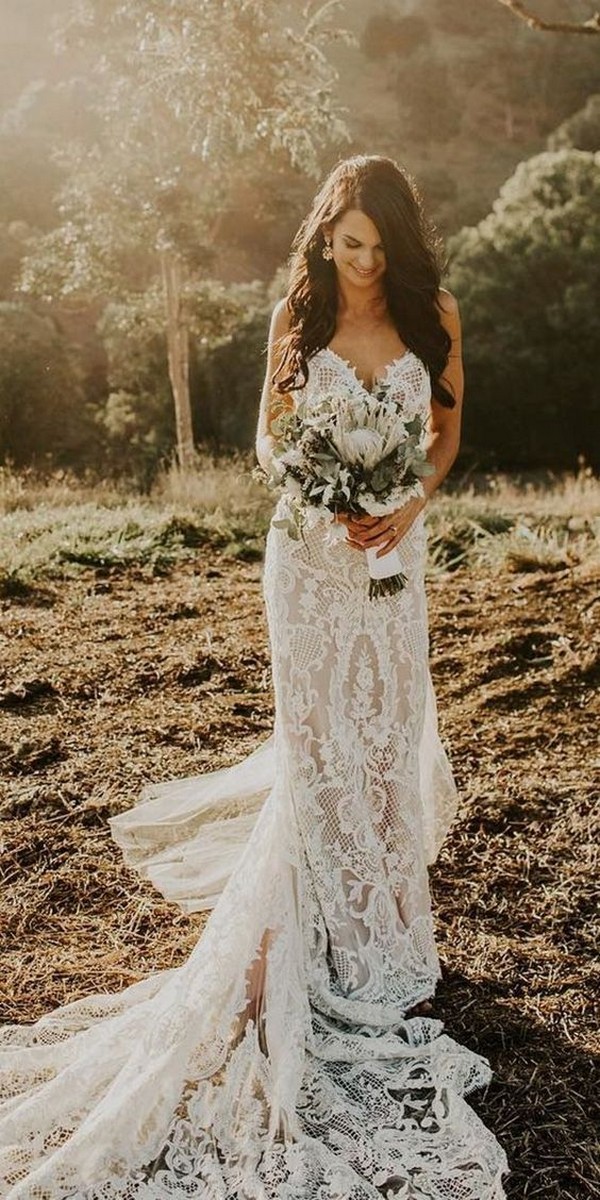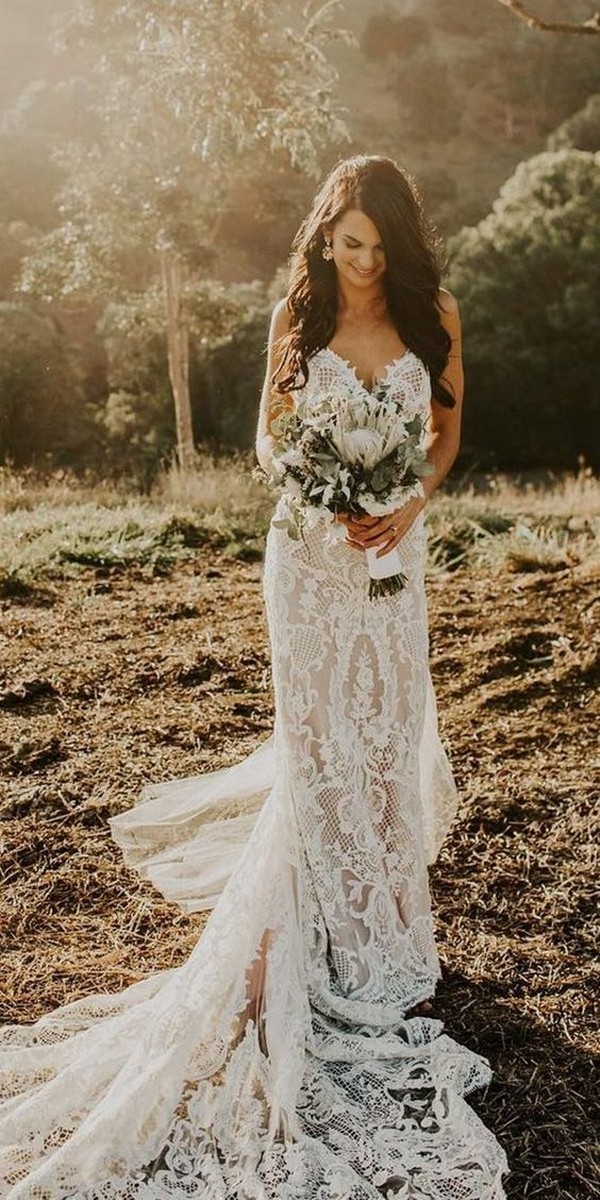 Vintage Bridal Gowns
For those looking for a rustic wedding dress, vintage styles can be a great option. Rustic weddings don't have a set definition, the main focus is to be authentic and incorporate elements of nature. Vintage styles can offer a range of options that are perfect for rustic weddings, such as the intricate beading from the Jazz era or the delicate and romantic frocks from the Regency era. These authentic vintage styles can provide an unmatched sense of rustic charm and elegance.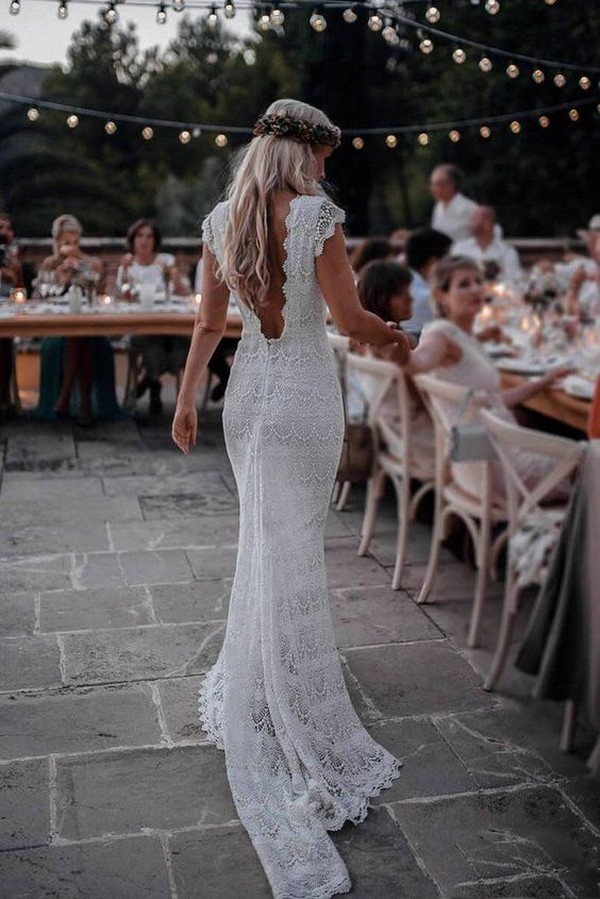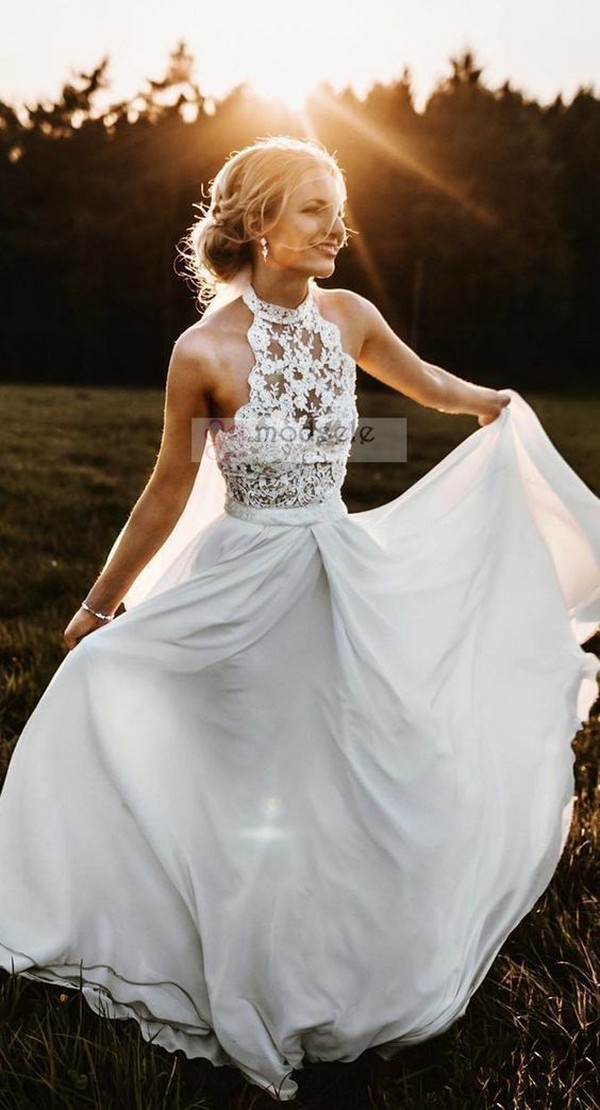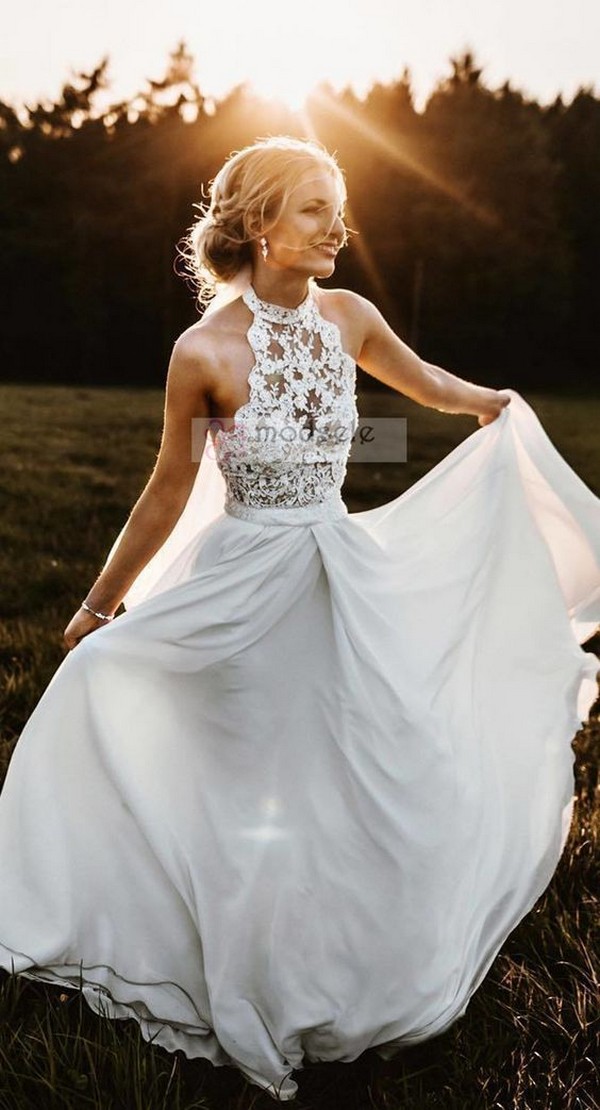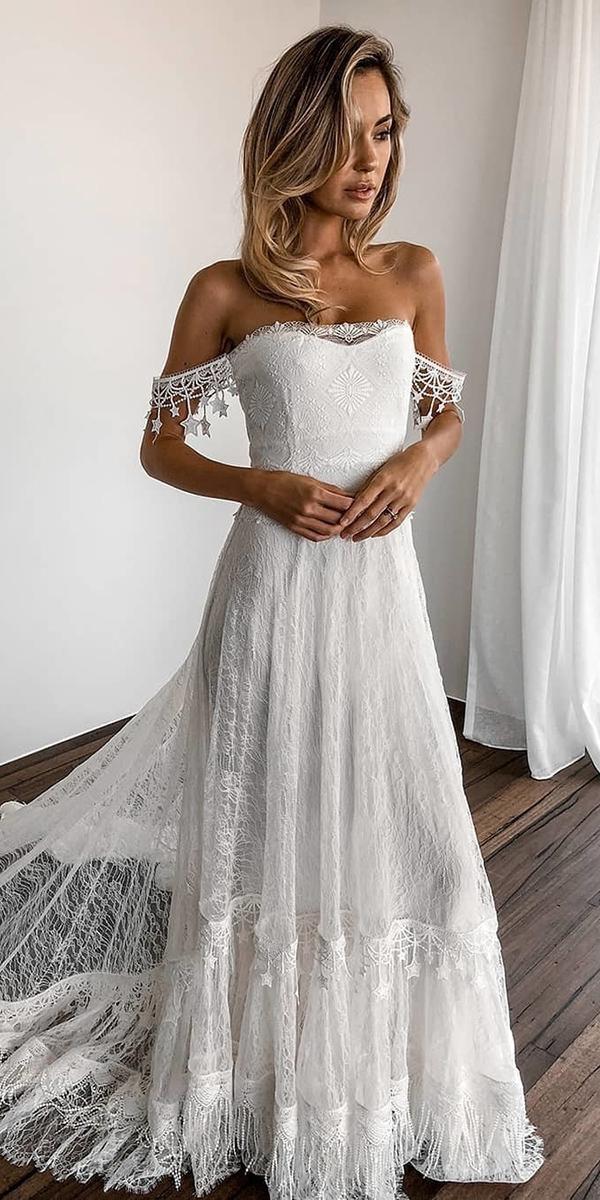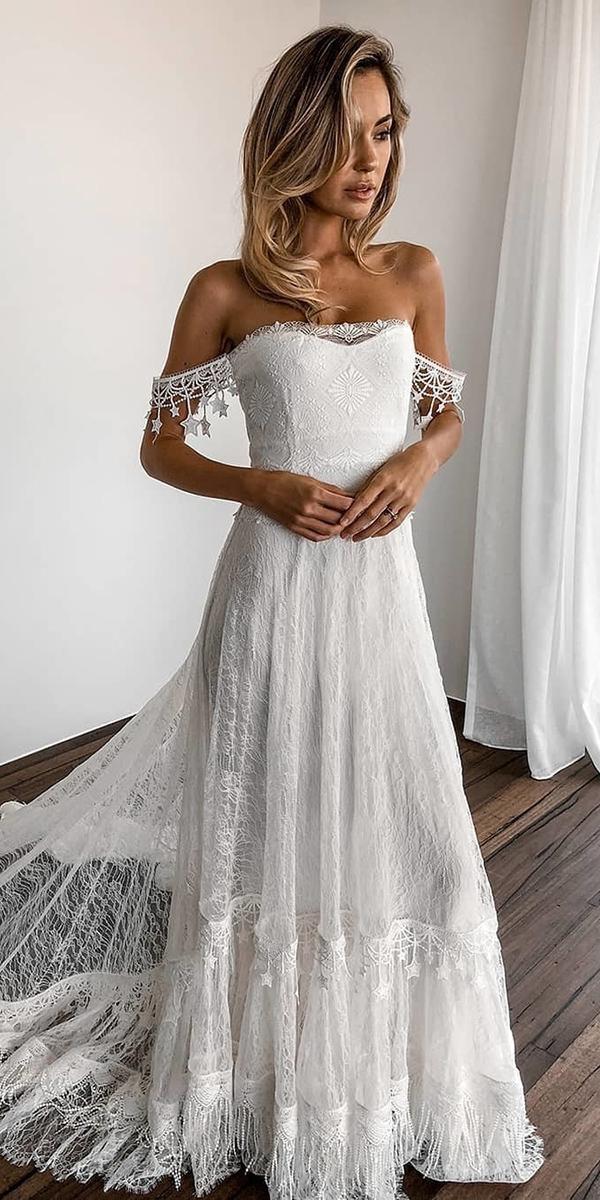 Rustic Wedding Dresses With Sleeves
When selecting a rustic wedding dress, it's important to consider the sleeve length in addition to the cut. Rustic weddings can take place both indoors and outdoors, and it's important to be prepared for any weather changes. Often country weather can be cool in the evening, thus consider wearing some denim or leather clothing that can be worn over a traditional gown as it's a great way to stay flexible and stylish throughout the wedding.
Rustic wedding dresses with sleeves are a great option to balance elegance and rustic charm. They add a touch of sophistication to the dress while still incorporating rustic elements. One should also keep in mind to pay attention to the weight of the fabric while selecting the dress. Some fabrics may seem lighter but can be warmer and vice versa, comfort is key when it comes to feeling confident and beautiful on your wedding day. And that confidence will glow in your photographs.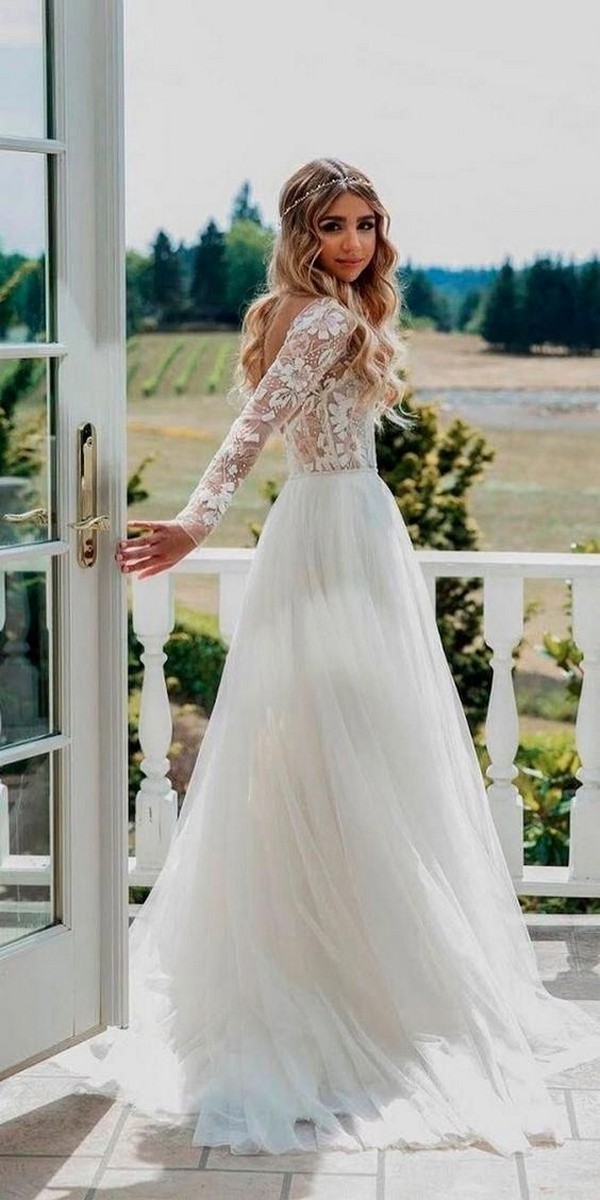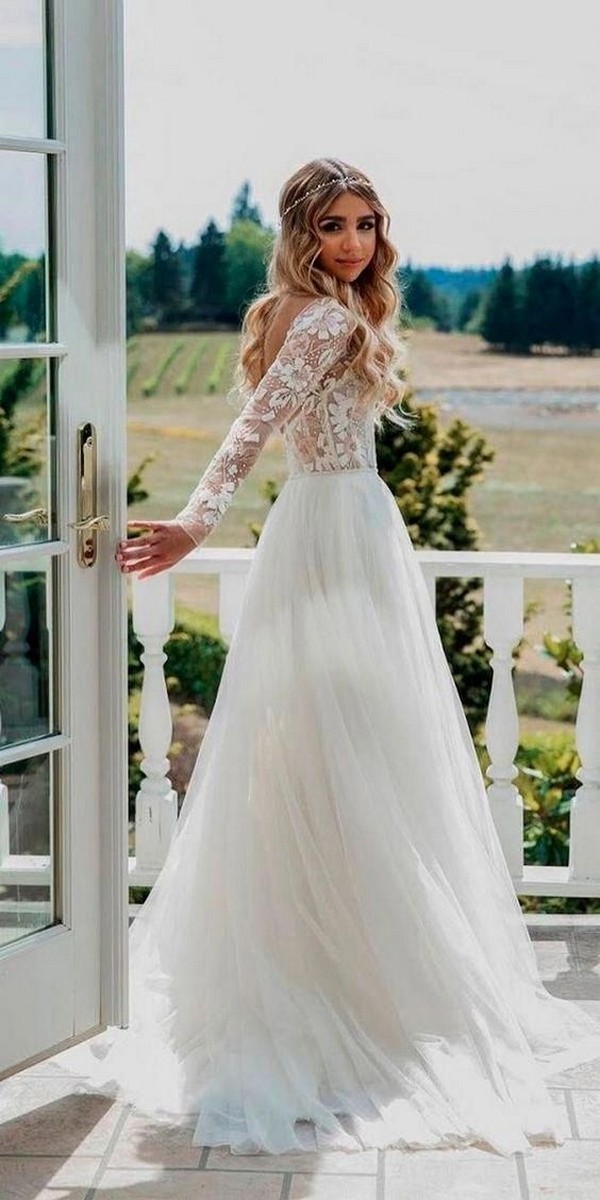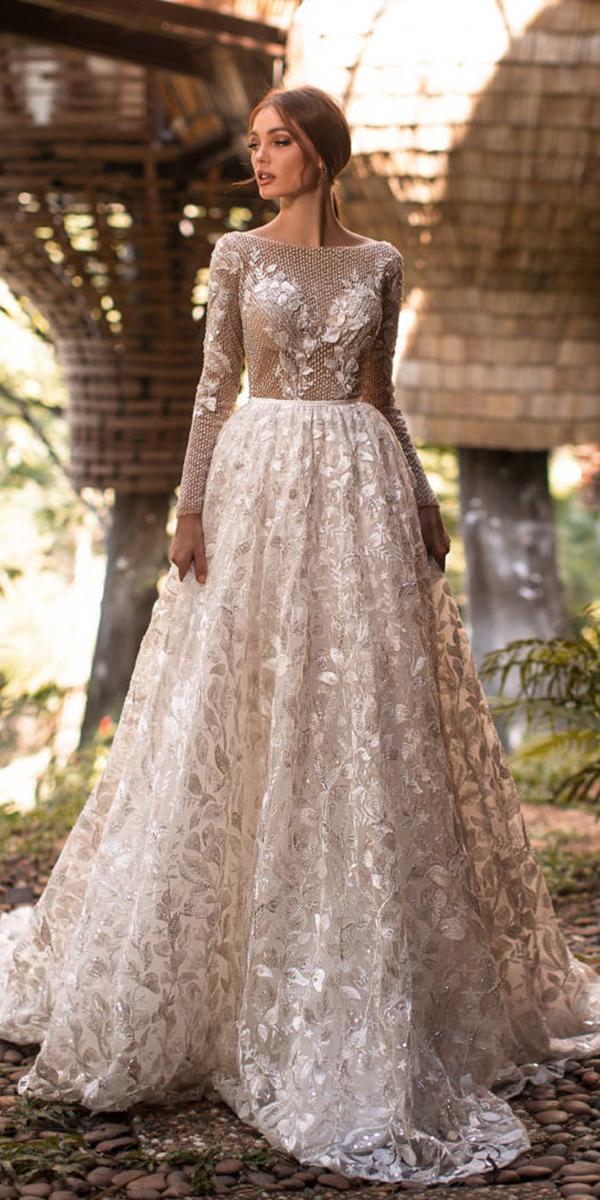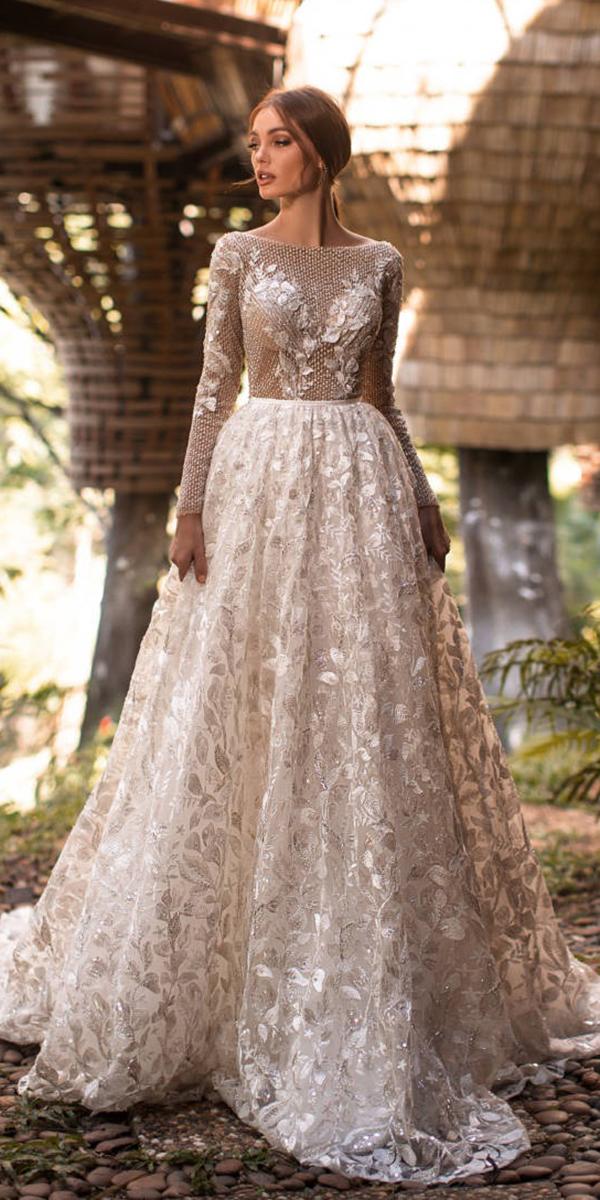 Barn Wedding Rustic Dresses
Planning a romantic barn wedding has gained popularity in recent years, and it requires a specific type of dress. Barnyard wedding dresses are an excellent option as they seamlessly blend in with the rustic setting of a barn. The natural setting of the barn and the dress complement each other, making it an ideal location for a bridal photo shoot. You will undoubtedly make a stunning bride with these rustic yet elegant dresses that will stand out in the background of the barn.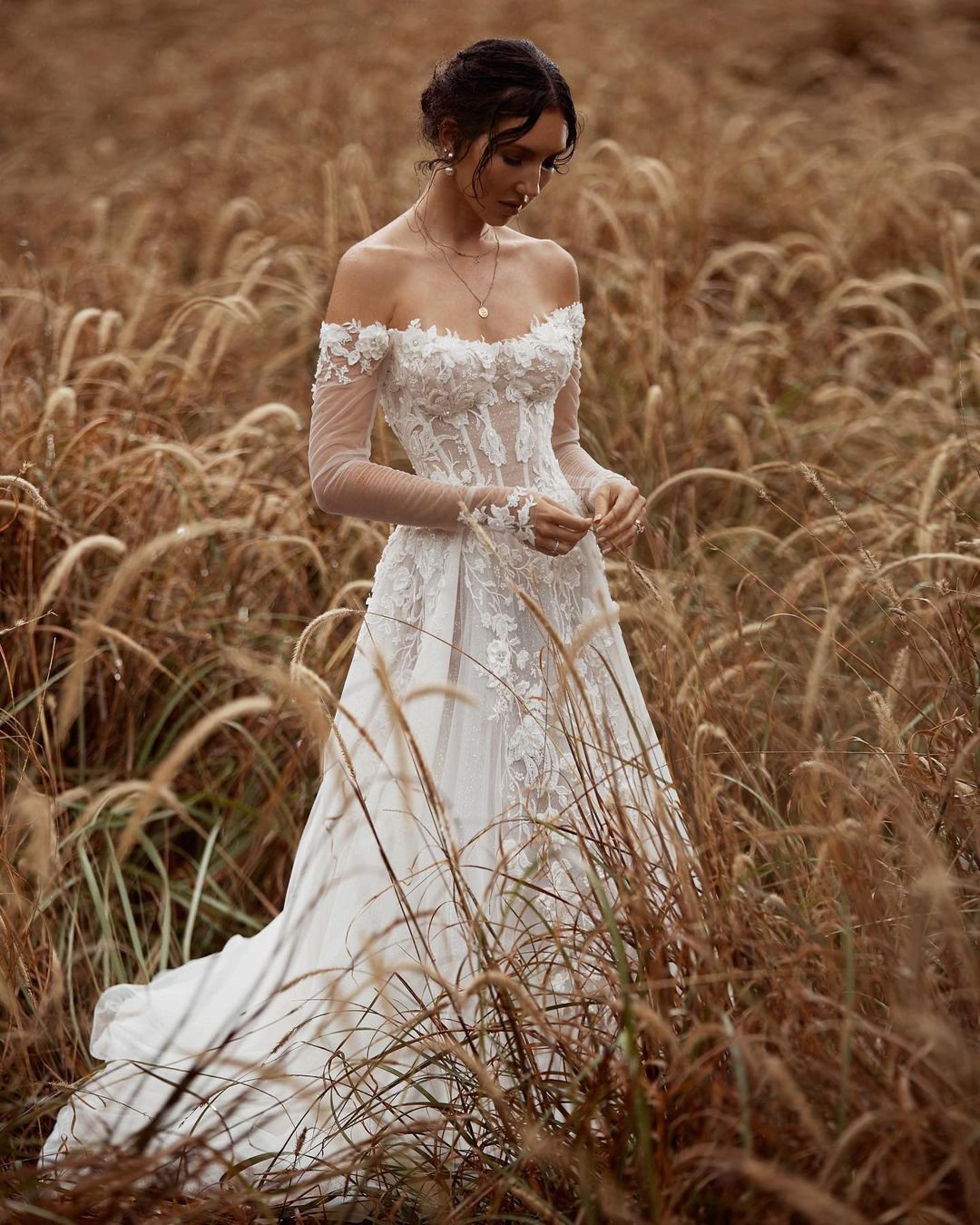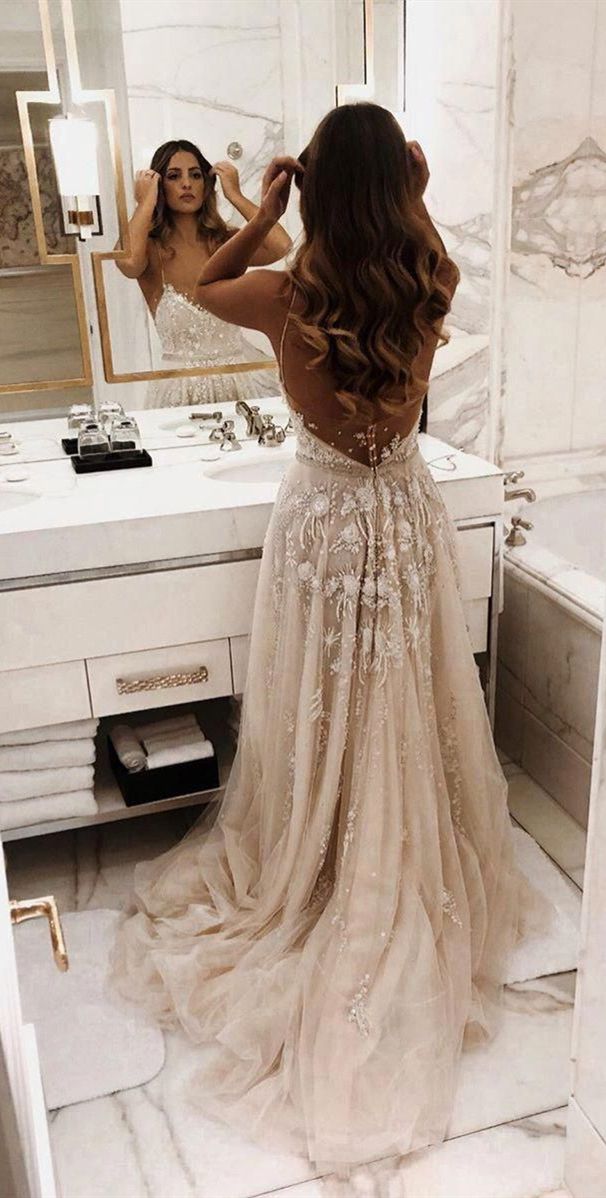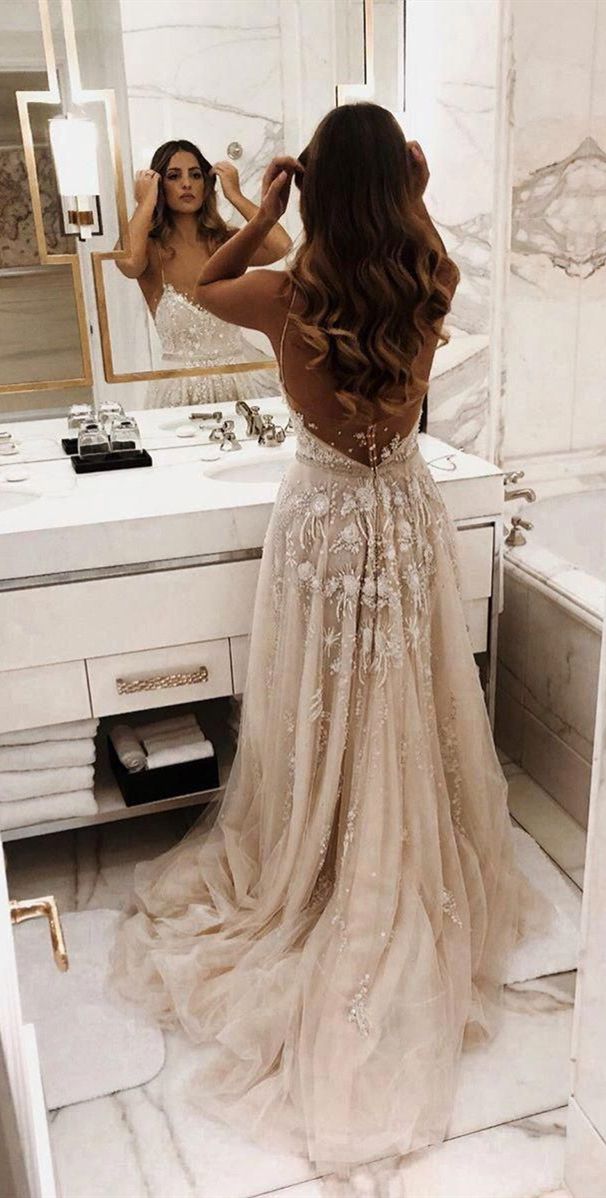 Rustic Plus Size Wedding Dresses
Rustic wedding dresses in plus sizes offer a diverse range of colors and designs to suit any preference. Lace sleeves with organic detailing are ideal for cooler seasons, while open backs and delicate frills are ideal for beach or garden themed weddings. The rustic theme is earthy and natural, so it's important to choose dresses that incorporate natural textures and colors. These styles help to create a cohesive and beautiful look that is perfect for any plus-size bride looking for a rustic themed wedding.