20 Best Green Wedding Guest Dresses for 2024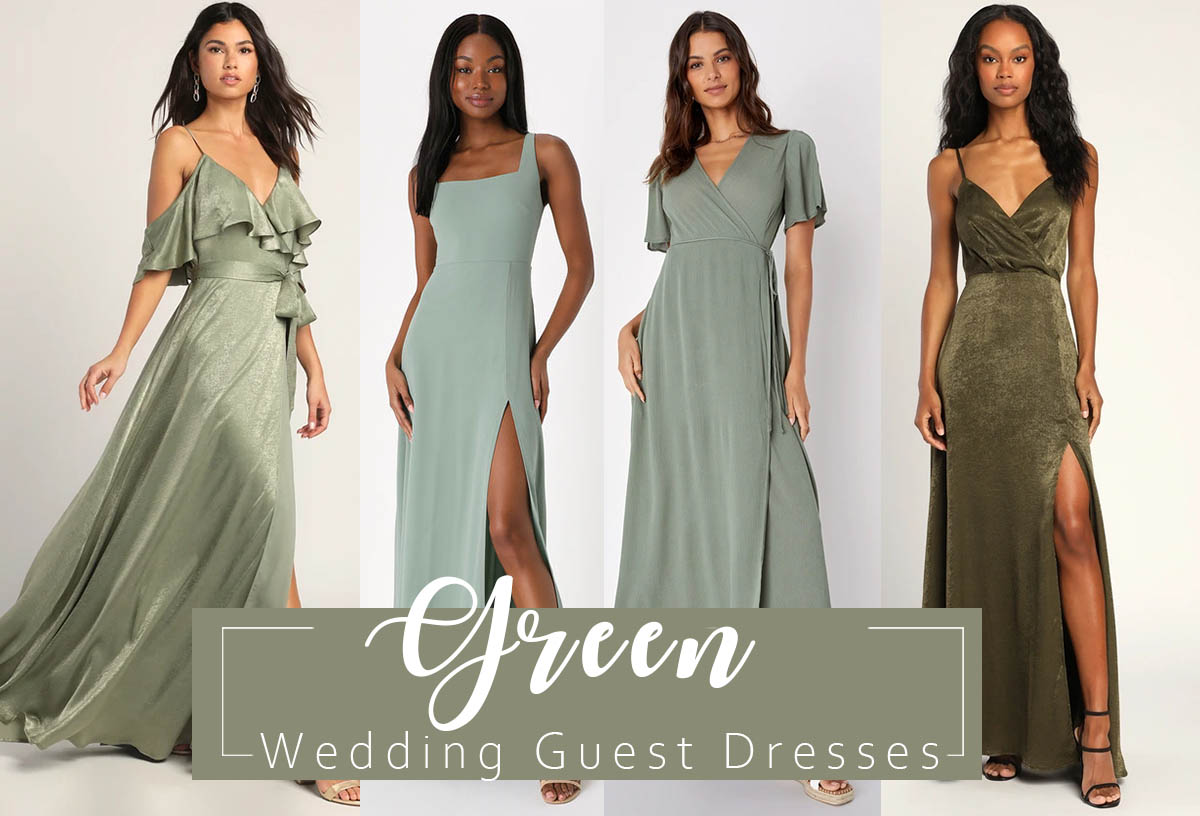 Attending a wedding as a guest is always an exciting affair. It's the perfect opportunity to dress up, socialize, and create lasting memories. However, finding the perfect outfit can sometimes be a challenge. In this blog post, we will explore the beauty and elegance of green wedding guest dresses. Not only will we showcase stunning options, but we will also shed light on the importance of choosing an eco-friendly dress that not only helps you look amazing but also reduces your carbon footprint.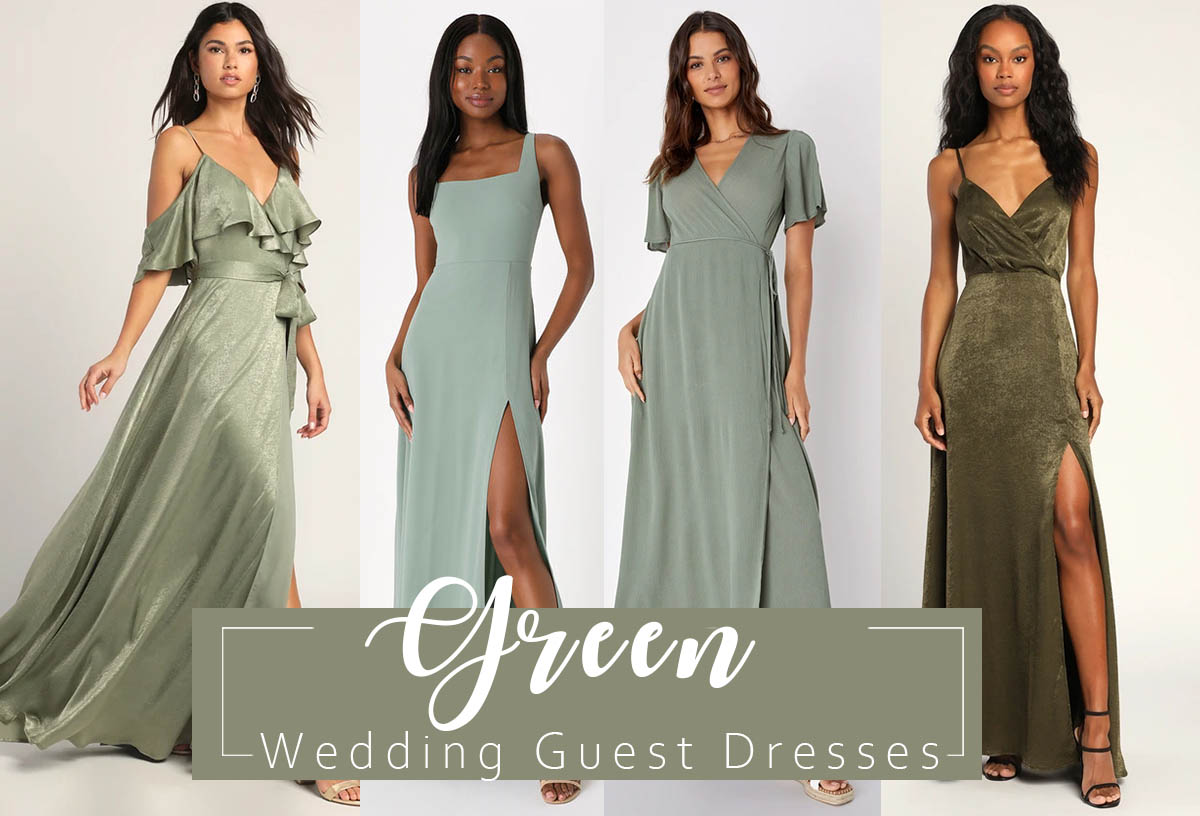 The Timeless Charm of Green
When it comes to wedding guest attire, green is a color that exudes elegance and sophistication. Whether it's an emerald, mint, or forest green, this hue complements all skin tones and adds a touch of vibrancy to any occasion. Green is also associated with nature and represents growth and harmony, making it the perfect choice for a celebration of love.
Green Wedding Guest Dress Styles
1. Classic Elegance with Emerald Green
Emerald green is a timeless and sophisticated color choice for a wedding guest dress. It exudes elegance and complements all skin tones. Choose a flowy floor-length gown in emerald green for a formal wedding or opt for a knee-length emerald dress with lace detailing for a semi-formal affair. Pair it with delicate silver accessories and understated heels to complete the look.
Emerald Floral Jacquard Pleated Satin Midi Dress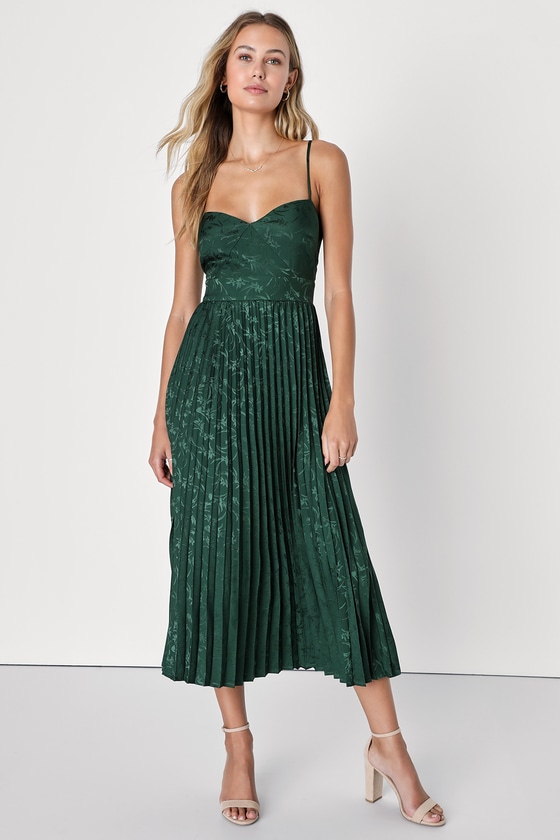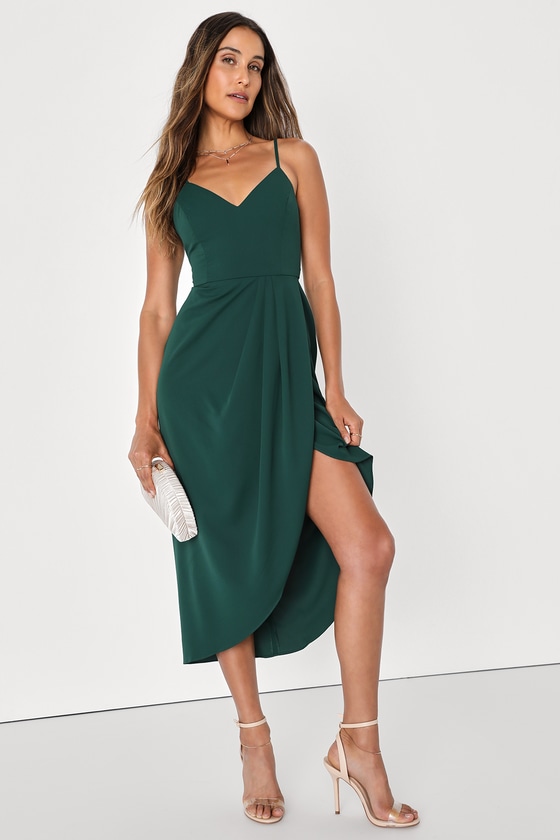 Emerald Green Floral Print Satin Maxi Dress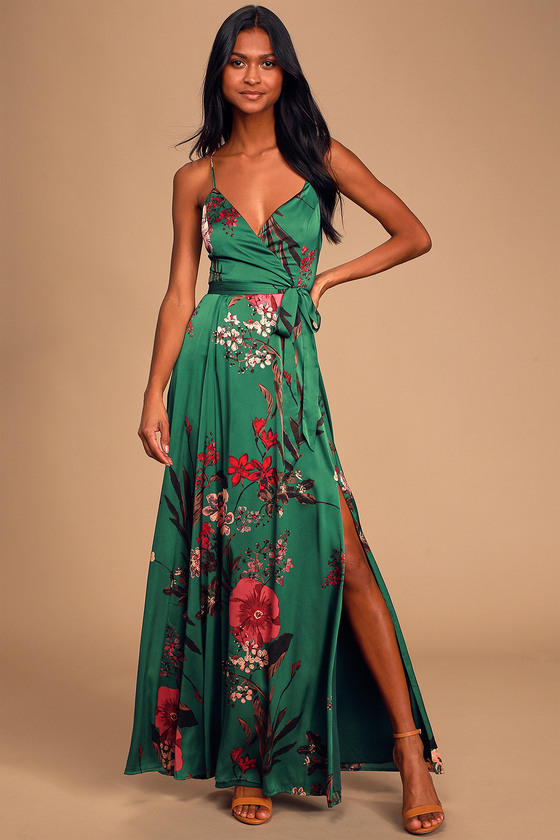 2. Bohemian Charm in Olive Green
For a bohemian-inspired wedding, an olive green dress will add a touch of charm and whimsy to your outfit. Look for a dress with flowing fabrics, ruffled sleeves, or intricate lace details. Pair it with earth-toned accessories like a brown leather belt, beaded earrings, and strappy sandals. This style is perfect for outdoor garden weddings or rustic barn venues.
Olive Green Satin Asymmetrical Midi Dress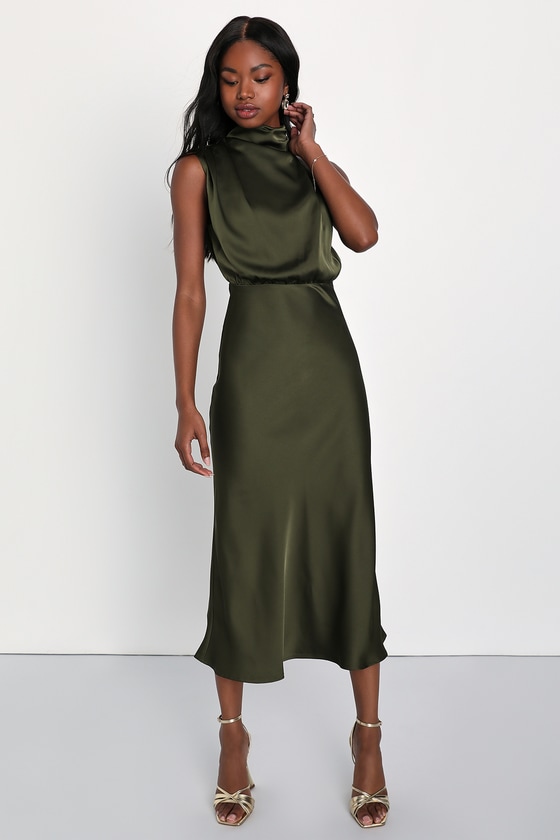 Olive Green Satin Maxi Dress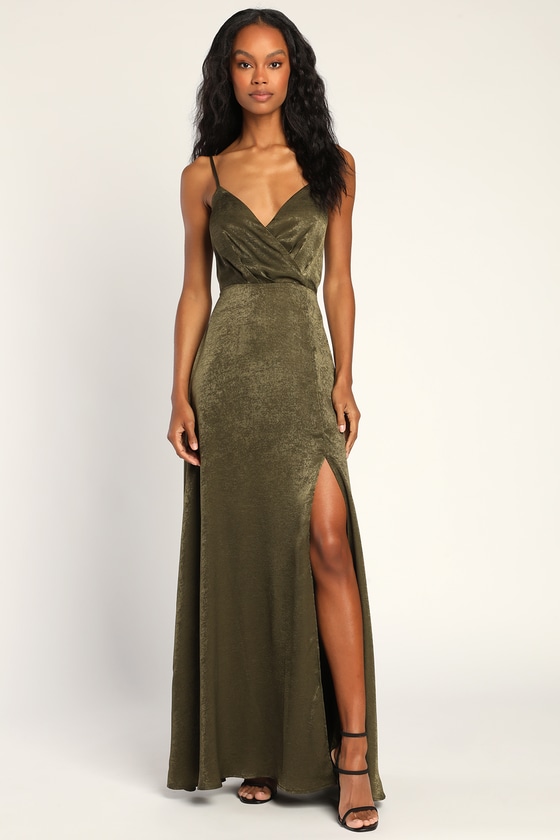 Washed Olive Green Wrap Maxi Dress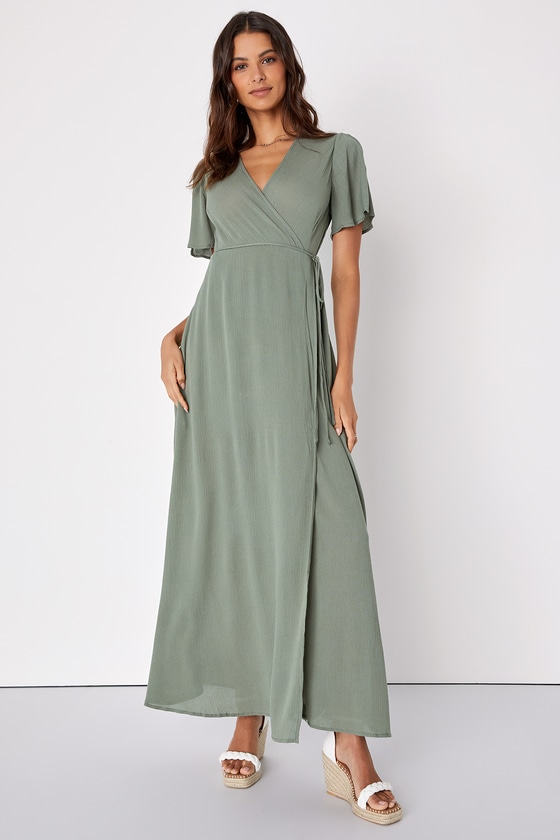 3. Vibrant Confidence in Lime Green
If you're feeling bold and want to make a fashion statement, consider a lime green dress. This vibrant shade is sure to turn heads and make you stand out from the crowd. Choose a body-hugging silhouette for a modern look or opt for a flowing maxi dress for a more bohemian vibe. Accessories in neutral colors like white or gold will help balance the boldness of the dress.
Lime Green Sleeveless Tiered Midi Dress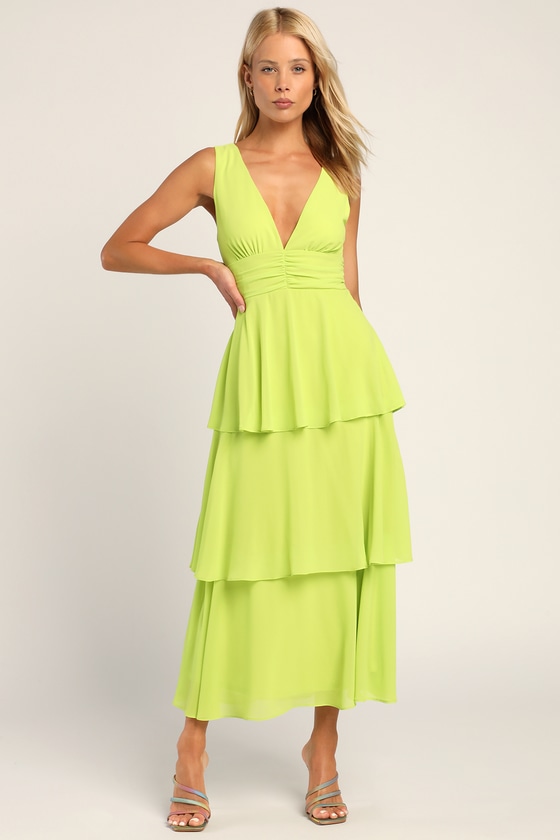 Lime Green Tie-Front Crop Top
Lime Green Tie-Back Midi Dress With Pockets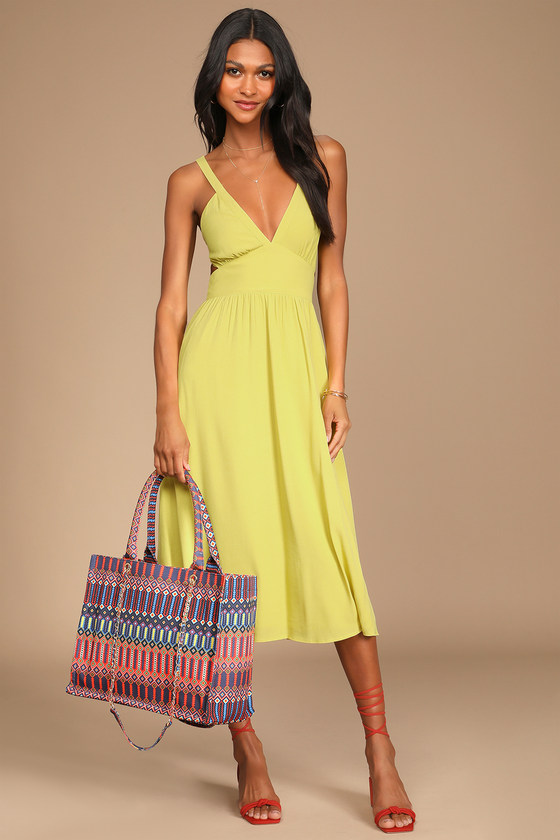 4. Romantic Sophistication with Mint Green
Mint green is a soft and romantic color choice that adds a touch of sophistication to any wedding guest outfit. Look for a dress with delicate lace detailing or embroidered floral patterns for a feminine touch. Pair it with silver or rose gold accessories and strappy heels for an elegant look. This style is perfect for daytime weddings or outdoor ceremonies.
Green Floral Print A-Line Midi Dress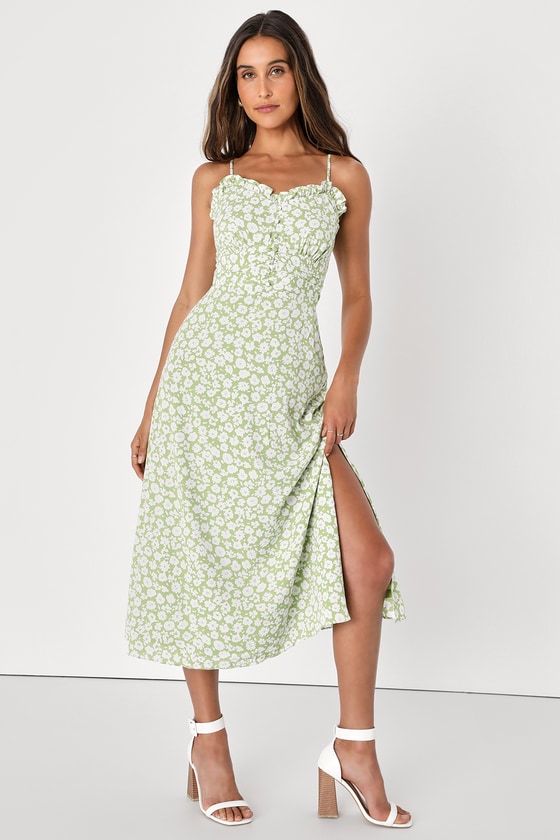 Mint Green Floral Burnout Strapless Maxi Dress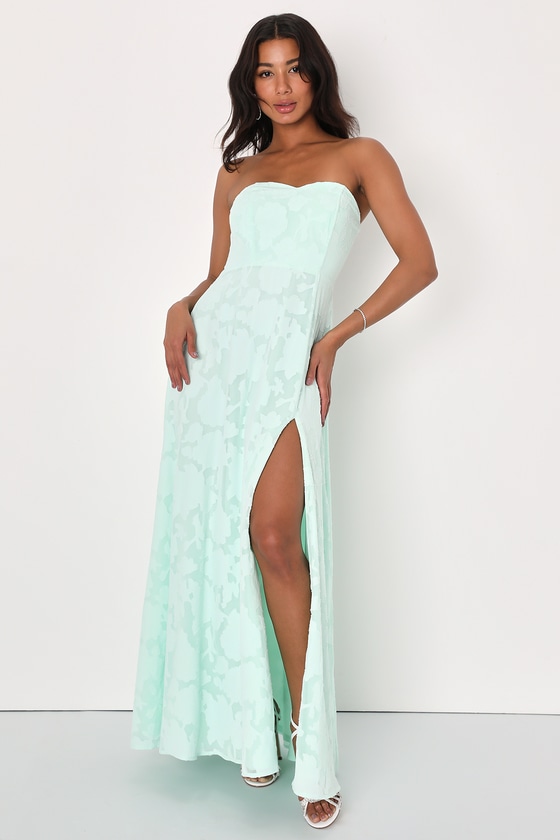 5. Timeless Grace in Forest Green
For a truly elegant and classic look, opt for a dress in forest green. This deep, rich shade exudes timeless grace and pairs well with gold accessories. Choose a dress with a sleek silhouette and minimal embellishments for a sophisticated and polished look. This style is perfect for black-tie weddings or formal evening affairs.
Hunter Green Tulle Backless Maxi Dress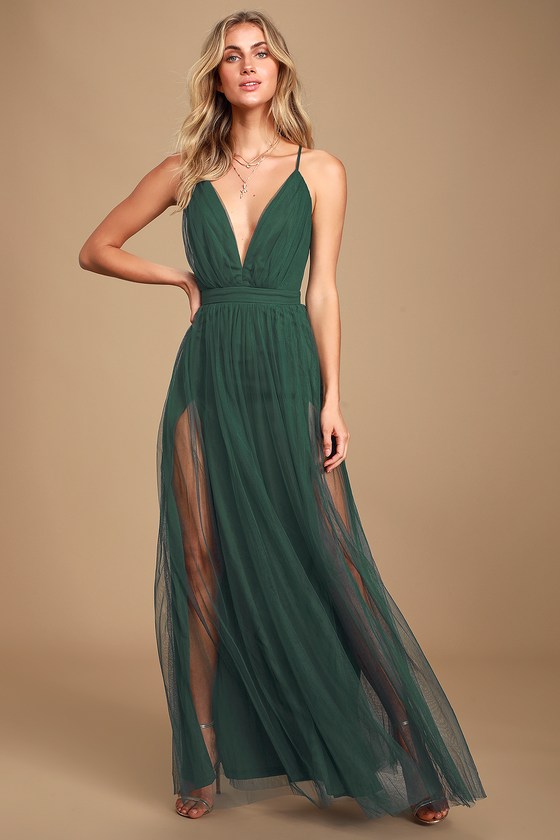 6. Earthy Sophistication in Sage Green
Sage green is a trending color choice for wedding guest dresses as it exudes an earthy and sophisticated vibe. This color looks especially great during the autumnal season and pairs beautifully with gold accessories. Choose a dress with romantic details, such as lace or ruffles, to enhance its elegance. For a chic daytime look, consider a midi or maxi length dress with a flowy silhouette. This versatile color is also great for outdoor or nature-inspired weddings.
Sage Green Lace Tie-Strap High-Low Midi Dress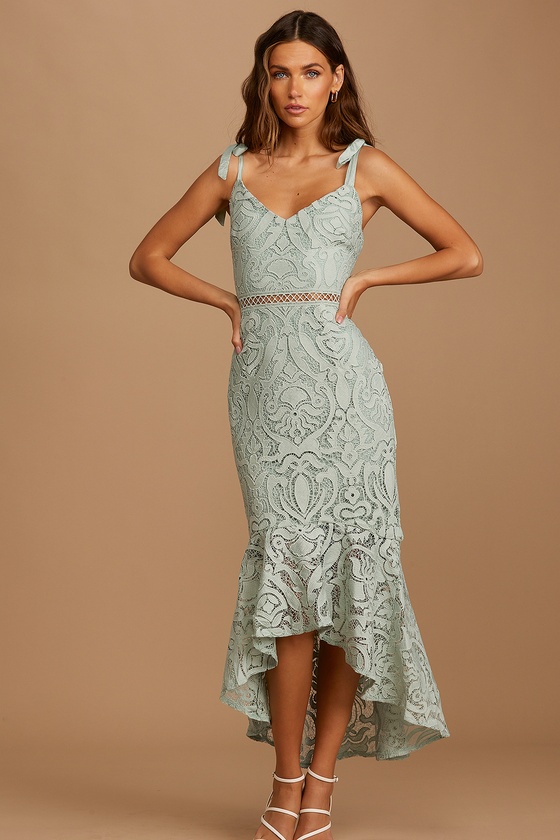 Sage Green Satin Wrap Maxi Dress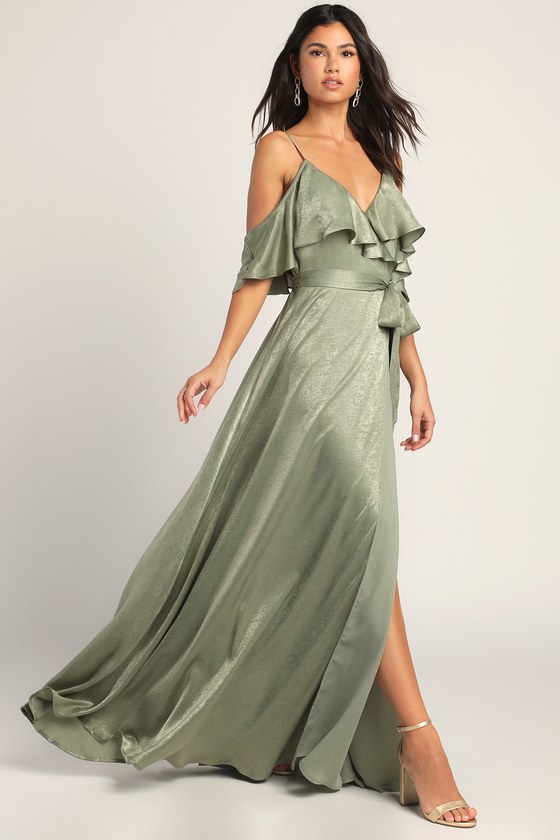 Sage Brush Sleeveless Maxi Dress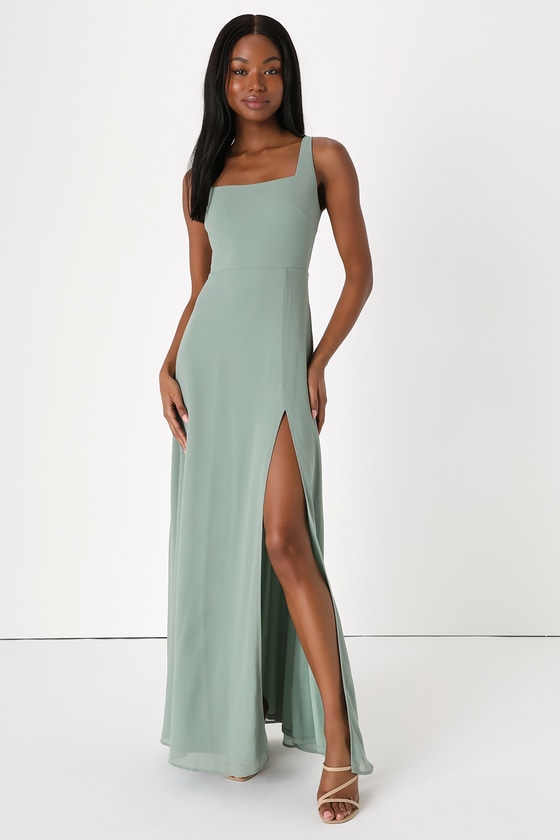 Sage Green Swiss Dot Button-Front Maxi Dress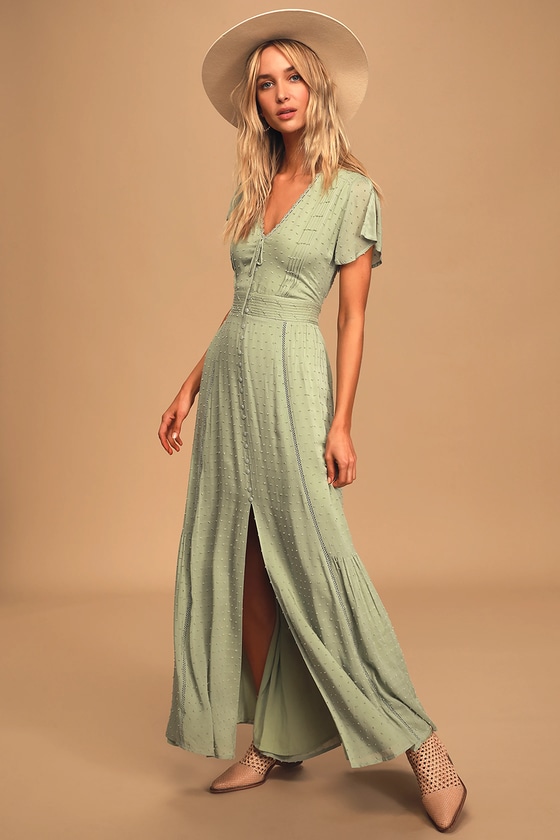 Sage Green Print Tie-Strap Midi Dress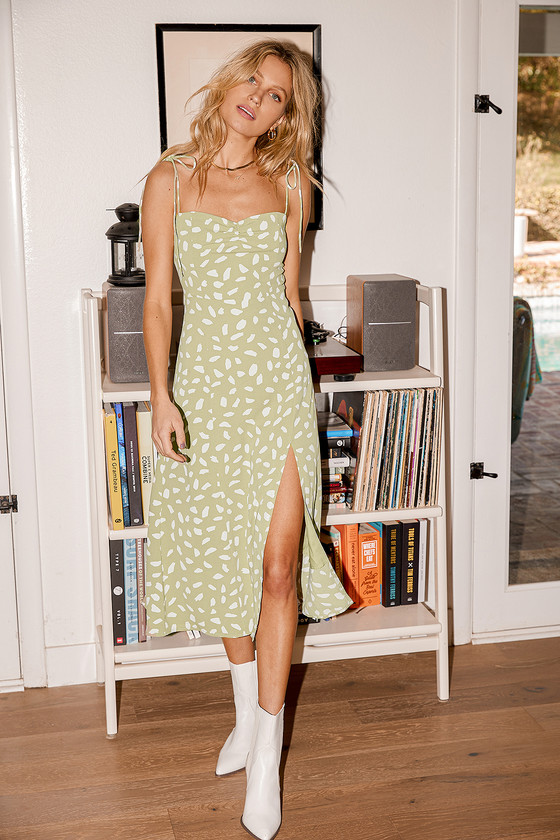 Sage Brush Flutter Sleeve Maxi Dress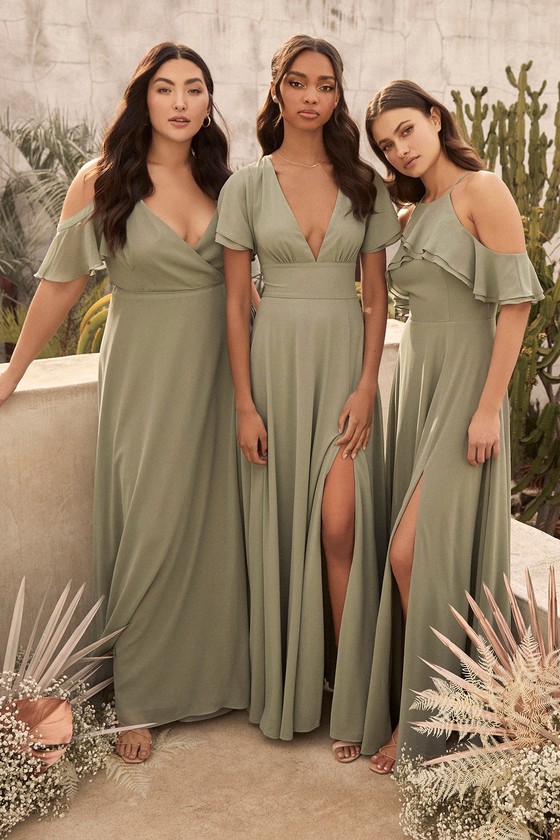 Styling Options for Green Wedding Guest Dresses
The versatility of green dresses makes them an ideal choice for a variety of wedding themes and dress codes. Here are a few styling options to consider:
1. Classic and Timeless Elegance
For a formal wedding, opt for a long, flowing emerald green gown with delicate details such as lace or beading. Pair it with silver or gold accessories to complete the look. This timeless ensemble will make you feel like a true Hollywood star.
2. A Touch of Whimsy
If the wedding has a bohemian or garden theme, choose a flowy mint green dress with floral prints. Pair it with wedges and a wide-brimmed hat to achieve a whimsical and romantic look. Don't forget to accessorize with delicate flower-shaped jewelry to enhance the overall aesthetic.
3. Contemporary Chic
For a modern and chic wedding, opt for a tailored forest green dress in a sleek silhouette. Pair it with statement accessories, such as a bold clutch or statement heels, to add a touch of glamor. This ensemble will make you stand out while staying on-trend.
Conclusion
In conclusion, a green wedding guest dress is a perfect choice to add a touch of elegance and sophistication to any wedding. By opting for sustainable fabrics and ethical manufacturing, you can make a fashion statement while also reducing your carbon footprint. Whether you prefer a classic, whimsical, or contemporary look, there are plenty of styling options available to suit your personal taste. So go ahead, make a sustainable choice, and turn heads at the next wedding you attend with your green wedding guest dress!

FAQs
Can I wear green dresses to any type of wedding?
Absolutely! Green dresses come in various shades, allowing you to find the perfect match for any wedding theme, whether it's a formal black-tie event or a bohemian-inspired celebration.
Are sustainable dresses as durable as conventional ones?
Sustainable dresses often boast high-quality materials and ethical production methods, making them durable and long-lasting. With proper care, they can become cherished pieces in your wardrobe.
What footwear goes best with green wedding guest dresses?
Nude or metallic heels are versatile options that complement green dresses. However, you can also opt for statement footwear that matches the dress's color accents.
Can I wear these green dresses for other occasions beyond weddings?
Absolutely! Many green dresses are versatile and can be styled differently for various events, making them a sustainable choice for multiple occasions.
Conclusion
With an array of stunning green wedding guest dresses available, you can embrace elegance and sustainability without compromise. These dresses not only enhance your style but also contribute to a greener planet. From emerald elegance to chartreuse chic, there's a green dress for every taste and wedding theme. So, the next time you're invited to celebrate love, consider one of these exquisite green dresses and be a trendsetter for sustainable fashion. With your conscious choice, you can look fabulous and play a part in creating a more eco-friendly future for the fashion industry.