Top 30 Floral Wedding Guest Dresses for Any Season 2024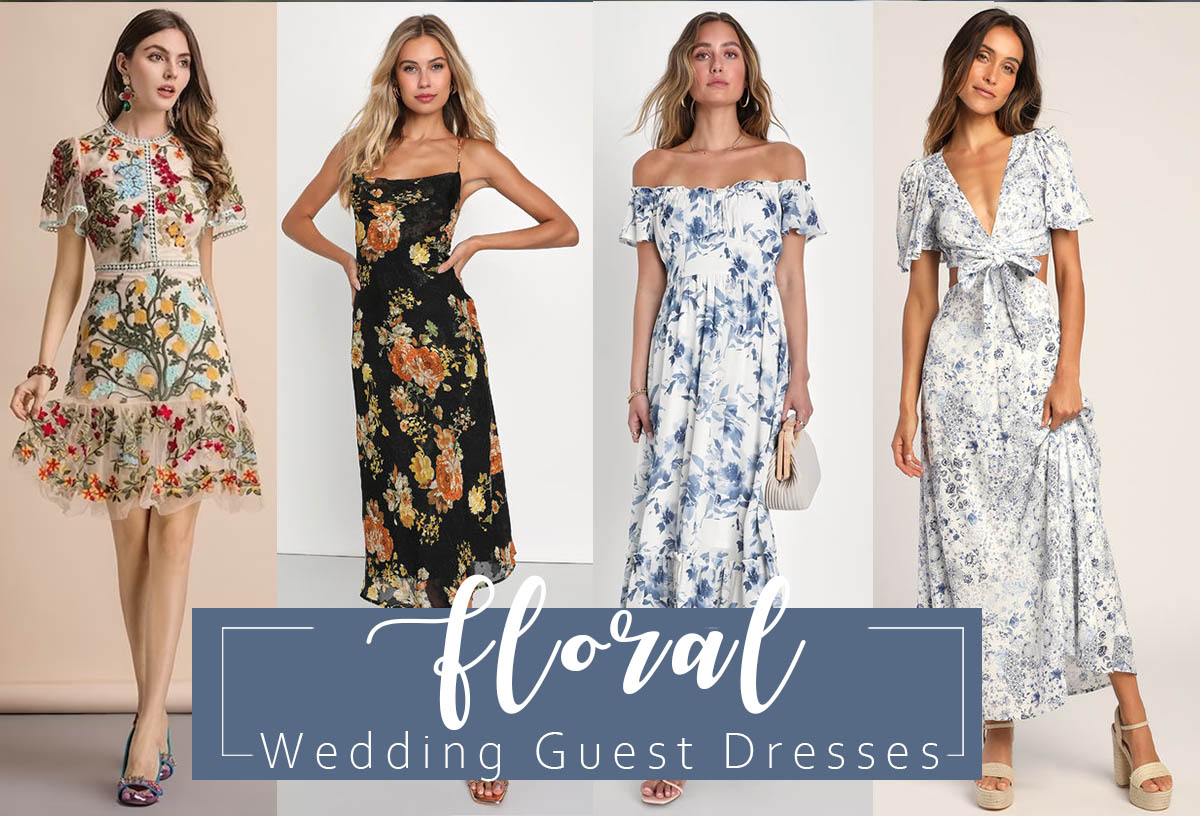 When you're going to a wedding, it's crucial to find that one outfit that's both stylish and suitable for the occasion. That's where floral wedding guest dresses come in! They are an amazing choice because they have this charm and elegance that can instantly elevate your entire look. So, in this post, let's dive into the wonderful world of floral wedding guest dresses. We'll talk about different styles, trends, and everything you need to know to rock that floral look with confidence!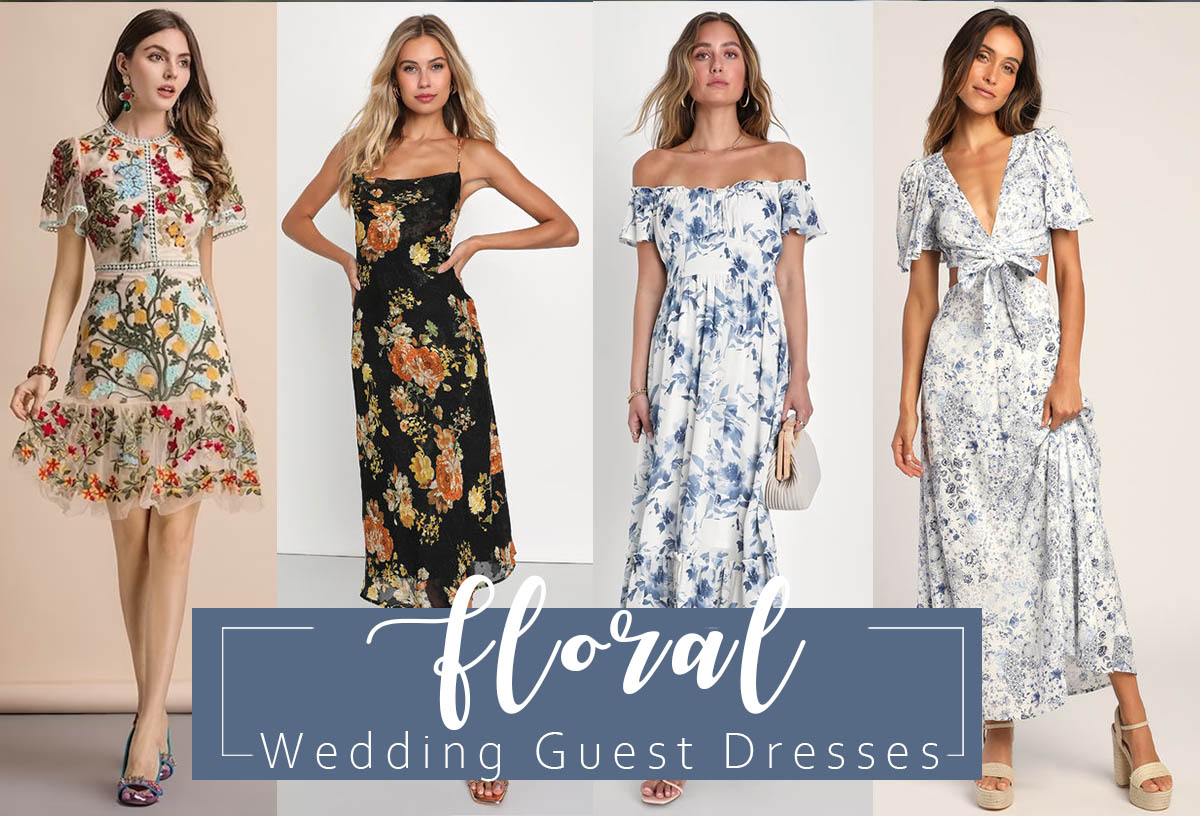 The Charm of Floral Wedding Guest Dresses
Floral dresses have long been a favorite choice for wedding guests due to their versatile nature and timeless appeal. The intricate patterns and blooming motifs evoke a sense of elegance and femininity, adding a touch of romance to any wedding celebration. With a myriad of floral designs available, you can easily find a dress that aligns with your personal style and the wedding's theme. From soft pastels to vibrant blooms, floral wedding guest dresses effortlessly exude a captivating charm that complements the joyful atmosphere of weddings throughout the year.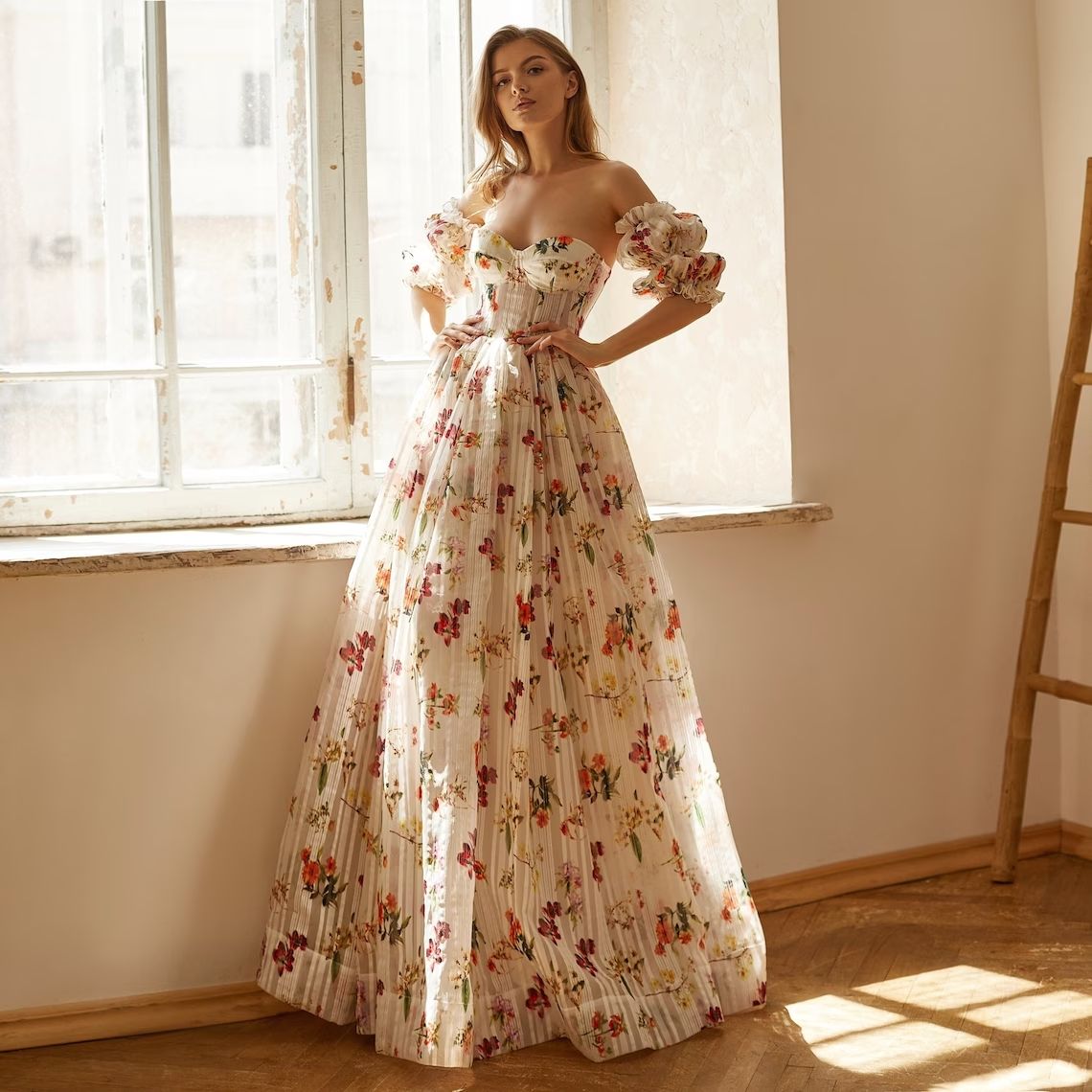 Embracing Seasonal Beauty: Floral Dresses for Every Wedding
As each season unfolds, floral wedding guest dresses adapt to reflect the beauty of nature. For spring weddings, pastel-colored floral prints that mirror blooming flowers are ideal. Summer weddings welcome lively and vibrant floral designs that capture the spirit of the season. Fall weddings call for warm and earthy tones, featuring autumnal flowers like dahlias and sunflowers. Winter weddings demand darker hues and rich floral patterns that exude elegance and sophistication.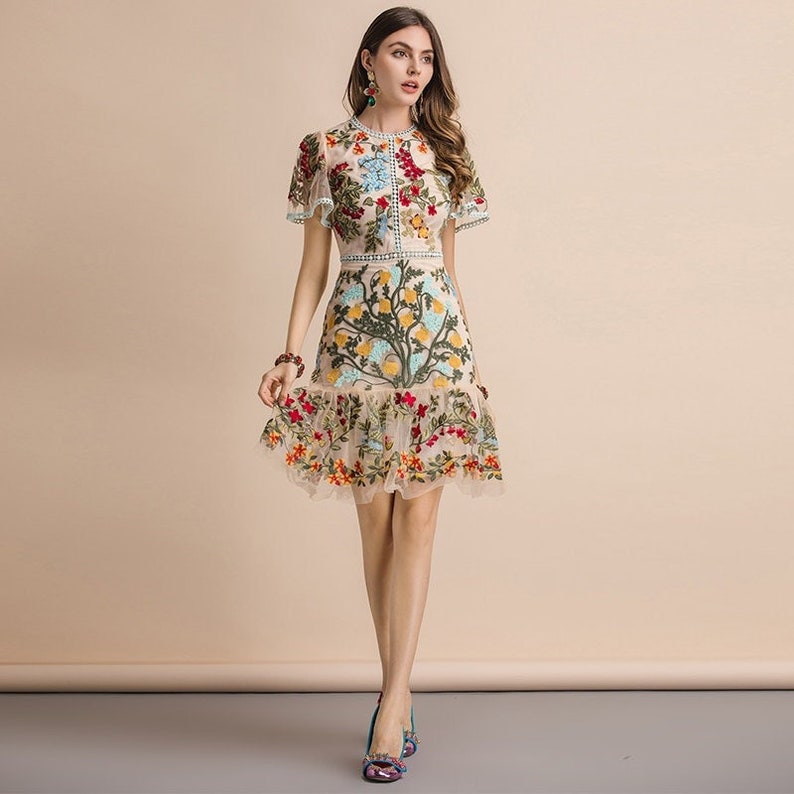 Style and Versatility of Floral Wedding Guest Dresses
Floral prints have the power to make any outfit come alive. When it comes to wedding guest dresses, floral patterns offer a wide range of style options, allowing you to express your individuality while adhering to the event's dress code. From vibrant blooms to delicate blossoms, there's a floral print for everyone. Let's take a look at some popular styles:
1. A-Line Floral Dresses
Flattering on all body types, A-line floral dresses offer a timeless and feminine look. The fitted upper bodice and flowing skirt create a flattering silhouette for any wedding guest.
Black Floral Print Lace-Up Cowl Midi Dress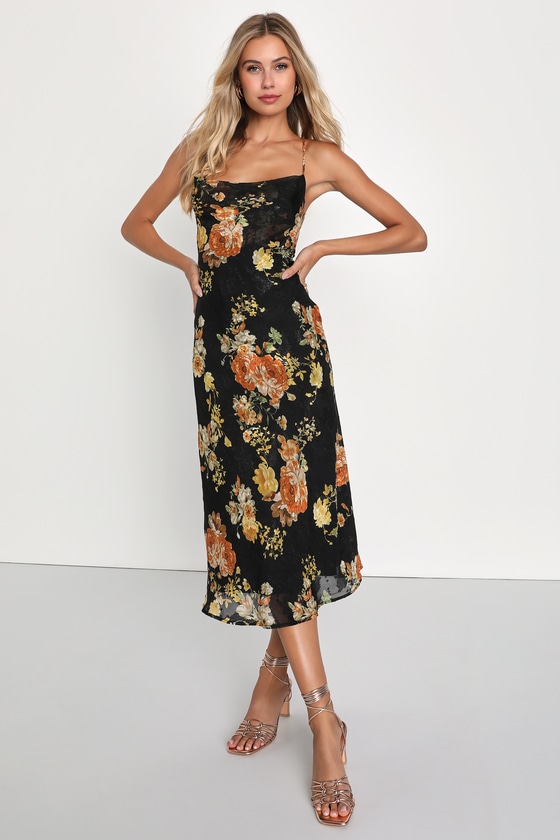 Black Floral Print Ruffled Bustier Midi Dress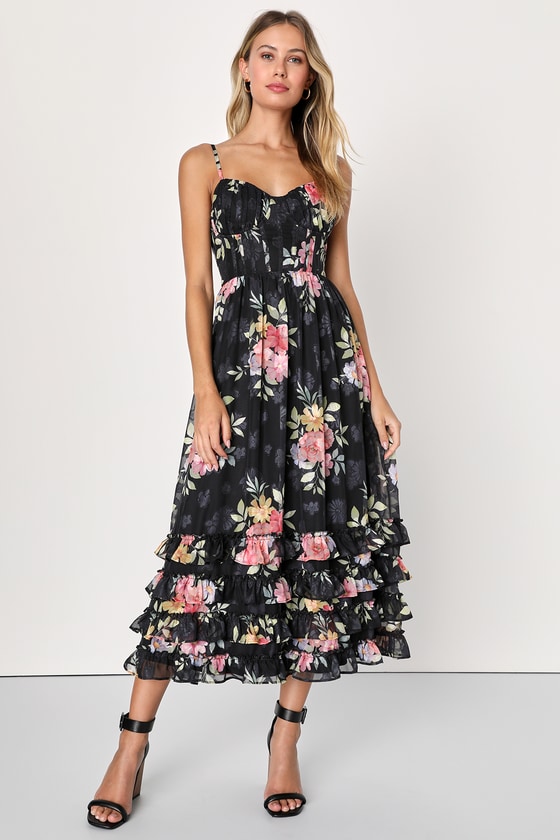 2. Maxi Floral Dresses
For a more formal wedding, consider a maxi floral dress. These floor-length dresses create an ethereal and elegant look, perfect for outdoor or evening weddings.
Ivory Multi Floral Print Organza Maxi Dress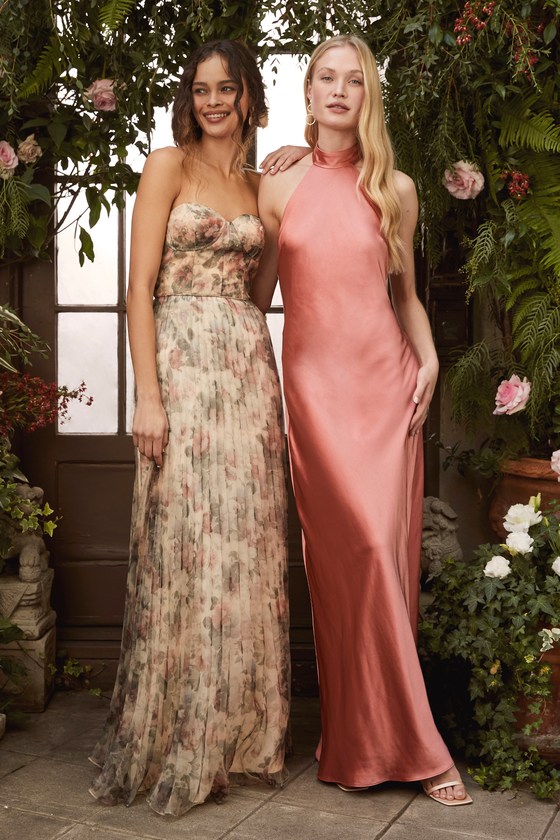 Lavender Floral Print Maxi Dress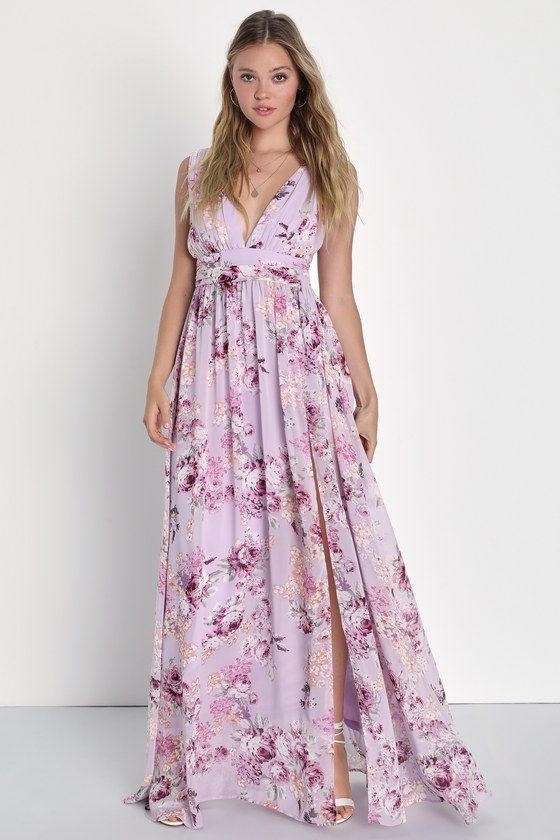 3. Wrap Floral Dresses
Wrap floral dresses are known for their figure-flattering design and versatility. The wrap style accentuates the waist and can be adjusted to suit your comfort level while offering a touch of sophistication.
Cream and Blue Floral Print Wrap Maxi Dress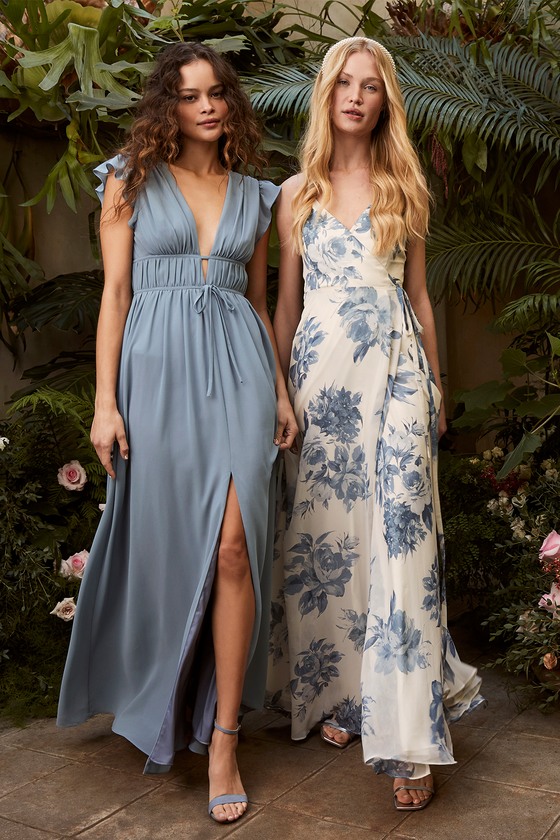 4. Off-Shoulder Floral Dresses
If you want to show a little skin while maintaining an elegant look, opt for an off-shoulder floral dress. This style adds a touch of romance and is perfect for spring or summer weddings.
5.Two-pieces Floral Dresses
Two-piece floral dresses are a popular and trendy choice for wedding guests looking to make a statement. Whether you're attending a formal ceremony or a casual outdoor event, this ensemble is sure to bring a touch of modern sophistication to your wardrobe. The two-piece design allows you to mix and match different pieces, and one of the most popular styles is the off-shoulder crop top.
Sage Green Floral Print Two-Piece Midi Dress
White Floral Print Two-Piece Maxi Dress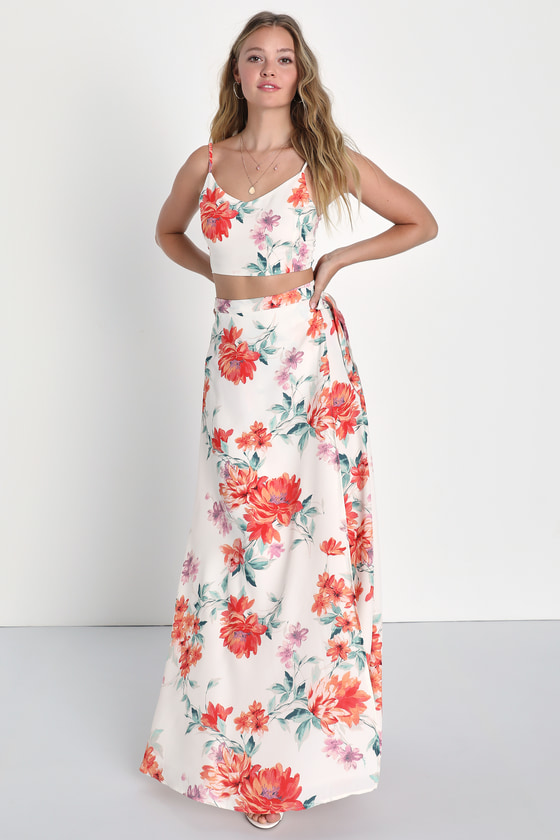 Breaking Down the Floral Trends
Now that we've explored different floral dress styles, let's delve into popular floral trends in wedding guest attire. By breaking down the subheadings, we'll uncover the elements that make floral dresses truly fashionable.
1. The Power of Color Choices: Bold vs. Subtle
Choosing the right color palette for your floral dress can make a significant impact. Bold and vibrant colors create a striking look, while subtle hues offer a more understated elegance. Consider the wedding theme and your personal style when selecting your dress.
Mustard Yellow Floral Print Backless Maxi Dress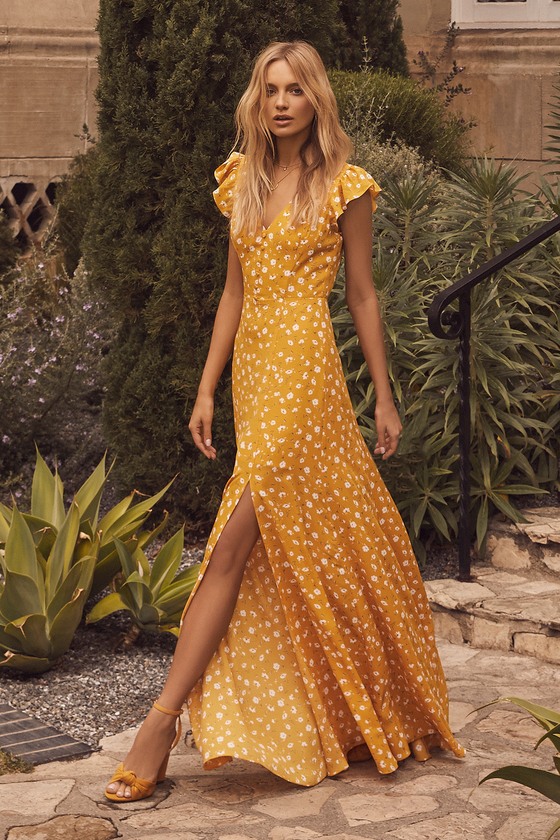 2. Floral Embroidery: Adding Intricate Details
Floral embroidery has become increasingly popular in wedding guest dresses. Intricately stitched flowers add a touch of texture and depth to the dress, elevating its overall appearance.
Cream Embroidered Sequin Bodycon Midi Dress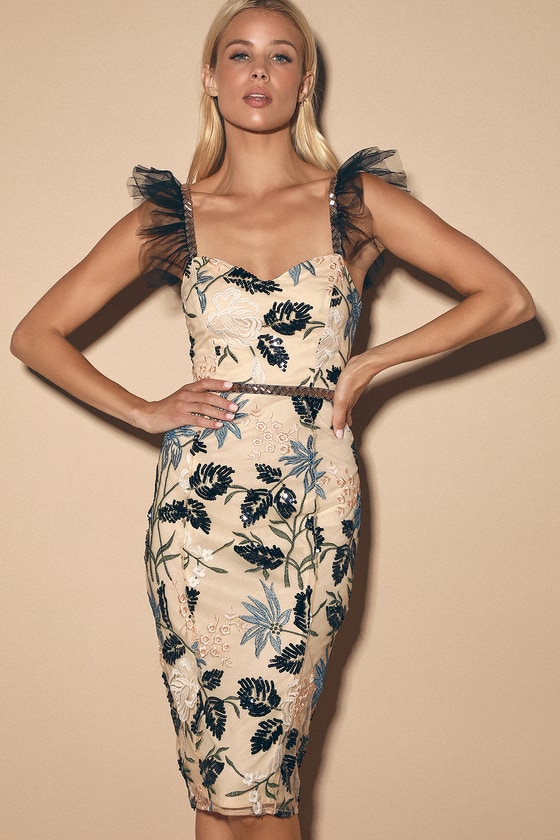 Multi Floral Jacquard Puff Sleeve Mini Dress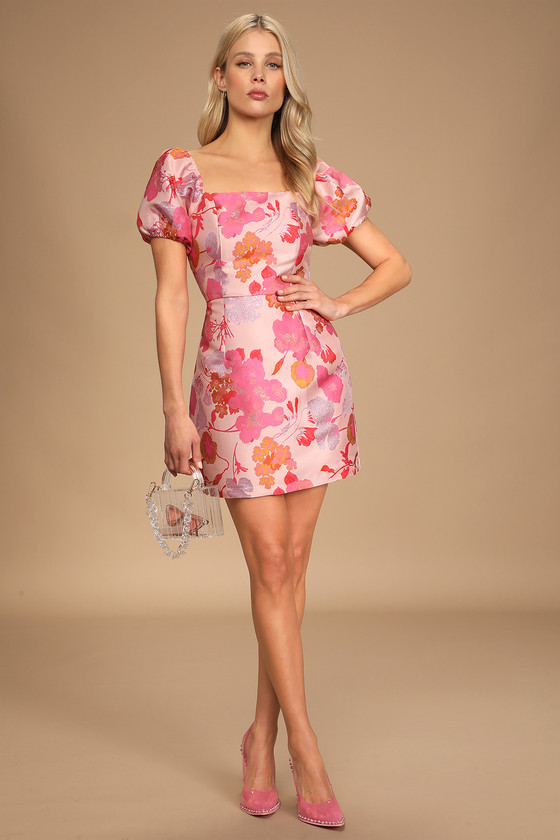 3. Mixing Floral Prints: An Artistic Approach
Mixing different floral prints is a creative way to make a unique fashion statement. Pair a bold floral top with a floral skirt for a stylish and eye-catching ensemble. Just remember to keep the prints in the same color family for a harmonious look.
Pink Floral Print Satin Midi Dress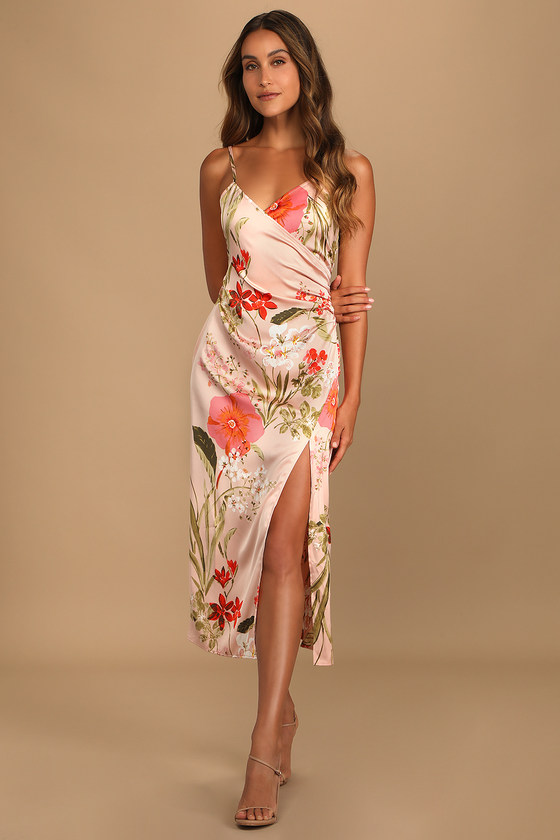 4. Floral Accessories: Complementing the Dress
To complete your floral wedding guest look, don't forget about accessories. Opt for subtle floral accents like a clutch, headpiece, or earrings, which can enhance and tie together your ensemble without overpowering the dress.
White Floral Print Tie-Front Maxi Dress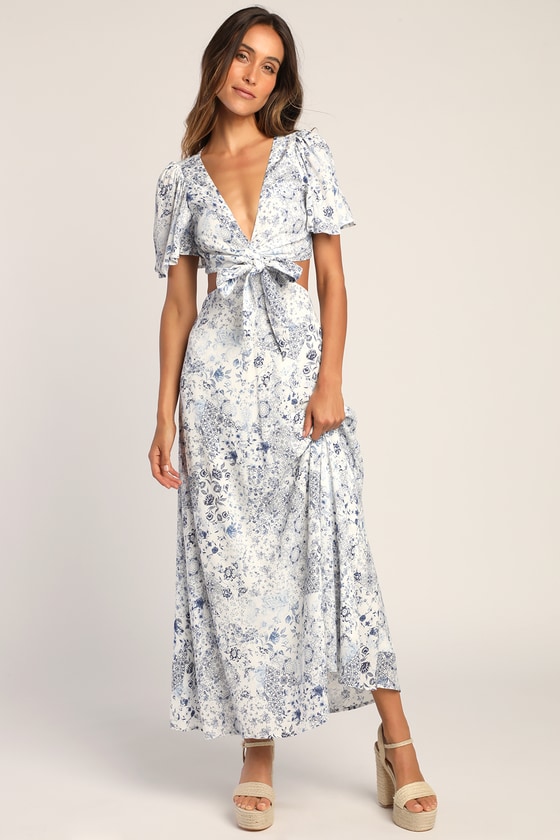 Conclusion
Floral wedding guest dresses offer a perfect blend of style, elegance, and versatility. From A-line to off-shoulder, and bold to subtle prints, there's a floral dress for every wedding guest. By understanding different subheading distributions and following our guide, you can confidently rock a floral dress to any wedding. Start exploring the world of floral fashion today and bring your own unique touch to the event!
FAQs
Can I wear a floral dress to a formal wedding?
Absolutely! Floral dresses can be styled to suit formal weddings, especially those with elegant maxi gowns or dresses with subtle and sophisticated floral patterns.
What should I consider when choosing a floral dress for a summer wedding?
For a summer wedding, opt for floral dresses with lively and vibrant prints that match the season's cheerful ambiance. Consider breathable fabrics like cotton or chiffon to stay comfortable in warm weather.
Are floral dresses suitable for winter weddings?
Yes, floral dresses can be worn during winter weddings. Choose dresses with darker hues and rich floral patterns, and consider layering with a stylish coat or jacket for added warmth and elegance.
Can I mix floral prints with other patterns?
Mixing floral prints with other patterns is a daring and fashionable choice. However, it is important to maintain a sense of balance. Choose patterns that complement each other and keep the colors in the same family to ensure a cohesive and stylish look.