40 Glass Cylinder Wedding Centerpiece Ideas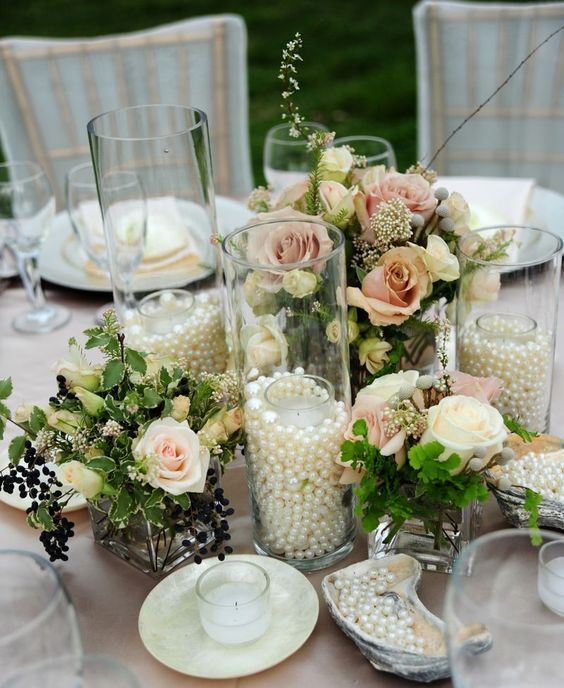 If you're looking to add a touch of glamour and sophistication to your wedding, consider using a glass cylinder wedding centerpiece. These elegant centerpieces are simple yet sophisticated, and they can be used as an accent piece or as the main centerpiece for your reception. The transparent nature of the glass allows for a clear view of the flowers or other decorative elements inside, and the candlelight glow adds a warm and romantic touch. Whether you choose a classic or timeless look, a glass cylinder wedding centerpiece is sure to make a statement and create a memorable and unforgettable wedding experience for you and your guests.
Glass Cylinder Wedding Centerpiece Ideas
Create a unique and elegant atmosphere with glass cylinder wedding centerpieces! These beautiful centerpieces will add a modern touch to your special day, bringing a stunning and memorable look to your tables. From featuring floating candles to cascading flowers, there are plenty of creative ideas you can use to create stunning glass cylinder wedding centerpieces that will be admired by all.
Here are a few ideas for incorporating glass cylinder centerpieces into your wedding:
Floating candle centerpieces: Fill the cylinder vase with water and add a few floating candles for a simple yet elegant look.
Flower arrangements: Use the glass cylinder vase to display a beautiful floral arrangement. Choose flowers that match your wedding colors or theme.
Branch centerpieces: Fill the vase with branches or twigs for a natural and rustic look. You can add fairy lights or small ornaments to the branches for added visual interest.
Beach-themed centerpieces: For a beach-themed wedding, fill the vase with sand and add a few seashells or small beach-themed decorations.
Tall candle centerpieces: Place a tall candle inside the cylinder vase for a simple yet elegant look. You can add flowers or other decorative elements around the base of the vase for added visual interest.
Overall, there are many ways to use glass cylinder centerpieces in your wedding decor. Be creative and have fun with it!
How to DIY a Centerpiece with Glass Cylinder Vases
To DIY a centerpiece with glass cylinder vases, you will need the following materials:
Glass cylinder vases (one or more, depending on the size of your table and the look you want to achieve)
Floral foam or rocks for the base
Flowers and foliage of your choice
Scissors or flower snips
Twine or ribbon (optional)
Here is a step-by-step guide on how to make the centerpiece:
Choose the vases you will use and gather the other materials.
Fill the bottom of the vases with floral foam or rocks to anchor the flowers and provide support.
Cut the stems of the flowers and foliage to the desired length, making sure they will fit inside the vase without touching the top.
Arrange the flowers and foliage in the vase, starting with the larger or taller elements and then filling in with the smaller ones. Experiment with different combinations and use your creativity to come up with a unique and beautiful design.
If you want to add a rustic touch, you can wrap twine or ribbon around the top of the vase and tie it in a bow.
Place the vases on the table or other surface where you will display the centerpiece. Adjust the arrangement as needed until you are satisfied with the final result.
I hope this helps! Let me know if you have any other questions.
FAQS
How do you hide floral foam in a glass vase?
If you are making a silk or dried arrangement, fill the edges of the vase with potpourri, Spanish moss or sphagnum moss. Fill the edges of the vase with pebbles, marbles or sand to hide the foam for a fresh arrangement.
How do you arrange flowers in a tall cylinder vase?