2023 Wedding Trends: 20 Charcuterie Board or Table Ideas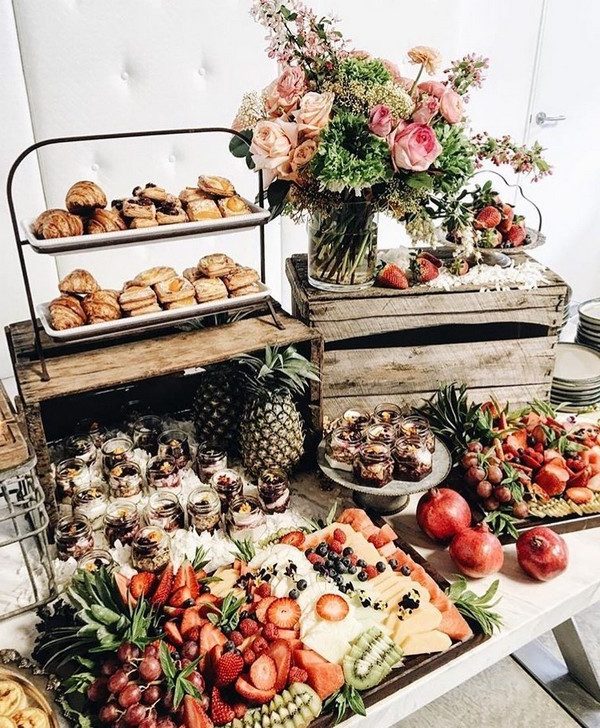 Go for a gorgeous charcuterie board or table to impress your guests and let them feel cozy. A charcuterie board with lots of salami and sausages, cheese and fruit, nuts and crackers, marmalades and sauces. Such an idea inspires chatting and won't leave anyone indifferent: such boards look very yummy and you won't need any special decor.
FAQ
Are charcuterie boards good for weddings?
Charcuterie is an extremely easy and versatile option to go with for appetizers, or even the main course at your wedding! We grilled our meat and cheese experts for their best advice they give engaged couples for building wedding charcuterie boards.
What can I serve instead of a charcuterie board?
Follow along as we roundup the most creative party platters that are even better than charcuterie boards.
Burger Board.
Baked Potato Board.
Chicken Wing Board.
Hot Dog Board.
Pancake Board.
French Fry Board.
Vegan Charcuterie Board.
Bruschetta Board
Charcuterie Kabobs
Breakfast Taco Board
Hot Chocolate Board
Summer Grilling Board
Brunch Board
What a Traditional Charcuterie Platter Includes:
French – French Dry Cured Meats, Offal Charcuterie, Salami.
Italian – Dry Cured Meat, Cheese, Preserved Vegetables, Grapes.
Modern – Open to any variations and interpretation, still cured meat and cheese often present.
How much charcuterie do I need for 50 guests?
A wedding charcuterie board will require more provisions than a board for a holiday party, but it all comes down to the size of the guest list. "Typically you should shop for about 3 to 4 ounces of cheese per person, and about 2 ounces of meat per person," says Marissa Mullen, author and founder of That Cheese Plate.
What size charcuterie board do I need for 20 guests?
If you're looking to feed a crowd, the standard 9 x 13 inches should be big enough for you (but not too big that you can't use it for just yourself). Or, maybe you keep things intimate and consider a mini. And of course, there are bigger ones out there, around 12 x 18 inches, that are great for parties.