40 Burgundy Wedding Bouquets for Fall / Winter Wedding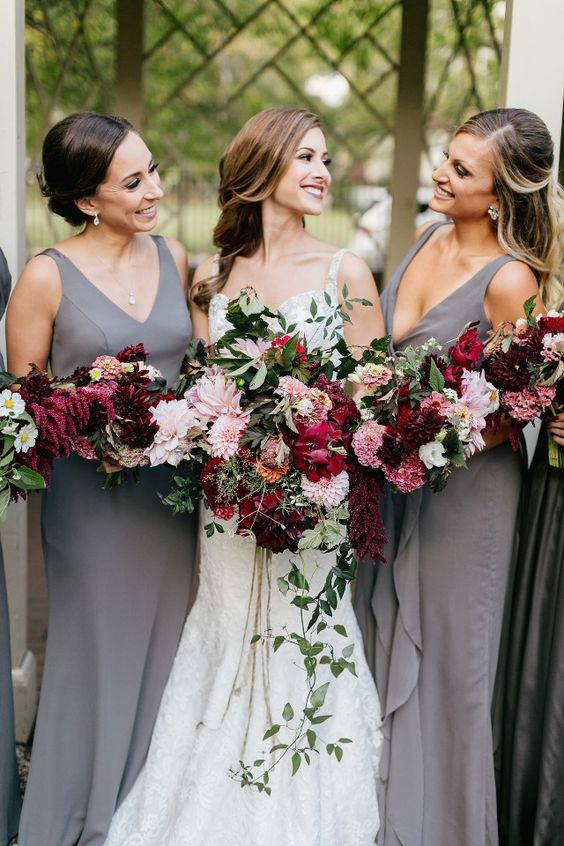 Yes, it's true that burgundy is a very popular color for weddings, particularly during the fall and winter seasons. If you are planning a wedding and are looking for floral ideas, consider incorporating bouquets with burgundy flowers. Not only are these flowers visually stunning, but they can also add a rich and sophisticated touch to your wedding day.
There are many different types of flowers that come in shades of burgundy, so you have plenty of options to choose from. For example, you could go with classic red roses, or opt for something a little more unique like dahlias or zinnias. Burgundy peonies are also a beautiful choice, with their soft, fluffy petals and deep red color.
When it comes to selecting the right flowers for your bouquet, it's important to consider the overall aesthetic of your wedding. If you are going for a more traditional look, you may want to stick with classic red roses or ranunculus. For a more modern or bohemian vibe, consider pairing your burgundy flowers with some greenery or other colorful flowers to create a more eclectic and playful bouquet.
One thing to keep in mind when choosing your burgundy flowers is the season. Some flowers, like peonies and dahlias, are only available during certain times of the year, so it's important to plan accordingly. If you are having a winter wedding, you may want to consider using flowers like poinsettias or holly for a festive touch.
Overall, bouquets with burgundy flowers are a beautiful and elegant choice for any autumn or winter wedding. Whether you go with classic red roses or something a little more unique, these flowers are sure to add a touch of sophistication and drama to your big day.
Read more: