20 Blush Wedding Centerpiece We Love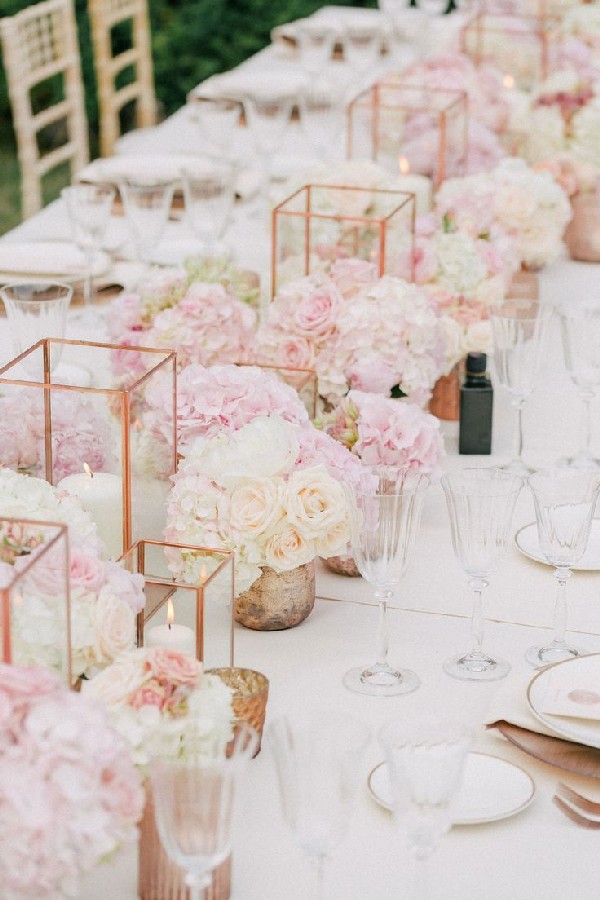 Choosing the ideal centerpieces for your wedding can be challenging, but with the right guidance and inspiration, you can create the perfect ambiance for your special day. Blush wedding centerpieces are a versatile and beautiful choice that can work for a range of wedding styles, from romantic to rustic to modern. From elegant flower arrangements to more elaborate displays, blush can add a touch of elegance and help tie the whole look together. When choosing your centerpieces, consider the overall theme and aesthetic of your wedding, as well as the size and layout of your reception space. With a little planning and creativity, you can create stunning blush wedding centerpiece that will impress your guests and set the tone for a memorable celebration.
Here are 20 blush wedding centerpieces we love to help inspire your wedding decor.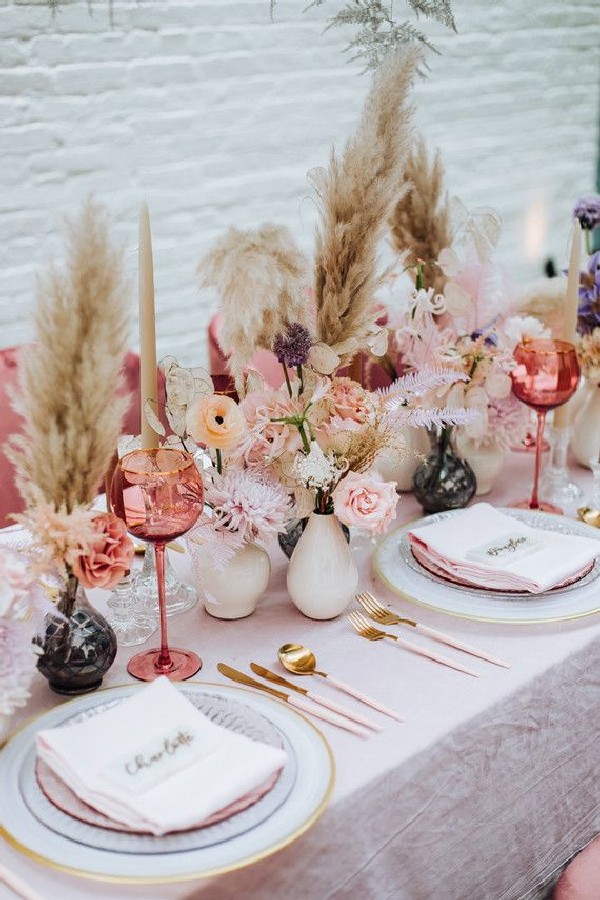 Blush Wedding Centerpiece Ideas
Centerpieces are a crucial element of your wedding decor and can help establish the overall theme and atmosphere of your celebration. For a elegant and sophisticated wedding, blush centerpieces are a beautiful choice. These centerpieces can range from tall and extravagant designs to simpler, more understated arrangements. No matter what style you choose, blush centerpieces can add a touch of elegance and romance to your special day. Take a look at these charming blush wedding centerpiece ideas and get inspired for your own celebration.
Here are a few blush wedding centerpiece ideas to help inspire your big day:
Romantic florals: Create a romantic, fairy tale-like atmosphere with blush floral centerpieces. Use a variety of flowers in shades of pink, such as roses, peonies, and ranunculus, and mix in some greenery for a lush, romantic look.
Floating candles: For a more modern, minimalist look, consider using blush candles as centerpieces. Use a combination of pillar candles and votives in shades of pink and place them in cylindrical vases filled with water. Add in some rose petals or other flowers for a touch of romance.
Rose gold accents: Incorporate rose gold accents into your centerpieces for a glam, chic look. Use rose gold vases or candle holders, or add some rose gold details to your floral arrangements.
Fruit and floral: Create a unique and colorful centerpiece by combining fruit and flowers. Use a variety of pink and red fruit, such as watermelon, strawberries, and pomegranates, and mix in some blush-colored flowers for a playful, summery look.
Rustic charm: For a rustic, natural look, use wooden boxes or baskets as the base for your centerpieces and fill them with blush flowers and greenery. Add in some natural elements, such as twigs and branches, for a truly rustic vibe.
How to match Blush Wedding Centerpiece
If you're looking to create a romantic and dreamy atmosphere at your wedding, the perfect blush wedding centerpiece can be the perfect way to do it. Whether you want to go for something totally unique or go for a classic, timeless look, we've got all of the tips, tricks, and advice you need to help you create the perfect accent piece for your special day. Read on to learn how to match blush wedding centerpieces with the rest of your decor and create the ultimate picture-perfect display.
Choose complementary colors: Blush pairs well with a variety of colors, such as soft gray, champagne, and navy blue. Consider choosing wedding attire and decor in these colors to complement your centerpieces.
Mix and match shades: Don't be afraid to mix and match different shades of pink in your centerpieces and decor. You could use blush as the main color and add in pops of lighter or darker shades to add interest and depth.
Use metallic accents: Metallic accents, such as gold or silver, can add a touch of glamour to your wedding and complement blush centerpieces beautifully.
Add texture: Use different types and textures of flowers and greenery in your centerpieces to add interest and depth. For example, you could mix smooth-petaled flowers with frilly ferns or delicate baby's breath.
Consider the venue: Think about the overall look and feel of your venue when choosing your centerpieces and decor. Blush centerpieces can work well in a range of settings, from rustic barns to elegant ballrooms.
The wedding is just around the corner and you want to make sure your decorations are perfect. From beautiful flowers to modern centerpieces, a blush wedding centerpiece is a beautiful way to tie together your special day. From soft, romantic roses to bold, bright peonies, we've got you covered with the best blush wedding centerpiece ideas around. Show off your style, complement your color scheme and make your day special with one of our lovely blush wedding centerpieces we love.