Your Engagement Ring Shapes & Cut Guide – 2023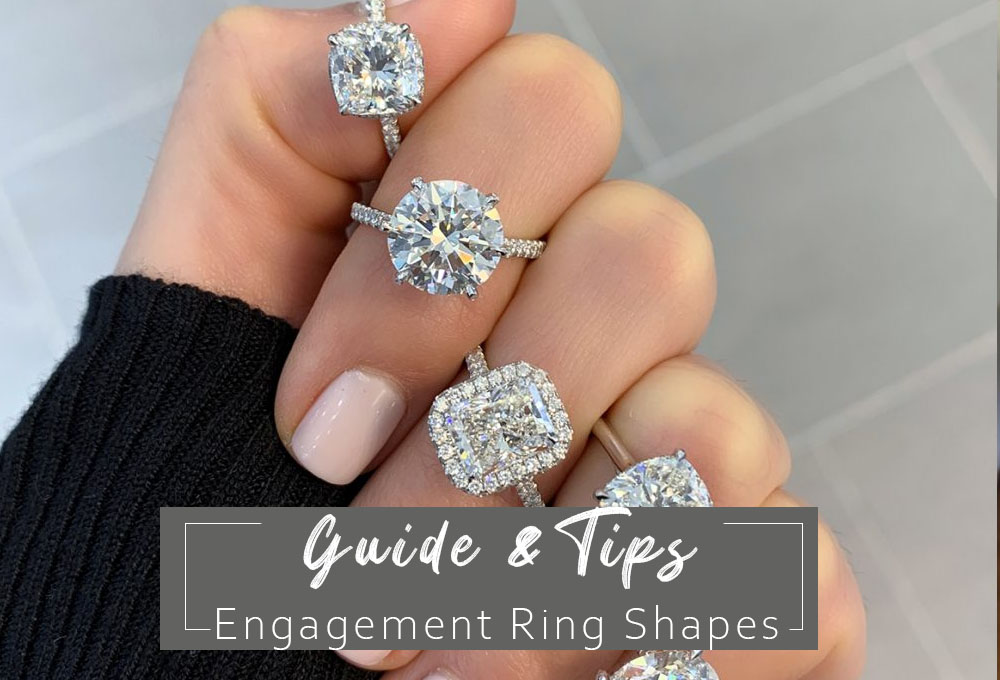 The engagement ring is one of the most important purchases you will make in your lifetime. It should reflect your love for each other and show off your individual style, it's important to know what the different shapes and cuts mean. Understanding the different cuts can help you find the perfect ring for your finger and save money by avoiding what may be a less popular style. We've provided a guide below that breaks down all of the different ring styles and their corresponding cuts so that there's no doubt in your mind what will look best on your hand. Commit to finding the perfect ring for yourself or someone else; we're here to help along the way!
Cushion Cut Engagement Rings
It is true that the Cushion cut (also known as the Pillow cut) has larger facets and rounded corners that do indeed look very cushion-like, yet also highlight brilliance. The Cushion is available in square or rectangular shapes for ladies with a modern-meets-vintage style. Following Kanye West's proposal to Kim Kardashian in 2014, Kim Kardashian began wearing a Cushion-cut engagement ring.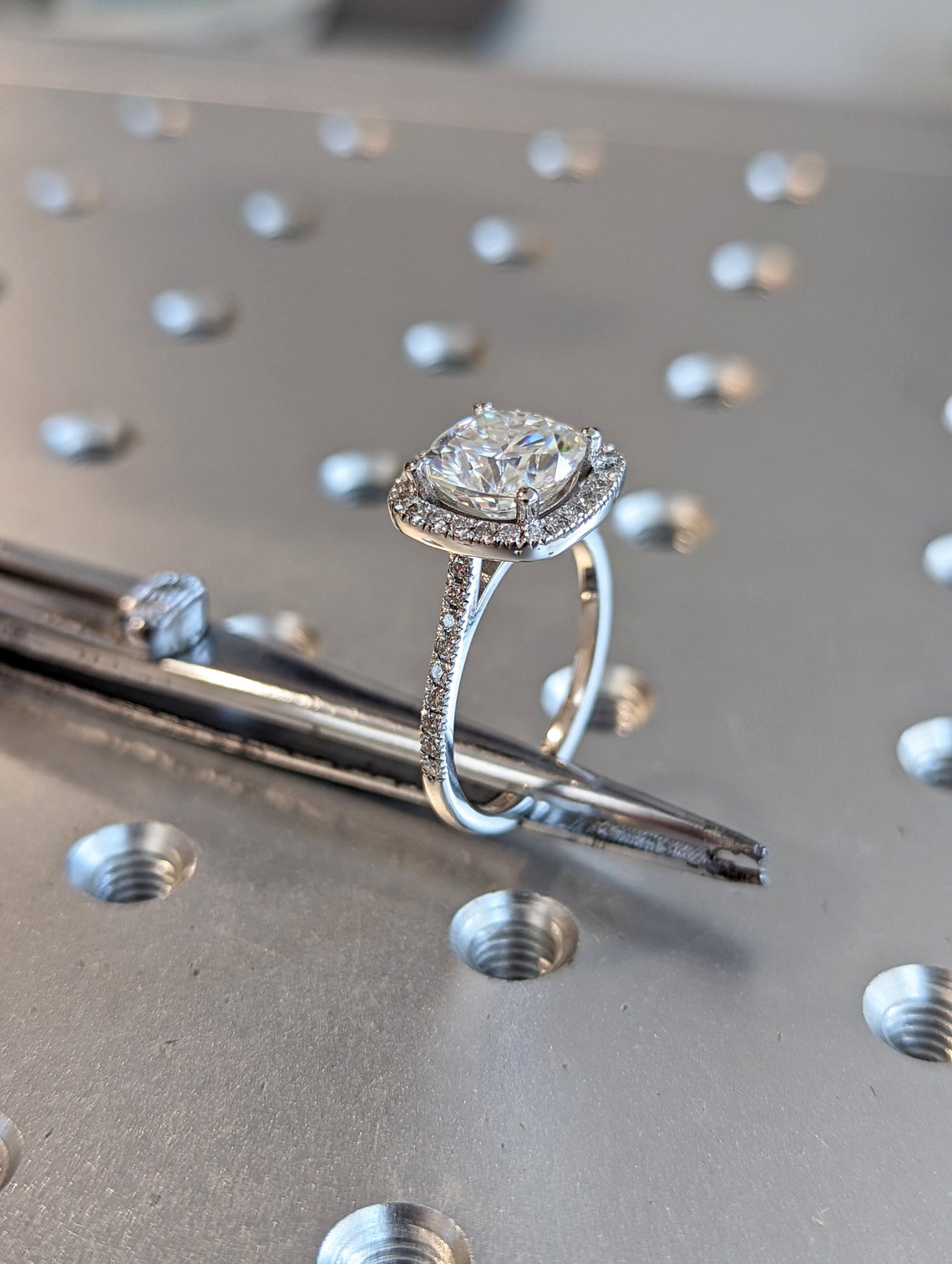 Princess Cut Engagement Rings
Princess-cut diamonds appear square or rectangular (with four bevelled edges), but their overall shape is pyramidal. This piece of history came to light in 1979 and is known for its fiery brilliance.
The Round engagement ring offers brides-to-be a more modern option than the traditional round engagement earring. A fun-loving class for ladies who ooze elegance and passion. Justin Timberlake proposed to Jessica Biel with an 18-carat, princess-cut engagement ring.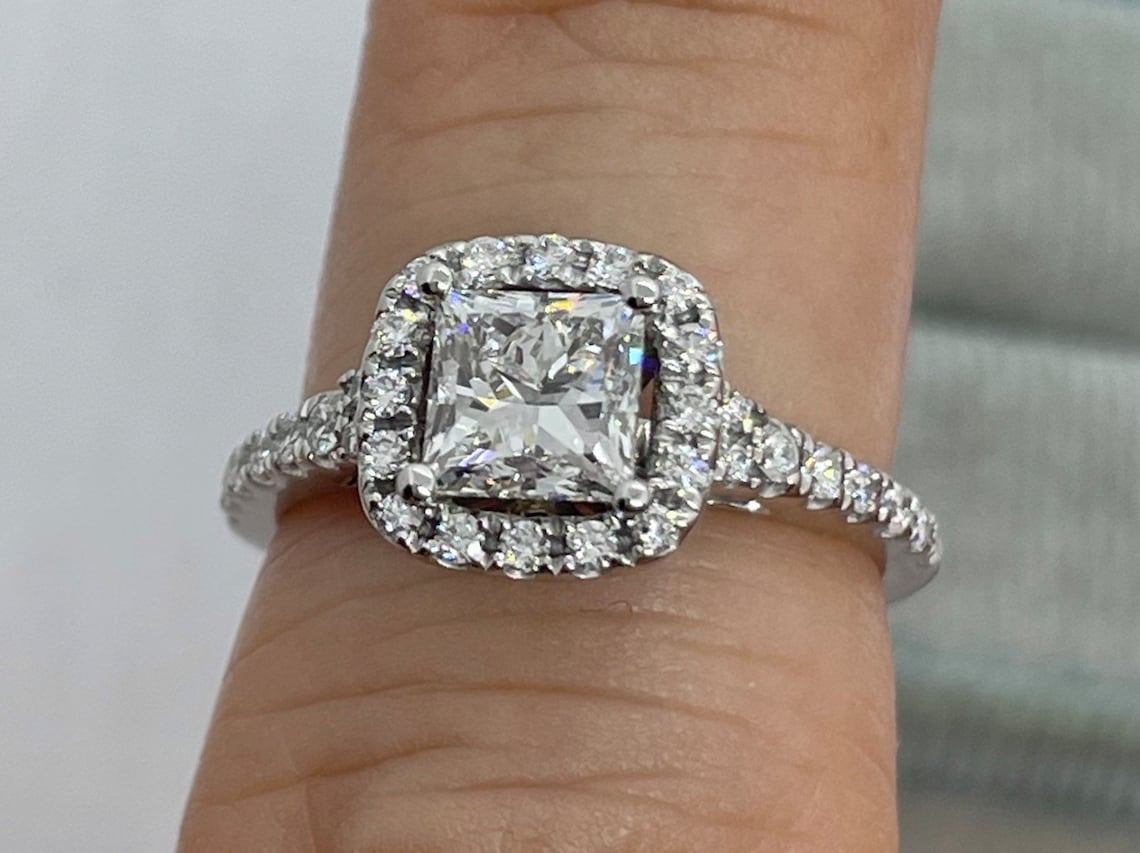 Asscher Cut Engagement Rings
Asscher-cut diamonds have octagonal shapes. They are cut in a similar way to Emerald diamonds, but have more brilliance. The Asscher was designed in 1902 to offer brides-to-be a taste of Art Deco.
The shape of a round cut makes it a great choice if you want a diamond that looks larger than a Round-cut with the same weight. Asscher-cut diamond rings are worn by celebrities such as Zooey Deschanel, Kate Hudson, and Jessica Alba.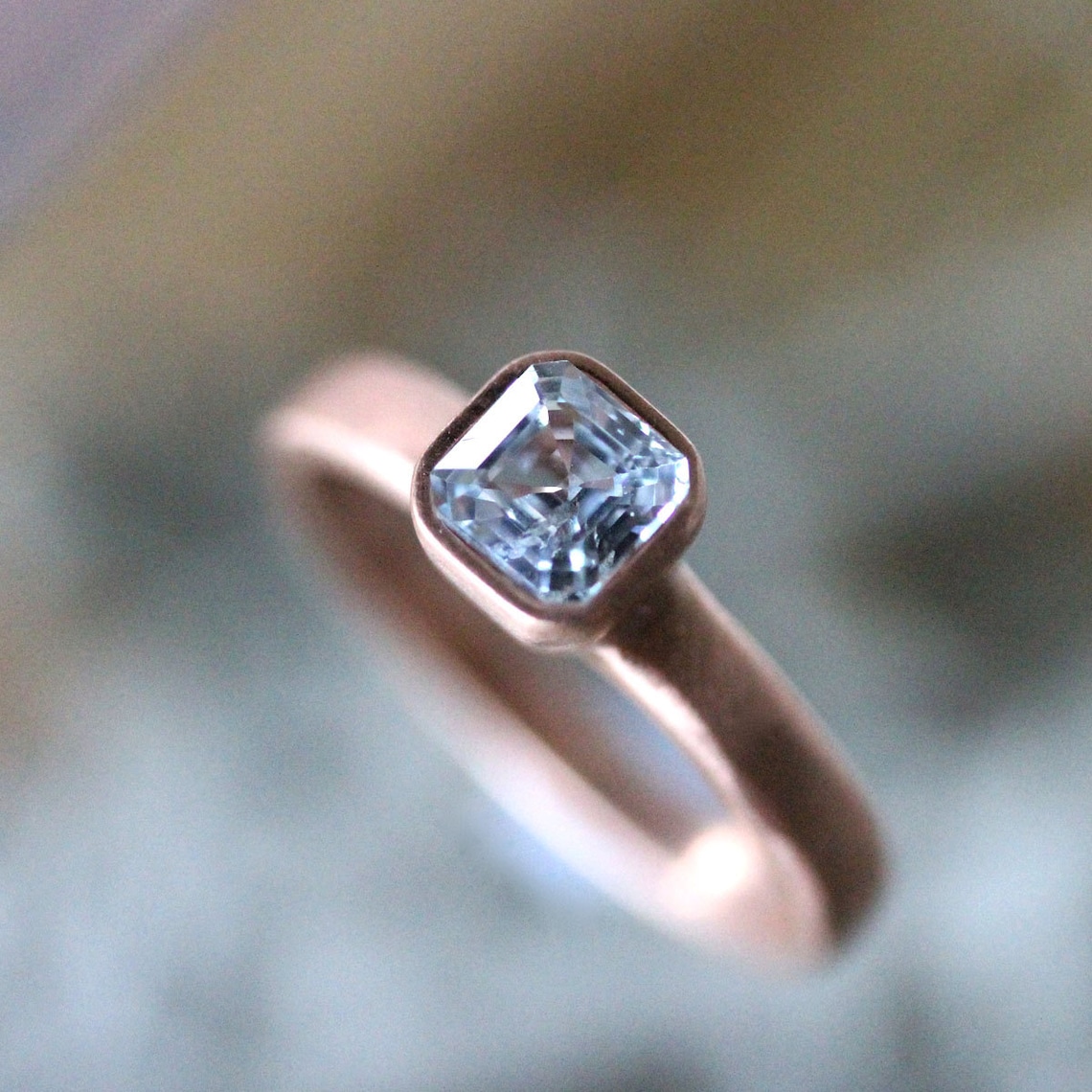 Emerald Cut Engagement Rings
Emerald cut has a rectangular shape (with rounded corners). Many famous diamond cuts are characterized by long rectangular facets, each of which sits parallel to the diamond's edge. This cut is designed to highlight the shine of a gem.
Currently, the Emerald-cut diamond is very popular. If you're into fashion and want something unusual, the Emerald may be for you. Several celebrities have worn engagement rings made of Emerald-cut diamond: Amal Clooney, Angelina Jolie, and Beyonce.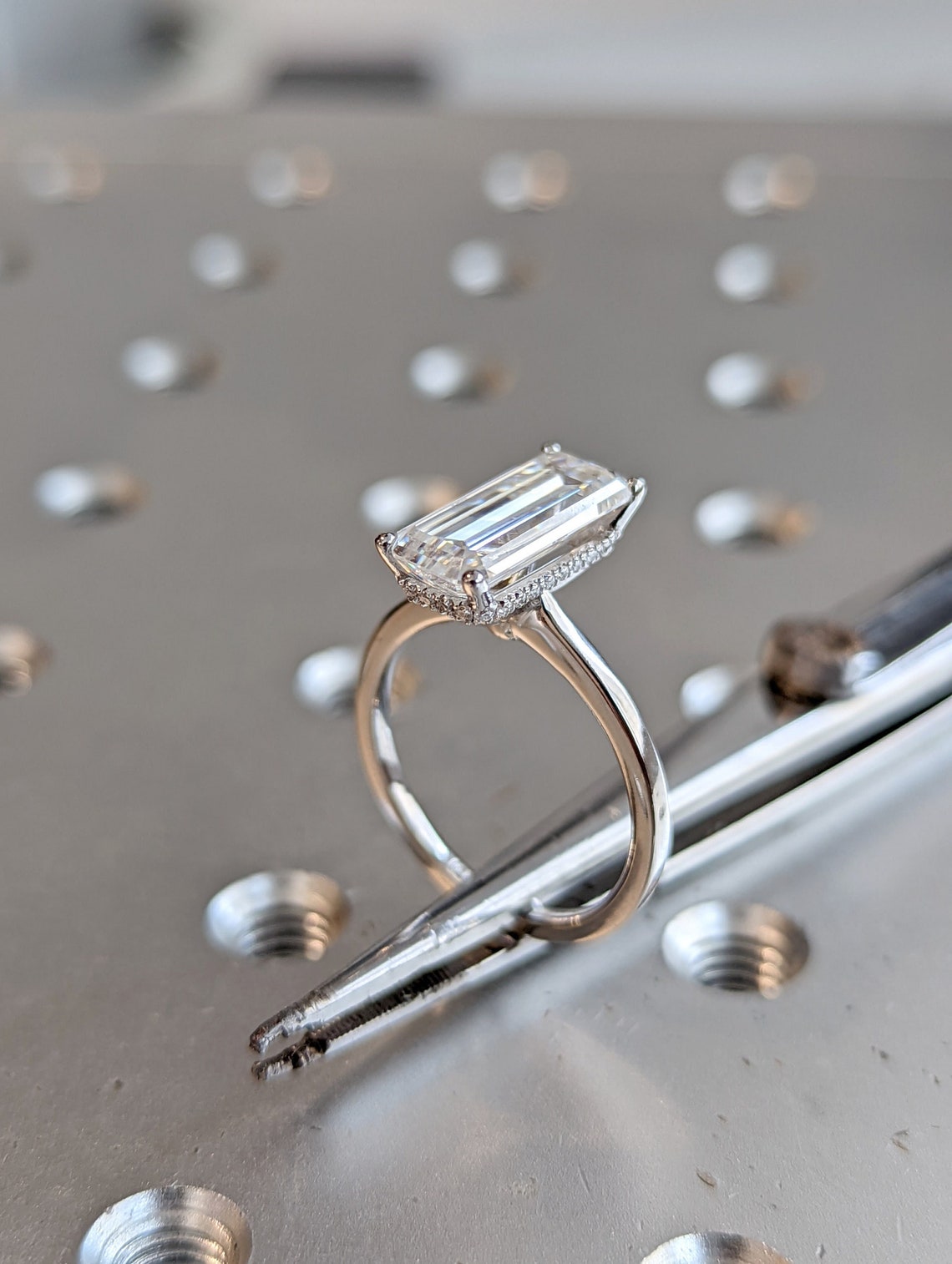 Round Engagement Rings
Engagement rings of all shapes are available in round-cut diamond. A round stone is actually cut into a cone shape from the bottom down. After that, the cutter rounds off the top. The general shape allows light to enter the stone and return for a truly dazzling appearance. Round-cut diamonds are considered to be the most brilliant diamond.
Classic shapes are perfect for those with a traditional or vintage style. Even Spiegel gave Miranda Kerr a round-cut engagement ring when she proposed in July 2016.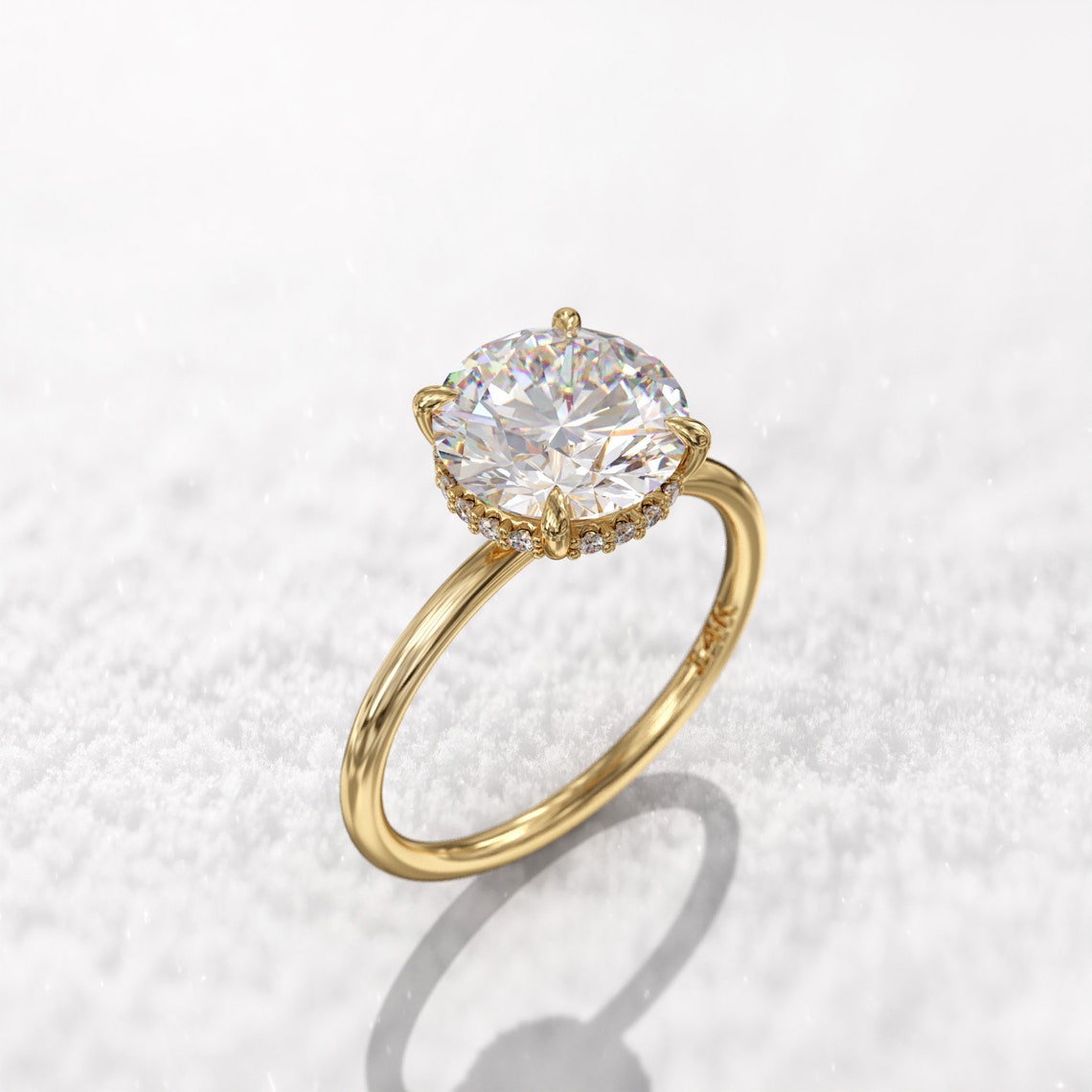 Oval Engagement Rings
For women who adore the fiery brilliance and classic style of the Round diamond, but prefer something different, the Oval shape is for them. As a result of its shape difference, the Oval cut has a contemporary feel. Prince William gifted Kate Middleton an Oval-cut engagement ring before their 2011 wedding.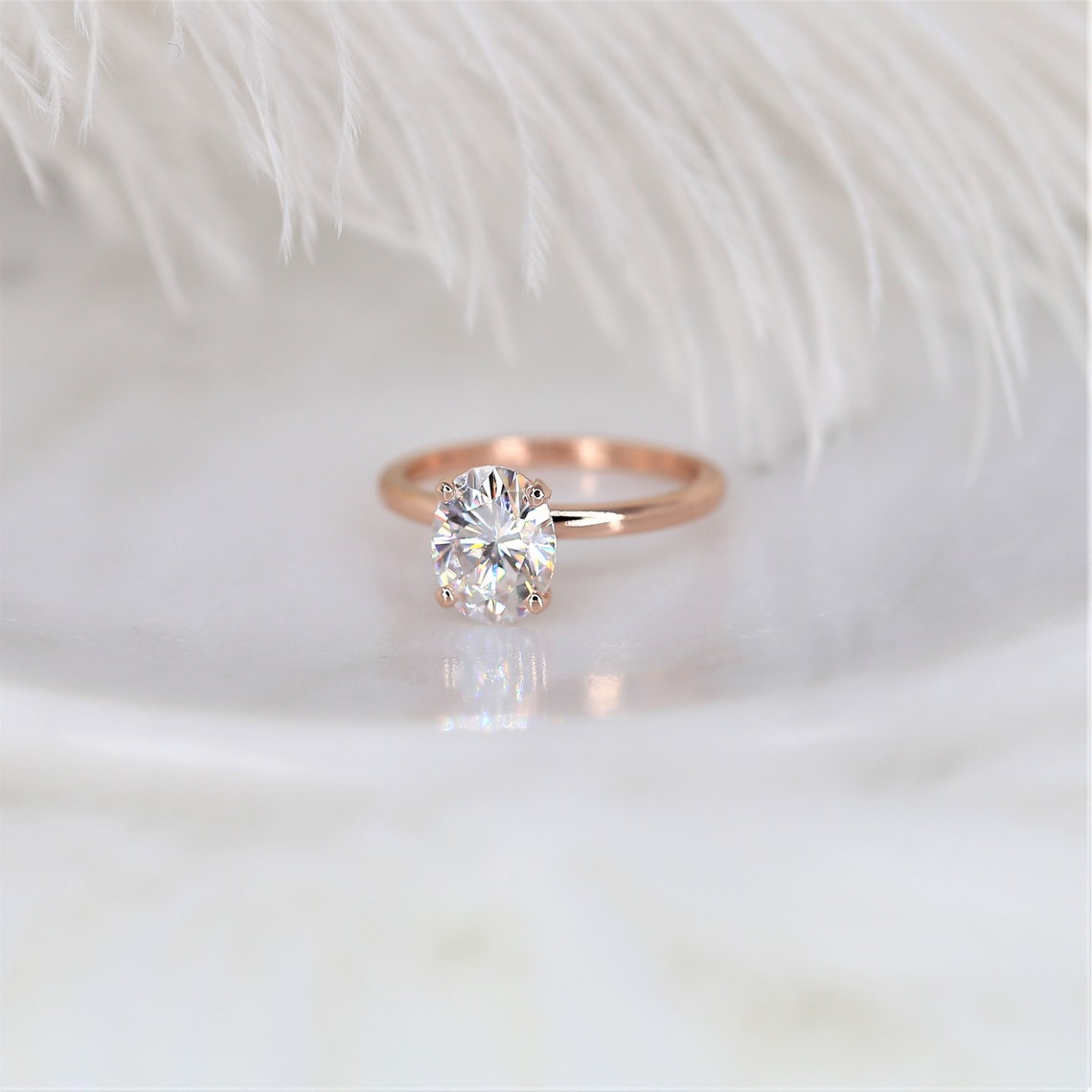 Pear Shaped Engagement Rings
Pear-cut diamonds (also known as the 'teardrops') are combinations of Oval and Marquise shape. You can wear the point towards or away from your hand in your engagement ring. You can create different looks with this.
Engagement rings with pear-shaped diamonds are an excellent choice for those who like to be bold and stand out from the crowd. The engagement ring that Scarlett Johansson wore was adorned with a Pear-cut diamond. Her husband, Romain Dauriac, obviously has unique taste!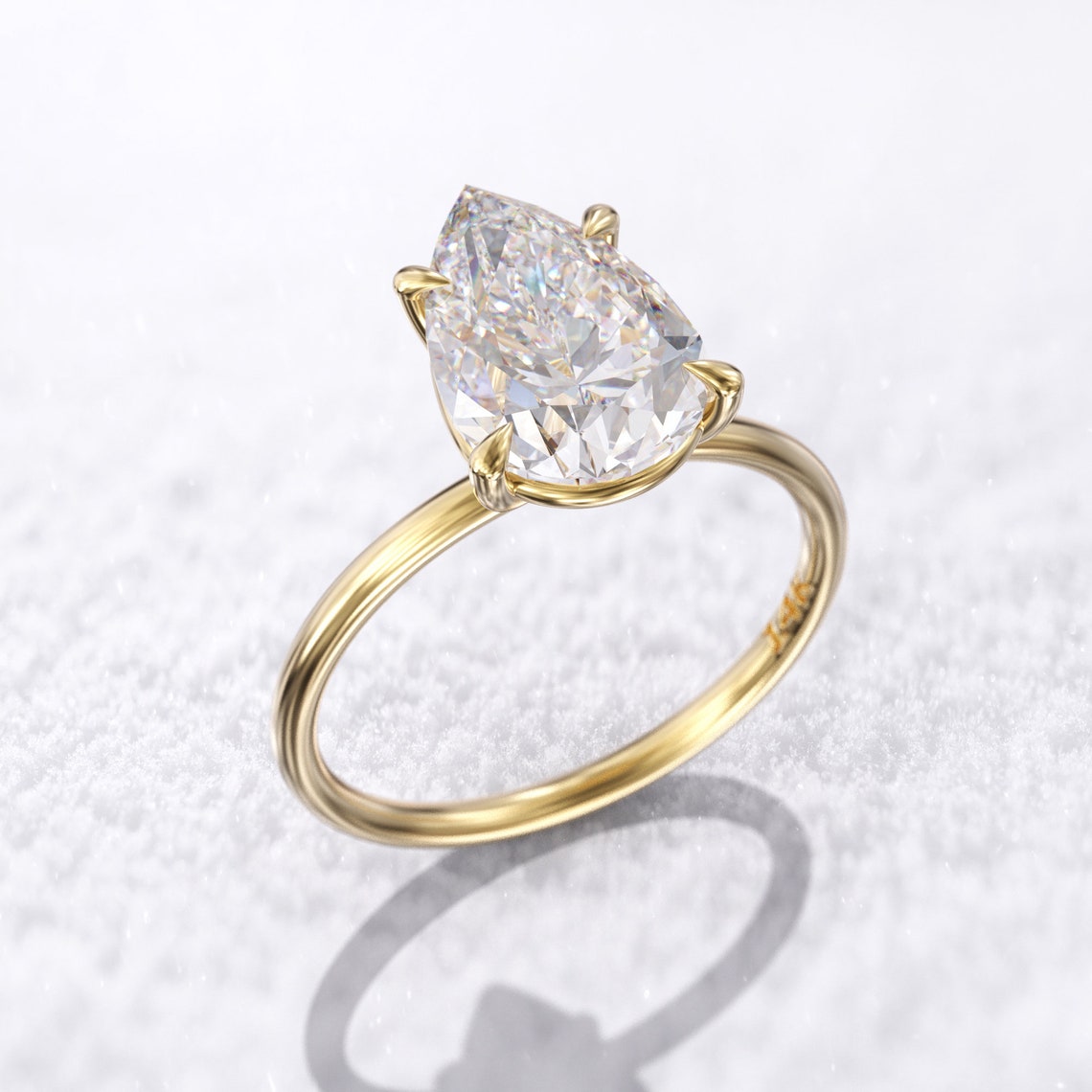 Marquise Cut Engagement Rings
Marquise-cut diamonds were first created at the command of the French monarch, King Louis XIV. According to the tale, the king wanted a diamond to represent his mistress, the Marquise de Pompadour.
Marquise's sharp ends and shape give it an appearance that is certainly grand. After her engagement to David in 1998, Victoria Beckham began wearing an extravagant Marquise-cut ring.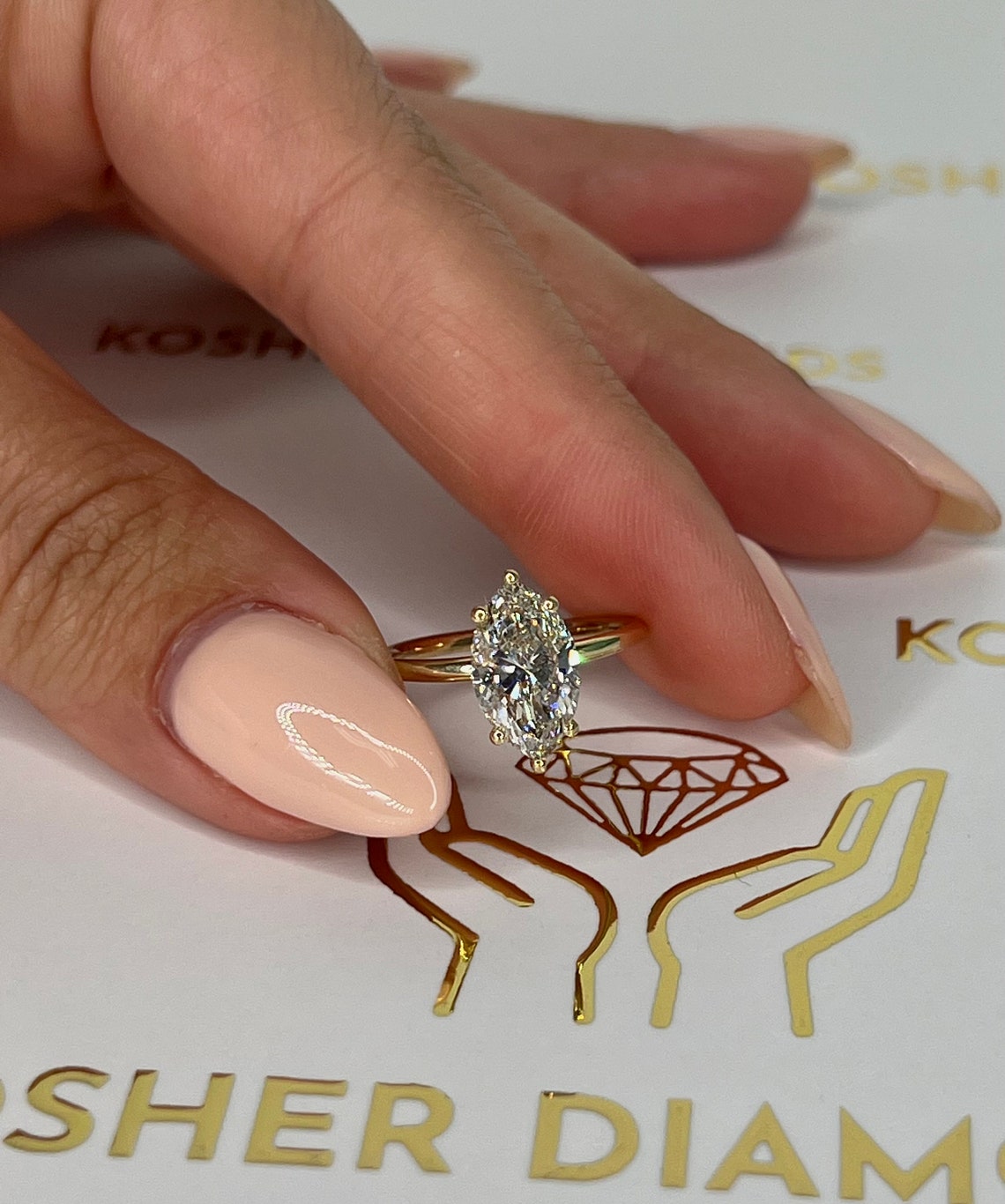 Heart Engagement Rings
The Heart-cut diamond is for the hopeless romantic. It has a similar brilliance to the Round-cut diamond, but catches the eye more readily due to its unmistakeable shape. For a ring guaranteed to turn heads, look no further. Singer Lady Gaga has been seen wearing a heart-shaped diamond engagement ring said to be worth $500,000.

Radiant Engagement Rings
The Radiant-cut diamond has a square shape and rounded corners, very similar to the Emerald cut. Emerald has a step cut, which ensures its facets are parallel to girdle, while Radiant does not.
In a way, the Emerald has more clarity compared to the Radiant, which has more brilliance and sparkle. The extravagant Radiant is designed for those who want to dazzle their fans. A number of actresses have been spotted wearing Radiant-cut engagement rings, including Hilary Duff, Anna Kournikova, Drew Barrymore, and Megan Fox.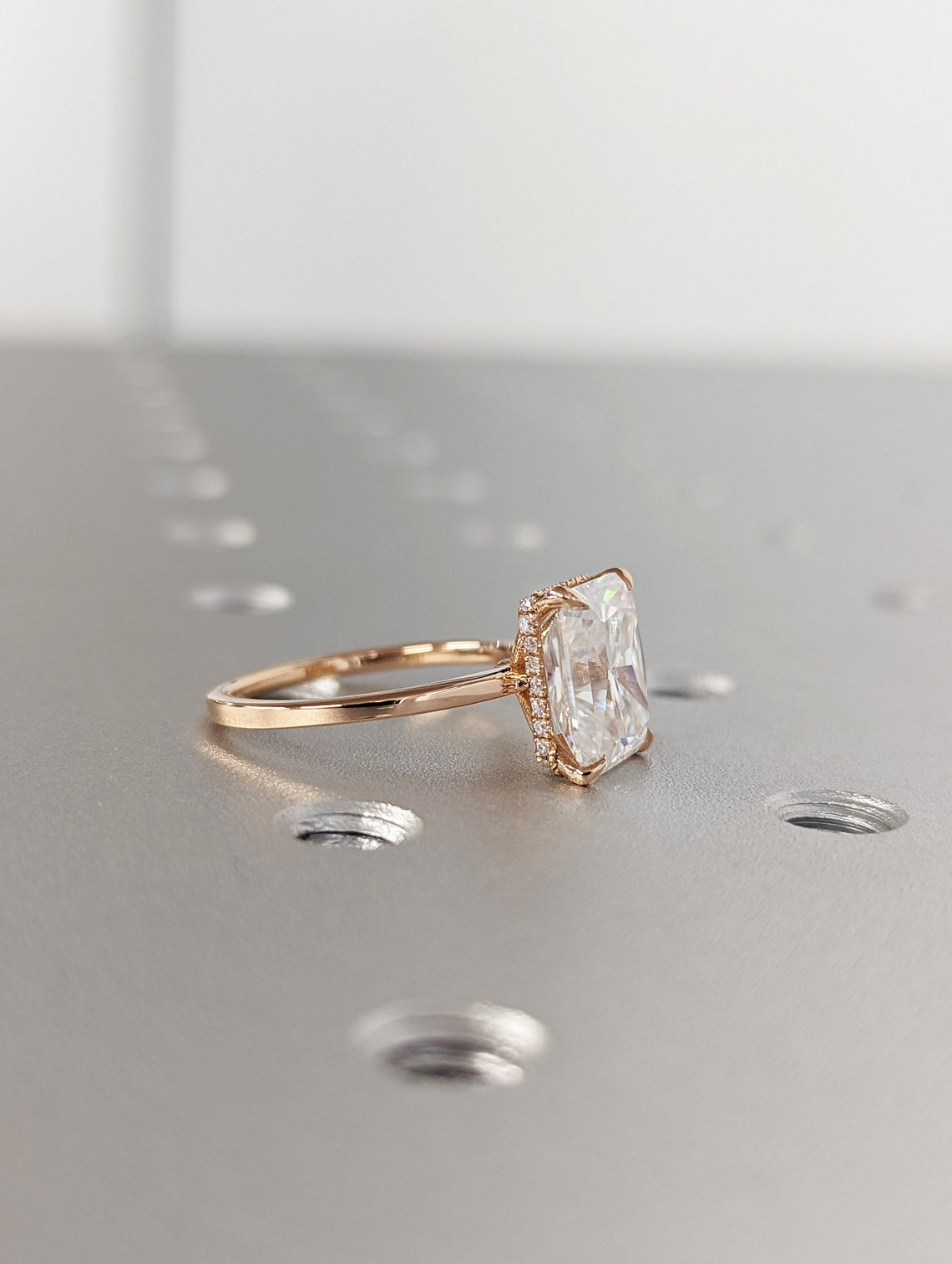 FAQ
What is the most popular engagement ring shape?
Round cut diamonds are the most popular engagement ring shape. With their timeless, classic shape and their ability to maximize the sparkle and brilliance of the diamond, round cut diamonds are the perfect choice for those who want a classic and elegant look.
What is the difference between a shape and a cut in an engagement ring?
The shape refers to the overall form of the diamond or gemstone, such as round, square, or heart. The cut refers to the arrangement of facets and the proportions of the diamond, which affects its sparkle and brilliance.