20 Bohemian Pampas Grass Wedding Ideas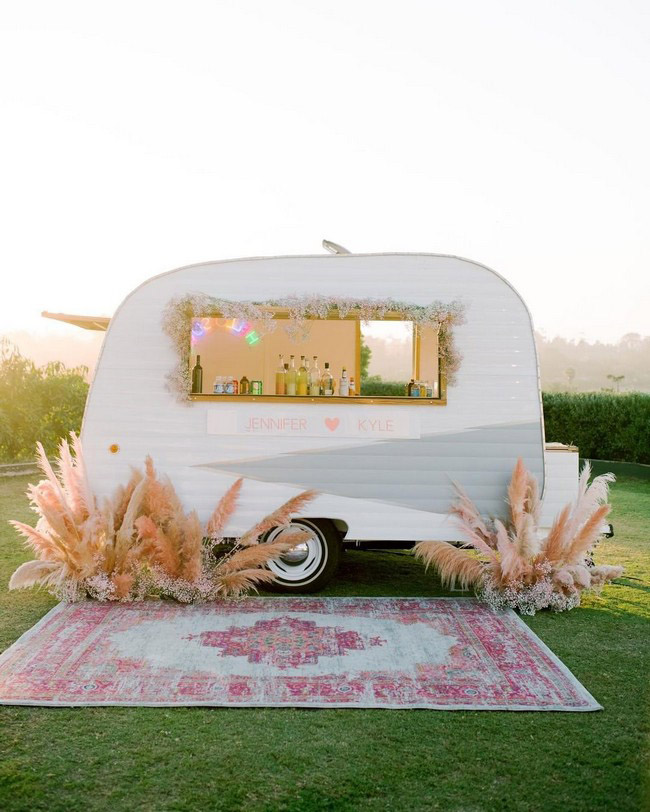 There's just something about greenery that we can't get enough of. Ask any florist, and they'll tell you that more and more couples are opting for foliage-centric, non-floral décor on their wedding days. We can understand why—verdant greens work with an array of color schemes and big-day themes (and they often come with more budget-friendly price tags). The gist? Though bright, bold wedding flowers will never go out of style, foliage is definitely having a moment. It's so pervasive, in fact, that the trend has officially given way to a subcategory: Grasses and more specifically, pampas grass.
Like its greener counterpart, pampas grass (which is reminiscent of wheat) is decidedly neutral and just as (if not more so) versatile. The plant, also known as cortaderia selloana, is known for its height—a fully-grown pampas grass plant can reach nearly ten feet—and for its soft, billowing stalks. It's for these two reasons that this non-floral option makes great statement wedding décor (sky-high installations benefit from the grass' verticality and movement). Whether you're sourcing foliage for a statement ceremony backdrop or reception arrangement, like this epic floor piece by Leaf It To Lexi (its base blooms complemented the pink color palette seen on the tablescape, which was designed by Crowned Events), pampas grass is a must for next-level design.