20 Dusty Blue Bridesmaid Dresses You'll Love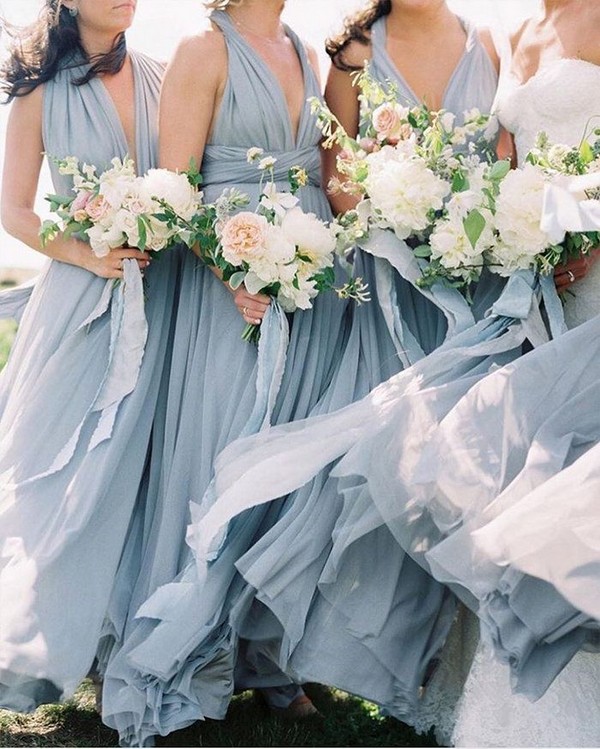 Dusty blue is a mid-color combination of powder blue and gray, a classic and versatile wedding color. If you decide to choose a  dusty blue bridesmaid dress for your ceremony, you will enter a whole new world of possibilities and a great wedding color palette. Take, for example, a  dusty blue dress and a burgundy dress; the contrast between the light and dark tones makes both stand out.
How to mix and match dusty lue bridesmaid dresses
You can achieve a similar effect by mixing a  dusty blue dress with green, peach, pink or even other blue dresses. In addition to mixing and matching colors, you can also mix and match different types of dresses such as long sleeve dresses, long dresses, short dresses and many other different styles. Best of all, dusty blue bridesmaid gowns are available in a variety of fabrics, from chiffon to sexy satin and to the most popular velvet at the moment.
See 20 affordable dusty blue bridesmaids dresses of all different styles below.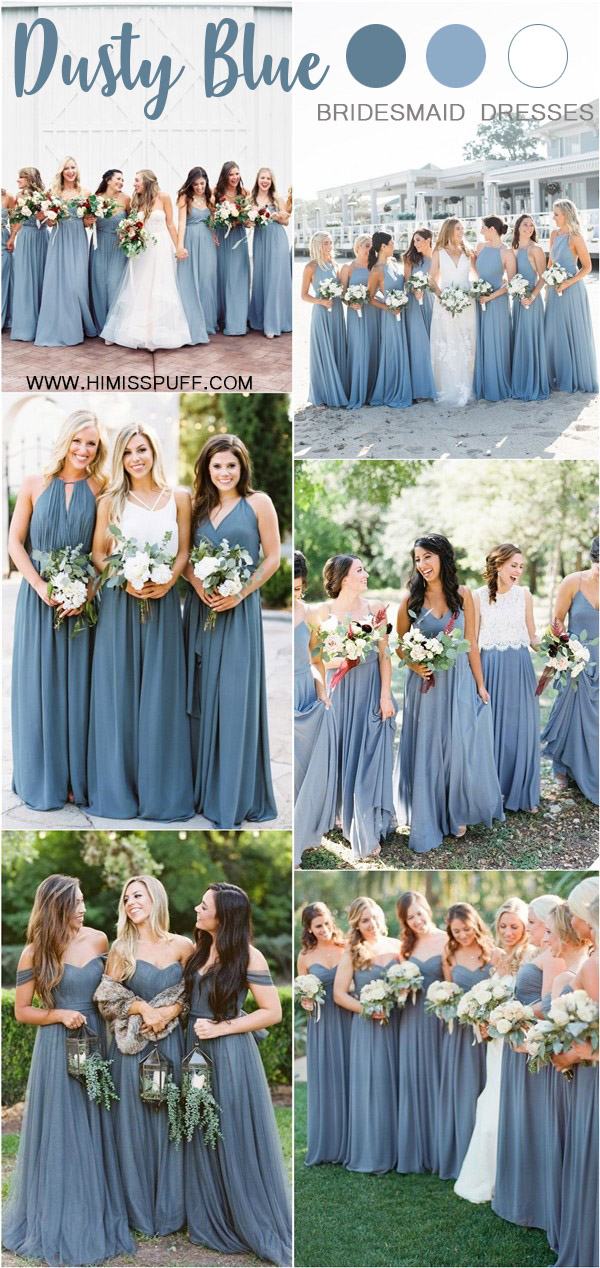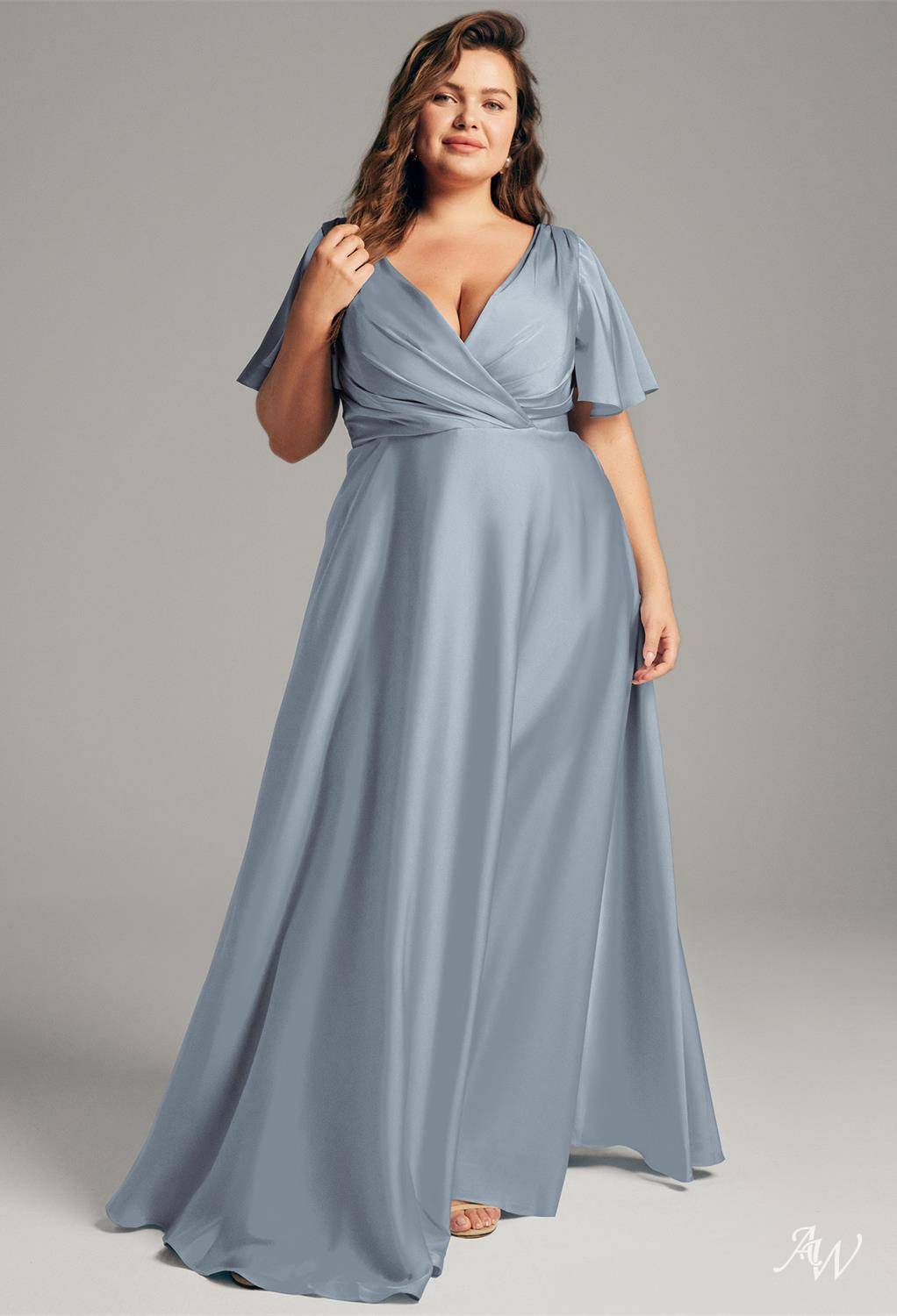 The AW Bridal bridesmaid dress collection features the stunning AW Furst Dress, a sleek and simple style available in over 29 different colors. This gorgeous dress has a flattering V-neck shape and a perfect fit silhouette that looks stunning on women of all sizes. The dress is made from high-quality satin Charmeuse fabric and features unique pleat embellishments that add a touch of elegance to the overall simplicity of the design. The AW Furst Dress is perfect for bridesmaids of all sizes, including those who may be mildly pregnant, thanks to its built-in lining bra that provides both comfort and support. Choose the AW Furst Dress for a beautiful and alluring look that will complement any wedding style.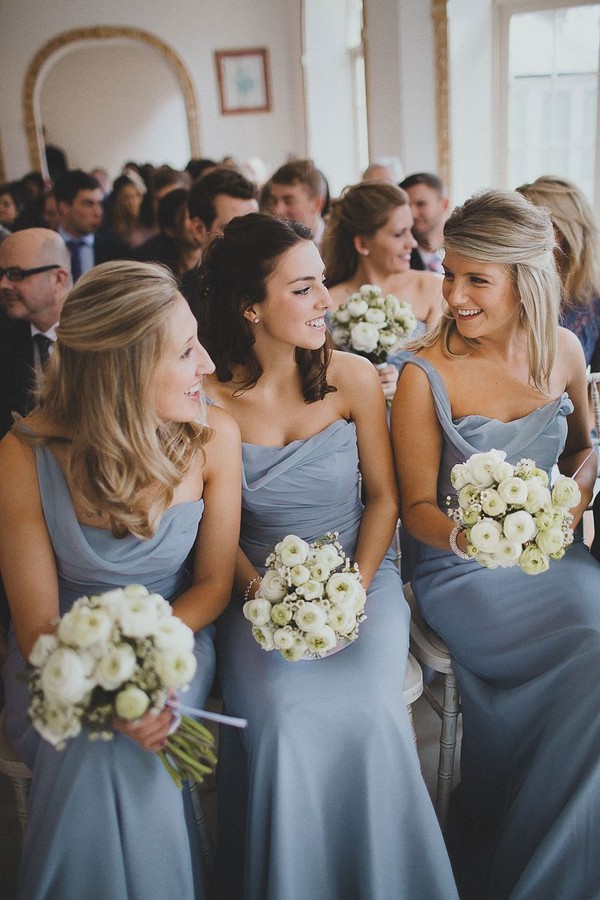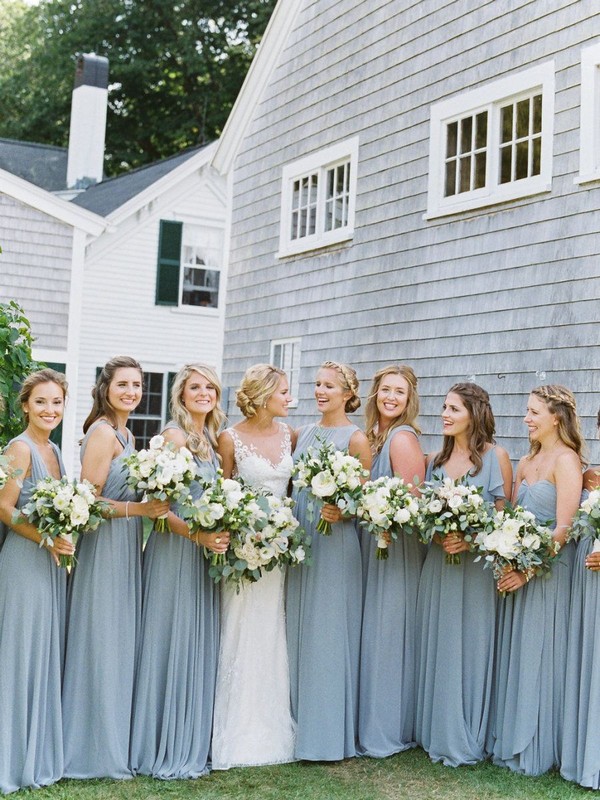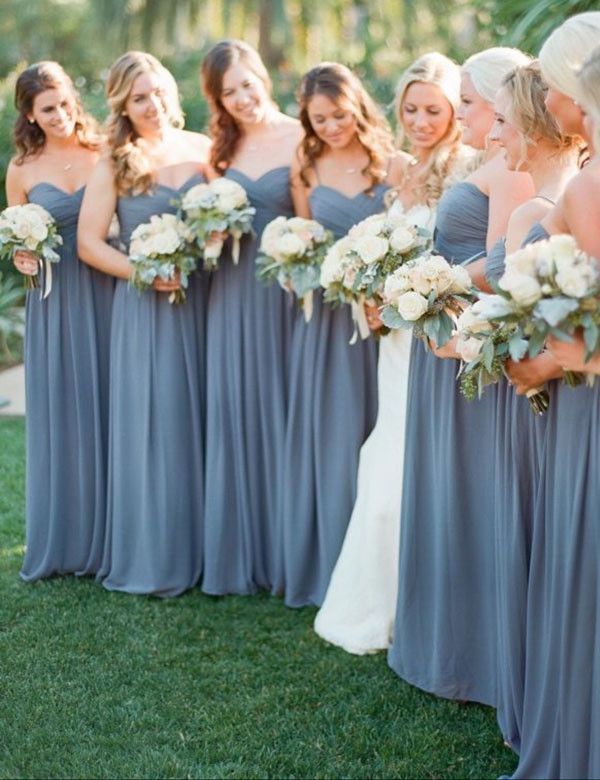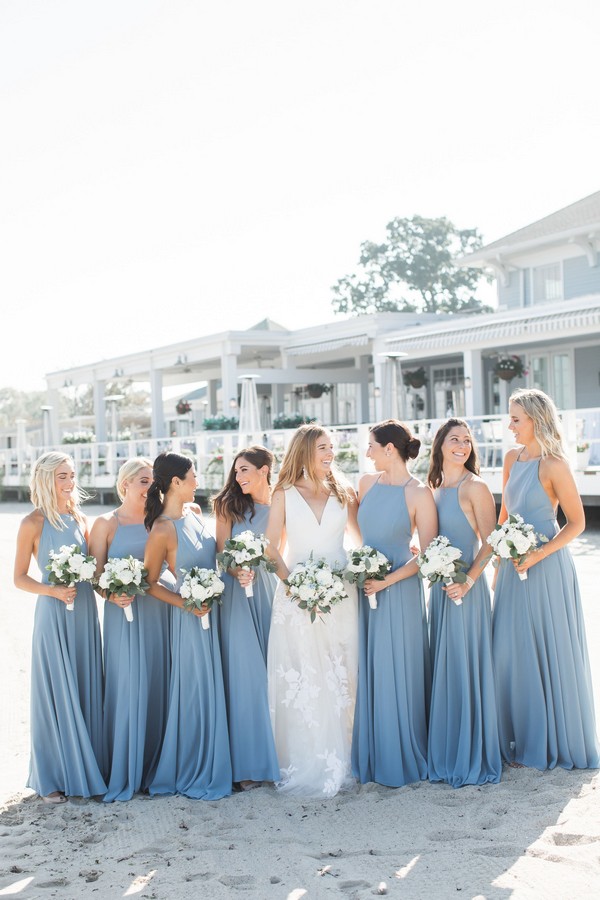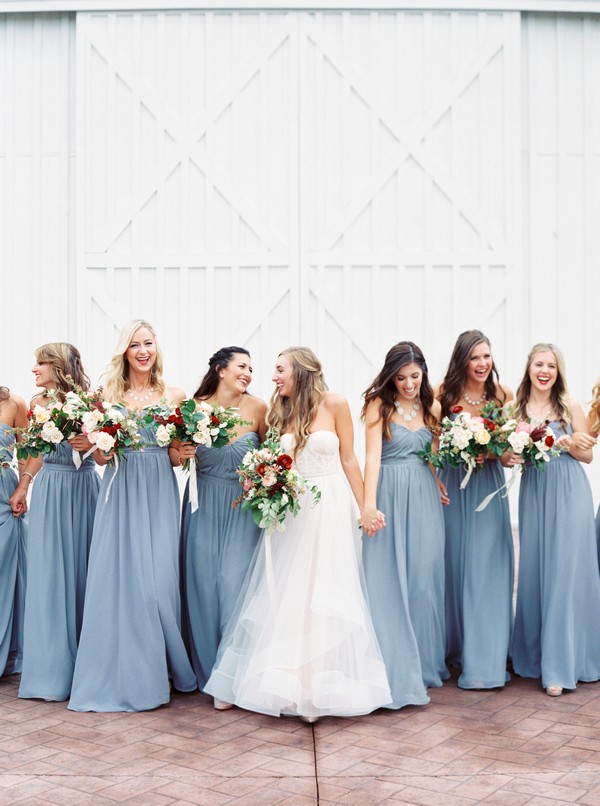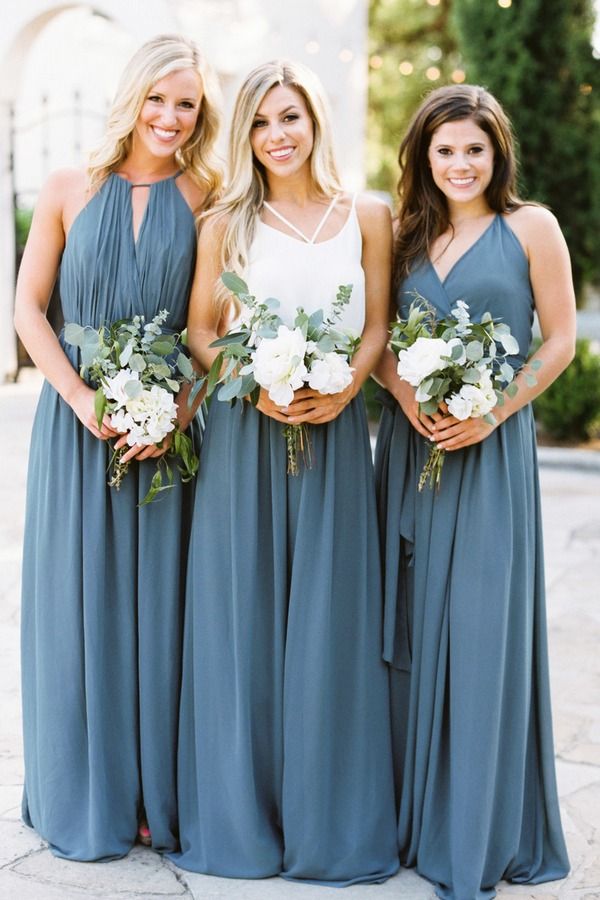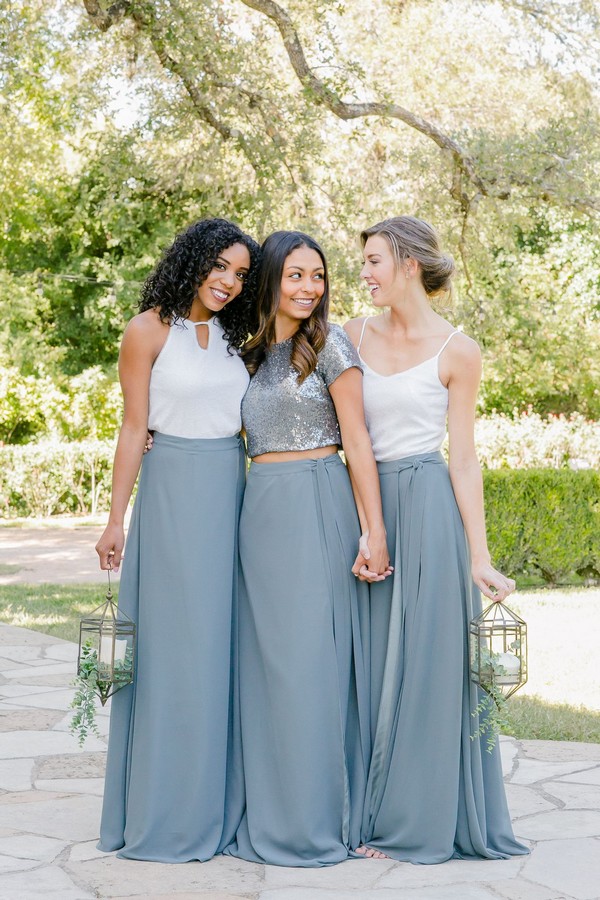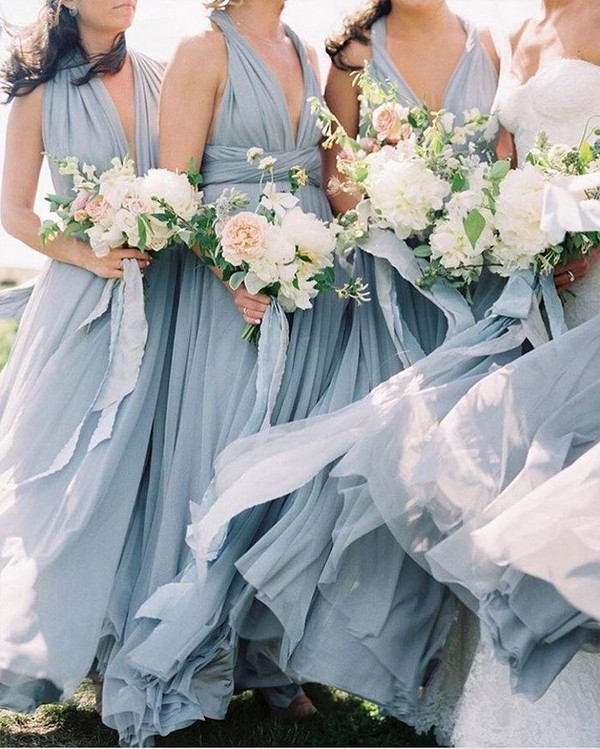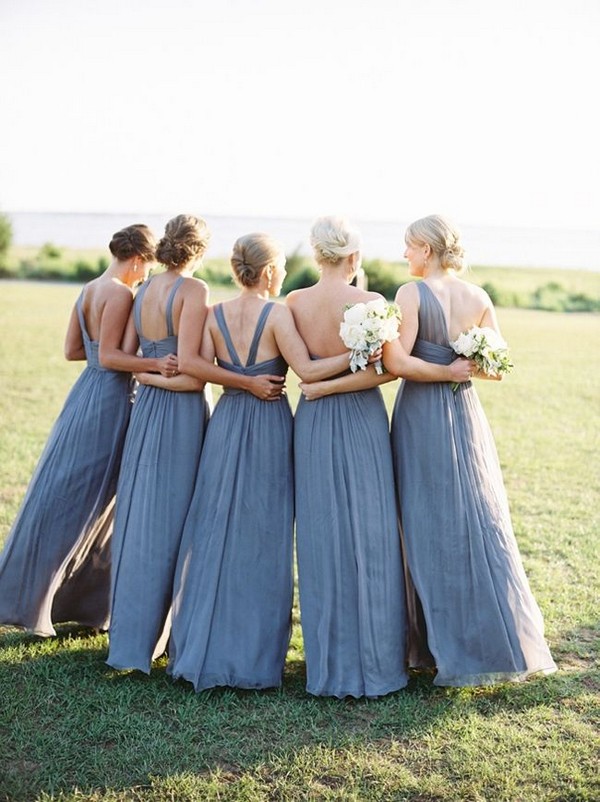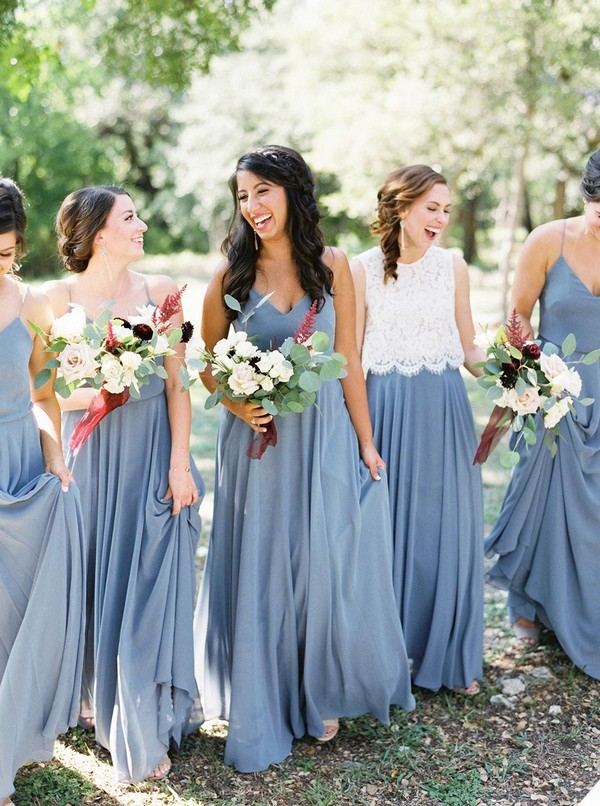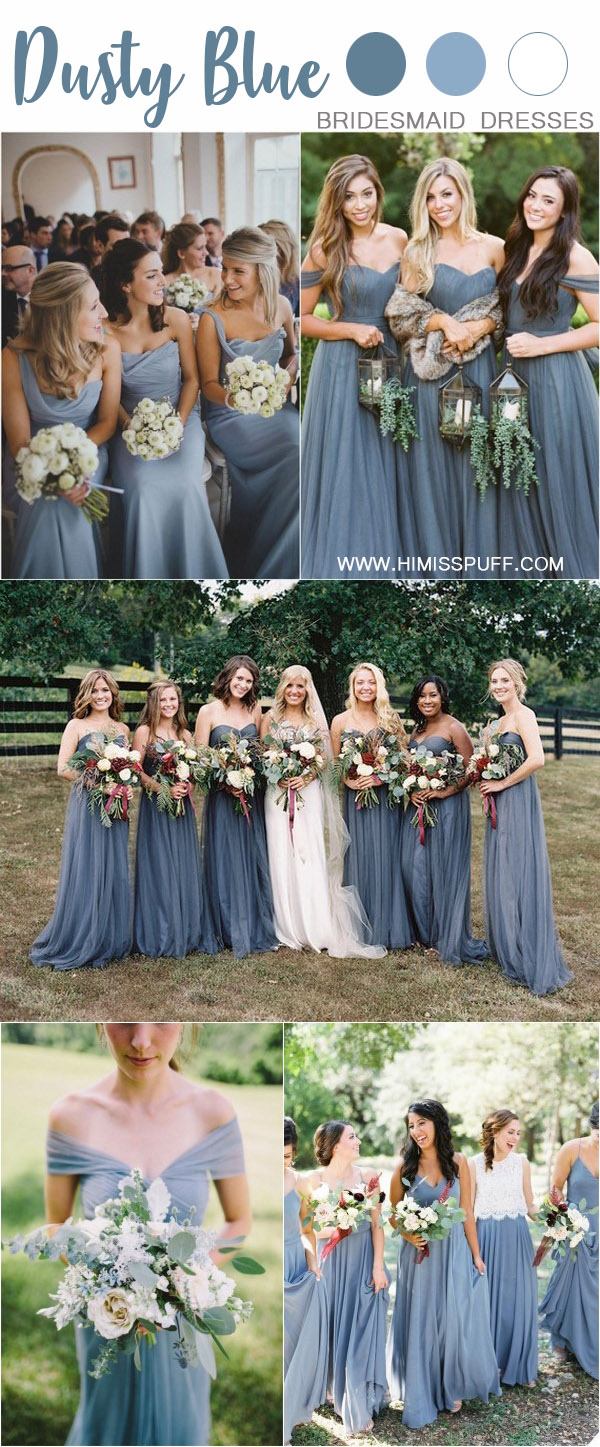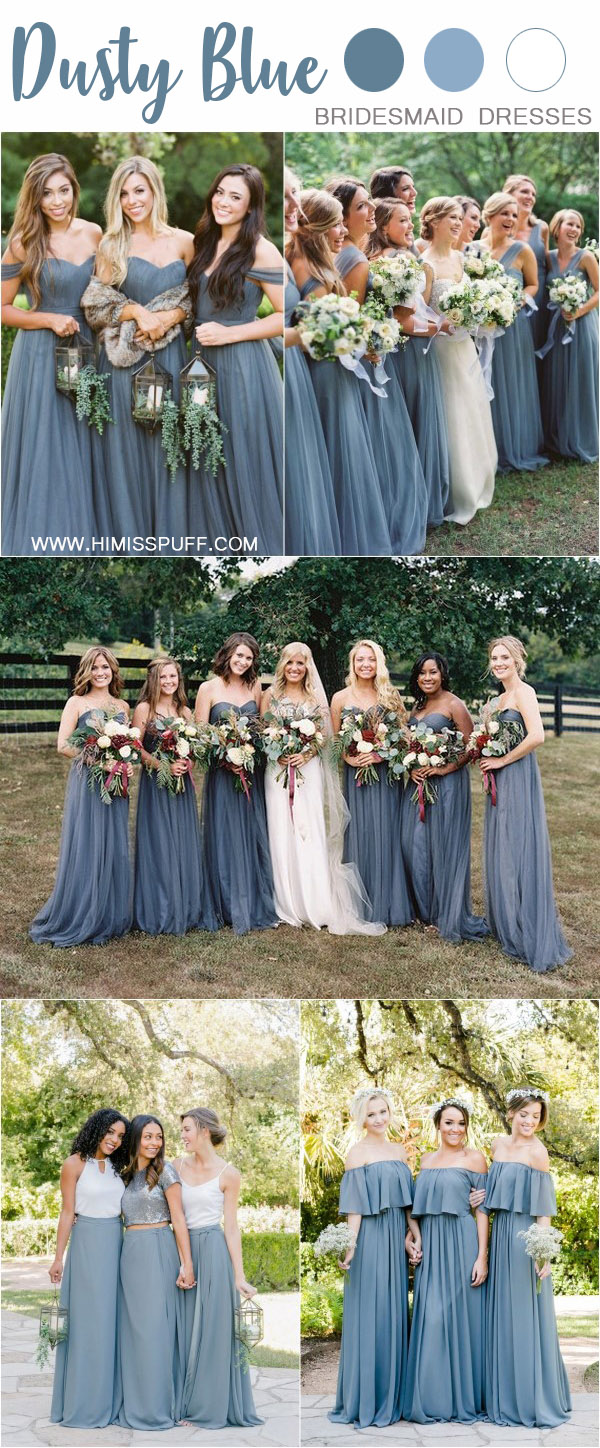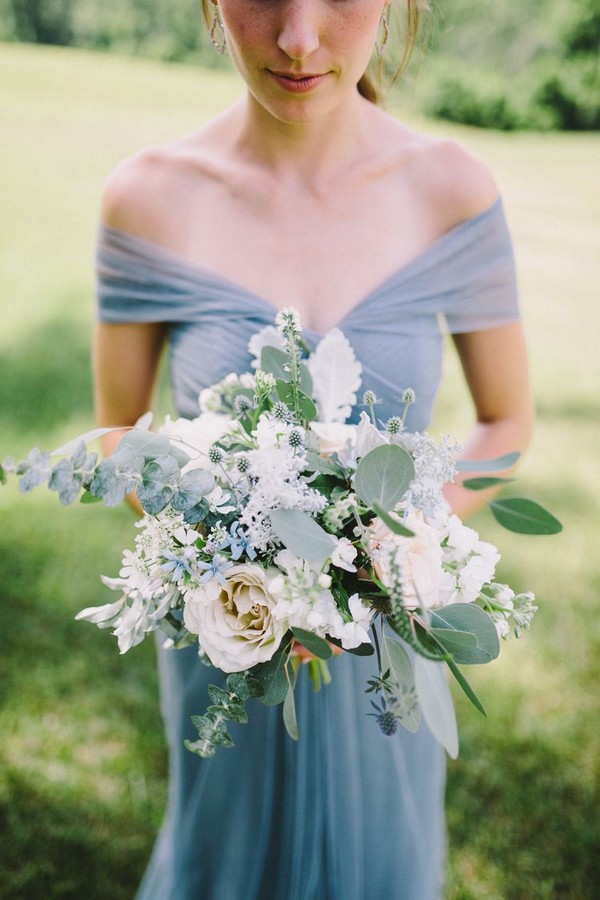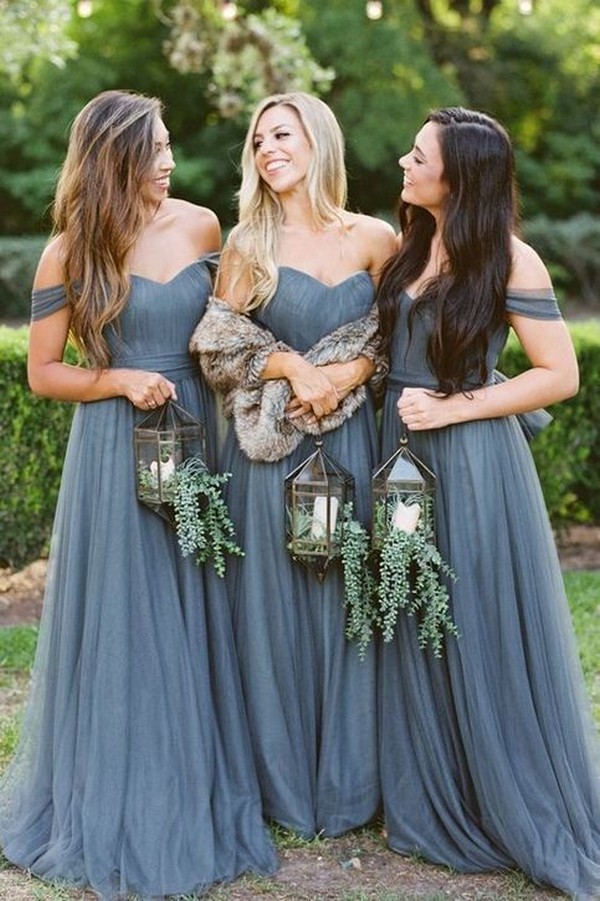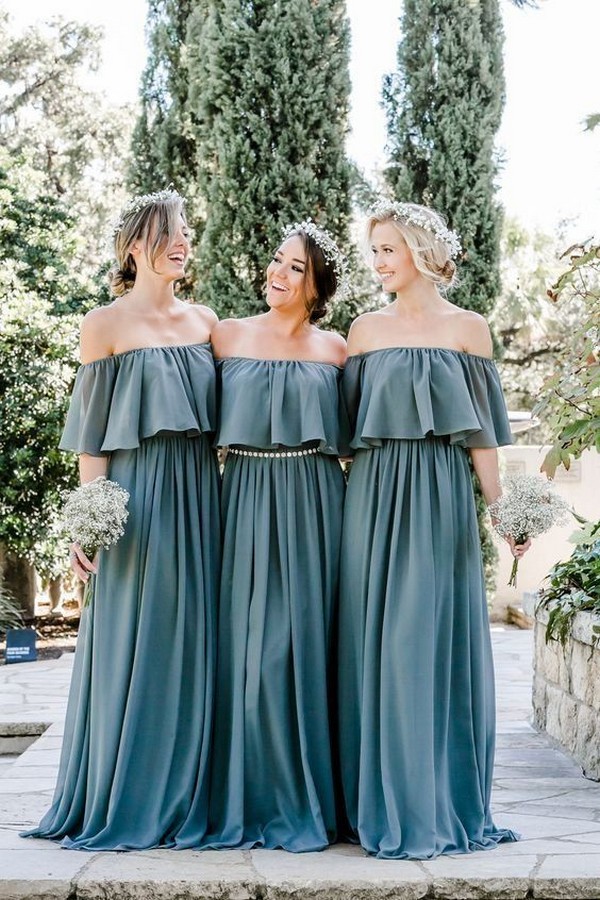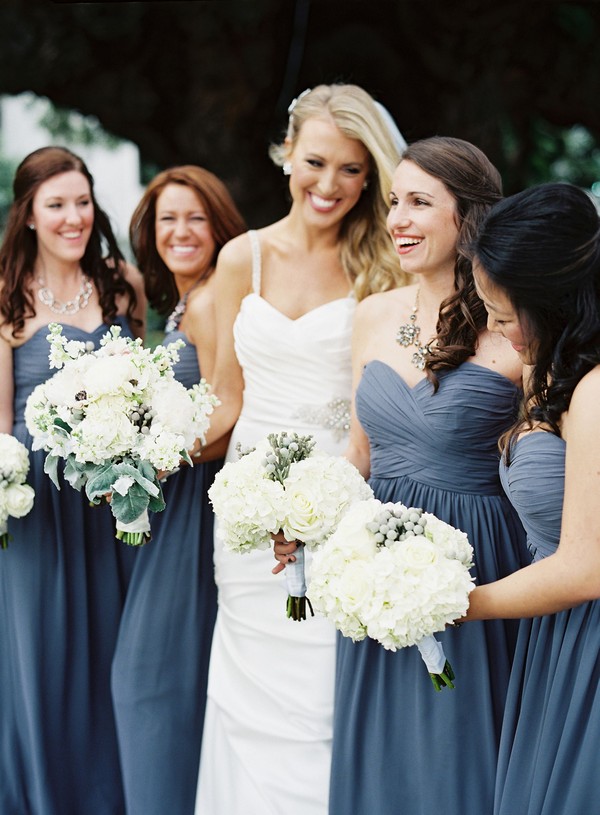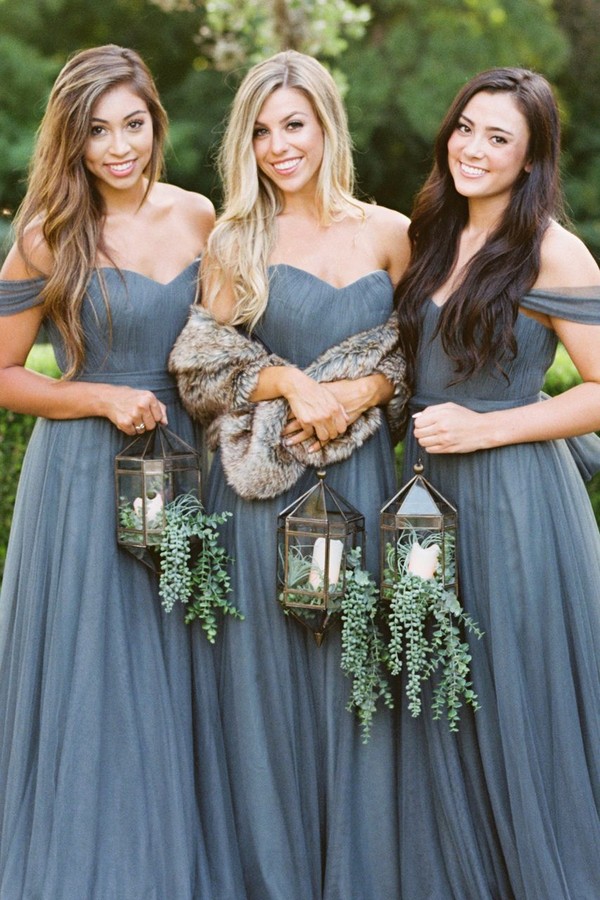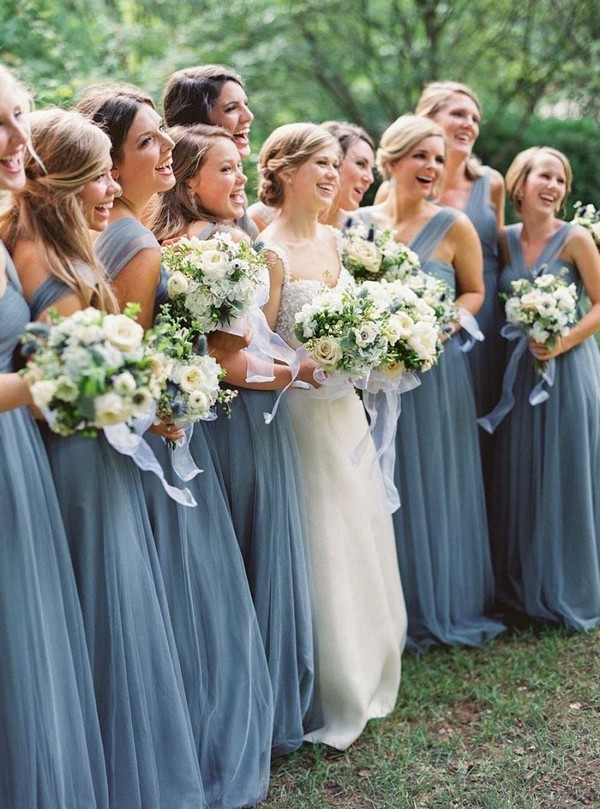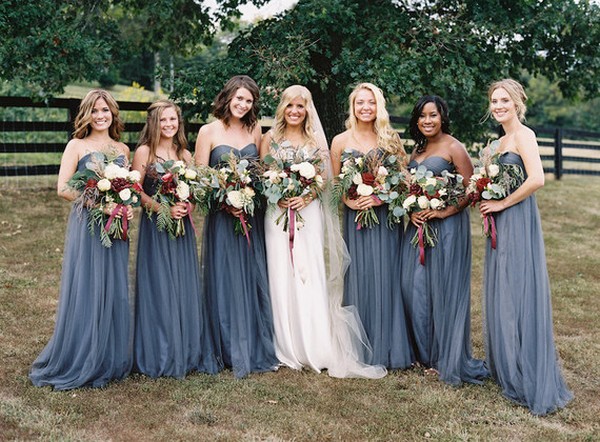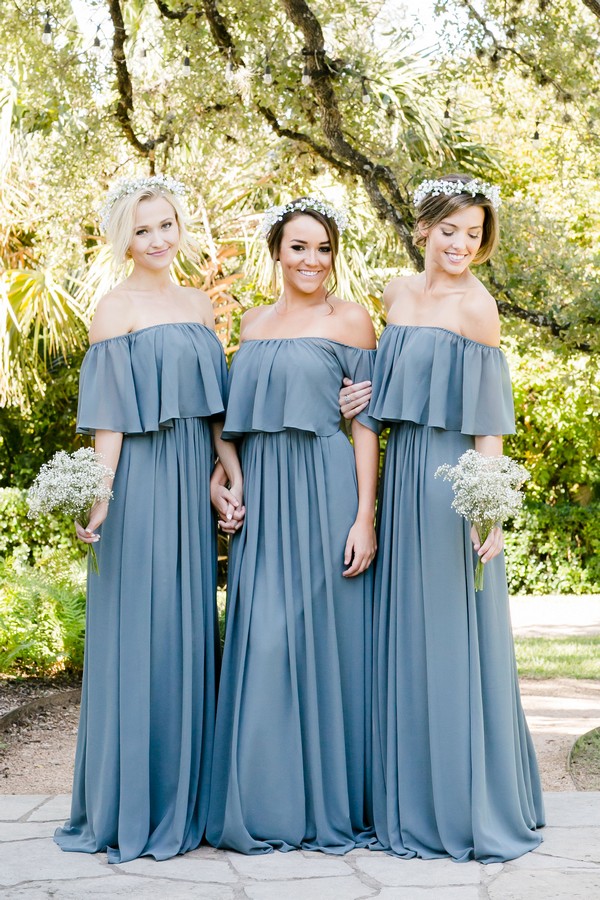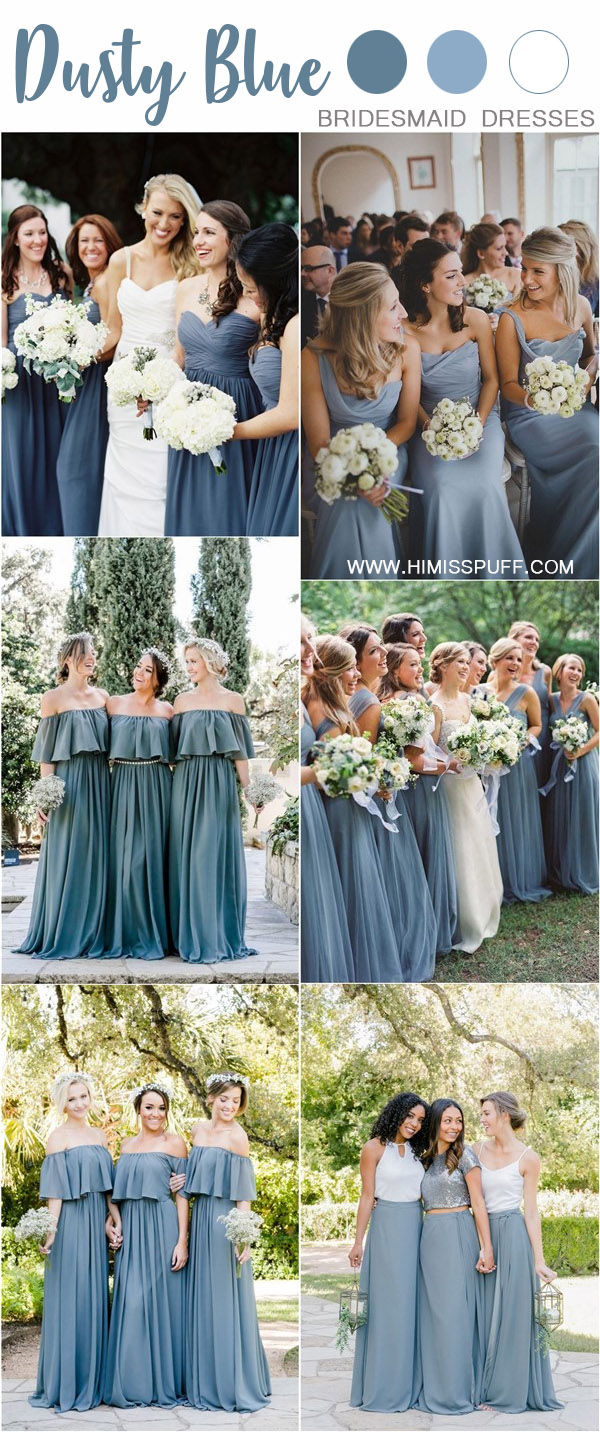 – SHOP THE DRESSES –

---
– BLUE DRESSES –

FAQ
What is the best fabric for a dusty blue bridesmaid dress?
Dusty blue looks great in a variety of fabrics, but some popular choices include chiffon, tulle, and satin. These fabrics have a soft and elegant look that complements the dusty blue color well.
Can dusty blue be paired with other colors for a multi-colored bridesmaid dress look?
Yes, dusty blue pairs well with other pastel colors like blush, lavender, and mint green. It can also be paired with metallic shades like gold or silver for a more glam look.
What jewelry and accessories should be worn with a dusty blue bridesmaid dress?
Since dusty blue is a softer color, it pairs well with delicate jewelry like pearl earrings or a simple pendant necklace. Nude or blush-colored shoes can complement the dress without overpowering it.
How far in advance should I order my dusty blue bridesmaid dresses?
It's recommended to order bridesmaid dresses at least six months in advance of the wedding date. This allows plenty of time for alterations and any unexpected delays.