20 Bride And Groom Under Arch Wedding Photos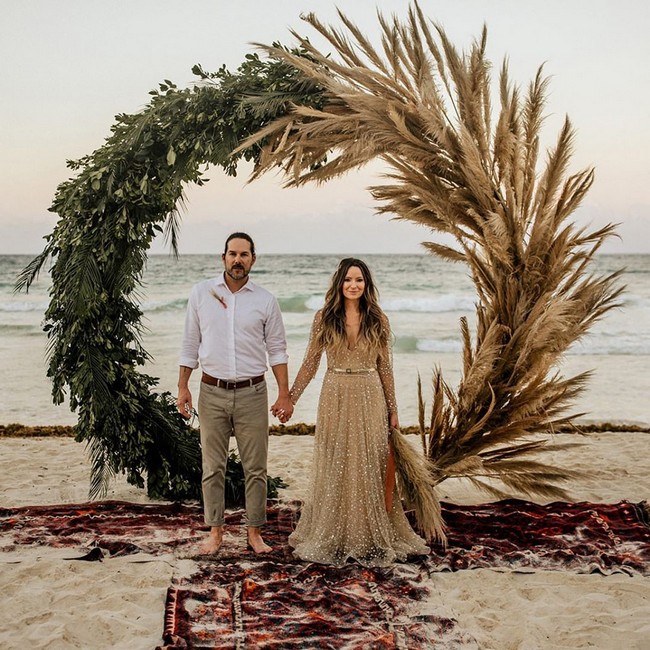 The wedding arch is a traditional design element often used as the ceremony's focal point, as entries and exits, or even in the reception design. Sometimes referred to as "an arbor," this design feature provides a frame for vows, establishes the doorway to a space, or helps a vast space feel that much more intimate (plus, it looks great in photos). In religious ceremonies, arches symbolize a range of sentiments, from the home a couple will build together, to a sign of protection. Exchanging vows under an arch or is steeped with meaning for many cultures—from ceremonial canopies to Jewish chuppahs.
While certain religious customs have design specifications for this ceremony marker, A wedding arch can consist of flowers, branches, wooden structures, mirrors, and beyond. They can come in any shape as well; think: crescent, pointed, square, rectangular, or geometric. Work with your wedding planner, designer, or florist to create the right style for you—or two or three. For a more romantic setup, opt for round structures with softer edges and gestural floral design. When aiming for a more modern feel, choose unique and asymmetrical shapes. We've gathered our favorite wedding arch ideas—from some of the most stunning real weddings—to serve as inspiration for your very own 2020 ceremony, reception, entryway decor, and beyond.