28 Wedding Ceremony Ideas to Elevate Your Special Day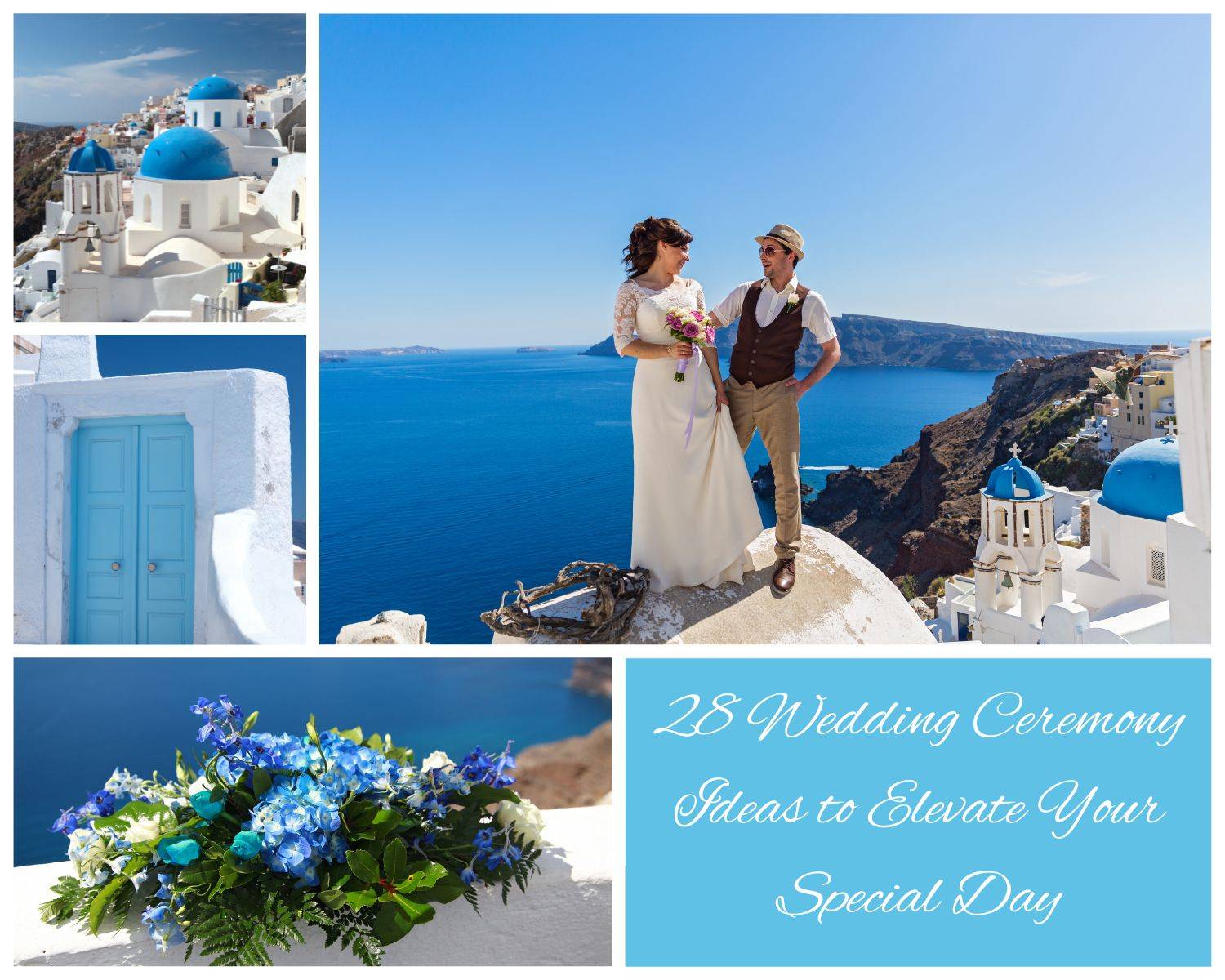 Your wedding ceremony is the pinnacle of your love story, a moment where two hearts become one. It's a celebration of your unique journey together, and there's no reason for it to be ordinary. In this comprehensive guide, we present 28 distinctive wedding ceremony ideas that will infuse your special day with unparalleled charm and significance. From timeless traditions to creative innovations, these ideas cater to diverse tastes and preferences. Let's delve into the world of wedding ceremony inspiration!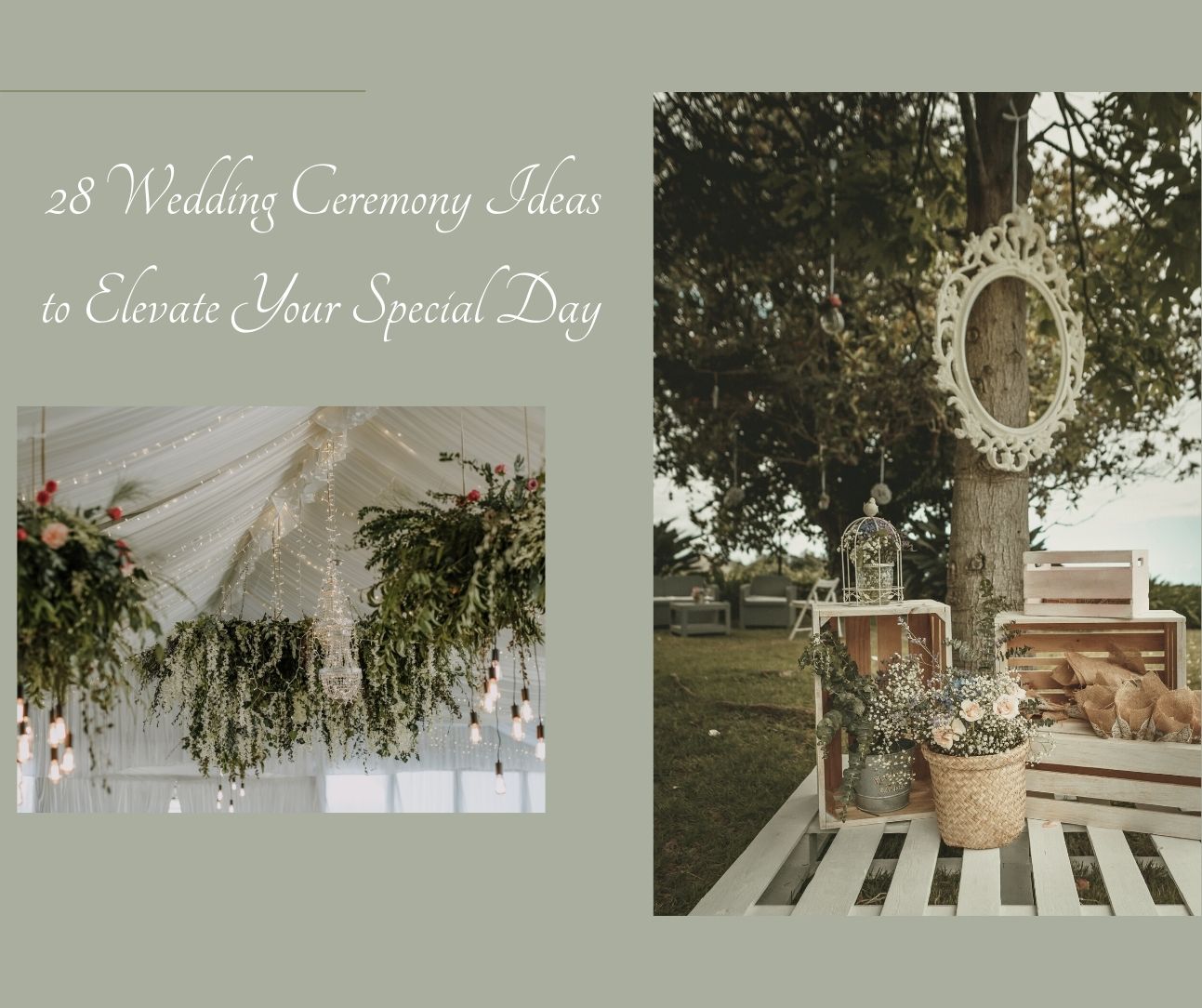 Traditional Wedding Ceremony Ideas
The Classic Unity Candle Ceremony: The lighting of a unity candle symbolizes the merging of two lives into one. It's a timeless tradition that adds a warm and romantic touch to your ceremony.
Exchanging Rings with a Personal Touch: Add sentimentality by incorporating family heirlooms or custom-engraved rings into your ceremony. This gives your rings a unique story and adds depth to the moment.
Traditional Vows with a Twist: Put a modern spin on classic vows by writing your own. Personalized vows can be touching, funny, or deeply emotional, making your ceremony even more intimate.
Ring Warming Ritual: Pass your wedding rings among your guests, asking them to imbue them with well wishes and blessings before they are exchanged. This adds a profound layer of love and support to your rings.
Sand Ceremony with Family: Invite your parents or children to participate in the sand ceremony, symbolizing the union of not just the couple but the entire family.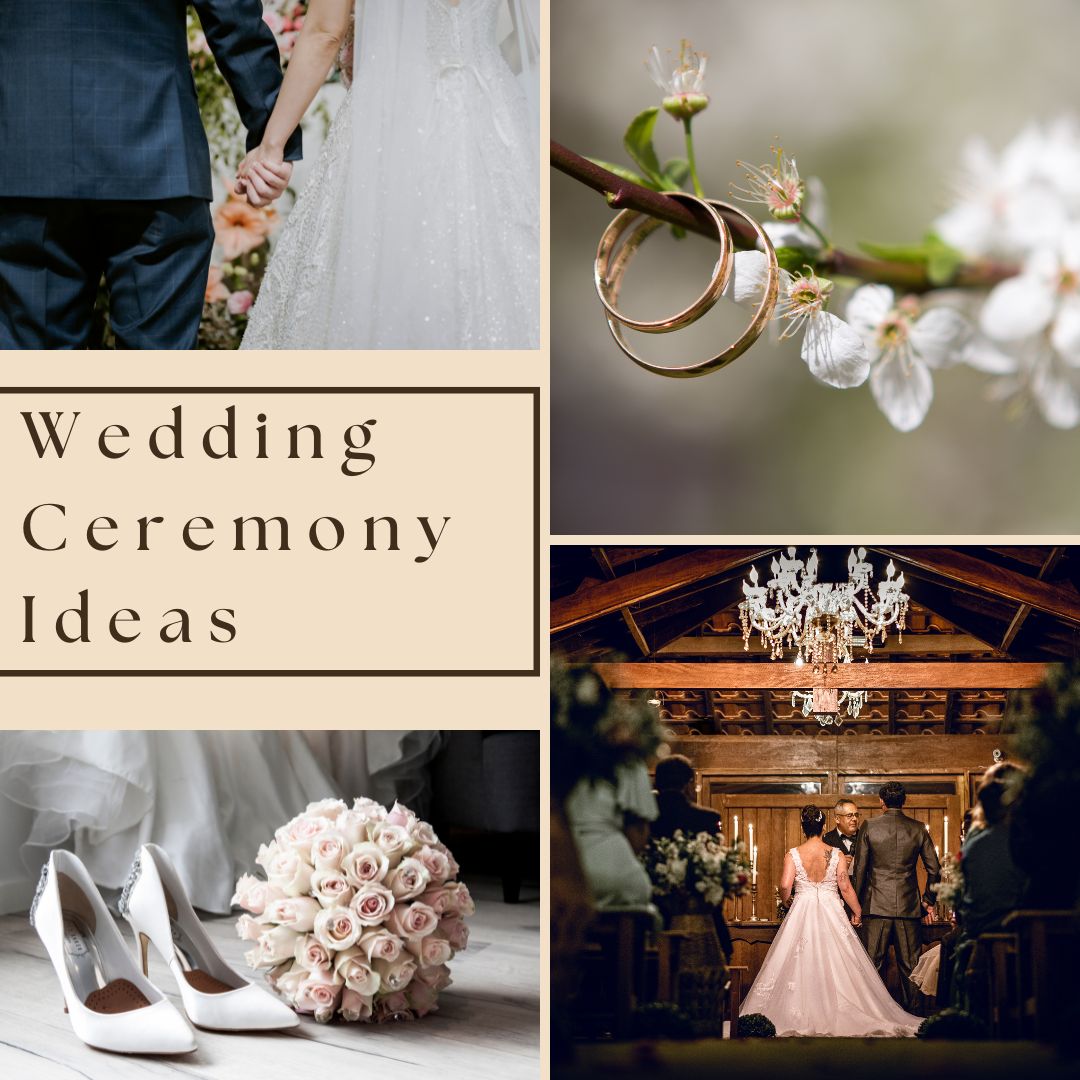 Outdoor Wedding Ceremony Ideas
Beach Bliss: Say "I do" with your toes in the sand and the sound of crashing waves as your backdrop. Beach weddings offer natural beauty and a relaxed atmosphere.
Garden Elegance: Host your ceremony in a lush garden filled with blooming flowers. The vibrant colors and fragrant blooms will create a picturesque setting.
Woodland Whimsy: Get married surrounded by towering trees and the soft rustle of leaves. A woodland ceremony brings a sense of enchantment and serenity.
Mountain-Top Bliss: Exchange vows on a scenic mountaintop, surrounded by panoramic views, creating an awe-inspiring backdrop for your love story.
Riverside Romance: Opt for a ceremony by a tranquil river, with guests seated along the banks, where the gentle flow of water becomes a symbol of your continuous love.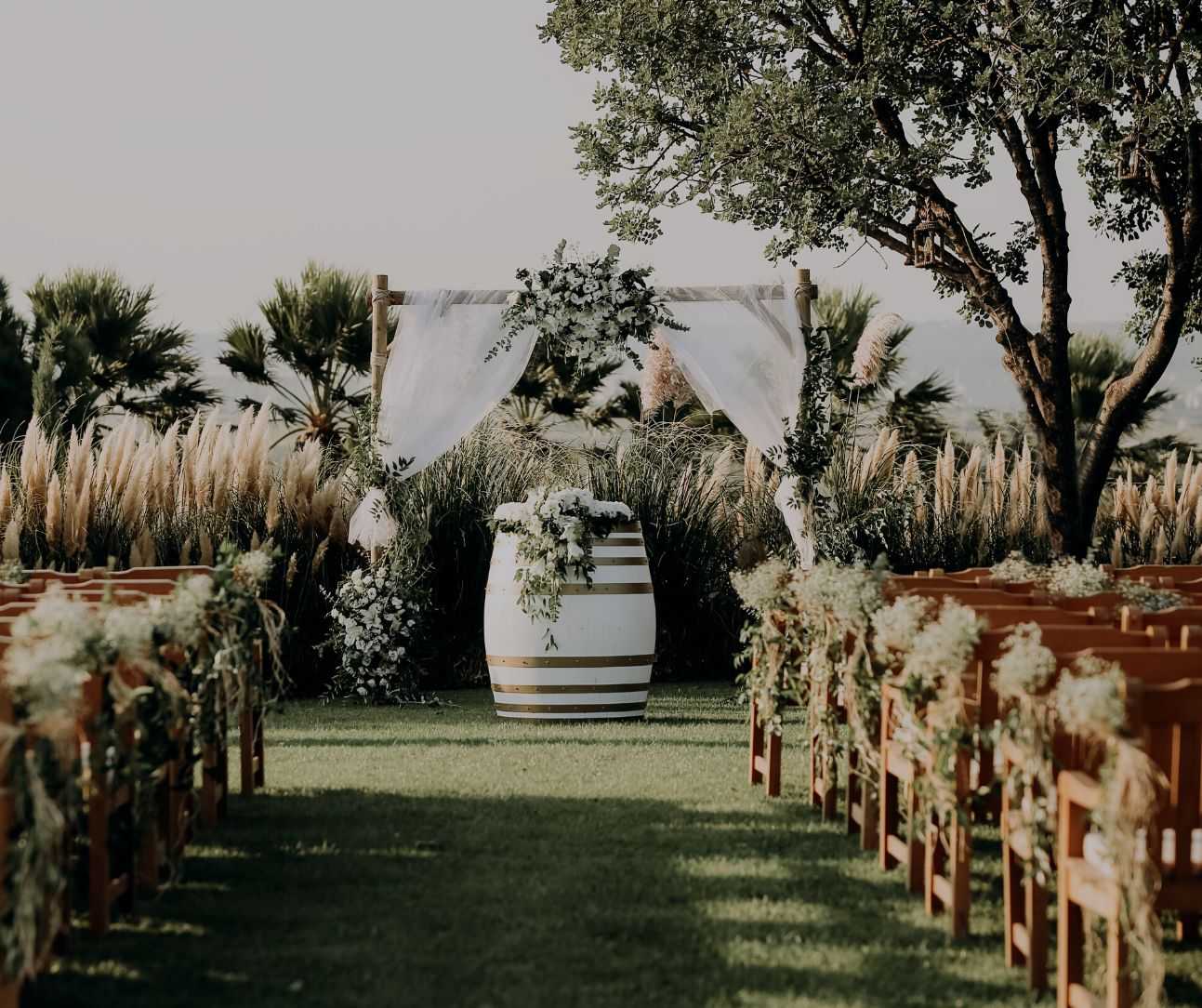 Cultural and Ethnic Wedding Ceremony Ideas
Indian Mehndi Ceremony: Embrace the vibrant culture of India with a mehndi ceremony, where intricate henna designs are applied to the bride's hands and feet.
Tea Ceremony: Honor Chinese tradition with a tea ceremony, symbolizing respect and gratitude towards your families. It's a beautiful way to pay homage to your heritage.
Jumping the Broom: This African-American tradition symbolizes the couple "jumping" into their new life together. It's a powerful and symbolic ritual.
Hawaiian Lei Exchange: Embrace Hawaiian culture by exchanging leis, symbolizing love, respect, and aloha spirit.
Greek Crowning Ceremony: Partake in a Greek Orthodox tradition where you and your partner are crowned as king and queen of your shared kingdom.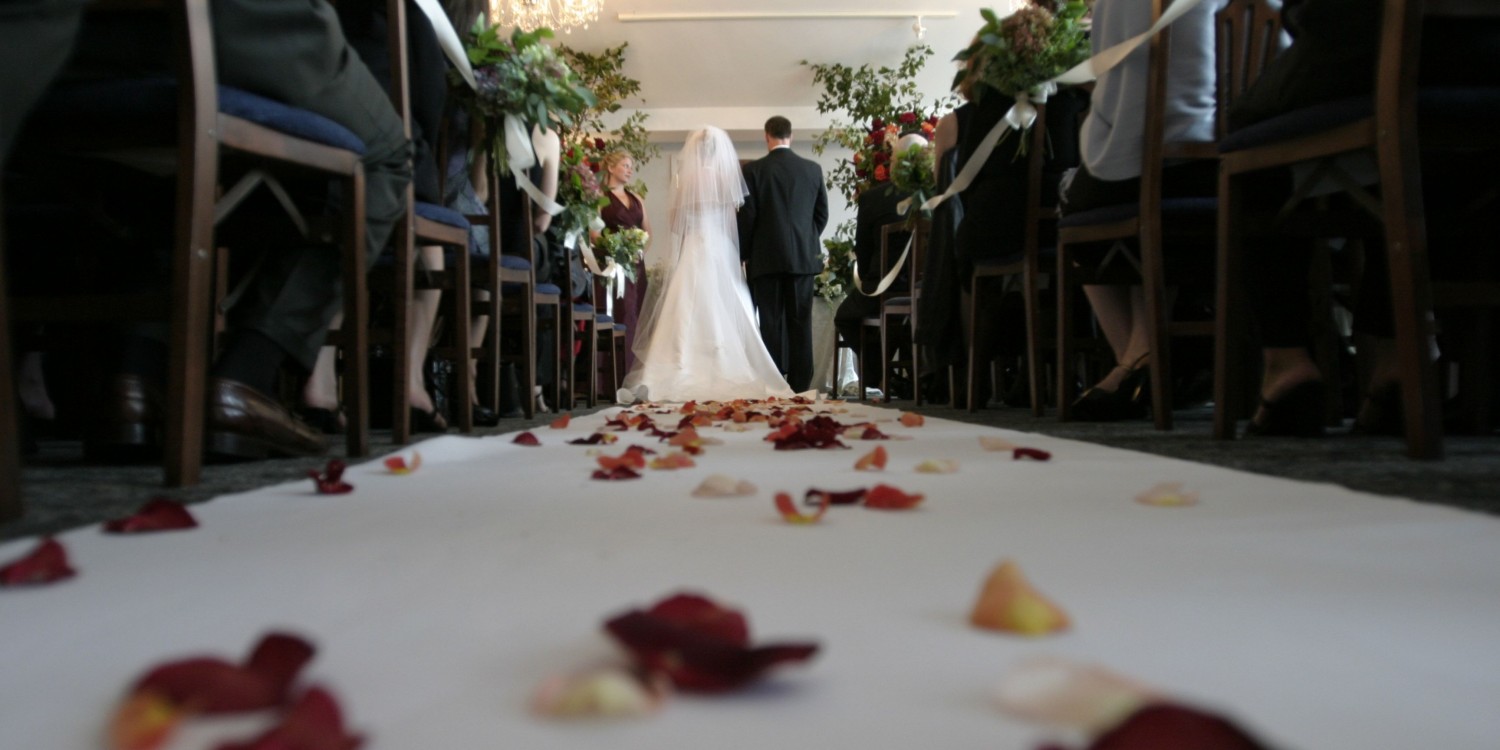 Modern Wedding Ceremony Ideas
Love Locks: Lock your love by attaching a padlock to a designated area during the ceremony. It's a unique way to symbolize your commitment.
Unity Sand Ceremony: Mix different colored sands to symbolize the blending of your lives. This visual representation is a memorable addition to your ceremony.
Release of Butterflies: Let a flock of butterflies take flight as you exchange vows. It's a breathtaking spectacle that represents transformation and new beginnings.
Artistic Canvas Ceremony: As you recite your vows, paint a canvas together, creating a lasting piece of art that represents the beginning of your shared journey.
Love Letters and Wine Box: Write letters to each other and seal them in a box with a bottle of wine. Open the box on your anniversary to reflect on your journey.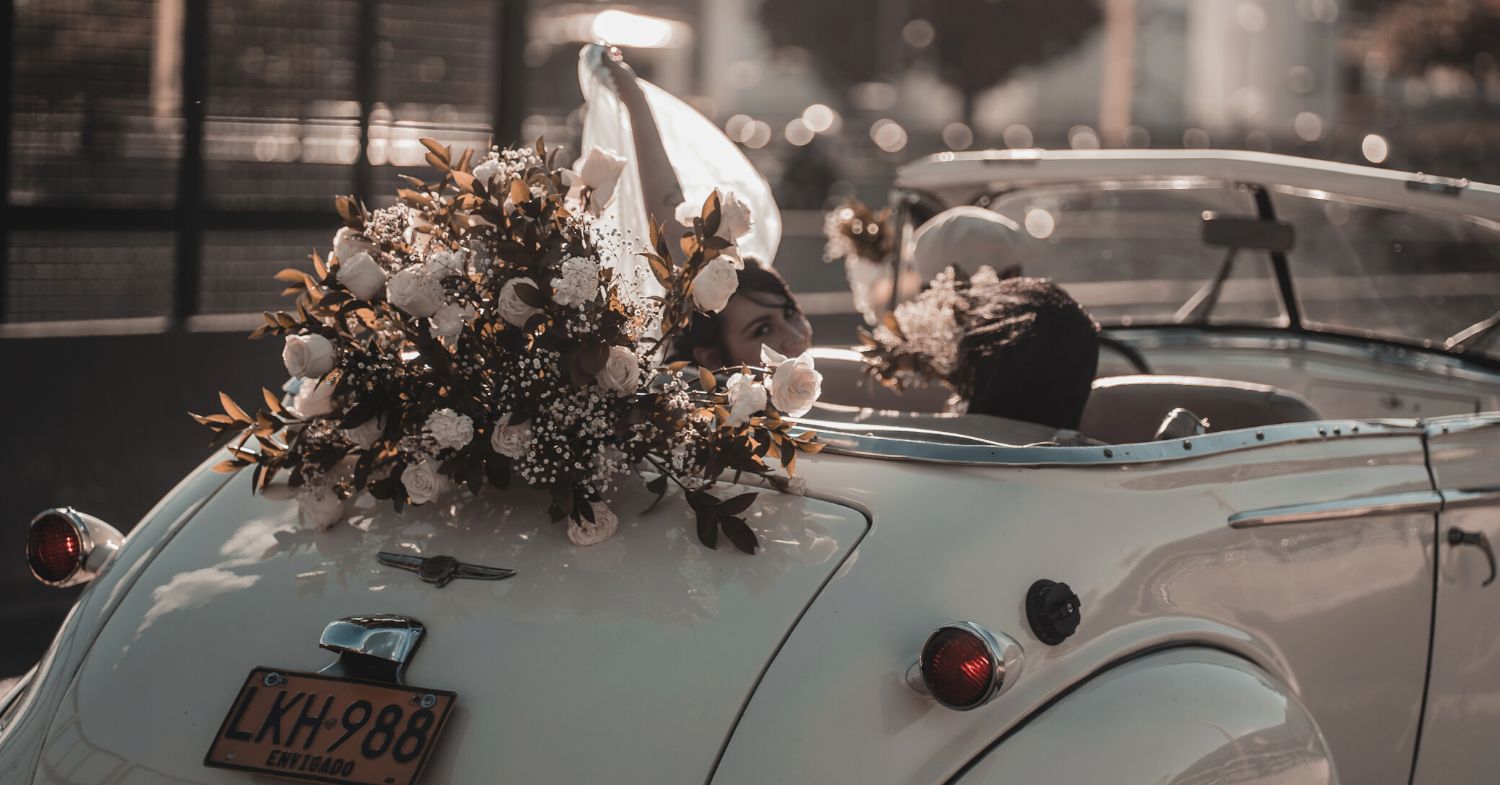 DIY and Budget-Friendly Wedding Ceremony Ideas
Paper Lanterns: Create a whimsical atmosphere by hanging paper lanterns. They are affordable and can be customized to match your wedding colors.
Wildflower Bouquets: Instead of costly floral arrangements, gather wildflowers for your bouquet. It's a charming and cost-effective alternative.
Handmade Backdrop: Craft a personalized backdrop using items that hold meaning for you both. This DIY touch will add sentimentality to your ceremony.
Vintage Photo Timeline: Display a timeline of your relationship through vintage photos, allowing guests to take a visual journey through your love story.
Planting a Tree: As a symbol of your growing love, plant a tree together during the ceremony, nurturing it as your love continues to flourish.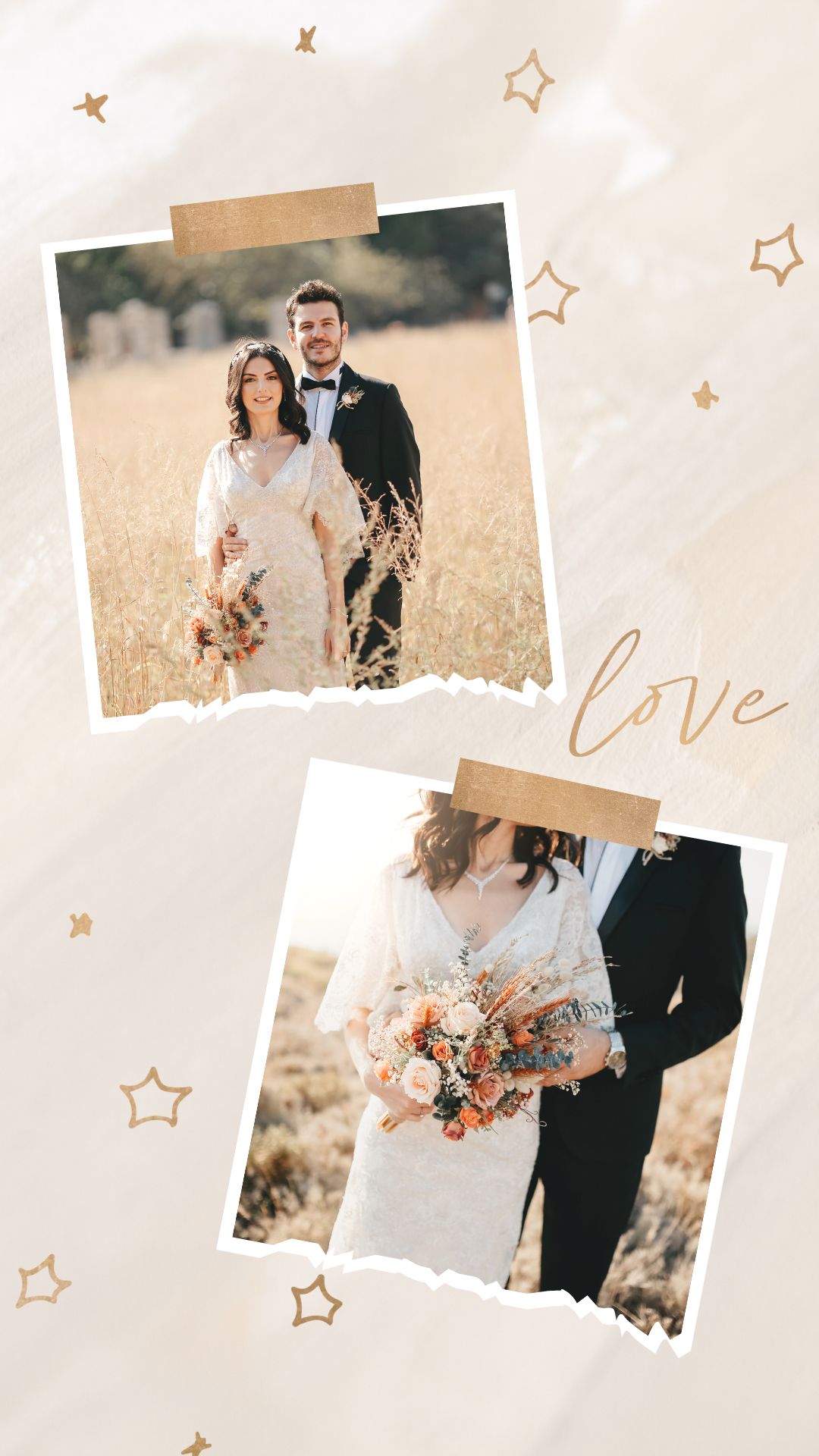 LGBTQ+ Wedding Ceremony Ideas
Rainbow Aisle: Celebrate pride by decorating the aisle with a rainbow of flowers, ribbons, or flags. It's a powerful statement of love and acceptance.
Unity Candle Trio: Incorporate three candles into your ceremony, each representing one partner. When lit together, they symbolize the union of your lives.
Custom Pronouns: Ensure that your officiant uses the correct pronouns when addressing you and your partner. This small but significant gesture promotes inclusivity.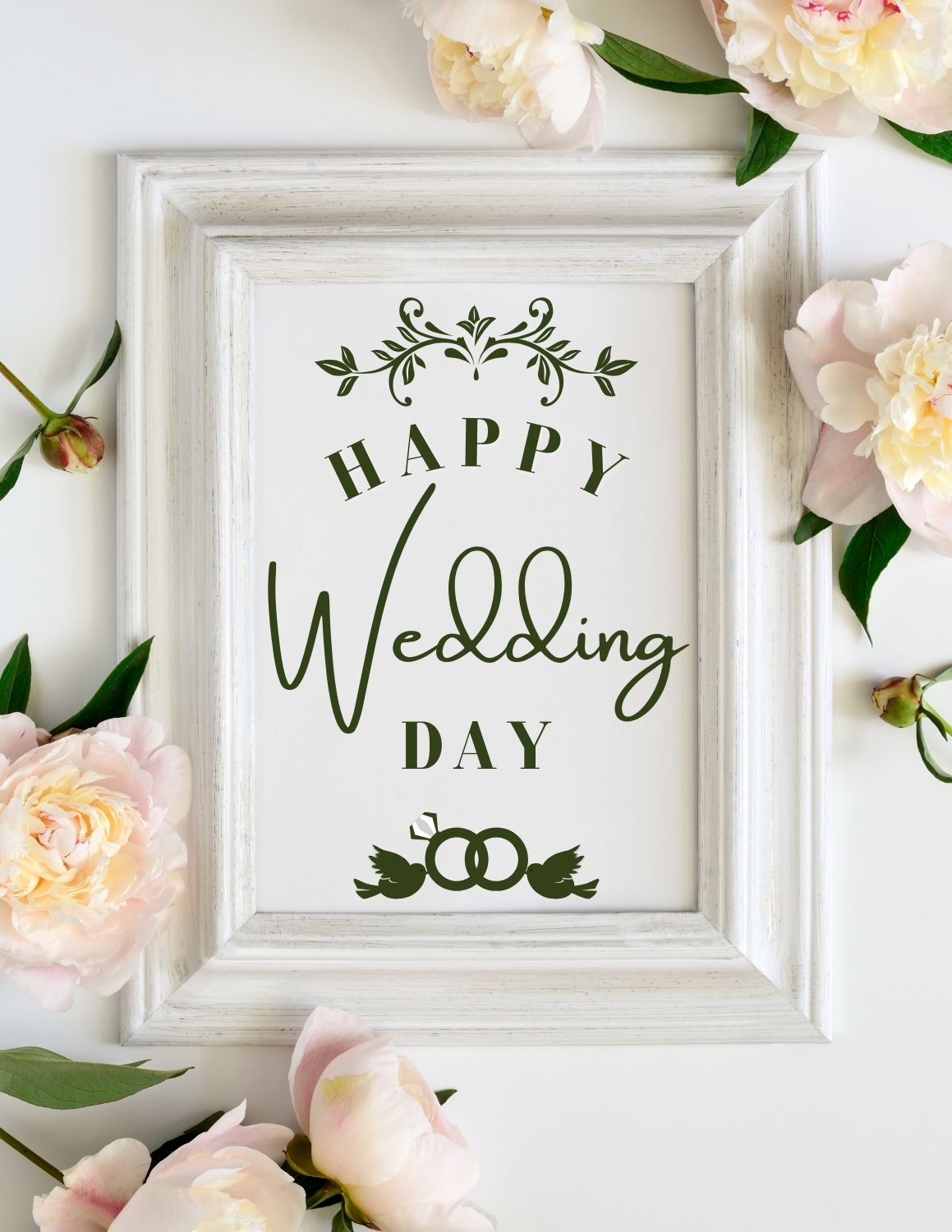 FAQs
How can I personalize my wedding ceremony?
Personalization can be achieved in various ways. Consider writing your own vows, incorporating cultural or family traditions, or choosing a unique location that holds meaning for you both. Small details, like customized décor or a special reading, can also add a personal touch.
What are some eco-friendly wedding ceremony ideas?
To minimize your environmental impact, opt for digital invitations, choose a venue with sustainable practices, use locally sourced and seasonal flowers, and consider a plant-based or vegetarian menu. You can also donate leftover food to reduce waste.
How can I include my family and friends in the ceremony?
You can involve loved ones by asking them to do readings, perform music, or serve as witnesses for legal documents. Creating a memory jar where guests write well wishes is another beautiful way to include them.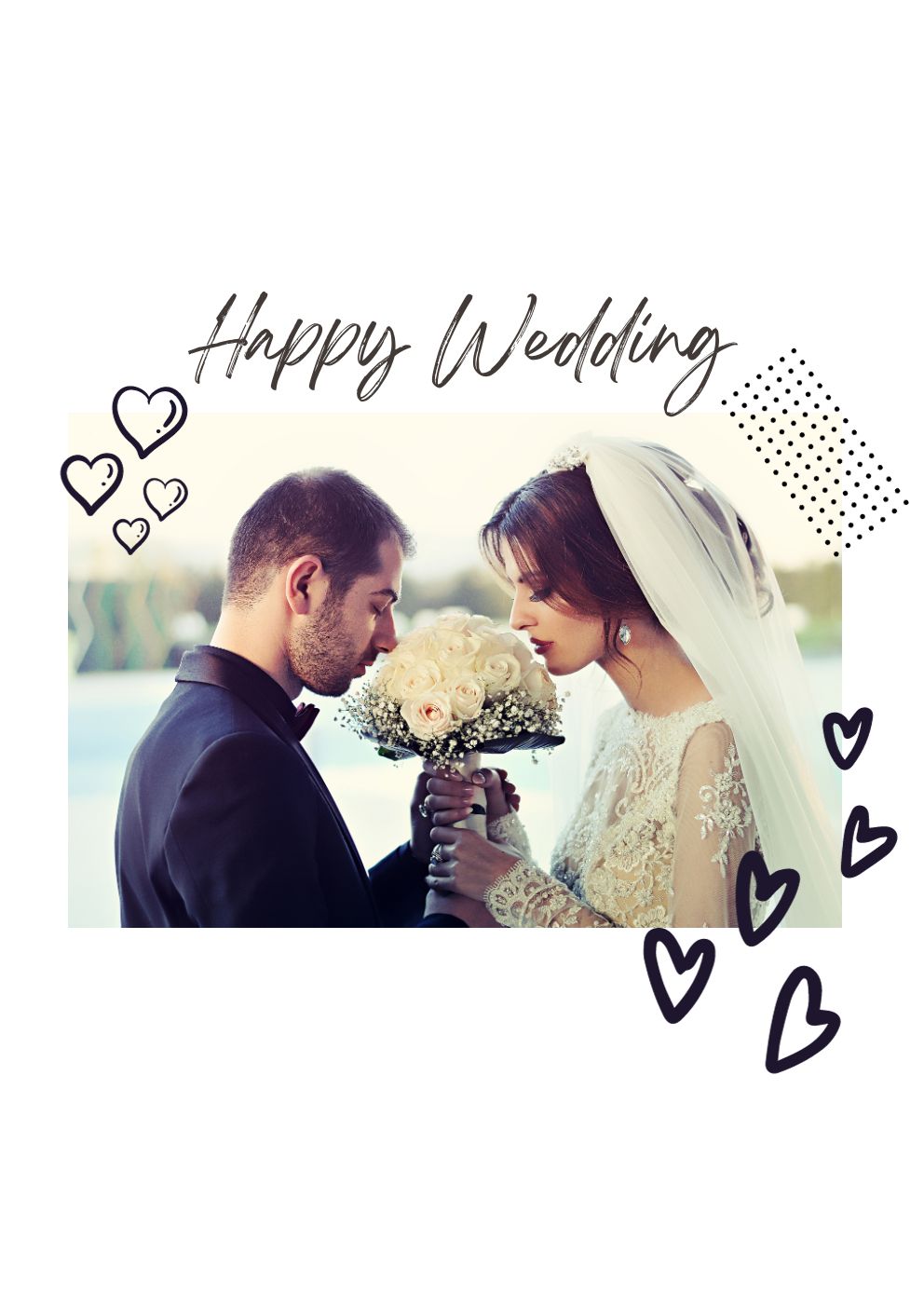 Conclusion
Your wedding ceremony is a reflection of your love story, values, and personalities. Whether you opt for a traditional, cultural, or modern approach, the key is to make it meaningful to you and your partner. These 28 wedding ceremony ideas are just a starting point, and you can mix and match them to create a ceremony that's uniquely yours. Remember, it's not just about the destination; it's about the journey you embark on together. Make every moment count on your special day, and your love story will continue to grow stronger with each passing day.