Short Hot Wedding Dresses: Styling Tips for a Perfect Look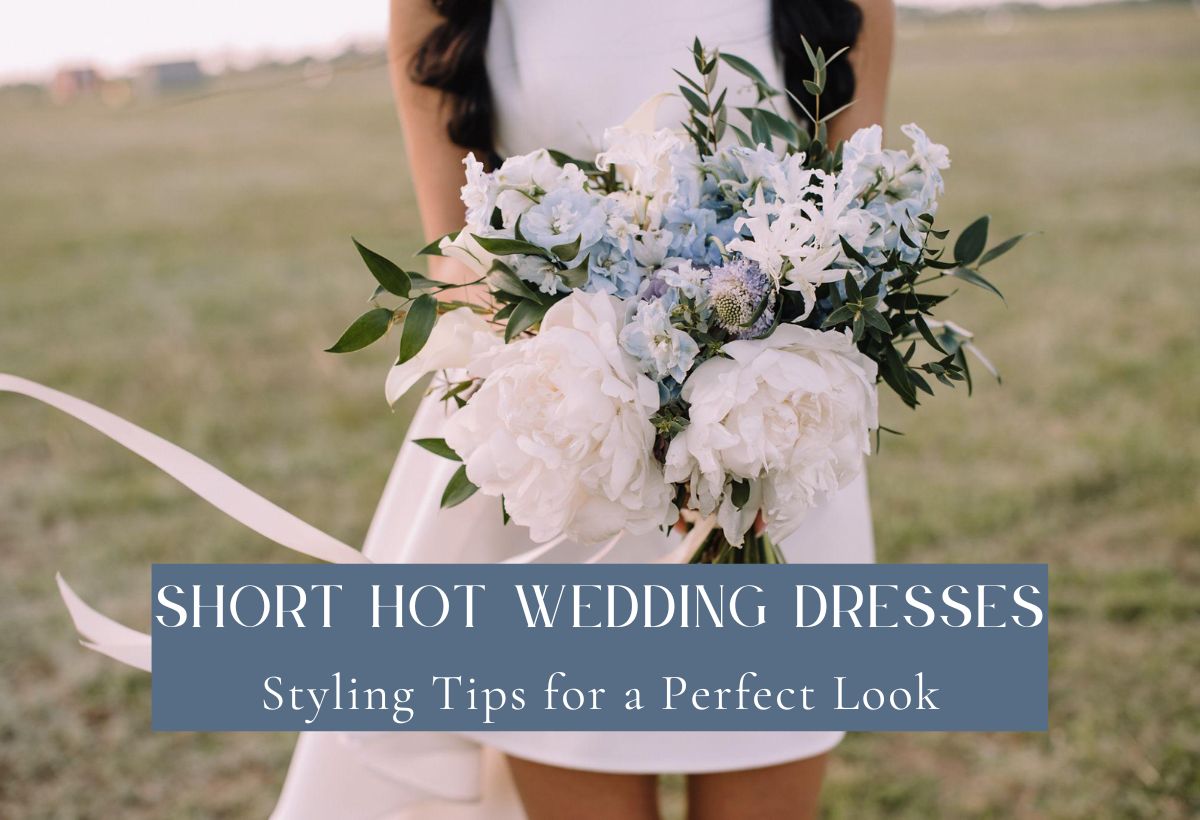 Planning a wedding can be a lot of work, but picking your wedding dress? That's one of the most fun parts! If you're considering wearing a short hot wedding dress, you're in for a treat. Short dresses are comfy, super stylish, and way easier to move around in. They're a great choice if you want something different from the long, flowy gowns.
This guide will help you pick the perfect short wedding dress and share tips on how to style it. We will cover what kinds of short dresses are out there and what shoes and accessories go best with them. You'll also get tips on how to pick a dress that fits your body shape and personal style.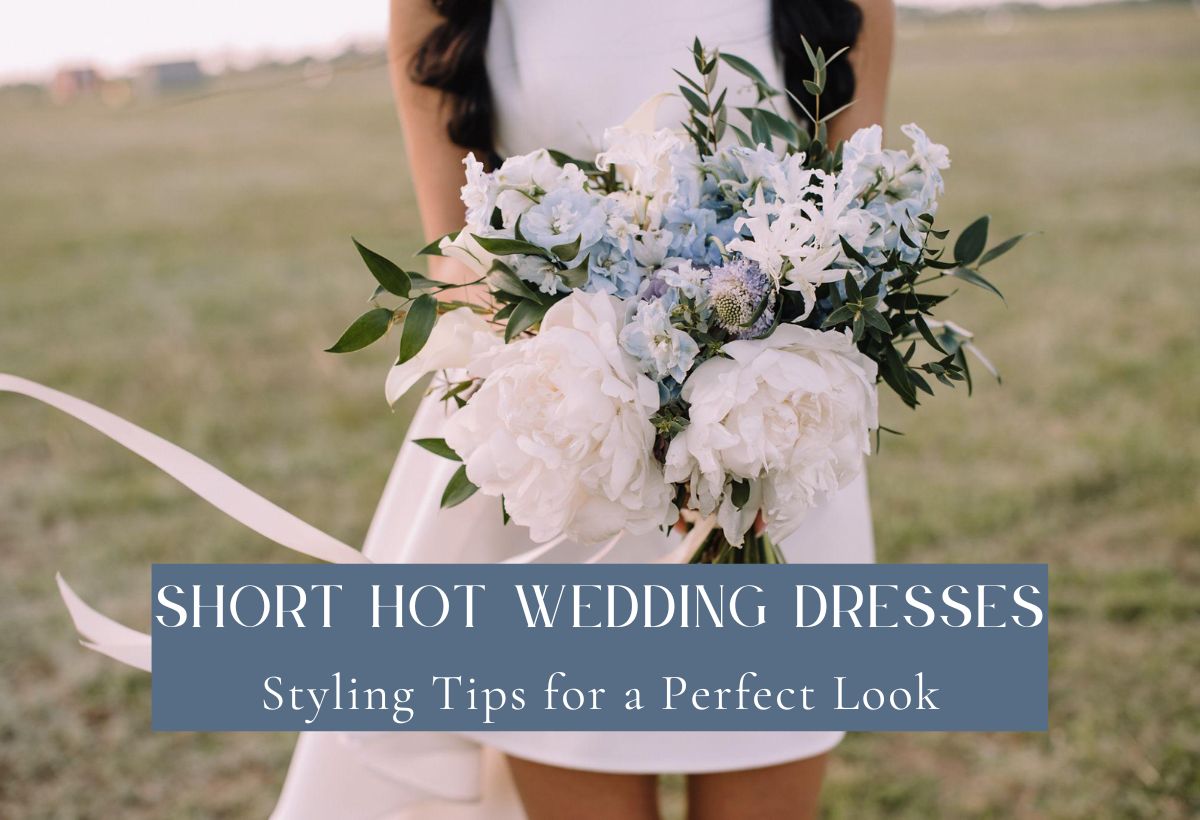 Short Hot Wedding Dresses: Styling Tips
When it comes to picking the perfect wedding dress, there are several styles of wedding dresses to choose from (you can see a nice variety here). One style that's making a big splash these days is the short wedding dress. It's fun, it's modern, and it's perfect for brides who want to break away from tradition. But how do you ensure you look your best in a shorter gown? Let's discuss!
Fabric
For summer weddings, lighter fabrics like chiffon or lace look great and keep you cool. They also add a soft, romantic feel to your look. For a winter wedding, heavier fabrics like silk, satin, or velvet keep you warm and add a luxurious touch.
Remember, the fabric can change how the dress looks on you. Softer fabrics highlight your curves, while stiffer fabrics give a more structured look. Choose the one that makes you feel the most comfortable and beautiful.
Silhouettes
Choosing a wedding dress that complements your body shape can make all the difference.
For pear-shaped bodies, an A-line dress that cinches at the waist and flares out a bit at the hips can be really flattering. It highlights the waist and offers a balanced look.
For apple-shaped bodies, empire waist dresses can work wonders. These dresses have a raised waistline that sits just below the bust, which can elongate your figure and take emphasis off the midsection.
If you've got an hourglass figure, you're in luck because most dress styles will look great on you. However, a sheath dress that is fitted all the way down can really show off your curves.
Rectangle-shaped bodies, where the bust and hips are about the same width, can benefit from adding some curves. A dress with ruching on the side or a peplum detail can create the illusion of a more defined waist.
Hairstyles
Your hairstyle should be in harmony with your dress. With short hot wedding dresses, you have a bit more freedom to play around with different styles. An updo or a sleek ponytail looks extremely elegant. Loose waves or straight hair also look great if your dress is casual.
Footwear
Shoes are a big deal when wearing a short dress. Heels are usually the best choice because they make your legs look longer. Strappy sandals are good for a summer wedding, while closed-toe pumps can be great for a more formal setting. If your dress is simple, choose heels with some sparkle.
Jewelry
If you're wearing a V-neck or sweetheart neckline, a simple pendant necklace can work wonders. It draws attention to your neckline without taking away from the dress. For round or high necklines, you might skip the necklace and opt for statement earrings instead.
Earrings can change the whole feel of your look. Go for pearl or small diamond studs for a softer, romantic look. If you want a bit of drama, chandelier or long drop earrings can be eye-catching.
Veil
The traditional long veil is not the best fit for a short dress. Instead, consider wearing a birdcage or fingertip-length veil. It is just enough to give you that bridal feel while still letting the beauty of your short hot dress shine through.
If you're going for a modern, laid-back vibe, you can skip the veil and wear a floral crown or hairpin.
Makeup
With a short wedding dress, you can show off a bit more personality, and your makeup plays a big part in that. But you don't want the focus to shift to the makeup, so it's best to keep the look soft and natural. Neutral eyeshadow, a hint of blush, and a light lip color can make you look amazing without going overboard.
Final Thoughts
A short hot wedding dress is not just stylish but also really comfortable, offering a unique blend of fashion and function for your big day.
But the best part? A short dress opens up a world of possibilities for personalizing your look. From your choice of shoes to your hairstyle, you've got more room to show off your individual style.
You can pick sparkly heels for a touch of glam or go with strappy sandals for a more relaxed vibe. When it comes to your hair, the options are endless; you can opt for a messy updo for a more romantic feel or loose waves for a laid-back look. And don't forget the veil; you can keep it short and sweet or go for a floral crown if you're aiming for a more modern touch.
All in all, a short wedding dress gives you the freedom to be yourself, making your special day even more memorable.